This stenciled DIY hanging pendant light tutorial with a swag chain is one of those projects that you can make as simple, or not,  as your heart desires. Either way, the end result will be fabulous and look like you spent a fortune on a designer home decor pendant light.
Isn't that the best kind of project?
The one that looks like it had a big price tag attached but didn't?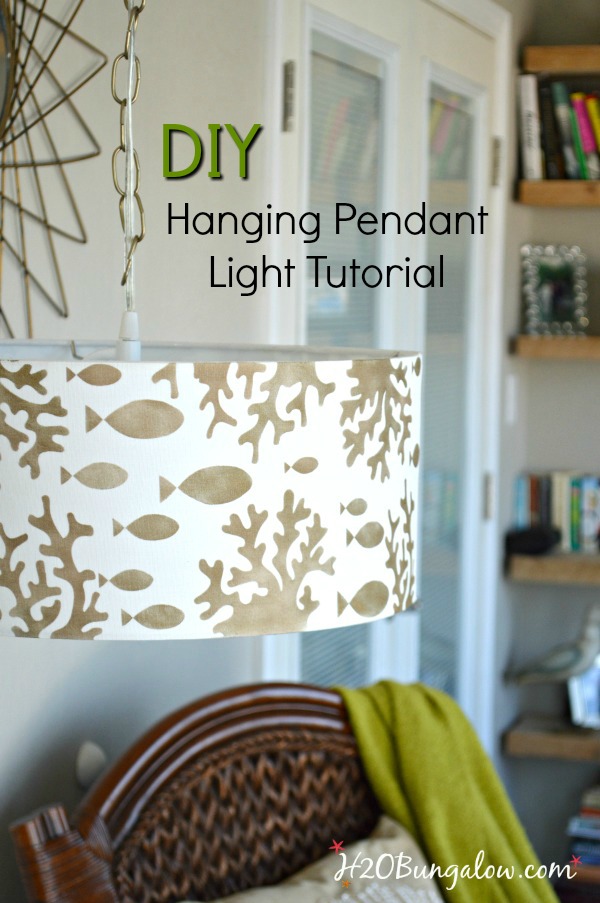 I found this great 6″ drum lampshade and knew it was destined for something special. I knew I wanted to stencil something on this awesome shaped shade, and there started my dilemma.
Stenciling a pattern on a round lampshade.
Finding a pre-made stencil to fit was not going to be easy. So I made my own stencil to fit a round lampshade with a pattern that would end and blend into the beginning.
How To Make A Stenciled DIY Hanging Pendant Light 
Supplies to make a hanging pendant light. I use affiliate links to help you find the products I used.
Here's a picture of what the swag lampshade conversion kit looks like. It's the white thingy in the middle, and it holds the lampshade from a cord. Brilliant! I had no idea I could make a hanging light from a lampshade until I found this simple part! It was cheaper to purchase the cord kit to use the chain than it was to buy just a chain alone. I'll save the cord for another project 🙂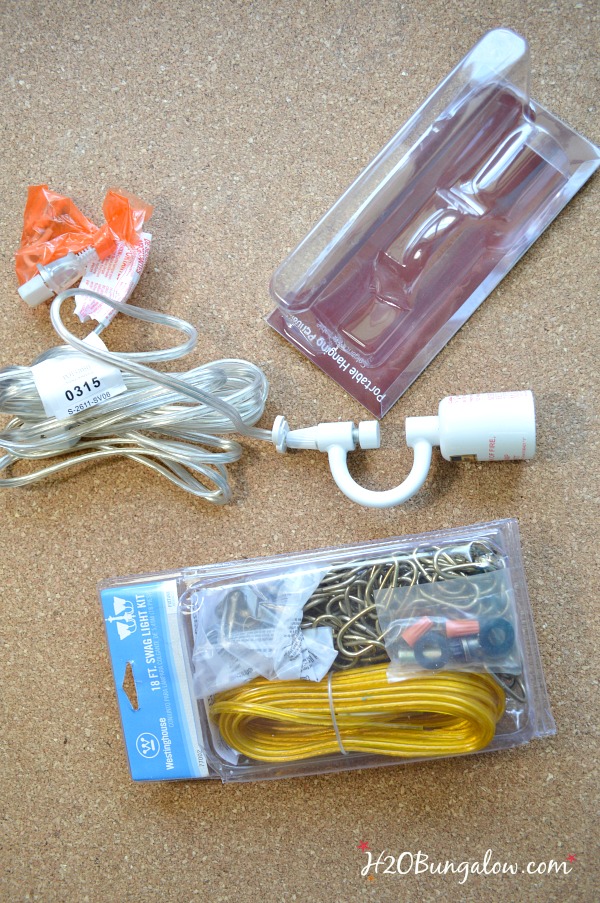 I measured the circumference of my lampshade and divided it by 4. Using my Silhouette I designed a stencil that I could repeat 4 times around the lampshade. If you don't have a Silhouette, you can easily use a pattern or shape that is small enough for you to reposition the stencil randomly around the lampshade. Something like little sailboats or just fish would look great 🙂
You guys know I'd pick something coastal so I used fish swimming in coral.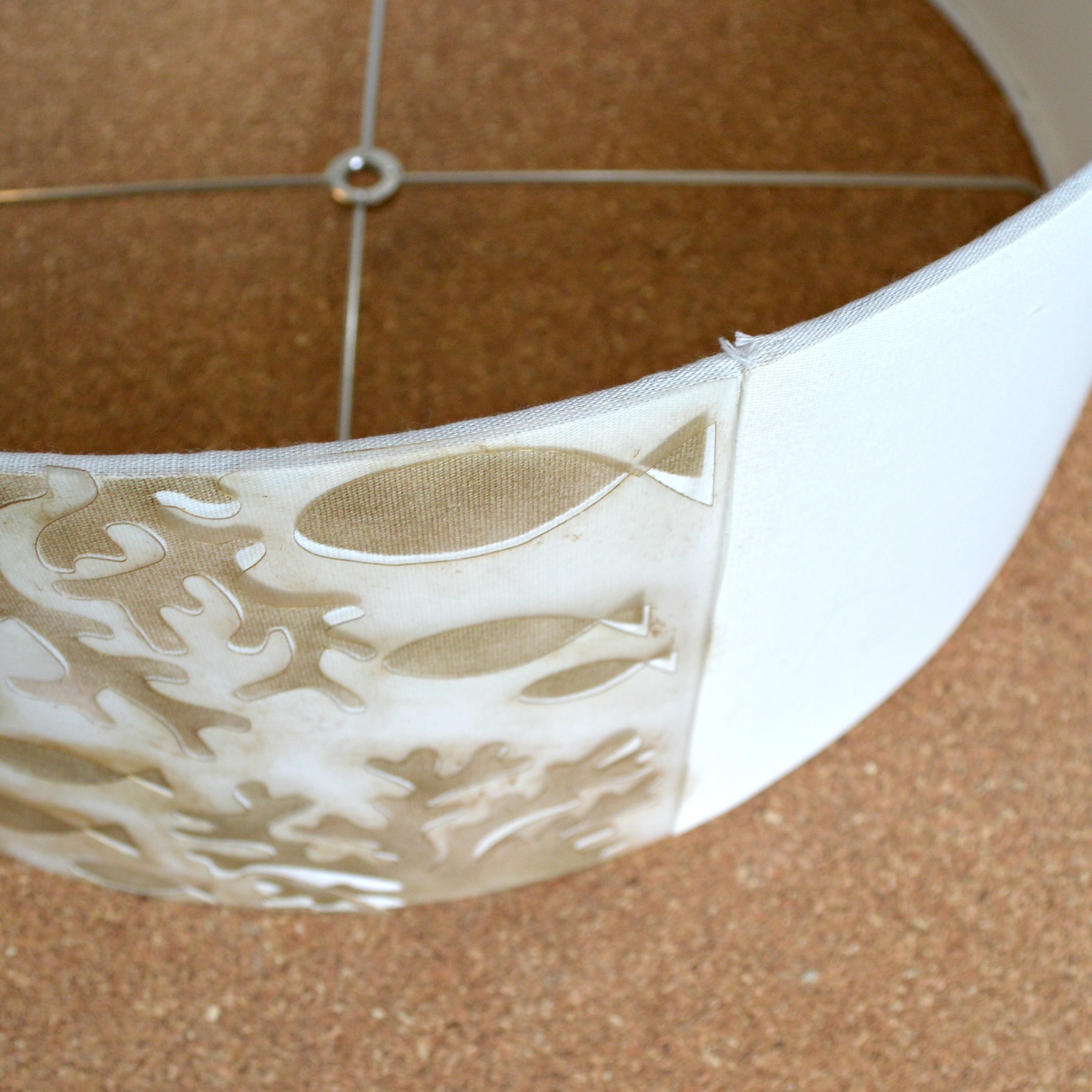 The Silhouette adhesive backed vinyl is perfect for a project like this since holding the lampshade, and the stencil in place at the same time would be challenging. Stenciling on a lampshade is like stenciling on fabric you want to stencil with a soft touch and use as little paint as possible.
If you're new to stenciling, or would like some good tips, you can find them in my stenciled reusable grocery bag post.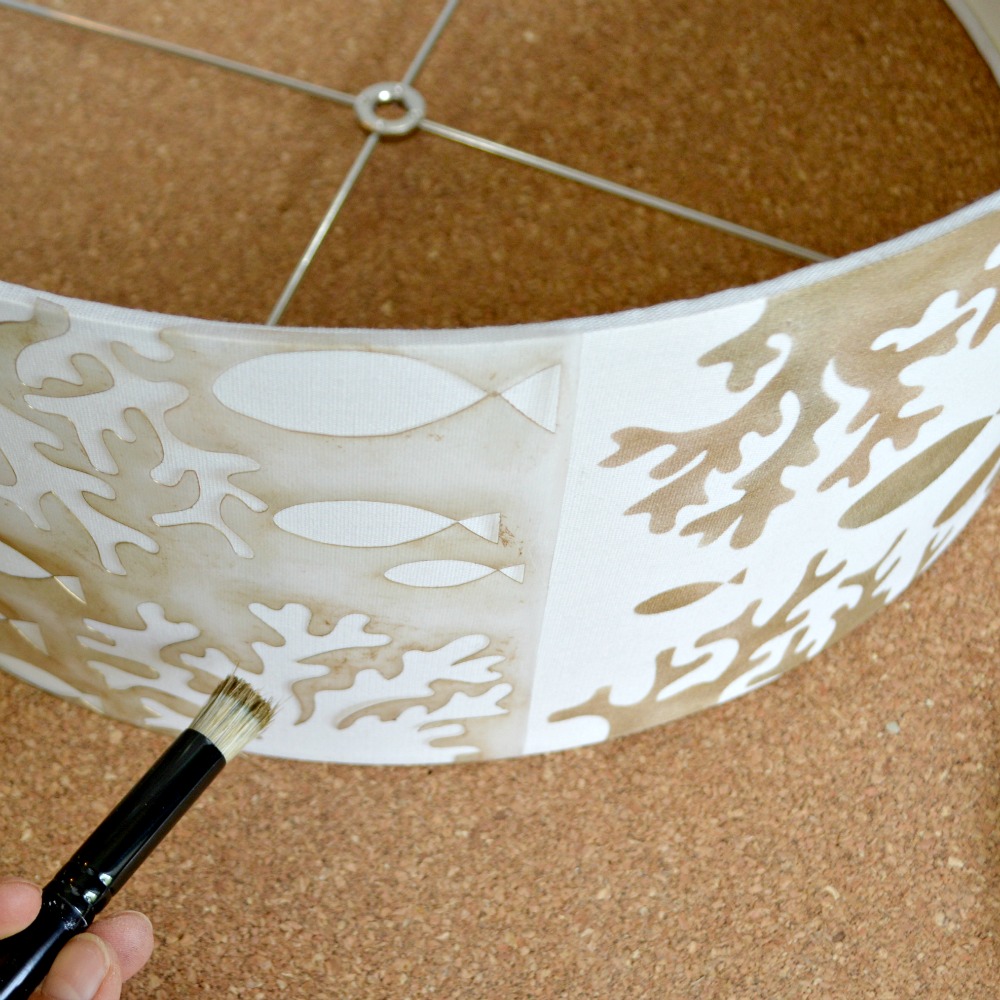 When I got to the end of the lampshade I taped blank paper over the area I'd already stenciled to protect it.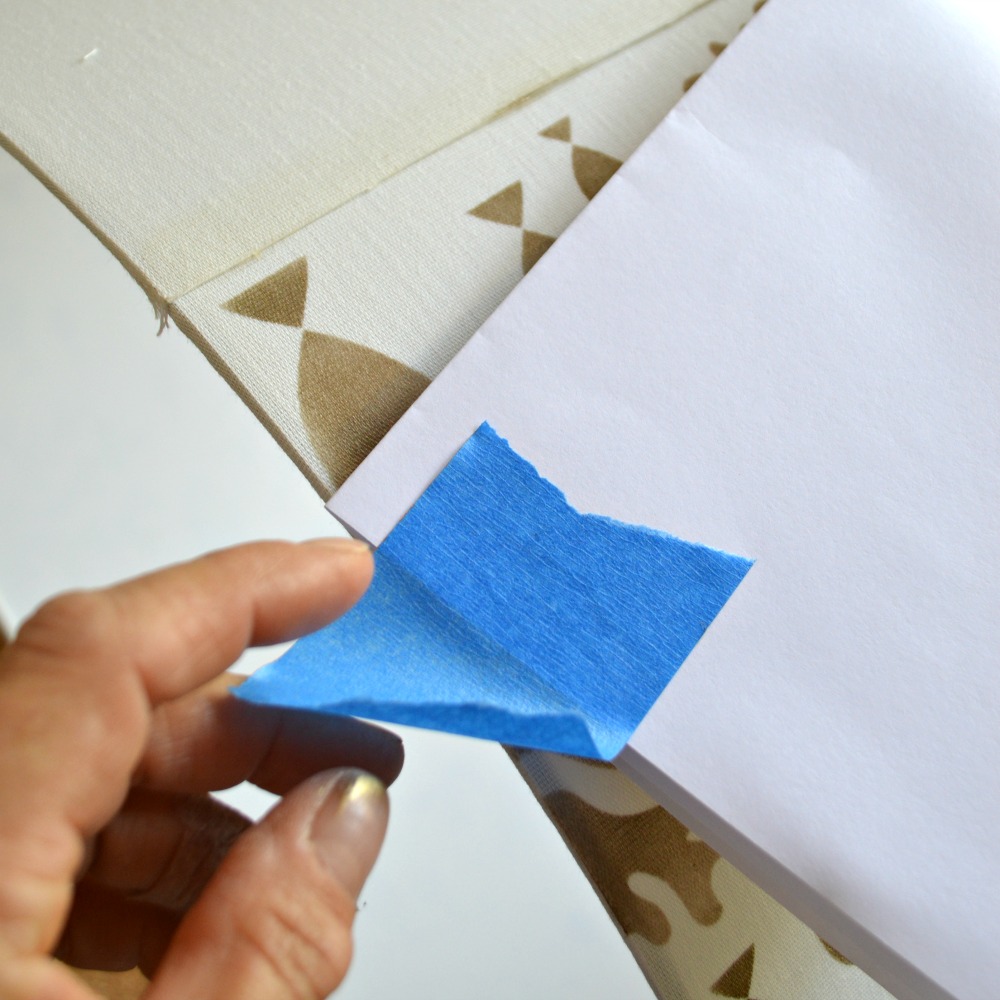 Next, I positioned the stencil and taped it. See how part lined up where I'd stencil and part lined up over the paper covered area I'd already stenciled? I taped any stencil designs that fell on the paper and crossed into the area I'd already stenciled so I wouldn't accidently stencil half a fish 🙂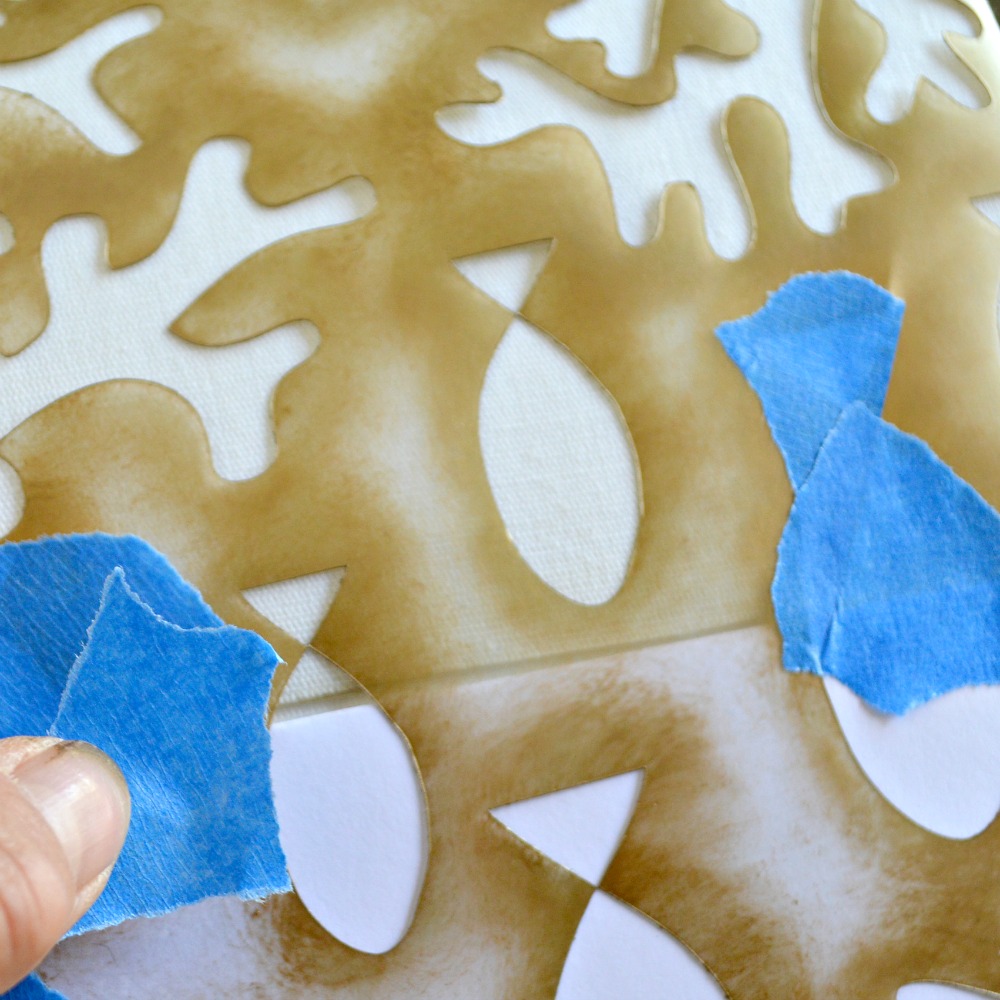 Putting the chain and the light kit together was easy. Since the plug was already attached, and wouldn't fit through the links of my swag chain, I had to open the links to string the wire through.
This part was tedious, I taped every fourth link along my chain, to remind me which links I'd use.
Otherwise I knew I'd stat daydreaming and have my chain and links all cat-a-wompy 😉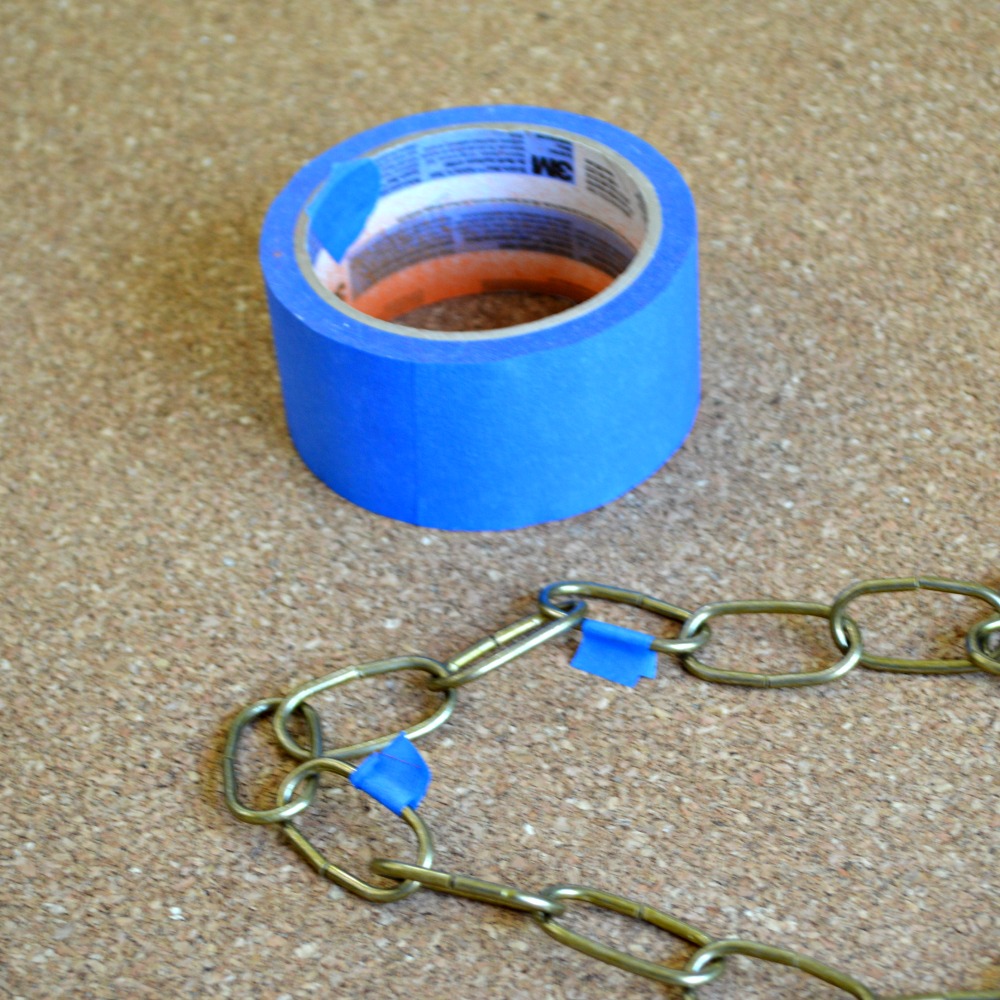 Using needle nose pliers I opened each marked link and threaded the cord from the light kit through. Opening a link is easy if you hold two needle nose pliers, one in each hand with a section of a link in each and twist one hand toward you and one hand away. The link will easily open. Close it the same way.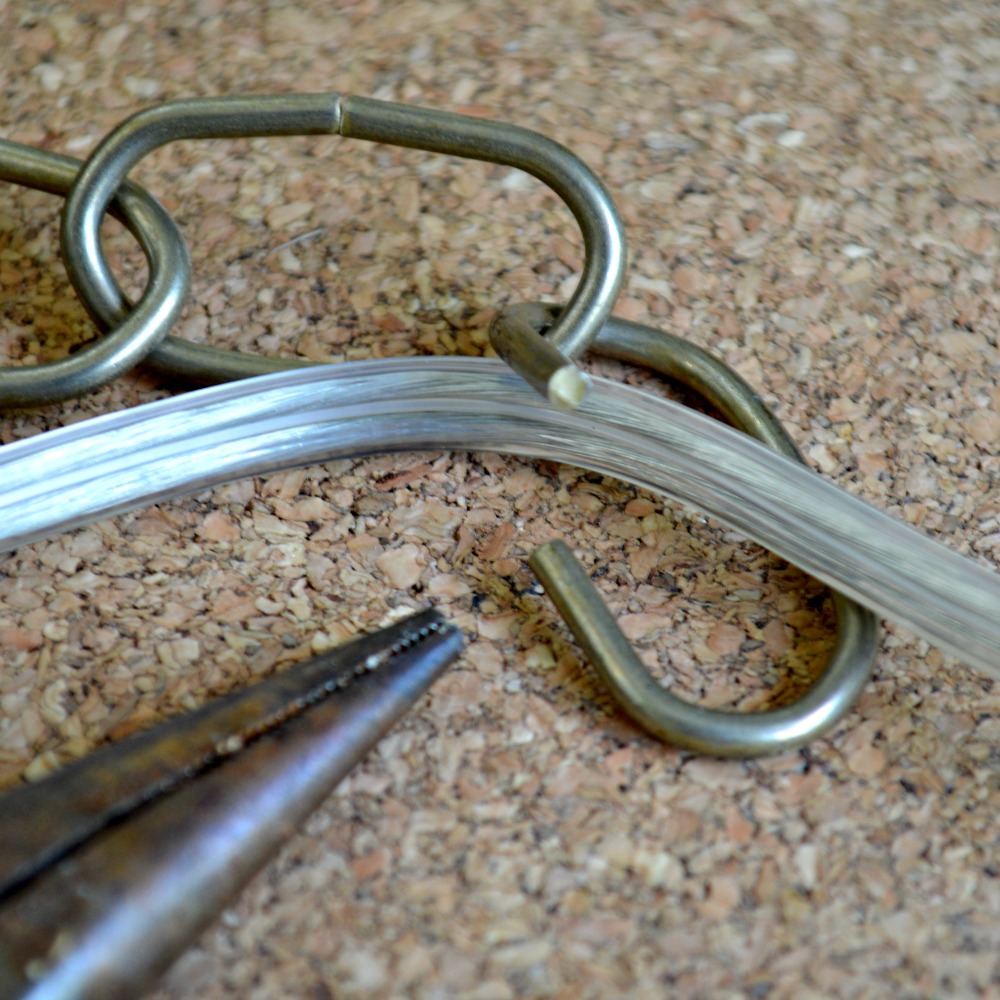 All I had left to finish was my hanging my new stenciled DIY pendant light.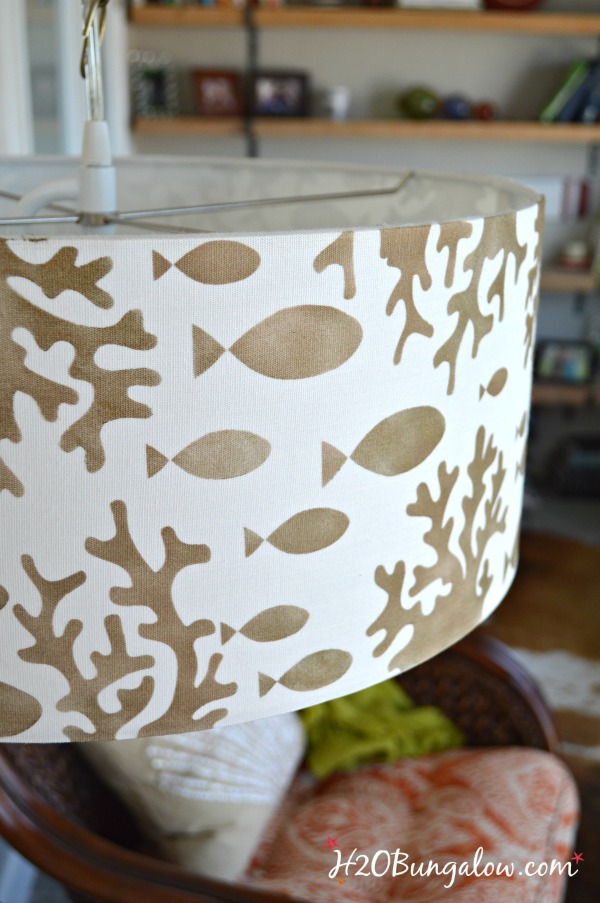 I hung it from the ceiling with 2 hooks so it would swag.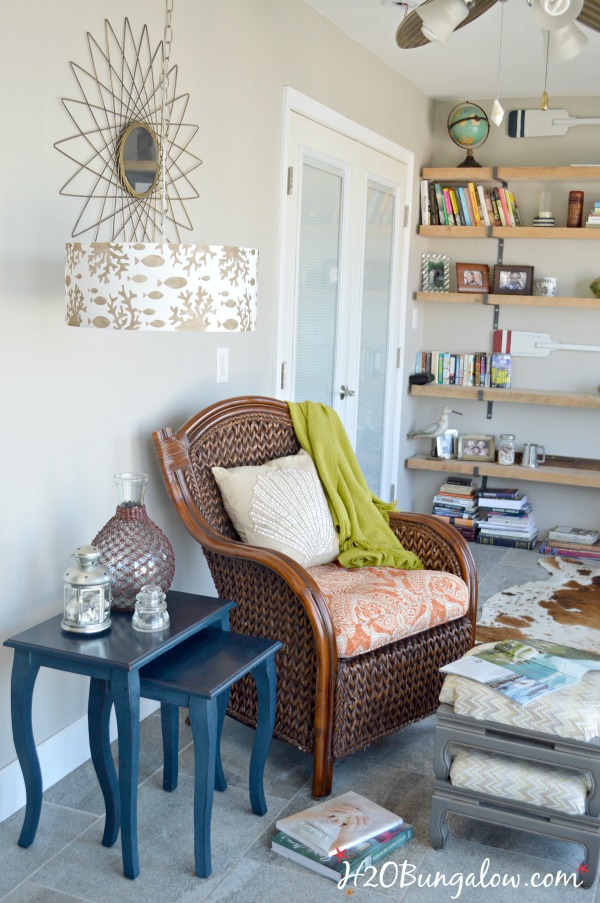 I love that the pattern goes all the wy around my stenciled drum lampshade.
Kind of like no beginning and no end:)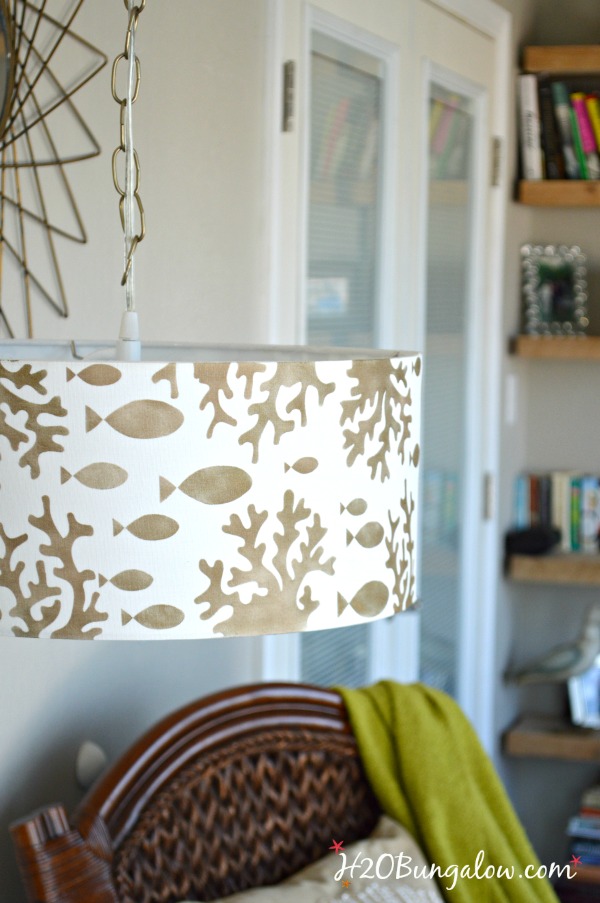 Where would you have one of these stenciled DIY pendant lights in your home?
You'll find my project linked up to these fabulous parties!
Love a good dose of DIY home decor, home improvement, the challenge of woodworking and creative ways to make your home look fabulous?
Me too!
I'd love to share mine with you. Click here to sign up for my post emails and I'll send a quick note when I have a new project to share.
Disclosure: I may have been compensated, given product or tools that I used in this DIY post. All opinions that I share are always 100% my own. I use affiliate links in my posts. If you should make a purchase I will receive an itty bitty commission at no cost to you. Thank you in advance for supporting my blog and two fur-ball cats who believe they are privileged.