Being a DIY blogger, and a self proclaimed power tool creative, the house and family get all kinds of awesome DIY projects on a regular basis.  This time around, it's someone else's turn.  Today's Power Tool Challenge project, my DIY small pet bed plans, are for my furry friend.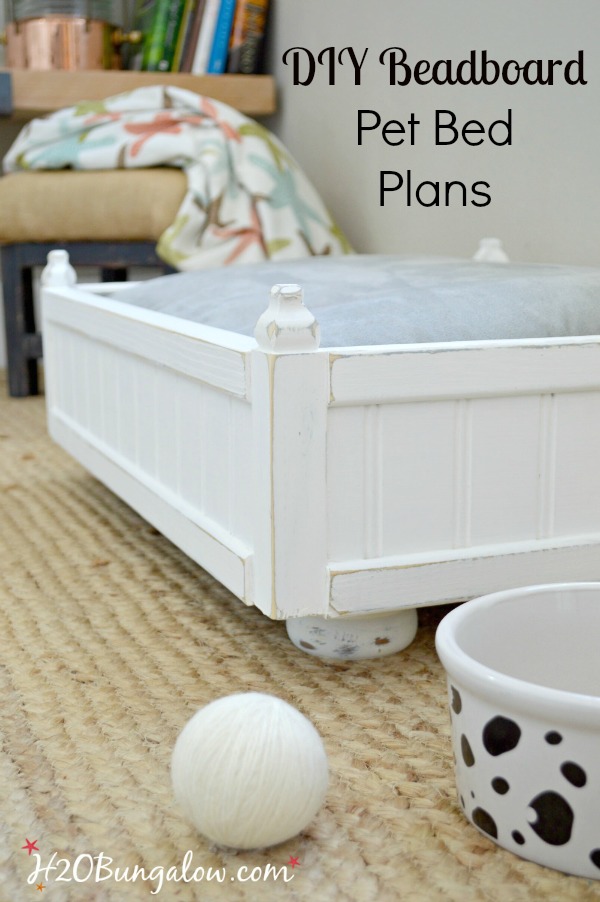 Yup…
It's time for Soup Can Sam to get a DIY project especially for him.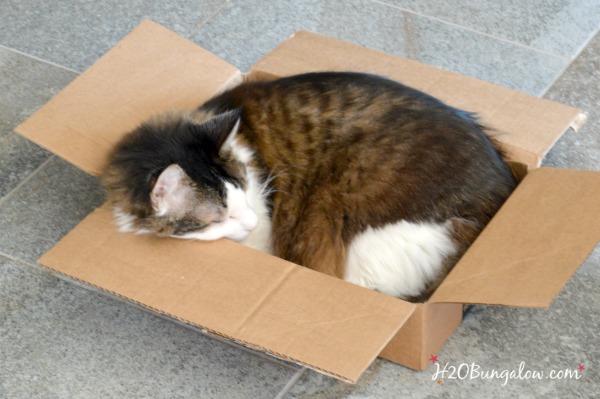 He's old and cranky.  He doesn't sleep well at night, and sit's by my door and howls every morning about 5am to be fed.  I'm hoping I can entice him to sleep a little longer with a new comfy pet bed.
So…I put my creative hat on and came up with plans to make a DIY small pet bed that would be comfortable for my good friend, and look nice in my living room at the same time.
Something that would make both of us happy, which is no small feat because we are both pretty picky;)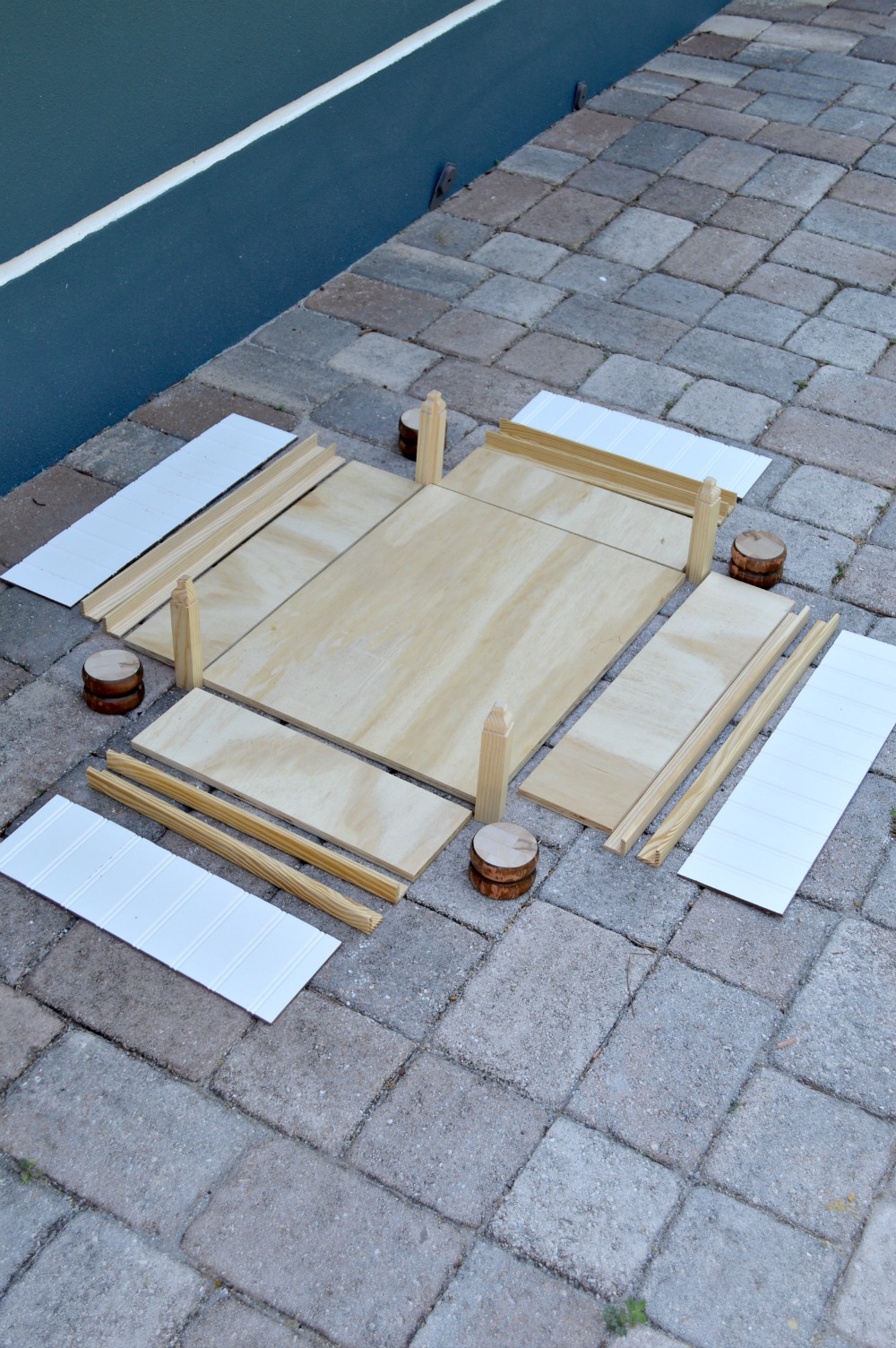 I upcycled and made the feet for my DIY small pet bed, AKA Sam's new digs from a bed spindle I had left over from this headboard that I cut up to make my gorgeous DIY Pedestal Bowl a while back.  See that standing tall one with all the layers?  I made 4 feet from cutting it at two segment intervals.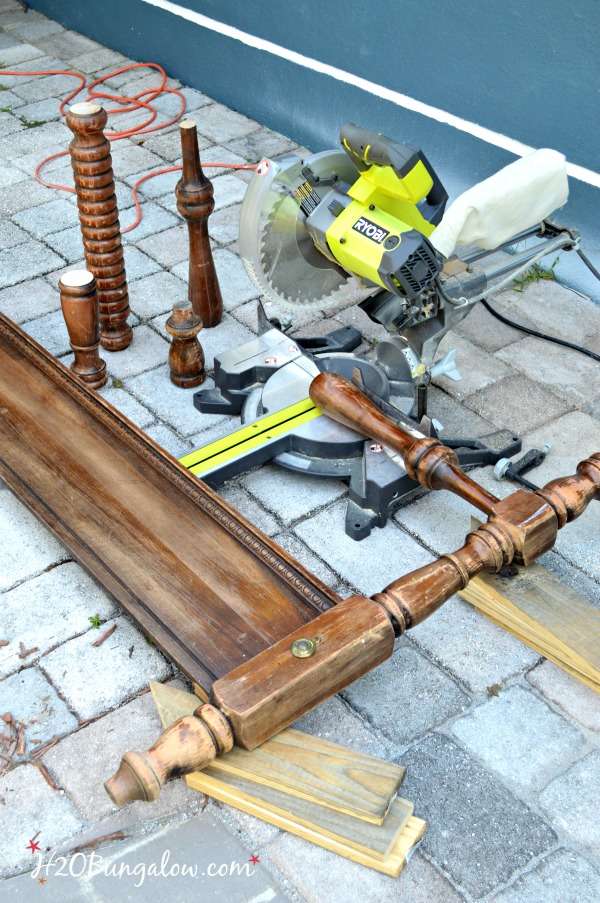 You can find the plans with step by step instructions for my DIY small pet bed on Ryobi Nation, on the front page under the How To section.  How awesome is that friends? 
This is what my DIY cat bed looked like assembled and ready to paint.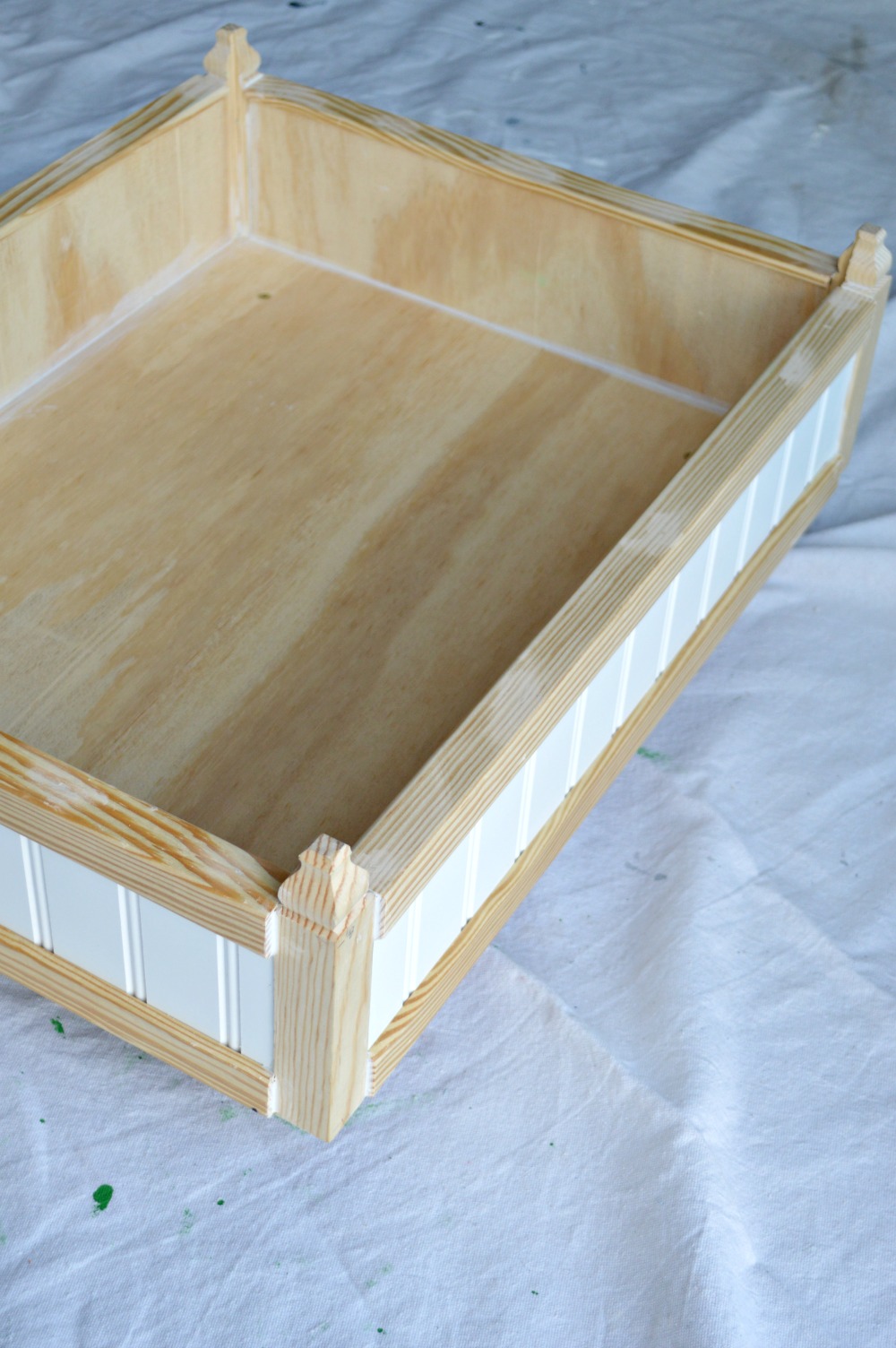 I wanted a quality finish that looked like a piece of furniture for my DIY pet bed.  One that would fit a coastal or farmhouse style home.  I started by giving everything a coat of grey paint all over and followed that up with a coat of white only on the outside.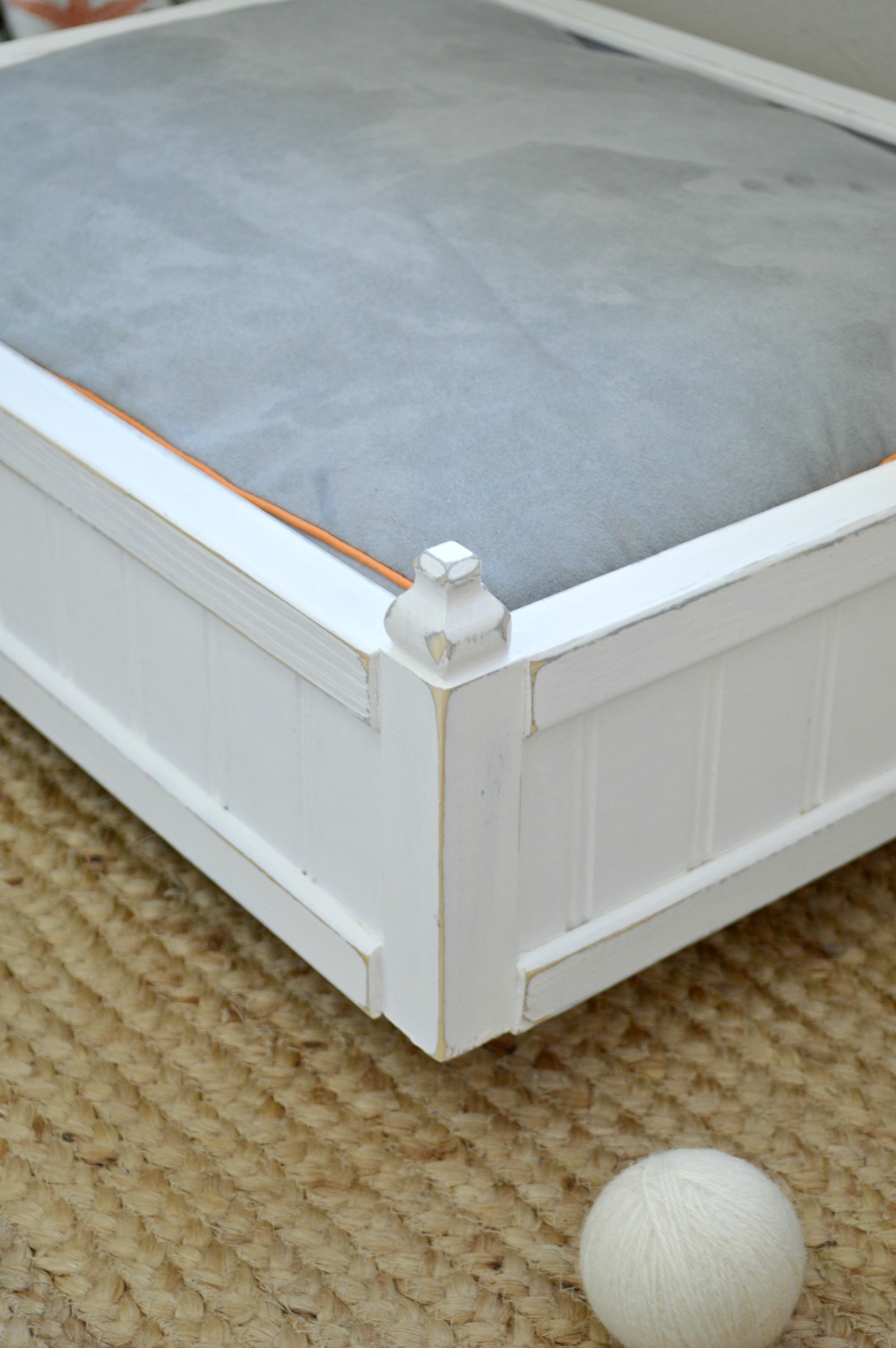 When it was dry, I distressed the corners and high spots.  Since it was a pet bed, and I wanted it durable I gave it two coats of sealer.
Don't you love how the spindle feet turned out on Sam's bed?  They're perfect for this coastal style cat bed.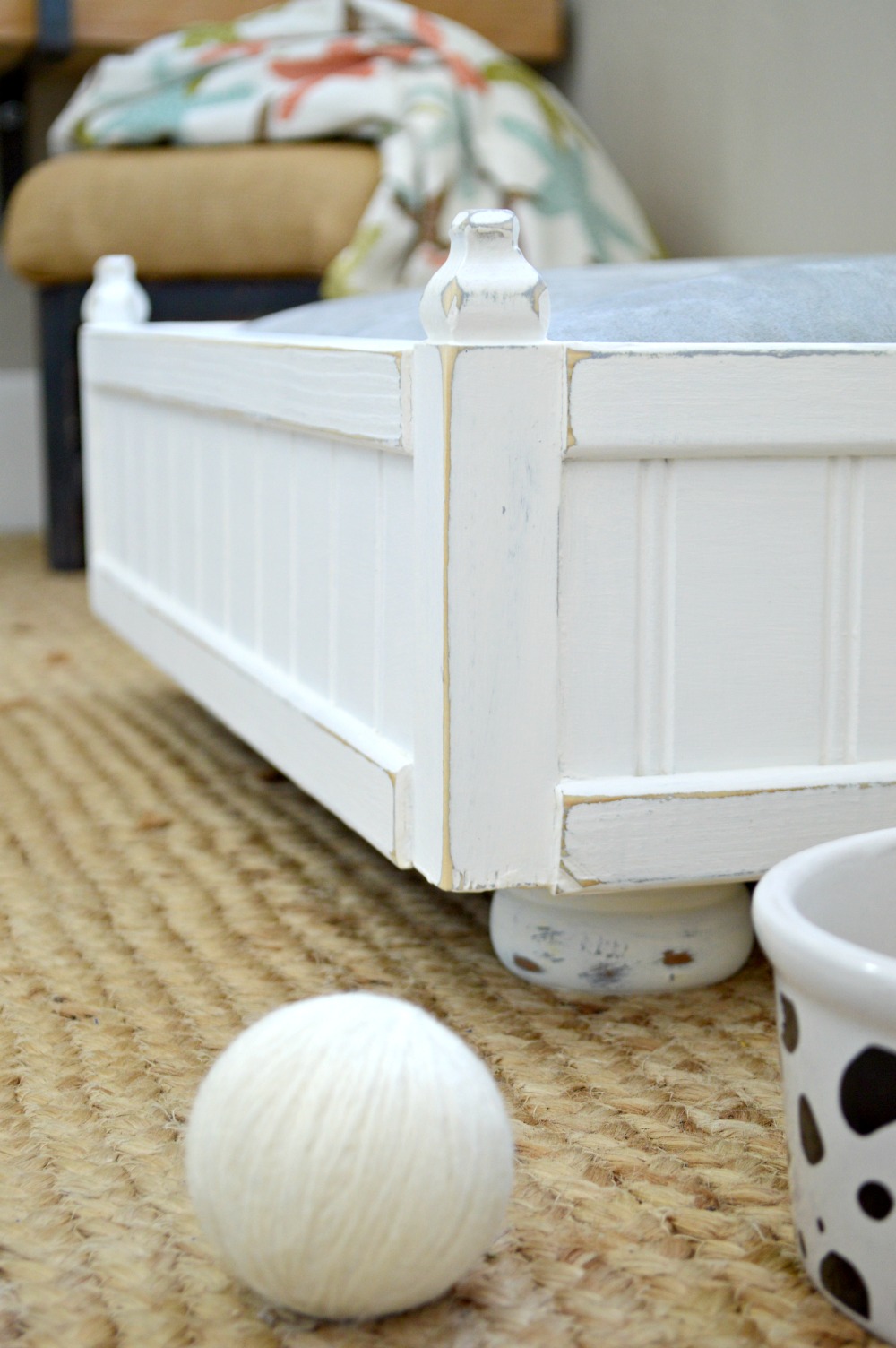 It fits a 17″ x 22″ memory foam pet bed perfectly.
This DIY small pet bed is now Sam approved, which means I can toss the cardboard box!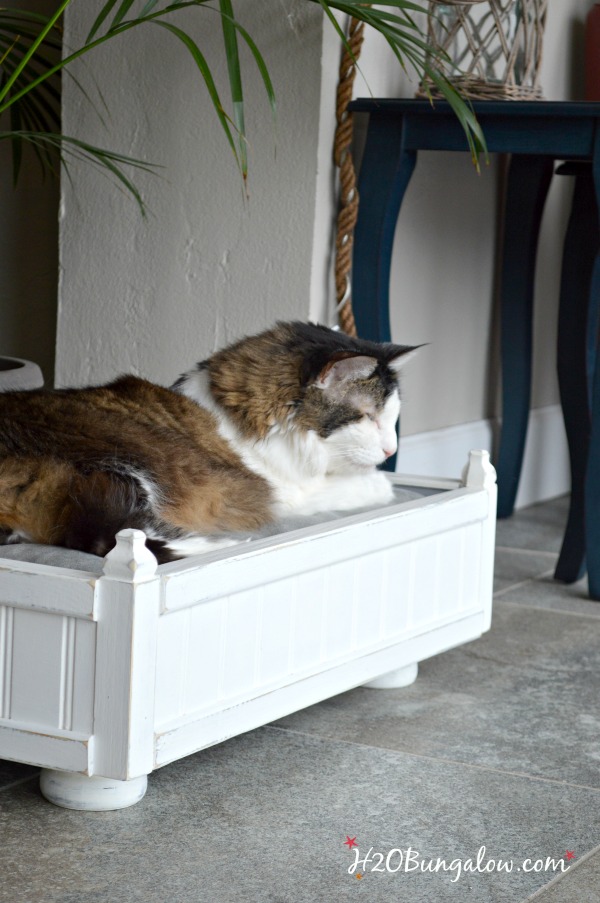 Sam is now happy, and we'll see if my plan to sleep later than 5am really works.  I sure hope so!
Have you seen the new Ryobi Nation yet?  Check it out while when you go get my free DIY small pet bed plans.  
It's a fabulous free resource for loads of DIY building plans, the latest on Ryobi deals, a wealth of knowledge on power tools which is a great place to start when you've got a question or want to learn how to use a particular power tool.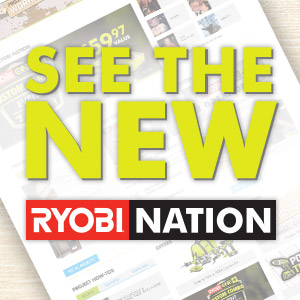 Take a look below for the rest of this months team projects and power tool DIY inspiration.
DIY Family Sign by My Love To Create
DIY Aiderondack FireBowl Table  by Interior Frugalista
DIY Headboard Bench by Domestically Speaking
DIY Wall Sign by Designs By Studio C
Easy Bird Feeder  by Virginia Sweet Pea
DIY Headboard Bench  by Designed Decor
DIY Small Pet Bed by H2OBungalow – That's me!
How To Use A Kreg Jig by My Repurposed Life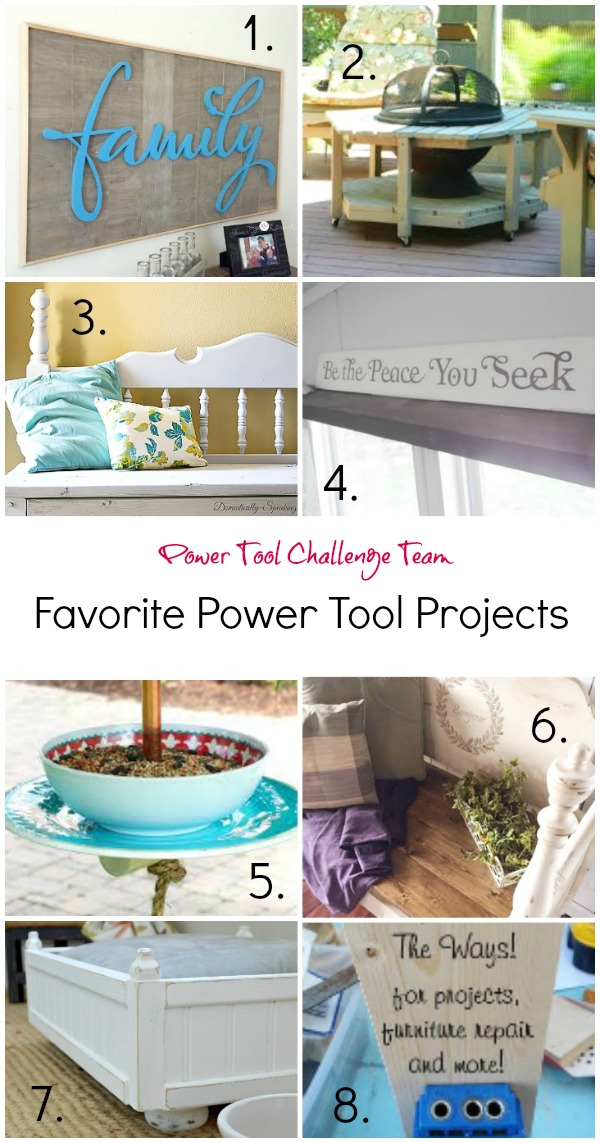 If you love it, pin it!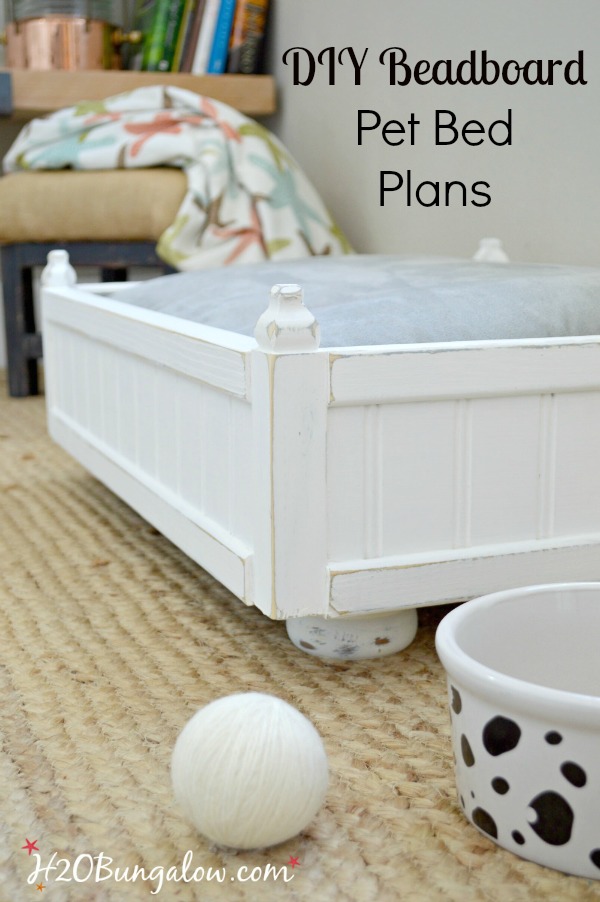 You'll find my project linked up to these fabulous parties!
Love a good dose of DIY home decor, home improvement, the challenge of woodworking and creative ways to make your home look fabulous?
Me too!
I'd love to share mine with you. Click here to sign up for my post emails and I'll send a quick note when I have a new project to share.
Disclosure: I may have been compensated, given product or tools that I used in this DIY post. All opinions that I share are always 100% my own. I use affiliate links in my posts. If you should make a purchase I will receive an itty bitty commission at no cost to you. Thank you in advance for supporting my blog and two fur-ball cats who believe they are privileged.