I wasn't sure I'd have the guts to do it so I left it undone for the longest time. Blank and bare my door trim stood, for so long that I didn't even notice it anymore. I tackled it this week. Since I was painting my own door and trim, I thought it would be the perfect time to share my favorite painters tape tips.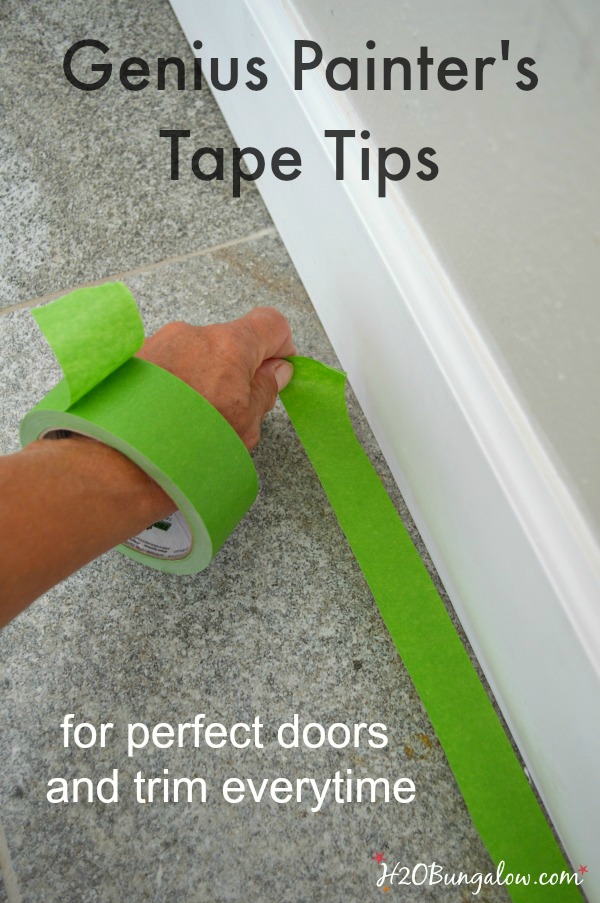 Oh, are you wondering what I didn't have the courage to do?
Bring in a bold color on the trim and baseboards in our reading nook and bedroom.
 Nope, no courage for going bold this time, but I did make my space look fresh and clean. At the same time I checked off an item that's been on my to do list for a while and that made me very happy 🙂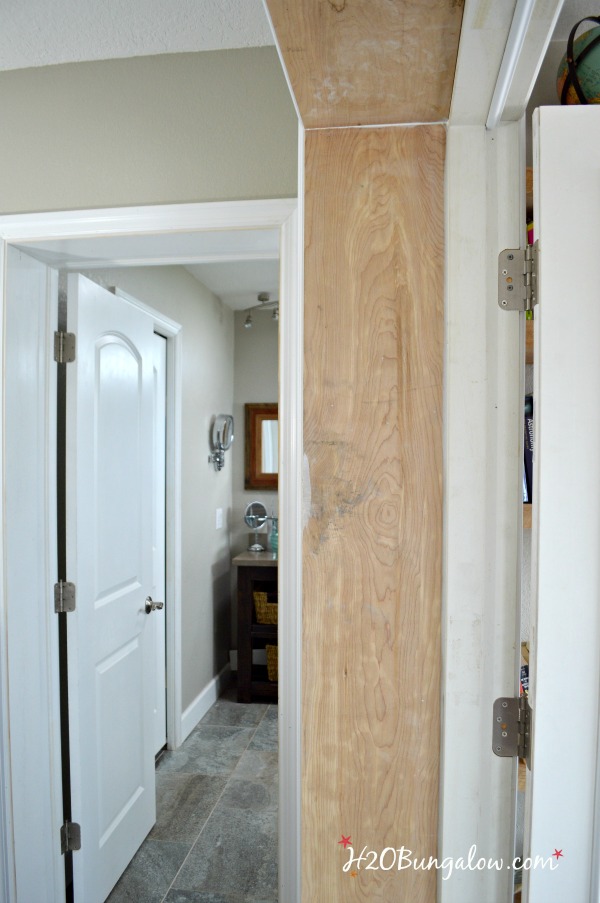 Paint alone wouldn't make me happy though my paint job had to look awesome, professional in fact. I always follow the painters tape tips I'm sharing with you today. They make a huge difference in how well a DIY door and trim paint project turns out.
Top painters tape tips that make painting easier.
I always use FrogTape® brand painter's tape when painting trim or walls that need a crisp and clean paint line. I've tried other products in the past and that didn't work so well. Both FrogTape® Multi-Surface and FrogTape® Delicate Surface painter's tape are the only paint tapes treated with PaintBlock®. It reacts with latex paint and acts as a barrier to make the sharpest, cleanest lines possible. These two are the perfect go to choice for any DIY painting project that includes painting trim, walls and doors.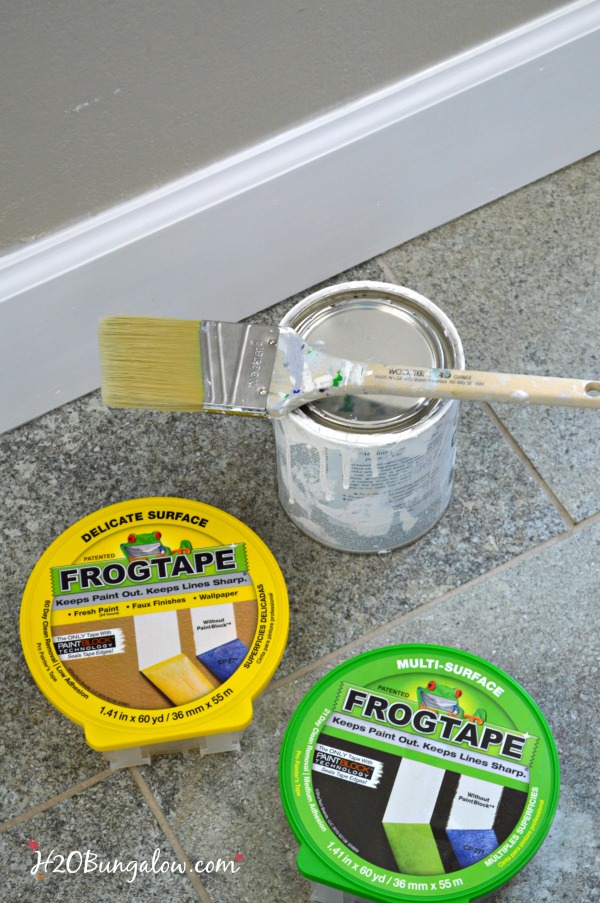 Prepare surfaces for painting trim and doors
#1. Always start with a clean surface. Wipe baseboard and trim to remove dust and dirt particles. This helps the paint tape adhere for a clean crisp edge.
#2. Once paint tape is applied, run your fingers back over the edge of the painters tape to seal the edges.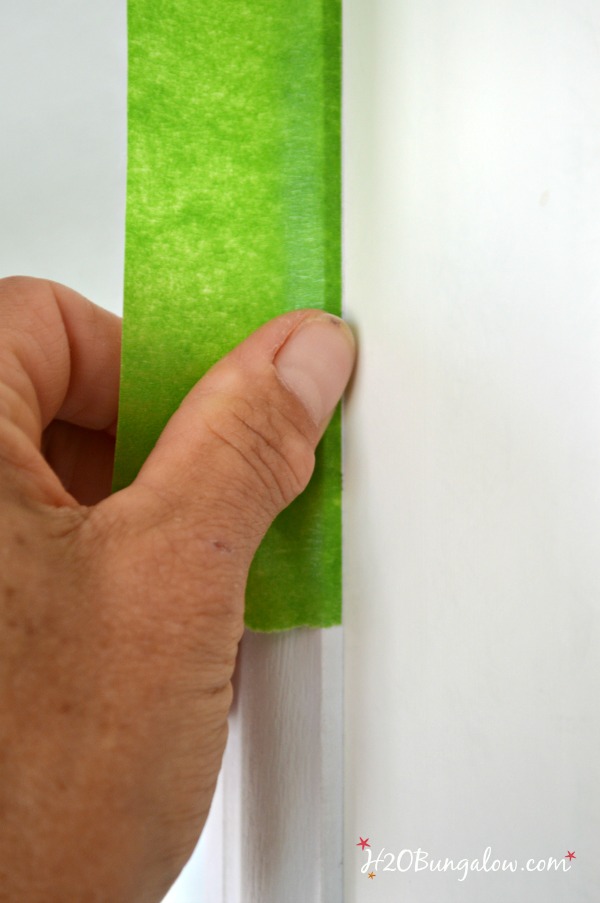 #3. When taping off large areas, slip the roll of painters tape over your wrist to keep it close and pull of the amount needed as you work. This is especially handy when painting ceiling molding and high trim while you're on a ladder.
#4. Shorter strips of tape are easier to apply and don't get tangled. Overlap the edges for easy painters tape removal. When removing the tape, start at the opposite end of where you began (where you finished), it will pull away in one long piece of tape.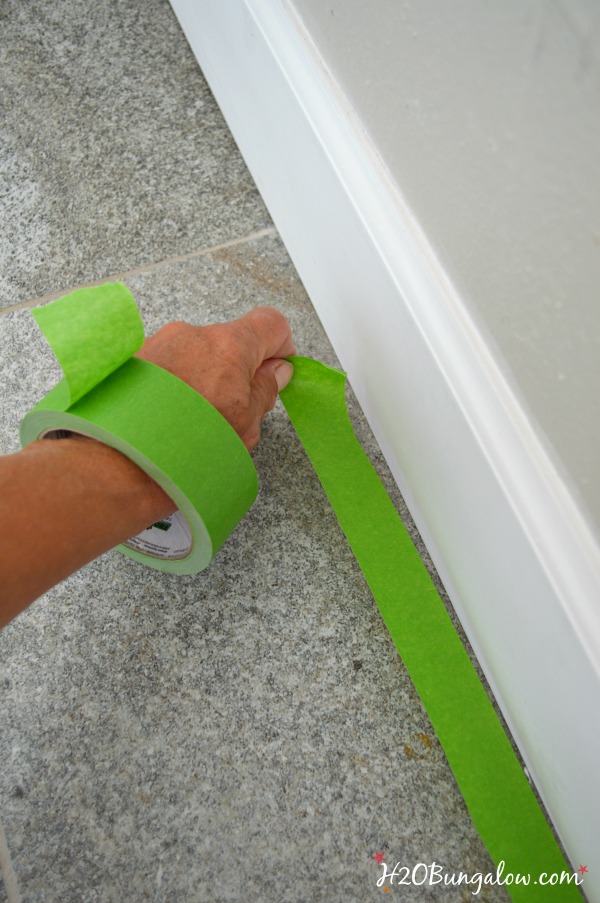 #5. Small pieces of FrogTape work best around uneven decorative molding and curved edges.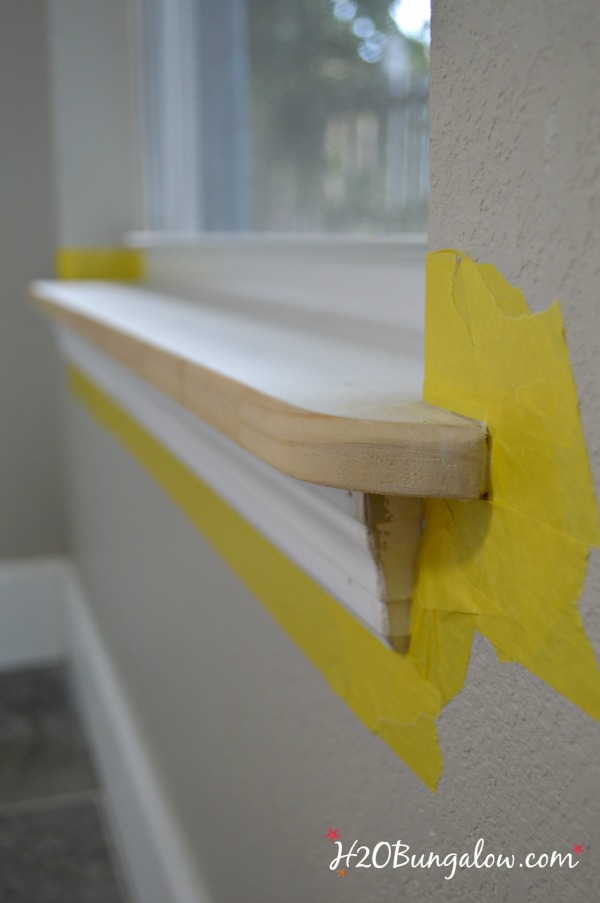 Shortcuts for painting trim, baseboards and doors
#6. When painting baseboards, I put a row of tape along the baseboard at the floor and use a heavy cloth dropcloth. I place the dropcloth at the edge of the tape, not touching the baseboard. As I paint the baseboard, I move the dropcloth along with me.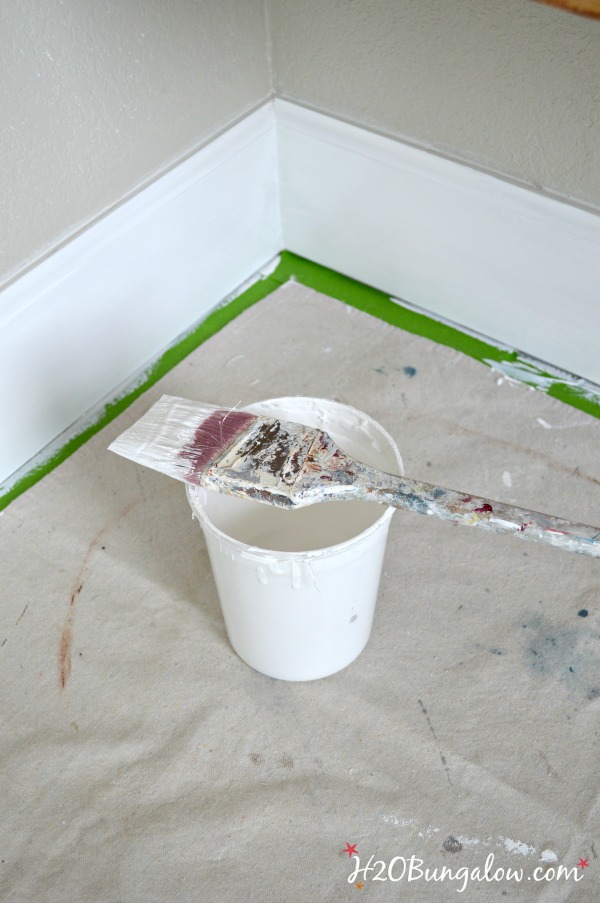 #7. Ideally all door hardware should be taken off. But that's not always possible. When painting over door hinges, place FrogTape paint tape over hinge hardware and trace edges with an Exacto Knife, peel away the excess. You'll get perfect coverage. Corners can be cut this way also, place the first piece of tape at the corner along a baseboard. Cut the excess off where it meets the wall, place the next piece of tape running in the opposite direction of the other wall.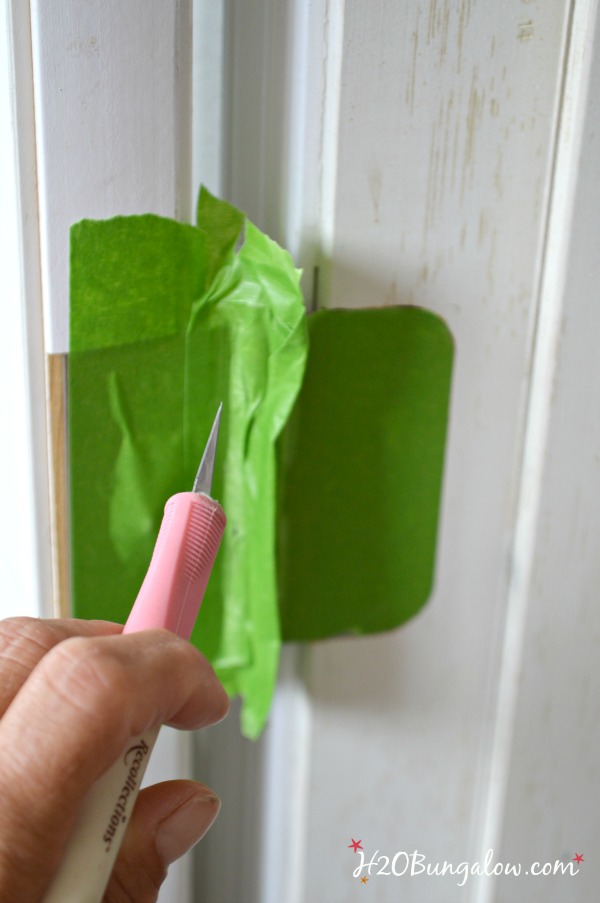 FrogTape best practices 
#7. Choose the right paint tape for the right job. Protect freshly painted surfaces and wallpaper with FrogTape For Delicate Surfaces. A freshly painted surface is one that is 24 hours old. Don't apply any paint tape to freshly painted surfaces less than 24 hours old.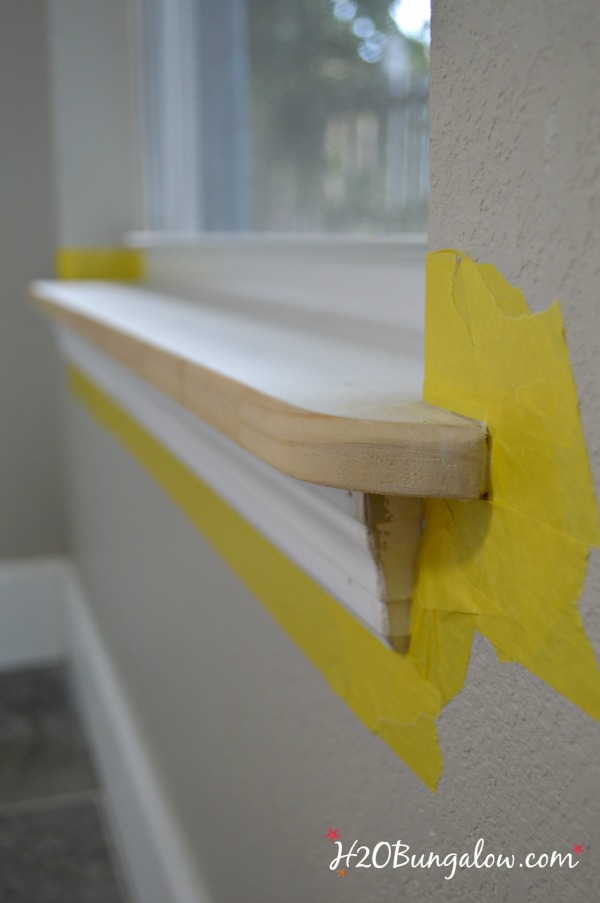 Best tips for removing painters tape
#8. It's best to remove FrogTape when paint is dry to the touch or almost dry. Keep in mind FrogTape Multi-Surface painters tape is safe to leave on most surfaces for up to 21 days and 7 days in the direct sunlight. FrogTape For Delicate Surfaces is safe to leave on most surfaces up to 60 days. That's good to know if you'd plan on taping your paint project off a day or two before starting to paint walls, trim or doors.
#9. Remove painters tape by pulling away slowly at a 45 degree angle.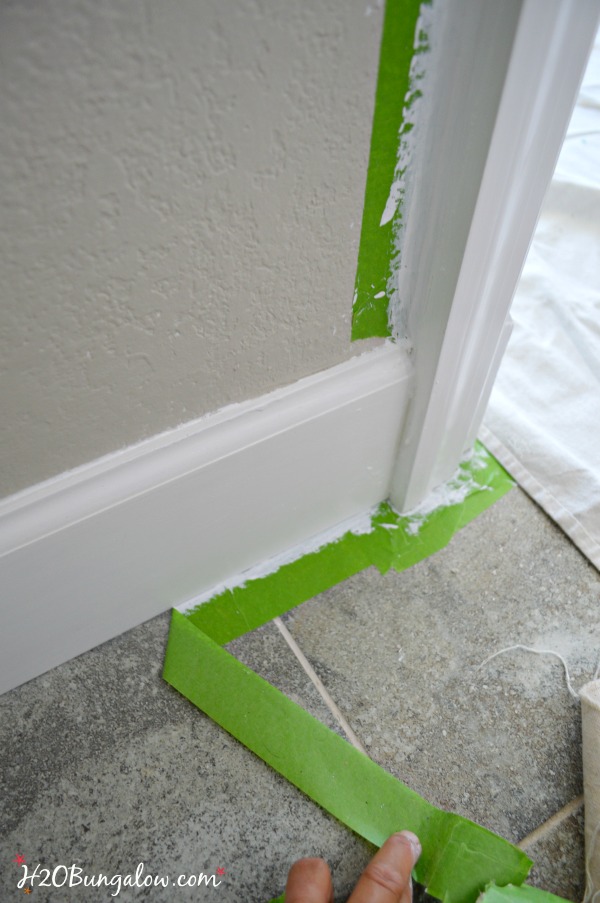 I follow these painters tape tips every time I paint doors and trim. They are my favorite go to methods for getting perfect results every time.
Even though I chickened out on the bold color, the fresh coat of white paint on our doors and trim brightened up our reading nook. Our French doors and trim are now all the same color.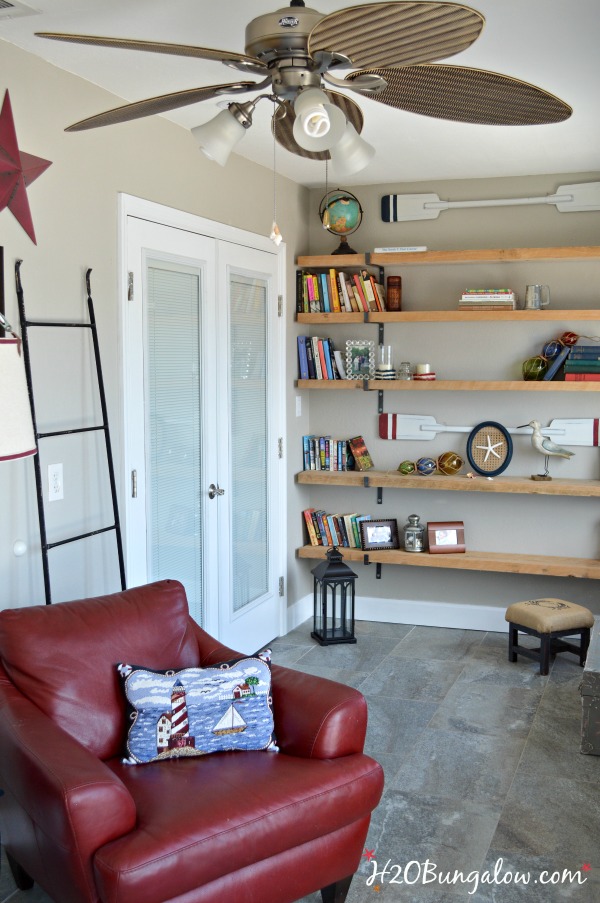 This made a big difference on how well our areas seamlessly connected. I haven't shared pictured of the french doors or the entry before because they weren't painted 🙁  But now you get to see them!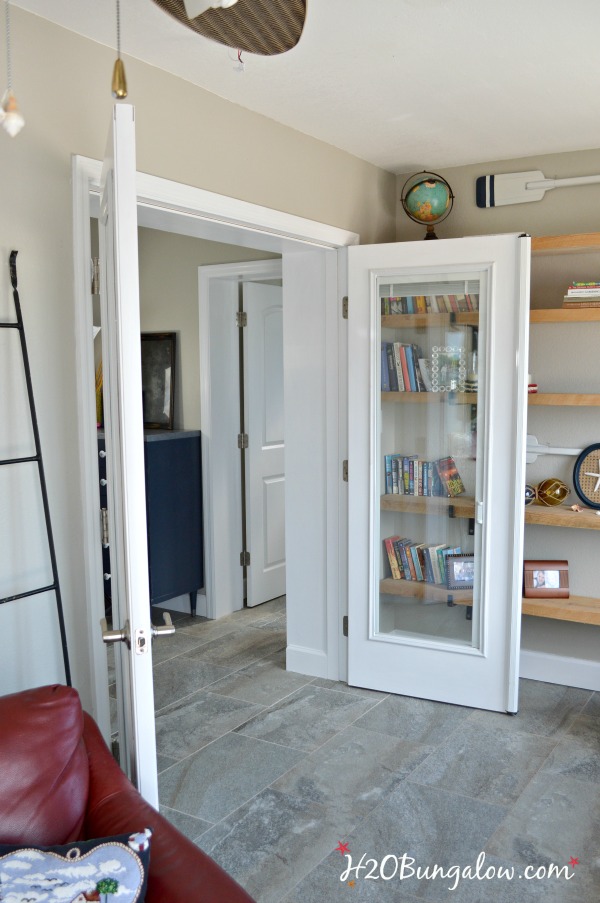 If you're preparing to tackle painting a door or trim project in the future save this post. My favorite painters tape tips will have you taping off like a pro on your next DIY paint project:)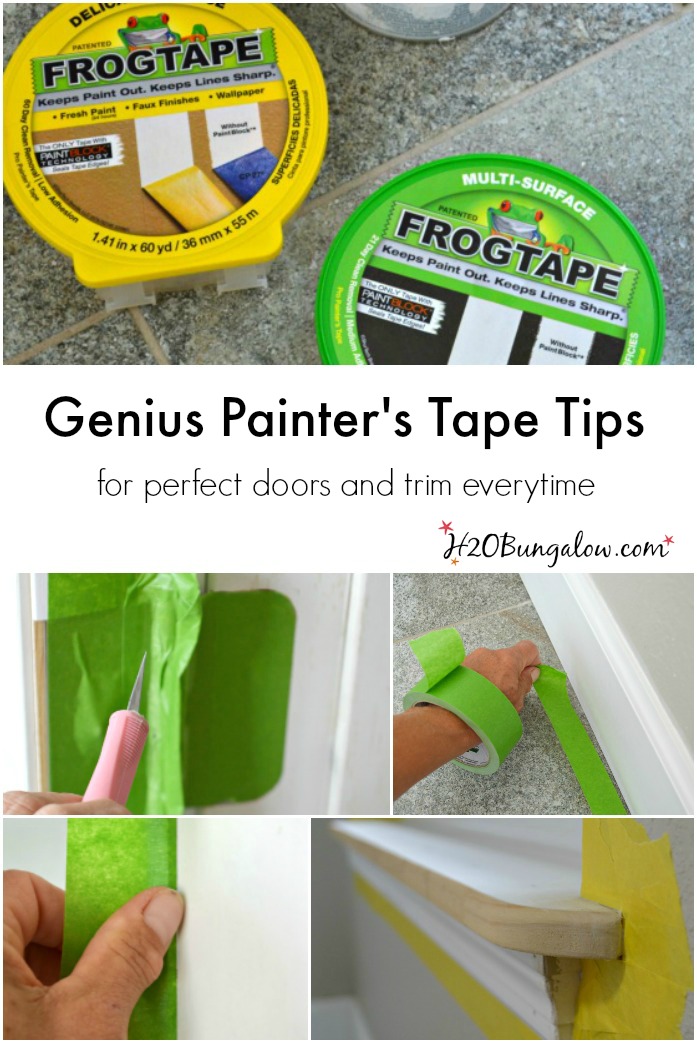 I love being creative, so does FrogTape. Click here for awesome FrogTape® painting inspiration!
Here are few more other creative tips and tutorials using Frog Tape paint tape products I've made too, Americana Knobs for a Patriotic Dresser, how to paint Paint Perfect Stripes every time.
Do you have a time saving or favorite painting tip you'd like to share? I love when readers contribute, plus I learn from you guys all the time. Leave a comment below and share your knowledge:)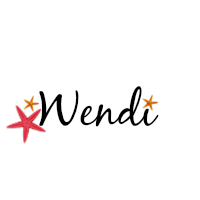 You'll find my project linked up to these fabulous parties!
Love a good dose of DIY home decor, home improvement, the challenge of woodworking and creative ways to make your home look fabulous?
Me too!
I'd love to share mine with you. Click here to sign up for my post emails and I'll send a quick note when I have a new project to share.
Disclosure: I may have been compensated, given product or tools that I used in this DIY post. All opinions that I share are always 100% my own. I use affiliate links in my posts. If you should make a purchase I will receive an itty bitty commission at no cost to you. Thank you in advance for supporting my blog and two fur-ball cats who believe they are privileged.