I know what you're thinking…are we there yet? Guess what? The answer is yes! I've enjoyed making progress as much as working my creativeness to find solutions to some tricky spots in many of my 3o Days To Fabulous DIY Backyard Makeover projects. But everything has to come to an end, and me working outside in close to 100 degree humid temps for about a month definitely had to come to an end! When you're done checking out this reveal, head over and check out my newest Coastal Home Tour (2019).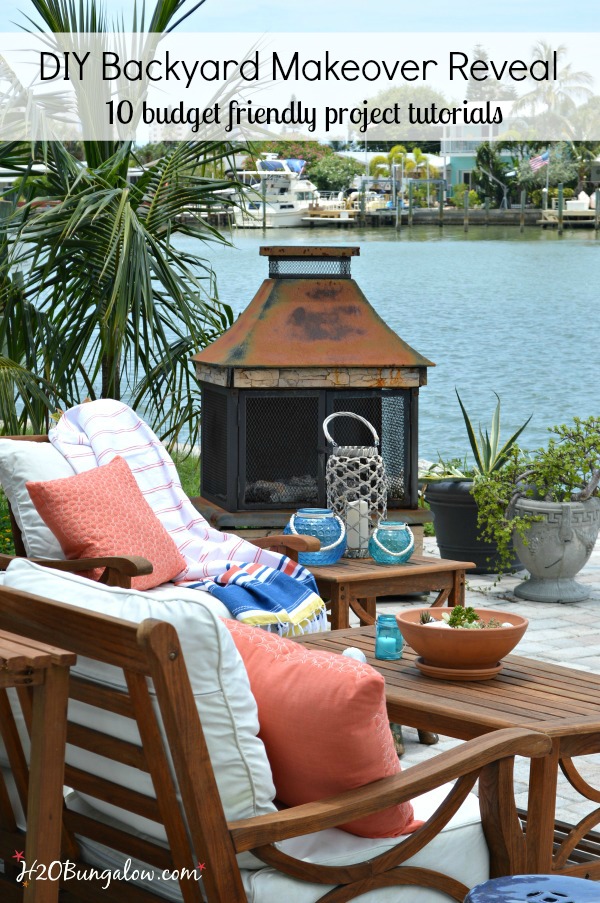 So without further ado, let's get started….drumroll please!
Let me refresh your memory of what my backyard looked like a month ago. I had the gorilla concrete table that weighed 800 lbs to get rid of, lots of yard clean-up and huge list of projects and ideas in mind.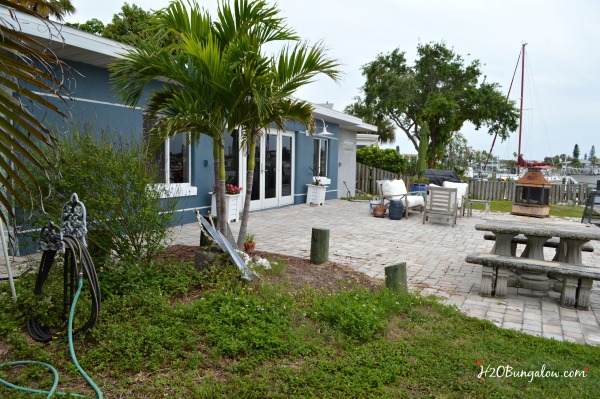 After working on the big stuff in the project house for the last 3 years, it was finally time to make our backyard step up to it's potential and a place we could be proud of.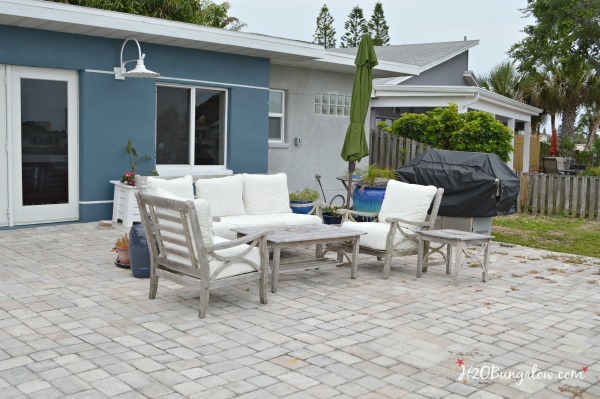 The entire back of our home was sorely lacking attention. To make it worse, it's very public. The back of our house faces the water, which is like a street with boat traffic every day. Many people around here have prettier backyards than front yards.
Clearly, that wasn't us 🙁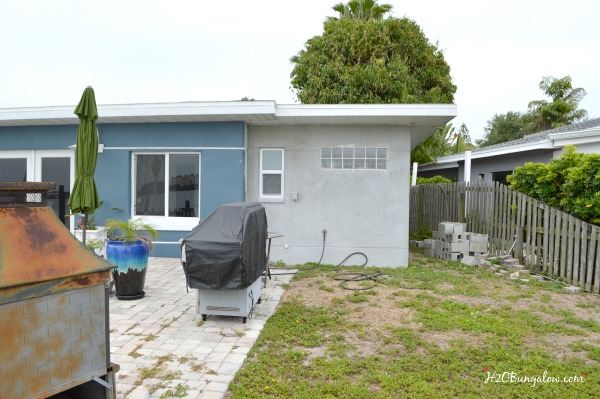 I'll bet the neighbors started doing a happy dance when I finally started working outside! The first thing I did was finish painting the house. Yes, I only painted the front and back when I painted originally. I share the story of why, and a really good video tutorial here.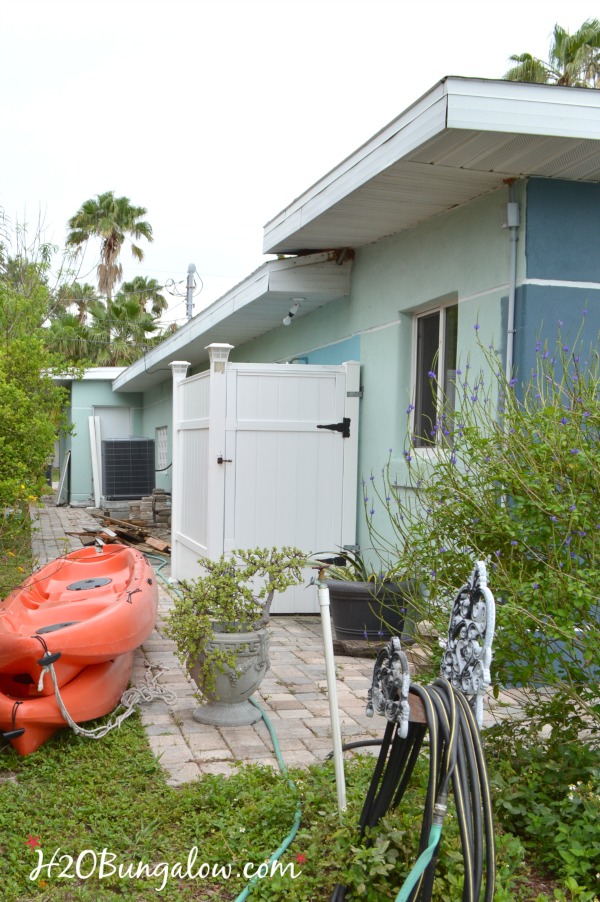 My goal for all my DIY backyard makeover projects was to create an outdoor area that not only was comfortable to be in but also looked good from the moment I got to the back door or even as I looked out a window.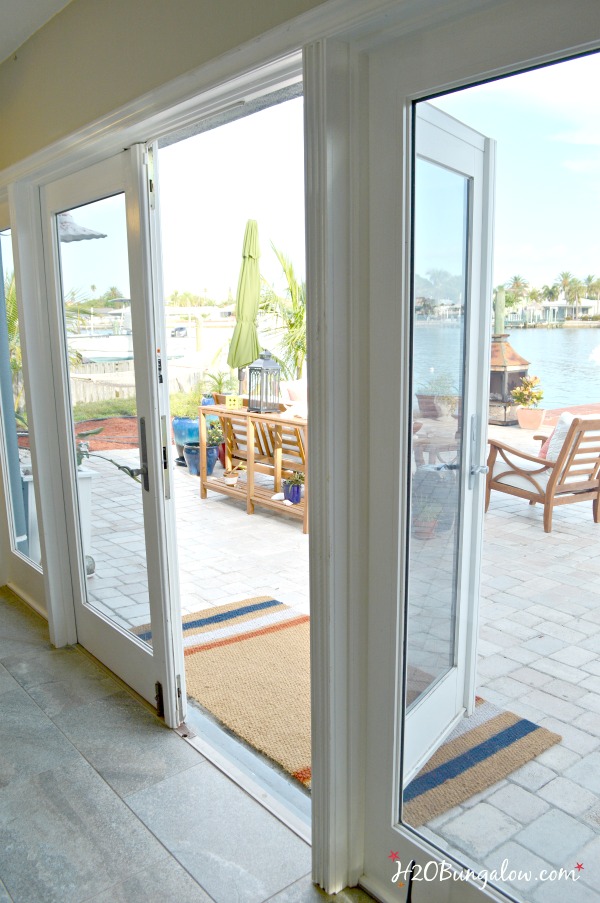 All of my DIY backyard makeover projects were done on a budget.
A few of the pre-existing outdoor DIY projects I finished before my 30 Days To Fabulous Backyard Makeover are still favorites of mine. The Key West DIY Wood Planter Boxes I made and my DIY Outdoor Sofa Table that you can see in this picture below do a lot for the area.
My quick and Easy Spray Painted Doormat fills the big space by the backdoor well. Plus the outdoor spray paint is made to hold up and should weather well. It was a crazy good deal too. I recently (May 2018) created a beautiful Wooden Lantern for indoor or outdoor use and I love how it looks on my outdoor furniture.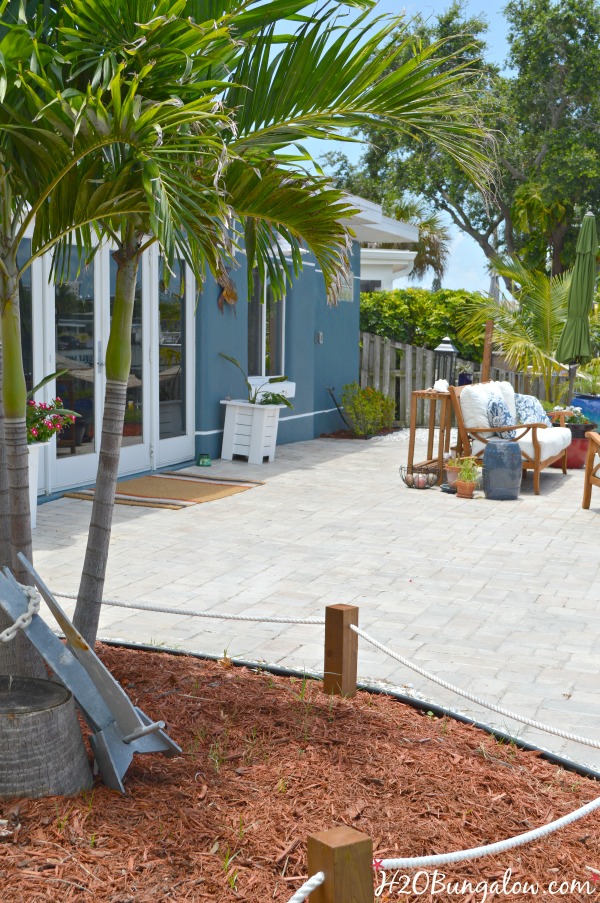 I weeded my palm garden bed and added a DIY Coastal Rope Garden Border. It wasn't a hard project or too expensive and totally changed this area. I also showed you guys How To Easily Hang Outdoor Wall Decor Without Nails in another project in this series.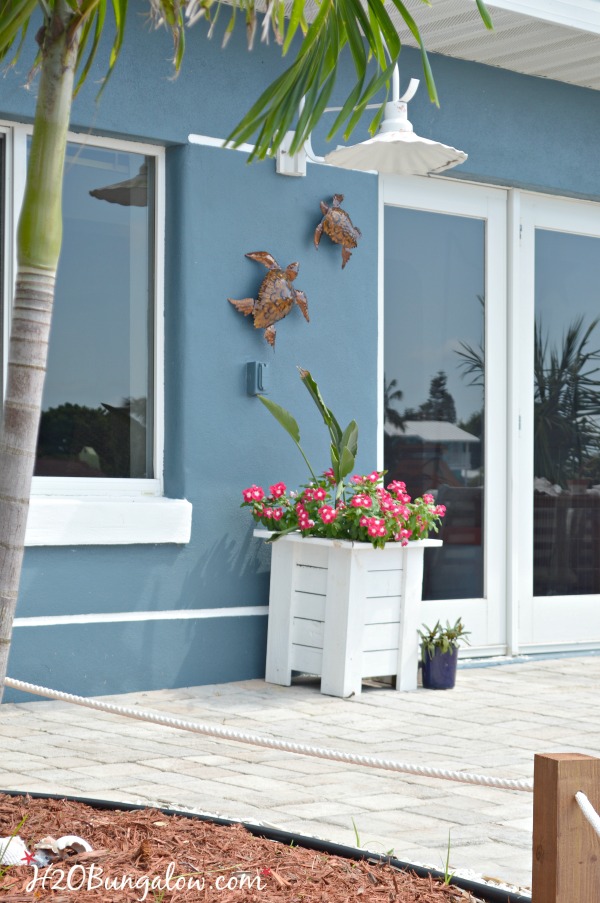 I made a DIY Outdoor Standing Towel Rack to hold the beach towels and bathing suits that used to be laid out across the furniture after a day at the beach. This works so much better! A complimentary Easy Privacy Screen to hide our trash cans and makes the area look much neater too.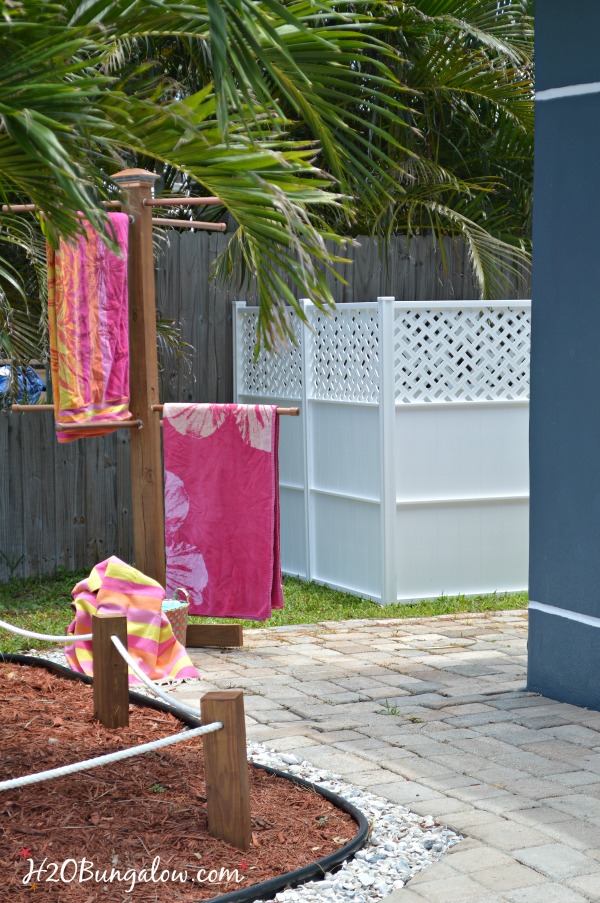 Our troublesome umbrella that would take flight during strong winds is now firmly anchored with a hidden 50 lb bucket of concrete disguised as a pretty planter. See how I did it in my DIY Umbrella Stand Planer Tutorial. Our outdoor wood furniture looks better than new. I should have done it a long time ago and share how in my How To Restore Outdoor Teak Furniture. You furniture doesn't have to be teak, it will work on any type of outdoor wood 🙂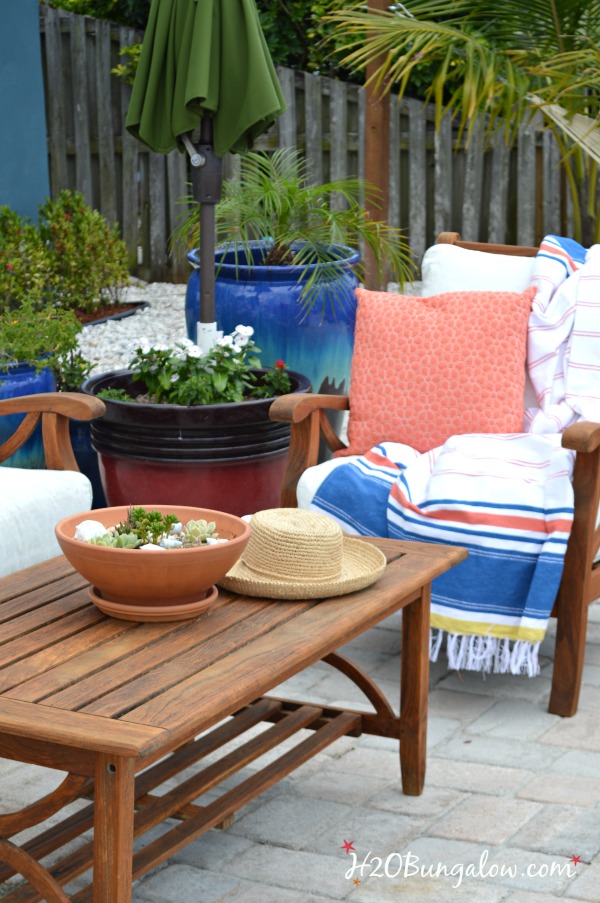 I added more color to the backyard and shared my easy 3 Tips For Spray Painting Outdoor Planters tutorial. These bushes were re-homed from the front yard:) They look fabulous with my favorite orange painted Adirondack chairs, another one of my DIY backyard projects from last year.
This is another favorite spot for morning coffee 🙂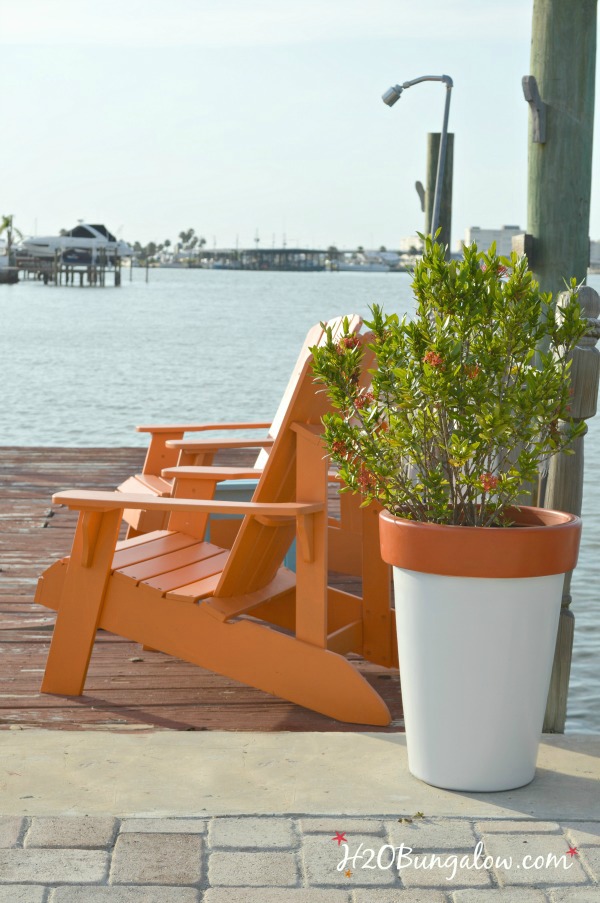 The troublesome side yard found a new purpose…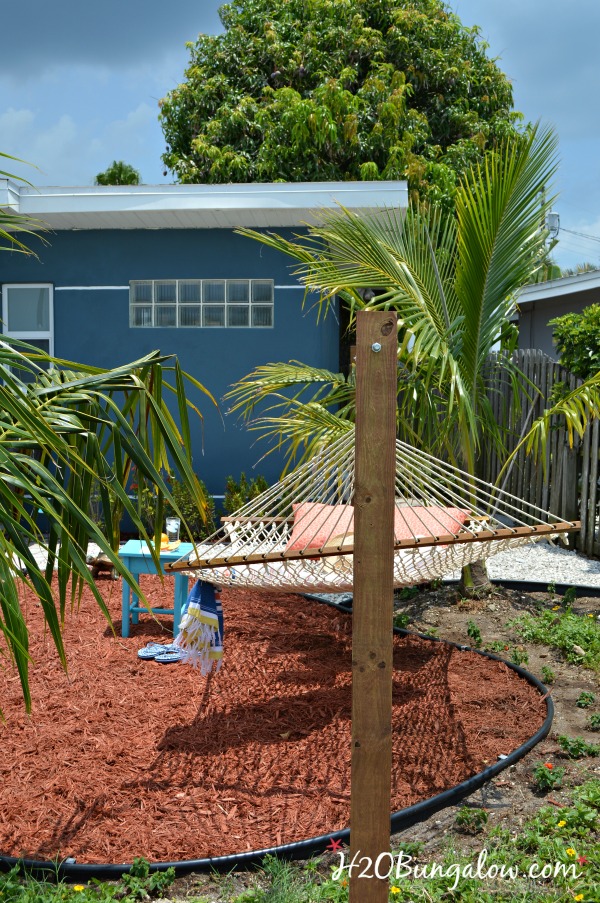 …and now has a fabulous hammock with a view. I shared How To Build A Hammock Stand from Posts, it was much easier than I thought it would be.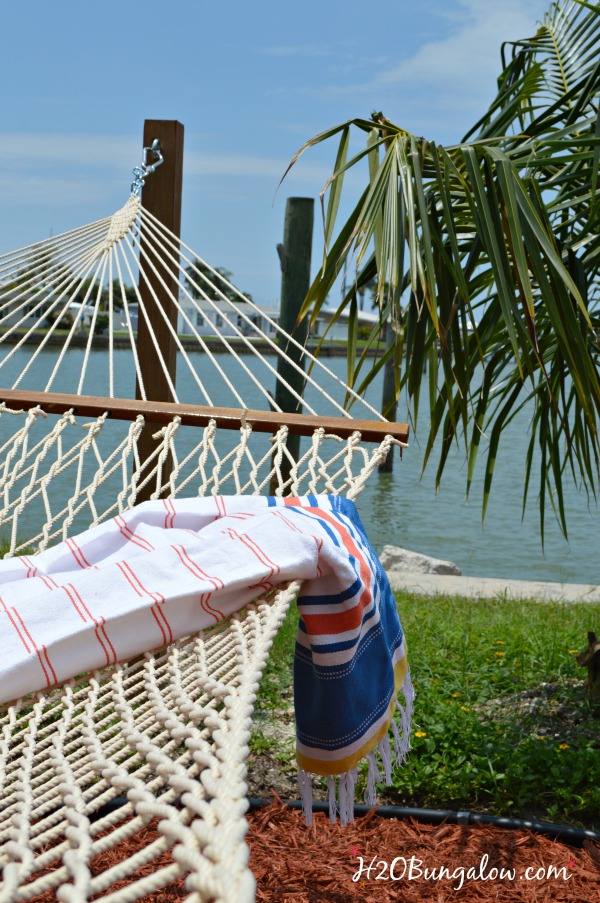 I used leftover red and orange Lantana around the border of the DIY garden edging like I used in my DIY Butterfly Garden to add some color.
It's small, but hasn't died yet so I have high hopes it survives our sandy soil that's more sand than soil 😉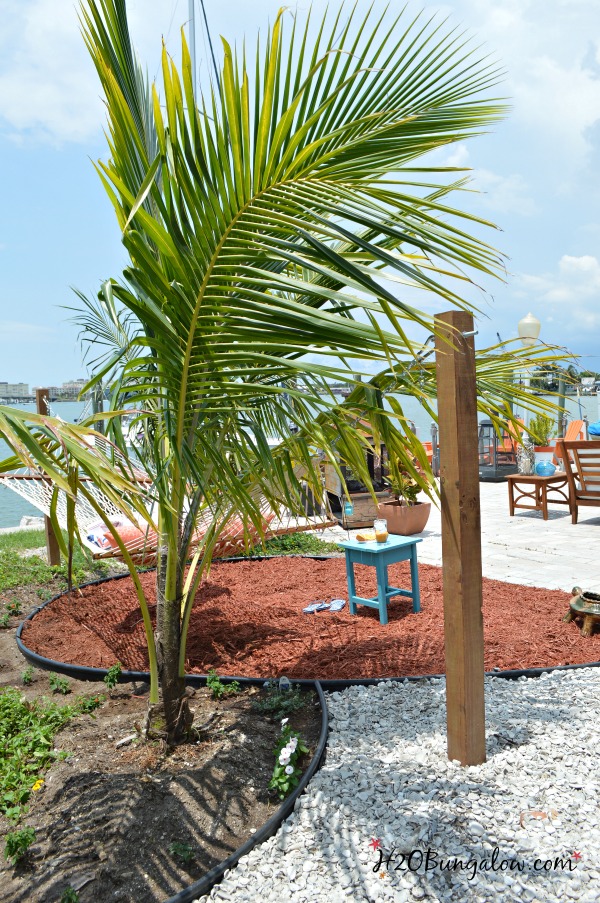 A walking path in crushed shells goes around the back of the house which is now our new kayak storage space. I love the contrast of the shells against the mulch, it fits right into the new landscaped area.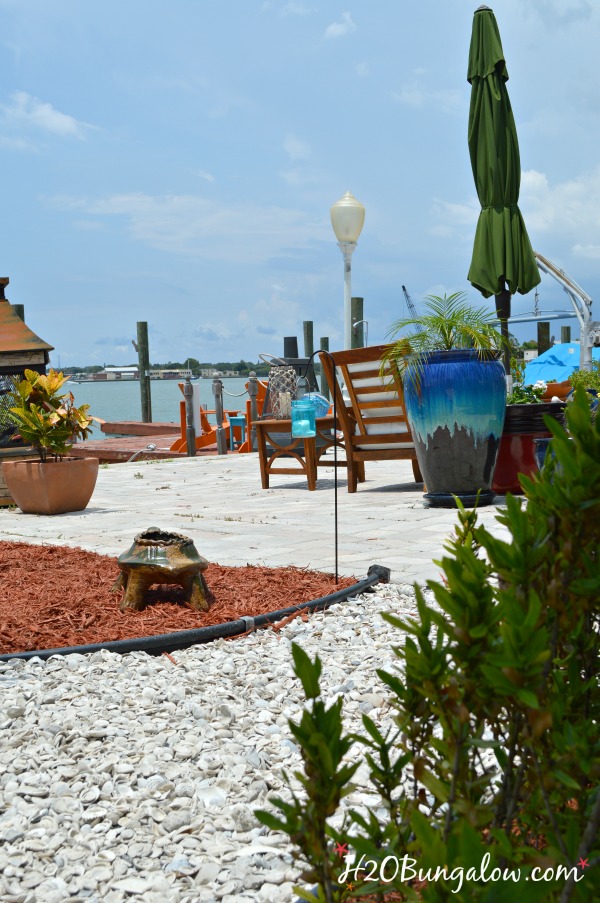 Now all the spaces blend well together.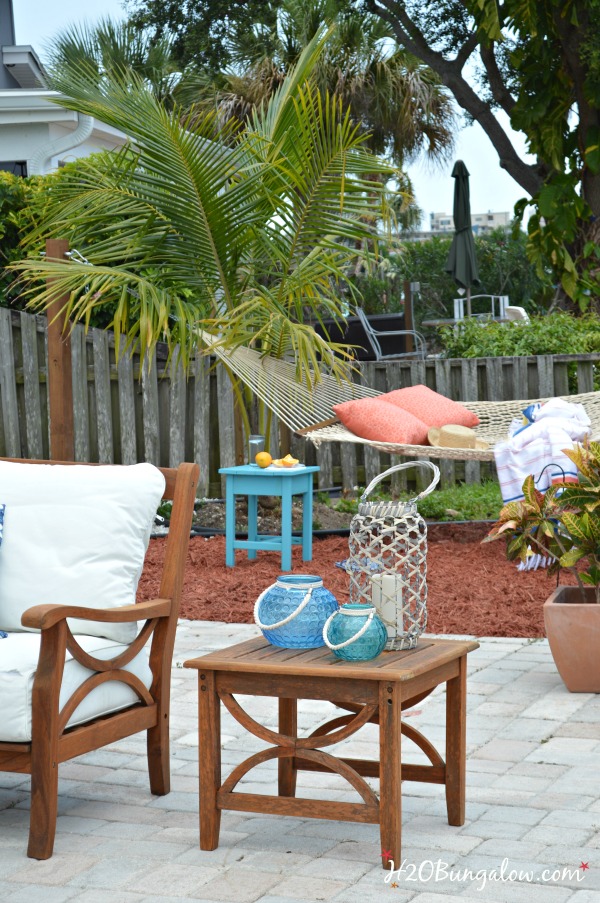 We've used the backyard more in the last few weeks than we have all year. We've even had friends over and I didn't cringe from embarrassment!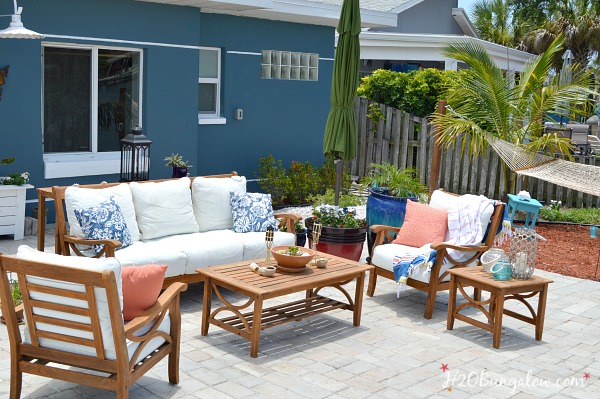 I feel like my work here is done 🙂
I finally have exactly the space I envisioned. A relaxing and inviting place to read a book or have friends over. One that looks pretty from inside or outside the house. A view that invites me to stop and enjoy as my eyes travel from one place to the next.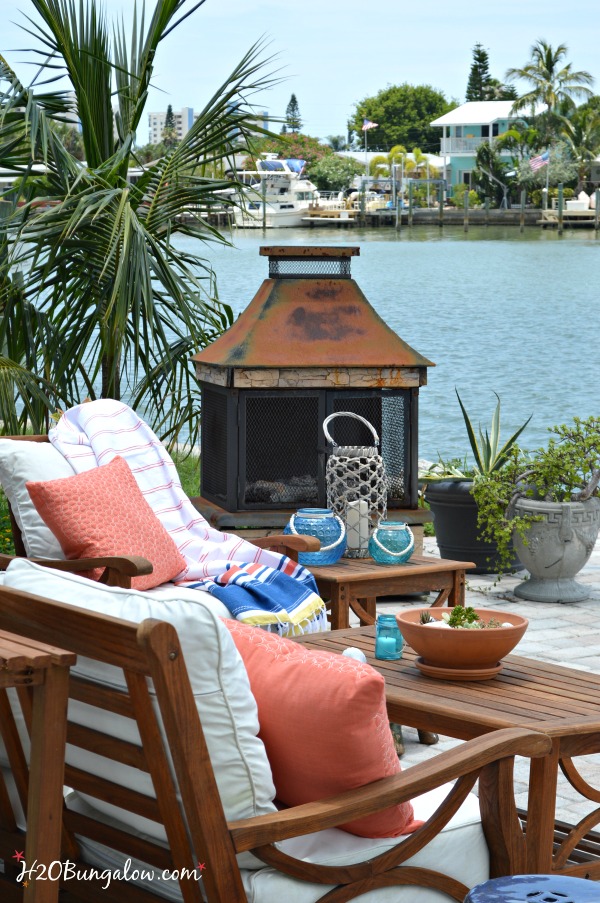 A place where I can go to get away from it all and simply be at the end of a long day.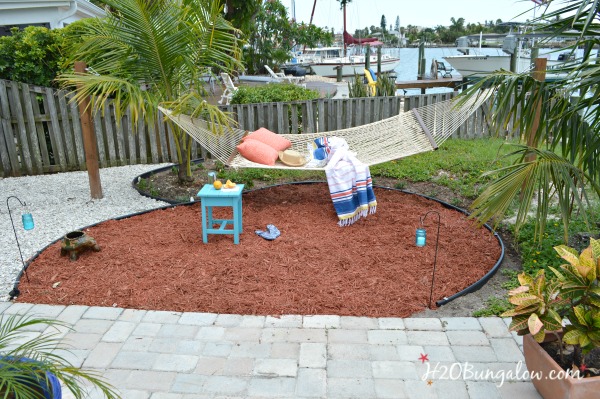 Friends, now that I've shared with you what creativity, a little vision and some DIY ingenuity will produce. I'm hoping I've motivated you to to take a good look at your own backyard and realize you too can create a fabulous place to relax and enjoy.
Don't forget to pin it or share on Facebook!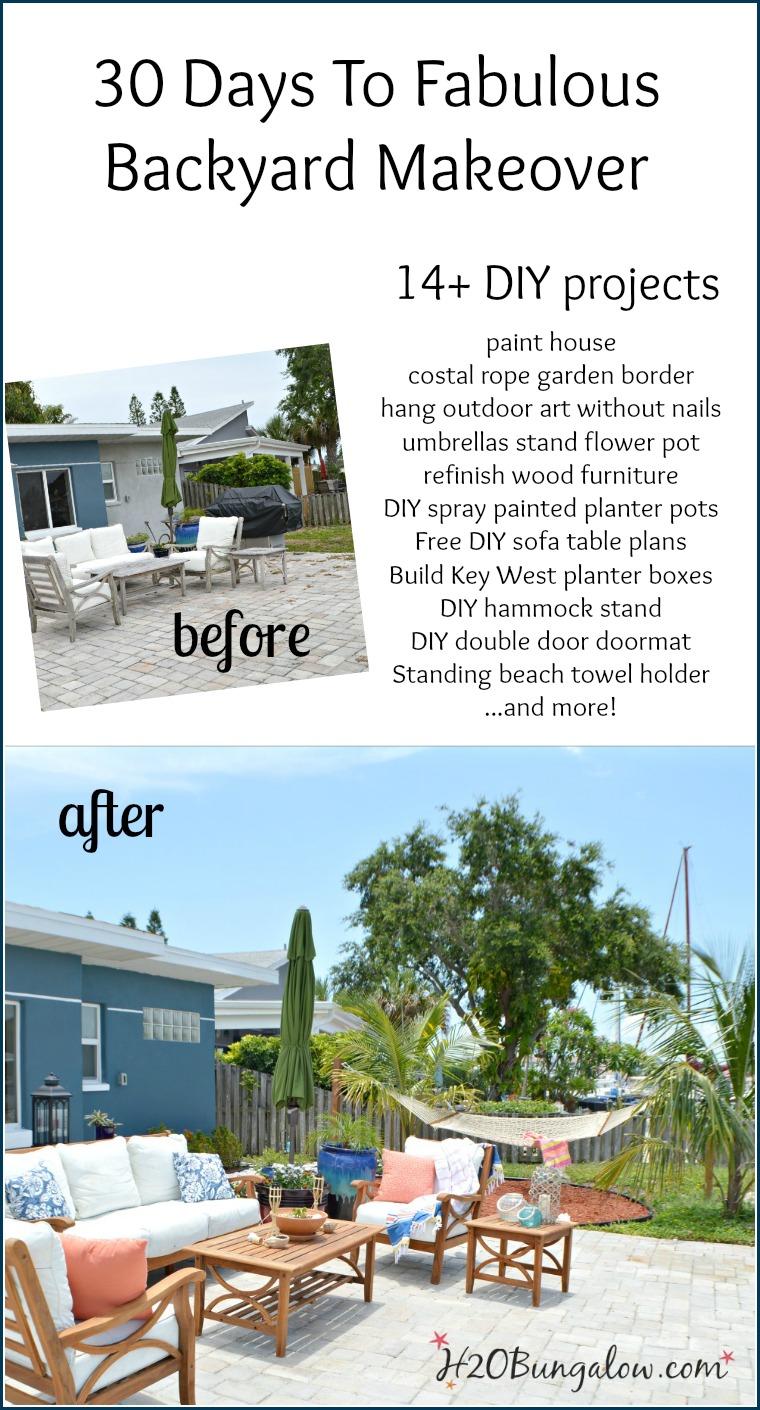 See my other 30 Days To Fabulous Backyard Makeover Projects below!
You'll find my project linked up to these fabulous parties!
Love a good dose of DIY home decor, home improvement, the challenge of woodworking and creative ways to make your home look fabulous?
Me too!
I'd love to share mine with you. Click here to sign up for my post emails and I'll send a quick note when I have a new project to share.
Disclosure: I may have been compensated, given product or tools that I used in this DIY post. All opinions that I share are always 100% my own. I use affiliate links in my posts. If you should make a purchase I will receive an itty bitty commission at no cost to you. Thank you in advance for supporting my blog and two fur-ball cats who believe they are privileged.