Today I'm sharing a healthy dog biscuit recipe for sensitive tummys that you and your dog will love. It's gluten-free and easy to make.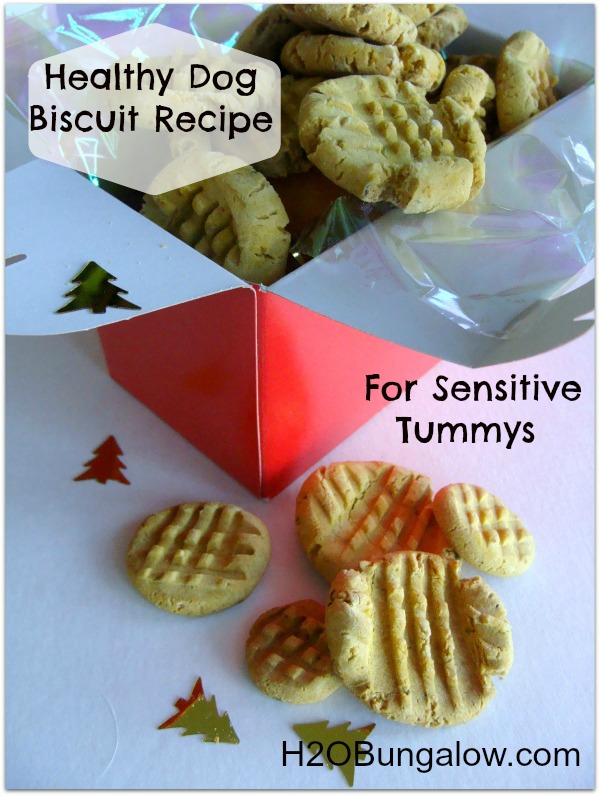 Our dog Cinnamon is a special needs mature girl. Aside from being on a regular regime of medications, she has trouble eating regular dog biscuits, most dog foods and she has a sensitive tummy.
Basically, we have to watch what she eats and like a kid with candy she'll eat almost anything she can chew. Usually with bad results. I feel so bad when I throw away the treats that come packed with her pet med delivery. Yes, she is usually sitting and watching me, which makes it worse.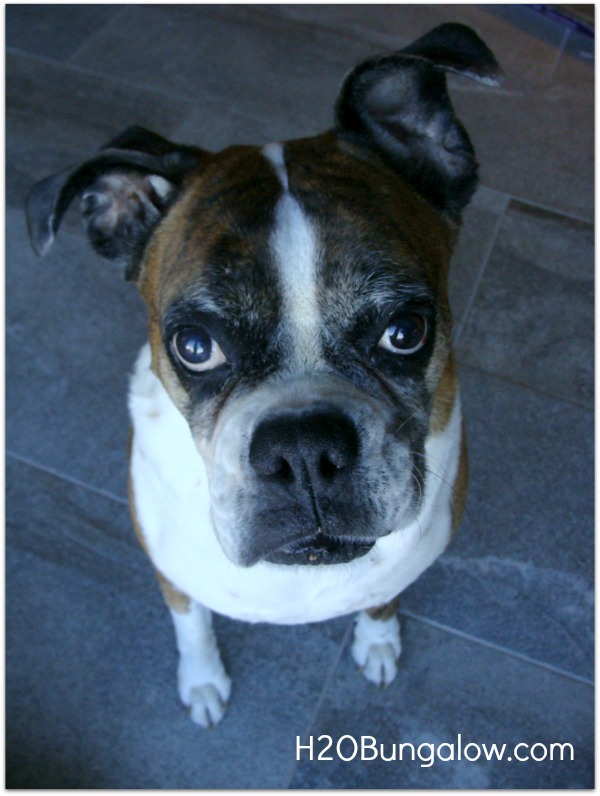 This year instead of buying her a toy for her Christmas stocking I decided to make her gift. Something she'd really enjoy, a big batch of healthy dog biscuits that are gluten-free, have special ingredients to aid in digestion for sensitive tummies and in a size that she can chew.
I read and dug around Pinterest for a healthy dog biscuit recipe for sensitive tummys. I saw lots of dog biscuit recipes that used pumpkin. I thought canned pumpkin was included because it's a holiday dog biscuit. OK, it was late and I was tired, you can laugh at me it's OK.
I found what looked like a good recipe on Simmer Till Done which also used canned pumpkin. What I liked most about this recipe was that she shared why her recipe called for pumpkin. She explained that her vet recommended adding a little pumpkin into her dog's diet to aid in digestion. OK, I thought. If I can get Cinnamon to think she's getting a treat and hide that it's good for her and her sensitive tummy we have a win – win!
I tweaked the recipe to accommodate our needs. Cinnamon can't eat regular biscuits or even large dog food chunks so I made little cookies. While I was in the Christmas spirit with a glass of wine and holiday tunes playing in the background I doubled the batch. Now, every dog in our family as well as friends and the neighbors pooches will have a Christmas box of healthy dog biscuits too.
Healthy Dog Biscuit Recipe For Sensitive Tummies
2 eggs
1/2 cup canned pumpkin
1/4 cup peanut butter
2 tablespoons dry milk
1/4 teaspoon sea salt
2 1/2 cups brown rice flour (labeled gluten-free flour )
1 teaspoon dried parsley (optional)
water
Pre-heat oven to 350 degrees.
Mix all the wet ingredients together in a bowl except the water. Add the dry ingredients slowly to mix well. Sprinkle water into the mixture as needed until you get a cookie dough consistency. Roll into small balls and place onto an ungreased cookie sheet. Press crisscross patterns across the top with a fork like peanut butter cookies. Our cookies were about 1 1/2″ across. They work fine in any size. I also made a batch of mini cookies for our neighbors little Yorkies and they cooked in about the same amount of time.
Bake for about 15 minutes per batch. They will not rise or spread out, They will be slightly brown on the bottom when they're done. One batch made about 100 – 150 healthy dog biscuit cookies depending on the size.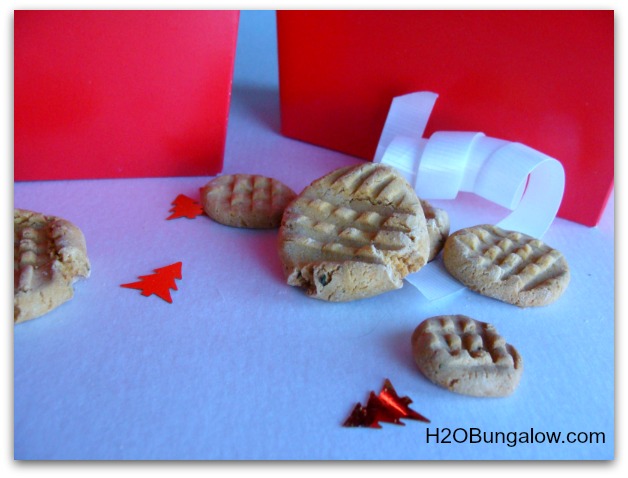 I've printed this recipe for healthy dog biscuits for sensitive tummys and will include it in each gift box of biscuits we, err Cinnamon gives out. She Loves these and I like that she's getting a healthy gluten-free treat with no preservatives.
Do you have a furry friend who could use this healthy dog biscuit recipe for sensitive tummys? Pass it on!
Watch for my next post on the stocking gifts I made for Sam and Dexter our family cats 🙂

Don't miss a single creative idea I share! Click here to get my posts sent to your mailbox or follow here on Bloglovin. Either way, keep in touch!
You may see me linked up to some fabulous link ups which you can see here.