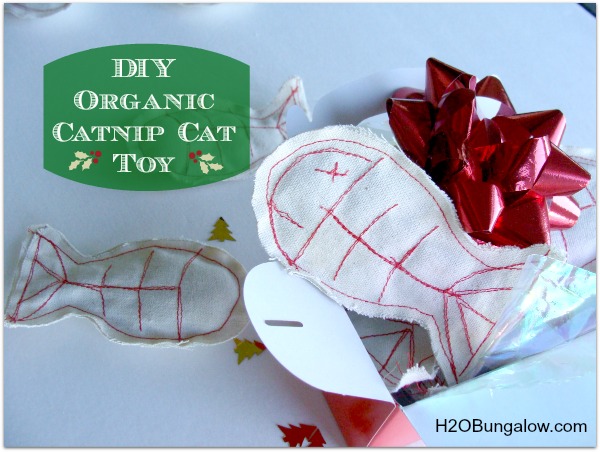 We'd never forget our furry family members at Christmas. Instead of buying gifts this year I decided to make something for them. Last week, I made Cinnamon, the Boxer healthy gluten free dog biscuits. Today I'm sharing my easy DIY organic catnip cat toy. It's super fast to make and probably cost about .25 to make. If you've never given your cats organic catnip I highly recommend it. It's nothing like the prepackaged commercial catnip. We've also grown catnip before and it didn't thrill Sam and Dexter like this stuff does. Anyhoo, if your cats are mildly attracted to regular catnip, you'll get a crazy reaction from the organic stuff. I buy it loose at the health food store and find it in the bulk spices section.

in just a few quick steps you'll have your own DIY organic catnip cat toy. I drew a basic fish template on heavy cardstock and cut it out. Using my fish template I traced it onto the fabric and cut out two for each toy. I used red thread to sew a fish bone design onto one side of my fish for decoration. I saw several cute fish sewn like this on Pinterest. Next, sew along the edges, leaving a generous seam allowance. Leave the tail unsewn. Use the tail opening to fill the fish with a few tablespoons of organic catnip. I rolled a piece of paper into a funnel and stuck it into the tail opening. It made it a lot easier to fill the catnip toy. Last sew the tail.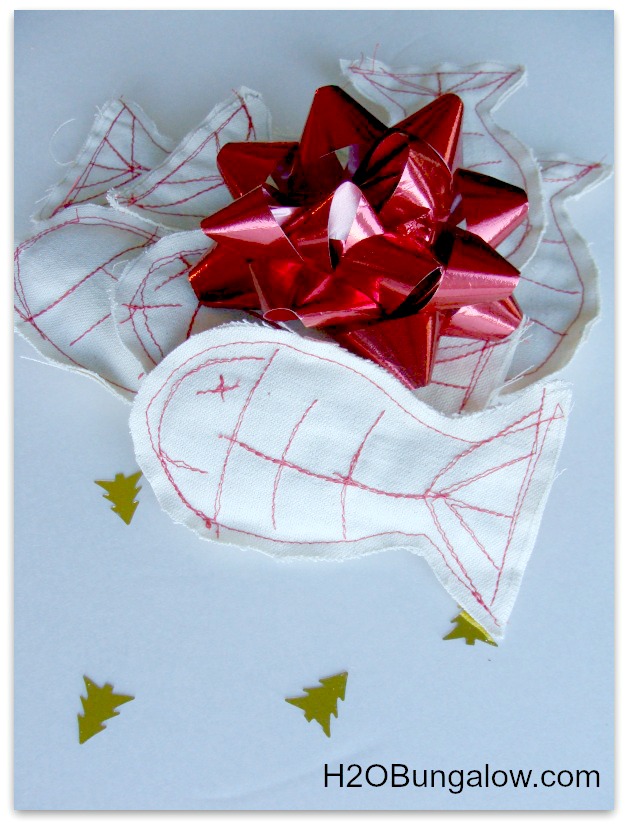 I whipped up several of these cute little easy DIY organic catnip cat toys. We're or should I say, Sam & Dexter are giving them as gifts to our thier friends and family for Christmas. What are you giving your cat for Christmas?

Don't miss a single creative idea I share! Click here to get my posts sent to your mailbox or follow here on Bloglovin. Either way, keep in touch! You may see me linked up to some fabulous link ups which you can see here.