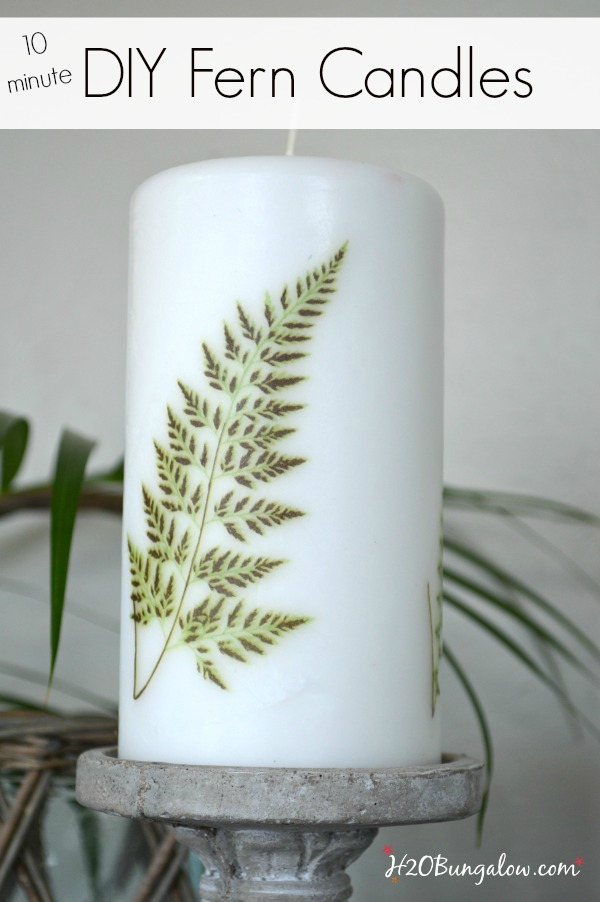 I'm sharing my 1o minute project on how to add fern images on candles with you today. Ferns are poular in home decorating lately and I've noticed home decor items with ferns in stores, magazines and on Pinterest a lot lately. Living in a small place, I don't have room, or the energy 🙂 to make big changes in our decor with each trend. What I do like to do, when I see a trend that catched my eye, is find a way to add a small touch of that trend into my home. This satsfies my need to be kind-of current with my home decor while keeping it fresh at the same time.
I thought this would be a no-brainer project.
The type of project that I could whip out in 10 minutes, snap a few photos and share on the blog. On the heels of our sailing voyage and catching back up on life and the blog, that's exactly what I need. That's exactly what I'm sharing with you today a simple 10 minute how to add fern images on candles project.
It simply took longer than 10 minutes to figure out how to make it a quicky project 🙂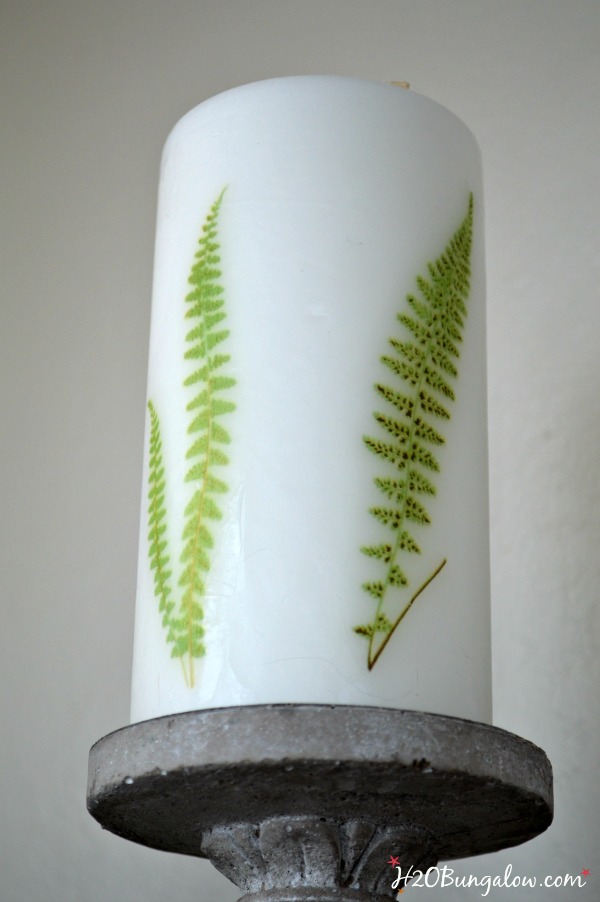 Initially, I tried this with real fern fronds. Can we say craft fail! Nope, didn't even come close to looking like I'd envisioned. So I did a lot of searching for a graphic that would work. After lots of testing, I found one that works beautifully!
Follow the directions in my original how to add images to candles with a heat gun post and also in my How to add words to candles post. My favorite for it's versatility is the HomeRight Digital temperature Heat Gun. You'll need the same supplies and this free printable ferns graphic printed on tissue paper in a 5 x 7 photo size for a 7 inch pillar candle. My instructions from the post linked above will show how to print on tissue paper. Next, cut the fern prints out like I did in the photo below.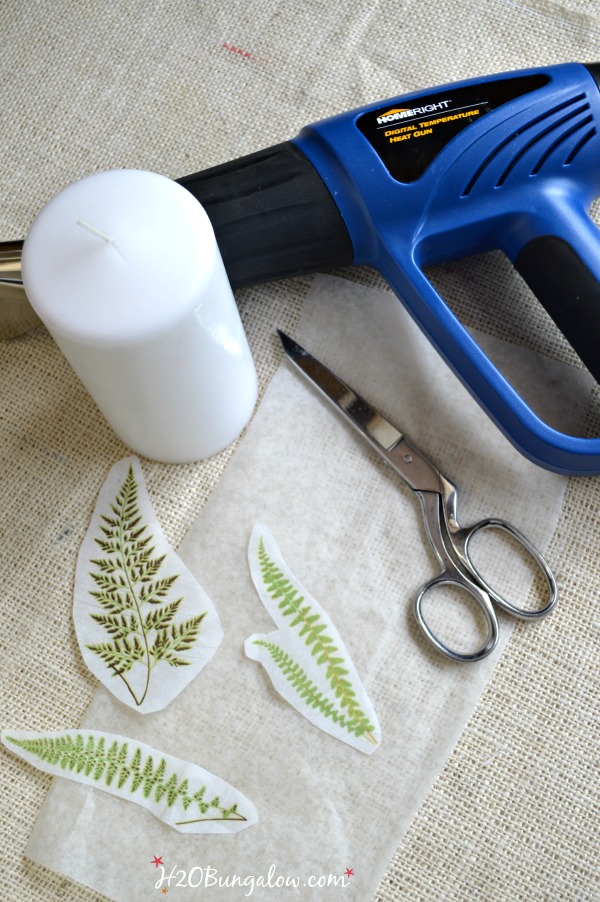 Once I had the right graphic it really was a 10 minute project.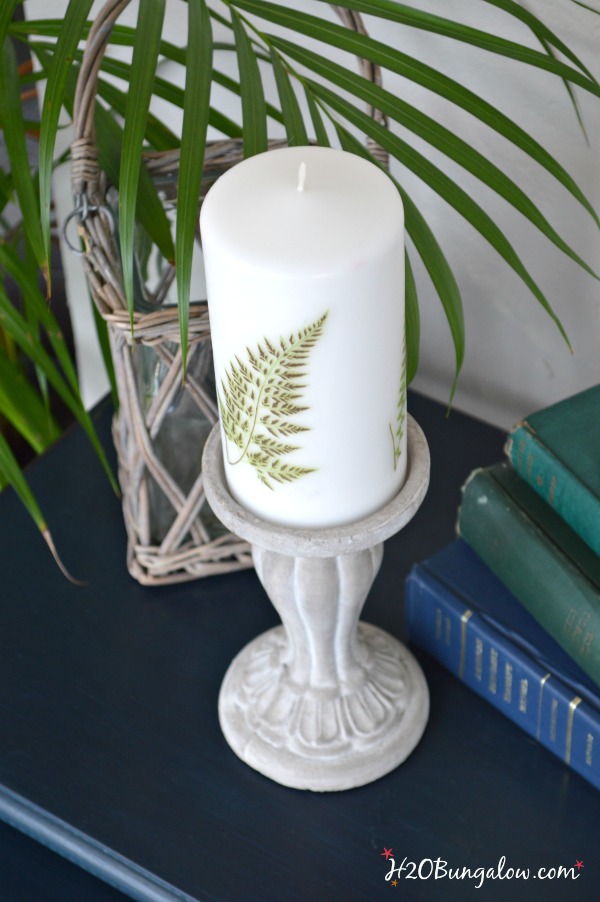 I'd love to have a whole wall of fern prints but since I don't have the space, adding a few ferns in my decor will do for now. The variations of green in the fern prints make them look realistic, like the ferns are imbedded into the candle … but this is a lot easier!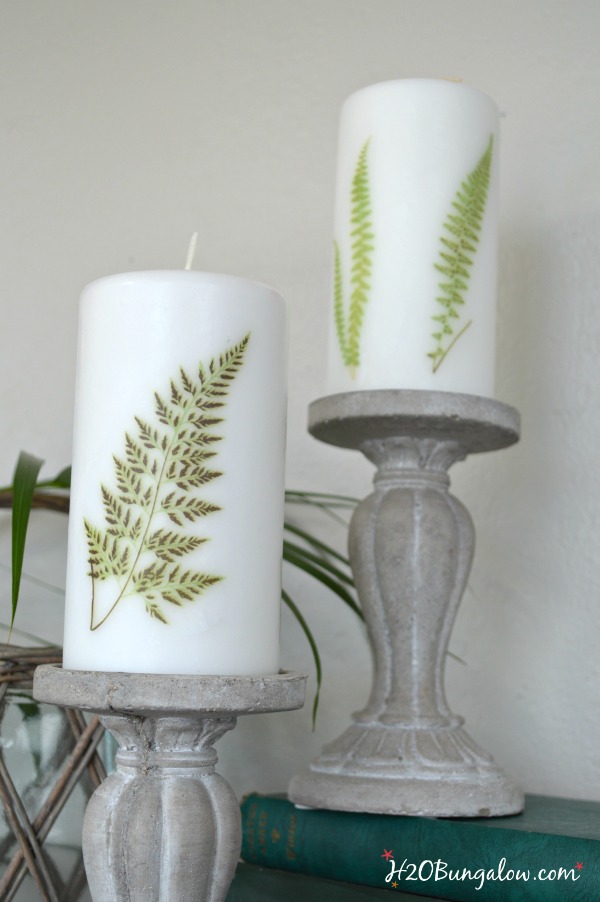 Of course now I'm thinking about making a few rustic candle holders to go with them now.
Now that I've shared my 10 minute project on how to add fern images on candles, where would you put a pair of fern candles in your home?