Have you ever put a key into a door lock and had it get stuck or found the lock was hard to turn? How about trying to open a padlock that's been outside a while or stored away, and it's so hard to open it hurts your fingers? This has happened to me so many times, especially here in Fl. Did you know this is easy to prevent? Today I'm going to share with you a simple way to lubricate door locks and hinges so this doesn't happen to you.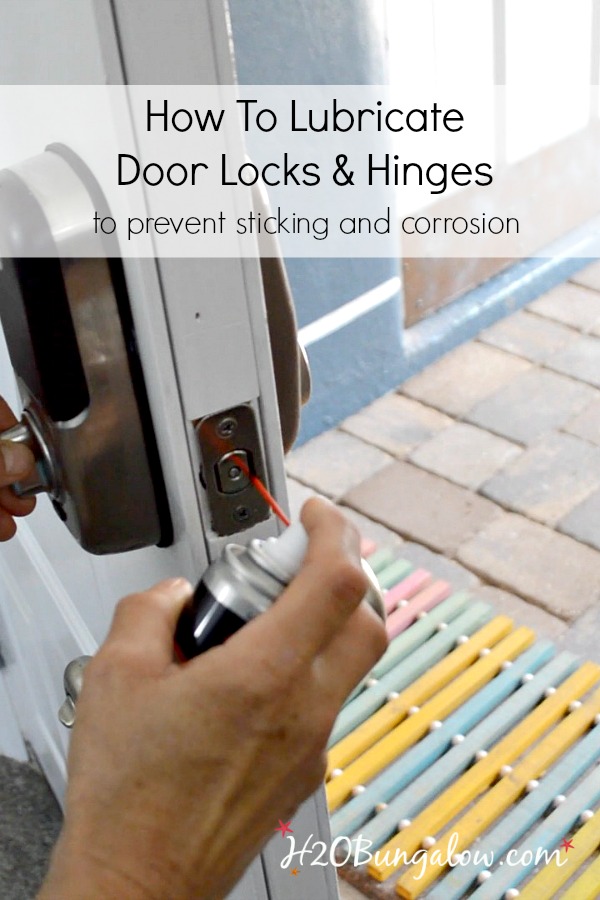 Our salt air is especially brutal to locks, hinges and moving metal parts, even more so on the ones that are exposed to outside elements. Around here it doesn't take long before things freeze up, stick or are ruined from being outside. I've put this simple home maintenance item on my seasonal to do list and beat the problem, for good.
How to lubricate door locks and hinges
Lubricating door locks and hinges only takes a few minutes and can help extend the life of your locks and keep them working smoothly. I'm using 3-IN-ONE® Lock Dry Lube for today's task.
Follow these simple steps to lubricate door locks and hinges.
1. Shake well.
Mix the Dry Lock Lube well by shaking the can.
2. Assemble the spray straw and line up the spray indicators.
Dry Lock Lube comes with a straw that's taped to the can. Pop the top off, line up the arrow on the spray nozzle with the dot on the rim of the Lock Dry Lube, and insert the straw into the spray head. The straw will help the Lock Dry Lube get deep into the nooks of the lock.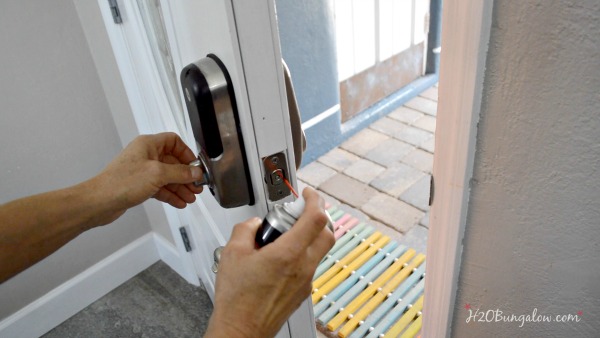 3. Expose the latch opening.
To lubricate a door lock, turn the doorknob so the latch recesses into the faceplate.
4. Apply the lubricant.
Place the end of the straw into the latch opening and apply a quick squirt of lubricant. Turn the doorknob back and forth to help work the lubricant into the lock. Next, line the straw up to the keyhole and give a brief squirt into the keyhole.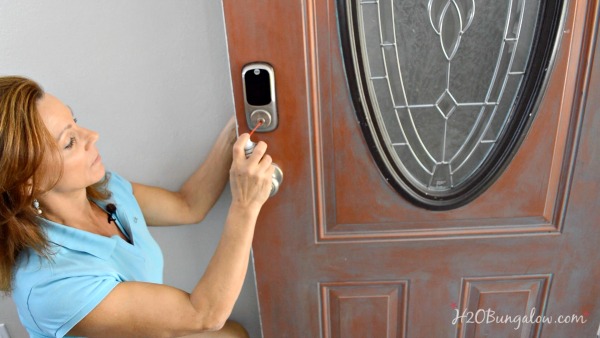 Last, squirt a small amount of Lock Dry Lube onto the hinges. Be sure to wipe any lubricant that drips with a clean towel.
When you're done, re-tape the straw back on the can or use the recessed notches in the lid to hold the straw and store it until the next door lock maintenance schedule.
One of the best features to me is is that Dry Lock Lube isn't greasy. It dries fast and is colorless. I made a quick video to share with you guys how easy it is to lubricate door locks and hinges in just a few minutes.
Since I already had my Lock Dry Lube out, I did a quick pass around the inside and outside of my home looking for more items that needed some protection from the elements and lubrication.
Lock Dry Lube is also fantastic for unsticking stuck locks and more! Our kayak seats have clips that are always hard to open or frozen shut because the salt water is so corrosive. One quick squirt and I was able to unfreeze the stuck ones and get all of them to operate smoothly. One can of Lock Dry Lube cost way less than purchasing new clips for the kayaks!
Dry Lock Lube lubricates and protects these items too
outdoor locks and padlocks
mailbox hinges
car door locks
toolbox hinges
drawer glides
sports clips
window tracks
How often should you lubricate your door locks and hinges? Unless your door lock came with specific instructions, there's no set schedule. Once a year may be fine for your inside door locks, knobs and hinges. Locks that are exposed to the elements outdoors should be lubricated as needed. Don't forget to put this item on your seasonal maintenance checklist or mark your calendar.
You'll find lots of other useful home maintenance uses on the 3 IN One Handy U website too!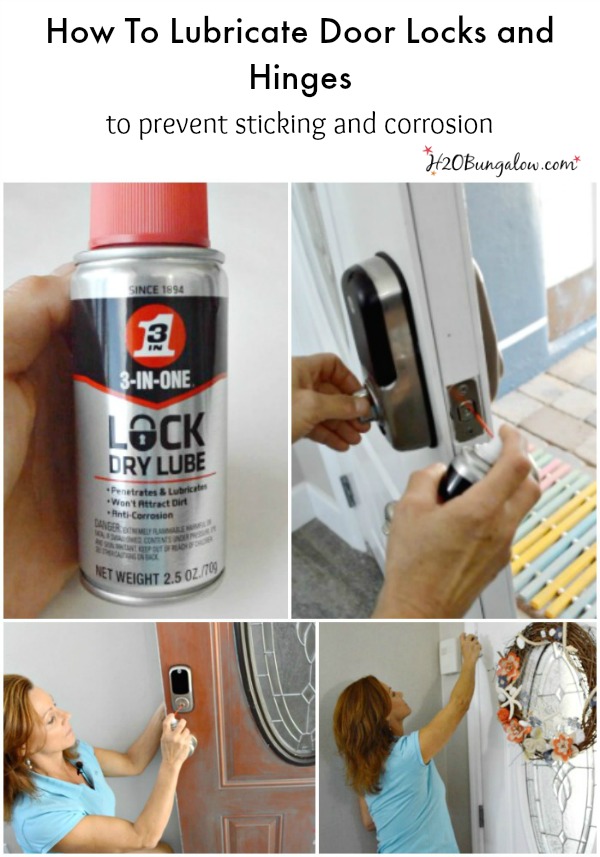 Do you have locks and hinges that stick too?