Today, I'm going to share with you how to make a DIY Christmas advent calendar with a free template you can download and print. Have fun with this handmade Christmas countdown calendar as you move the tiny ornament from day to day in anticipation of Christmas morning.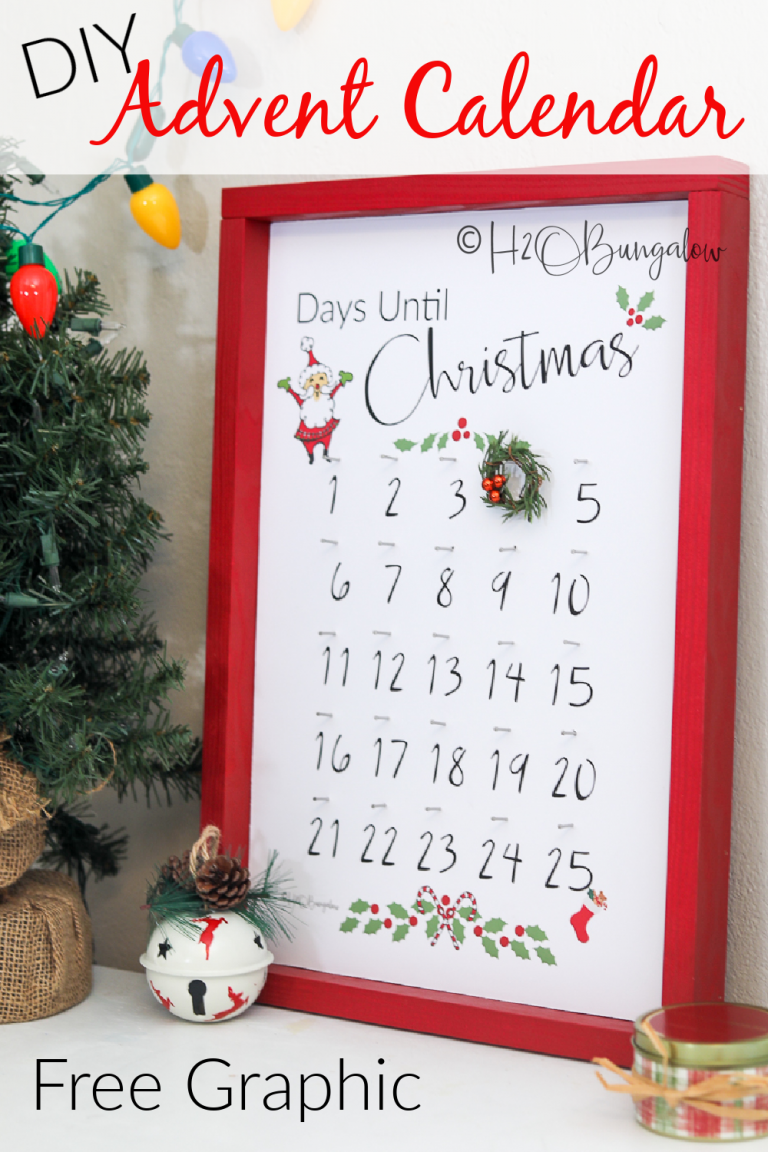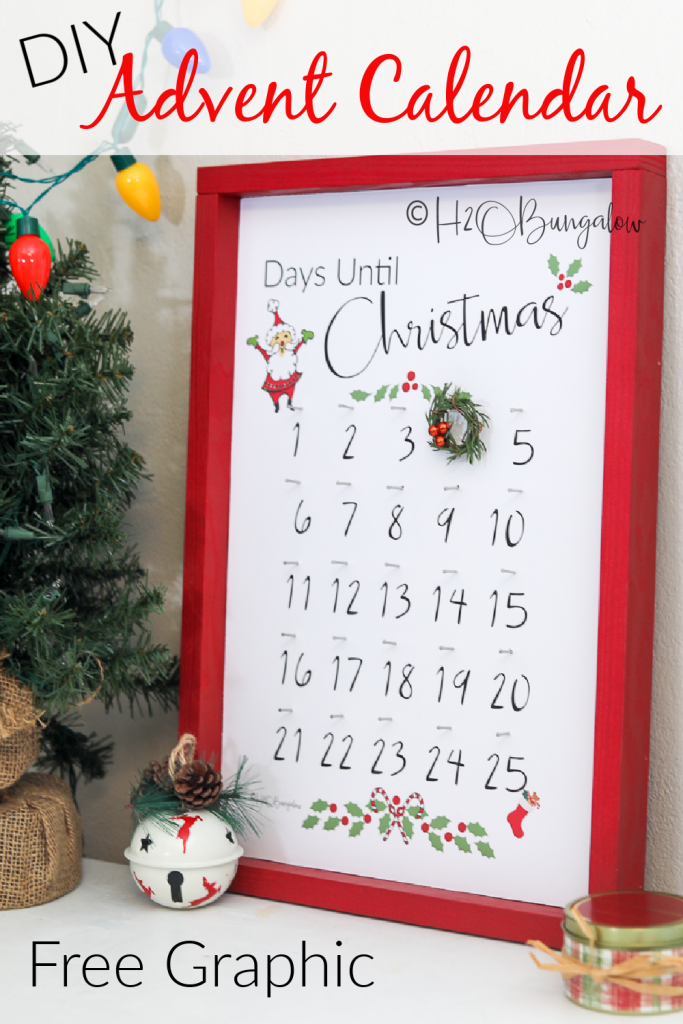 How To Make A DIY Christmas Advent Calendar
Sending out a big thank you to HomeRight for sponsoring this post! I also use affiliate links, as an Amazon affiliate I earn a fee from qualifying purchases at no additional cost to you. Thank you for supporting H2OBungalow!
The best part about making this Christmas advent calendar is you can put it together in many ways. Get my free Christmas calendar graphic below, follow my tutorial or come up with your own version of how to use a DIY advent calendar.
Supplies needed to make an advent calendar.
¼" – 2' x 4' sanded plywood
6ft – 1″ x 2″ pine
Drop cloths
Jigsaw or miter saw
Craft paint – 4 oz red
Sander
Ruler, Tape measure
Box cutter
Hanging hardware 2- D-rings
I made a quick video to show how to make a Christmas countdown calendar using my free advent calendar template.
Step one. Download my free advent calendar template and print it.
You can make your Christmas countdown calendar any size you like from my template.
If you're printing it at home, legal size paper is best. I had mine printed on heavy paper in mat finish and choose a small poster size. It was only $10 to have it printed it through a local office store in a 12 x 18″ poster size.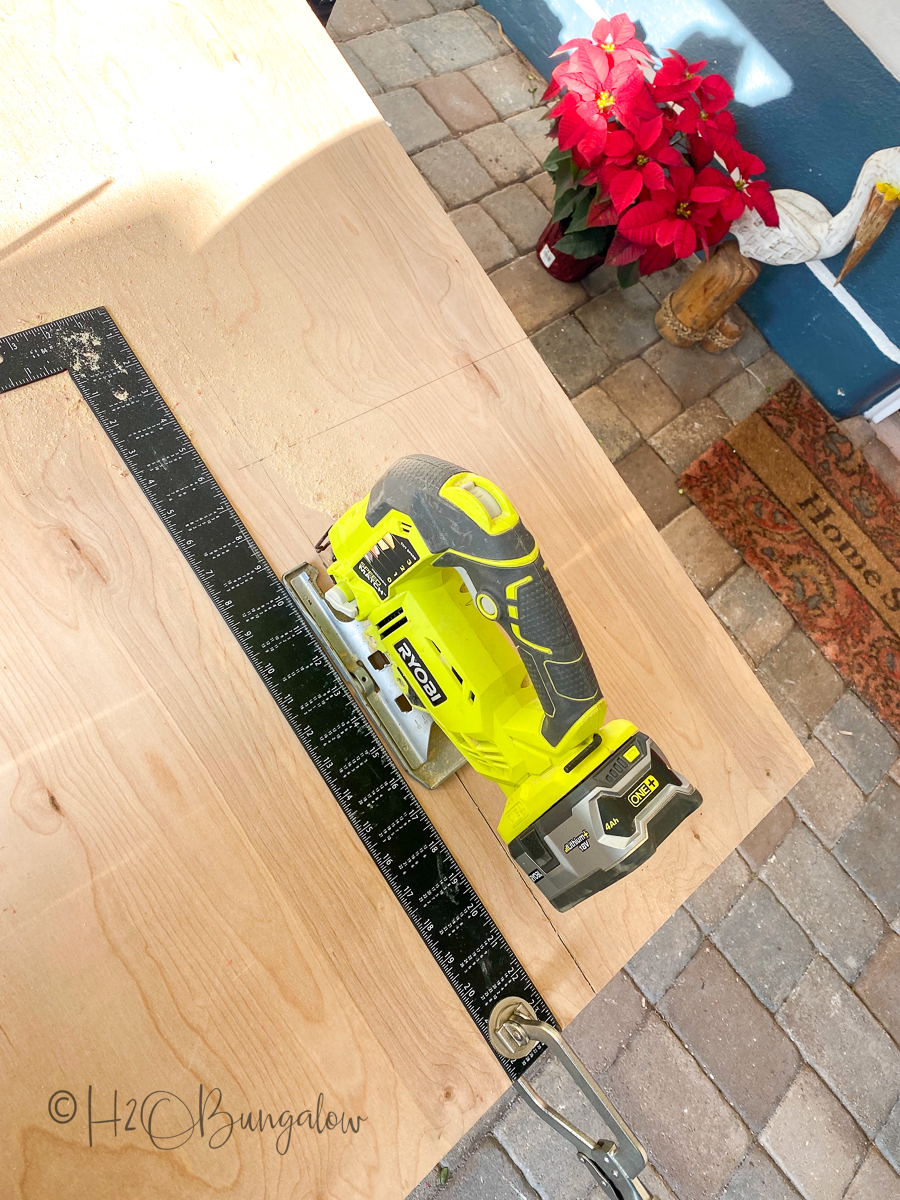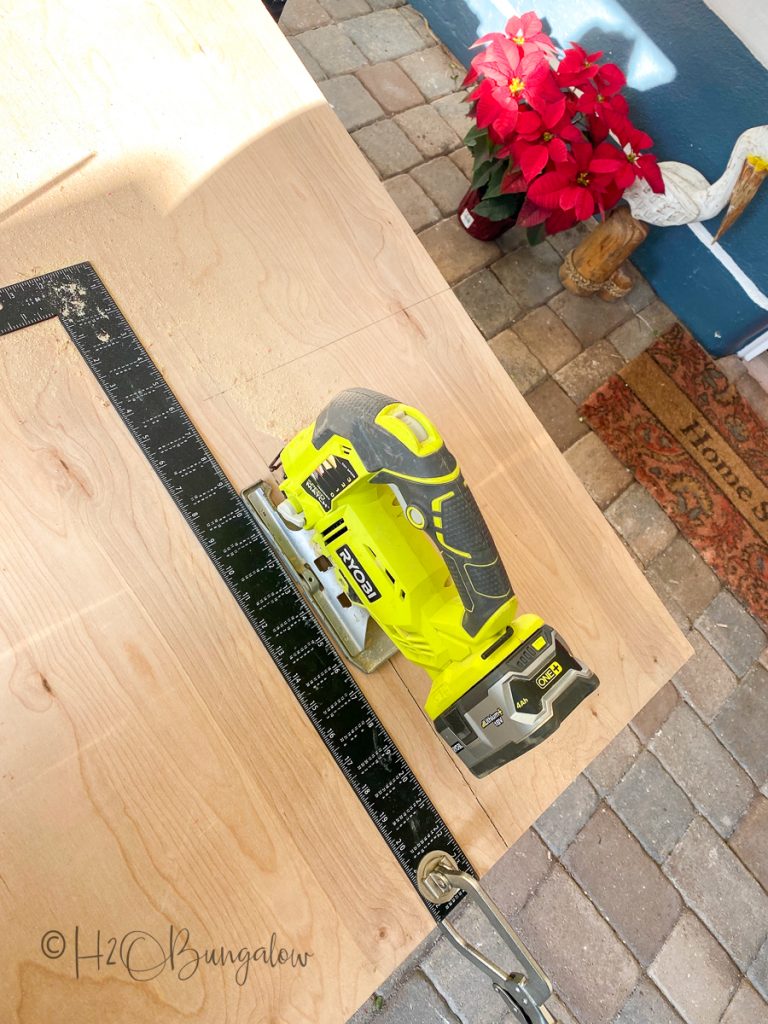 Step 2. Make the frame.
Cut a simple four edge frame out of a 1 x 2″ board. I cut two sides at 18″ and two more sides at 13 1/2″. Cut a 1/2″ piece of plywood to 12 x 18″.
TIP: You can also have the plywood cut to size at Home Depot if you don't want to do the cut yourself.
Step 3. Paint the Christmas countdown calendar frame red.
Paint the back of the frame only and all four sides and the ends of the frame with two coats of red craft paint.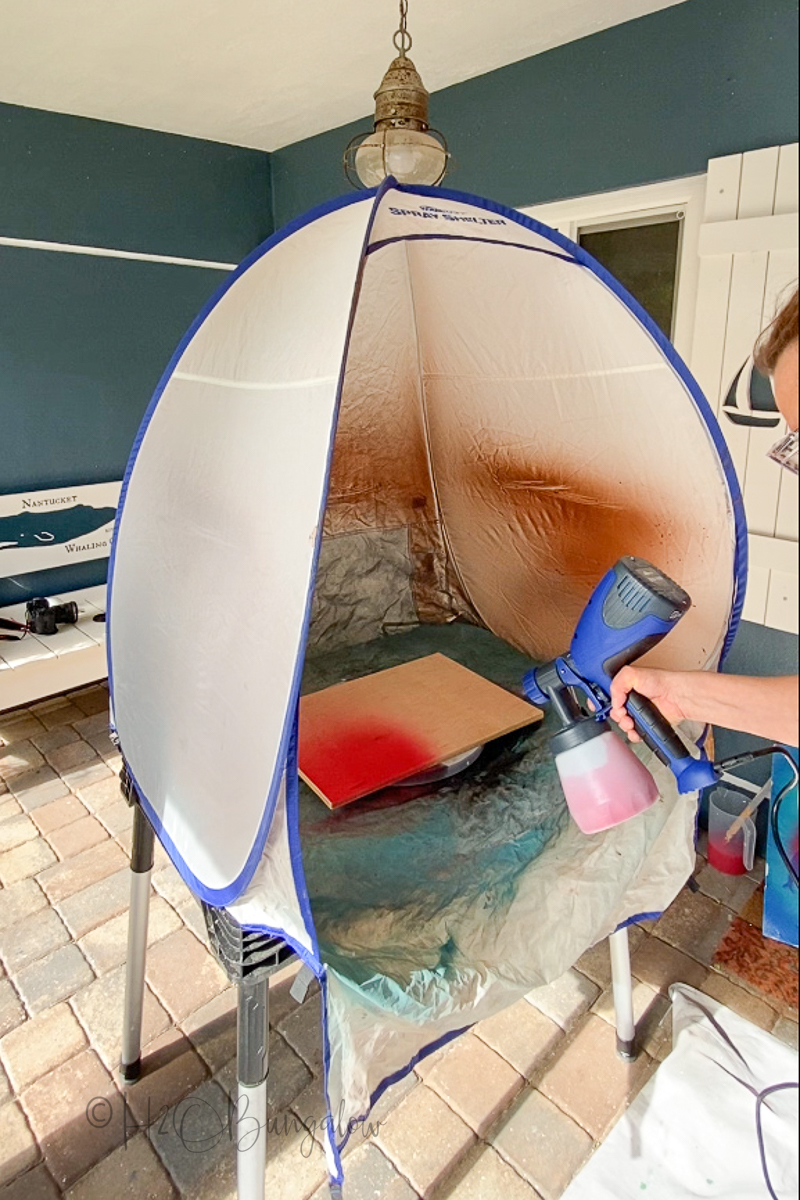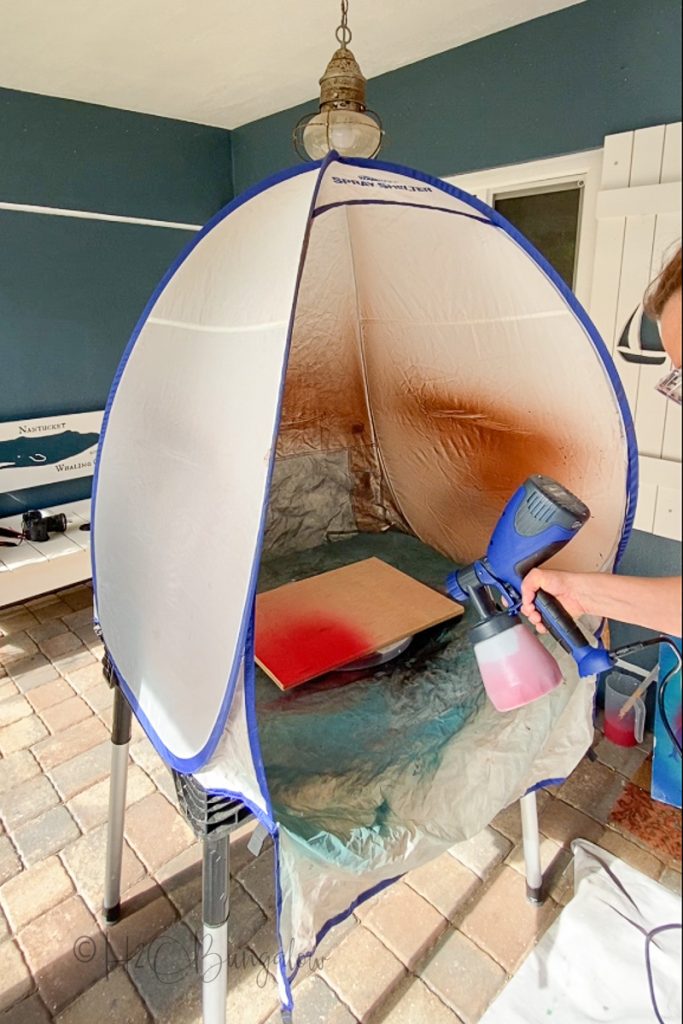 I used my HomeRight Quick Finish paint sprayer for this project, it's perfect for small projects and gives a perfect finish. Plus, it works great with all kinds of paint, even craft paint!
I protected my work area and porch from overspray by using my HomeRight/Wagner Paint Shelter in the small size.
Tips to paint the DIY advent calendar with a HomeRight Quick Finish Paint Sprayer.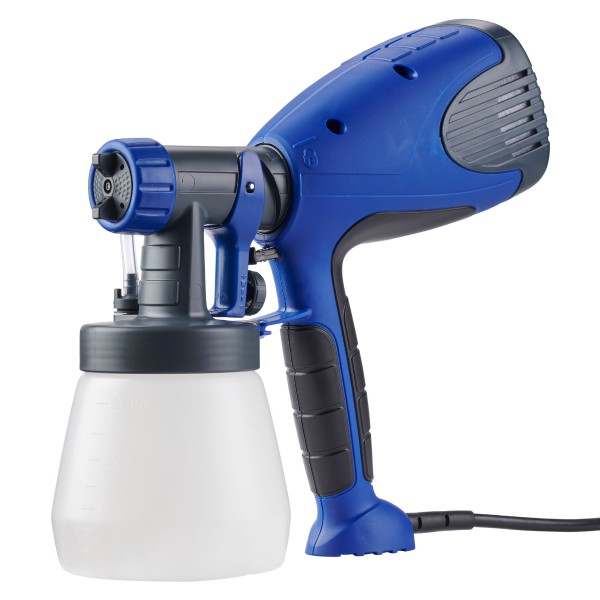 Mix paint with water until it's the consistency of medium-thin pancake batter.
Adjust the paint flow and the paint pattern before painting.
Always do a test spray before applying paint to a project.
Use a lazy Susan to apply paint evenly all-over, spinning it to get an even coverage.
Run clear water through the Quick Finish to rinse out between coats of paint.
Step 4. Mount the the advent calendar.
Use a drop cloth to protect the surrounding area before spraying the adhesive to mount the advent calendar. Spray a light even coat on both the unpainted side of the plywood and the back of the poster. Position the printable onto the board and press down firmly working any air bubbles out.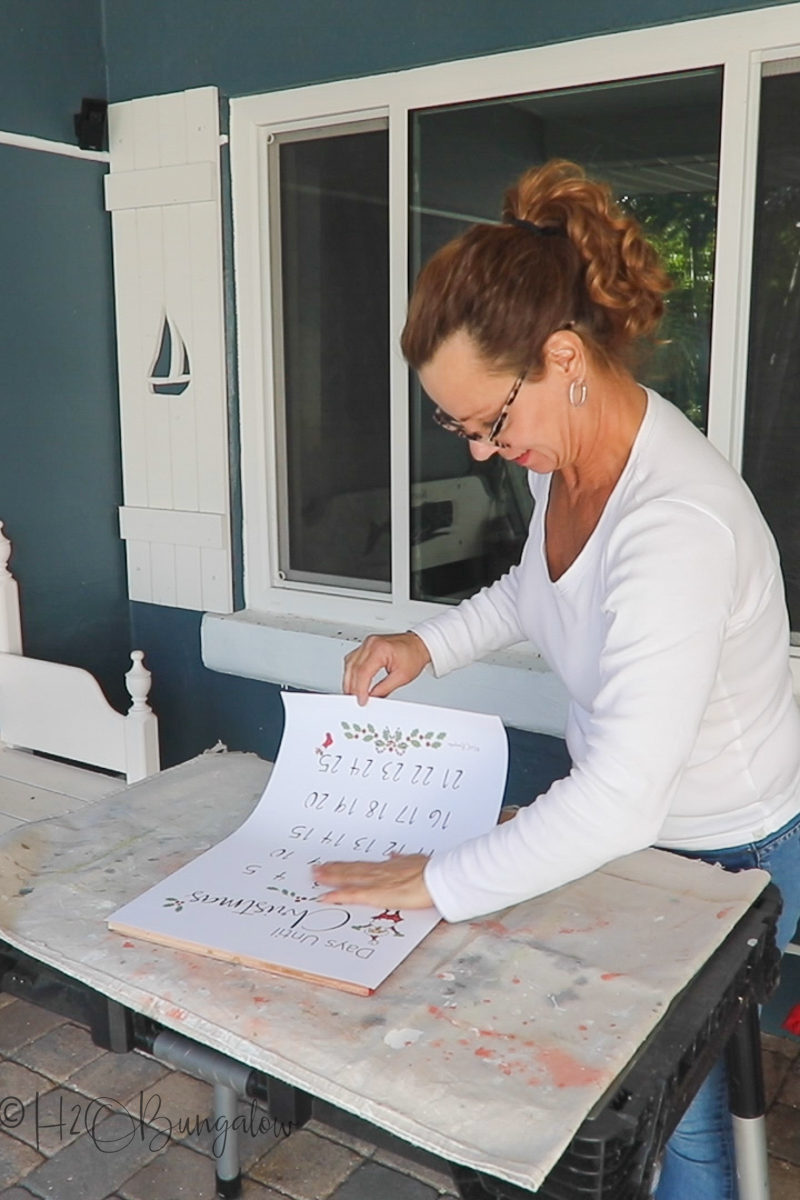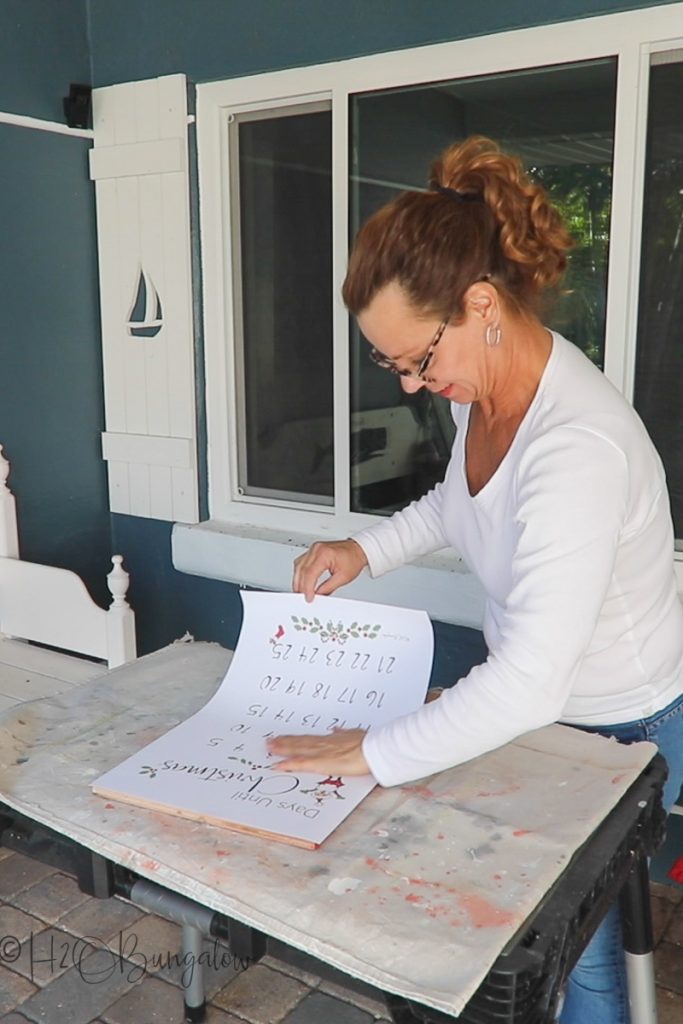 The calendar was a little bigger than my 12 x 18″ board. I used an exacto knife to trim the excess poster from the backing. You can see this step in my video tutorial.
Step 6. Add Brad nails to calendar.
Use a ruler and mark a spot above each number where you'll add a 1″ finishing nail. I centered mine from top to bottom and then checked to be sure the nail hole rows were straight accross before adding the nails.
Use a hammer and add the nails.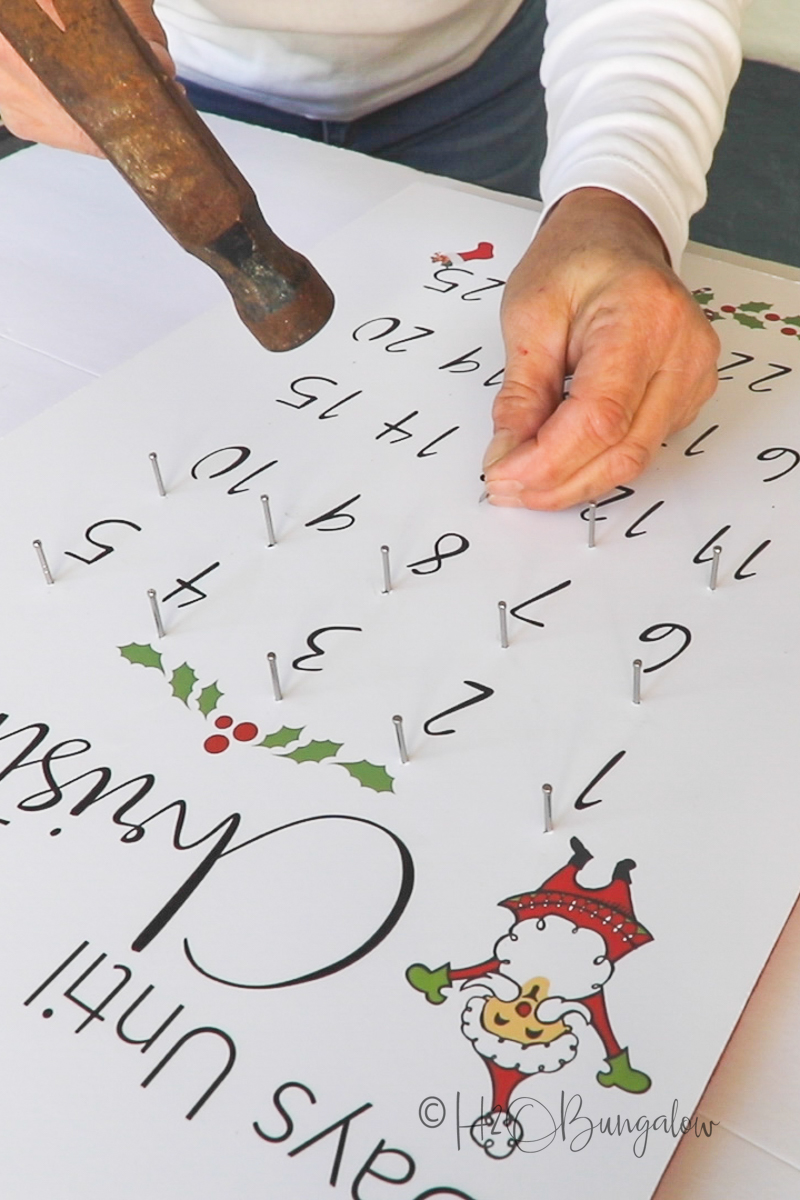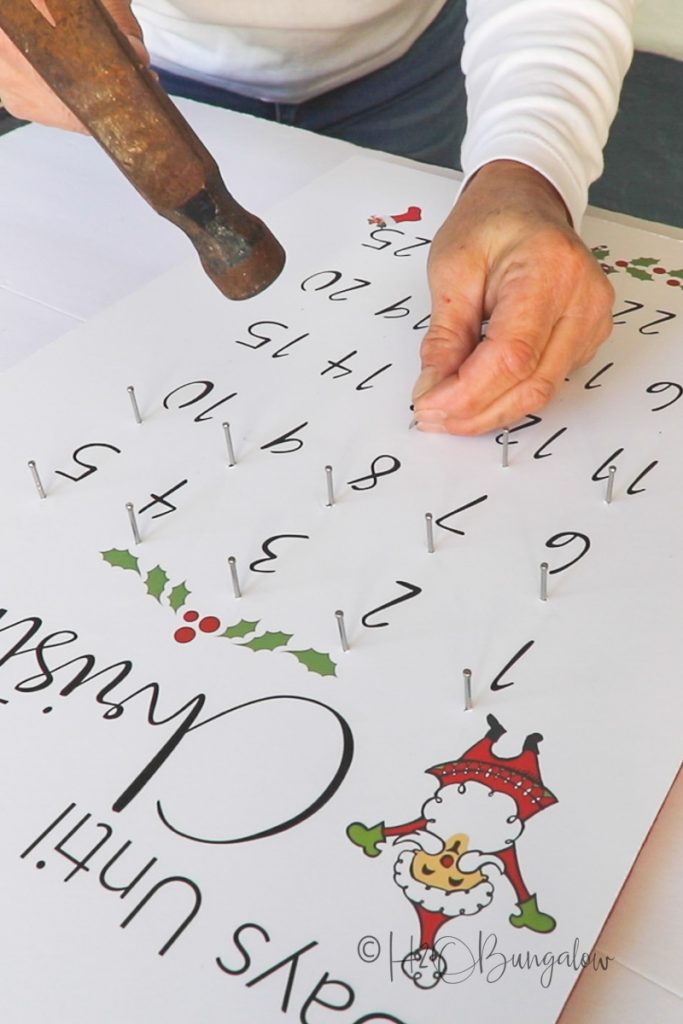 Step 7. Add the frame sides to DIY Advent Calendar.
Attach the two 18″ sides to the calendar with a brad nailer and 1 1/4″ nails. Next, add the top and bottom 13 1/2″ frame pieces.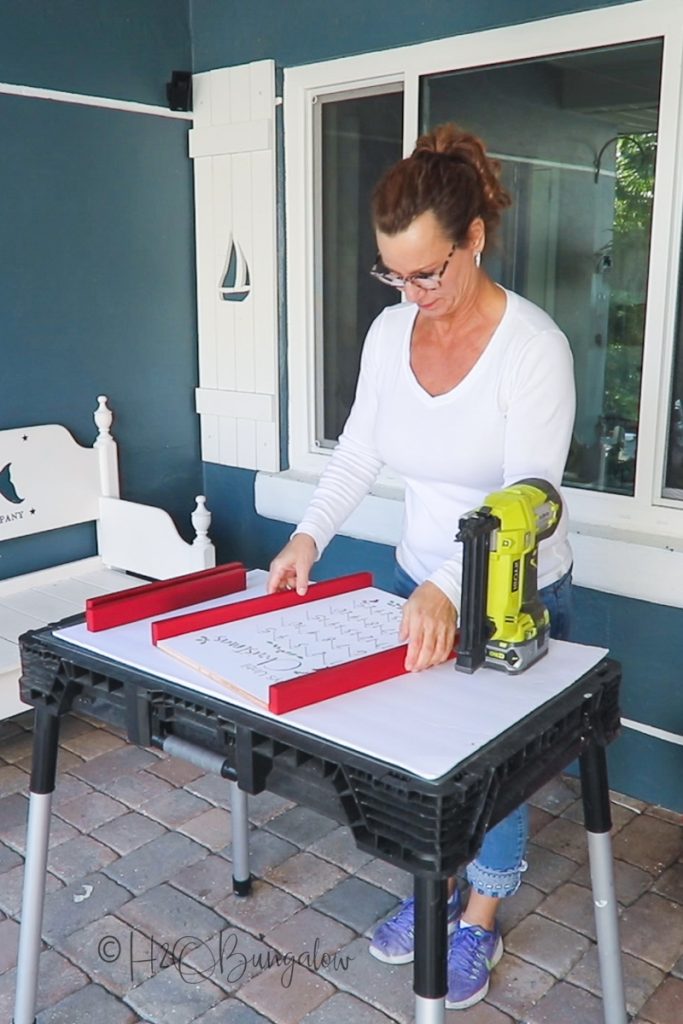 Step 8. Add hanging hardware.
Attach picture hanging hardware to the back of the advent calendar. D-rings are the easiest to use.
Use a small ornament or mini-wreath to hang above each day. Move it with each day as you count down until Santa arrives!
Pin this now and share with your friends on Facebook!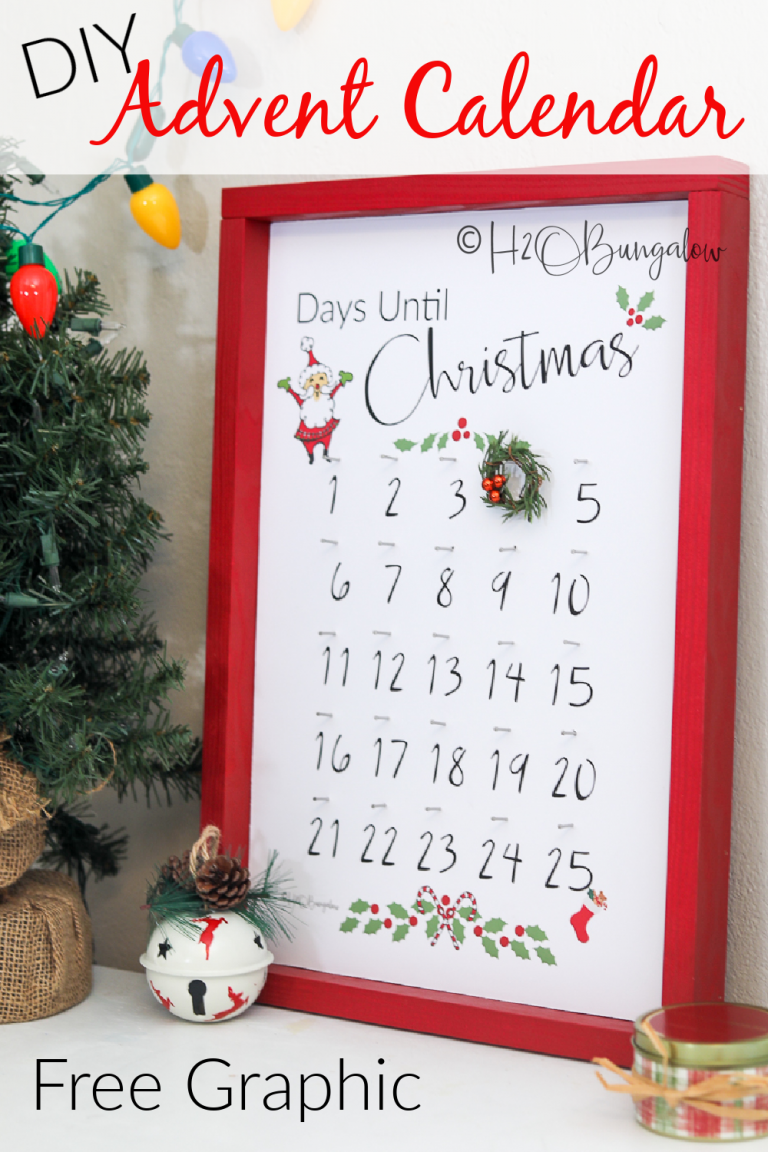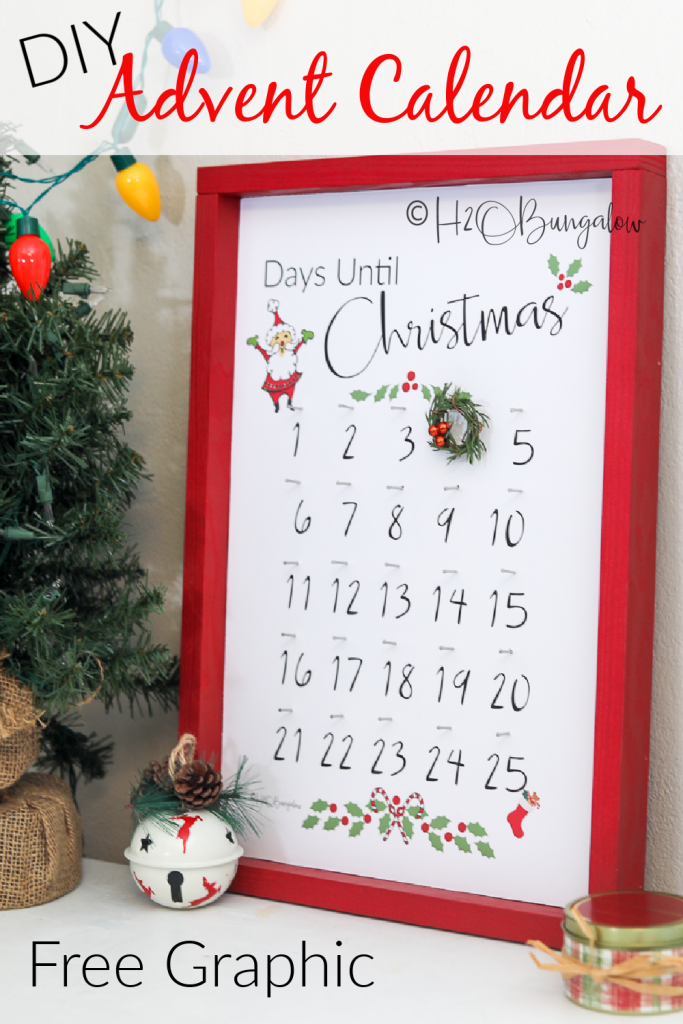 Is this not the cutest little advent calendar you've ever seen?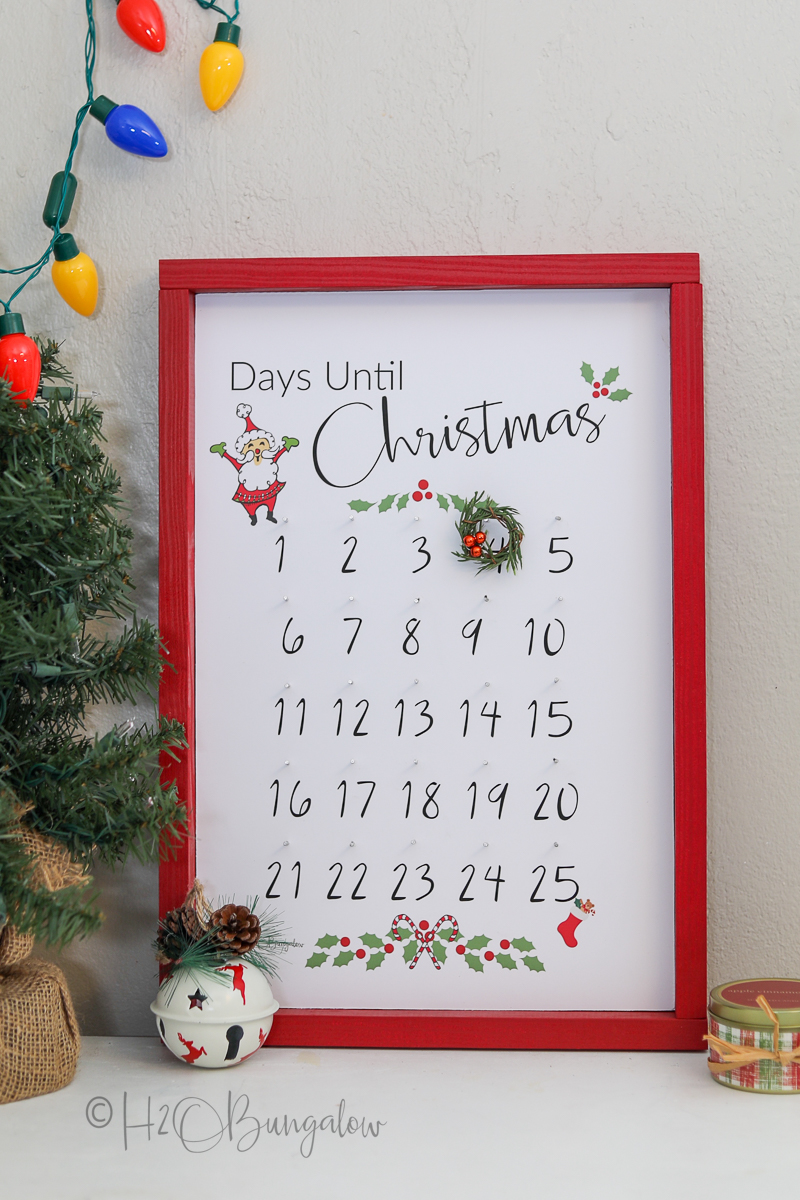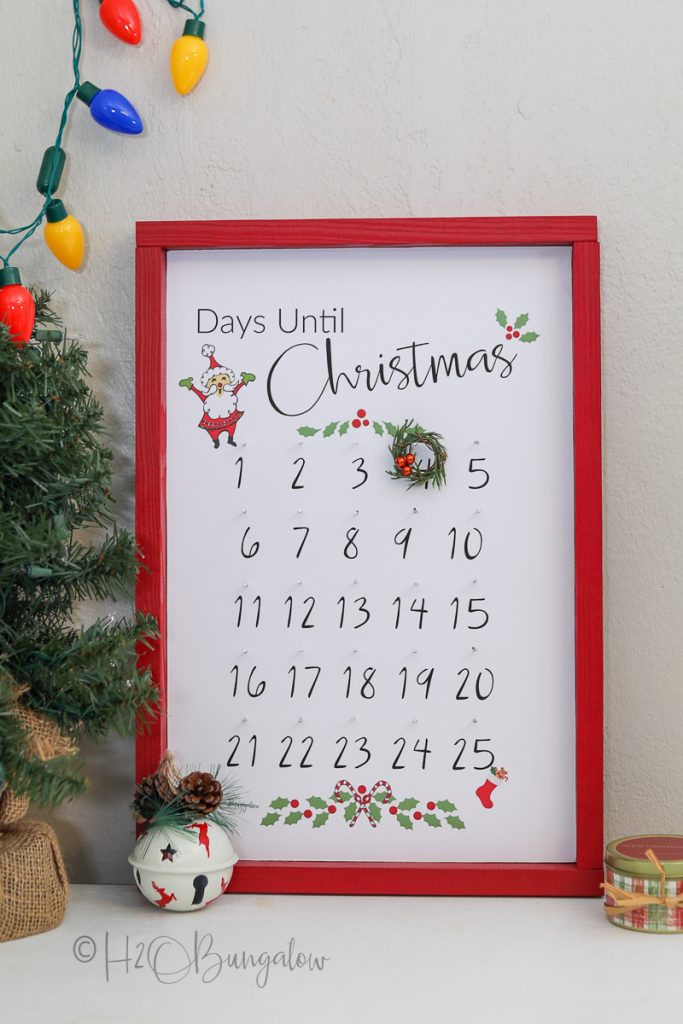 You guys see me using my paint sprayers, paint shelters and other tools from HomeRight all the time. To see the full product line-up from HomeRight, check out on their website!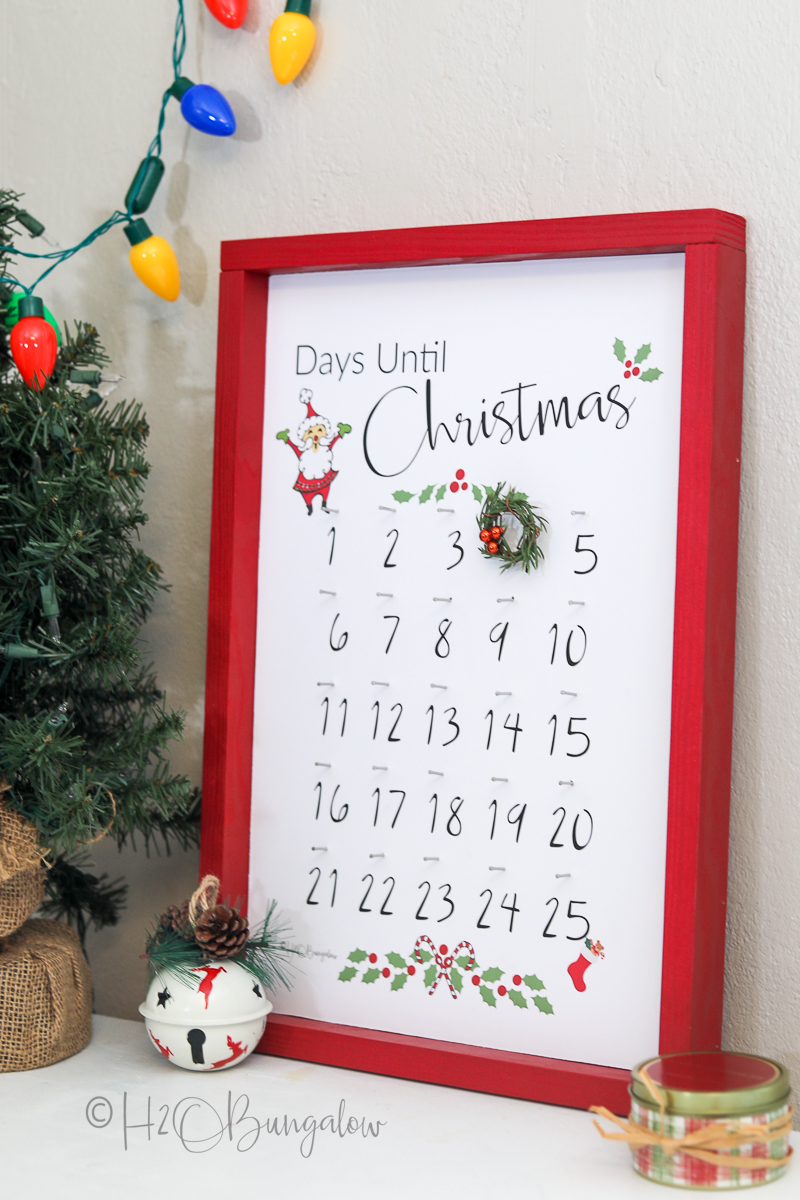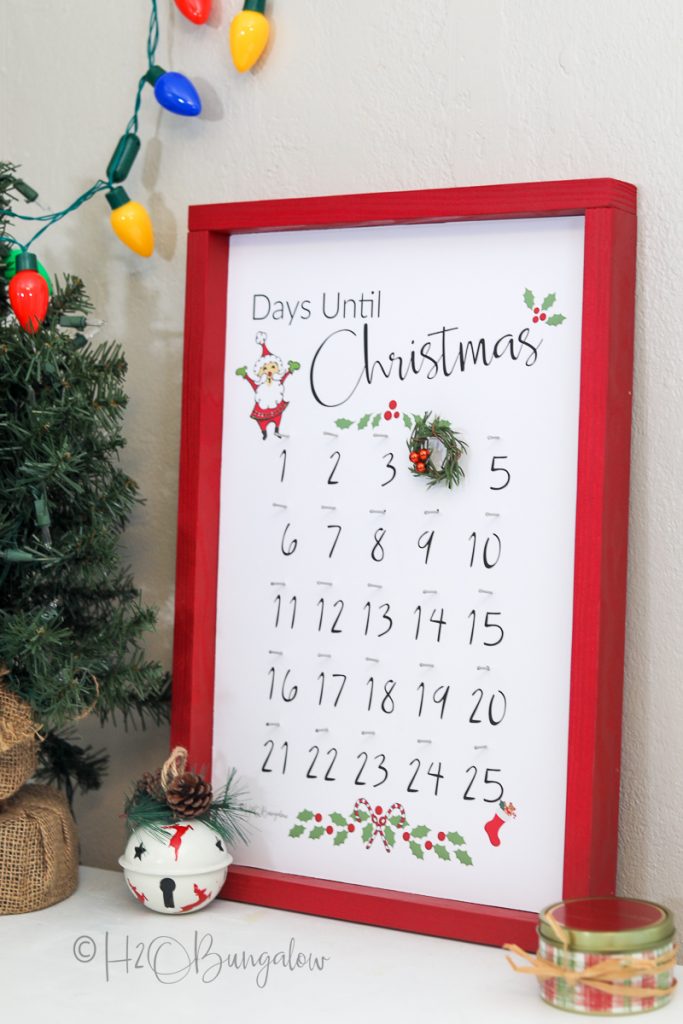 Want to see what else you can create with HomeRight paint sprayers? Take a peek at all of the different DIY home projects I've made with my HomeRight products.