Don't you love the warm cozy feeling of sleeping in a bed that envelops your entire being in soft coziness, so comfortable that you don't want to rise and shine in the morning, even when you're an early riser? At the same time, doesn't the decorator in you melt at the sight of a beautifully styled bed? My answer is yes to both of those questions, which is why I'm sharing how to layer a bed for style and comfort.
It's not so hard to have both style and comfort.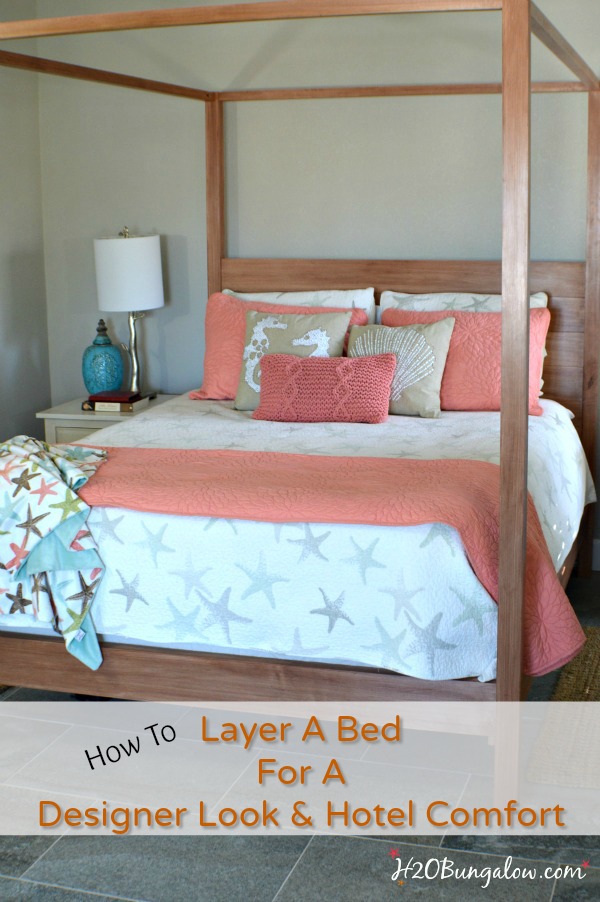 How to layer a bed for style and comfort is easy if you keep one word in mind.
Layers.
I probably got hooked on wanting, no …requiring a bed like a hotel after traveling for business. I admit I was completely spoiled by luxurious linens and beds that were so comfortable I would have been happy to check in permanently!
I started copying the style of the hotel bed in my own home and over time think I've perfected how to layer a bed like a hotel.
Comfort alone isn't good enough. I want my bed to look well styled too.
It's not hard to have both which is why I'm sharing my secrets to layering a bed for style and comfort, because once you see how easy it is, you'll want to so it too.
Why not? It's easy and we spend such a big part of our lives in our beds, why not make it as comfortable as possible?
How to make a bed feel like a hotel bed
Remember what I said earlier? Layers. My secret to making a bed feel as good as a quality hotel bed? Layers. I have layers under and above my sheets just like the hotels.
Starting at the mattress add a good mattress pad, next I layer on a feather bed or down alternative feather bed. Here's a money-saving tip, a duvet works just as well as a feather bed and is lots less expensive;) I like the down alternative duvet because they are easy to wash and easy on allergies.
Next on my hotel styled bed is a set of high quality sheets. Don't scrimp on quality here since this is what lays next to your skin. I like soft 100% cotton. Thread count is important, but what's more important is the quality of the cotton.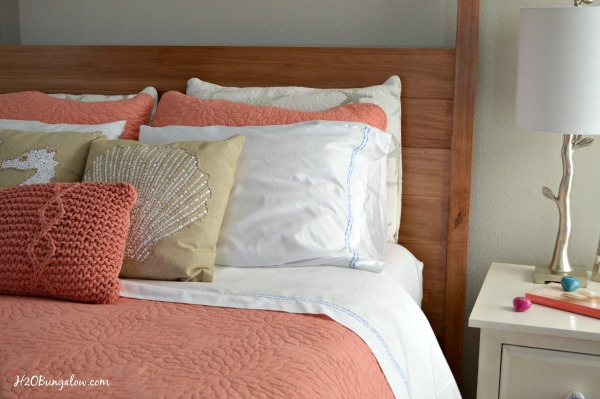 All of the above layers together will make your bed comfy and soft without changing the support of your mattress.
We aren't done yet!
Layers make a comfy bed
Remember when I described being enveloped by softness all around you? Well what's on top is important too. The next step in building a bed for comfort and style is layering above the top sheet. I add another duvet, again in down or down alternative depending on the season.
You'll put a coverlet, matelasse, bedspread or whatever you'd like to call your top layer over the duvet in place. This will be your bedspread. I use and love matelasse coverlets, they are versatile, I mix and match them for different layering looks too. I also like that they fold well on shelves and wash easily.
The last layer when copying a dream bed is as much for comfort as it is for looks. Always have an extra blanket, or coverlet folded across the end of the bed.
It's perfect for chilly nights. Pull it up and there's s convenient extra layer for warmth.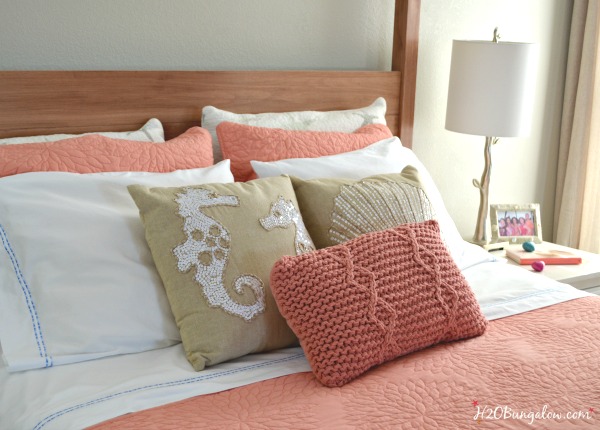 As the temperature rises, fold it back to the foot of the bed.
Simple ways to style a pretty bed like a hotel
I want my bed to fit in my decor and look well styled on the outside as it is comfortable on the inside.
Again, the key is layers.
An assortment of pillows in different shapes and textures layered adds interest.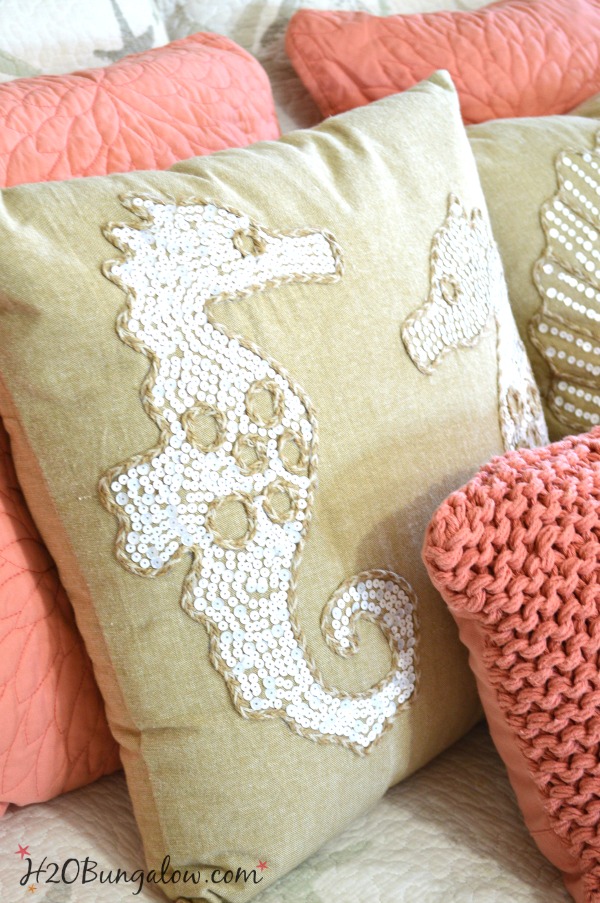 Place a coordinated throw at the end of the bed.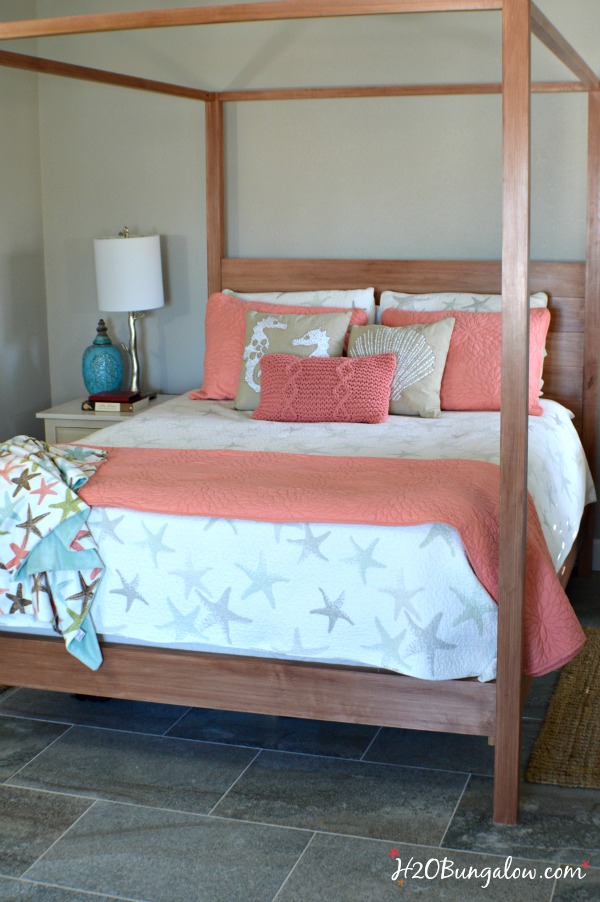 Do you love the feel of a fine quality hotel bed as much as I do?
Leave me a comment below to let me know what YOU do to make your bed feel extra comfortable.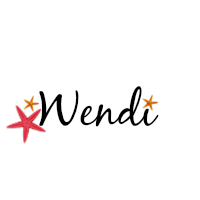 You'll find my project linked up to these fabulous parties!
Love a good dose of DIY home decor, home improvement, the challenge of woodworking and creative ways to make your home look fabulous?
Me too!
I'd love to share mine with you. Click here to sign up for my post emails and I'll send a quick note when I have a new project to share.