Welcome to this months edition of the Power Tool Challenge. Our theme this month? Fall. One of the biggest challenges of living in a small home is finding storage space. Storing holiday decorations are probably the biggest challenge for me. I love fall, Thanksgiving and Christmas, but they've always meant lots and lots of big boxes stuffed to the brink of splitting with holiday decor. When we downsized, we purged. Times have changed, and so have I. Now I think before bringing anything home, or even building something new for that matter. So when I came up with the idea to make a limed wood holiday candle holder as a centerpiece, I had to be sure it was something I could get lots of use out of, year round, and store easily.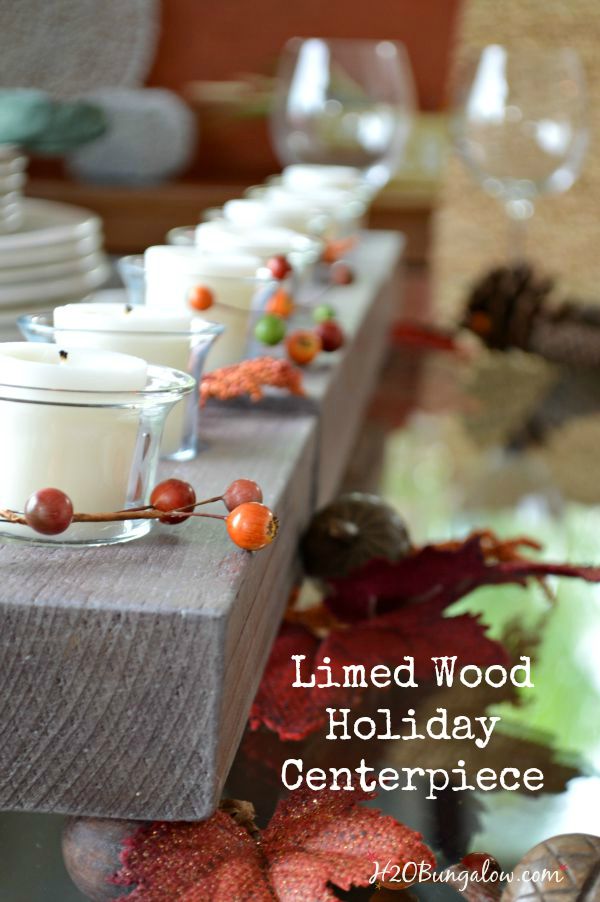 Beacuse if something isn't multifunctional around here, it just won't cut the mustard. Speaking of multifunctional, be sure to check out all the other fall themed easy DIY power tool projects at the end of my post!
How to make a DIY limed wood holiday candle holder
I've planned to make a long wood candle holder for my dining table for the longest time. Our dining nook is just under 7 feet wide, and I had the glass table top custom cut. I knew I could use it as a base and dress it up for a pretty holiday table setting, a casual dinner with friends or leave it plain for everyday. The wood I used is rough cut cypress from a local saw mill. We made our Industrial Rough Cut Shelves out of it and I still had a few scraps left. I've held onto these little glass candle holders knowing that eventually I'd use them for this project. My wood holiday centerpiece in 3 pieces so I could use it in several ways.
This is a no brainer kind of project. I ripped the boards down to 4 1/2 wide with my table saw and trimmed the ends. The center piece is 17″ and the two ends are 10″ each. You can find rough cut cedar at Home Depot which will look almost exactly like my rough cut cypress.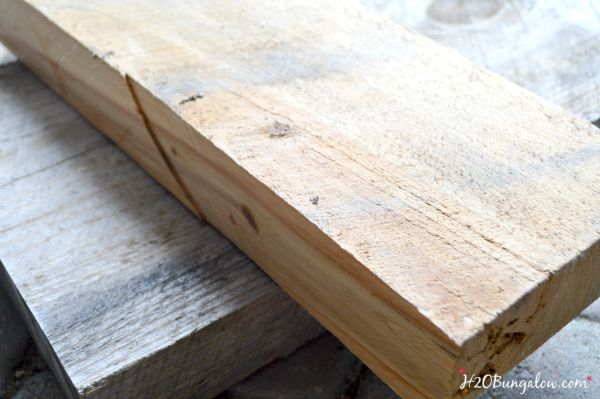 I treated myself to a new Forstner Bit Set for this project:) I used the 2″ bit for my long wood candle holders. I practiced making a few holes first to be sure I had the hang of it. After a few tries, I settled on a low torque setting and light pressure on the drill and had perfect holes.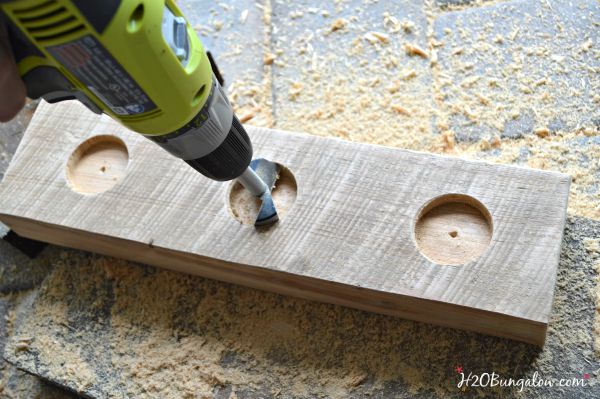 Next I gave it a quick once over with my sander to dull the sharp edges. The Feet are 1 1/4″ wood doll heads, They are also called Wooden Ball Knobs, they look like balls with one flat side. I was going to screw them to the bottom but the wood was so hard I couldn't get a straight pilot hole. So I did the next best thing…I glued them on with a little E6000 🙂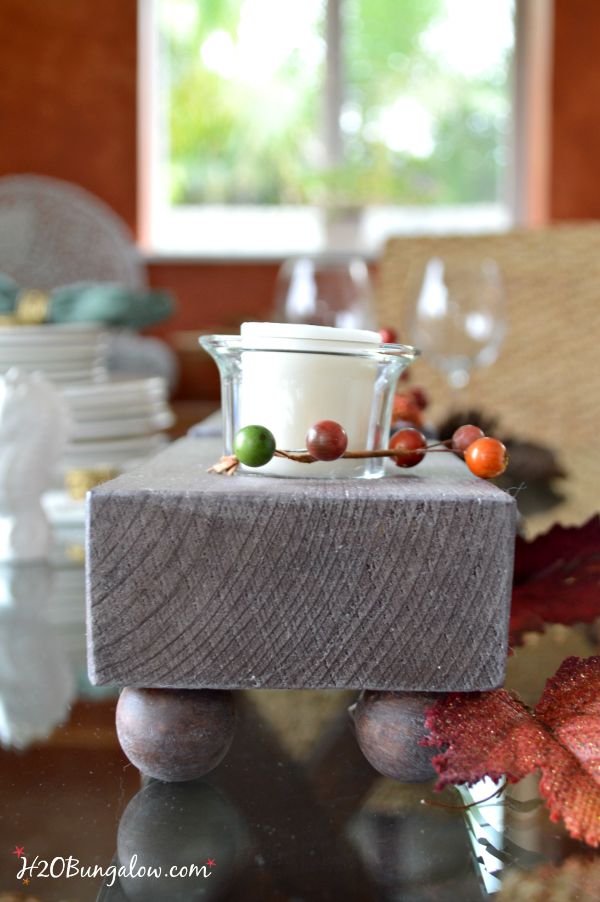 I had some Minwax Wood Finishing Clothes in Dark Mahogany left over from the Haven Bloggers conference 2 years ago. They worked like a charm. I rubbed them all over and let the stain set in and it was dry in an hour. This was the first time I've used these and I loved them.
The liming wax was DIY, I used about 2 heaping tablespoons of Fiddes and Sons Clear Wax and added about 1/2 – 3/4 teaspoon of Media Fluid Acrylic Paint in Titanium which is a highly pigmented acrylic paint.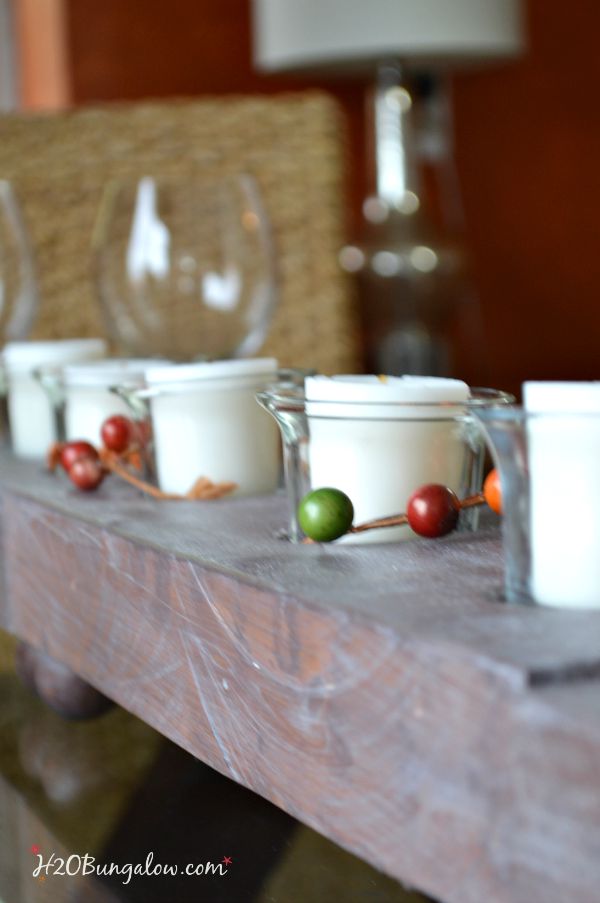 My wood holiday candle holder looked perfect after applying two coats of my DIY liming wax. I buffed against the grain to work the white wax into the saw marks of the wood. It toned down the freshly stained wood look and gave it a rich time-worn character. The white brought out lots of saw marks and imperfections which is exactly what I was hoping it would do:)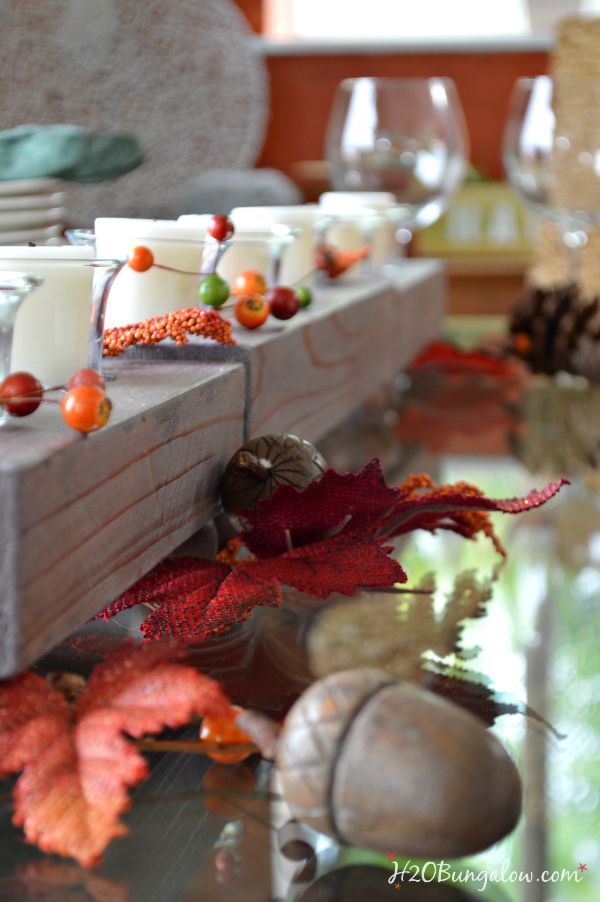 My centerpiece turned out exactly as I planned. If I need to store them, they'll tuck neatly away in one of the drawers of my buffet against the wall.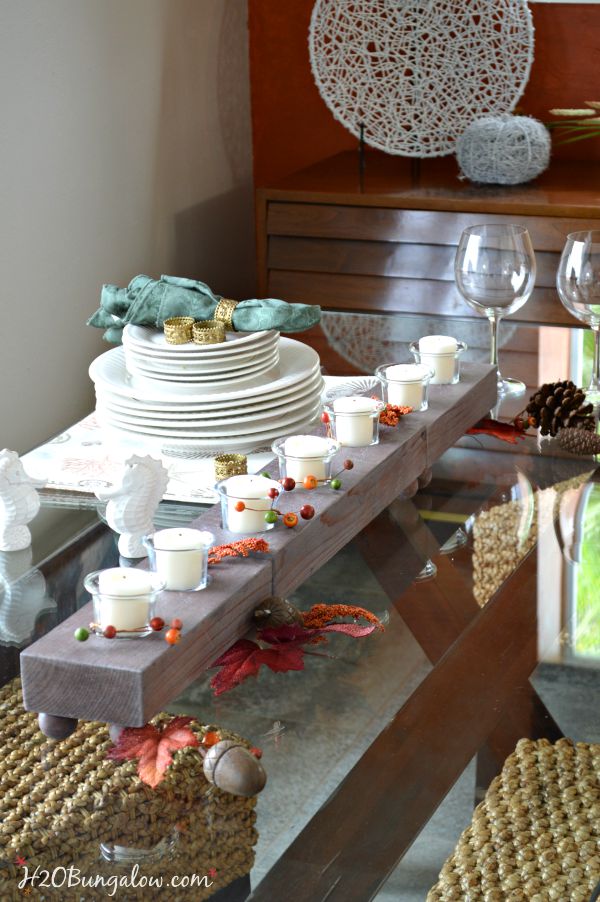 I made this in three pieces so it would be versatile. I can spread these out across two tables when we seat 10 on a holiday, or for a smaller table centerpiece I could put all three long wood candle holder pieces side by side for a completely new look. It will be easy to jazz up with a few seasonal accessories or leave plain for a casual elegant look. I'm loving it!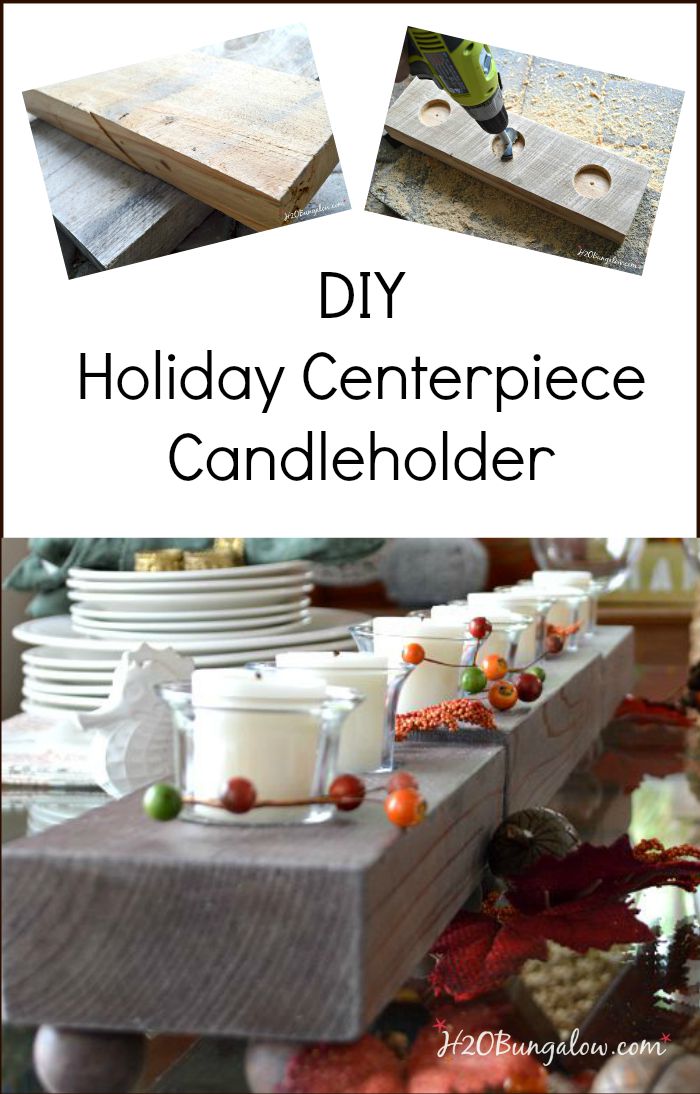 Are you ready for more fall simple DIY power tool projects?
Click on any photo below and it will take you to the blogger and DIY post.