Does it feel like fall yet where you are? Do you love the feeling of crisp cool air, the scent of falling leaves, pumpkin patches and fresh apple cider at the farmers markets? I do. But we don't get them here. It's really hard to get into the fall spirit when it's still in the high 90's and everyone around you is still wearing flip flops. I'm going to get in the mood anyway and started by adding fall colors to our front door with this easy DIY fall doormat.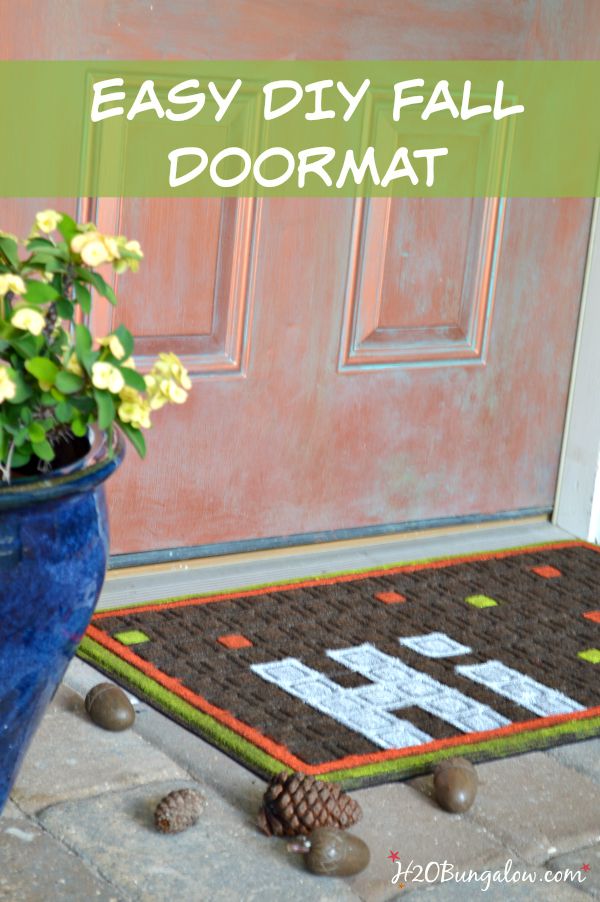 It feels good to walk up to the front door and see the brilliant colors of fall.
Here's a simple list of supplies you'll need to make this easy DIY fall doormat.
Plain Doormat – This one came from Wal-Mart, but what I originally wanted was a plain coir doormat like these.
Paint – I used DecoArt Multi-Surface Paint
Paintbrushes
If your doormat has squares like this one, just mark off the edges of the letters for "hi". placing an X inside the squares of the boxes with the Oil Sharpie was a good way to keep from painting a wrong area. Otherwise, draw or trace the letter shape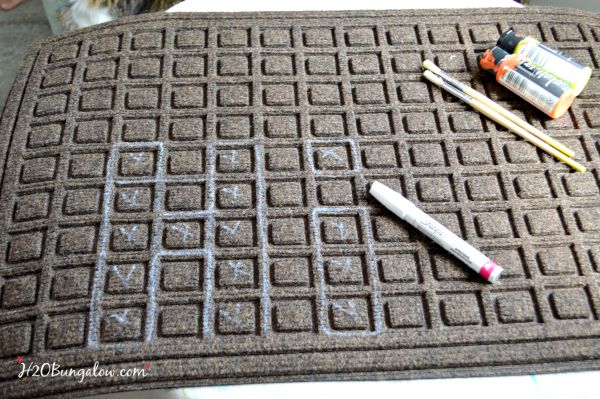 This is an easy project to work on with kids. My 6 year old grandson helped me paint the outside bands of color and a few random squares in our fall colors.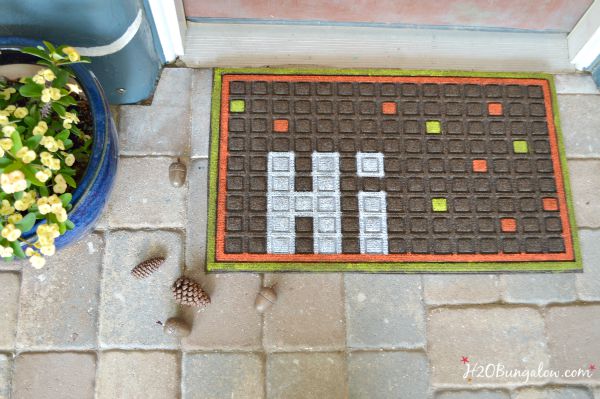 We had fun finding a few pine cones and wood acorns to jazz up our picture by the front door.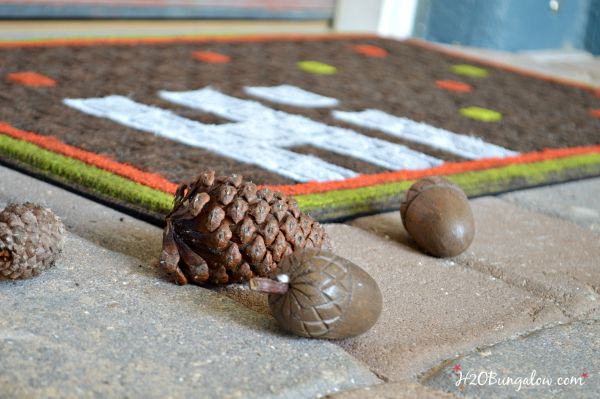 They were the perfect finishing touch.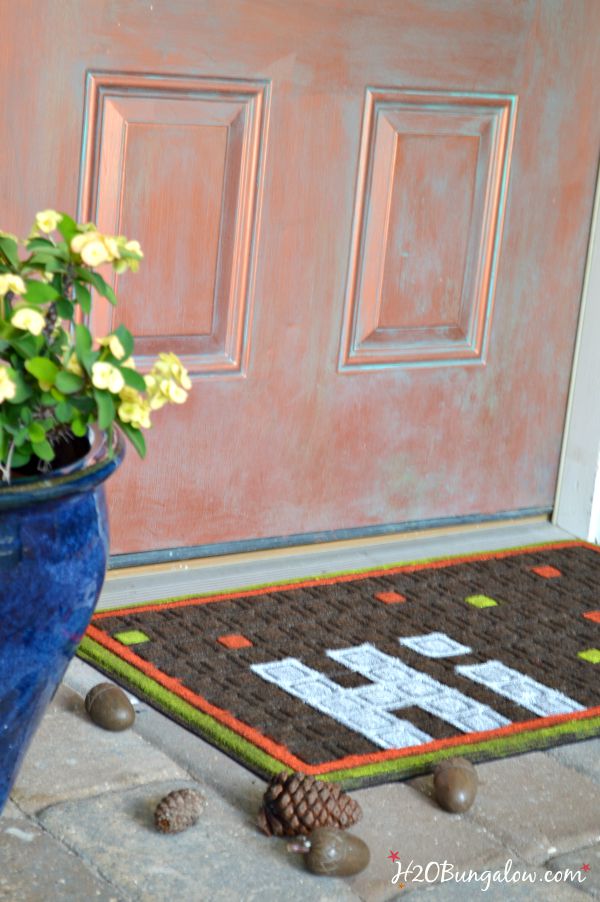 What fall colors would you use on your easy DIY fall doormat?
Love doormat projects? I do. Here's another super popular Simple Fall Monogram Doormat I made last year and this DIY Wood Doormat is another favorite one of mine:) Oh, and yes, my front door is copper. Go here to see how I faux painted my front door copper:)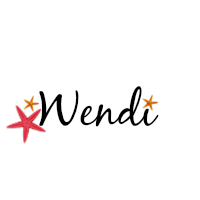 Love a good dose of DIY home decor, home improvement, the challenge of woodworking and creative ways to make your home look fabulous?
Me too!
I'd love to share mine with you. Click here to sign up for my post emails and I'll send a quick note when I have a new project to share.
Social media fan? Don't be shy say hello! I love when you guys do that! I'm interactive on Facebook and I share lots of other projects and, useful inspiration for the home and content I don't share anywhere else. Follow H2OBungalow on Facebook here
Oh heck, just follow me on all social medias. We'll have some fun…promise:) Follow H2OBungalow on Instagram , Follow H2OBungalow on Twitter , Follow H2OBungalow on Pinterest, I'm on Periscope! @H2OBungalow
I use affiliate links in my posts. If you should make a purchase I will receive an itty bitty commission at no cost to you. Thank you in advance for supporting my blog…my two cats and our boxer dog