Not all presents come in pretty packages neatly tied with a bow on top. My gift to me this year was only possible because I made a promise. I promised myself I would make a real effort to slow it down a notch and do my best to enjoy the season, spend more time with friends, and enjoy as much quality family time as I could fit in. Because I made that promise to myself, I kind of gave myself an early Christmas present and I didn't feel guilty at all.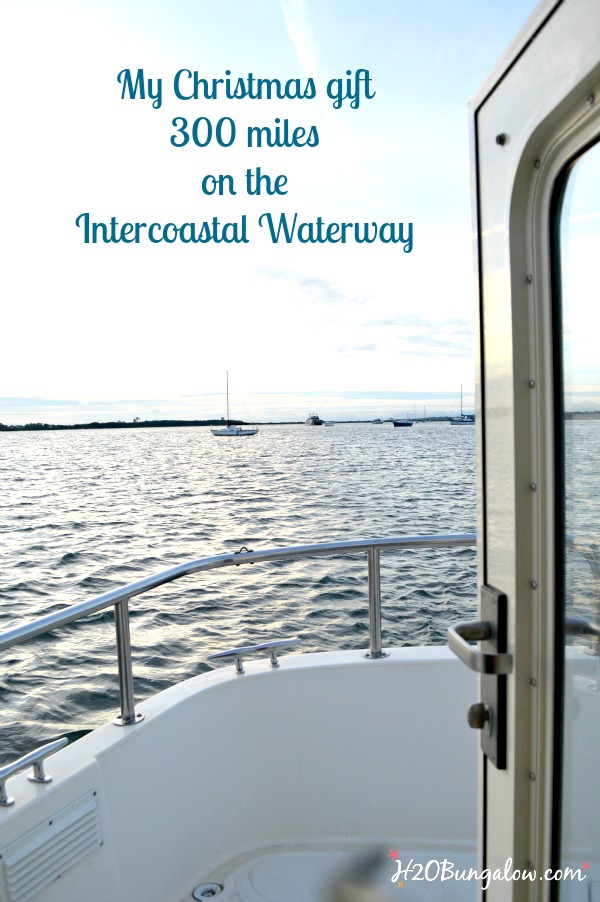 Even if that meant doing less, not decorating as much or writing fewer posts.
Last week after rescheduling tons of appointments, switching around posts, sponsors and work that was due, dealing with the loss of a family pet and major eye surgery on another one, I still cut the landline ties and spent 5 days cruising down the east coast of Georgia to Florida on the Intercoastal Waterway with my Dad. Just the two of us, covering just over 300 miles.
My gift wasn't just the trip.
It was the time spent together.
Time to slow down and follow through with what I said I'd do. Enjoy the season and the people who matter.
I want to share a little of my gift with you.
Cruising is always an amazing experience and unique in each body of water. This was my first east coast cruise. We started on the St Mary's River in Georgia, a tiny scenic town. This is my Dad's boat, a 32 foot Nordic Tug, which is his floating home for the next several months.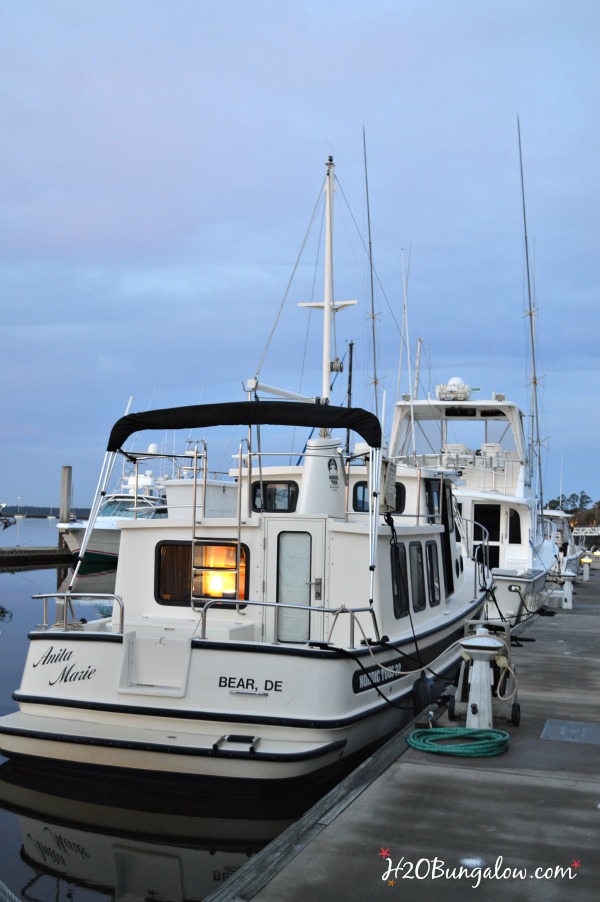 On the water there are always magnificent sunrises. This ship was tied up next to us in the St Mary's marina. I couldn't resist taking the photo as the sun was rising before we shoved off on our adventure.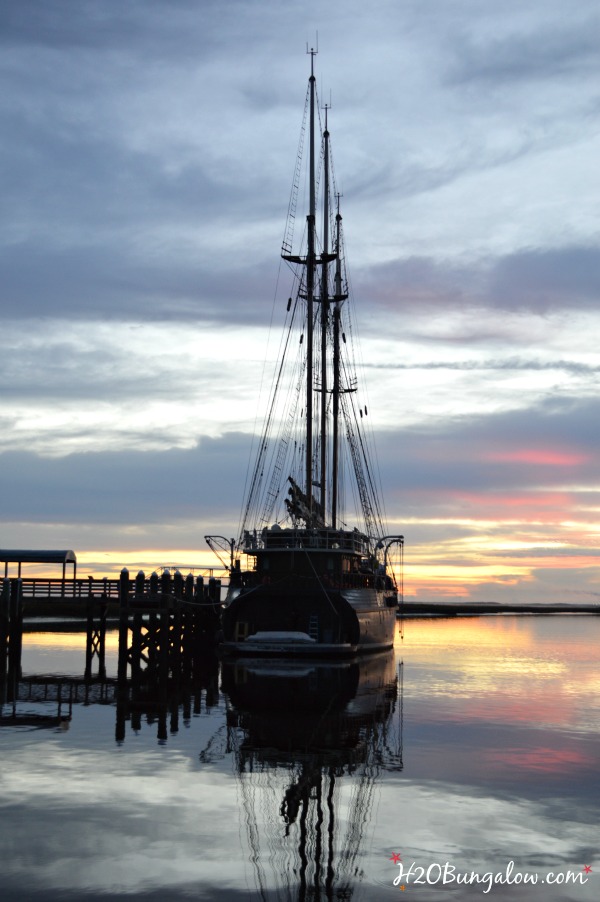 The Landscape changes dramatically on the ICW from Georgia to Florida.
It can be isolated with very narrow channels.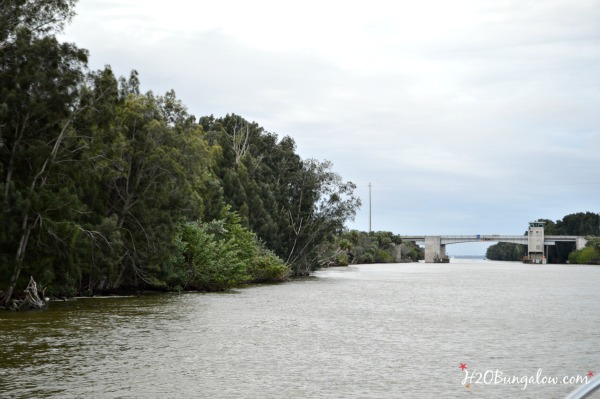 Or wide open where it feels like the Atlantic Ocean.
Traveling on the ICW is like a highway on the water. There are lots of other boats traveling too. There isn't a fast lane to speak of, but there are rules to follow. We'd hail (call) a boat in front of us on the marine radio to pass when we got near them. You always slow down so your wake (water behind the boat) doesn't disrupt the other boat too much. Like our land highways, there are good drivers and not so good drivers.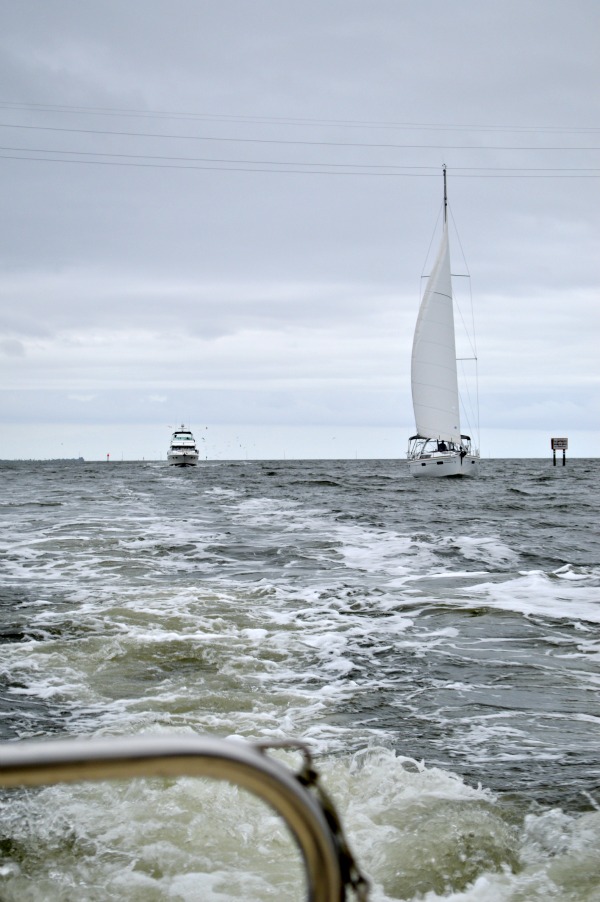 Dolphins were everywhere around us, so were pelicans and lots of osprey. Georgia and Northern Florida had the most incredible white pelicans. I've only seen the white ones at the aquarium before, so experiencing them in their natural habitat was a huge treat. This dolphin was from a cruise we took last year in the gulf. I wasn't fast enough with my camera to get any good dolphin shots this time.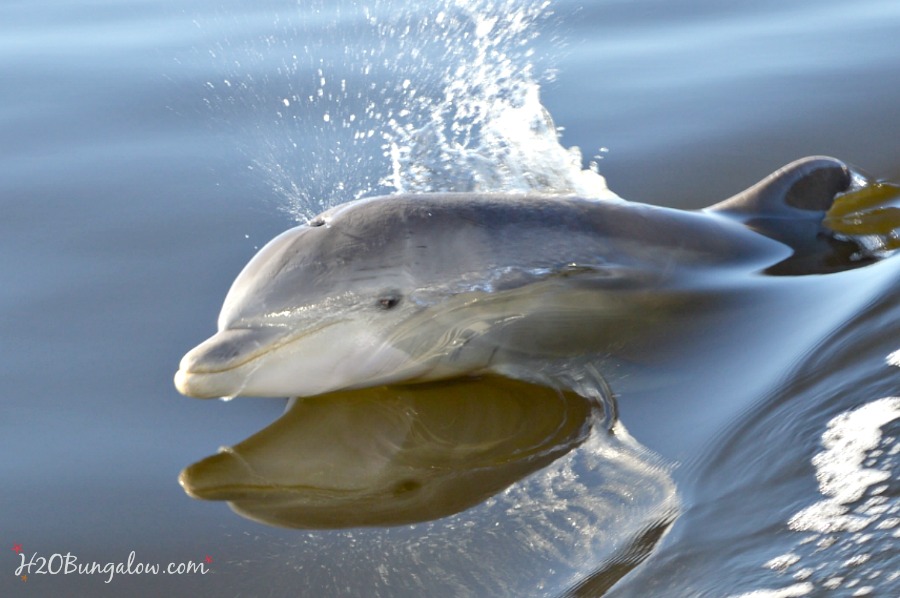 Cruising is pretty comfortable in this style boat. Unlike our sailboat where we steer the boat from an open cockpit, this one has an enclosed pilot house. This is my Dad, at 83 he has a lot of backbone and energy. He made most of the journey from Delaware to Georgia by himself, which is a huge endeavour for anyone at any age!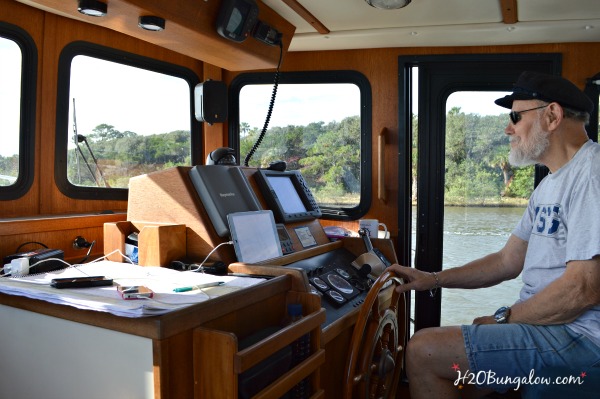 The kitchen on a boat is called the galley.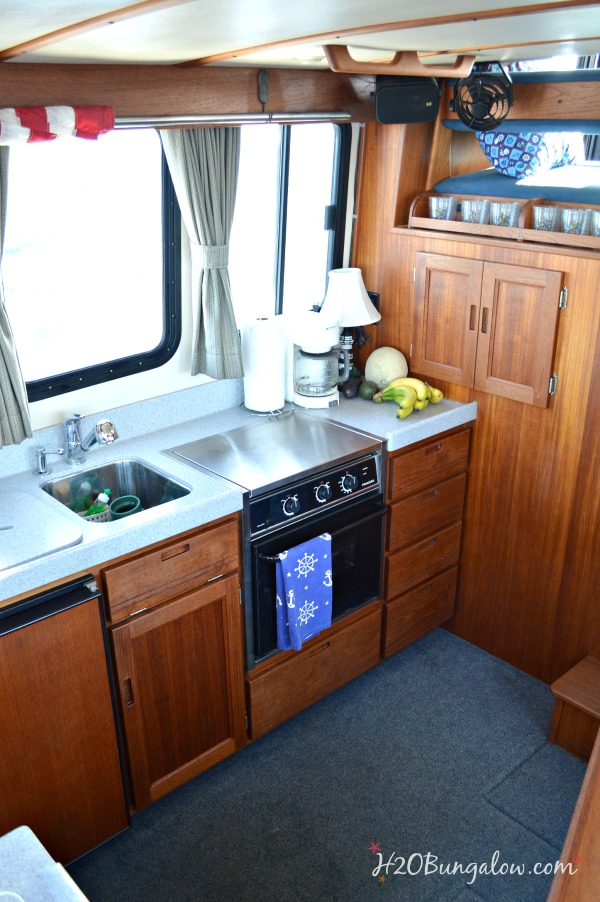 The living area is called a salon.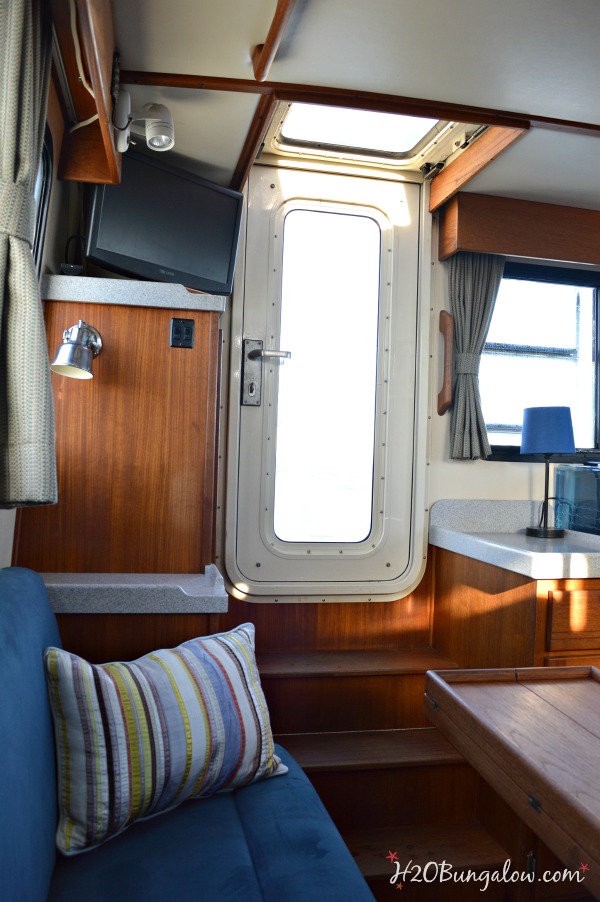 This would be called my office on the go 🙂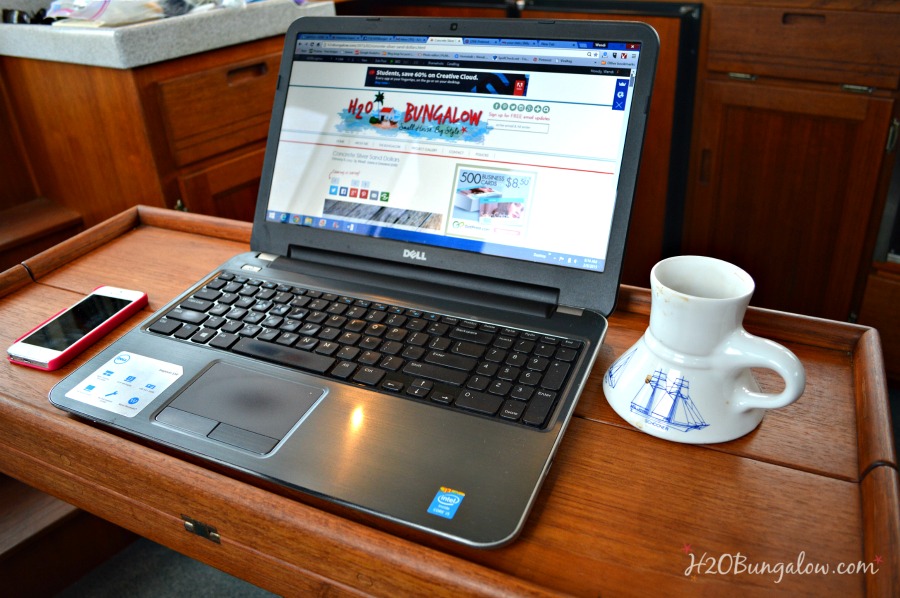 When you're cruising to a destination and covering a few hundred miles with only 2 people on board, there's not much time for work, or relaxing for that matter. Especially since we were traveling with a huge storm cell in our path. It wasn't bad enough to make us hunker down in a marina, but it was big enough to keep us very busy.
On a cruise like this one we use between 3 -4 different navigation aids at once. This chart below, the boats GPS system, navigation apps on our ipads and a few weather sites , constantly switching from one to the next. No one navigation aid alone is sufficient and any one could have dated or incorrect information at any time, so we check and double check all the important items for safe passage. Most of our time is spent looking through binoculars spotting markers, updating charts and monitor screens while the other is steering. Both are active jobs.
Cruising is always an adventure!
Just as the storm was blowing in we decided to change the location of our anchorage for the night to find better shelter. The area we were in was wide open without any shelter for 17 more miles. That doesn't sound far, but when you're on a boat traveling about 8 knots (close to 10 mph) and the sun is setting, it sure seems far!
We found ourselves in this big blue area (open water) on the map below, in the dark , in rough seas without much more than the GPS guiding us and hardly any flashing beacons to be found. I had my life vest on and safety line tied to the boat as I leaned off the side with a powerful flashlight to help my Dad see. It was an adrenaline booster to say the least;) Can I tell you how good that glass of wine was when we finally tucked in into our anchorage in the lee of the wind (on the shelter side of the wind) beside a big bridge and just as the rain started coming down hard.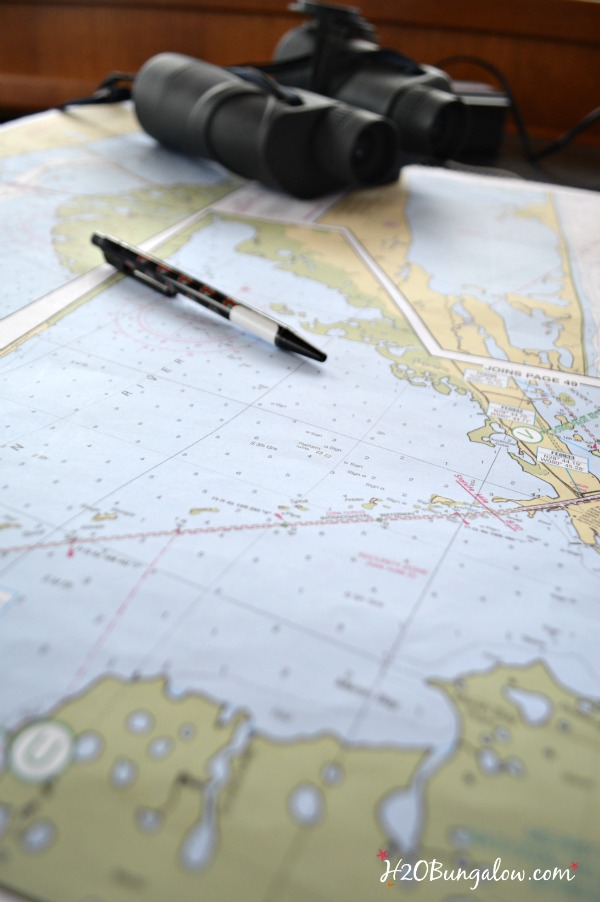 Since we worked so hard the night before, the following day we moored (tied up to a floating ball) in a city marina for the night and gave ourselves a much shorter day 🙂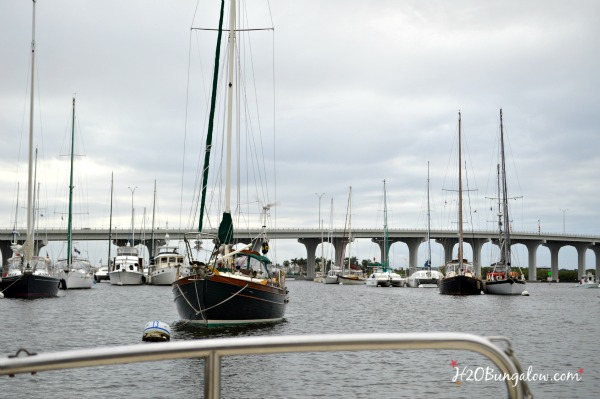 Only to start again bright and early the next morning for our last day together. Yes, we still had rough and rolly seas. I worked on my post for the DIY Sunday Showcase standing in the pilot house as we pitched and rolled with the swells. If you noticed a lot of typos and sentences that didn't make sense last weekend, that was why.
…thankfully, I don't get seasick 😉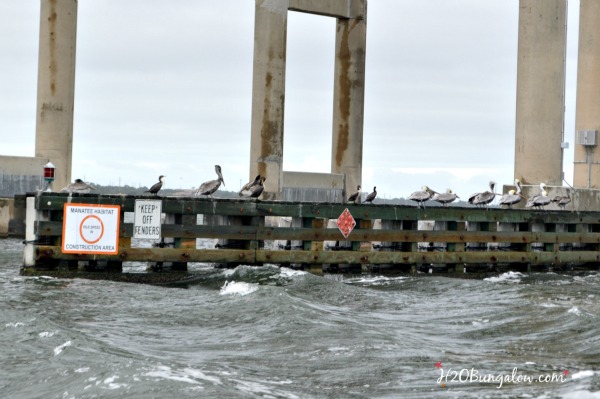 Luck was with us as we arrived a little early to our final destination just as torrential rain came pounding down on us. This was where DH & my father in law swapped places with me and are now with my Dad on the last leg of his 1500 mile cruise south to our house for the winter. Of course they now have perfect sunny cruising weather:)
Making /taking the time time to spend 5 days cruising with my Dad was the best gift I could have given myself this year. We had lots of fun, awesome teamwork in a challenging situation, yes, we got on each others nerves a little, but we also laughed a lot and got to know each other a little bit more too.
In part this was gift from you all too. Because of you guys, I get to have a job that allows me the freedom to work from almost anywhere at any time. I don't have a clock to punch, or an office where I have to physically be at each day. You guys are the best & I thank you from the bottom of my heart!
Now it's your turn. What's the best gift you could give, or have given to yourself? Share in the comment section below!
Wishing you all… Happy Holidays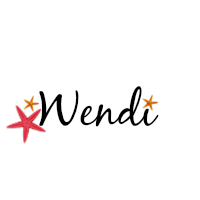 Love a good dose of DIY home decor, home improvement, the challenge of woodworking and creative ways to make your home look fabulous?
Me too!
I'd love to share mine with you. Click here to sign up for my post emails and I'll send a quick note when I have a new project to share.
Social media fan? Don't be shy say hello! I love when you guys do that! I'm interactive on Facebook and I share lots of other projects and, useful inspiration for the home and content I don't share anywhere else. Follow H2OBungalow on Facebook here
Oh heck, just follow me on all social medias. We'll have some fun…promise:) Follow H2OBungalow on Instagram , Follow H2OBungalow on Twitter , Follow H2OBungalow on Pinterest, I'm on Periscope! @H2OBungalow
I use affiliate links in my posts. If you should make a purchase I will receive an itty bitty commission at no cost to you. Thank you in advance for supporting my blog and two furball cats who believe they are privileged.