I'm loving my festive holiday entry I created this year. I'll start at the beginning because I didn't love what I started with. I realized I'd fallen into a holiday decorating rut as soon as I started putting out the Christmas decorations. I've used many of my main decorations in the same way, and in the same spot year after year and even from house to house. I realized I'd gone on remote, lost my creative spirit,
…my holiday decor was predictable.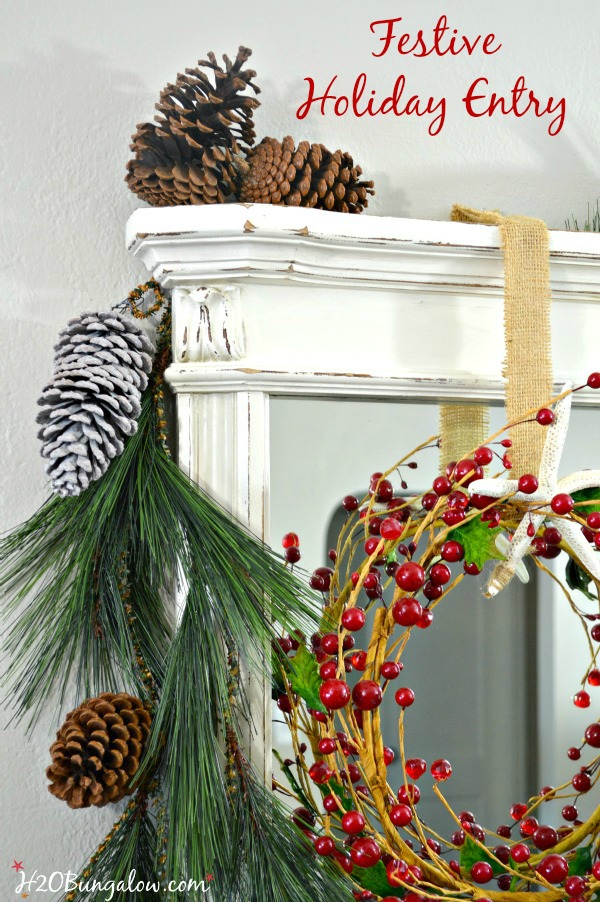 It was time for a change.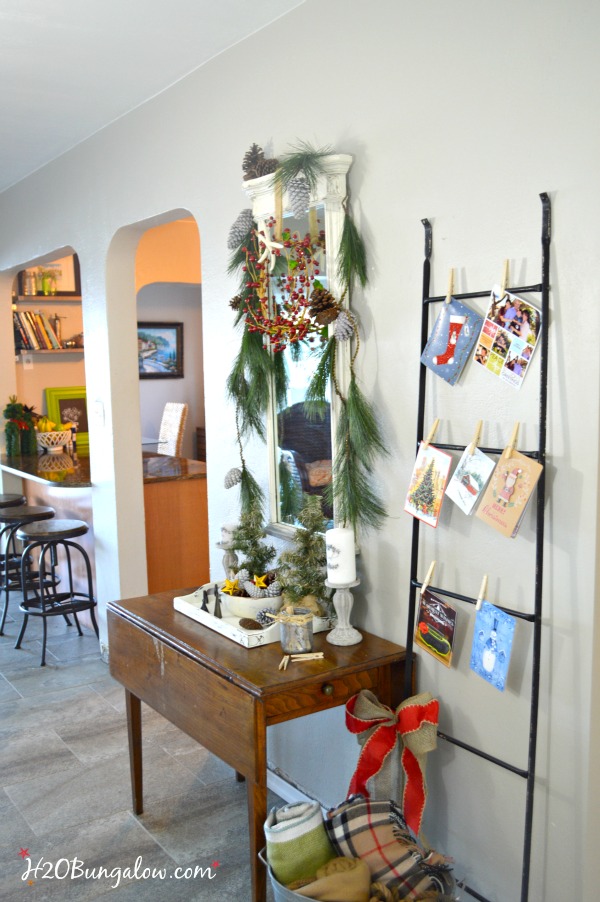 I challenged myself to do something different, break out of the mold and create a fresh new look for the holidays in our small entry space. Having a small area was part of the challenge, we are limited on space for decorations. The furniture will only fit one way in our long narrow room. My solution was creating an inviting entry by changing the small items around it. I love how it turned out!
My vintage Pembroke table and the mirror stayed and I changed everything else by shopping my house and adding my holiday decorations. As you'll see, most of my holiday decor is a DIY project and I share links to each of these:) I'd add a piece, step back and look at the balance, and then add another until I was happy with my festive holiday entry.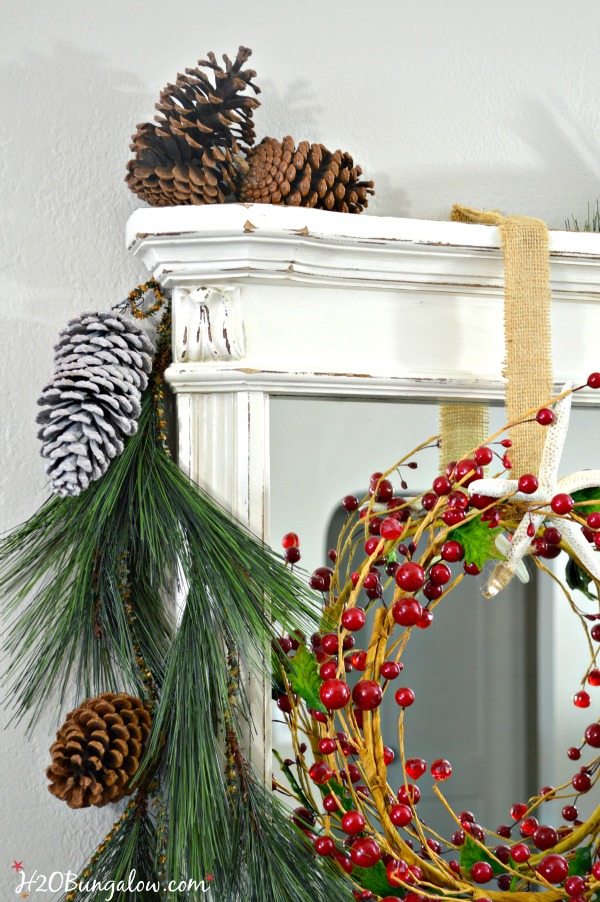 I had everything but the white pinecones. I tried my hand at bleaching pinecones this year. Let's just say it's not the process most people think it is, or share:( I'll have a tutorial on how to get this pretty color on the pinecones this Friday.
The mini trees are from last years Knock Off Tour where I made Ballard Inspired Gold and Mercury Glass Christmas Decorations. The wood tray was my mom's. It took me forever to paint it, which is a shame because now I use it all the time instead of it sitting in a storage box. Writing my post on 5 Ways To Deal With Sentimental Clutter was the turning point for me on using special items.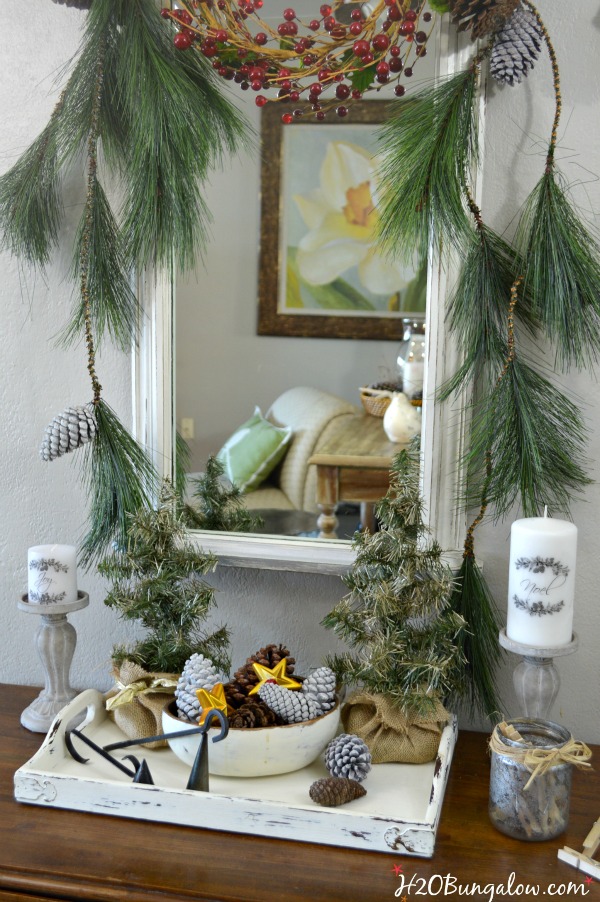 I loved putting out my candles that I made last year. They look like they came from a high end boutique and might just be my all time favorite holiday project…ever! You'll find a good tutorial here and I share the graphics I used for the candles too. Just download the files and save. Theres one for Joy, Peach and Noel.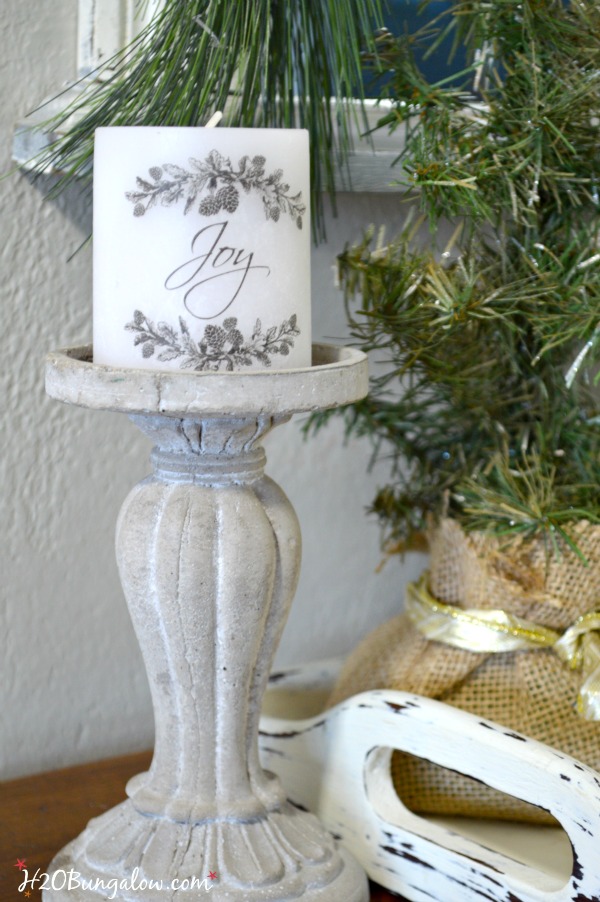 Since we are tight on space, a festive holiday entry can't just be a pretty vignette alone. It has to serve a purpose or two. This metal ladder is perfect for displaying Christmas cards. Small wood clothespins hold the cards in place. I put the extra clothespins in the pretty mercury glass jar with a raffia bow on it. I made it from a salsa jar a few years ago. I can't tell you how many times and in different ways I use this little jar! Here's my tutorial on How To Make Faux Mercury Glass From Craft Paint.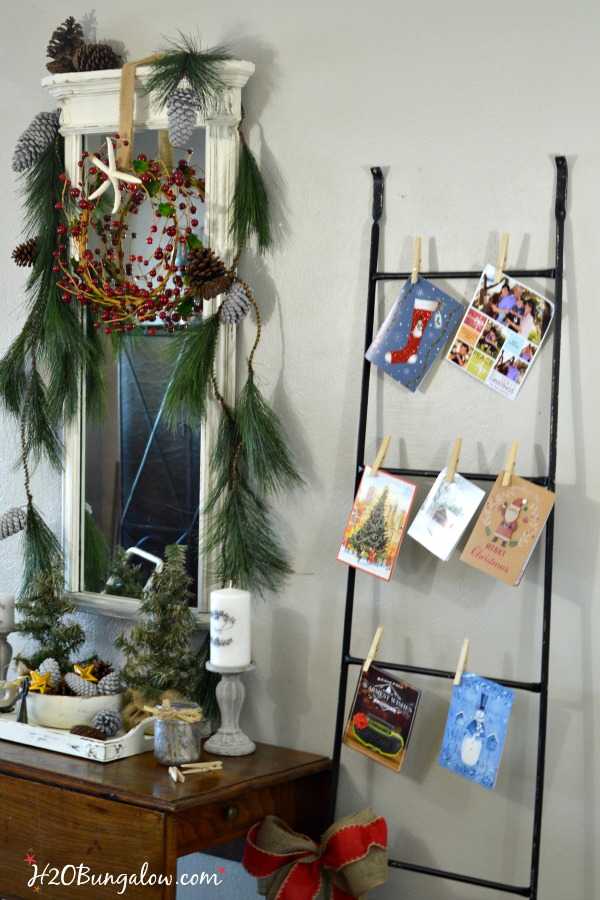 Why yes, that is a bucket of blankets;)
It gets a little cool on the back dock at night and a nice warm lap blanket is perfect to keep the chill off. Our town Christmas Boat Parade is this weekend and we have a few friends coming over. It's really something to see with all sizes of boats decorated to the hilt and lit up with Christmas lights. Many play music and have people dancing or even Santa on the decks. It's just like a traditional parade but on water.
Fun!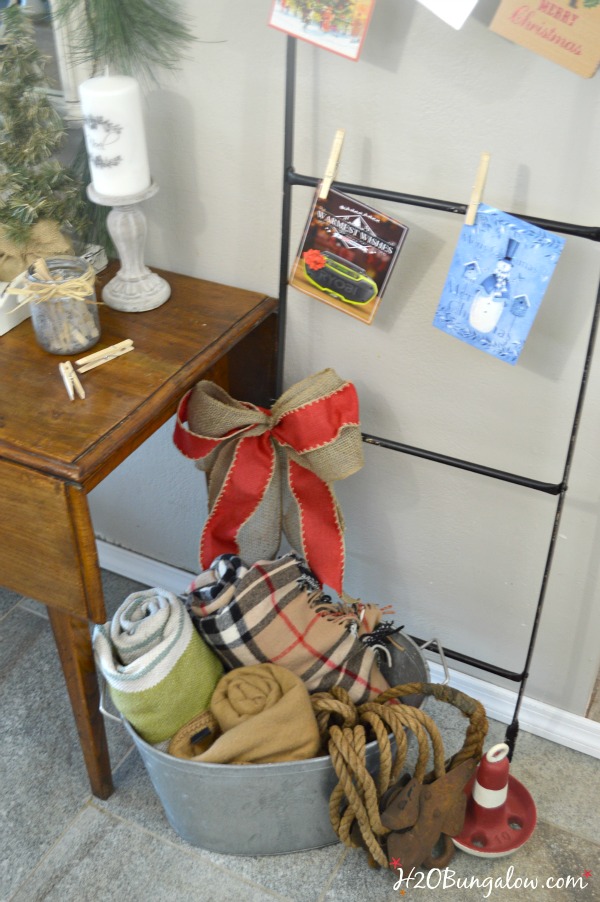 What do you think about my festive holiday entry? Not bad for an hour of tweaking and pulling Christmas decorations out, especially since I'm limited on space. The area in front of my table is only a walkway and my sofa sits to the left of the table. If you don't know the layout of my home, my home tour has a good photos of our layout.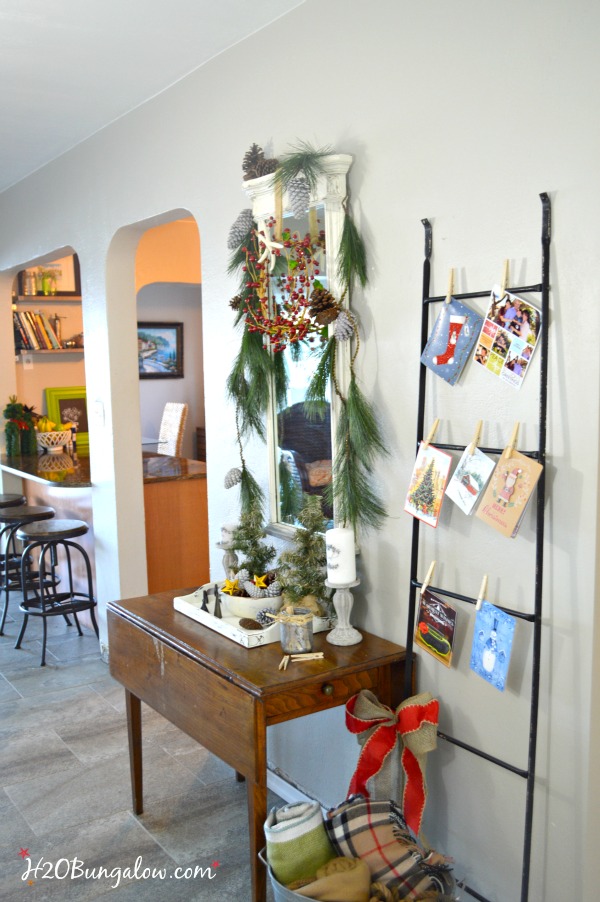 Of course I still have yet to tackle the tree!
Trying my old decor in new places was a lot of fun. I might make this an annual challenge so I don't get in a rut again.
How about you? Do you have a festive holiday entry, do you change up your holiday decor each year?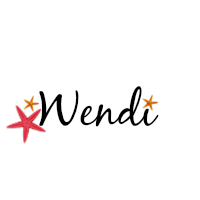 Love a good dose of DIY home decor, home improvement, the challenge of woodworking and creative ways to make your home look fabulous?
Me too!
I'd love to share mine with you. Click here to sign up for my post emails and I'll send a quick note when I have a new project to share.
Social media fan? Don't be shy say hello! I love when you guys do that! I'm interactive on Facebook and I share lots of other projects and, useful inspiration for the home and content I don't share anywhere else. Follow H2OBungalow on Facebook here
Oh heck, just follow me on all social medias. We'll have some fun…promise:) Follow H2OBungalow on Instagram , Follow H2OBungalow on Twitter , Follow H2OBungalow on Pinterest, I'm on Periscope! @H2OBungalow
I use affiliate links in my posts. If you should make a purchase I will receive an itty bitty commission at no cost to you. Thank you in advance for supporting my blog and two furball cats who believe they are privileged.