One of the things I love about my new office/studio are the galvanized metal bins with repurposed soda can stamped metal labels I made. These bins hold and organize lots of stuff while keeping the supplies I use often an arms reach away.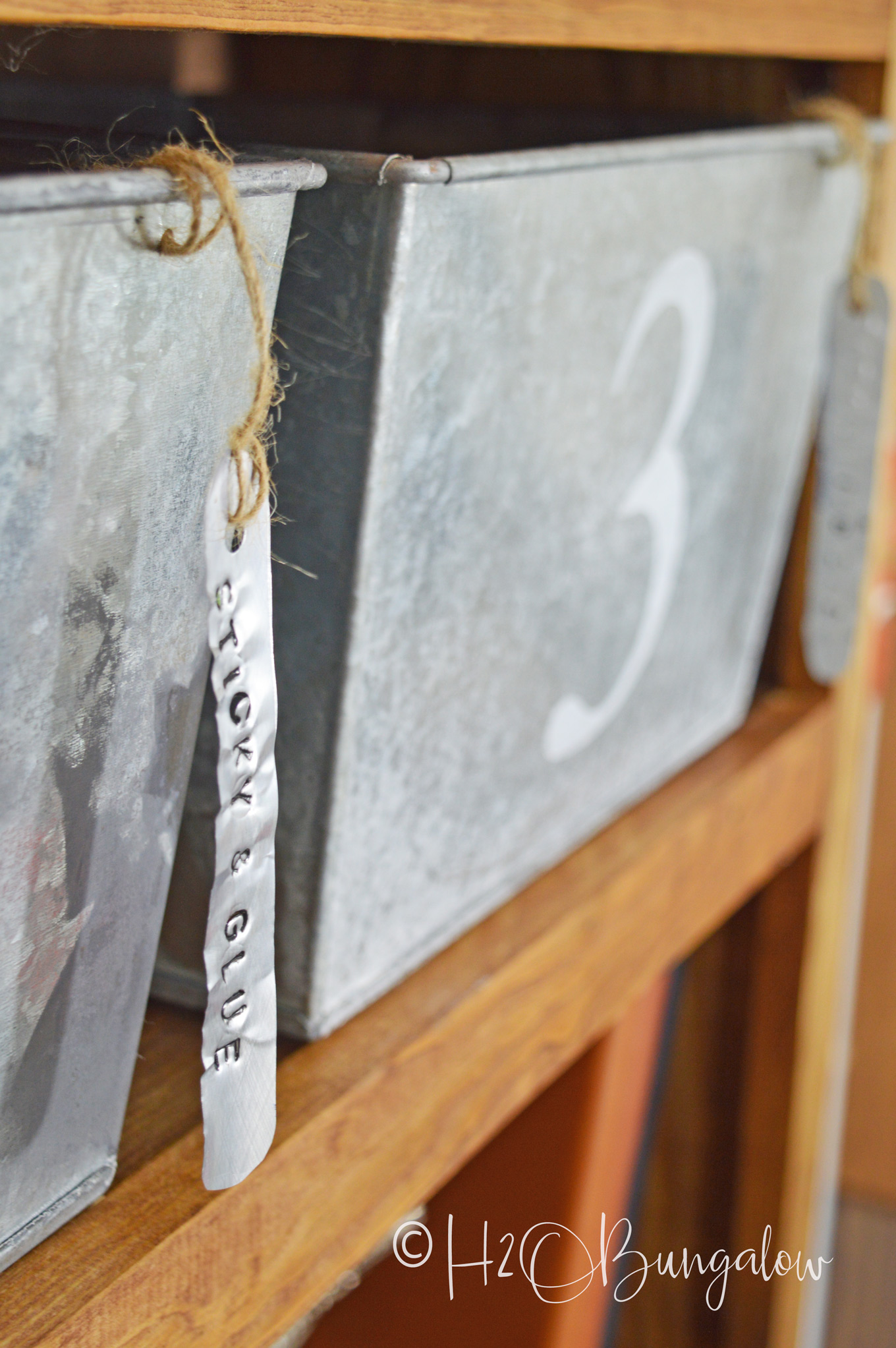 I use affiliate links to help you find the supplies I used. You can read my full disclosure policy here.
I found these metal bins at Walmart. Mine arrived a lot shinier than the online photo. The new look wasn't doing it for me so I gave them a quick DIY aging.
Basically, I squirted them down with toilet bowl cleaner, sprinkled them with salt and let them sit overnight in a heavy duty trash bag outside. Voila! Instant aging. An easier way to age metal is using Amy Howard At Home Zinc Antiquing Solution. I used it on my Faux Zinc Magnetic Metal Board.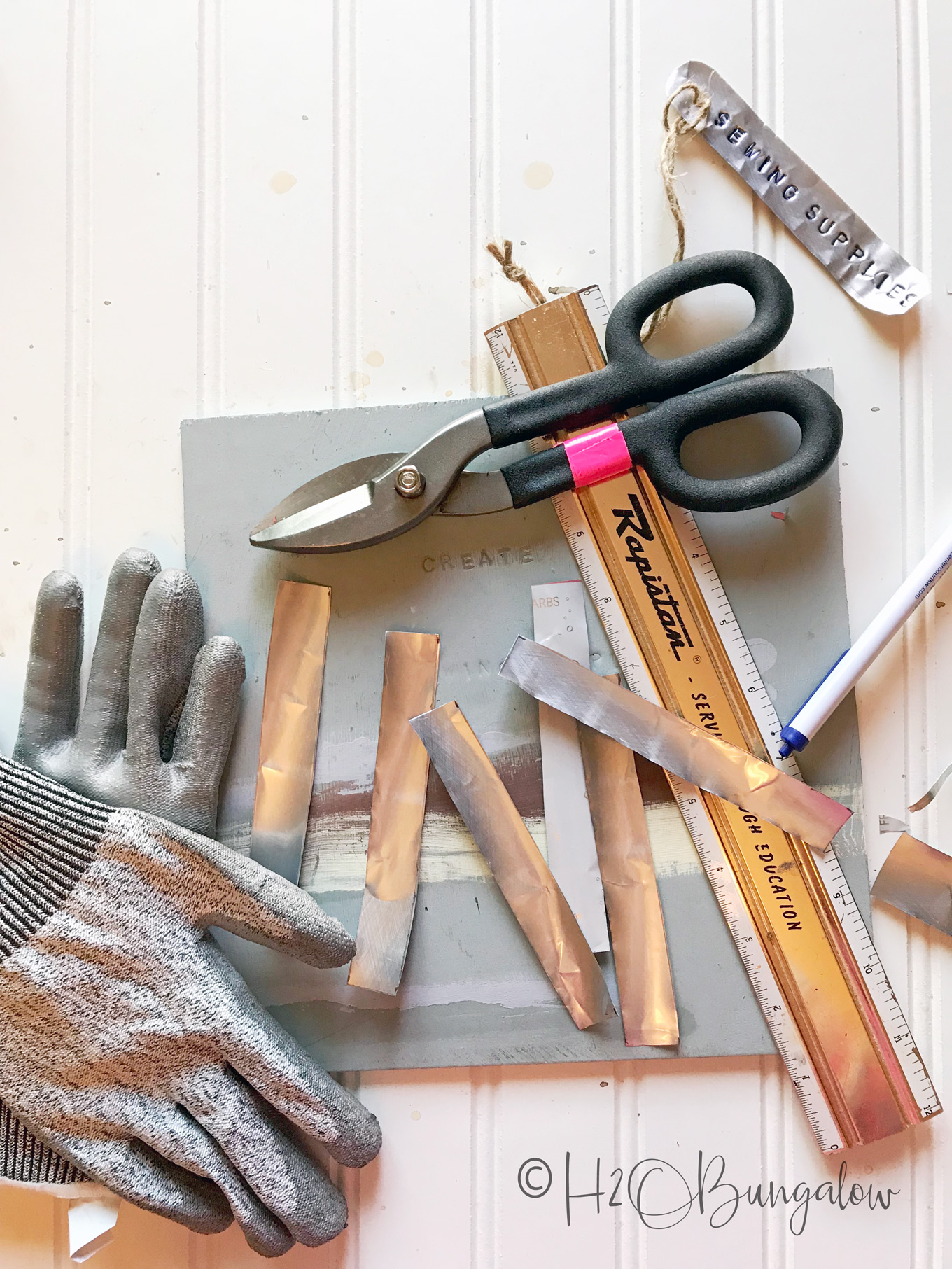 Making soda can stamped metal labels is easy. Make sure you have a good set of rubber gloves and a pair of tin snips to use when you're cutting the metal labels out. I just eyeballed the sizes when I made mine. One soda can…or do you call it pop, made all of these labels for my storage bins.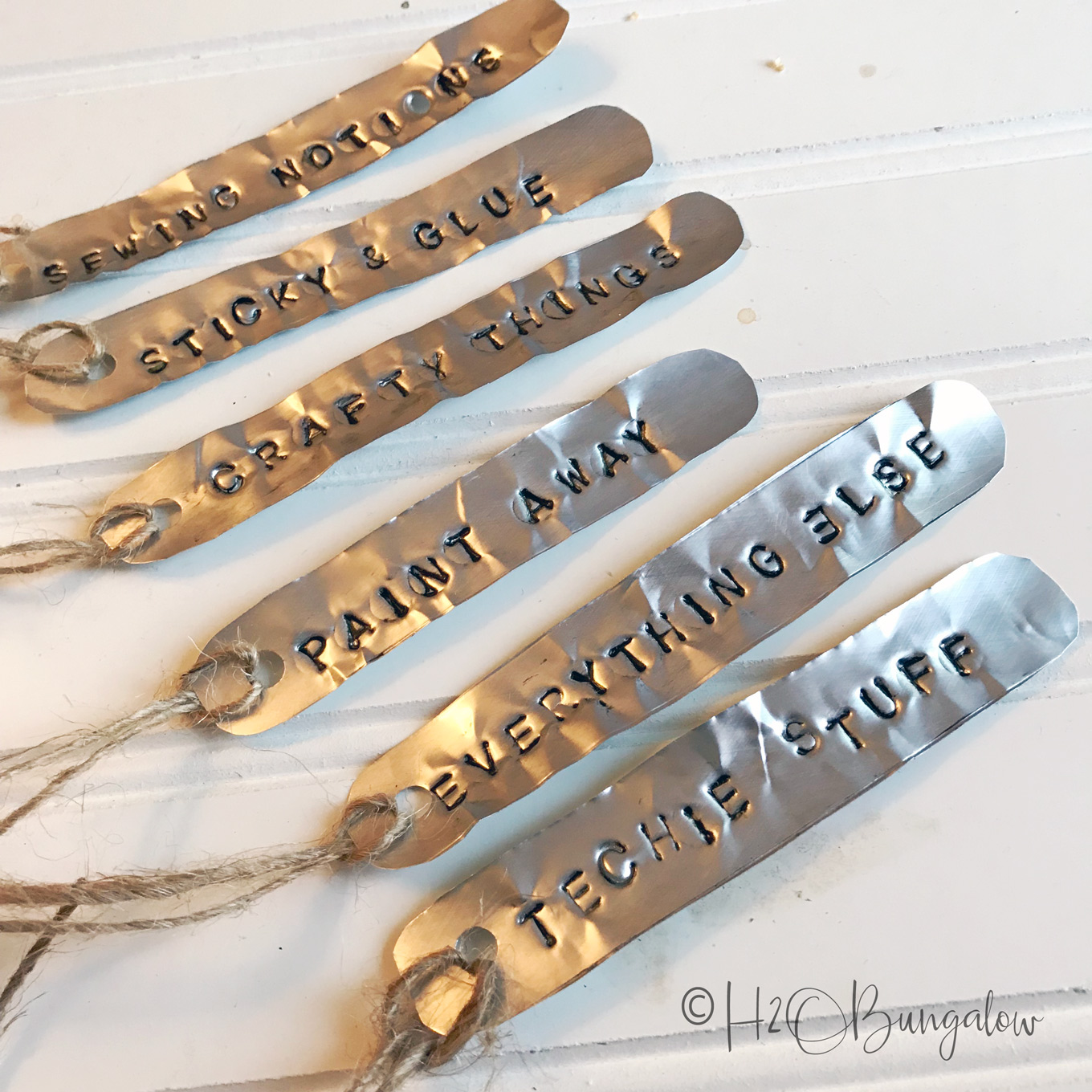 I used this set of metal stamps to stamp the words. I laid my metal label on a piece of wood, added tape to hold the metal and as a guide for the words. Next, I used a regular hammer to tap the letters onto the labels. Nothing fancy. To me, the imperfections are part of the charm. I rubbed black craft paint into the stamp depression to make the letters stand out.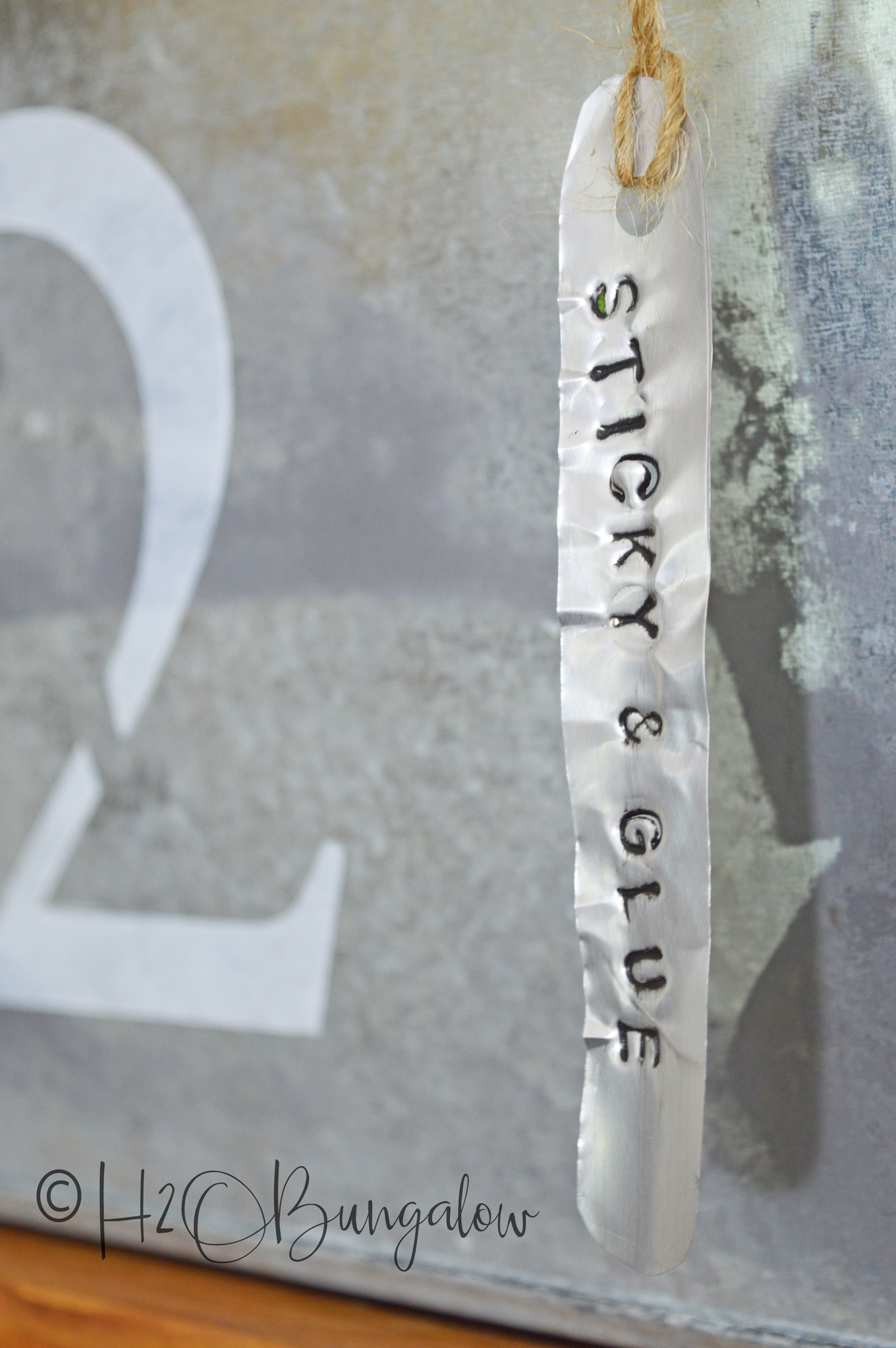 Adding the stamped metal labels to my galvanized metal storage bins was easy too. I drilled a hole in the top of each bin and attached them. Next, I used a round metal hole punch on the labels and jute twine for ties.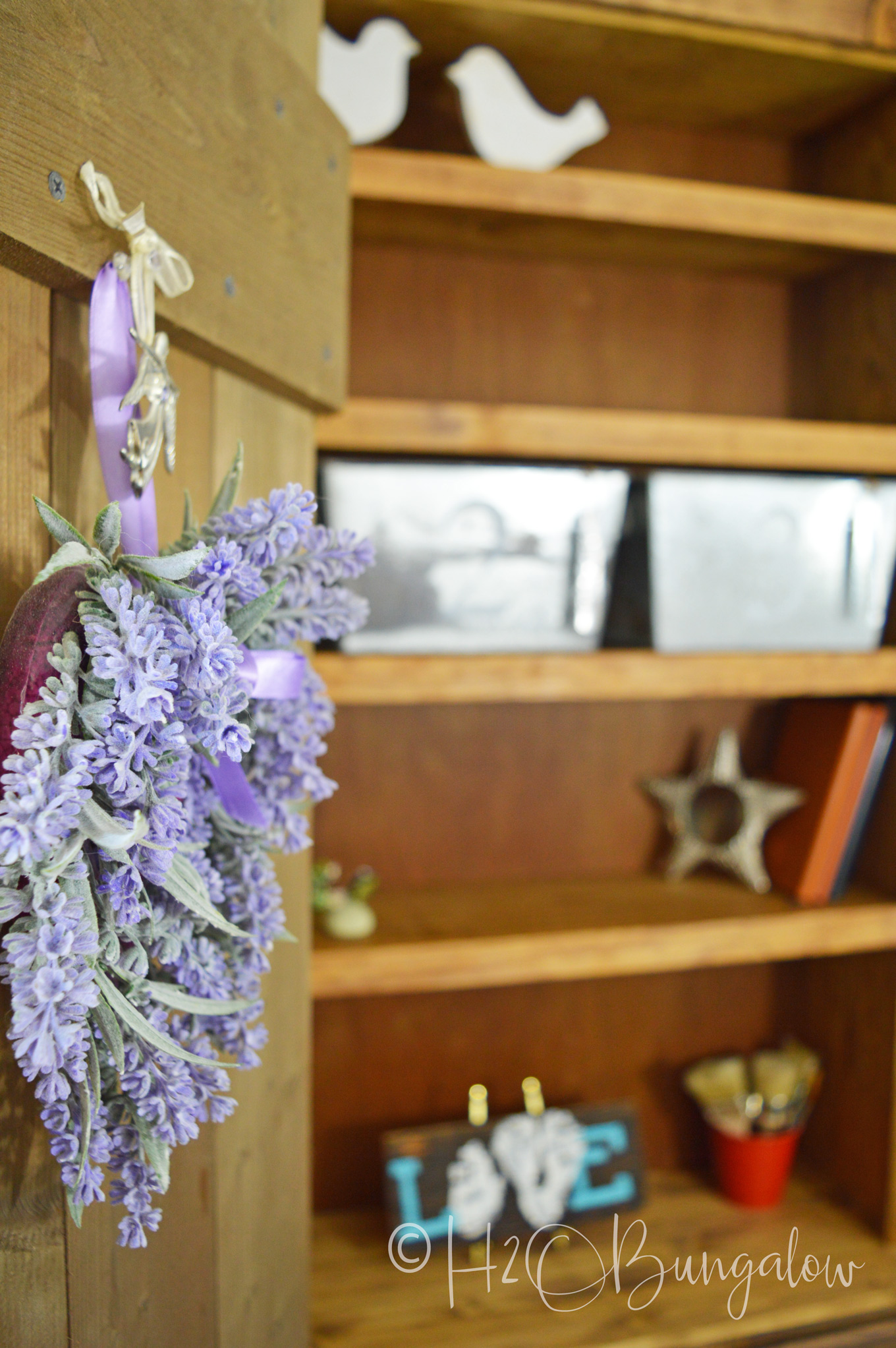 I'm not a metal stamping expert by any stretch of the imagination. But I've wanted to try metal stamping crafts for the longest time and this was a fun first project. If you need storage bins like mine, this is what I bought online at Walmart.
I also found these pretty metal storage bin already aged at Wayfair.
Pin this for later and share with your friends on Facebook!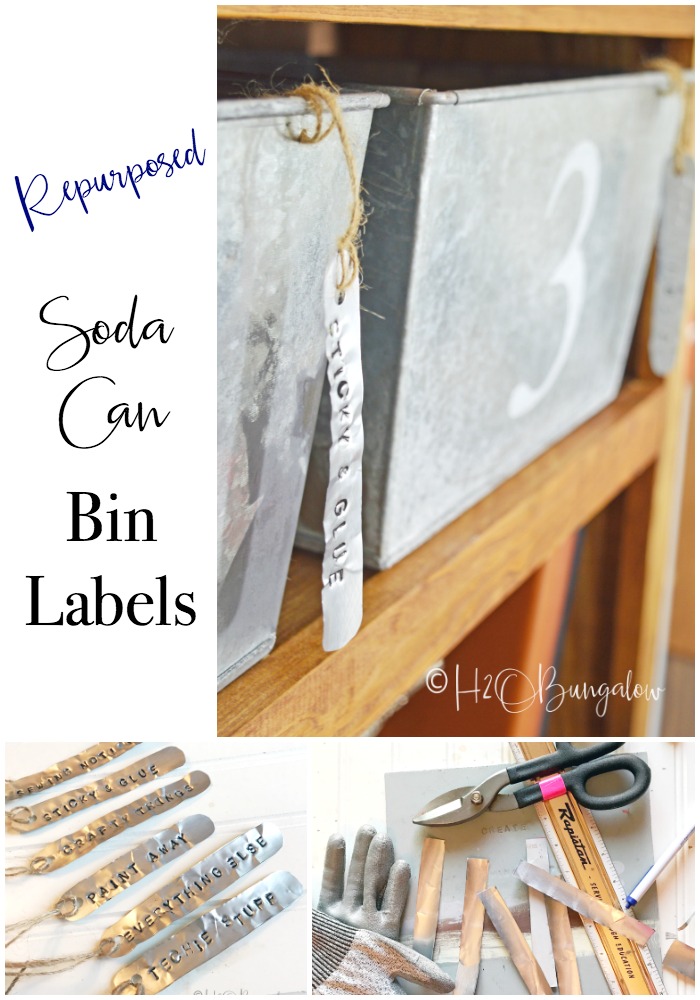 Anyhoo, today's project, metal soda can stamped labels is a quick and easy DIY.
So, now I'd like to know. Is it soda pop, soft drinks, or just soda? What's your terminology and is it a regional thing? Share in comments below!