This industrial chic faux zinc magnetic memo board is a cool summer project. Cool because it's unique, and cool because it's a project you can make inside.
Is it hot where you are? It's hot here. So hot that I thought a simple indoor project was in order today. With temps hovering at what seems like 100+ and humidity that hangs in the air so thick I can feel the weight of it a soon as I walk outside, I'm having a hard time finding motivation to do much of anything this week.
OK, I'll admit I might be laying it on a bit thick but it really is darn hot outside. However, I do think my new faux zinc magnetic memo board is really cool, and I think you'll like it too.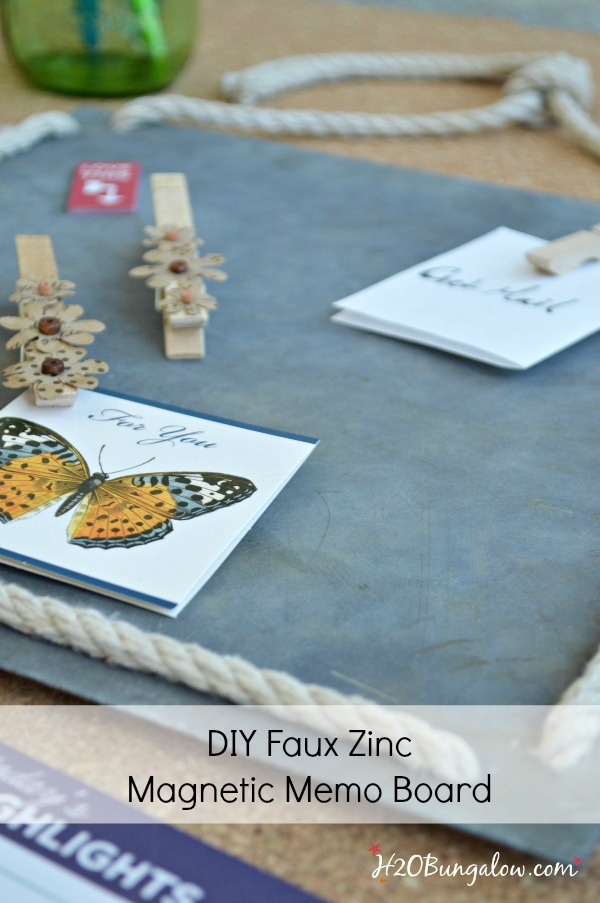 Last fall myself and a small handful of creatives attended a two day workshop at Amy Howard's headquarters in Memphis Tennessee. Making a faux aged zinc finish is one of the awesome techniques we learned. We started with plain new, kind of shiny sheet metal squares and created an authentic weathered and aged zinc finish in a matter of minutes. I held onto my little square because I knew it would make a unique magnetic memo board and I'd get around to making it eventually;)
Supplies needed for a faux zinc magnetic memo board
I use affiliate links to help you find the products I used.
Sheet metal This is a good resource, or you can find it at your local hardware store or a sheet metal shop
rubber gloves
clean disposable fabric paint cloth
cotton cord
Drill
Large drill bit
Note holder supply list
clothespins
magnetic strips
mini-letter stamps
paper flower embellishments
glue
The process of making an aged zinc patina is really easy, here's a video that Amy made showing how to create the aged zinc finish.
Making the magnetic memo board was easy. I started by drilling holes around the edge of my metal memo board to run my cord through to the top. A regular drill and large bit worked fine.
Tip: Wrapping tape around the end of the cord made it easier to string through the holes.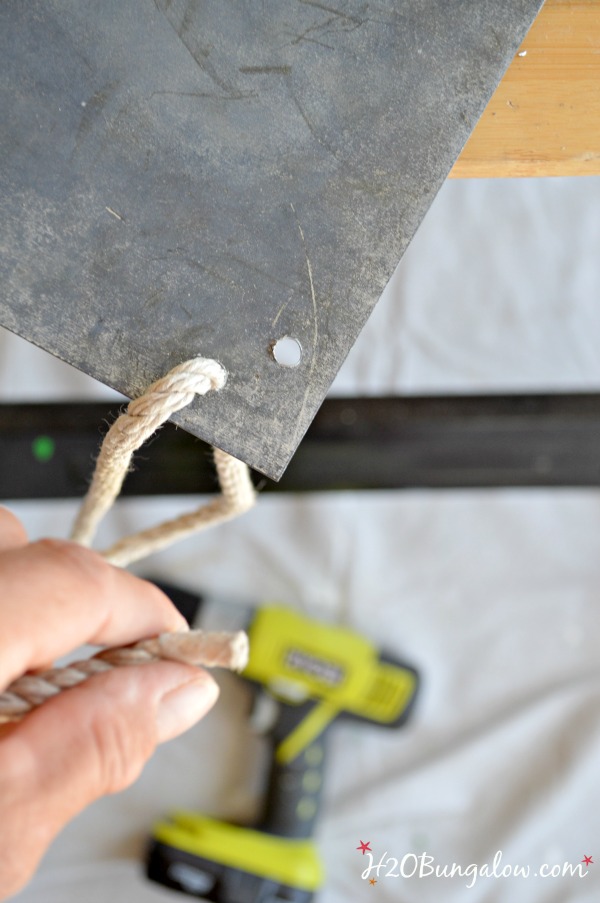 I used a few clothespins to make note holders by gluing magnetic backing and adding paper flower embellishments. I'm always looking for an excuse to pull out my mini-stamp set, so I stamped a few clothespins with fun words too.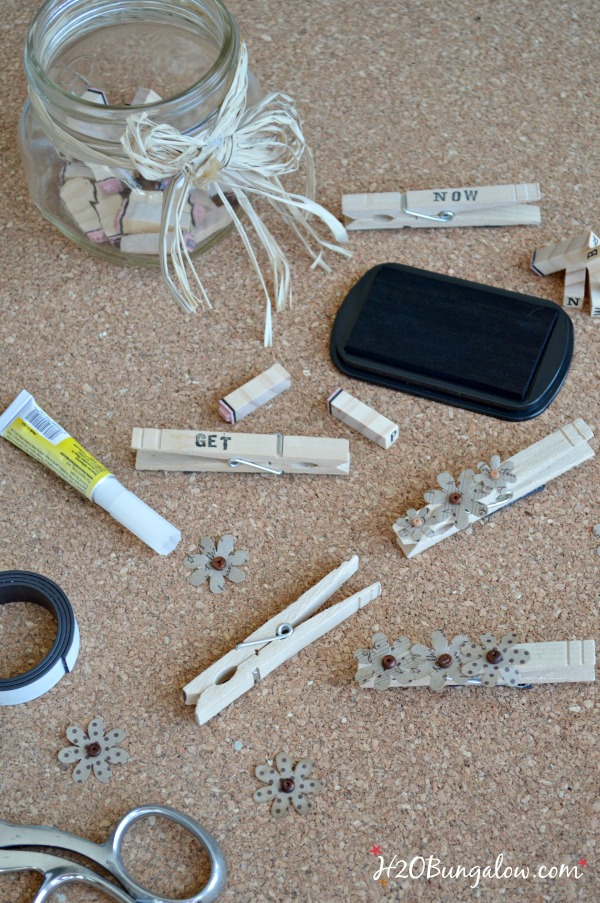 All I did was knot the top of the cord on the memo board. It's ready to hang on a nail or a hook.
That's it. Easy!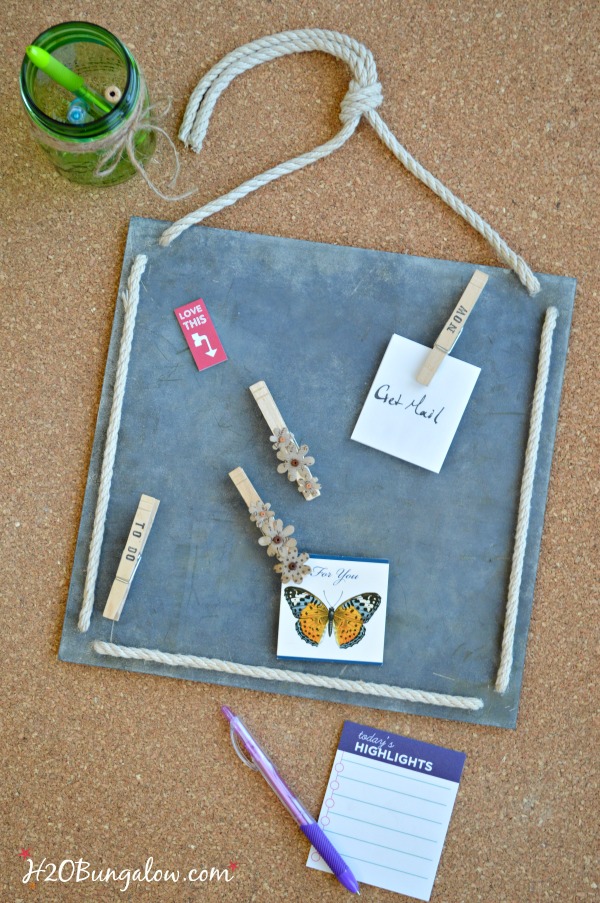 My faux zinc magnetic memo board is a stylish alternative to the standard cork memo board. Just because it's back to school season doesn't mean we can't have style in our organization, right? Speaking of back to school, I have a good post on back to school organization, you can read it here.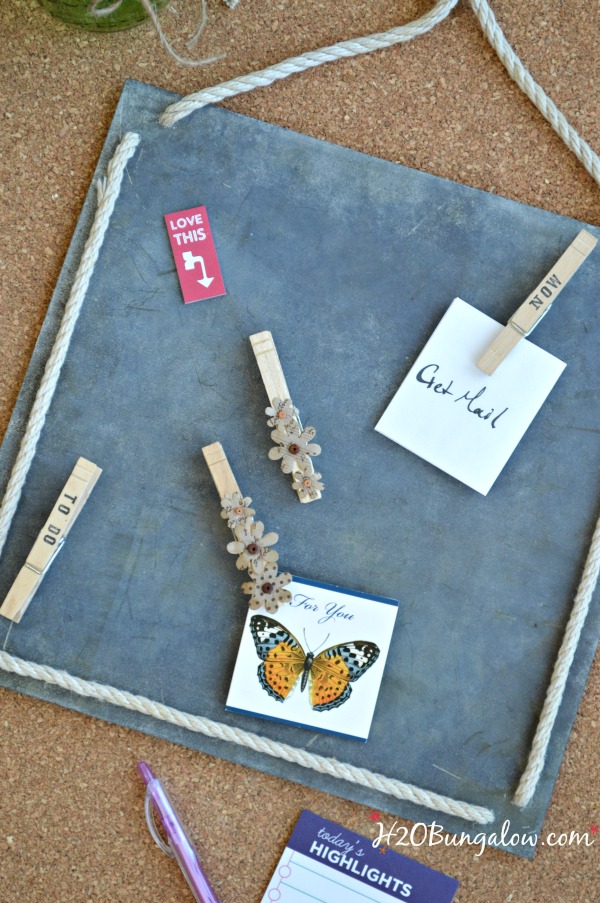 Other ideas for this aged zinc finish? How about on a table top, counters, layer on a stencil (Amy shares an awesome example in her video), how about cabinet door inserts or a really big faux zinc magnetic memo board? The ways this finish could be used are countless!
The patina is rich in color and layers, multidimensional and just plain gorgeous! This is a fabulous aging and finish technique for metal. You guys know how much I swoon over patina and special finishes, so in case you'd like to paint a metallic faux finish you may like my How To Paint A Mettalic Finish (oldie but goodie post) or one of my favorite dresser makeovers Paint A Faux Zinc Top.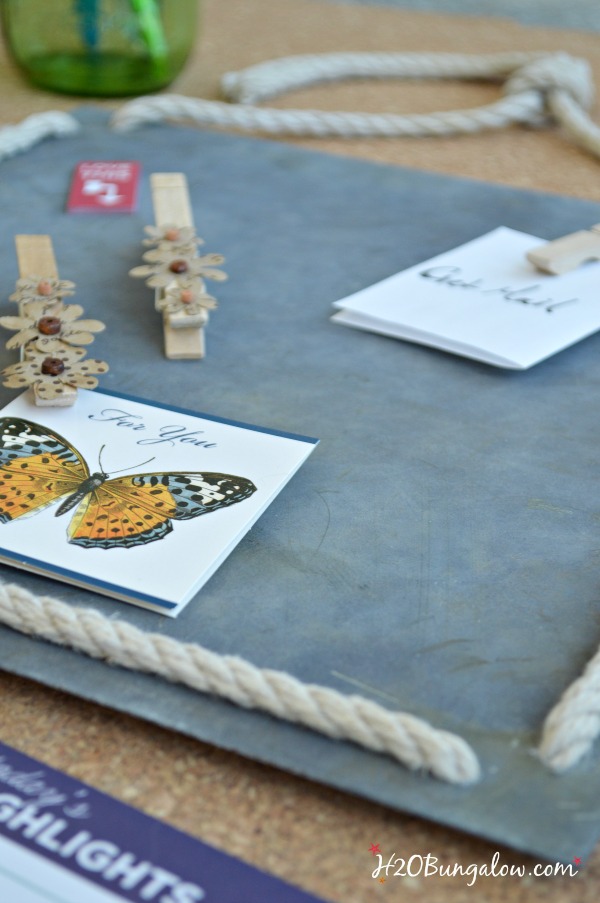 All paint aside, there are times when a piece of sheet metal is the perfect choice for a project. If so, this is the finish you want!
Have I got you thinking about where you could use a faux zinc finish? Have you thought of ways that I didn't mention? Let's talk about it! Share your ideas in the comments below!
You'll find my project linked up to these fabulous parties!
Love a good dose of DIY home decor, home improvement, the challenge of woodworking and creative ways to make your home look fabulous?
Me too!
I'd love to share mine with you. Click here to sign up for my post emails and I'll send a quick note when I have a new project to share.
Disclosure: I may have been compensated, given product or tools that I used in this DIY post. All opinions that I share are always 100% my own. I use affiliate links in my posts. If you should make a purchase I will receive an itty bitty commission at no cost to you. Thank you in advance for supporting my blog and two fur-ball cats who believe they are privileged.