I'm in Salt Lake City this week attending the SNAP Conference with a huge group of other bloggers. Earlier this week I said I'd share something a bit different. I hope you like it! For my readers who don't know this about me already, when I'm not DIYing and fixing up our house, I'm most likely out sailing in my spare time. DH and I set out for an adventure and made a long-standing dream come true last year. I've wanted to share what sailing 500 miles to Key West was like ever since.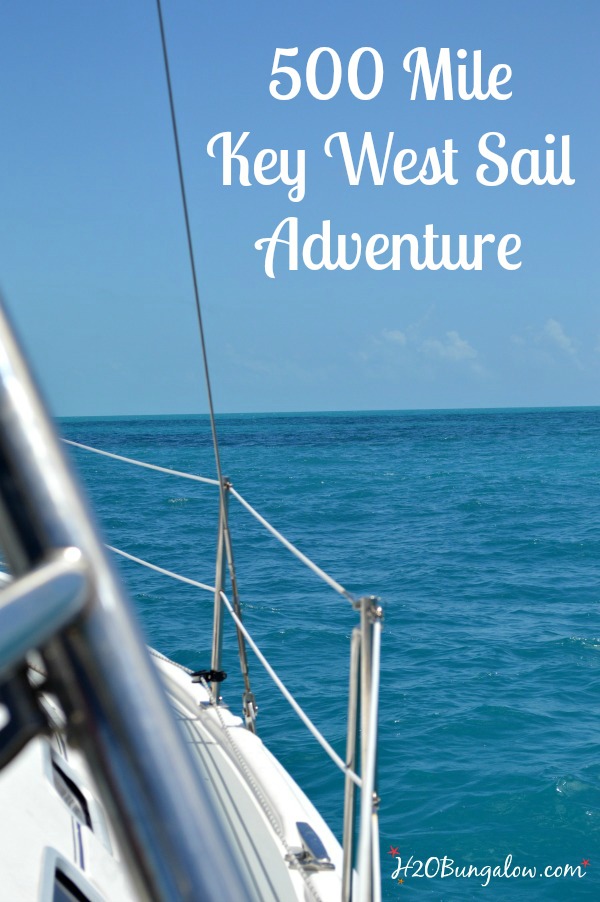 From the moment we thought about moving to the beach on the Florida Gulf Coast we dreamt of sailing to Key West. This is not a day or even a two day cruise. It was a 500+ mile, three week sail trip along the Florida coast, across the Gulf of Mexico, around the southernmost point of Key West, along the Eastern side of the Keys and back up the coast again. We did it, just the two of us in a 36 foot sailboat.
We are seasoned sailors, but we soon learned there is a big difference between sailing in the Gulf of Mexico for a weekend and cruising several hundred miles. Think road trip, but on the water.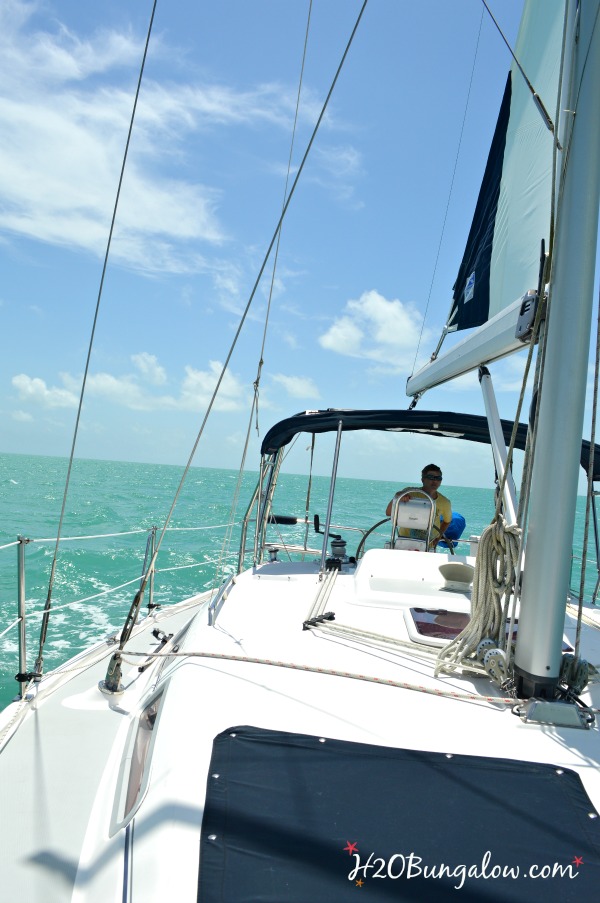 Within the first few days, it became clear that a sailing vacation requires flexibility and a good attitude.
On our second night, we found ourselves hard-a-ground (not good) while anchored for the night. We woke about 3:30am, with our boat tilting sideways as the tide went out, grounded and stuck. It seems we'd drifted onto a shallow spot in the night. We waited 6 hours while the boat healed over hard (leaned a lot) and righted herself back up when the tide came back in. Six hours takes forever when you're stuck in bed watching everything go sideways. Nope, you can't walk around, you kind of climb over things at that point.
A day later while in a marina waiting for a simple part we ordered and had overnighted in, the technician dropped the part into the water climbing onto our boat! Oops!! It was Good Friday with no replacements available for 3 more days. We put our original part back in and left as precious time was ticking since we had a schedule we needed to stick to.
Later that night, we anchored in the Everglades in the black water of Shark River in the Everglades with a zillion bugs and a freakish current that made no sense like the Twilight Zone.
…I'll mention it again, sailing requires a good attitude and a flexible spirit!
But, when the wind is right and the skies are blue nothing could be better.
Easter Sunday was spectacular as we crossed the Gulf of Mexico with no land or boats in sight for miles.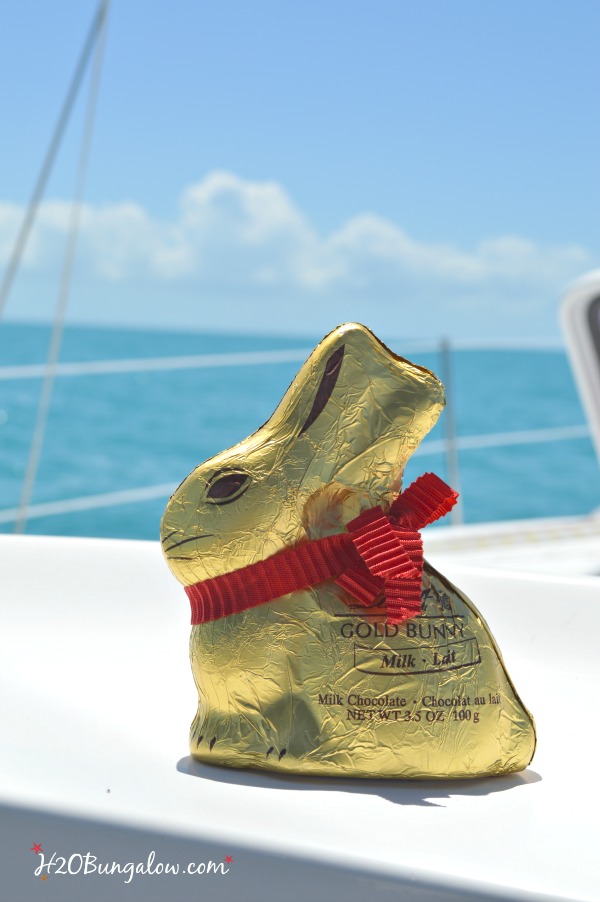 After 16 hours of sailing, we arrived at our marina in Key West and were greeted by the friendliest group of boaters we've ever met.
It took six days to sail here and we'd made it!
Key West is a gem of a place. Filled with Victorian homes, lovely cottages and plenty of porches. Most porches have beautiful blue ceilings. I read two explanations, one is that the color kept bugs away by confusing the ceiling for the sky and the other is that the blue extended daylight. Either story is charming and so are the pretty blue porch ceilings!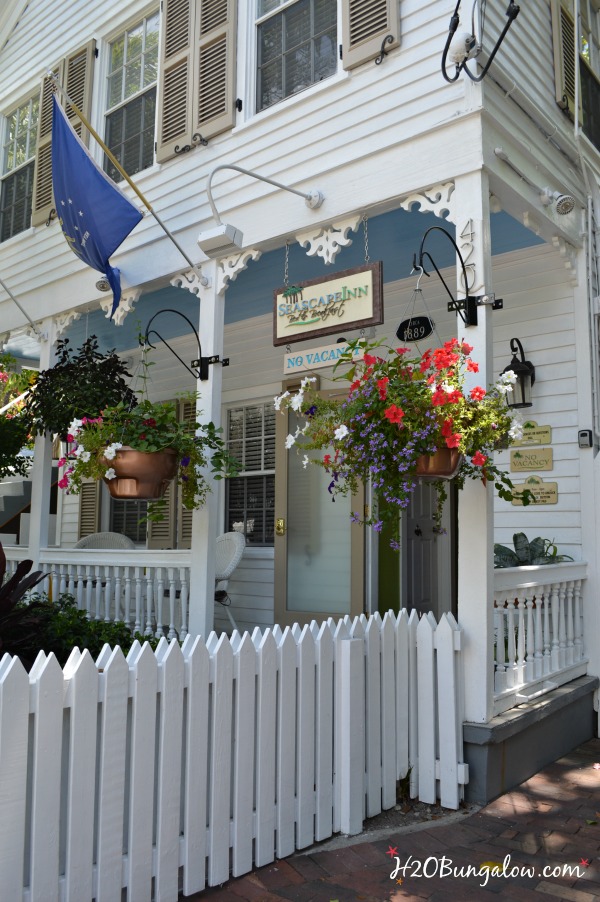 Bicycles are a main source of transportation as are scooters in Key West.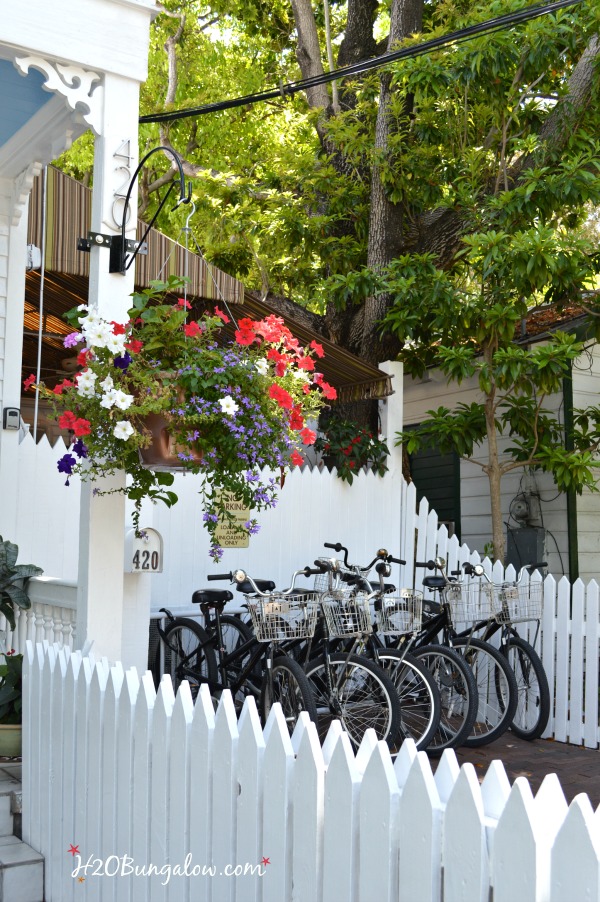 Vintage iron work is plentiful.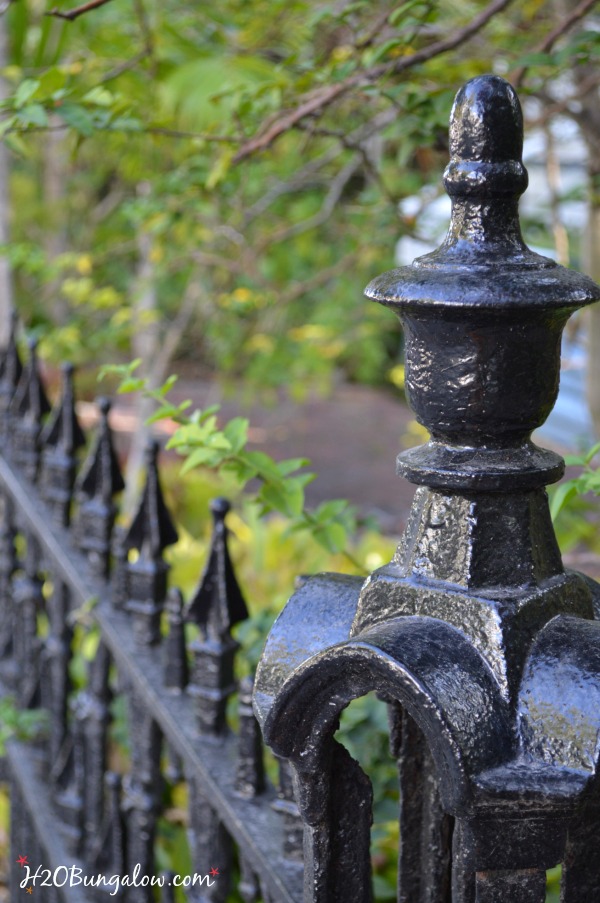 Keys West has a flavor all it's own. The locals are referred to as Conchs and you'll see Gypsy Chickens roaming the streets of Key West. They've been there for about 200 years. Yes, they are actually called Gypsy Chickens:)
I wonder if they migrate because we have some of these in our area too:)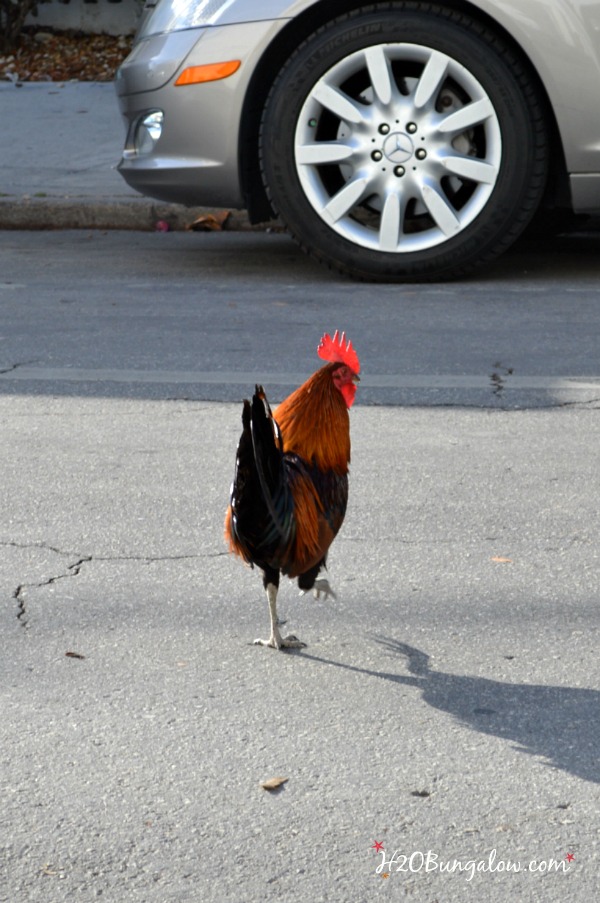 A trip to Key West wouldn't be complete without a visit to the Hemingway House and Museum, home of Ernest Hemingway back in 1931. The house and grounds are spectacular as are the tour guides. Of course the Hemingway cats steal the show. Of the 40 + cats on the grounds many are polydactyl (6 toed) cats and descendents of a polydactyl cat given to Hemingway as a gift.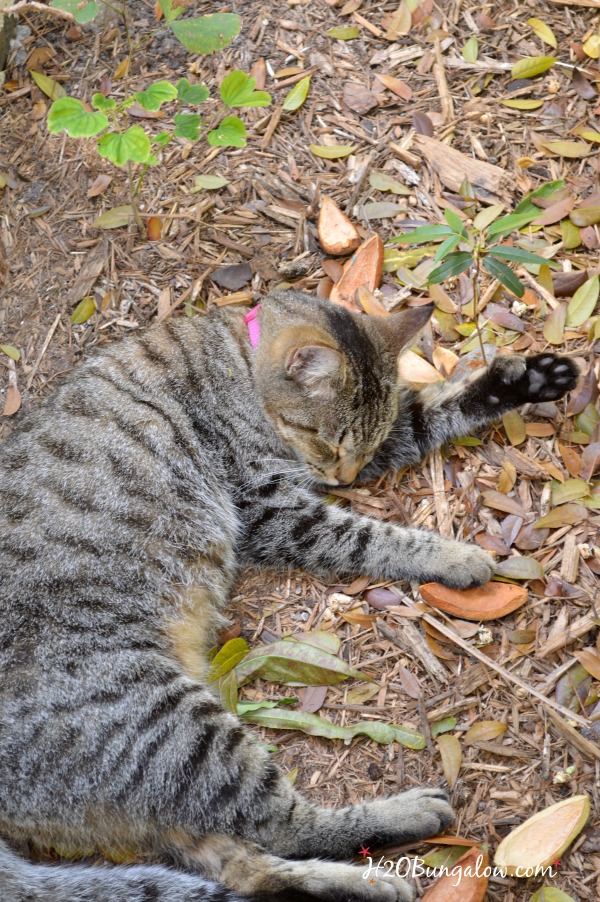 There were also many restaurants and fun bars along Duval Street that kept us entertained for more than one date night 🙂
After 5 fun-filled days in the Keys, it was time to set sail for home. It was a blissfully uneventful sail home. The Atlantic side of the Florida Keys had spectacular blue water. It reminded me of the Caribbean.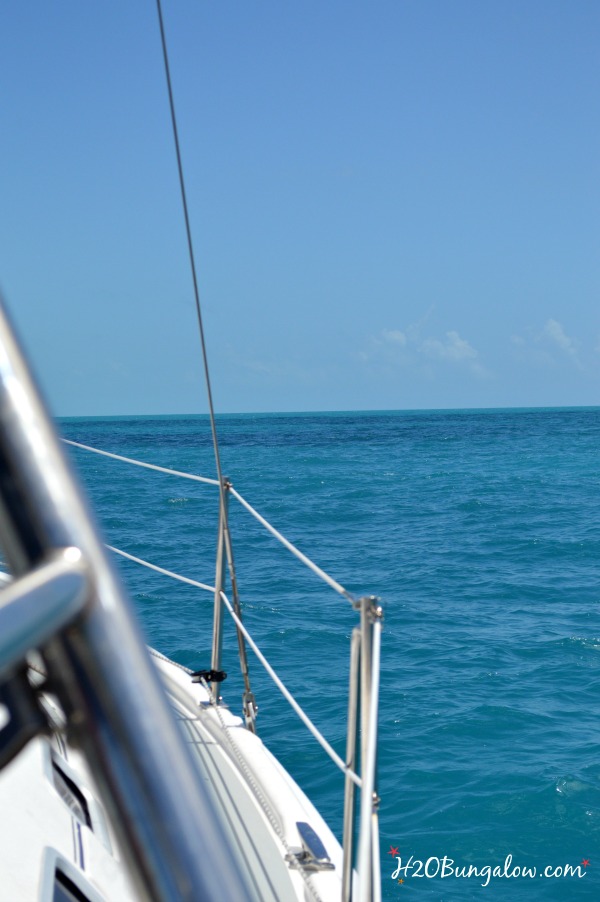 We had the occasional boat pass by, otherwise it was just us, the blue ocean and beautiful blue skies for as far as you could see.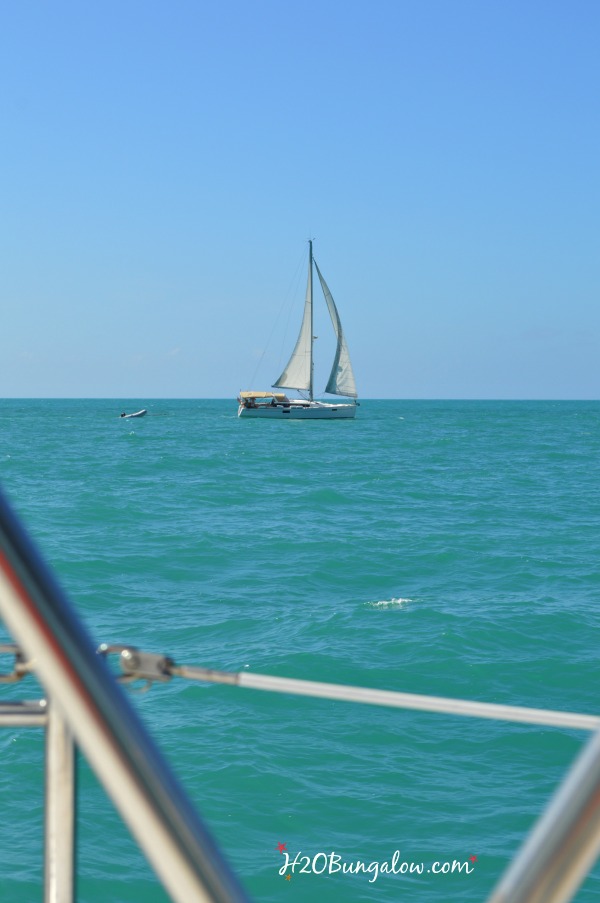 Our timing of our sail back to the mainland left no other alternative but to spend the night in the Everglades again 🙁
I lay there for most of the night, not able to sleep as unknown creatures splashed in the water and went bump in the night. Hoot owls were calling, and once more a zillion bugs swarmed just outside our screens, and then there were the no see ums. Lots and lots of flying biting little gnat like creatures who had no problem fitting through the screen mesh.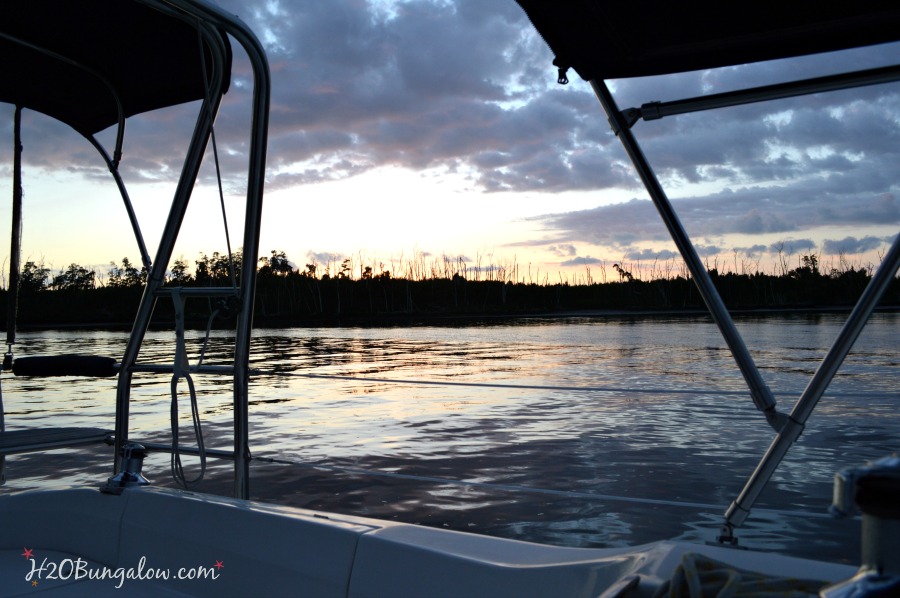 We pulled up the anchor at daybreak and couldn't wait to get out of there!
The bugs literally trailed behind us for several miles of our sail 🙁
As unfriendly as the Everglades were, they are beautiful. I took this photo with the moon in the sky as we quickly exited Shark River at daybreak.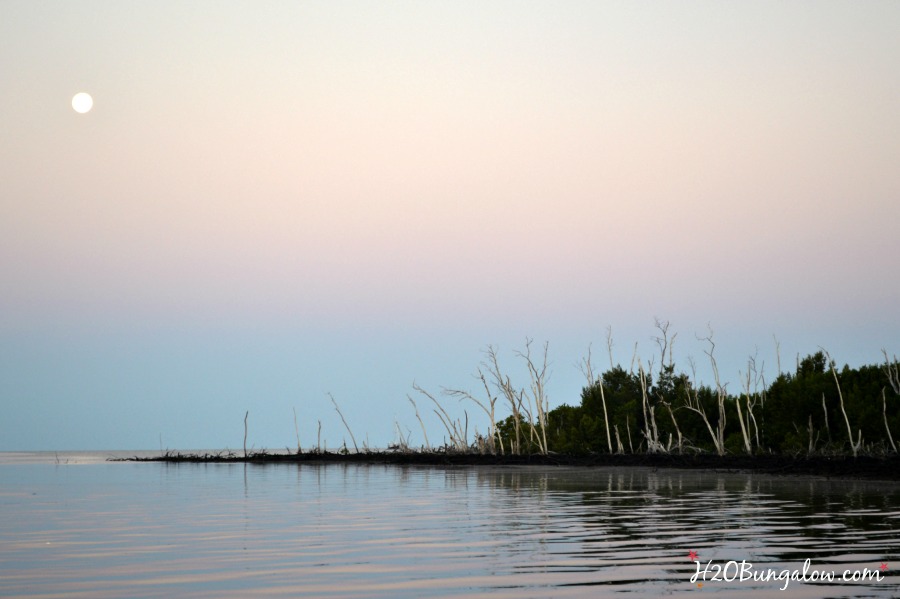 As soon as the Everglades were behind us and we were back to our familiar coastal waters ,knowing we'd be home in a few days, I tried to squeeze in as much relaxation time as I possibly could.
It's not everyday I get to sit still and read a good book.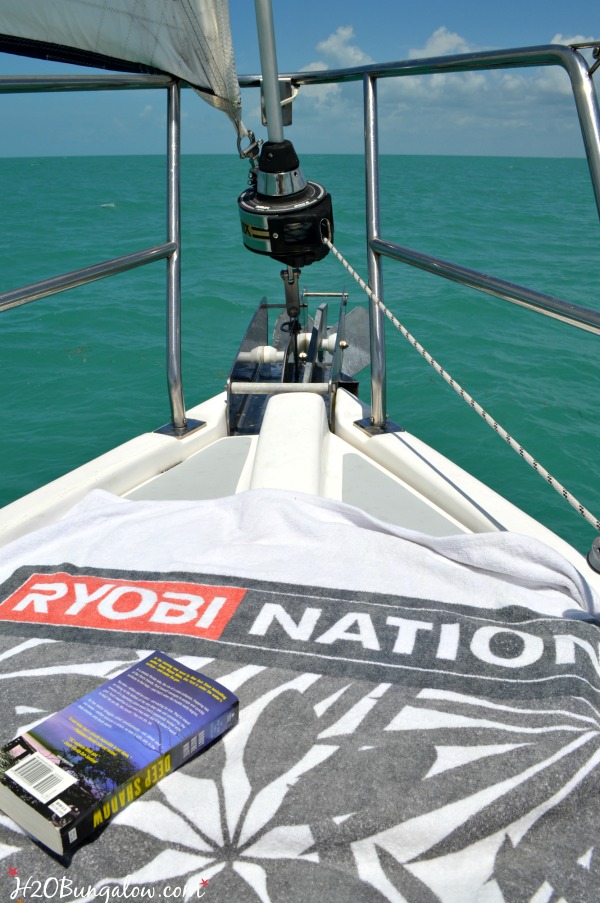 Our cruise home was relaxing and blissfully uneventful. The sunsets were spectacular and so was the weather.
This is a mooring in Ft Meyers, where we spent a night alongside other water travelers.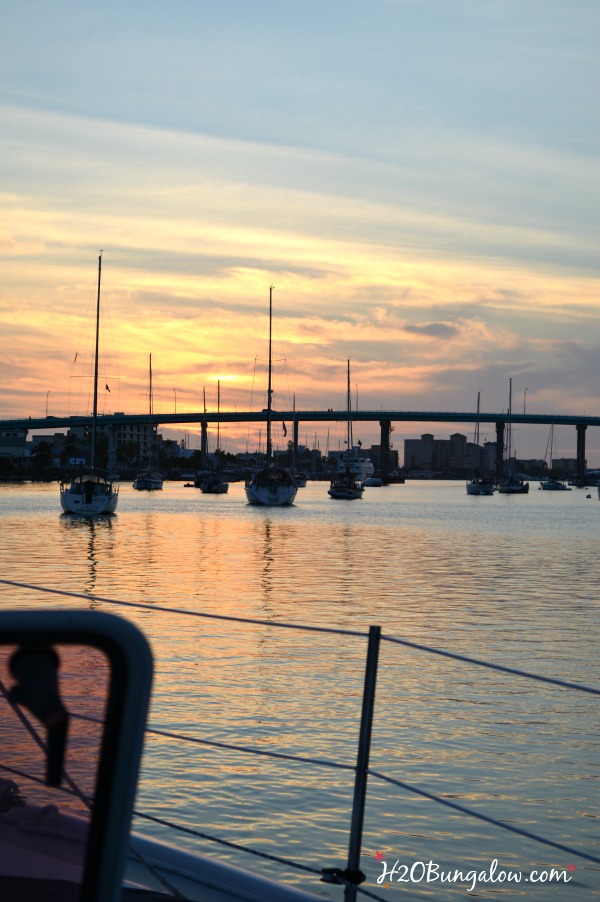 We arrived home both worn out and well rested from our crazy adventure. A sailing vacation is a working vacation. While I was never afraid or worried about my safety on this trip, our voyage required team work, periodic nerves of steel, stamina and good communication. It took us out of our daily routines, and into a new routine of togetherness in lots of ways… 😉
Looking back as I write this a year later I'm a little sad I can't turn back the clock and start our trip all over again. It was a trip of a lifetime, an amazing adventure and a dream fulfilled. I'd do it again in a heartbeat!
I'll be back next week with a new fantastic DIY project and a home improvement project I waited a long-loooong time to get:)
Do you have a trip or an adventure that stands out in your memory as your favorite? Share below in the comment section!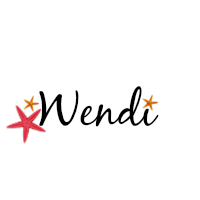 You'll find my project linked up to these fabulous parties!
Love a good dose of DIY home decor, home improvement, the challenge of woodworking and creative ways to make your home look fabulous?
"text-align: center;">Me too!
I'd love to share mine with you. Click here to sign up for my post emails and I'll send a quick note when I have a new project to share.
Social media fan? Don't be shy say hello! I love when you guys do that! I'm interactive on Facebook and I share lots of other projects and, useful inspiration for the home and content I don't share anywhere else. Follow H2OBungalow on Facebook and Instagram!
I use affiliate links in my posts. If you should make a purchase I will receive an itty bitty commission at no cost to you. Thank you in advance for supporting my blog and two fur-ball cats who believe they are privileged.