I'm sharing how to stencil a lampshade today. Lamps are expensive, especially good quality ones. Most of the time I think of swapping out a lampshade for a different color or shape and call it a day. Sometimes, it's not enough. One of the easiest ways to update a lamp is by adding a little color or interest to the lampshade.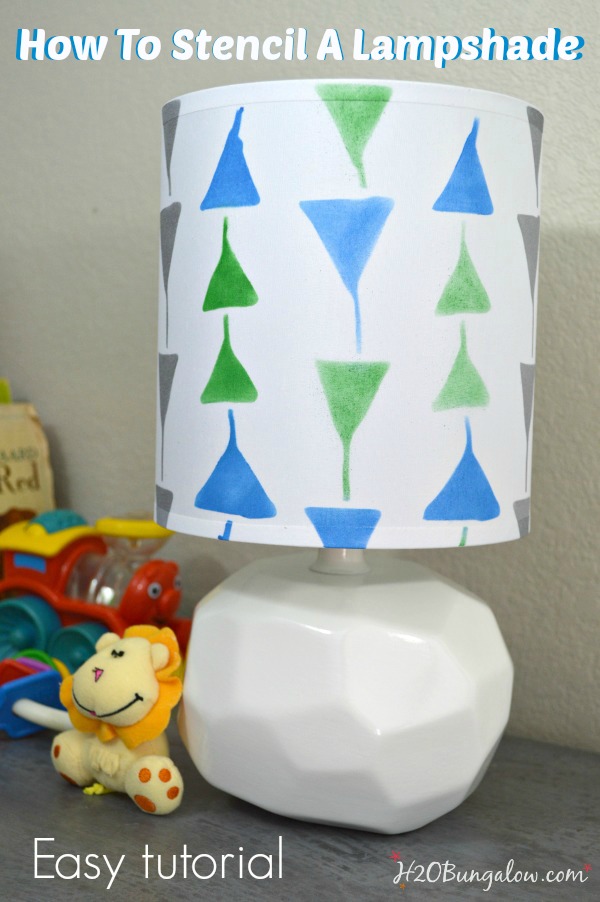 I found this cute little lamp at Walmart. I love the shape and have plans for it on another project. It was just the right size for sharing my tutorial on how to stencil a lampshade today, so I figured I'd make good use of it before I take it apart… Do I have you curious? I'll share this lamp again when I attempt my big idea, and hopefully it works. I'm off track, let's get back to stenciling a lampshade!
Here's a good tip on selecting a lampshade to stencil. If you plan to use a big design on a full sheet like I used, you will want to find a barrel style lampshade where both the top and bottom are the same size. If you plan to use random stenciled elements, any shape of lampshade will work.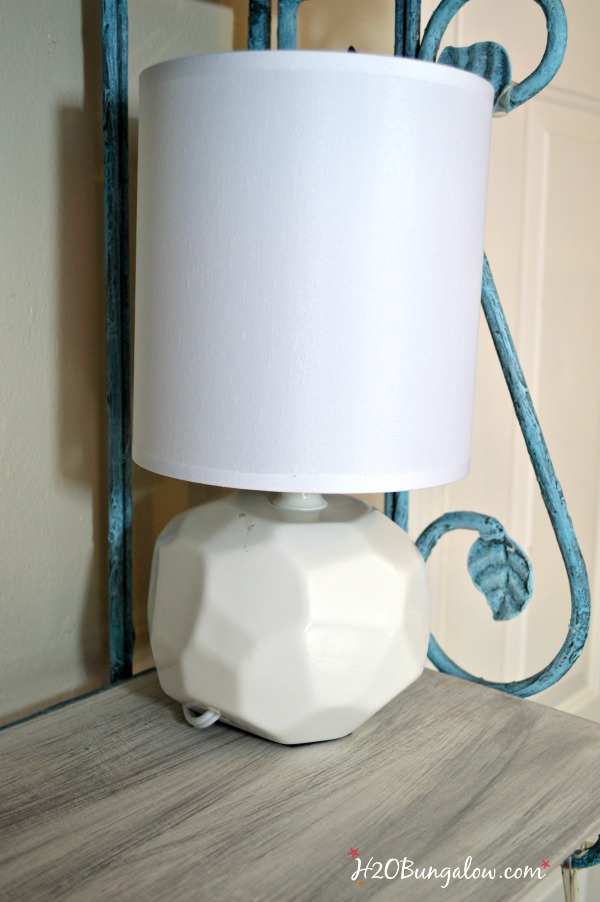 Supplies needed to stencil a lampshade like this one
Lampshade
Stencil, I used Royal Design Studio's Triangulations Furniture Stencil for this project
Stencil brushes
Paint or stencil cremes. I used blue, green and silver
Painters tape
Paper towel and plate
Simple steps to stencil a lampshade
Position the stencil in place on the lampshade and secure it in place with painters tape.
Apply the first color in a pattern or have fun with stenciling the color in a random order. Use the driest stencil brush possible when applying the stencil paint. Dip only the tip of a stencil brush in the paint, tamp off the excess onto a paper towel to get the right amount of paint onto your stencil brush. Lampshade material is usually thin and somewhat delicate, so be sure not to press too hard onto the lampshade so it doesn't crease.
Apply the second color and then the silver.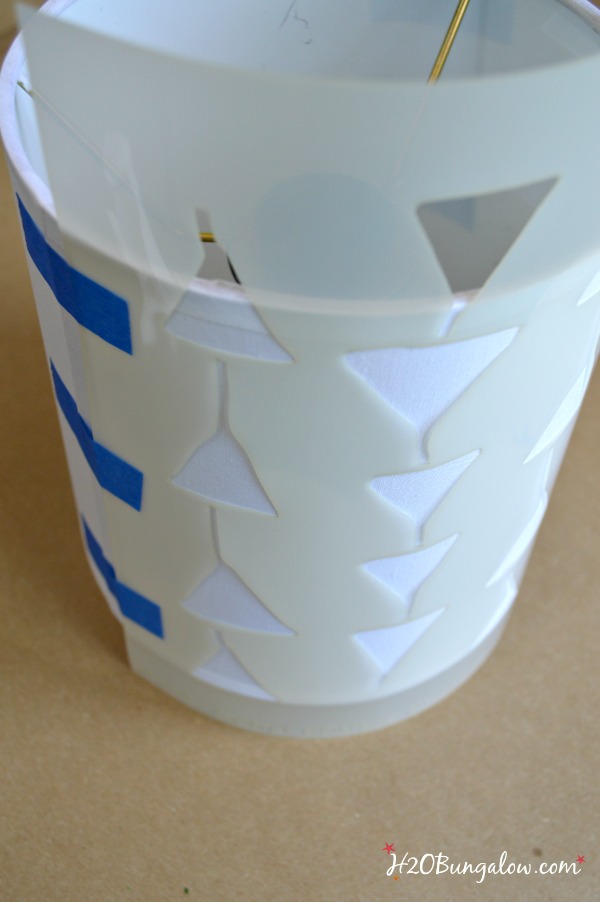 Carefully remove the stencil from the lampshade. Wash with warm water if needed to remove any paint residue before reapplying to the next section of the lampshade. Place the stencil over the last stenciled strip to line up the stencil pattern and secure with the painters tape. Stencil in the colors.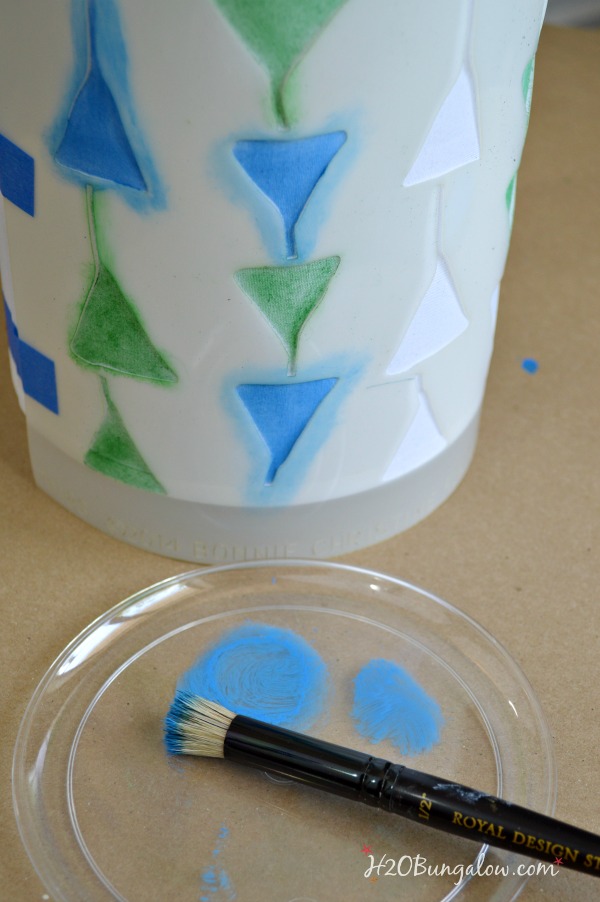 Allow the lampshade to completely dry before putting it back onto the lamp base. All you have left to do is to stand back and enjoy your new stylized lampshade! We are talking easy, friends:)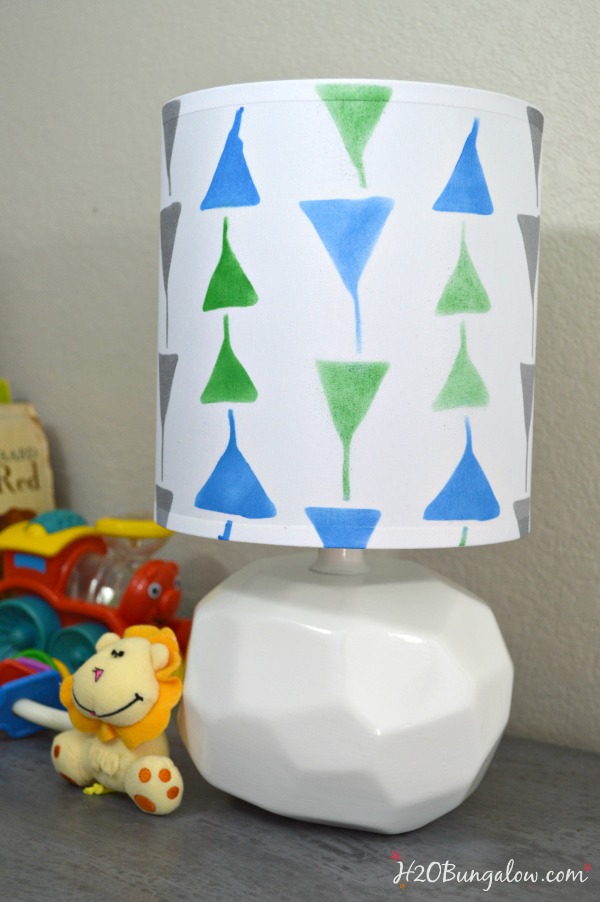 I loved this stencil pattern so much, I couldn't resist using it on a little picture frame too.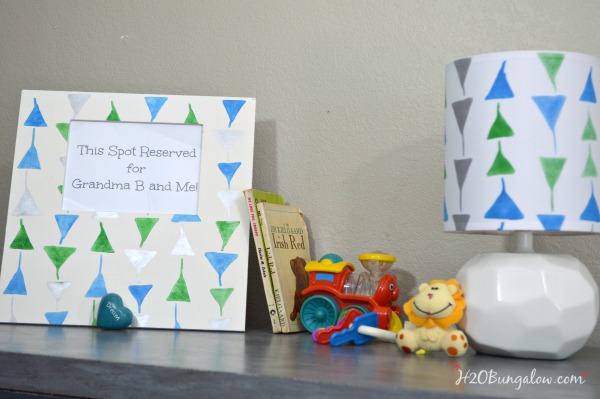 One of my dear blogging friends, Marie from Interior Frugalista, had her first grandchild a few months ago. I loved the sweet blue and green colors her daughter choose for the nursery. Of course Marie made several beautiful furniture pieces for his nursery. With these nursery colors in mind, I made the photo frame for a special picture of Grandma B and little Westin together. I hope the colors match and I'm shipping this off to Canada shortly:)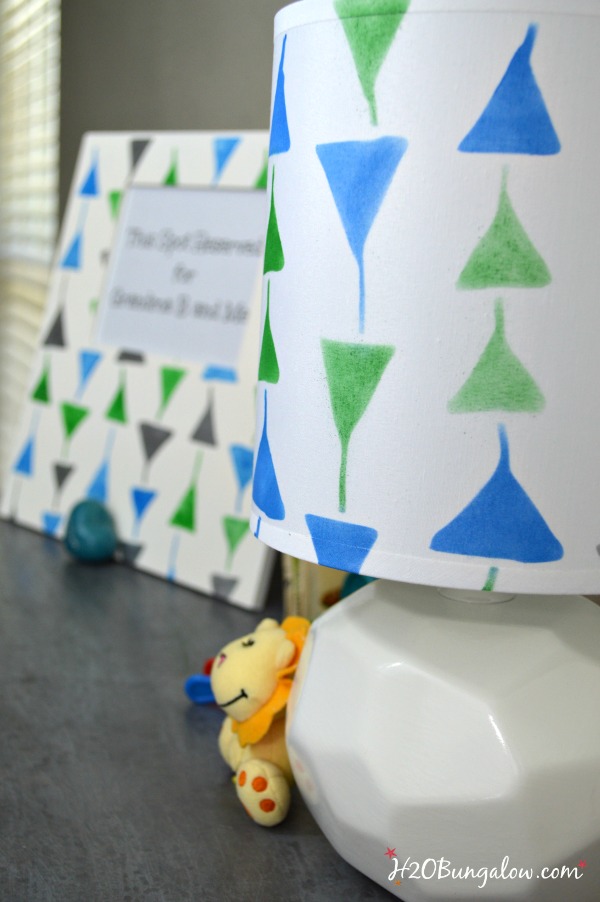 A little imagination goes a long way when you stencil a lampshade. This is a budget friendly way to add color, style, update a plain lamp or make a room feel coordinated.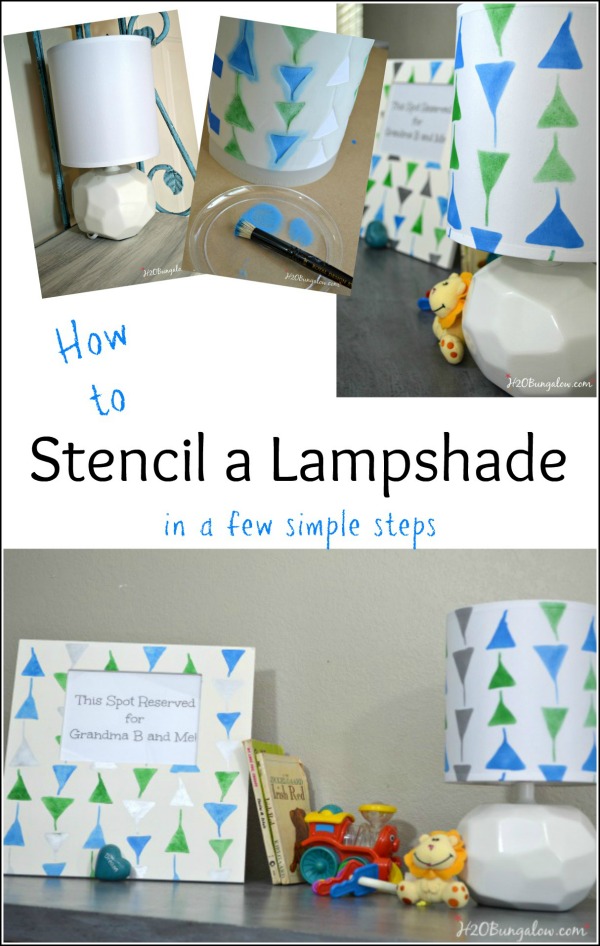 Now that I've shared how to stencil a lampshade, is your mind filling with colorful ideas? Mine was as soon as I finished this lampshade I was scouting my house for more lamps to redo!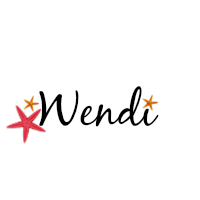 Don't miss a single creative idea I share!
Love my posts? Click here to get my posts sent to your mailbox or follow me here on Bloglovin.
Following H2OBungalow on Facebook? It's one of my favorite places and I share lots of extra projects, inspiration for the home and content I don't share anywhere else.
Love Instagram? Me Too! Follow H2OBungalow on Instagram and see my projects in process and lots more.