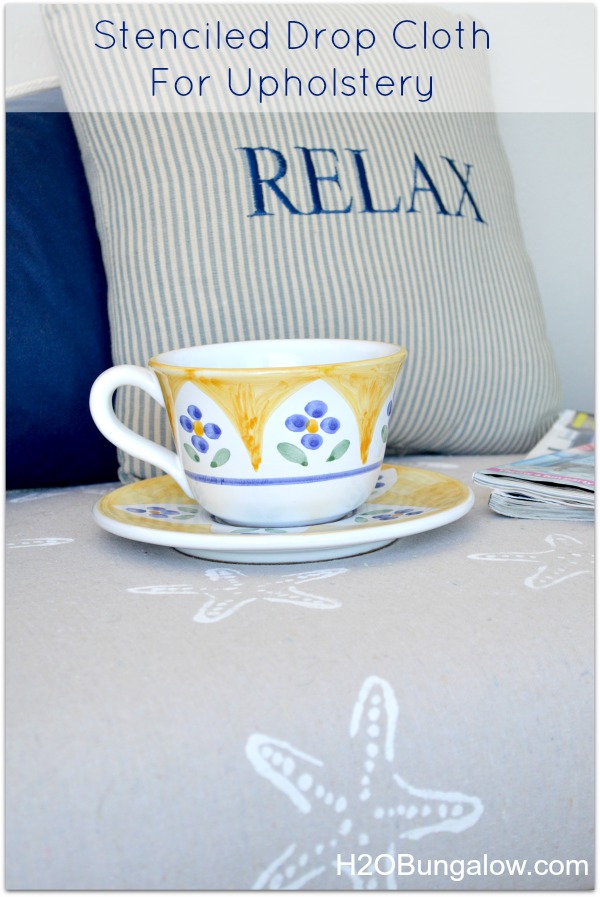 I made my own fabric for a bench project using a stenciled drop cloth for upholstery. Last week I bought some upholstery fabric for a project. Later when I looked at the fabric again, I thought, yuck. What were you thinking? I wasn't feeling it that day and I should have taken myself and my 50% off coupon out of that Joann's Fabric store. 🙂
I used a 10 oz duck cloth drop cloth from Home Depot and had enough for two benches with plenty left over for something else. Making a stenciled drop cloth for upholstery is an easy 45 minute project for any skill level. I used white craft paint mixed with Martha Stewart's Fabric Paint medium, a starfish stencil and a foam brush.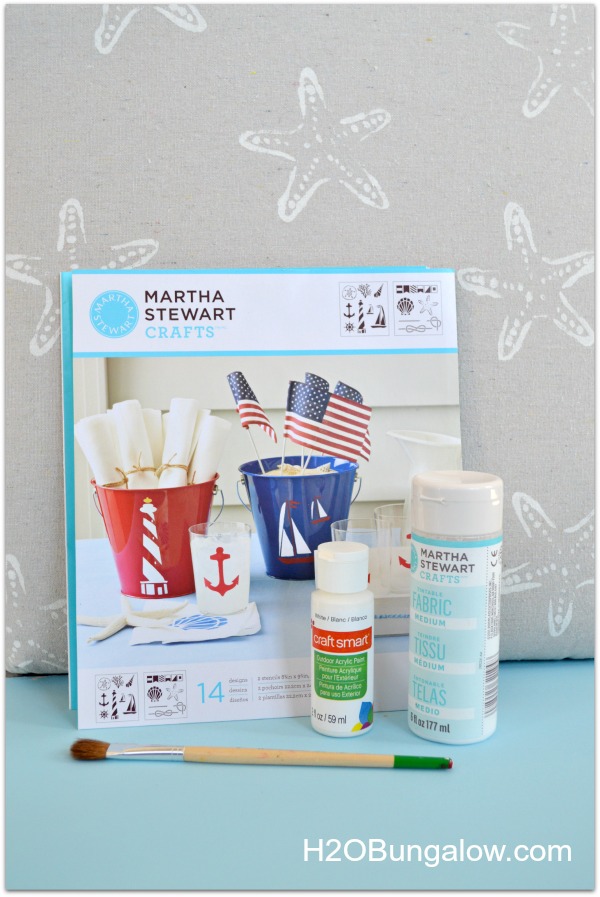 Wash, dry and Iron the drop cloth before stenciling. I have a brush in the picture but the sponge applicator worked much better. Mix the paint & fabric medium per the instructions. I only needed two teaspoons of paint for this project.
Stenciling your drop cloth fabric is easy. Hold the stencil in place with one hand and dab your foam brush onto your fabric with the other. It works best if you don't overload your foam with paint.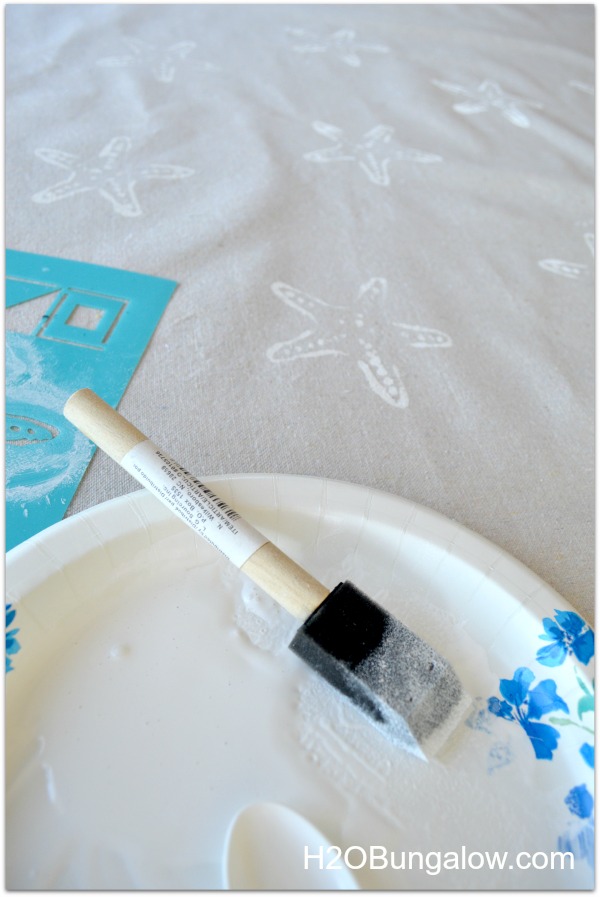 I cleaned the fabric facing side of the stencil after each starfish. I placed the stencil on a paper towel and dabbed the wet paint off. I made my stenciled starfish in a random non-pattern across my drop cloth. If you look closely you'll notice my starfish are also not perfect, I liked that some were thicker than others and not matchy-matchy.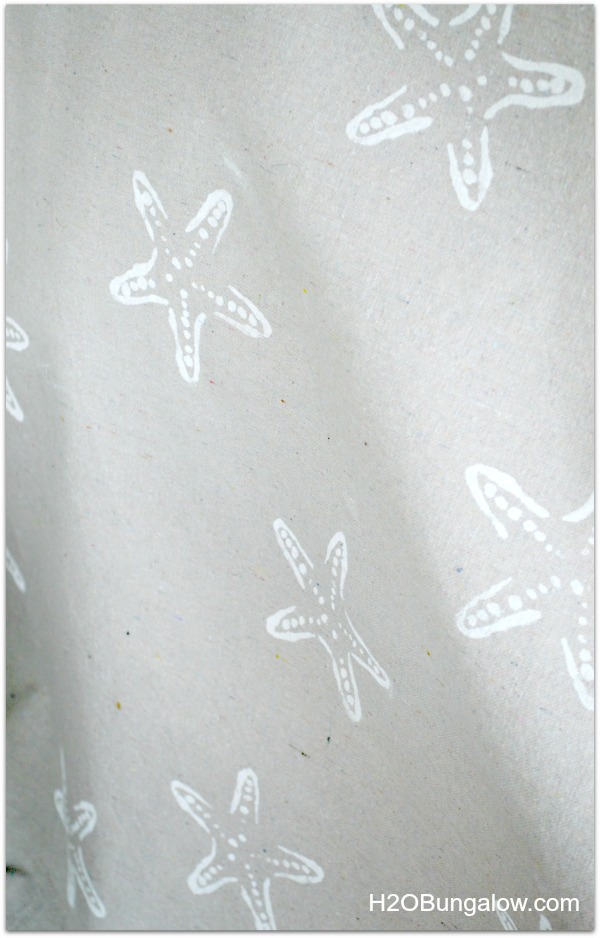 Let it dry and follow the fabric paint medium instructions for setting the fabric. I'm going to Scotch Guard my fabric to make it more durable against wear and stains.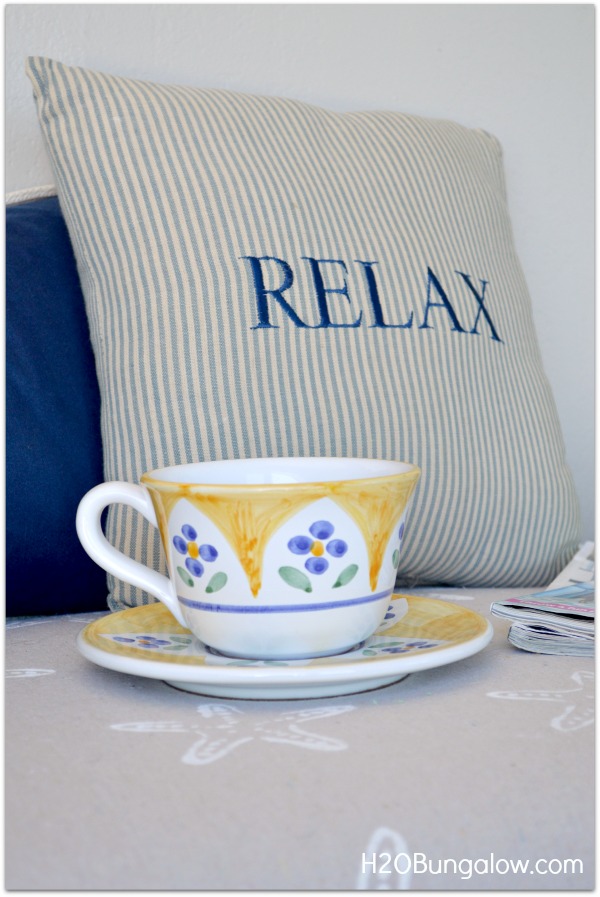 Drop cloths are usually made from duck cloth canvas. If you like this idea but want a colored cloth than you'd use duck cloth. It comes in several weights. I like the heavy 10 oz for upholstery projects.
That's all there is to making your own stenciled drop cloth for upholstery project. What did I use my stenciled drop cloth for? Check back on Thursday and I'll share!
What's your favorite drop cloth project?

Don't miss a single creative idea I share! Click here to get my posts sent to your mailbox or follow here on Bloglovin. Either way, keep in touch!