Let's chat about how to install a farmhouse style wood plank wall and the difference between using shiplap vs planked wood walls today.   I added not one, but three wood planked and shiplap accent walls in the North House recently.  I used a different method and materials on each of them.  This is not a hard project to do, and it's even easier if someone shares a few tips to make your DIY version go smooth…so let's get started!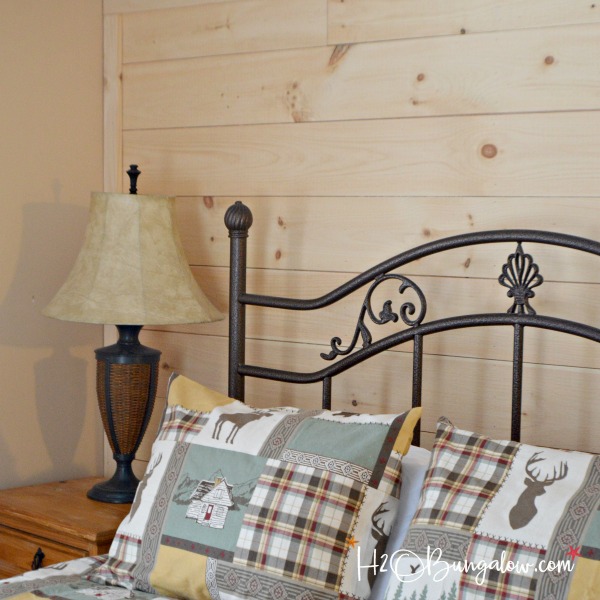 I used both plain old wood planks and shiplap in different rooms.  Until I tackled this project I was confused about the difference between shiplap vs wood plank walls, I think because everyone calls a planked wall shiplap nowadays.  But there is a difference!
The Difference Between Shiplap vs Planked Wood Walls vs Car-siding and Tongue and Groove Wood Walls
I'm updating this part to add third type of wall plank to this post, car-siding.  Since a few readers have chimed in on the comments below and used the term car siding and tongue and groove. Car siding, or tongue and groove is actually different than shiplap and it looks different when installed on a wall too. I have another incredible wall project here in the North House that I haven't shared yet that was done in car siding.  I'll share a picture below below so you can see what it looks like installed.  I'll link to this post when I finally write the tutorial.  Car siding has a u shaped channel on one side and a protruding piece (think of sticking out your tongue (thanks Allison!) on the other edge.  The two fit together.  It was called box-car siding because they used to make box cars with it.  The 2″ thick version of this is also used for horse stalls.  If you look close you'll see a "v" shape cut in where each of the boards meet.   That is different than shiplap.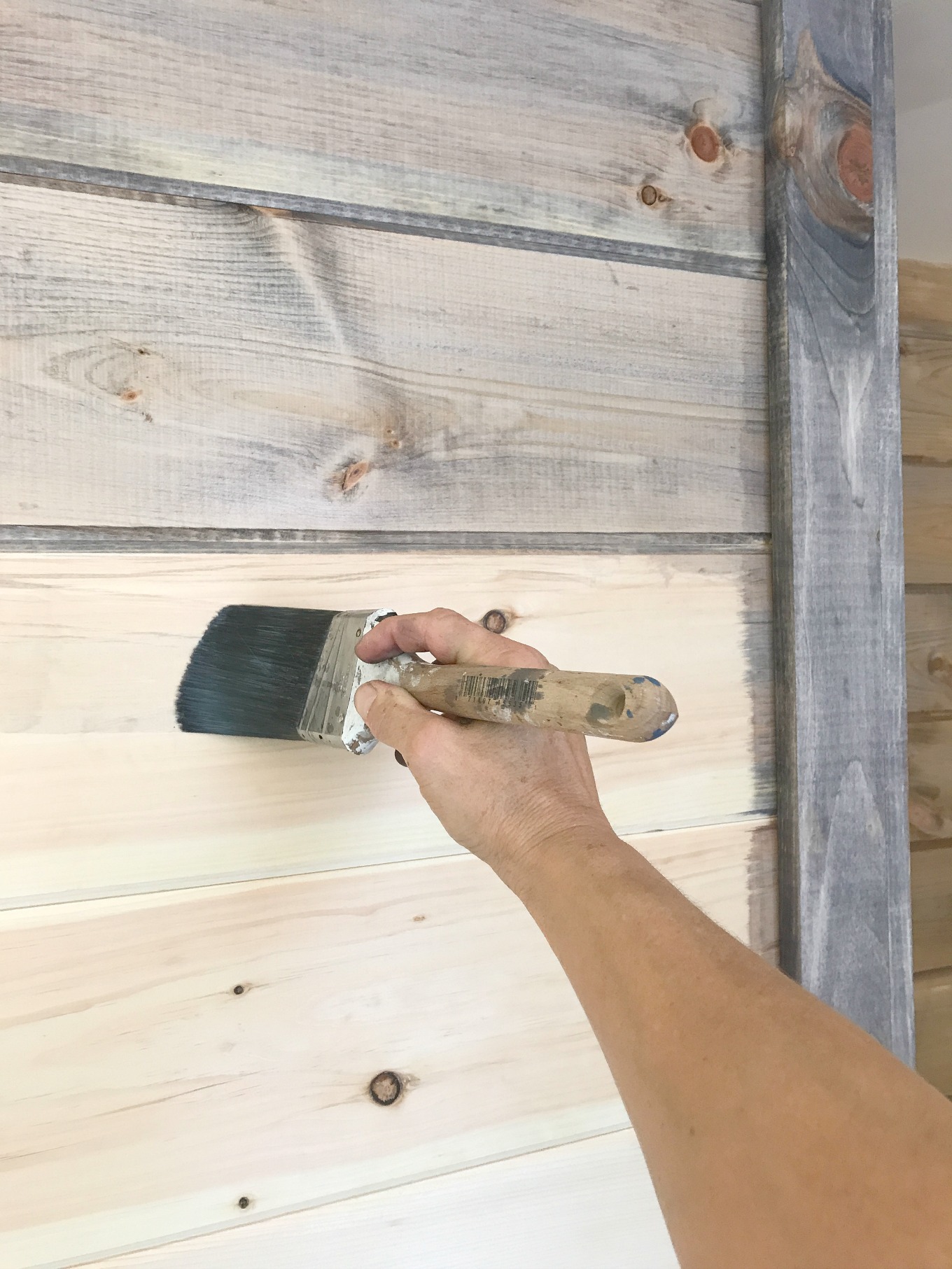 The picture below is shiplap.  In simple terms it has a cut out groove for the next board to rest under or over.  In technical terms and by definition it has an overlapping joint, called a rabbet or an "L" shape cut out.
A planked wood wall is simply using wood boards in whatever size.  You've probably seen some pretty creative planked wood walls using pallet wood or other reclaimed wood.  I used 1″ x 6″ common pine boards for my planked walls in the kitchen and the downstairs bathroom.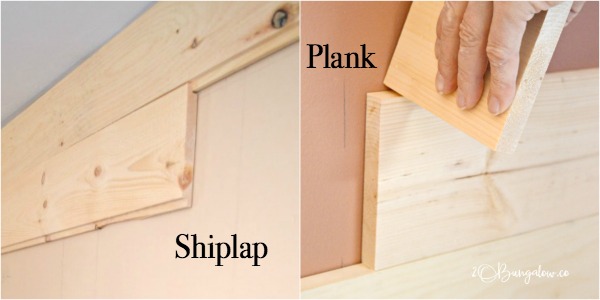 How Easy Is It To Find Shiplap?
Finding shiplap is easier than you think, but you may have to do some creative looking.  Do a search on your local Home Depot website and you'll find lots of choices and many that ship for free right to your home.  Easy.  Depending on where you live it may or may not be as easy to find locally. Don't overlook the regional building supply places if you have them, I found LaValleys had fabulous prices and was located just down the street in VT.   Basically, finding shiplap in VT was easy, in FL not so much.  After doing some serious browsing at my local Home Depot in FL, I found a small selection of shiplap by the tongue and grove boards.  It wasn't the same quality of what I found in VT which had a rough side and a finished side.  I generally find much better quality wood at a lumber yard over Home Depot or Lowes for almost all of my projects.  On the other hand, the convenience of shopping at big box stores is nice.
Supplies Needed To Install A Shiplap Planked Wall
The supplies needed to install a shiplap or wood plank wall are the same.
shiplap or wood planks
brad nails I used 2″ brad nails because both the shiplap and the wood boards were 1″ thick
paint or stain

Useful Tips For Installing A Shiplap Wall
As I mentioned earlier, after installing 3 different accent walls of wood in the North House,  I have a lot to share.  Unless I mention otherwise these tips are for installing both a shiplap or a wood plank wall.  A second set of hands is helpful at times, especially if you're planning on using long boards.  I talked my dad into driving up and helping with the kitchen wall (thanks Dad!), as always I love the time we spend together besides the fact that I learn something new with each father-daughter project we tackle together 🙂  I built the bathroom wall myself and hired local help to install the shiplap wall in the Lodge room simply because I was running out of time on the oversized to do list before I had to head back to Fl.
Step One: Measure your walls and determine a pattern
Figure out your total wall surface in square feet by multiplying your length by the width of your wall.  Decide how you want the boards placed and at what length.   In my small bath I used planks as wide as the wall because it was a small space, I had no board seams.  In the Lodge room (pictured below) we staggered the board seams and used long planks (I think 6′).   Plan the seam location up front to be sure your're ordering enough wood.  Keeping the board length in mind, add up the number of boards you'll need and add 10% for waste and mistakes.
Step Two: Locate and mark where the studs are on the wall
Use a stud finder and mark the location of the studs on the wall. Draw a line from the ceiling to the floor.
We were playing around with the board pattern in the picture below and held the boards up with a nail and awe.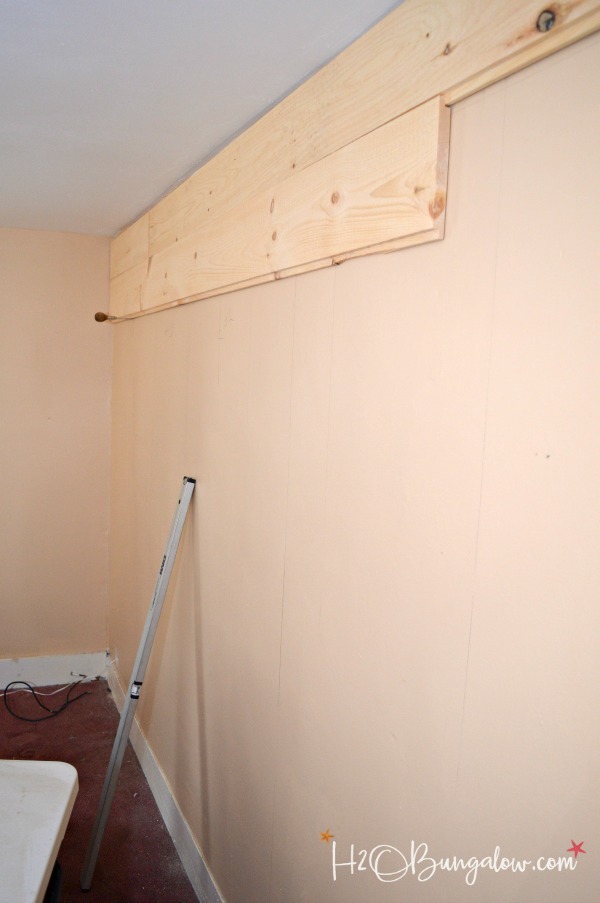 Step three: Start at the center
We started this wall at the ceiling.  After installing several walls I think it's easier to start at the bottom unless you are using small boards that are light.  Center your first board in the middle.  Apply adhesive to the back and attach the shiplap or plank to the wall with a nail gun.  Place 2 – 3 brad nails in a row along the studs with a nail gun.  We started at both bottom and the top of the wall on different projects.  I liked starting the top the best for looks.   I think your eyes travel to the top of a wall, and it's looks better when the top pieces are the same size as the rest of the boards on the wall.  I'd rather rip (trim on a table saw) the boards on the bottom row by the floor where it's less visible.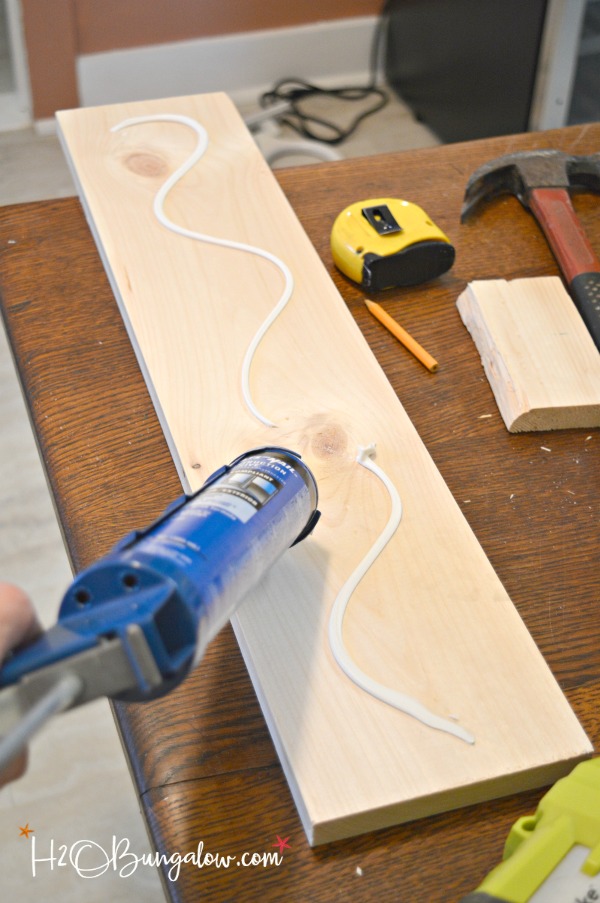 Step four: Work around windows, baseboards and electrical outlets
Plan in advance for the items you'll work around.  We decided to overlap the baseboards in the Lodge Room and butt up against them in the kitchen and bath.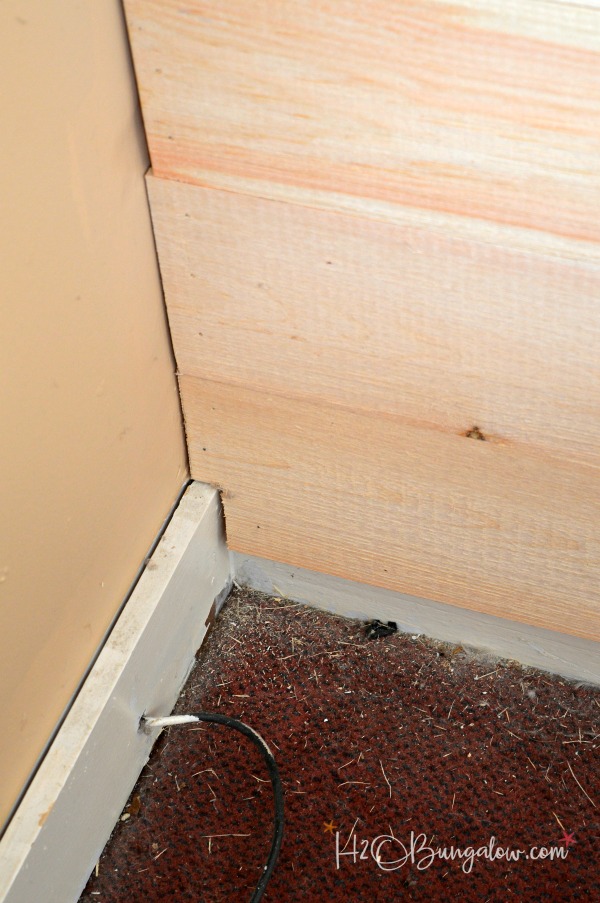 We worked around the outlet on the plank wood wall in the kitchen.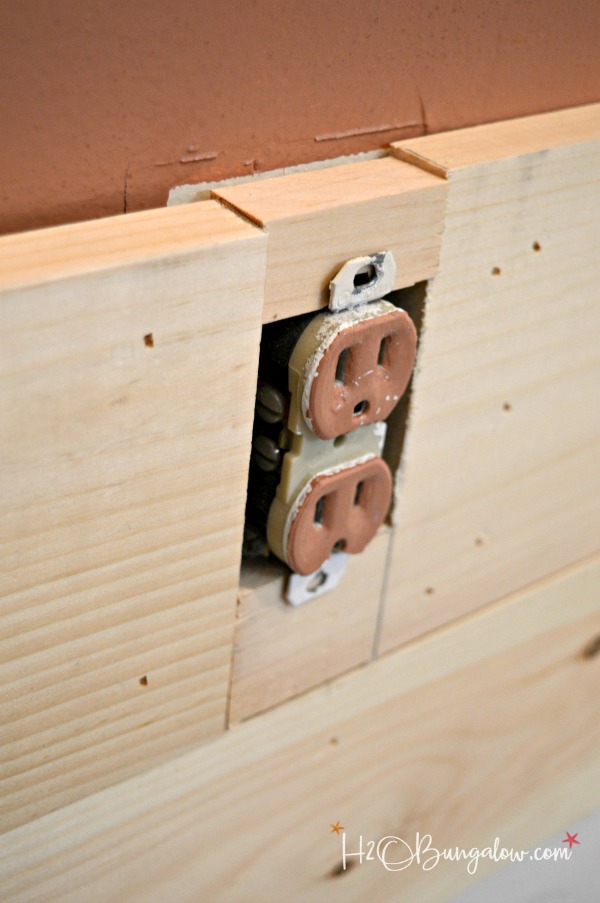 Step five: Trim and finish the wall edges
The North House was built somewhere around 1900, the walls and ceilings are uneven which makes it nearly impossible to get a good tight fit to the top of the wall and ceiling.  The solution to that was to trim the wall at the corners and ceiling which hid the uneven gaps.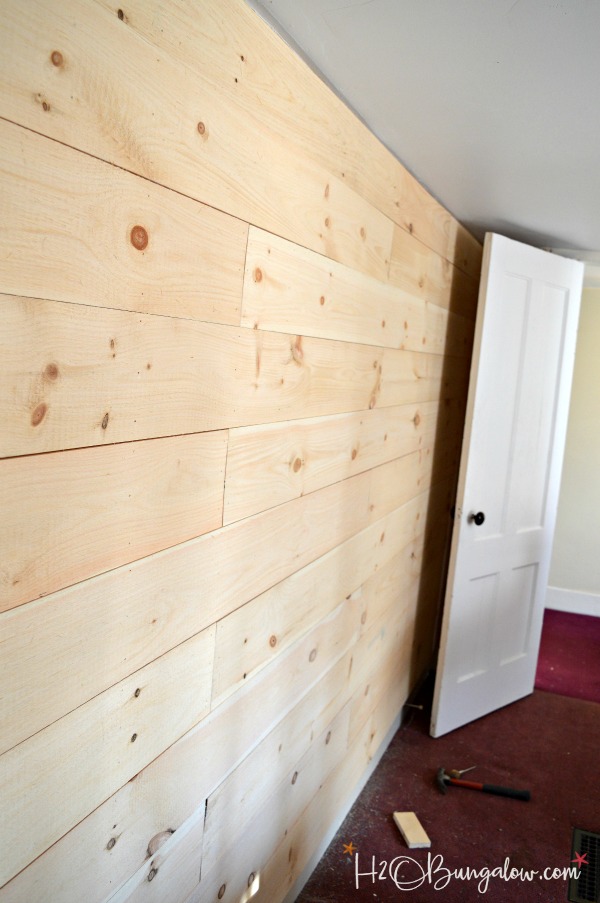 If you're not planning on adding a trim around the edges be sure to get a snug fit at the ceiling. Yes, I've changed out the carpet since I took this picture!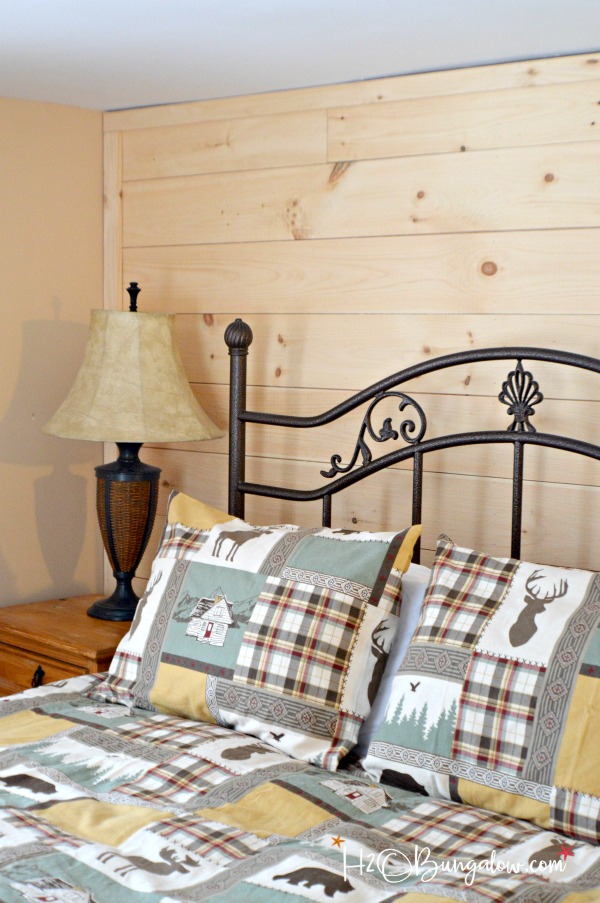 There is a window in the middle of the kitchen wall we were adding planking to.  Our solution was to add new trim right over the top of the old trim.  It fit perfectly.  Since I was painting the planked walls downstairs I caulked the window and edges of the trim before painting.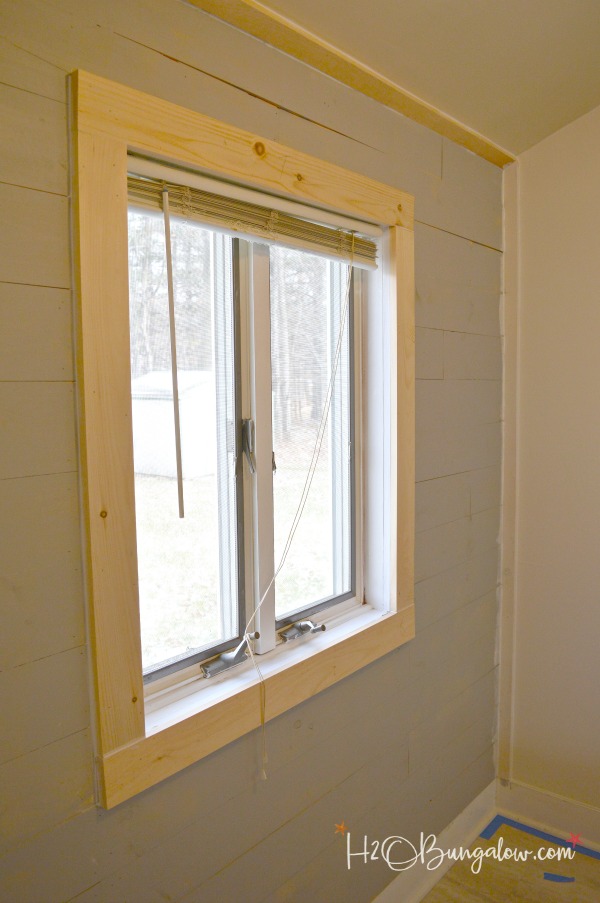 Pros and cons of using shiplap vs planked wood walls?
To me, the benefit of using shiplap was the uniform appearance.  Each board fit with the next like a puzzle piece.  All of the spaces are even between the boards.  The shiplap was by far easier to use and install too. The grooves keep the boards flush against the uneven walls.  Depending on where you shop, unlike wood planks, consistently finding a quality grade is easier in shiplap too.  I loved the shiplap I used in the Lodge Room, it came with a rough side and a smooth sanded side in high quality pine.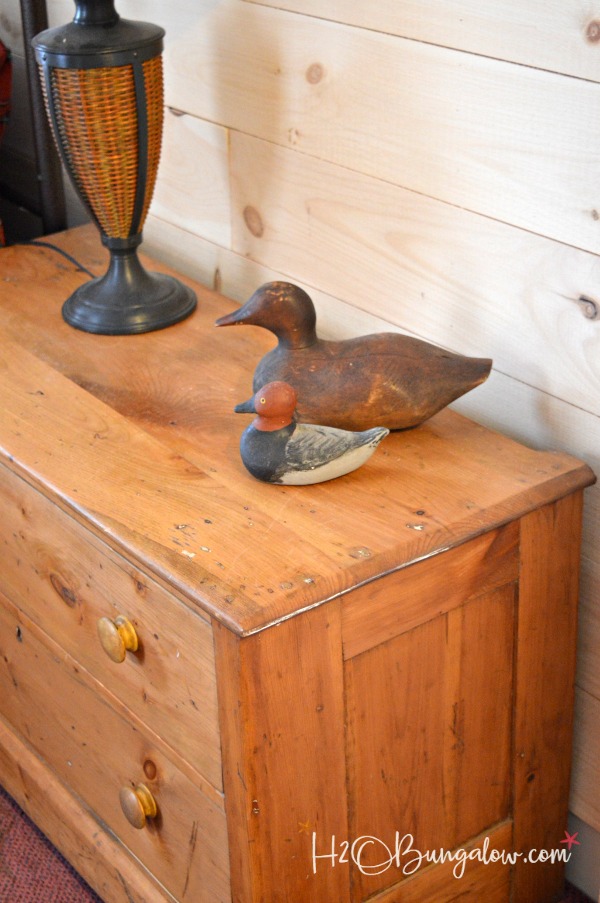 We installed it with the rough cut side out.  The texture of the rough side was exactly what I envisioned to fit the rustic decor in the Lodge Room.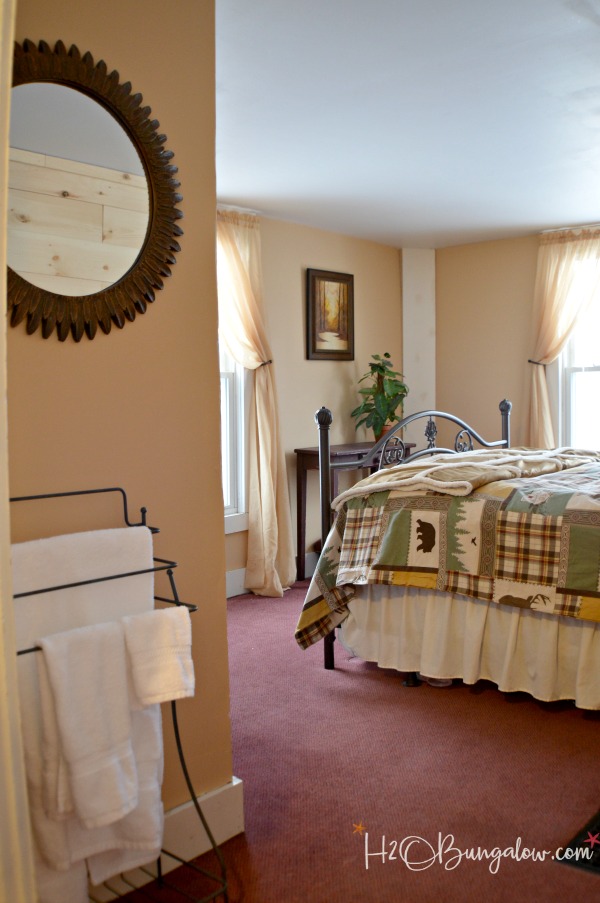 I'm still not sure if I'll stain it because I liked the natural color of the wood.  I think it compliments the decor don't you?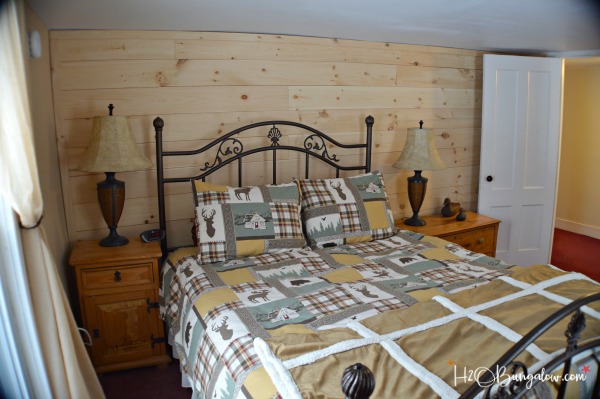 How much difference does adding a wood planked wall make?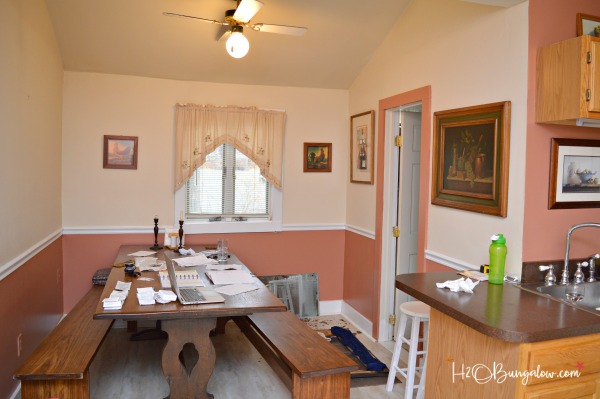 Alot.  Don't you think so?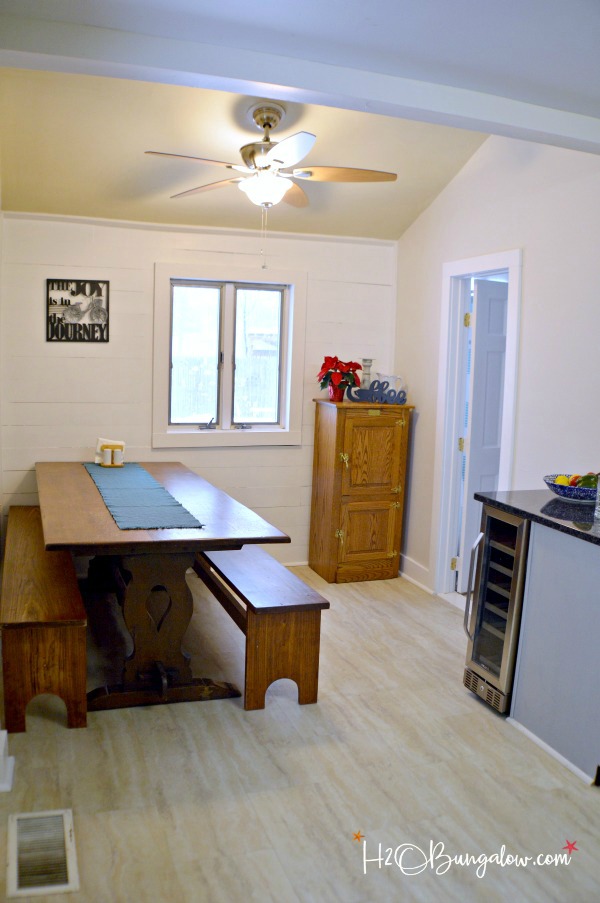 Keep in mind I haven't added window treatments or much decor yet!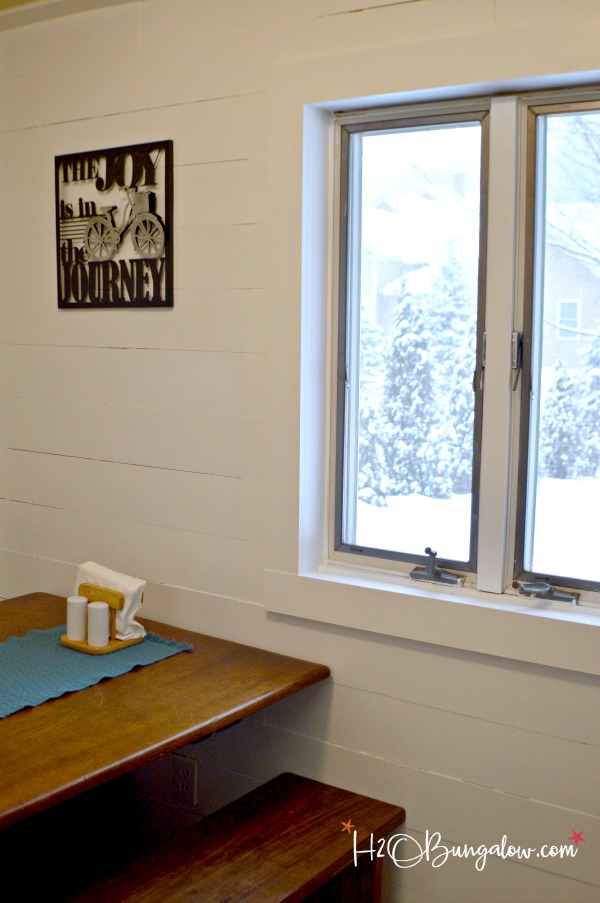 I know many of you have seen this half bath before picture, but for those of you who are new…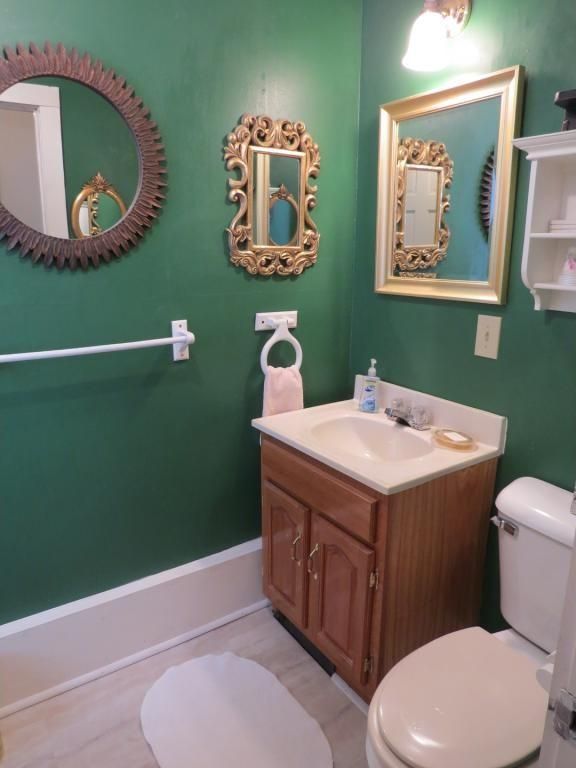 The makeover turned out fabulous!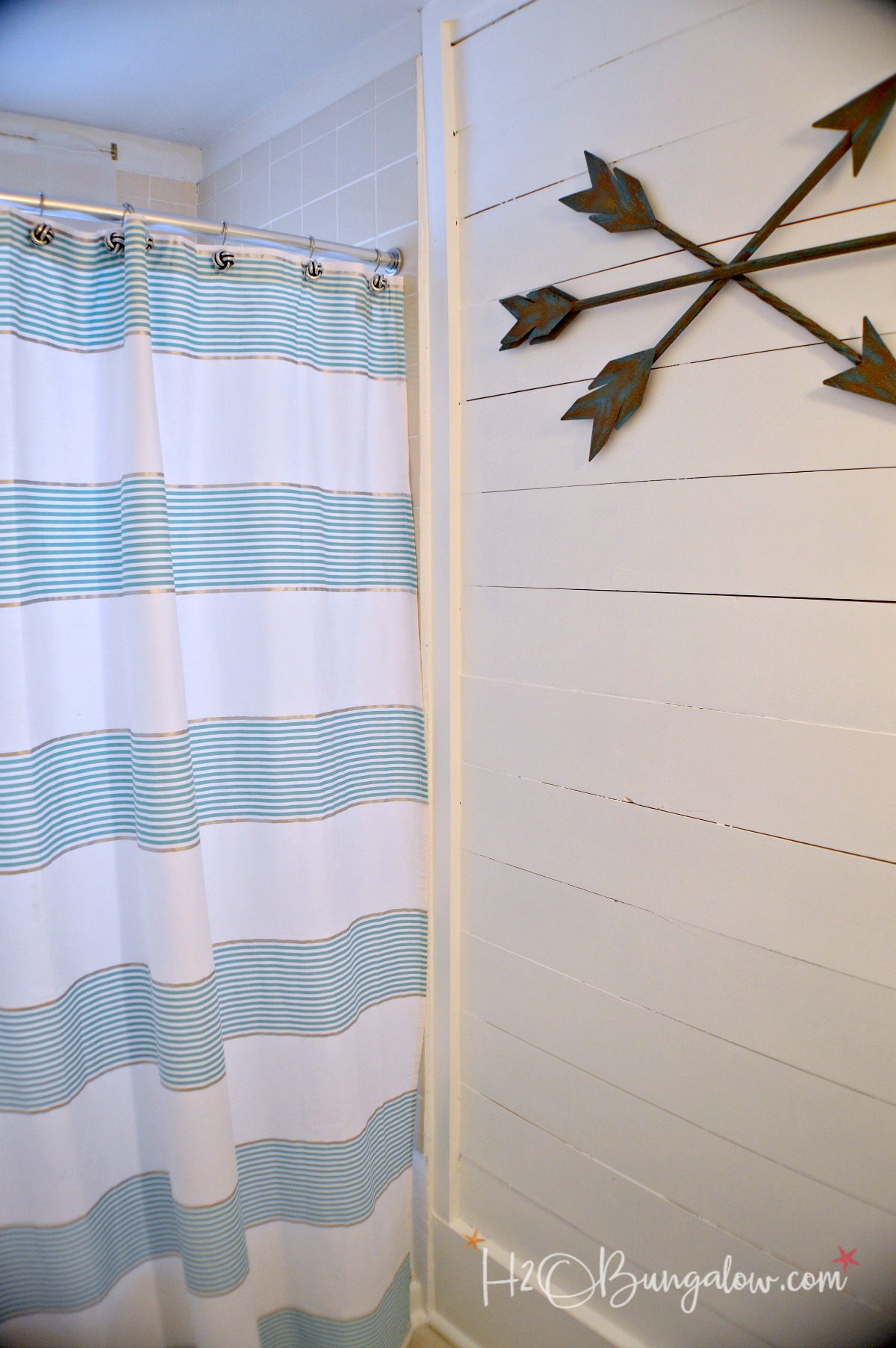 When would I choose wood planks over shiplap for walls?
I probably won't use common boards again for a wood planked wall.  Shiplap is too easy to use with nice straight lines.  I would choose wood planks for a wall if I were using the 1/4″ decorative premade wood planks or pallet wood.   They would be perfect for a wall that couldn't hold much weight or you wanted the cool look of the different color & textures that these come in.
I know this post is crazy long…so sorry!  I simply felt that if I'd had all this information before I started the projects would have been easier.  That' my job, to share the good info with you guys…  So now that you have it, be sure to pin it to keep it handy for when you too tackle a wood accent or DIY shiplap wall:)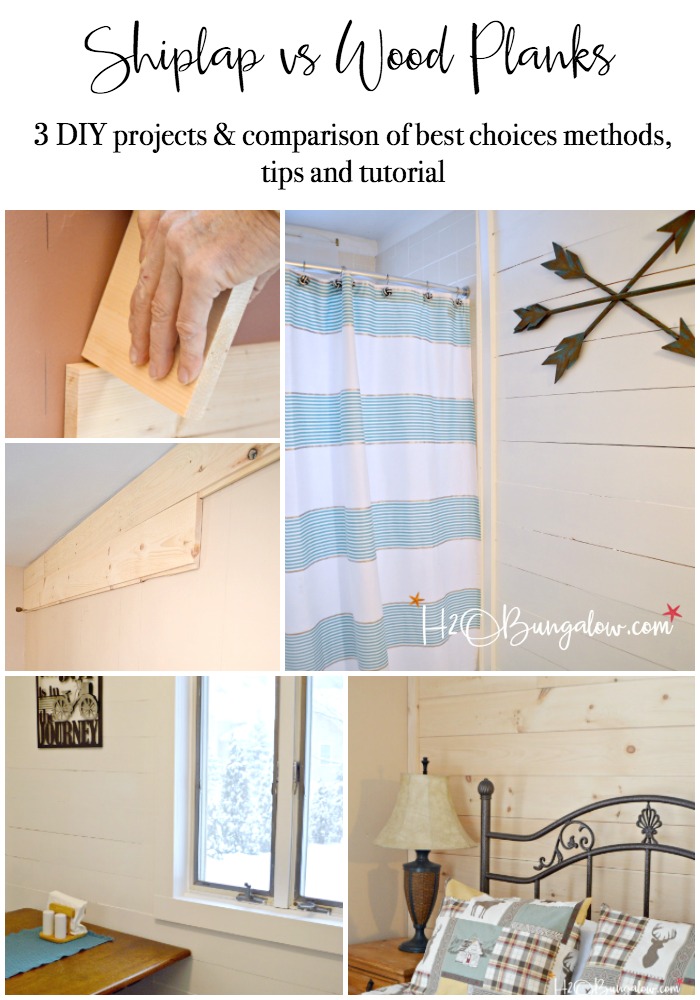 Shiplap vs planked wood walls, which one would you choose and where would you put one in your home?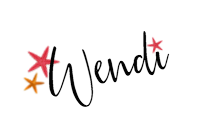 You may enjoy and find these other projects & posts helpful too!
I added DIY Interior Wood Shutters to my studio in Fl.
Genius Painters Tape Tips For A Perfect DIY Paint Job
The North House Lodge.. what's a Fl girl doing in VT? 
DIY Rustic Heaboard out of Shiplap
You'll find my project linked up to these fabulous parties!
Love a good dose of DIY home decor, home improvement, the challenge of woodworking and creative ways to make your home look fabulous?
I'd love to share mine with you. Click here to sign up for my post emails and I'll send a quick note when I have a new project.