This post has been sponsored by NewAir. However, all opinions expressed are entirely my own. I shared my excitement a few weeks ago in adding New Air Wine Coolers to each unit in the North House. Besides being useful and looking great, they add resale value and help increase rental value which is always a good thing! I'd hinted that I was planning something special with one of my new wine refrigerators and today I'm sharing how to make a DIY built in wine cooler.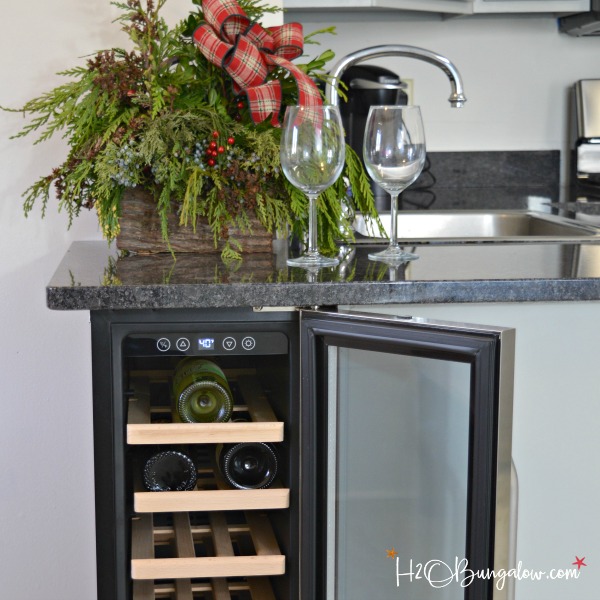 DIYing a built in wine refrigerator wasn't that hard, I didn't have to cut any cabinets or do major changes in the kitchen. I simply tweaked the size of my new countertop when I ordered it.
Looking for island makeover inspiration? Check out my kitchen island makeover!
How to DIY a Built In Wine Cooler / Wine Refrigerator
The perfect opportunity came up for a DIY built in wine cooler when I decided to replace the red-brown formica countertop in the North House kitchen with granite. This is a great way to get the built in look of a wine refrigerator without changing any kitchen cabinets.
I picked a spot that was out of the way and had access to an electrical outlet. There was already an overhang of counter where a few stools were placed. This is what the kitchen looked like when I first arrived in early November. The blue arrow points to the spot where I planned to put my new built in wine cooler.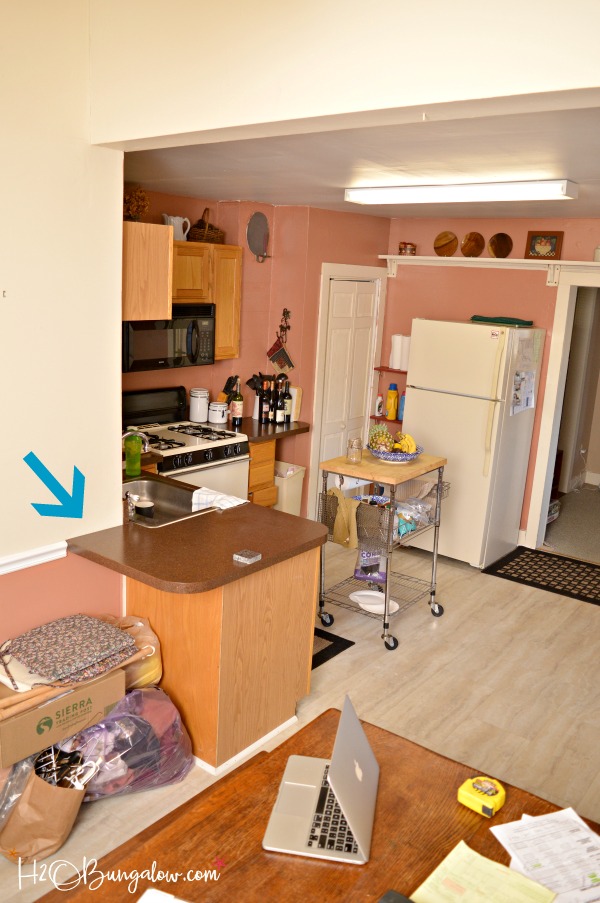 My New Air Wine Cooler was shipped right to my doorstep. The picture below is the 29 bottle unit which I put in the other kitchen unit. The one I used on this side was the 19 bottle unit.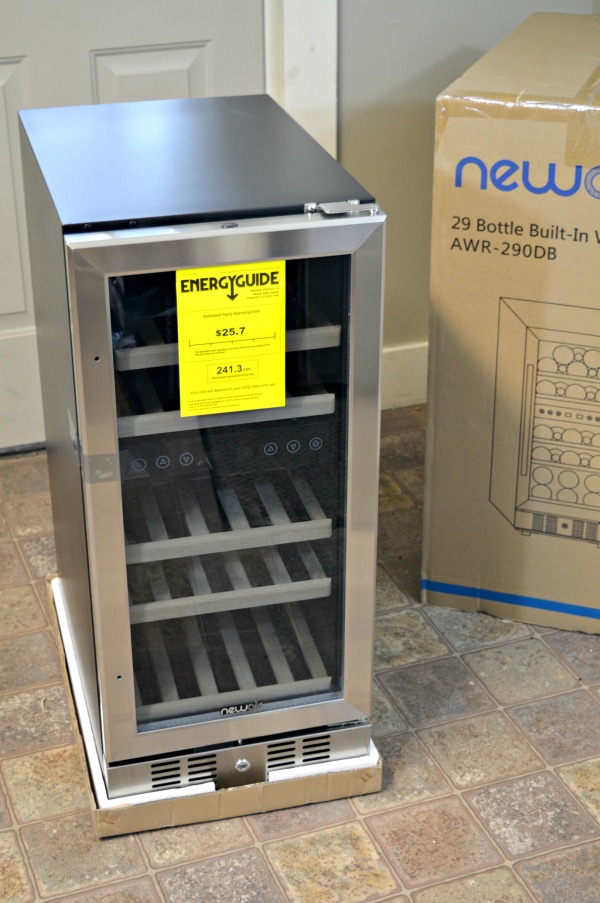 When the granite company came to measure for the new granite countertops I had them add enough overhang to be sure the wine refrigerator fit perfectly underneath with enough extra counter on the side to match the rest of the counter overhang in the kitchen. At only 12 inches wide, 23 inches deep and 34″ tall this wine cooler fits perfectly under the counter.
This house was built somewhere between 1850 and 1900 and there are lots of quirks like uneven floors. The New Air wine coolers have adjustable feet that helped a lot with the uneven floor.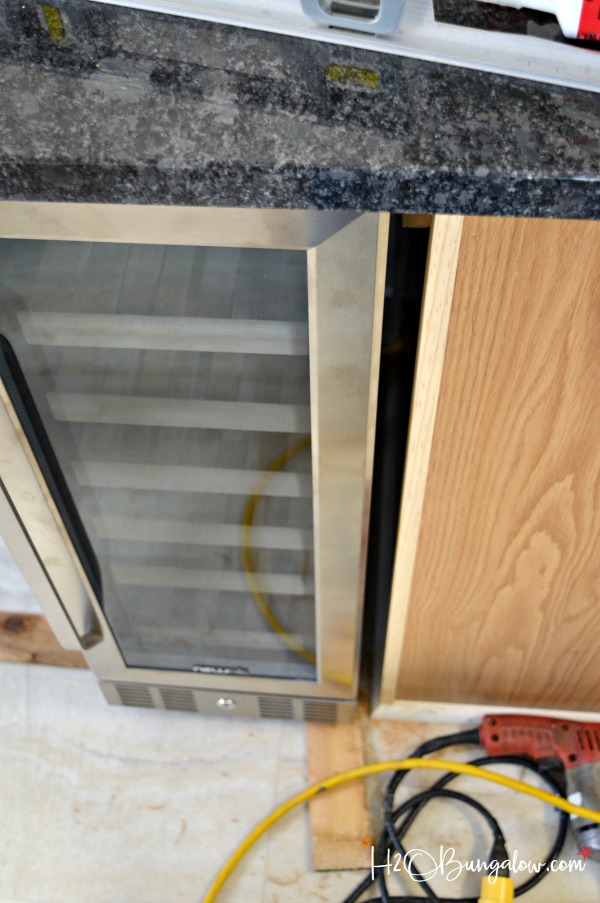 Which will be just fine in most normal homes. We had to shim the left side even more to for the built in wine cooler to sit straight against the existing cabinet. We cut the shims so they wouldn't be visible after fitting them.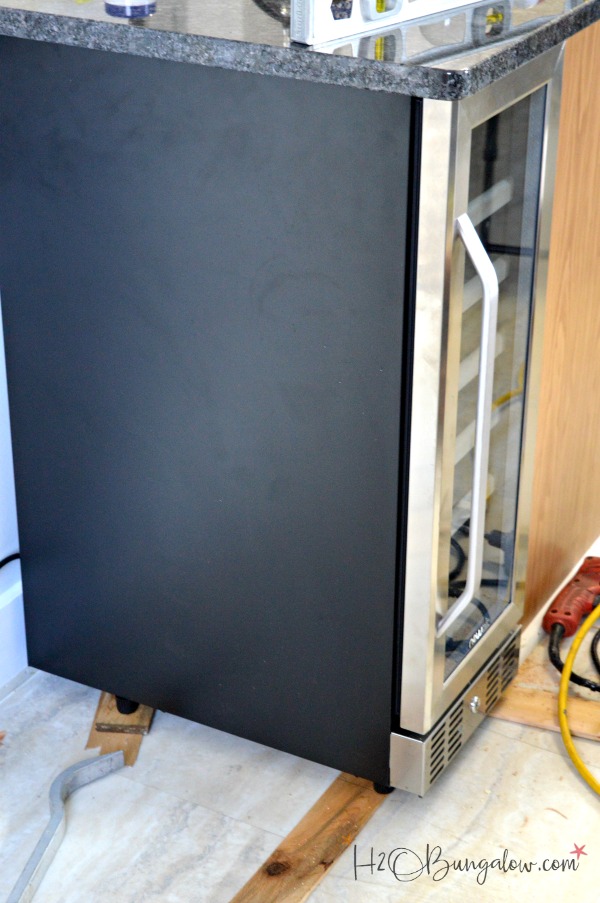 To make the DIY built in wine cooler stable and not slide out of place as people open and shut the door, we braced the underside of the granite. We attached a piece of right angle aluminum with silicone. You can find this at a hardware store and easily cut it with a hacksaw or jigsaw. Clamps were used to hold it in place for 24 hours to dry. Note that we used scrap wood to protect the granite on top and to help get good pressure on the metal piece underneath the granite while it was clamped.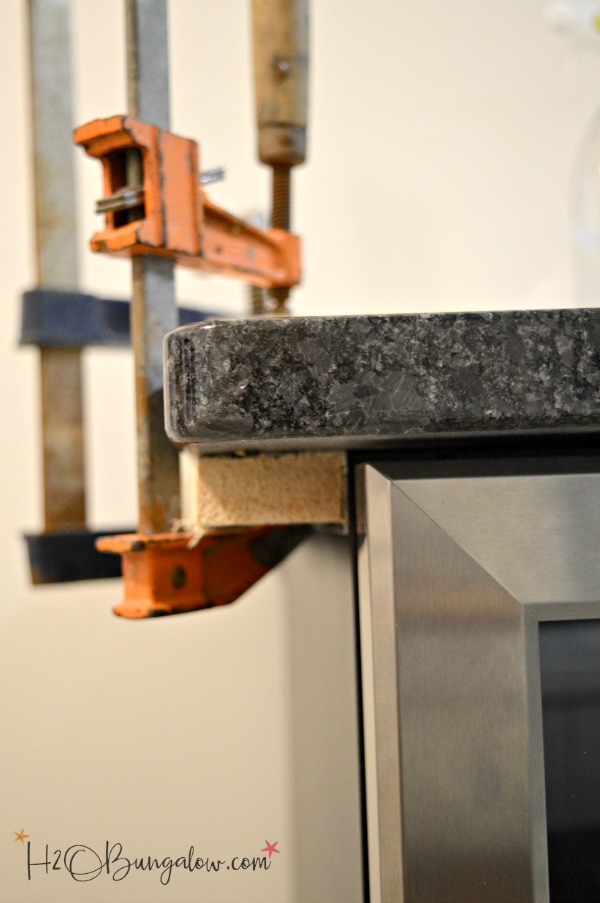 This will prevent the wine refrigerator from moving around as it's used. The bracket is also removable if we ever need to remove it. It's also not visible unless you're stooped down and looking under the granite 🙂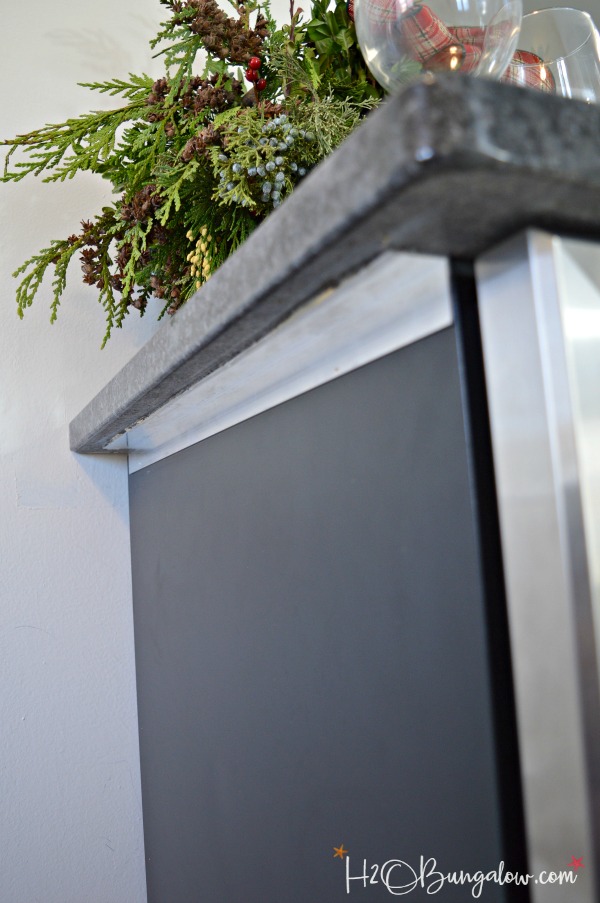 The wine cooler is set in enough to look built in and still have enough room to open the door freely. Keep in mind you can switch the side the door opens to with the extra hardware that is included with the New Air Wine Cooler.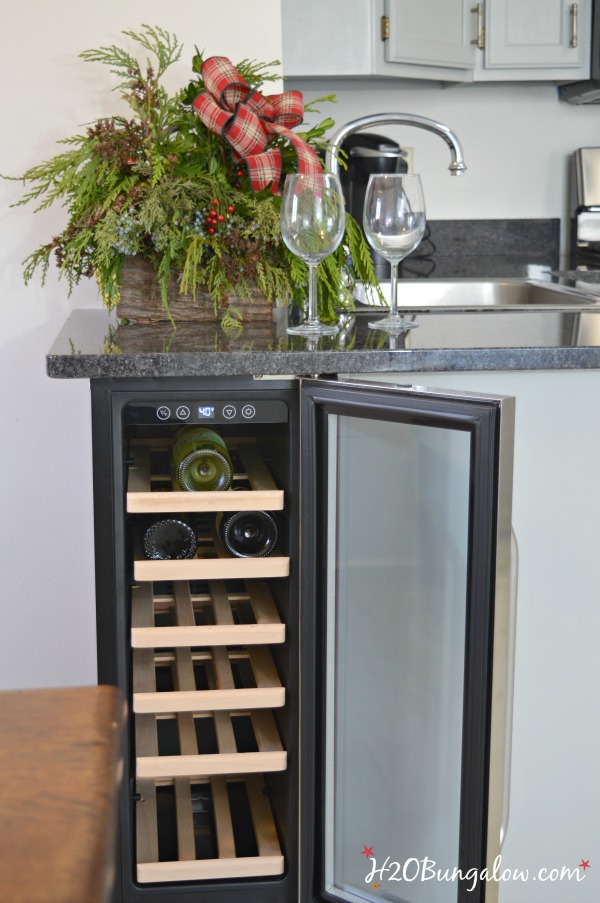 I'm loving the features, the wood shelves and the digital thermostat. Plus, like I mentioned in my post Wine Cooler Shopping and Installing Tips whether you're planning on DIYing a built in wine cooler or have a place to put it already, it's important to have a front vented unit.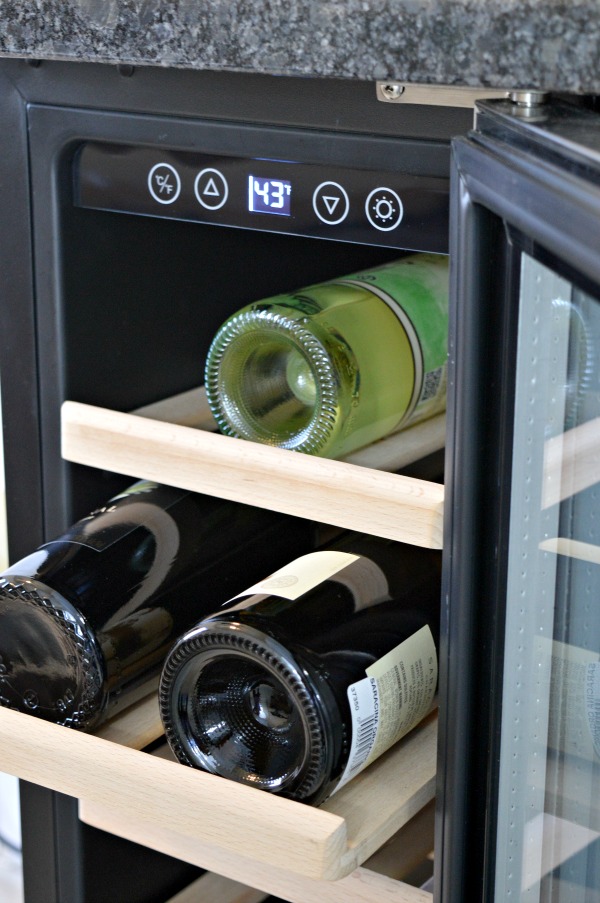 The wine cooler fits in well with the new stainless appliances I added. Yes, I've done some painting and a few more projects in here as well 😉 I'll share them soon.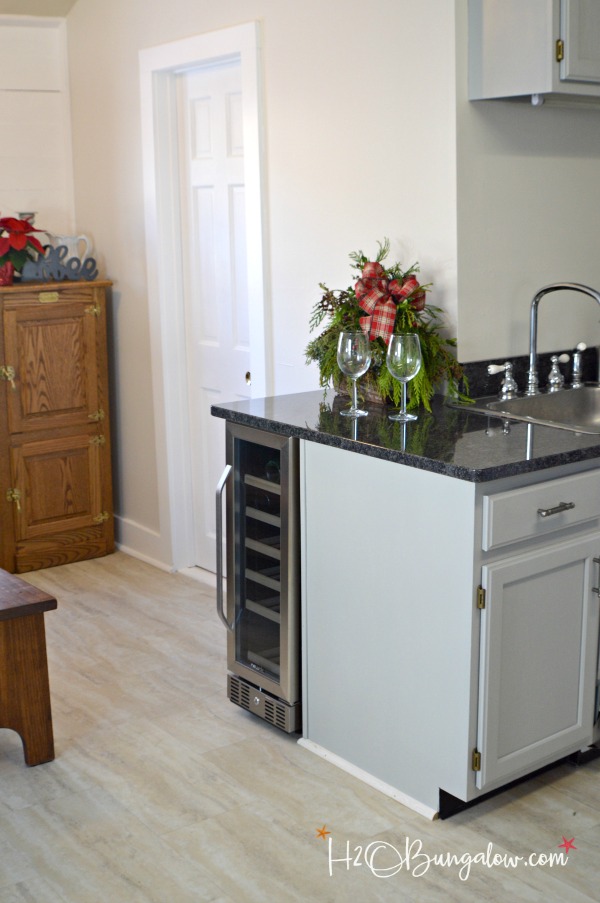 This DIY built in wine cooler was a huge step forward in giving this basic kitchen some pizzazz and style. Doing this was easy and it didn't take a lot of heavy lifting or major remodeling know-how.
Do you have a place where you'd like to add a built in wine cooler?
Pin this for later to remember how to add a DIY built in wine cooler to your kitchen too.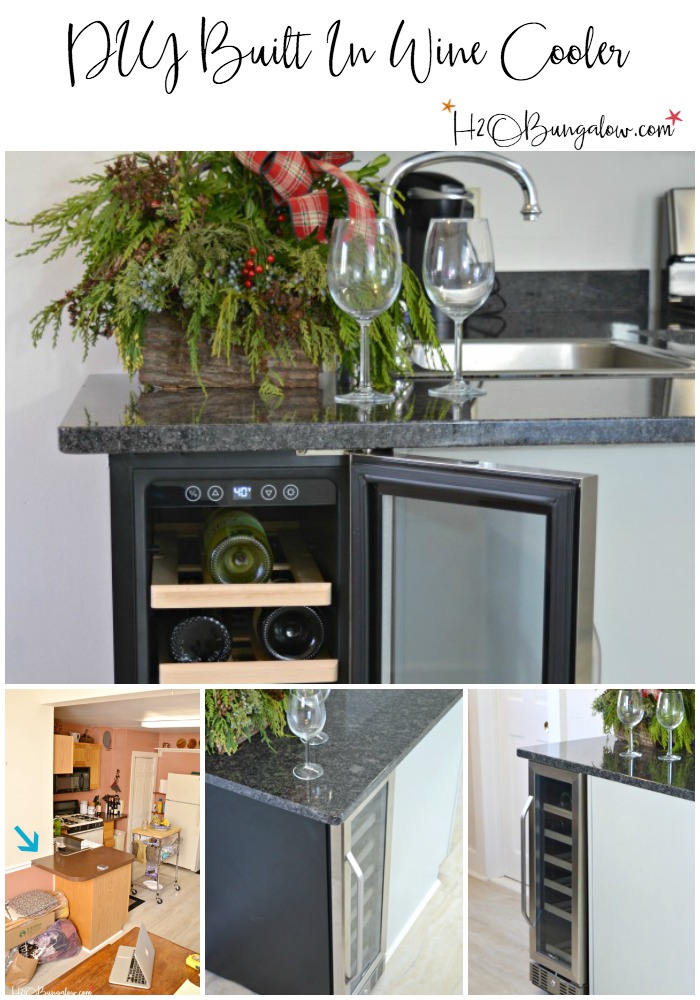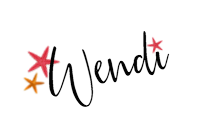 You'll find my project linked up to these fabulous parties!
Love a good dose of DIY home decor, home improvement, the challenge of woodworking and creative ways to make your home look fabulous?
Me too!
I'd love to share mine with you. Click here to sign up for my post emails and I'll send a quick note when I have a new project to share.
Disclosure: I may have been compensated, given product or tools that I used in this DIY post. All opinions that I share are always 100% my own. I use affiliate links in my posts. If you should make a purchase I will receive an itty bitty commission at no cost to you. Thank you in advance for supporting my blog and two fur-ball cats who believe they are privileged.