This is a sponsored post written by me on behalf of CORT. All opinions are 100% mine. Today I'm breaking down how to style a room in 5 easy steps. I've seen lots of people get a deer in the headlights look when they are faced with home decorating. Other times, I've had friends or family share that they just don't know where to begin when decorating a room much less an entire home. This is especially true when they feel challenged because of renting or knowing there will be a home change of some sort in their future.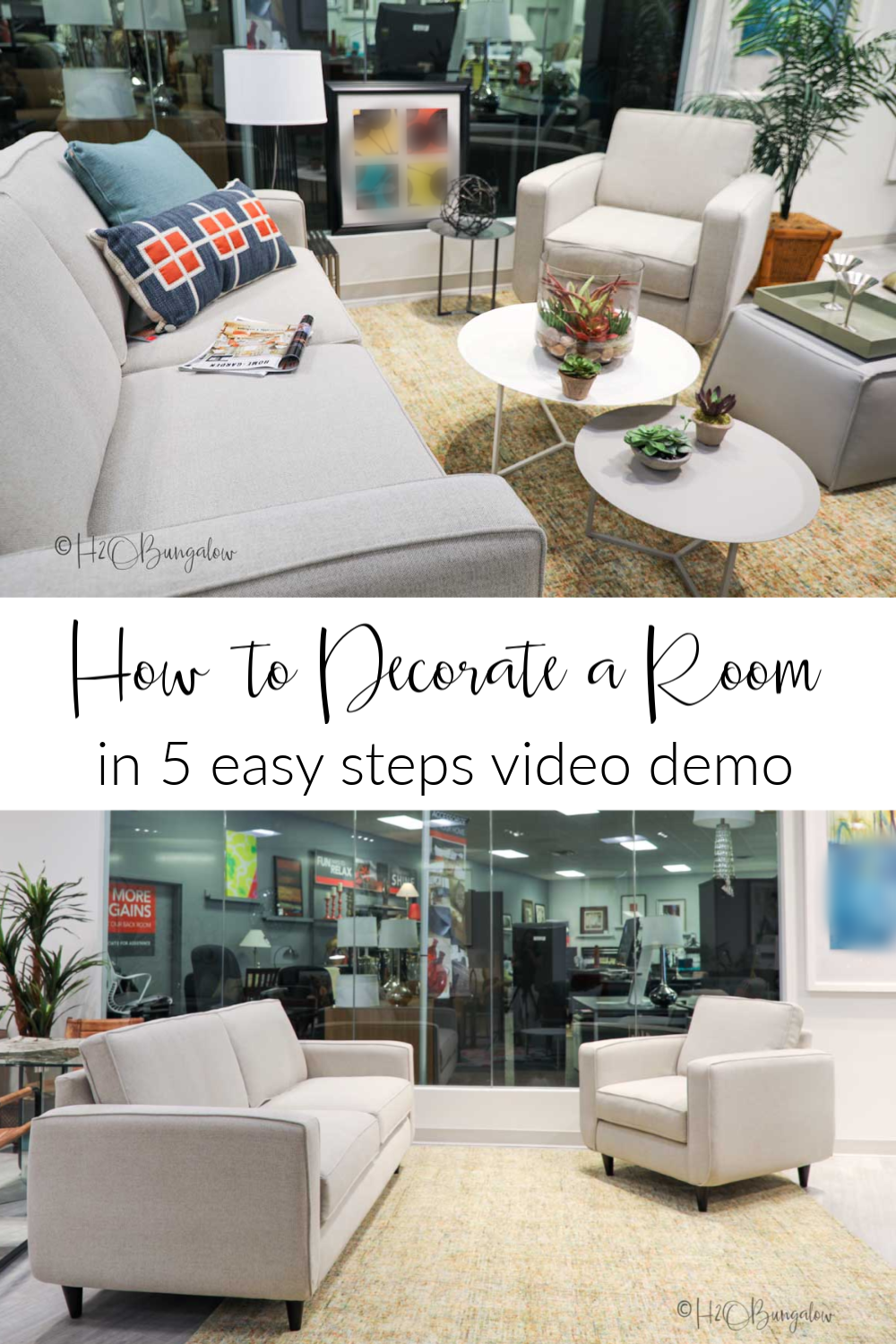 I thought this was a great time to share my best tips to style a room in five easy steps and demonstrate the steps I take to decorate a room in a little video I made while at the CORT Showroom.
How to Style a Room in 5 Easy Steps
Step 1 . Choose your colors and decor style.
What style of room do you want to create? Is your main style contemporary, eclectic, transitional or maybe a little of everything? If you're not sure, look at the biggest pieces of furniture you have. They will influence the rest of your room. If you're starting from scratch, start a Pinterest board and collect pictures of rooms that you love. Or, shop the CORT online furniture catalog to get an idea of what you like. It's broken down into room or style collections. Take notice of similarities of common themes, color and styles.
Keep your room and furniture dimensions with you when you're shopping for home furnishings. I keep a file online that I can access from my phone when I'm shopping.
Step 2. Start with anchor pieces in a room.
To me these are the pieces you'll use the most. Usually a sofa and a chair or two. I choose a gorgeous linen colored contemporary sofa and complimentary chair from the CORT Furniture Rental showroom for my sample space.
Watch out for scale when choosing furniture. Choose pieces to fit in your room with enough space to comfortably walk around them. Avoid mixing overly large and small scale pieces in a room.
Choosing neutral pieces makes it easier to change out accent colors later to freshen up a room.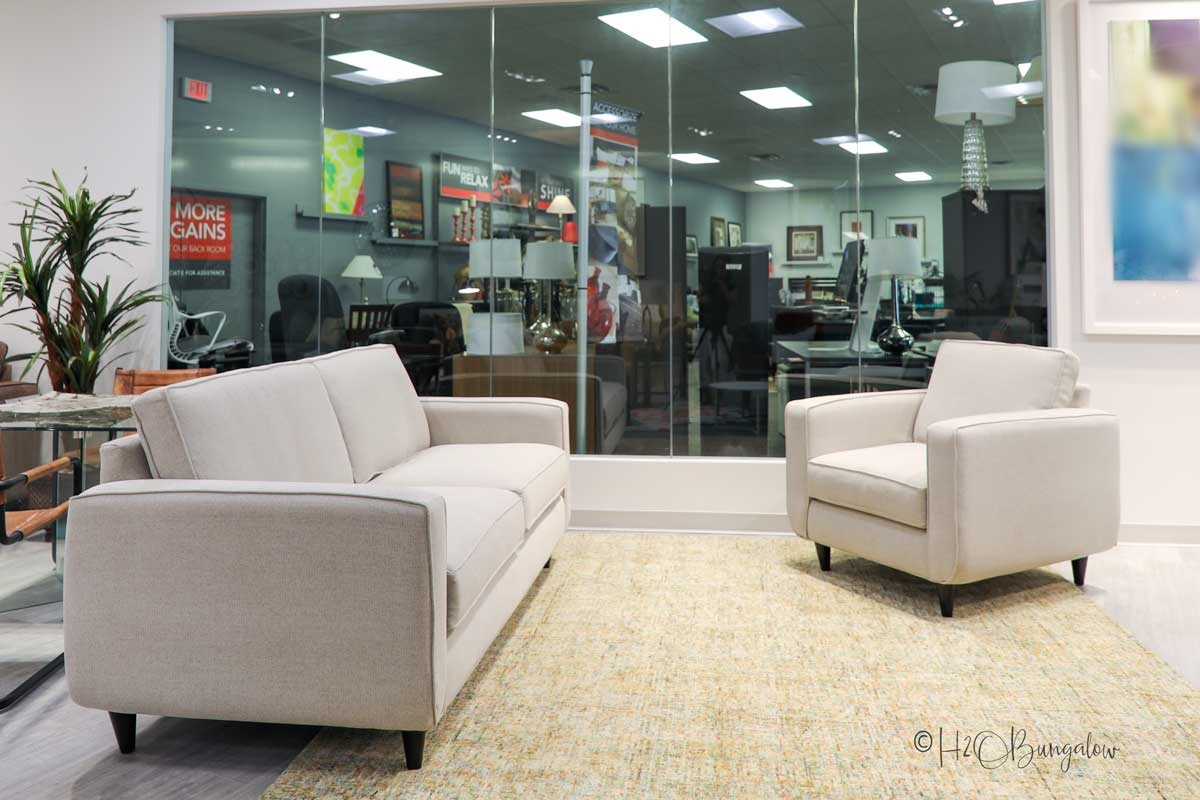 Step 3. Add a rug for layering and defining the spaces.
I use rugs as often as I can. They help to define a space, add texture and make a room look finished.
As much as rules are meant to be broken, I always follow the rug rule. The standard for using an area rug in a room is to choose one large enough to touch or be under furniture instead of floating on a floor. If you're layering a rug on a rug than you'd be OK in placing the second one just under the coffee table.
Step 4. Add side and coffee tables.
Choose your side and coffee tables with use in mind. Don't be afraid to try something new! If you're working in a small space, try using items that can serve double duty. I fell in love with this trio of nesting tables that group well together as a coffee table and can be moved and used separately for extra tabletops. The grey leather ottoman I placed between the two accent chairs can double as a table top with a tray or seating when needed.
Avoid matching coffee and end tables. It shouts matchy-matchy and you want your space to be uniquely you.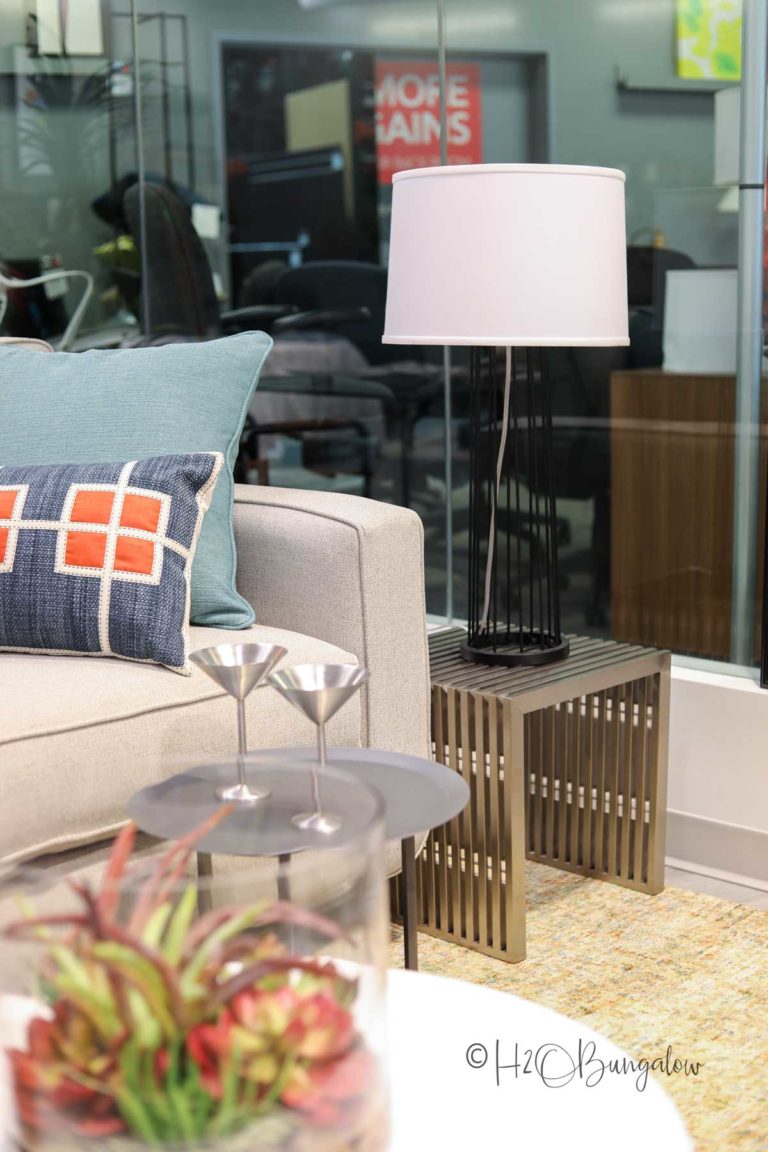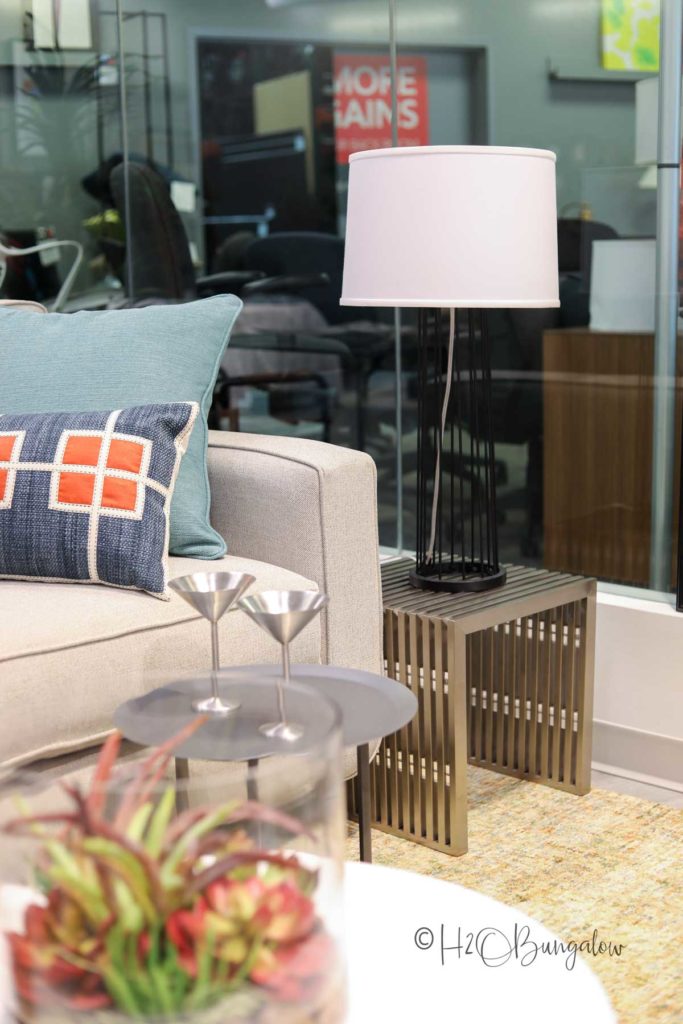 Step 5. Finish decorating a room with accessories last.
The last of my style a room in 5 easy steps is what finishes a room. Accessorizing adds layers, life and interest, it's like adding jewelry and a scarf to your favorite outfit.
Add life to a room with live plants and greenery. Books are another good filler for spaces.
Always add texture in a room. Pillows are a great way to add color and texture. Try using unique pillows in complimentary colors.
Add something unusual or special like the metal orb I placed on the round side table. It makes a space look well thought out.
Wall decor can be used to define a space, especially in a room that's open with a seating area. CORT rents lots of fabulous art work! You'll notice my photos have the artwork blurred, that was a copyright requirement. Trust me, you would love the selection!
Tall plants are great for creating a sense of coziness in a big room by filling in empty wall or room space.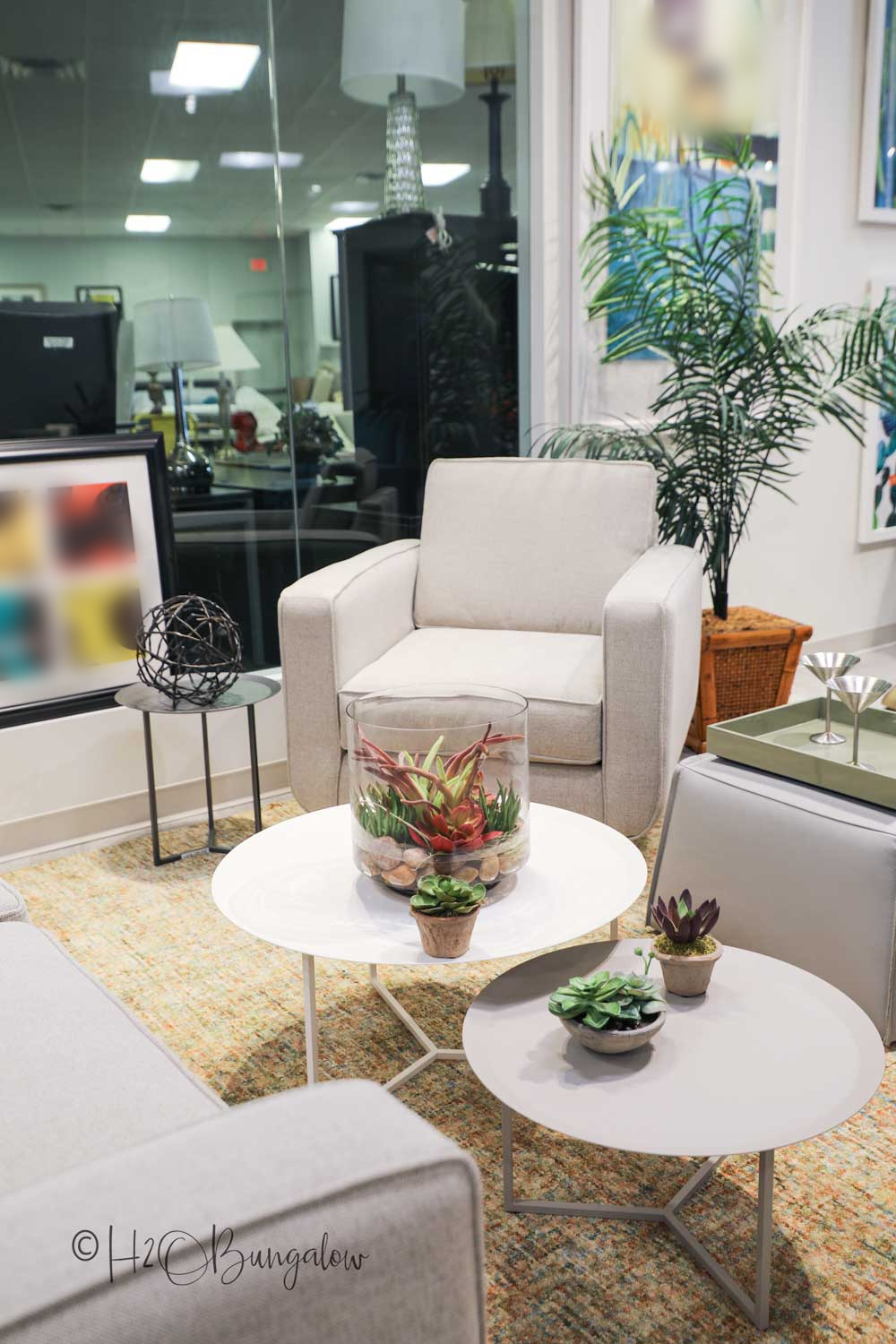 The simple decorating tips I shared above is all it takes to decorate a beautiful room in a few easy steps. You could take this room out of this showroom and place in most homes and it would look great! It's cozy, casual and inviting.
Best of all, it looks lived in.
Save these tips for later! Pin or share them with your friends on FaceBook!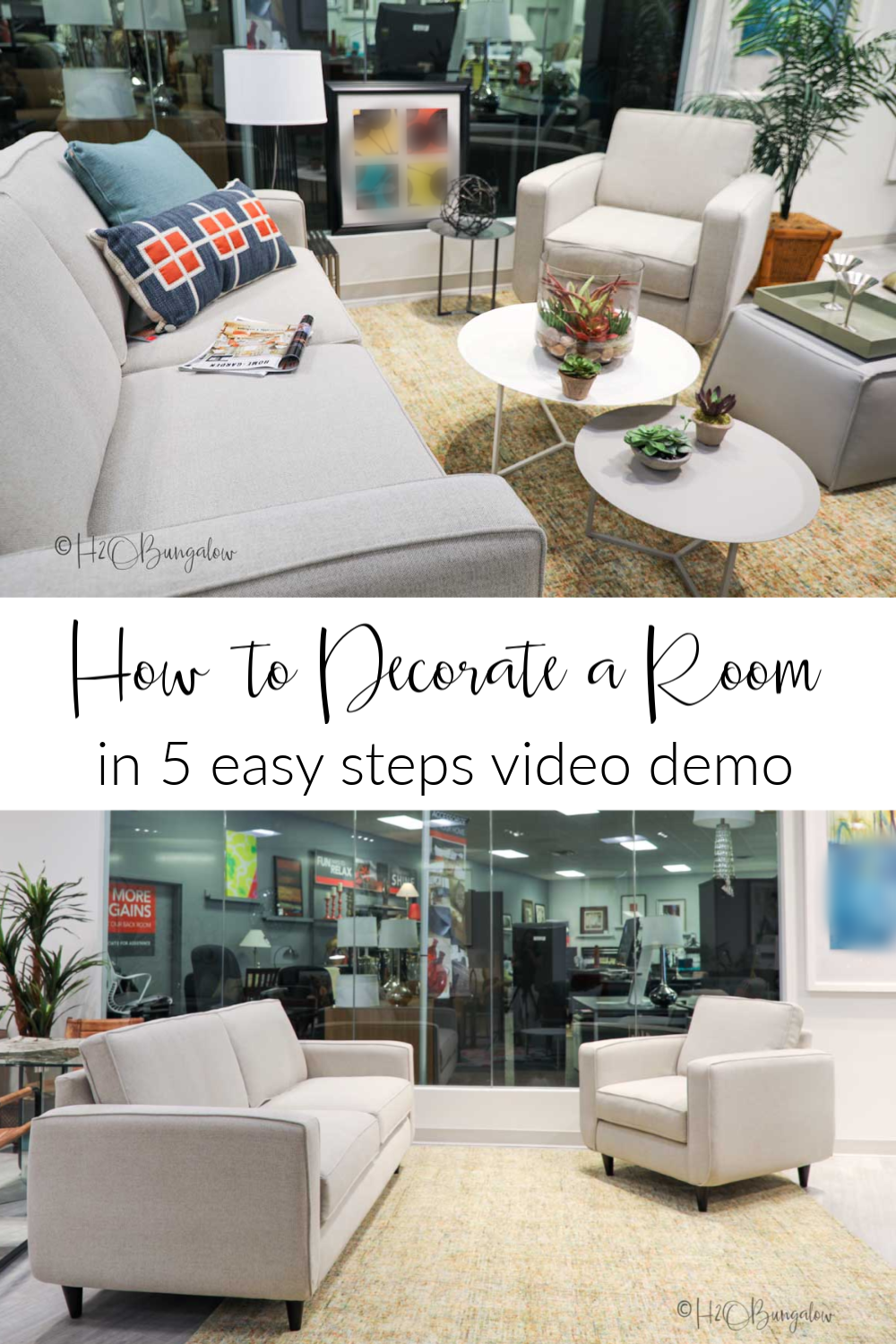 While at the CORT showroom I couldn't help but take more photos to share of the beautiful choices of furniture they carried in a wide variety of styles! Besides the online catalog, you'd find a selection of regional styles in your local showroom.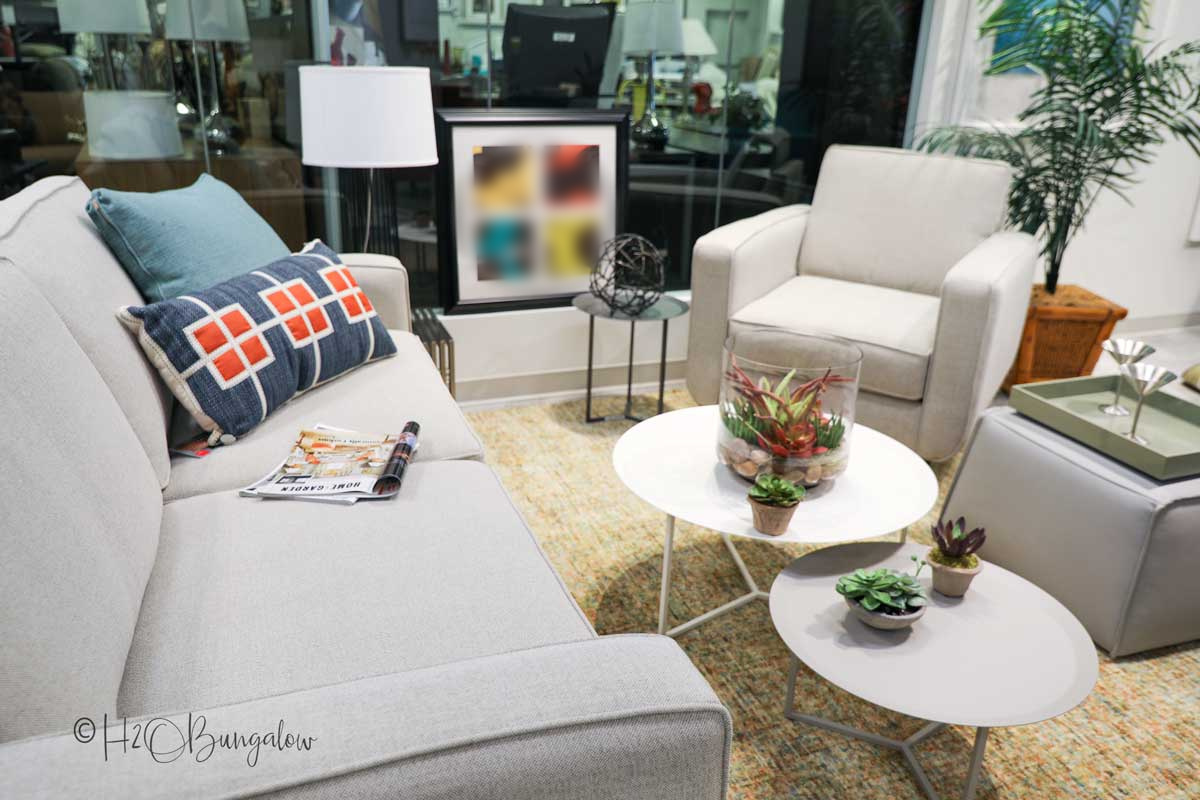 Need something else or something special? No problem, just ask! They'll check available inventory to help you find the perfect piece for your home.
I loved these leather seats and acrylic dining table! If I were decorating a studio apartment, I'd absolutely place a small dining table behind a sofa like this one.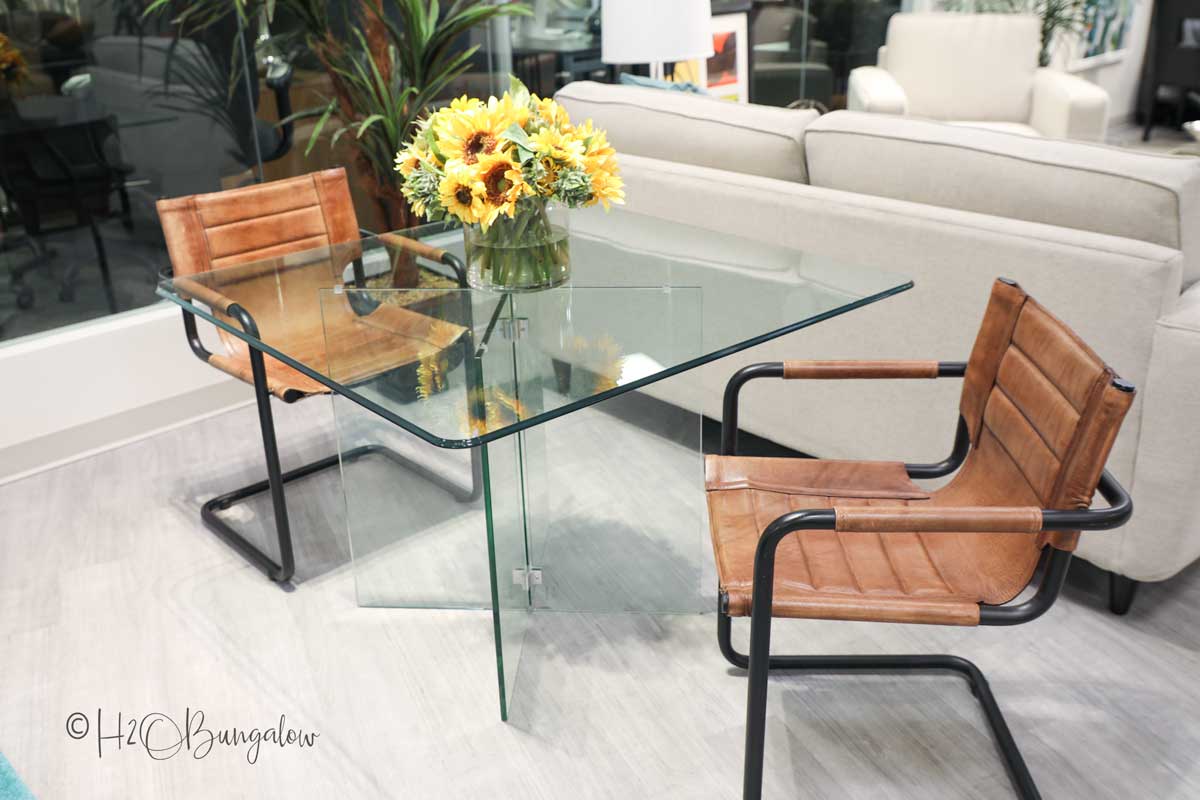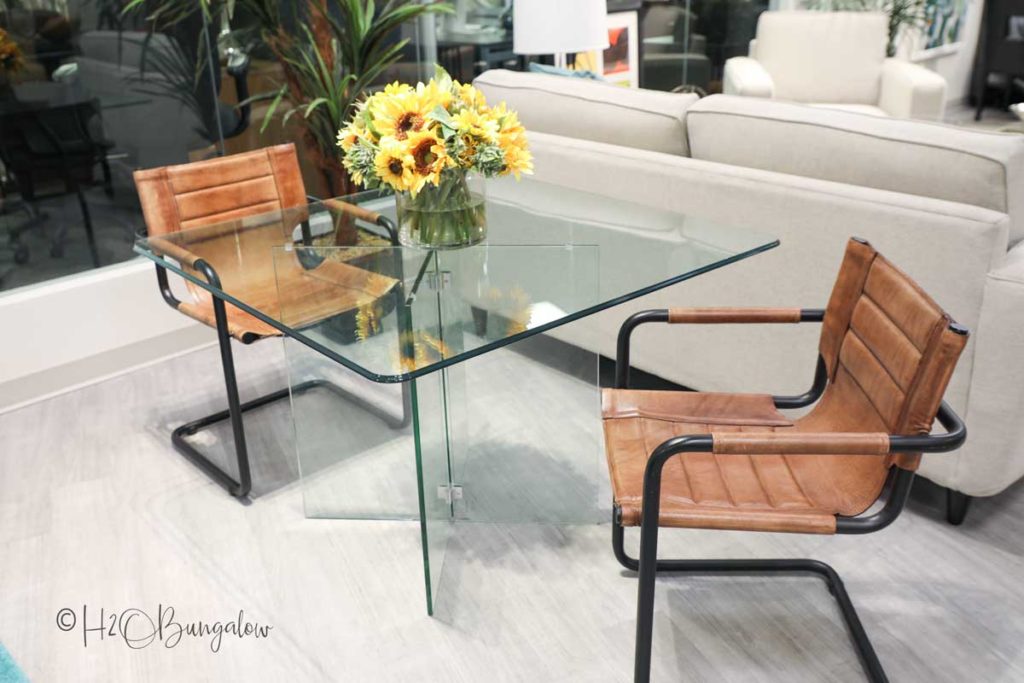 The beauty of using the CORT Furniture Rental service is that you choose the style of furniture you need for your own short term needs. Choose just a sofa, furnish a room or an entire house. Select your pieces, CORT delivers and then picks everything up when you're done. It's that simple.
They are perfectly suited for anyone who needs furniture for 2 to 24 months.
I can think of lots of different times when this would have been perfect for us.
I could have rented a sofa for a few months while I shopped for my new one which took forever!
When we relocated to FL and downsized dramatically. Hardly anything from my old place fit into the tiny beach house. It would have been great to have the house comfortable so I could focus on other things while we were getting settled.
Furnished my sons college apartment during the school year, returned it at the end of the school year and and not worried about what to do during summer break.
Furnish our guest room which still isn't done because I'm not sure what I'll do with the room long term.
I would have used CORT if I'd known about it when my husband rented an apartment and worked in Dallas for 8 mort months after we moved to FL.
Common Questions About Decorating a Room
How do I decorate if I have pieces that don't work or are outdated?
You can still have the look you want!
Replace or change out a few pieces at a time. Take your time looking for just the right long-term furniture that fits your vision and rent a few pieces or an entire room from CORT Furniture Rental in the meantime.
Give a few pieces a makeover with paint.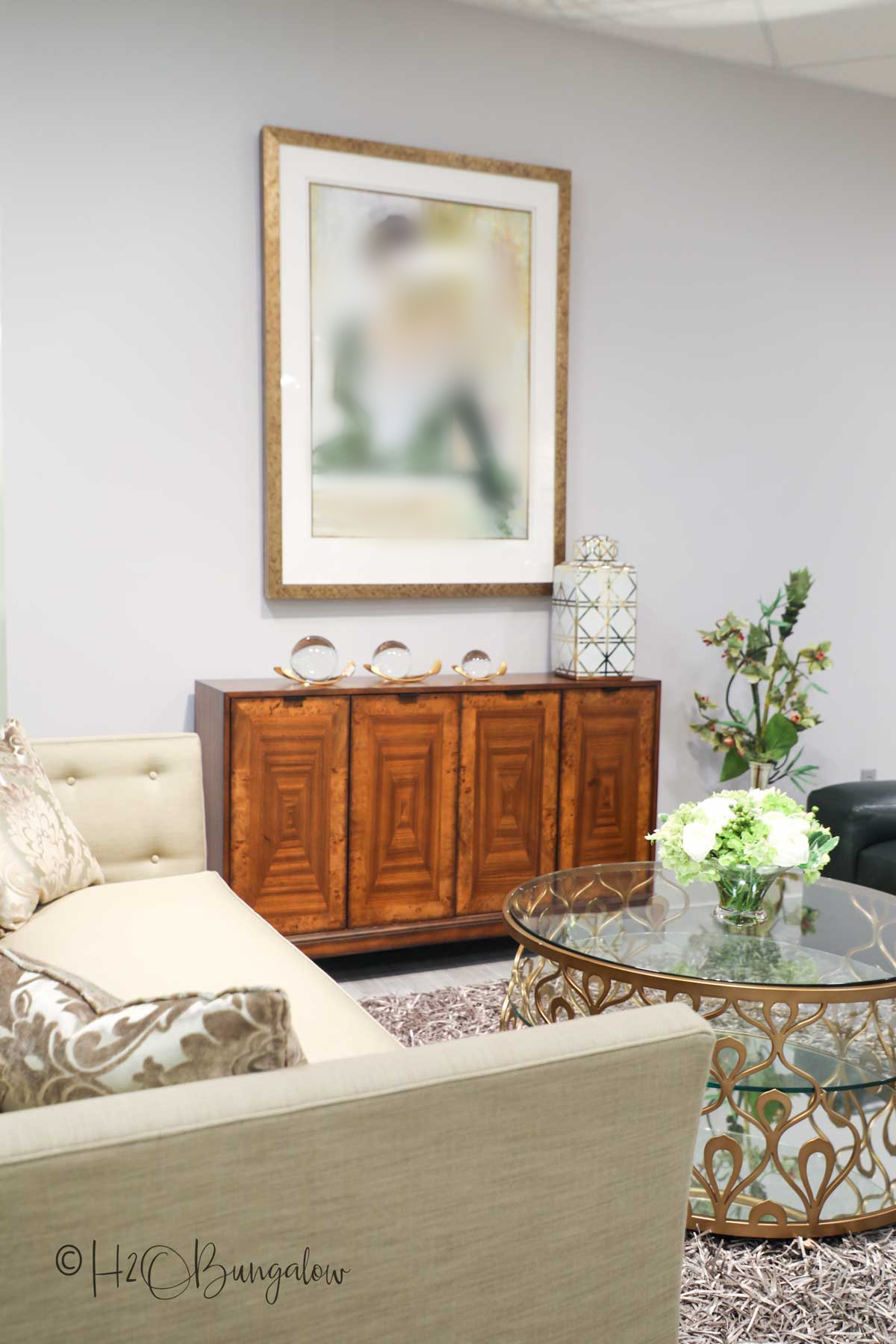 How do I decorate my home if I'm renting and can't make long-term furniture choices?
Use non-damaging picture holders on the walls.
Accessorize your home with personal items like favorite books, family photos.
Create a beautiful home by using what you have and finishing the rest with a short term rental from CORT.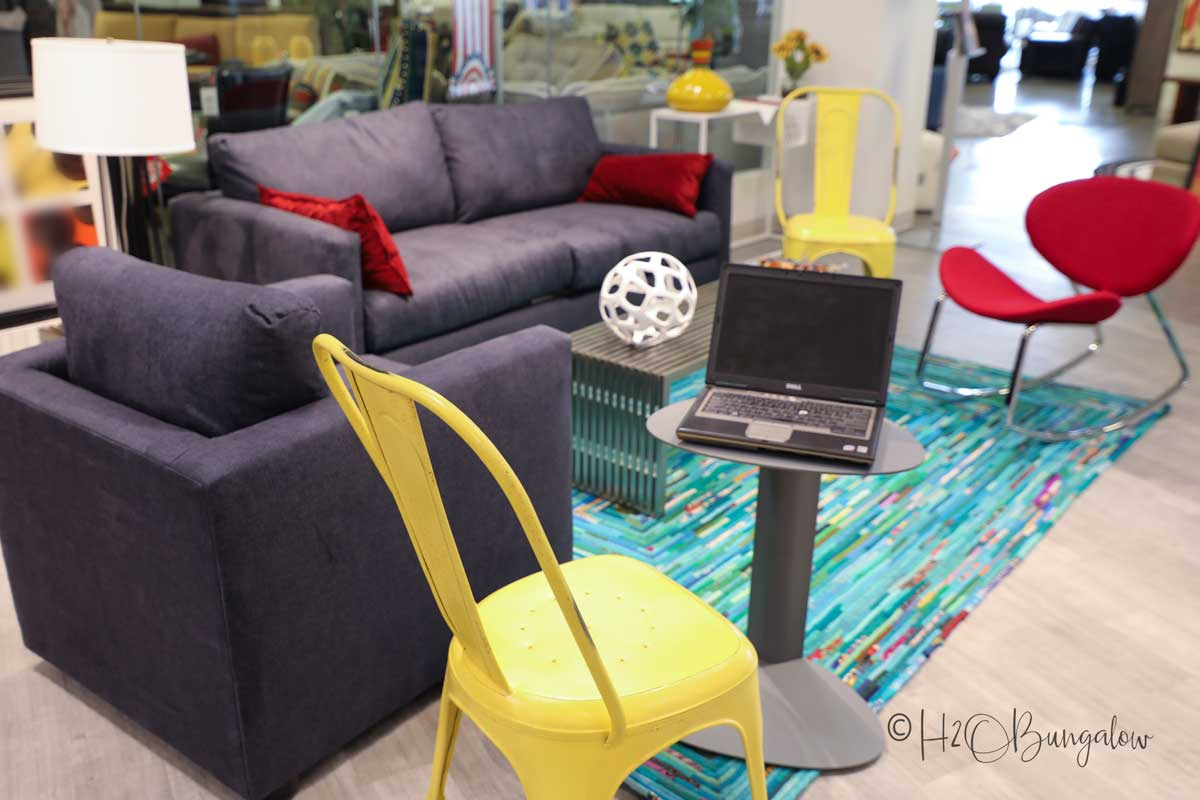 In the time I spent at CORT, I learned a lot about how they design and build their furniture. It's high quality furniture that's built to last which is exactly what I want when I bring furniture into my own home.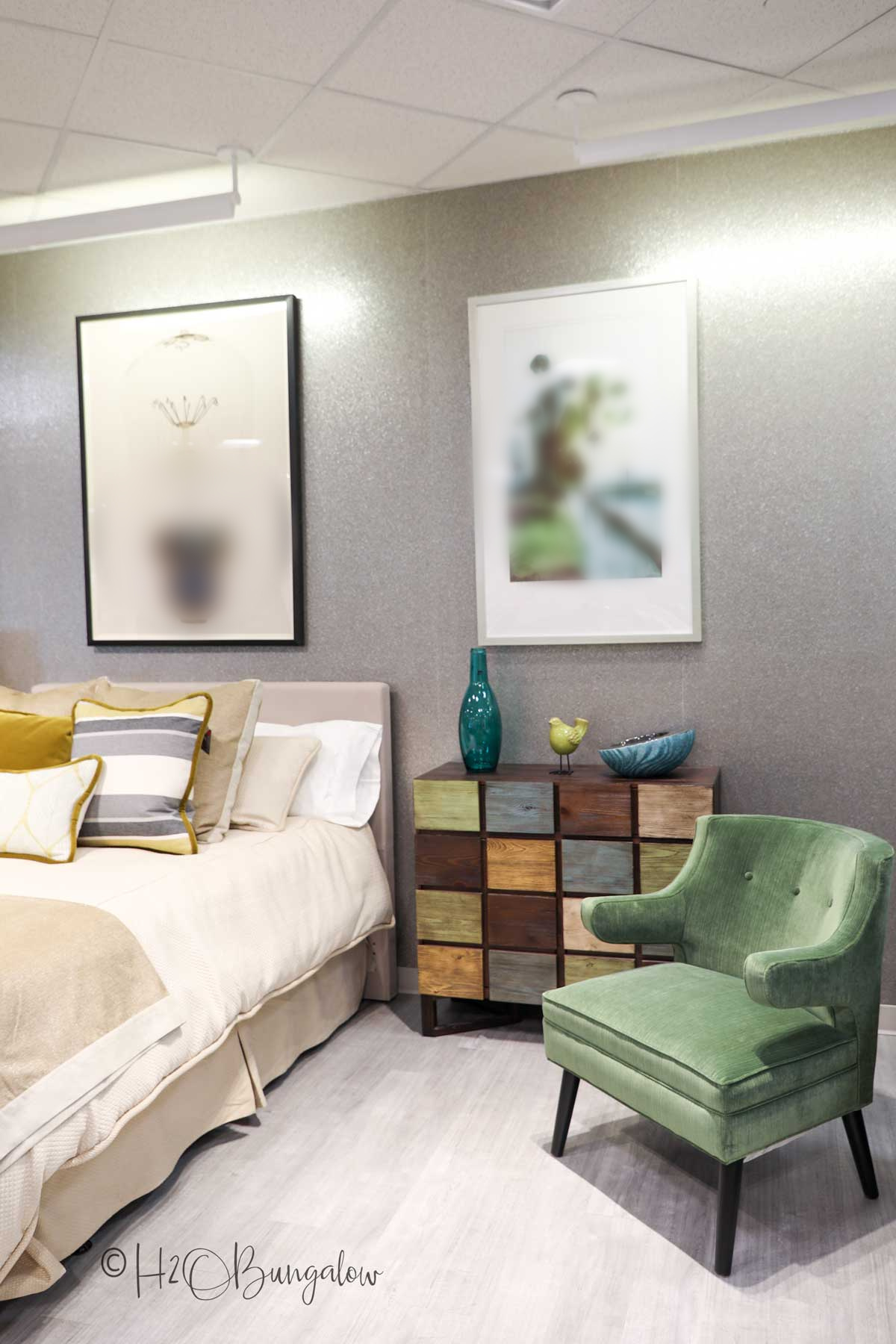 If you haven't already take a look at the quality and beautiful furnishings on the CORT website! You'll find more useful decorating and transitional lifestyle tips on the CORT blog.
Now that I've broken down how I style a room in a few steps does decorating a room it seem easier? How about the few scenarios where renting short term furniture would have been a perfect solution for my family, can you think of ways it could be useful to yours or someone you know?