This is a sponsored post written by me on behalf of FrogTape®. All opinions are 100% mine. Today, I'm sharing what I do when painting over dark colors. If you've ever tried to paint a light color over a dark colored wall you know how challenging that can be. Especially if you've tried to paint over a dark color without a primer! Follow these tips for painting over dark colors below and get a perfect paint job every time.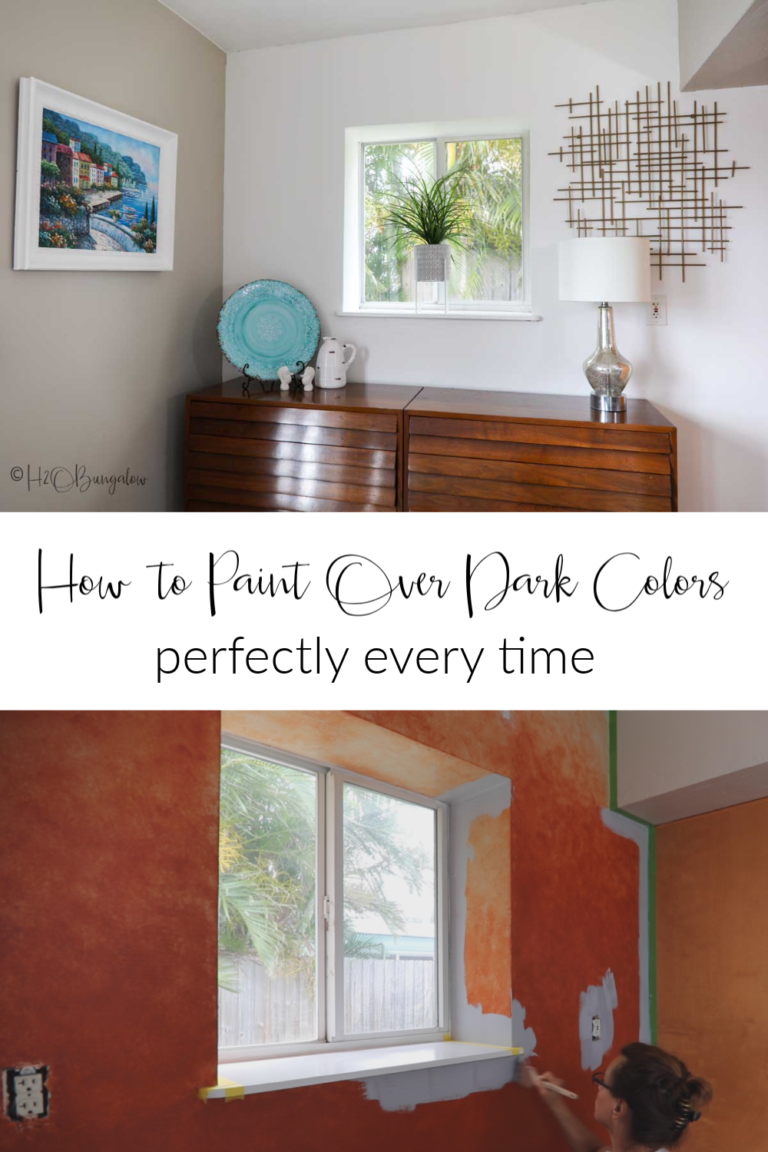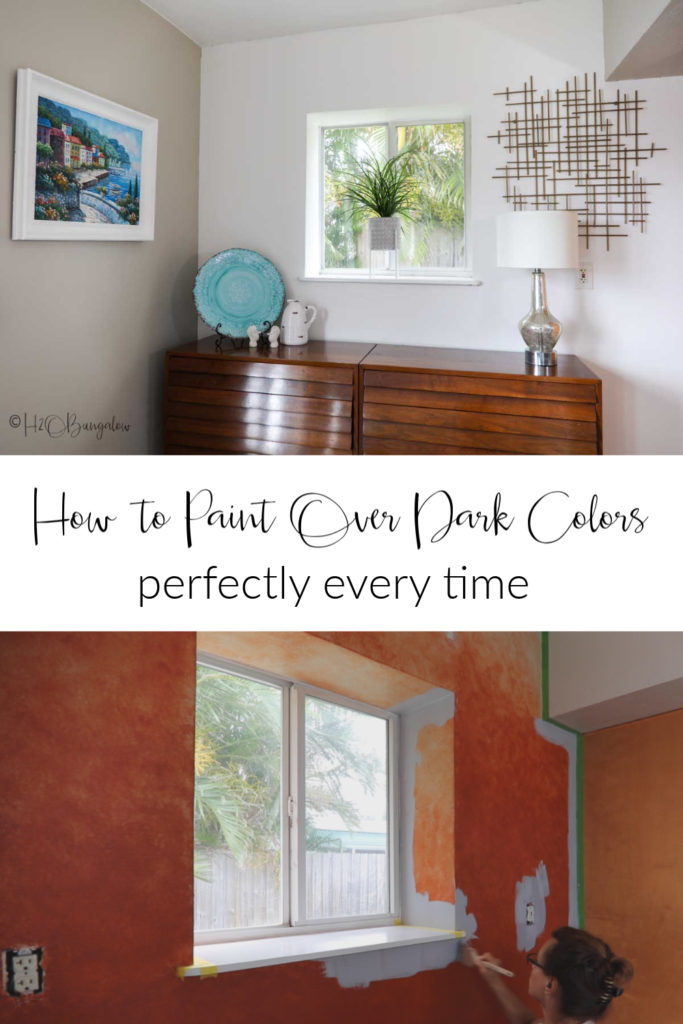 I just finished painting my dining room with a beautiful white, light color. My orange wall was an attempt at an ombre feature wall several years ago. I never loved it and didn't get around to repainting that wall, even though I'd walk by and think about painting over the orange wall pretty much every time I looked at it.
I finally tackled this paint project last week!
DIY Steps for Painting Over Dark Colors
Painting a light color over dark walls isn't hard and I share the steps below.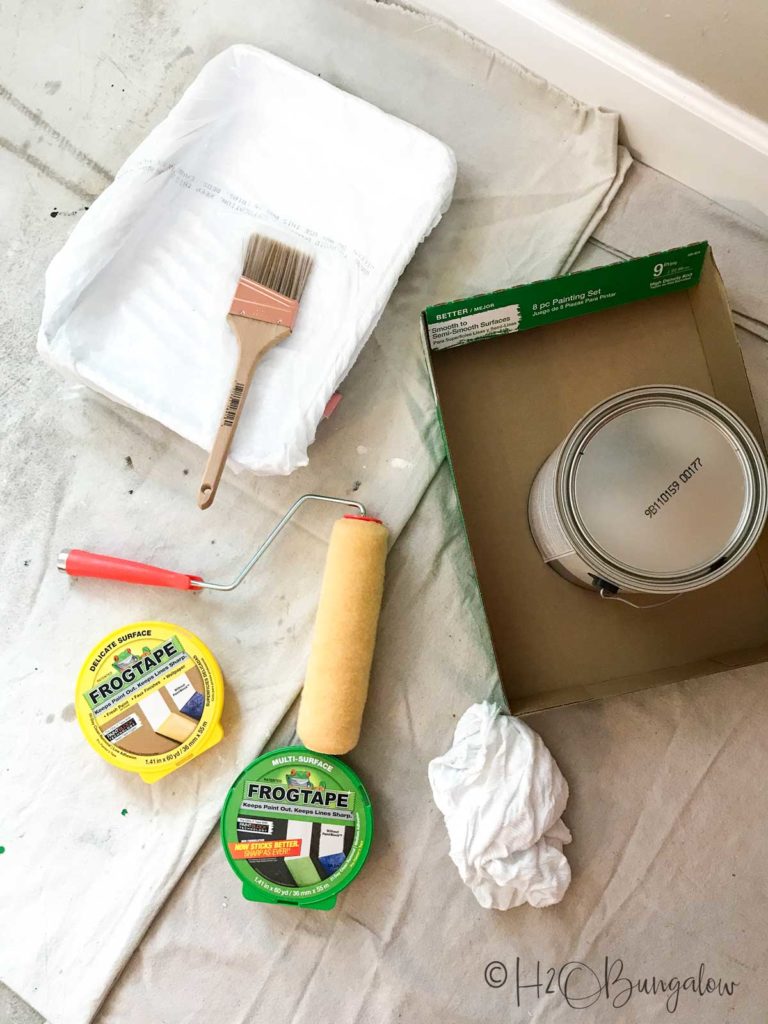 Supplies needed for painting over dark colors.
Paint
FrogTape®, green, for previously painted walls
FrogTape®, yellow for delicate and freshly painted surfaces
Primer, tinted light gray
Spackle and putty knife, to repair picture hanger holes
Clean painter's rags
Quality paint brush
Paint roller and tray
Drop cloths
Ladder
Sturdy container to hold paint like a big plastic cup.
Step 1. Prep your paint surface.
Remove outlet plate covers and picture or curtain hanging hardware. Patch the walls where needed with Spackle and a putty knife. Last, wipe all the surfaces down that will be painted, including walls. You'd be surprised how much dust can settle on a wall behind a piece of furniture.
Step 2. Protect surfaces from paint with FrogTape®.
I always choose FrogTape painter's Tape for my painting projects, especially where I want perfect crisp taped edges.
All FrogTape brand Painter's Tapes are treated with patented PaintBlock® Technology, a super-absorbent polymer that reacts with water water in latex paint and instantly gels to form a micro-barrier that seals the edges of the tape, preventing paint bleed and saving time because you don't need to do touch-ups.
Tips for using FrogTape Painter's Tape when painting a wall or other surfaces.
Overlap painter's tape pieces when applying painters tape on walls or baseboards. The tape will lift off in one continuous piece if you start where you ended to lift the tape.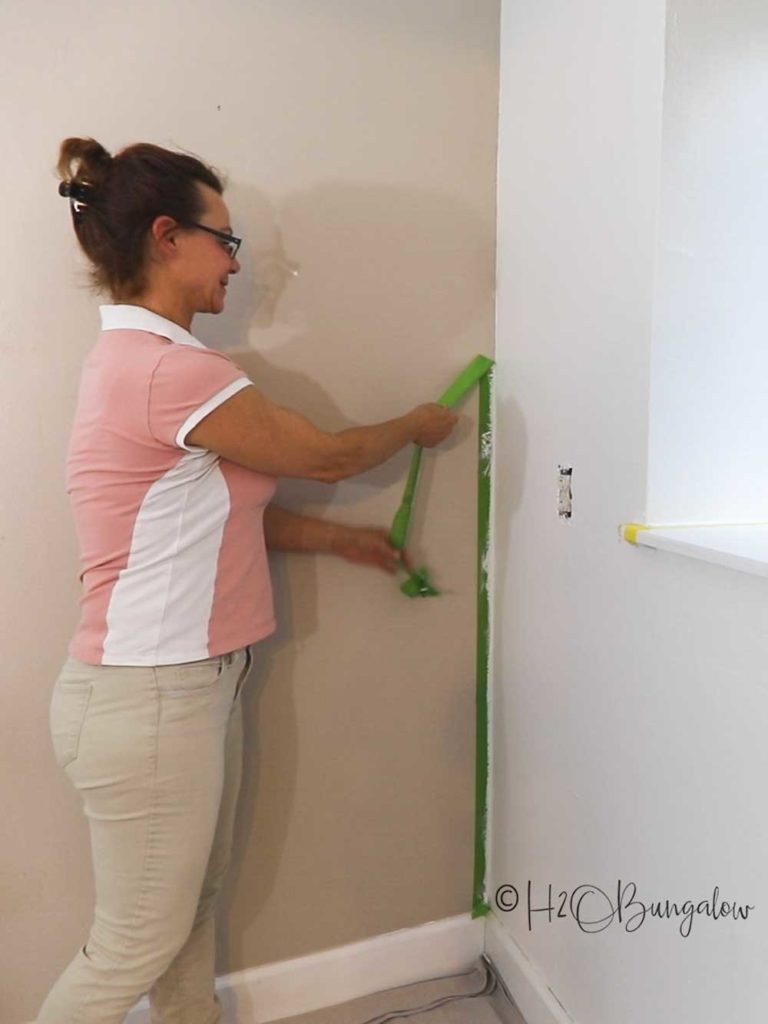 Run your finger over the edge to get a good seal for a crisp edge after applying painters tape.
Always use FrogTape Delicate Surfaces, on dry freshly painted and delicate surfaces like wallpaper, veneer, laminate, vinyl and drywall (primed only).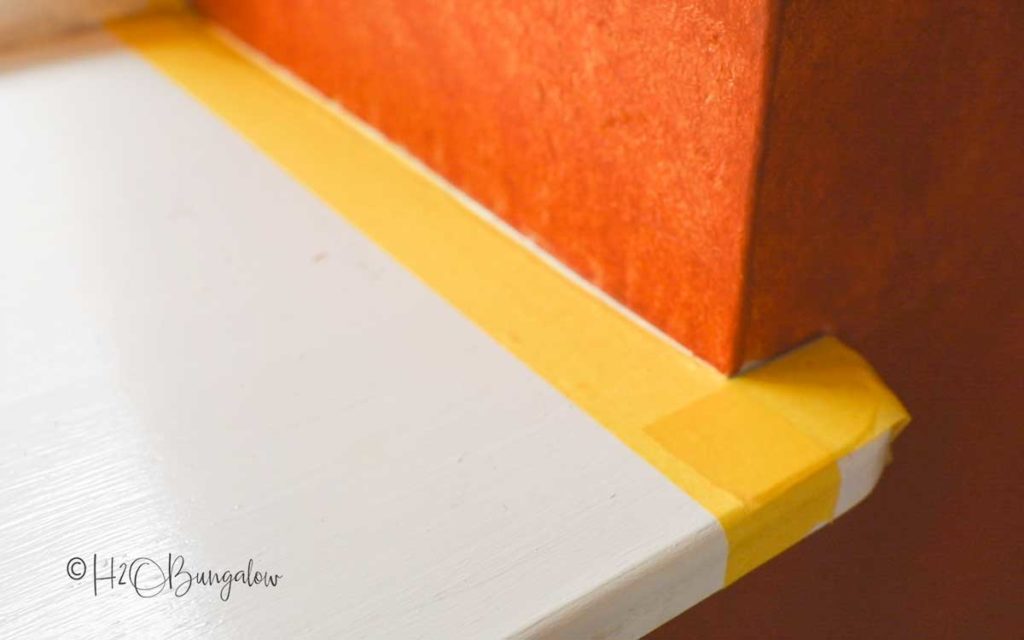 Tape wall and ceiling edges a fraction of an inch away from a dark painted wall to ensure all of the dark paint will be painted over.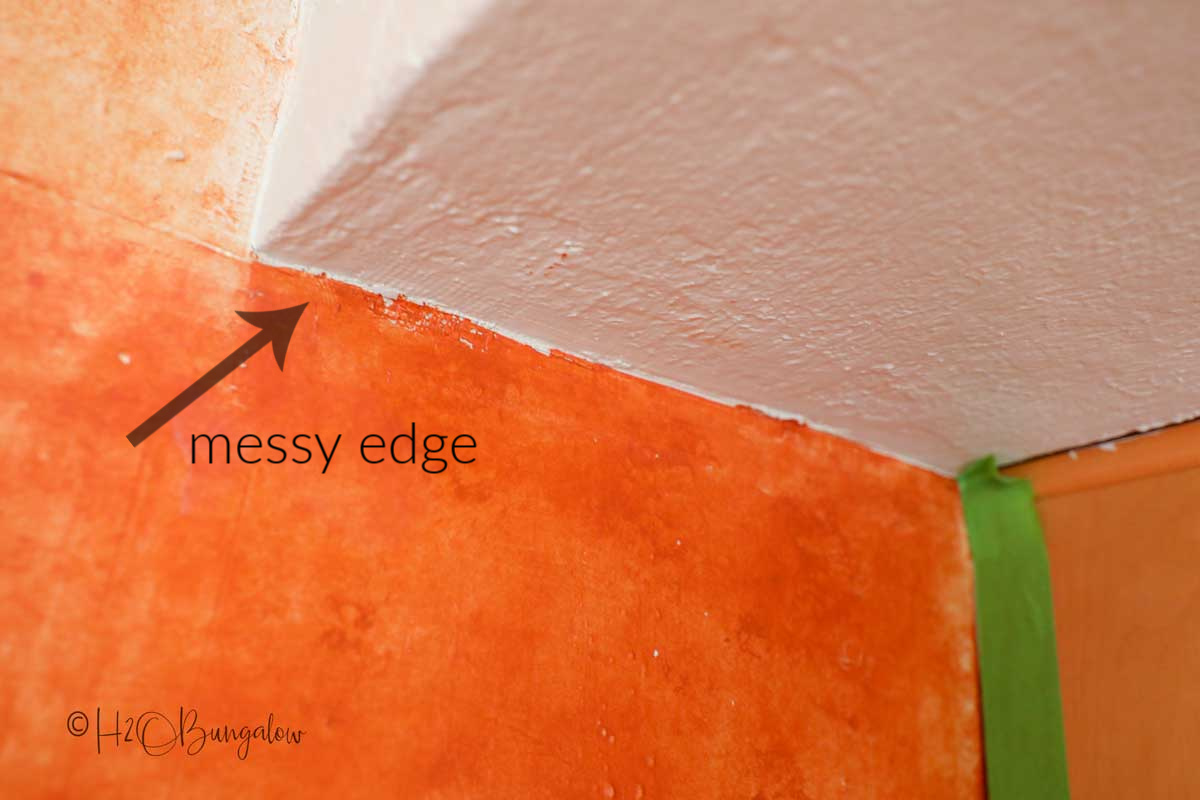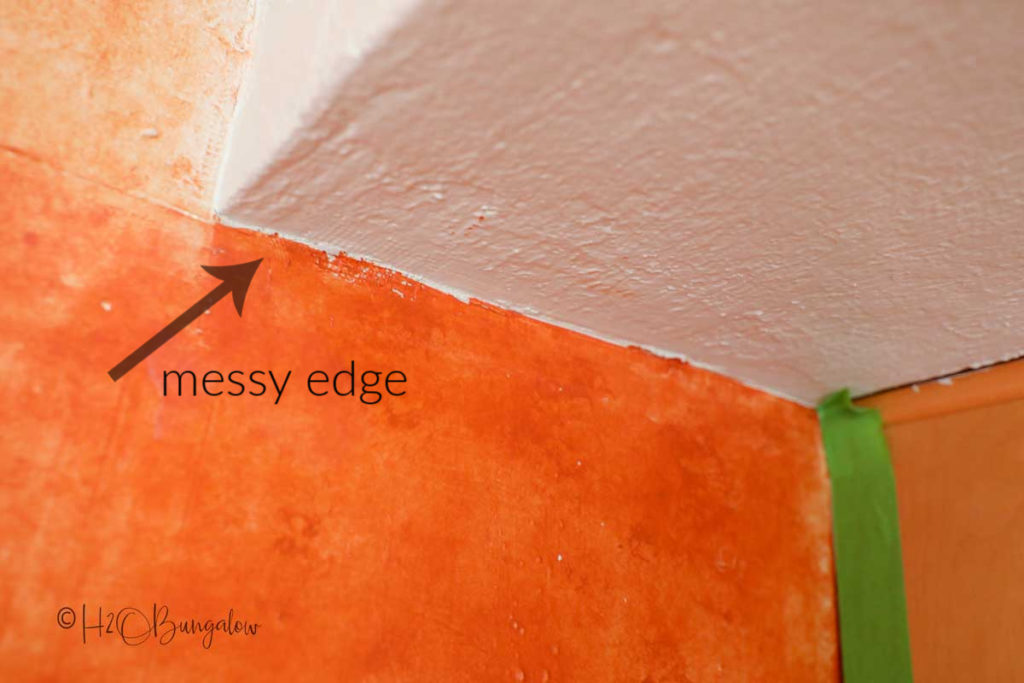 Always remove painter's tape by pulling it off at a 45° angle.
Remove painter's tape when the paint is dry to the touch. Do not let it sit overnight or longer before trying to remove it!
Find more very useful painter's tape tips in this post 12 Genius Painters Tape Tips For a Perfect DIY Paint Job.
Next, you'll lay drop cloths down to protect the floor and and cover any furniture or other items from paint and paint splatter. I like to fold mine neatly so they lay flat and are not a tripping hazard. The last thing you need when painting is to trip with a container of paint in your hands!
Step 3. Apply two coats of primer.
Do it right the first time!
Painting over dark colors without primer is a waste of time. Don't skip it! You'll be unhappy with the results and will have to repaint your wall again or live with a blotchy wall.
What's the best primer for painting over dark colors? There are several good primers on the market. Any of them will work as long as you use a latex primer that's been tinted light grey. If your primer isn't grey when you purchase it, have your paint store tint it light grey. The new light wall color will go on better and more evenly. I've done this for years for all of my paint projects, walls and furniture.
You'll notice I painted my picture frames on the wall white with my mini-makeover too.
Another time-saving tip I'd like to mention is that since I had primer and wall paint to apply on this project, I placed the paint tray inside of a kitchen trash bag to cover the paint tray. Tuck the extra plastic under the tray to keep it out of the way when rolling on paint. When done, slip off the trash bag by turning it inside out. Hold the paint roller inside the trash bag to remove the roller sleeve when slipping off. It works great, everything is contained in a trash bag and there is very little to clean up. It makes switching paint colors easy!
You'll apply two coats of primer over the dark wall.
When applying primer or any paint, start by cutting in the edges and places a paint roller can't reach or would touch another surface like the ceiling. Next, use the paint roller to apply a coat of primer to the rest of the wall. Wait for it to dry. Apply a second coat of primer by cutting in first followed by rolling the wall with the paint roller.
Drying time will be shorter if you place fans to direct airflow on the wall. This is especially true when it's humid outside! That's always for those of us who are in Florida!
Step 4. Apply two coats of light color wall paint.
What's the best paint to use when painting over dark colors? When you're choosing a paint, select a good quality paint to paint over a dark color. I always buy a good quality but not the best for this type of painting project. You will always need two coats of paint when painting a dark color over a light one. Don't bother spending the extra money on a guaranteed one coat paint, it won't work in this case.
Apply two coats of paint by cutting in the edges, rolling the walls and letting each coat dry in between. Just like with the primer.
Another important painting tip for painting over dark colors is to apply the paint evenly. Always work with a wet paint edge. This means work from one side to the other. After applying paint from floor to ceiling in an area, lightly run your roller back over that area in one long motion from top to bottom to even out the paint. It evens out the applied paint and removes blotchiness and thick spots. Do this before painting the next section of the wall.
I do this for both the primer and the paint.
If you follow these simple steps for painting over dark colors, you'll have a perfectly painted wall every time!
Remember my orange wall?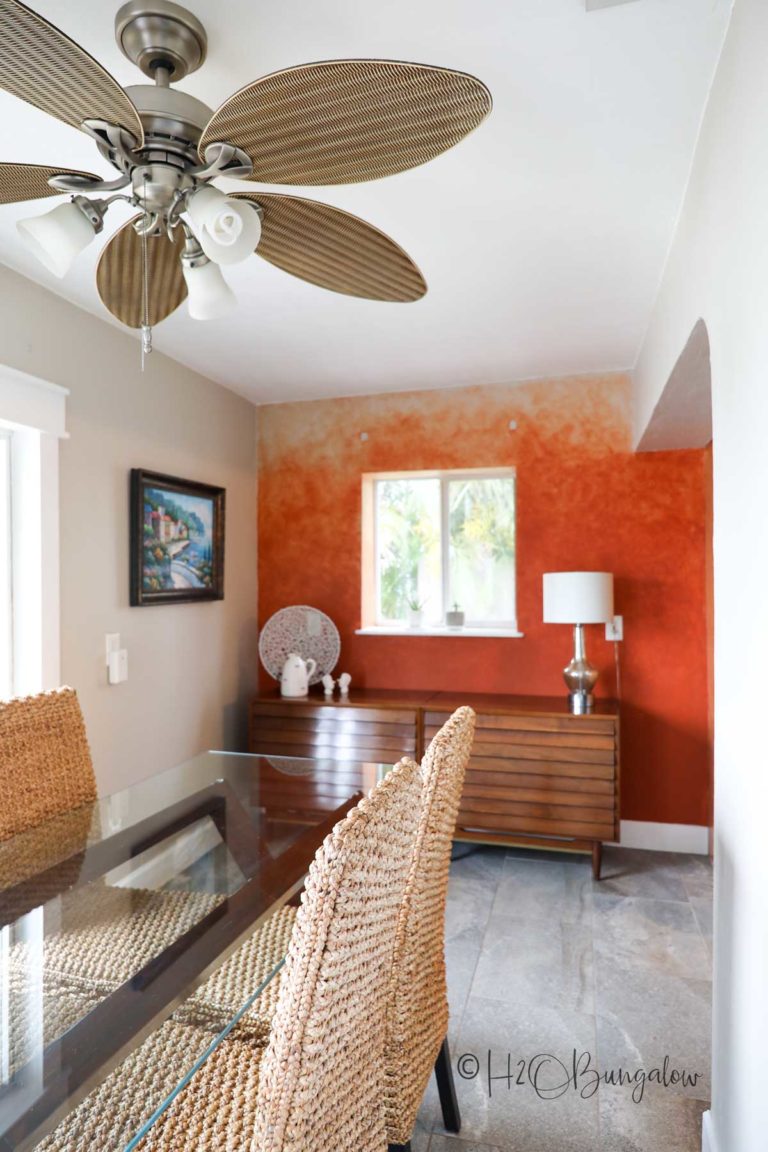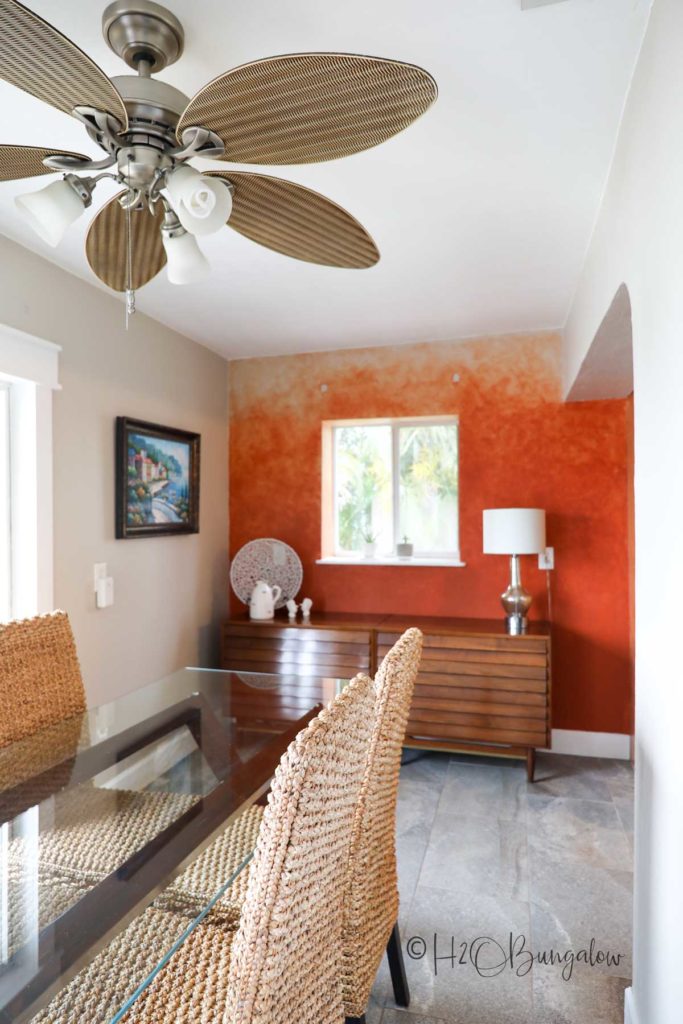 Here's what it looks like now.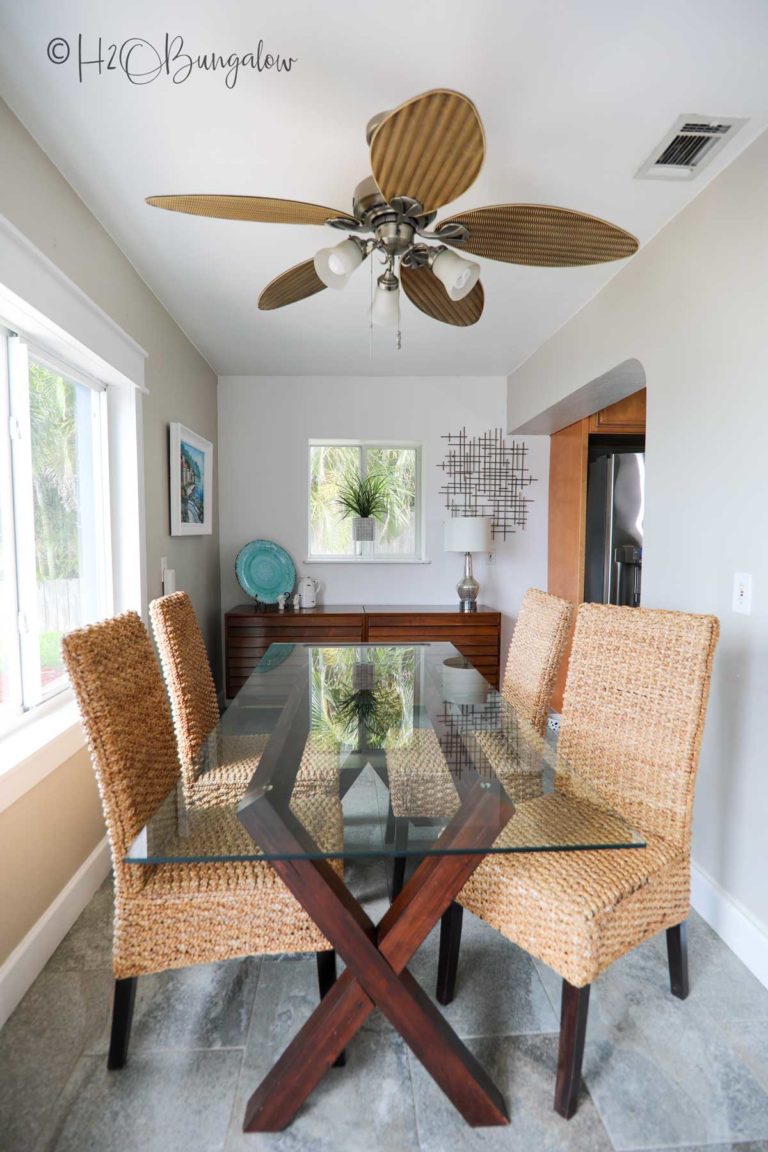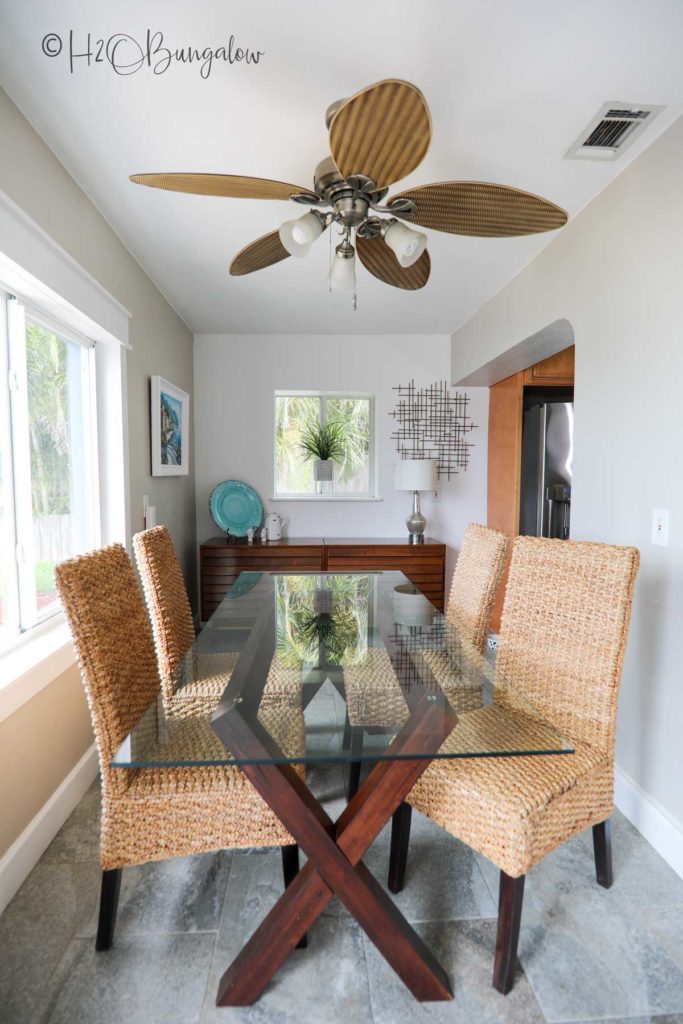 I still wanted an accent wall and decided not to paint it the same color as the rest of my walls.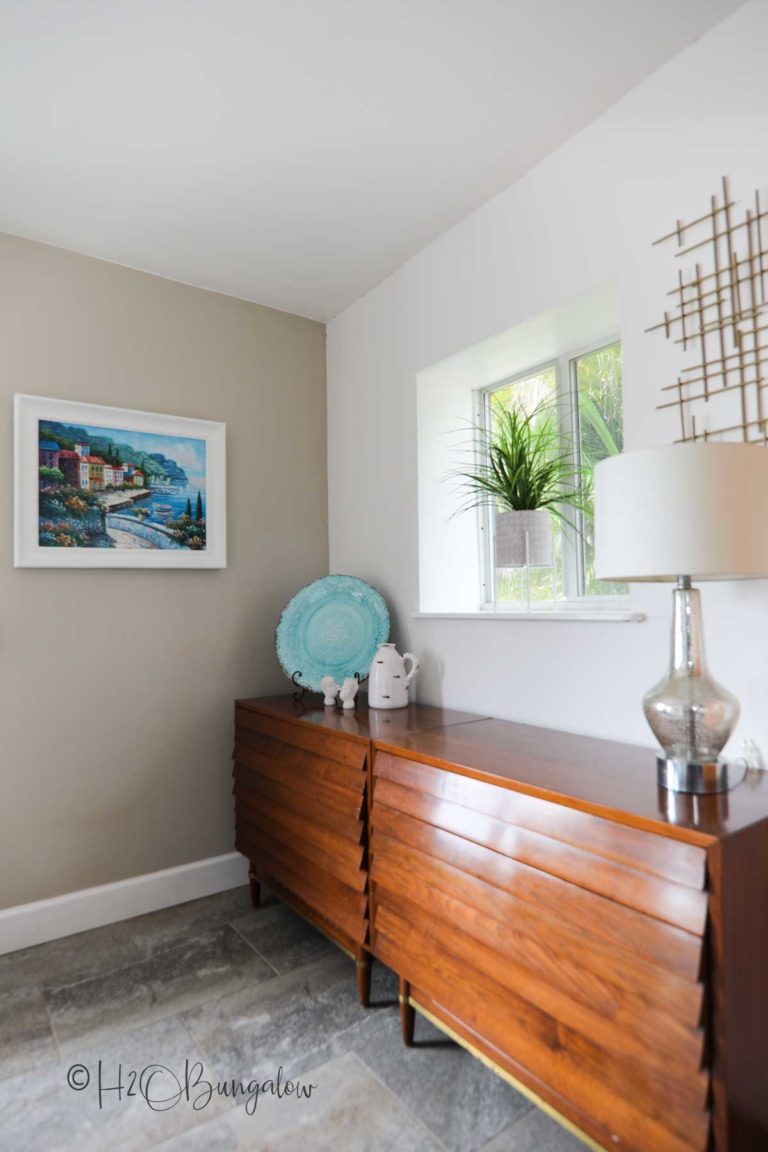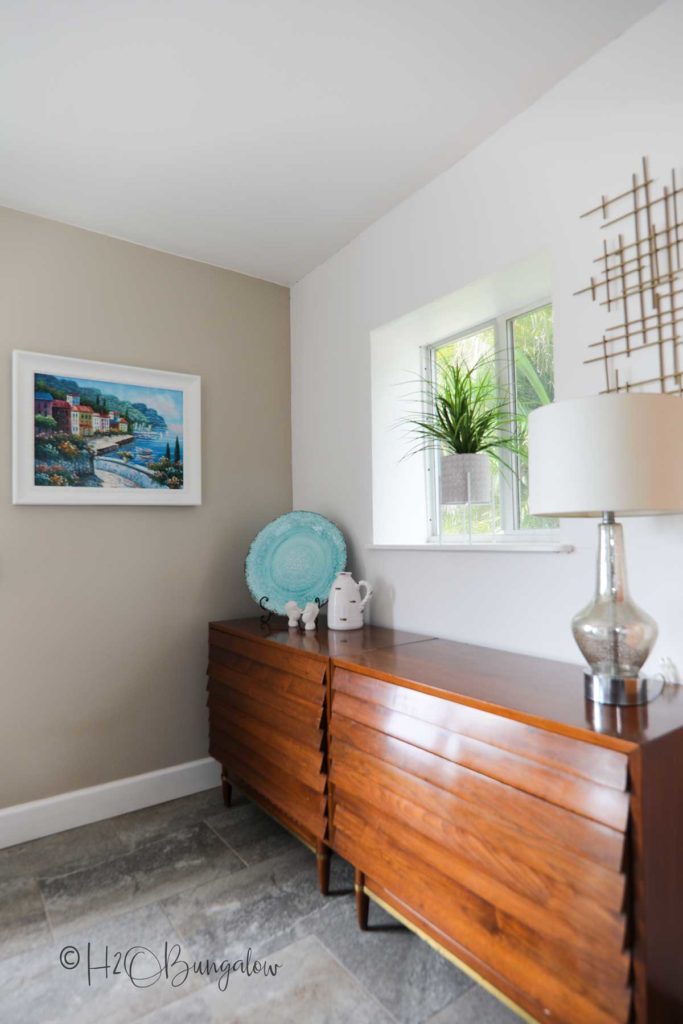 Changing to a light colored wall brightened up my small dining room a lot! I had fun shopping my house for accessories to go with my updated look.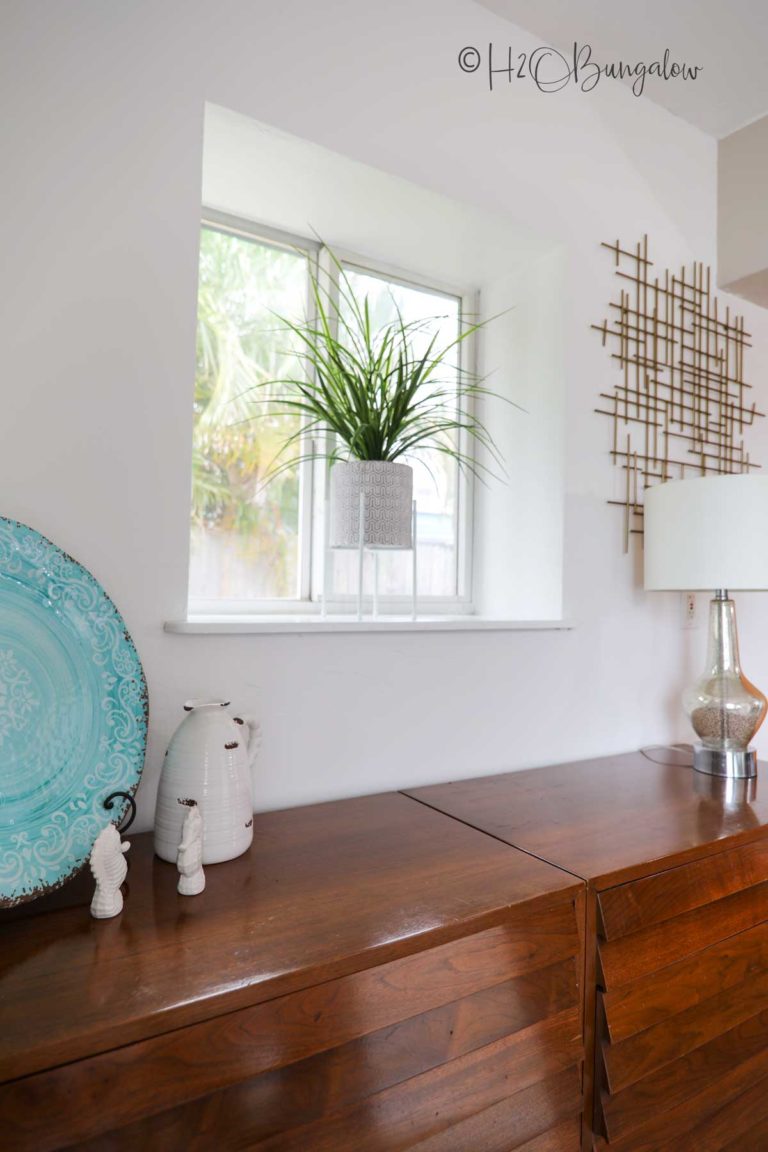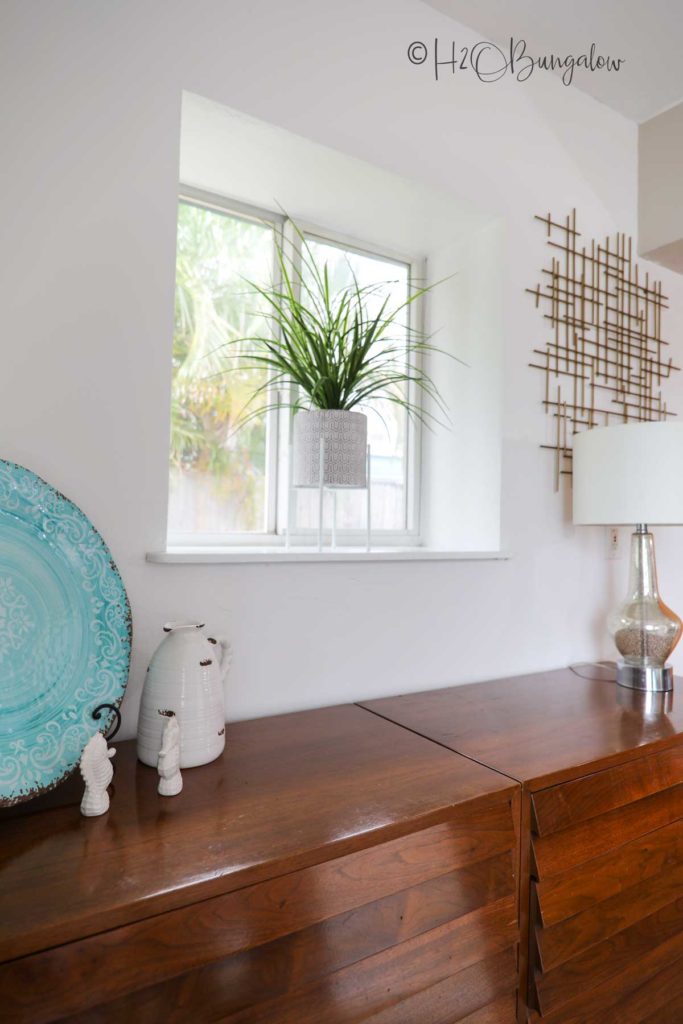 I'm loving my picture frames painted white too. I used egg shell sheen on the wall and used the same white paint on them.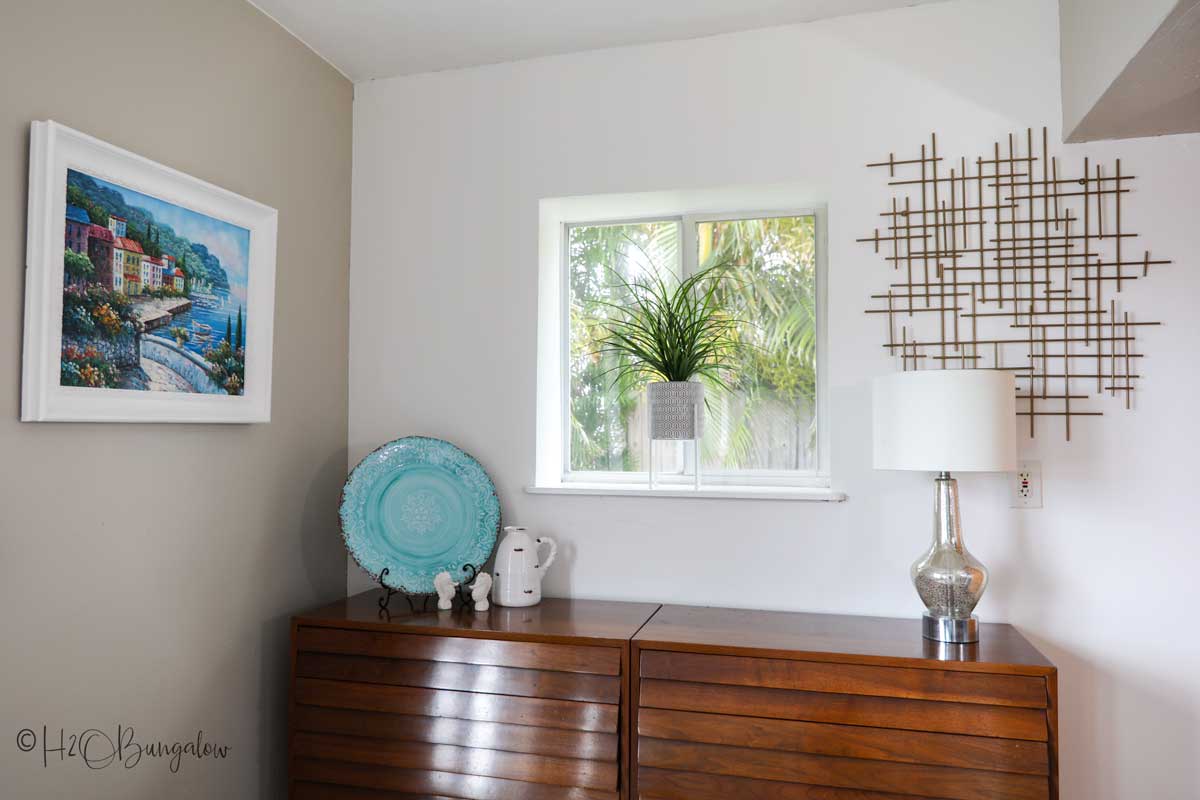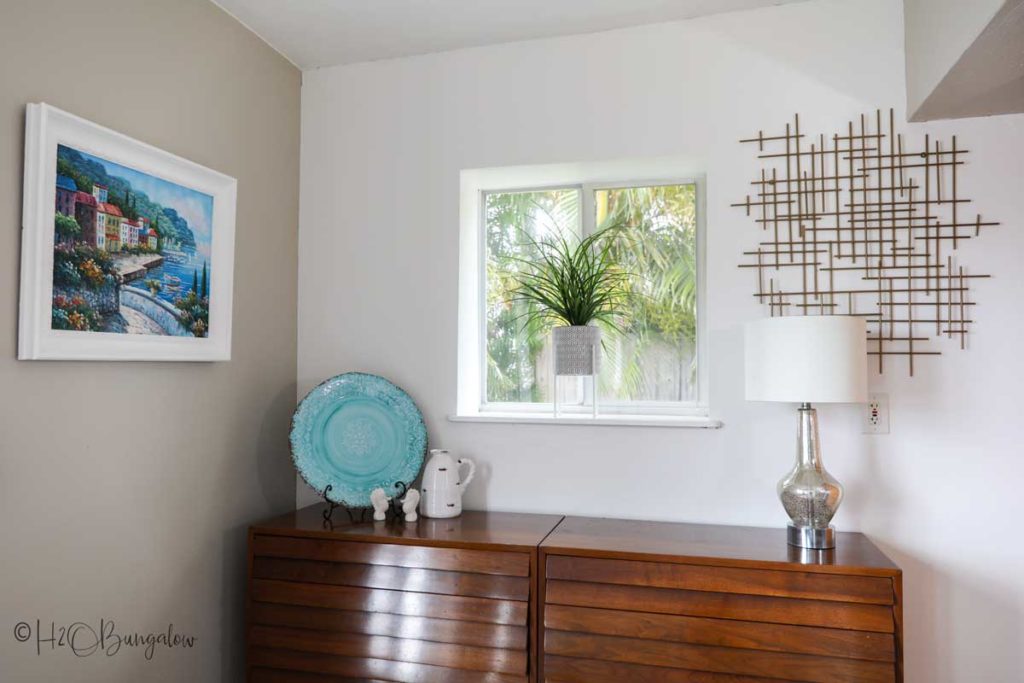 Pin these tips on how to paint over dark colors and share it on Facebook!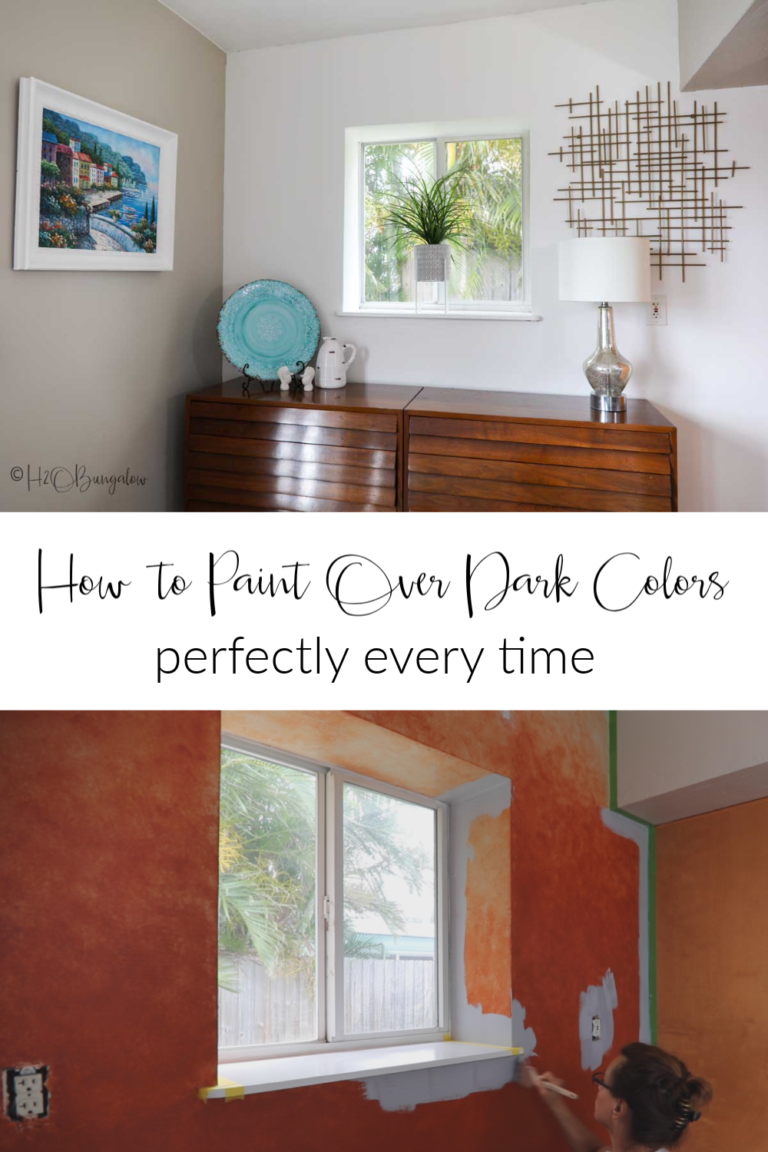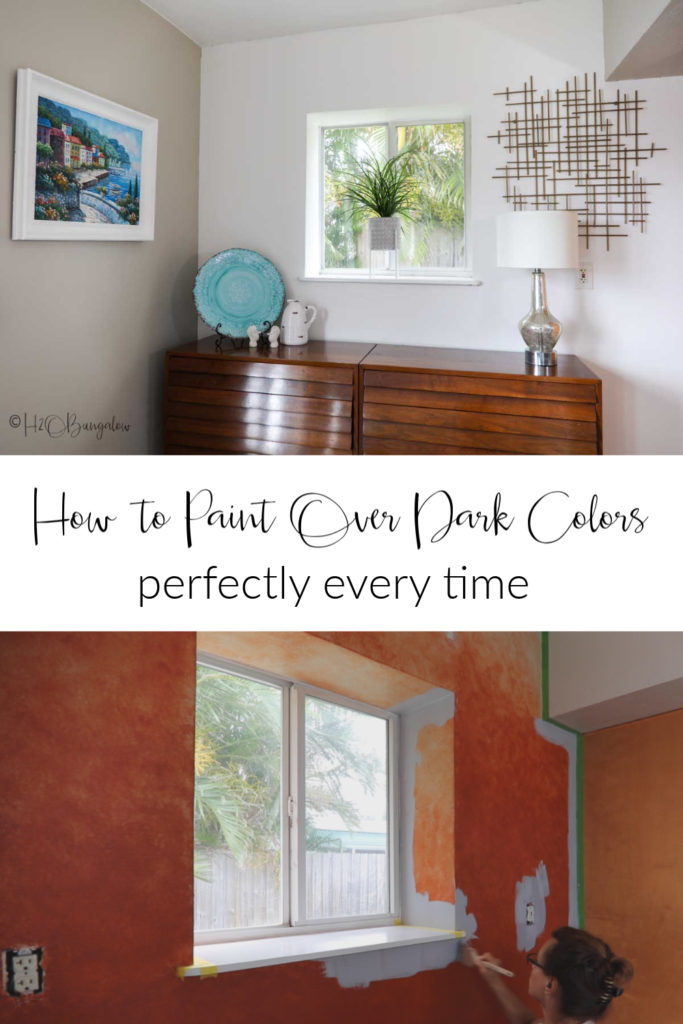 Are you ready to tackle painting your own dark wall with a lighter paint color? Don't forget the FrogTape®!