Welcoming, cozy and comfortable are the words I want to think as I enter my home. A welcoming and cozy home is as much about a layout as it is about the furniture you put in it. Today I'm sharing a few of my favorite tips for arranging furniture in a long narrow living room.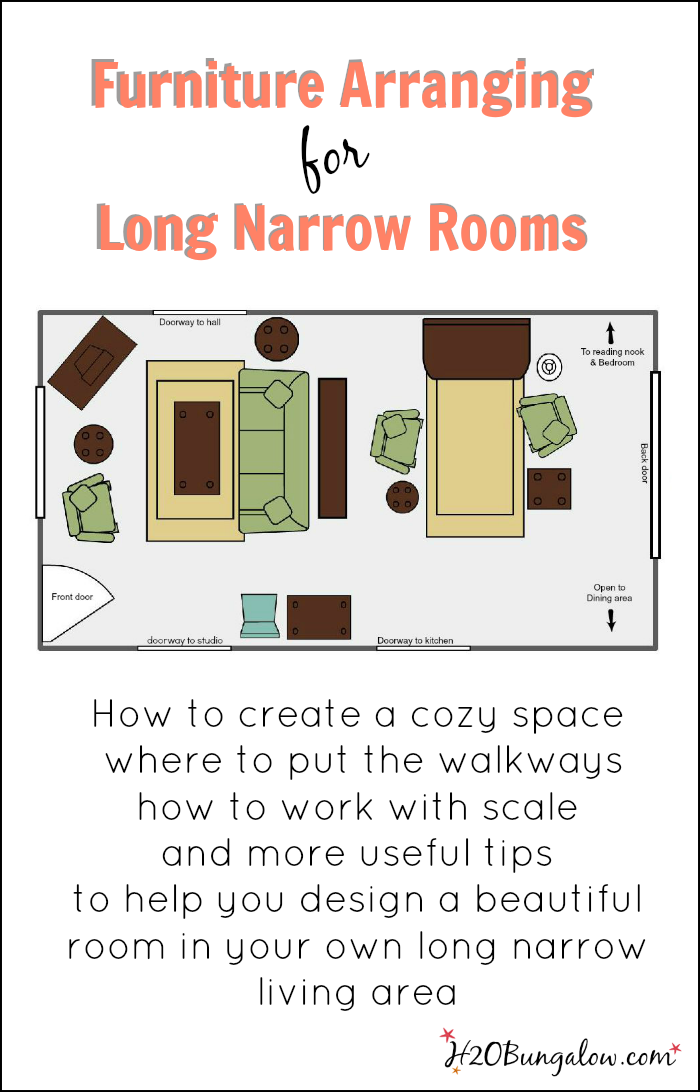 What makes the biggest impact is what I put in these awkward spaces and how I place them.
It's a lot simpler than you'd think.
I'll use my living room as an example. It's long, narrow and is the main entryway into my studio, the kitchen, dining area, backyard, our reading area and the itty bitty hallway to the second bedroom & bath. That's a lot of walkways I have to work with that need open access. It's also looooong, like almost 30 feet long and just over 12 feet wide. It would feel like a tunnel if it weren't for the glass doors and windows on the back wall.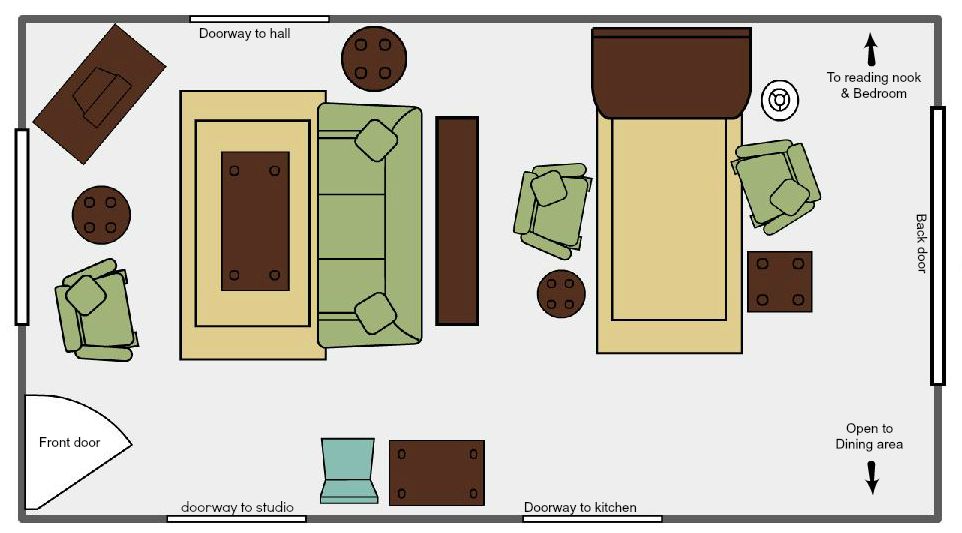 You'll know when you have the best furniture layout for a long narrow room because you'll feel it. A perfectly arranged room is comfortable for entertaining, relaxing with family, offers useable space for activities like watching TV or games. In short, it won't just look good, it will feel good too.
My top 7 tips for arranging furniture in a long narrow living room.
1. Make defined areas intimate and cozy by dividing the space up into smaller usable areas. No one feels good sitting on a couch against one wall while trying to have a conversation across a room where the other chair is against the far wall. Instead try pulling your seating together in a sitting area by a main focus in the room. You'll be amazed how this will immediately change a room.
2. Use natural dividers. Try using a sofa table or area rugs to help define the smaller areas you've created in a long narrow room.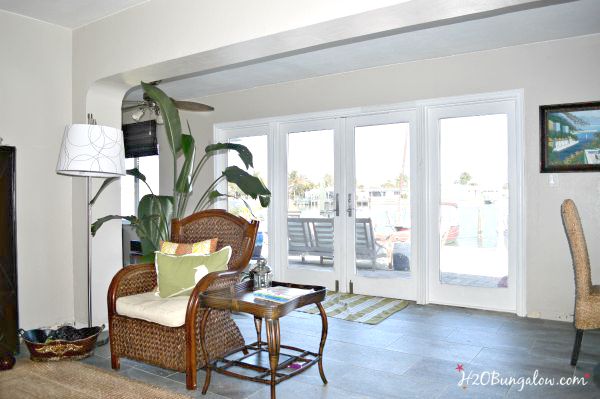 3. Scale furniture for the cozy spaces you've created in your long room. Place large items where they won't block a view. Select sofas, tables and accent chairs that fit these smaller mini-areas rather than the open size of your long narrow space.
4. Tall and large-scale items are fantastic accent items in a small space. Tall pieces help bring the eyes up which make a room look larger. Unique large-scale items like a wing back chair add interest. Use a tall table lamp, big artwork or a tall piece of furniture like an armoire in your mix.
…yes, I know I don't have baseboards yet… remember the living in a partially done house thing? …they are coming soon 🙂
5. Keep walkways open and easy to navigate. It works best to have the main walkway on one side.
6. Keep multiple purposes in mind when creating cozy spaces. Our couch living area is easily modified for TV watching with the family by adding extra chairs from around the room. We also use it for exercising videos by moving the coffee table and rolling up the rug.
7. Keep the decor style consistent in the room. Even though a room has separate usable areas, it's still a whole room. Stay consistent in your colors and decor style to keep your space flowing well.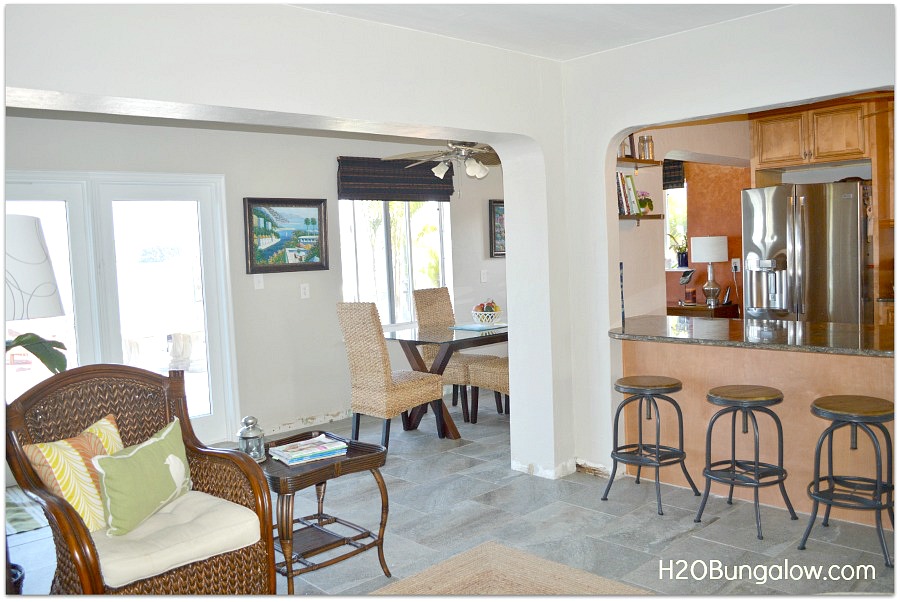 Living with a long narrow living room doesn't need to be a challenge and a little creativity can work in your favor. Creating a balanced room that feels as good as it looks is something anyone can do by following a few tips for arranging furniture in a long narrow living room.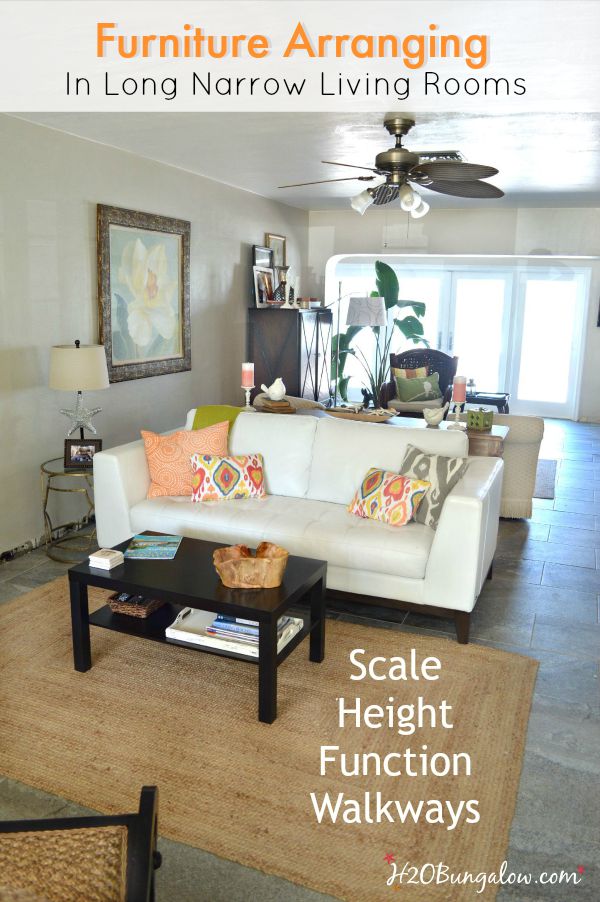 Do you have any special tips to share on arranging furniture in a long narrow living room? Be a friend and share in the comments section below.