It's Power Tool Challenge Day and I made an easy DIY wall file organizer. I belong to a group of super creative tool loving bloggers who get together and challenge each other to build something awesome with a power tool. This month's tool is the jigsaw. It got a little more challenging when we added a back to school theme. I remember how huge the back to school paperwork stacks could be when my kids were little. I built a super project that's great for back to school, a family who battles paperwork, or someone like me. Who can't grow a houseplant, but I can sure grow a stack of paper on my desk top really well.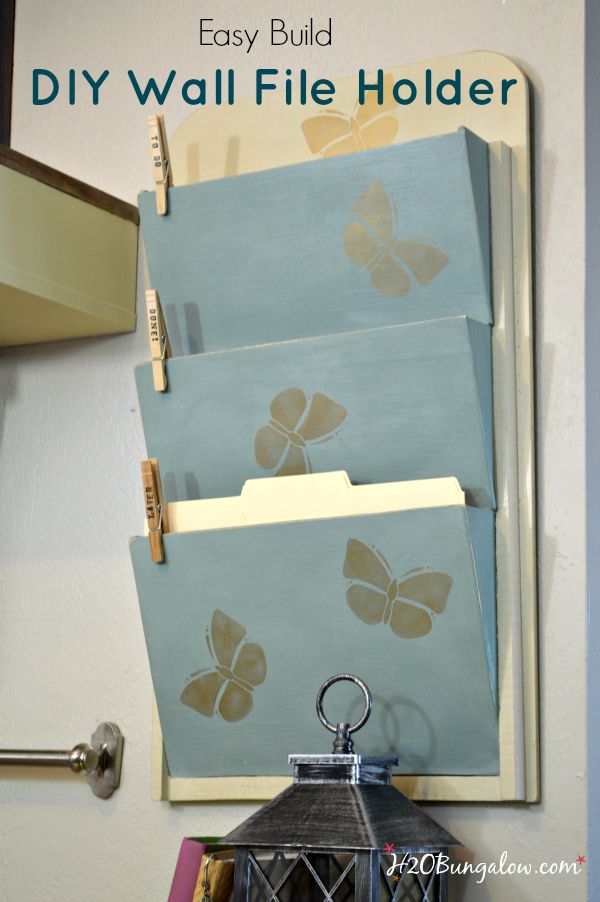 Supply list for to make this DIY wall file organizer project.
jigsaw & jigsaw blades ( These bades fit the Black & Decker Jigsaw I use)
2 C Clamps
2′ x 4″ @ 1/4 " plywood
6′ – 1″ x 1″ flat or square trim
builders square, ruler or combination square
paint
pen
printed template (click here) for two side pieces . You can also click the picture below to download the template as well.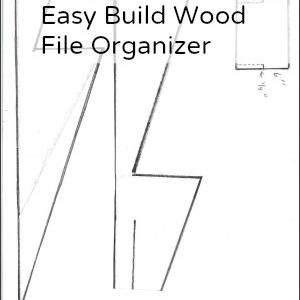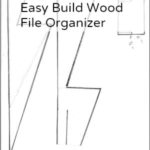 Cut list for DIY wall file organizer.
2 – 2 1/2″ x 20″ pieces for the side supports
2- 13″ x 9 1/4″ pieces for the top two file pocket fronts, cut 1/4″ notches at 6″ on each side.
1- 13″ x 8 1/4″ lower file pocket front
Cut the back panel and the trim to your desired size. I suggest cutting both of these after the organizer is glued together.
Start by printing out the side template out and tracing it onto the two side pieces. Cut with the jigsaw. You'll get a better quality cut with a fine blade or a scroll blade. It helps to use clamps to hold the pieces while you cut with the jigsaw. Cut small sections at a time.
New user tip: When your running the jigsaw and need to stop, back it up a half an inch or so in the cut groove and the blade will stop smoothly.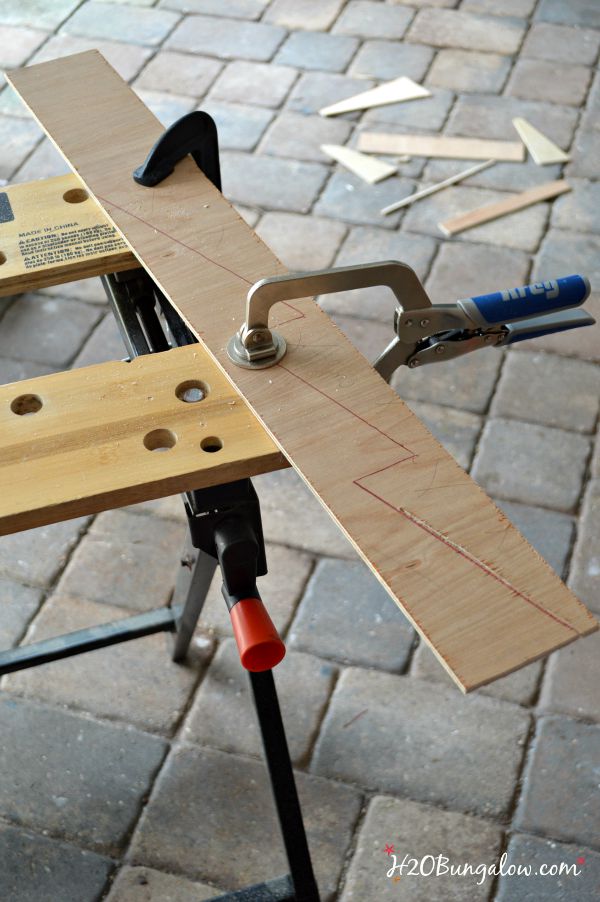 Sometimes it's a little tough to get a perfectly straight line with a jigsaw. Line up both sides to be sure they are even. Run a pen or pencil over the edge to mark where you'll need to sand down an area to even it up.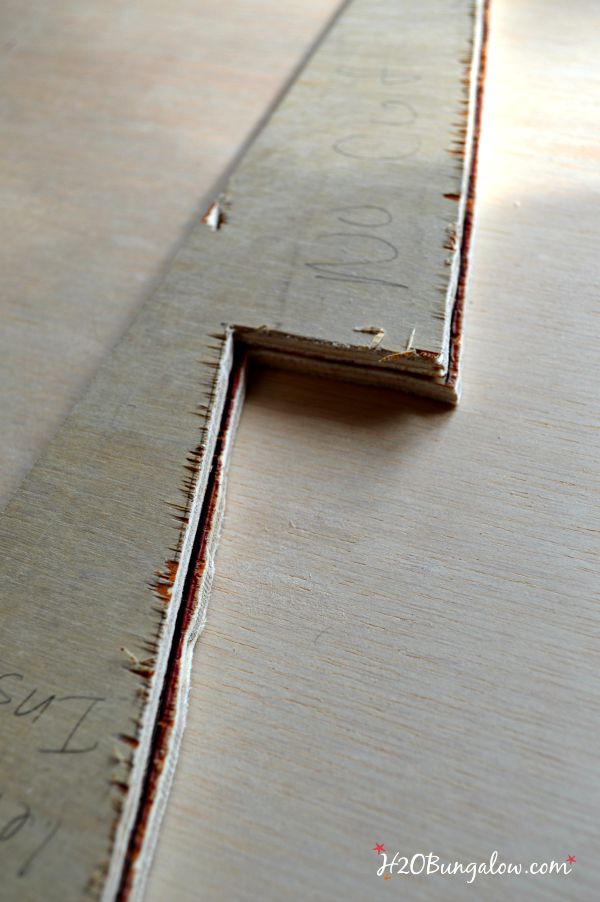 Sand edge an flten surfaces with a palm sander.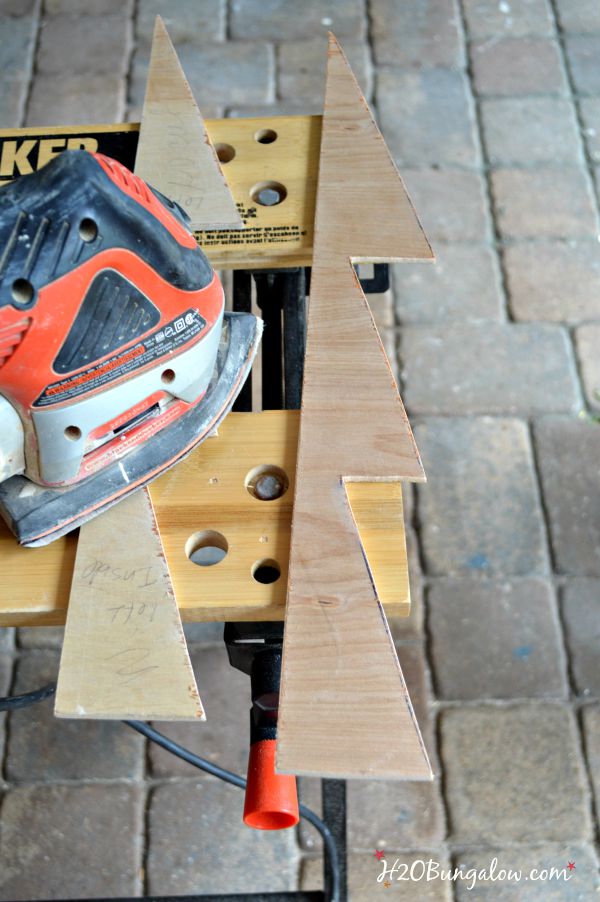 Fit the parts together to test that everything lines up well. Make any minor adjustments if needed.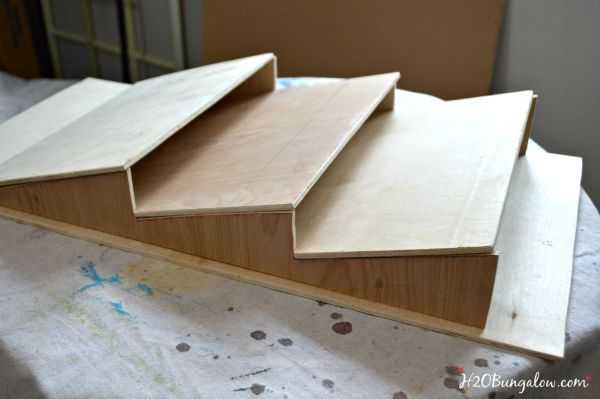 Cut the trim to go along the sides the length of the side supports. They will extend all the way to the bottom of the back board. Cut another one for the bottom that will inside the two side supports. This one will butt up against the bottom of the file folder pockets.
Next, size and cut the back board . Mine is 25″ tall and 3/4 inches wider than my assembled organizer with the side supports. I rounded the top corners by tracing a small using a plate on the edges and cutting out with the jigsaw. Pretty hi-tech, huh?
You'll save time if you paint your pieces now, before gluing together.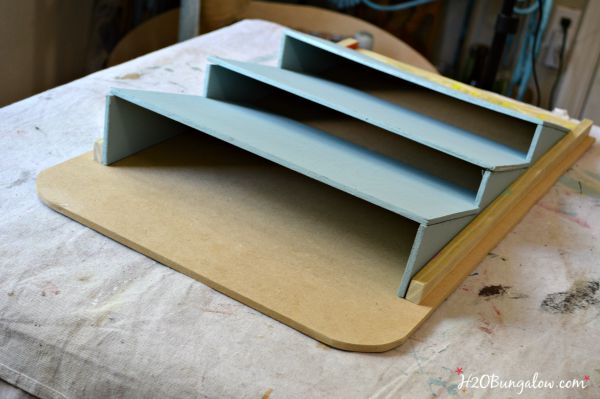 Now it's time to assemble your DIY wall file organizer. Start by gluing the side file folder pieces to the side trim. Hold them together with your clamps. I let these sit several hours before moving on to the next step.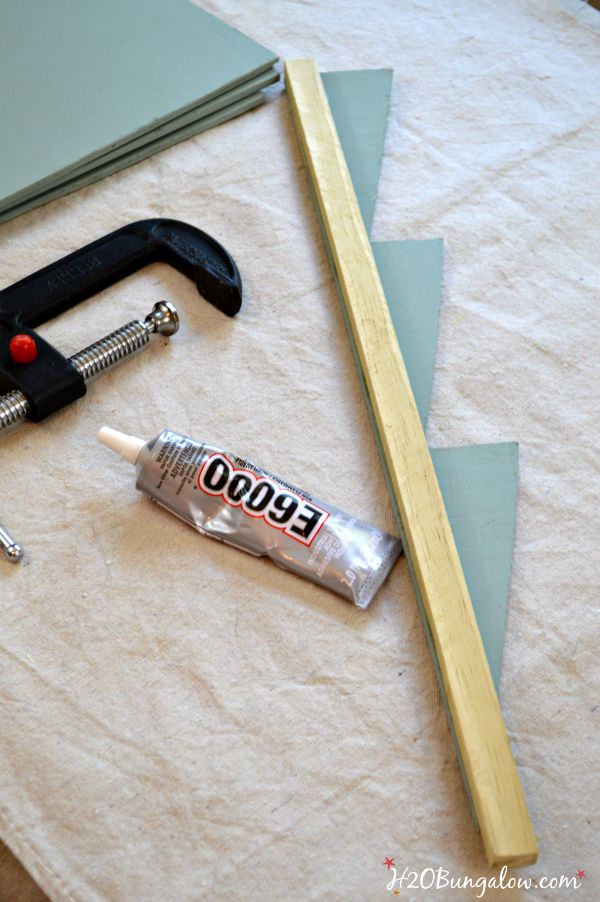 Next, glue the file folder tops onto the sides. Glue and add the center pocket front piece first, next add the top and then the bottom front last. Weigh down with a solid high-tech gadget like a few bricks, bags of rice or a paint can:). I let these sit overnight.
A girl has to be resourceful, right?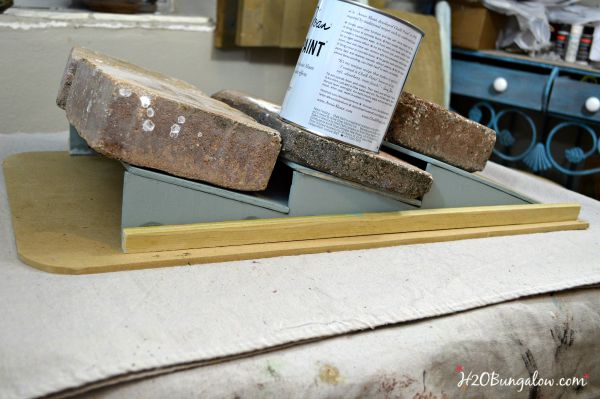 Add the hanging hardware onto the back board before the next step! I forgot and had DH holding it with the top edge on a flat surface so I could tap in the little screws last..it was a pain 🙁
The final step is to attach the backboard and last piece of trim on the front bottom. Again use your weights to get a good contact. Use the wood filler where needed and sand lightly. Give your awesome new project another another coat of paint or touch up where needed.
Viola! My friends…You've just created your own DIY wall file organizer!
Seriously, don't you want to try this? I made this one completey out of scraps so my cost was $0!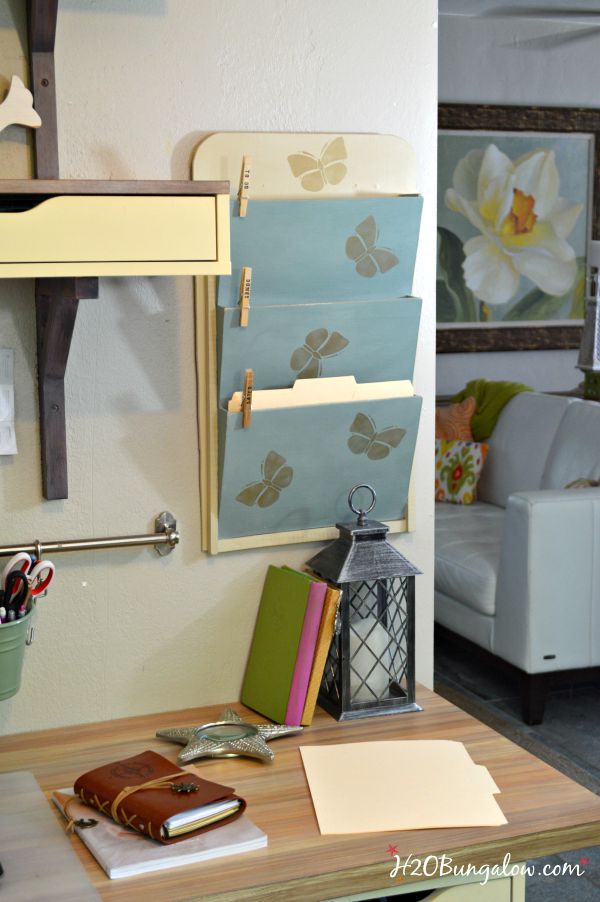 I gave it a pretty coat of paint & added a few butterfly stencils. I'm not sure yet if I'll add labels to the front or not. In the meantime I added a few of my Clothespin Word Noteclips.
My favorite clothespin word for papework? …probably later 🙂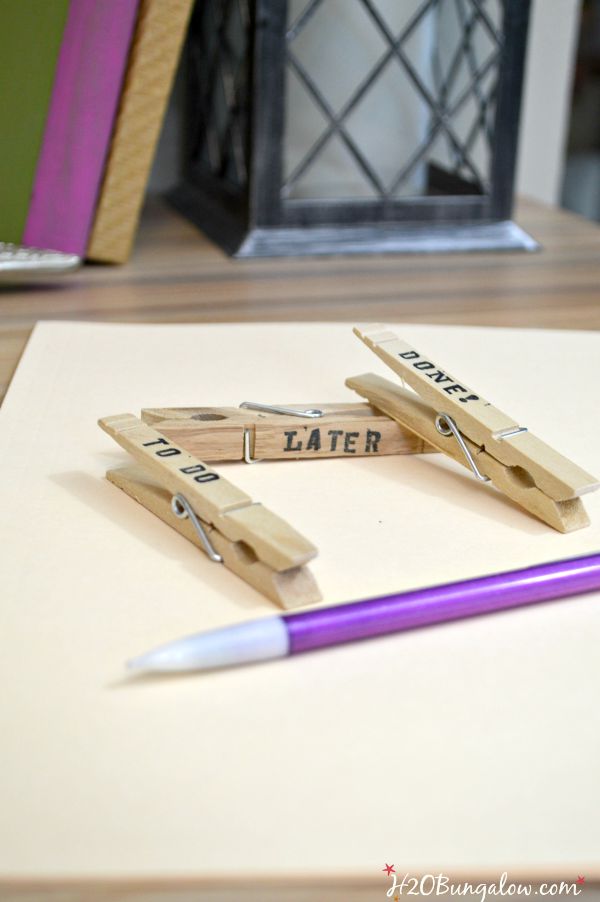 Having a place for papers and folders is going to be a huge help. I've been thinking about building this DIY wall file organizer for a long time….even picked out the spot where it would go. Even though we don't have little kids in school anymore, I remember how much paperwork came home. This could have been a blessing in those days.
My son once got an "F" on an assignment because I forgot to fill out the paperwork…OK, maybe he should have reminded me. But, stil…talk about parental guilt. I still feel bad about that and it's been years. One of these file organizers could have alleviated the drama of Mom being unorganized way back then. If my son isn't scarred by that memory, I sure am!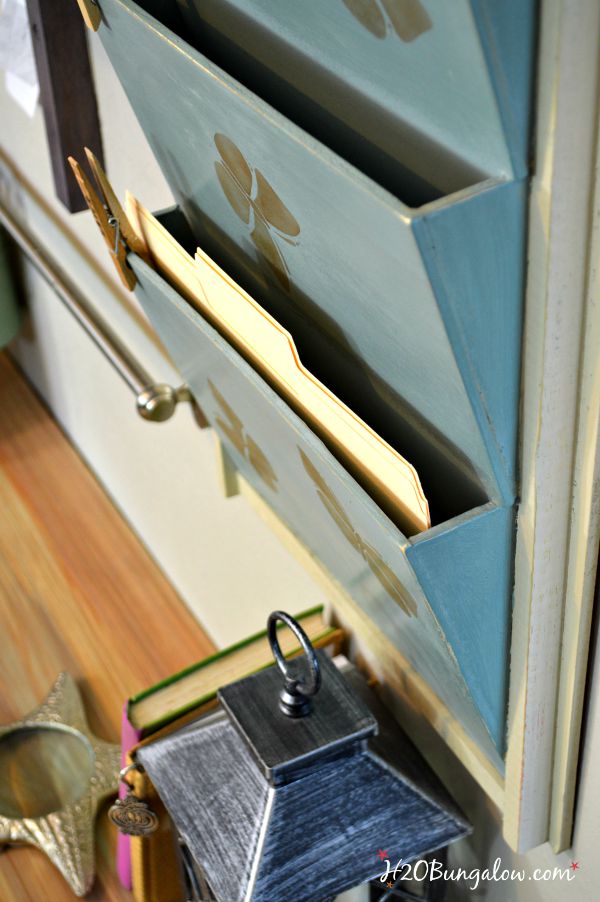 Have you ever forgotten to do importanat paperwork? Where would you put a wall file oganizer in your house so it doesn't happen again?
If you're into power tools and having fun, you may enjoy a few of my other projects with a jigsaw. Last month I made this crazy poplular DIY Wood Doormat (click here) and A DIY Wood Cut Out Name (click here). My favorite of all time is the Master Bath Open Shelf Vanity (click here)
Alrighty, are you ready for more awesome Power Tool Challenge projects?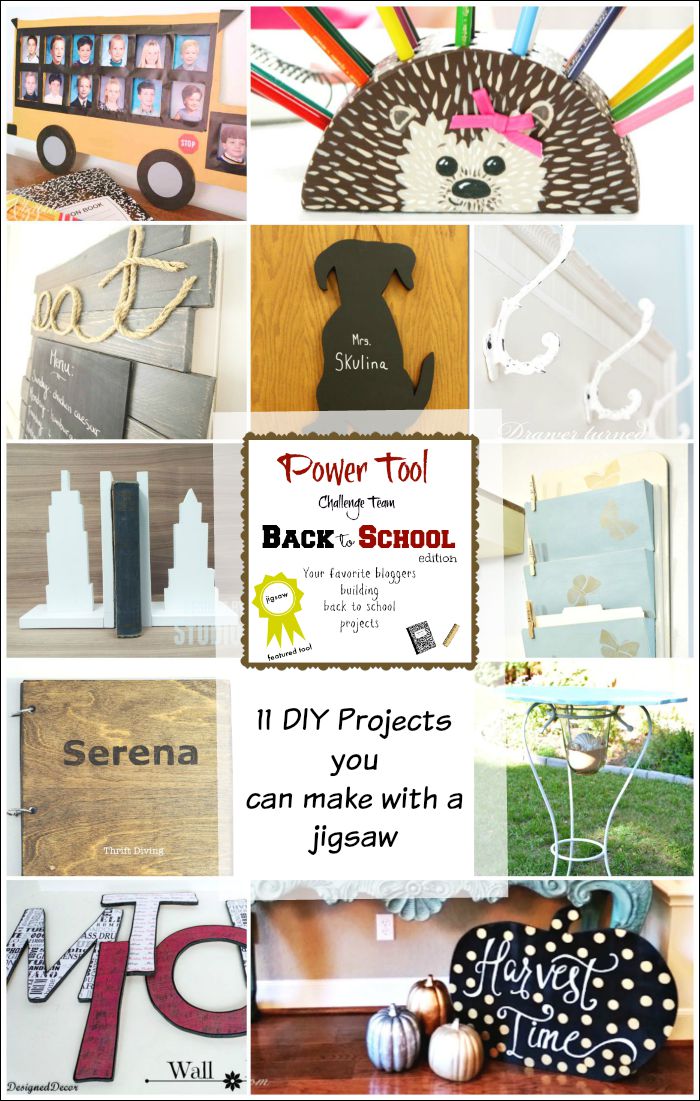 My friends have rocked this months theme of Back To School with a jigsaw! Click on any picture below to go to that project!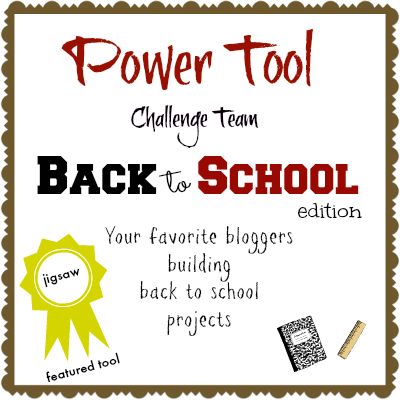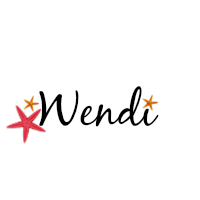 Love a good dose of DIY home decor, home improvement, the challenge of woodworking and creative ways to make your home look fabulous?
Me too! I'll share mine with you!
Click here to have my posts sent to your mailbox fresh off the press.
Social media fan? Don't be shy say hello! I love when you guys do that!
I'm very interactive with my readers on Facebook and I share lots of extra projects and, useful inspiration for the home and content I don't share anywhere else.
Follow H2OBungalow on Facebook
Oh heck, just follow me on all social medias. We'll have some fun…promise:)
Follow H2OBungalow on Instagram
Follow H2OBungalow on Pinterest
I'm on Periscope! @H2OBungalow
I use affiliate links in my posts. If you should make a purchase I will receive an itty bitty commission at no cost to you. Thank you in advance for supporting my blog…my two cats and our boxer dog

Linking up to these parties:
DIY Sunday Showcase , Sunday Features Link Party , Bouquet Of Talent Link Party , Inspiration Monday, Motivation Monday, That's What She Said, Busy Monday, Melt in Your Mouth Recipe Blog Hop , Munching Mondays, Mix It Up Mondays, Raegun Ramblings, Something To Talk About, Inspire Me Monday , The Scoop, Two Cup Tuesday, Treasure Box Tuesday, Project Inspired Link Party, Snap Creativity Show, The Sits Girls , Brag About It Link Party , Share Crafts DIY Projects, Wonderful Wednesday Blog Hop, Whimsy Wednesdays, Dream Create Inspire, Wined Down Wednesday, Worthwhile Wednesdays, The Wednesday Round Up, Wake Up Wednesday, Living With Style, Maisondepax, Work It Wednesday , Share Your Style, Create It Thursday, Showcase Your Talent, Think and Make Thusday, Your Turn To Shine, Creative Exchange, Artsy Fartsy Link Party, Idea Box Thursday , Creativity Unleashed, Weekend Retreat Link Party, The Handmade Hangout, Craft Frenzy, Pretty Spaces, Freedom Fridays, Pinworthy Projects, Home Matters Linky Party , The Creative Collection Link Party, Super Saturday, Best DIY Projects and Recipe Party