I made this fun little gold striped vase this weekend. It was so simple to make and looks great. I didn't have to buy a thing to make it and you probably won't have to either. I'm so focused on simplifying lately which means getting rid of excess stuff and making do with less. Anything that allows me to have style and still simplify is a huge winner with me!
Last weekend I just kind of got in the mood to add a little bit more fall spirit around the house. I really liked the Bronze Metallic Pumpkins I made last week but wanted more. Since we're still living in a construction zone I don't have much to work with. But…that doesn't mean I have to live in an undecorated world does it? Not this girl..no siree!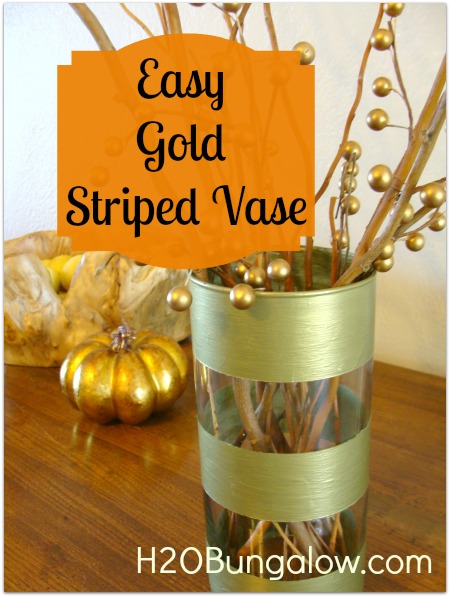 I'd been admiring gold striped vases that I've spotted at a few online stores. I knew I could easily make one and I did just that. I grabbed a vase from the shelf, a Dollar Tree find, my painters tape (cheapo and the good stuff), some gold paint and then I got busy. Here's my DIY tutorial for a gold striped vase.
We're talking easy peasy with your eyes closed simple! Ok, don't really close your eyes 🙂
Because I'm a bit lazy and wanted to keep it simple I made the stripes all the same width. I started with one strip of the cheap tape at the top of the vase which was my guide tape. Next, following the edge
from the first (top) piece of tape I applied a second row of tape. This row was with my good quality Scotch Blue tape. In my experience the cheaper tape doesn't make clean edges so I only used it as a guide on this project. Next, just because there's no reason to waste tape, take the top row tape off and use it for the next stripe. See it the below picture where I wrote guide on the tape. Next, add another stripe of the quality tape. Continue like this until you reach the bottom of your vase. I used Martha Stewart's metallic gold paint and a paint brush. It would be faster and easier to use gold spray paint but I was using what I had.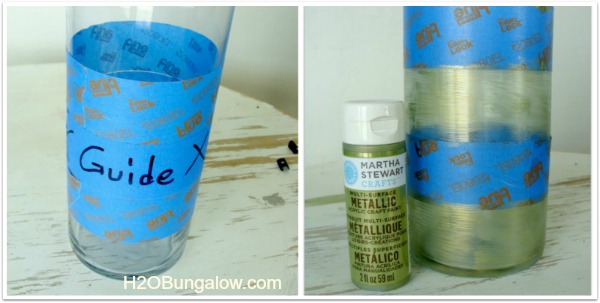 Luckily I was cleaning out garage that morning and came across the floral supplies left over from my daughter's wedding. There were a bunch of these nifty bare twisted twiggy sticks (I don't know what they're called but I like them!) and a few gold berry picks. I dug them out and dropped them in my new little vase.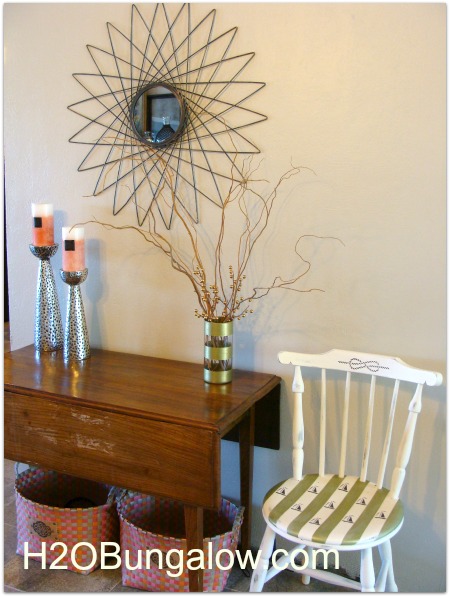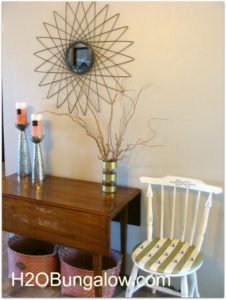 I love it. My new vase is simple, it's versatile and will look lovely with any fall themed flowers or pretty spring flowers. Today, it looks good with the nautical striped chair I just painted (tutorial on the chair to follow soon!)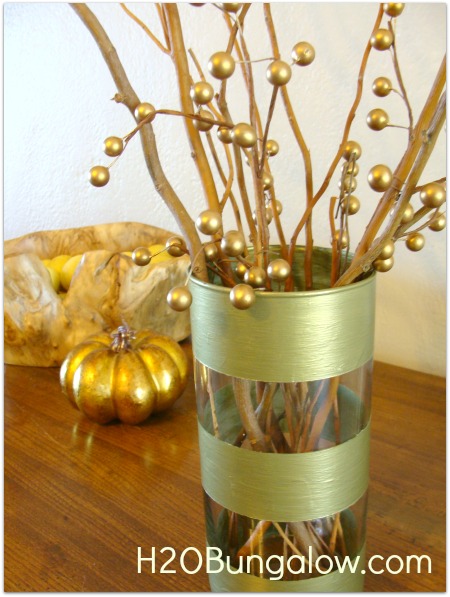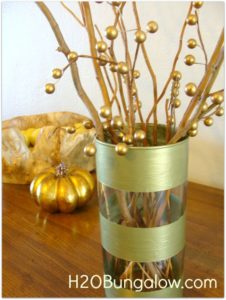 I'm having so much fun with the metallics this year. Don't you just love something so simple and versatile too? What would you put in the vase?