This is a sponsored post written by me on behalf of Kohler for IZEA. All opinions are 100% mine.
I'm sharing 5 tips for selecting the best kitchen faucet so you can avoid the dilemma I've created for myself. I didn't pick out the faucet I really wanted when we were in the middle of our kitchen remodel. I grabbed something close to what I wanted, and thought I'd get my first choice later.
Guess what friends?
Later never came:(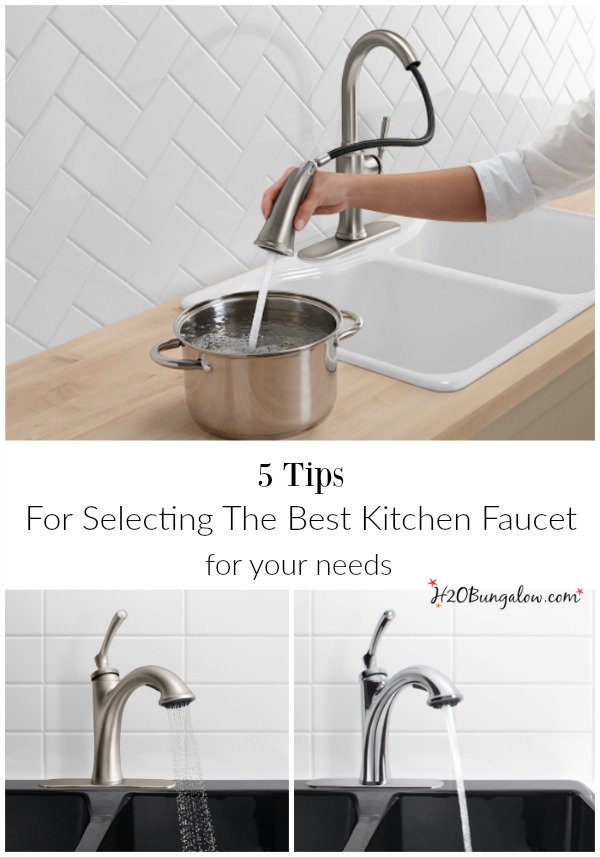 In my defense it was a crazy time and there was a lot going on during the kitchen remodel. DH was still in the Navy, and still back Texas. I managed the entire process on my own, and had a cheapo moment when I grabbed what I thought would work fine because I was busy. I planned on swapping out the faucet to the one I really wanted when I had time.
What was I thinking?
It's been 3 years. I still have that kitchen faucet.
Had I taken a little extra time and thought about the items I'm about to share with you, I would have purchased the right one
…the first time around.
Which is why I'm sharing 5 tips for selecting the best kitchen faucet. So you can avoid having faucet envy or grumble every time you need a particular feature on a kitchen faucet that isn't there.
Why is this important?
Think about how may times each day your kitchen faucet gets used!
What You Need to Think About When Shopping For A Kitchen Faucet
Know your style
Choose a faucet style that compliments the design of your kitchen. Is your style farmhouse, minimalist and modern, or somewhere between the two? What finishes will work with your kitchen, which ones won't?
Limiting factors
Where are the faucet mounts? Is there a wall nearby that will limit the movement of the handles? How deep is your sink? If your sink is shallow, you may need a high arch faucet to easily fit large items under the water to wash them.
What features do you need?
Do you cook often and need a strong water spray for stuck on foods? How helpful would it be to have temperature memory? Are you like me, often having paint on your hands and needing to turn on the faucet by just touching it? How helpful would it be to have a pull down faucet head?
Who is using this faucet?
Are you the main one using this faucet, or will there be others like small kids using the kitchen sink also? Will a pull down spout be helpful for little hands? Would temperature control be a safety feature in your household? Would a magnetic feature to help return and secure the pull down spray head in place be helpful?
What quality do you need?
How long will this faucet be in place, several years? Until the next remodel and style changes? Do you have special considerations like we do with salty sea air that's especially hard on metal surfaces? Or perhaps your house is like ours used to be with a houseful of teens that were especially rough on everything?
Let me share with you two faucets I'm loving. Not just for the features but, because they are Kohler. If you've seen my master bathroom renovation, you know Kohler products have a special place in my heart. I'm sold on the quality and the finishes have held up even in our salty sea air, and after a year plus of daily use, everything still looks brand new 🙂
No other brand has come close to this amount of durability in our home. Which means I'm faced with replacing all the fixtures in my other bath because I didn't use Kohler brand fixtures.
Aside from the hassle of reinstalling all the plumbing fixtures, it's expensive.
My favorite features of the Cardale Faucet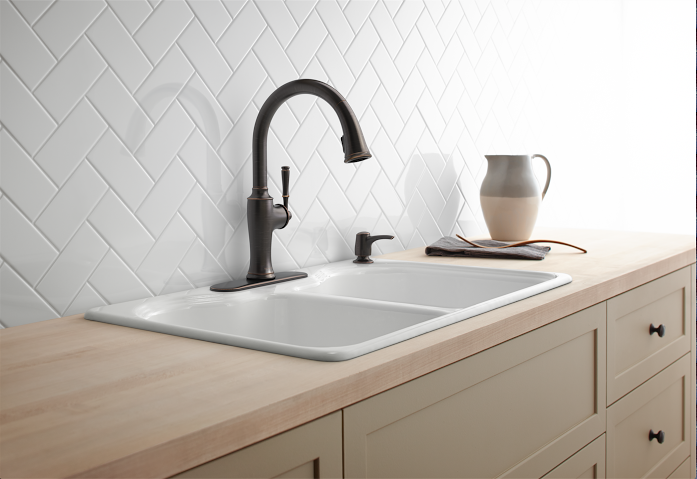 A Sweep Spray (TM) that creates a forceful blade of water designed to sweep away stuck-on food from your dishes
Temperature memory that allows the faucet to be turned on and off at any temperature setting
2-function spray head with touch control, Sweep(TM) spray, and aerated stream settings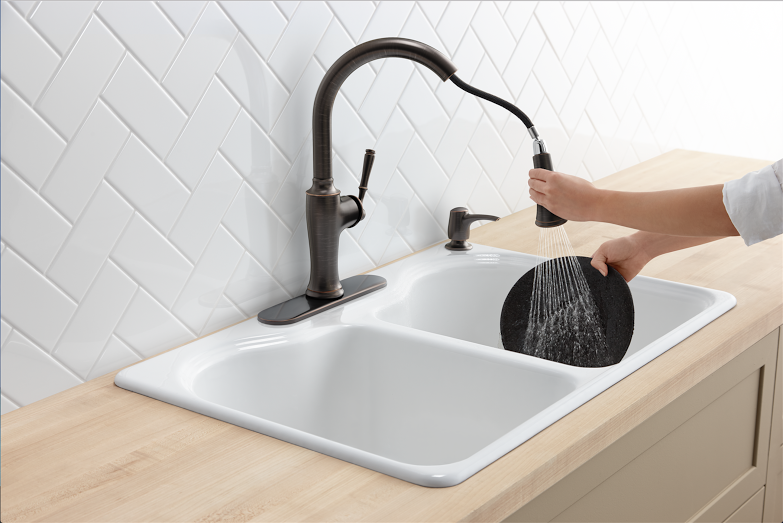 DockNetik(TM) that ensures a secure spray head fit
Kohler Scratch Shield (TM) finishes that resist corrosion and tarnishing, exceeding industry durability standards over two times.
Left or right handle installation and 360° spout rotation
A 10-1/2-in (267 mm) escutcheon plate and soap dispenser
1-Piece, self-contained ceramic disc valve that allows both volume and temperature control
My favorite features of the Elliston Faucet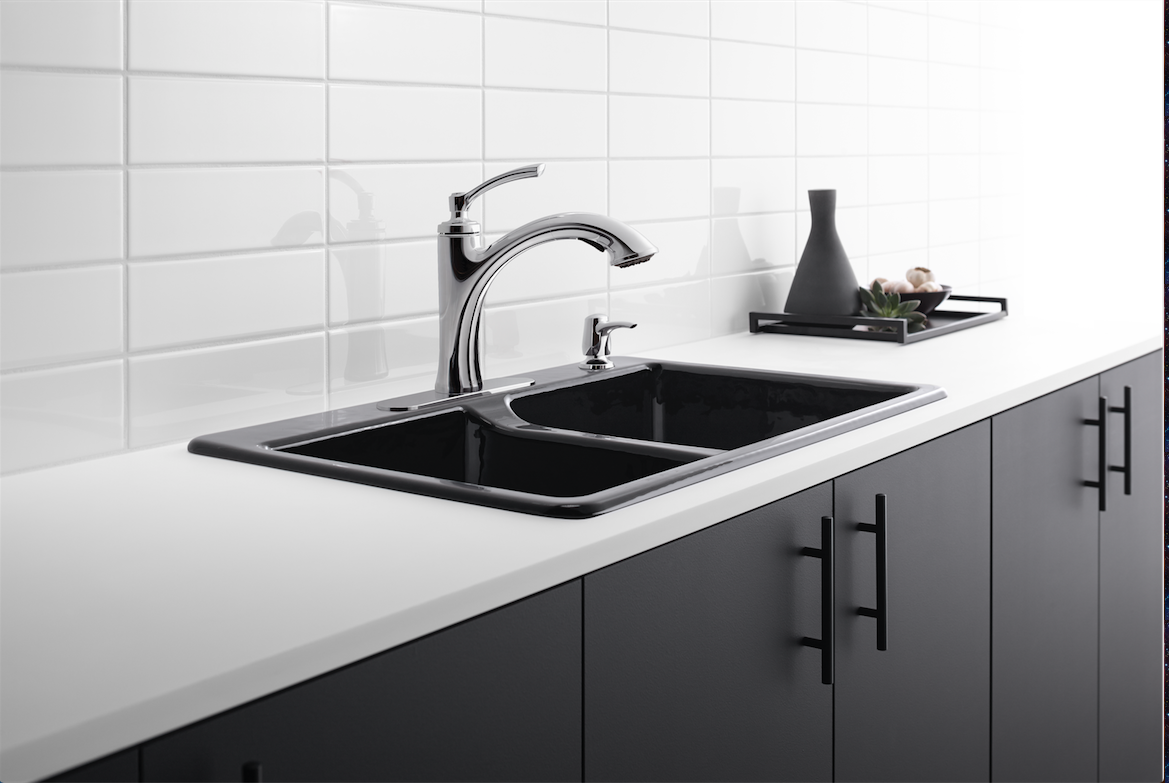 Kohler Scratch Shield (TM) finishes that resist corrosion and tarnishing, exceeding industry durability standards over two times.
Sleek, refined design that will complement your modern kitchen decor perfectly
MasterClean(TM) spray face that resists mineral buildup and is a snap to clean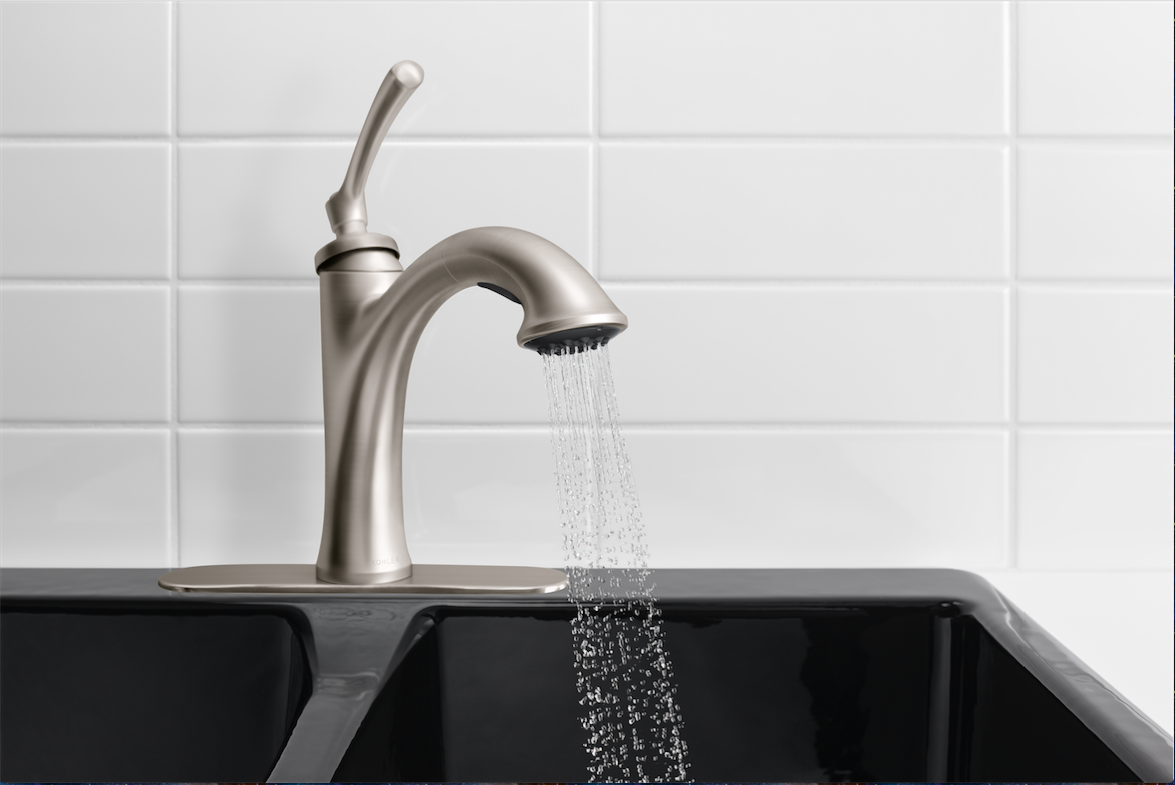 High temperature limit stop that allows you to preset a comfortable maximum temperature to eliminate scalding
Optimal height and reach that provides plenty of clearance beneath the spout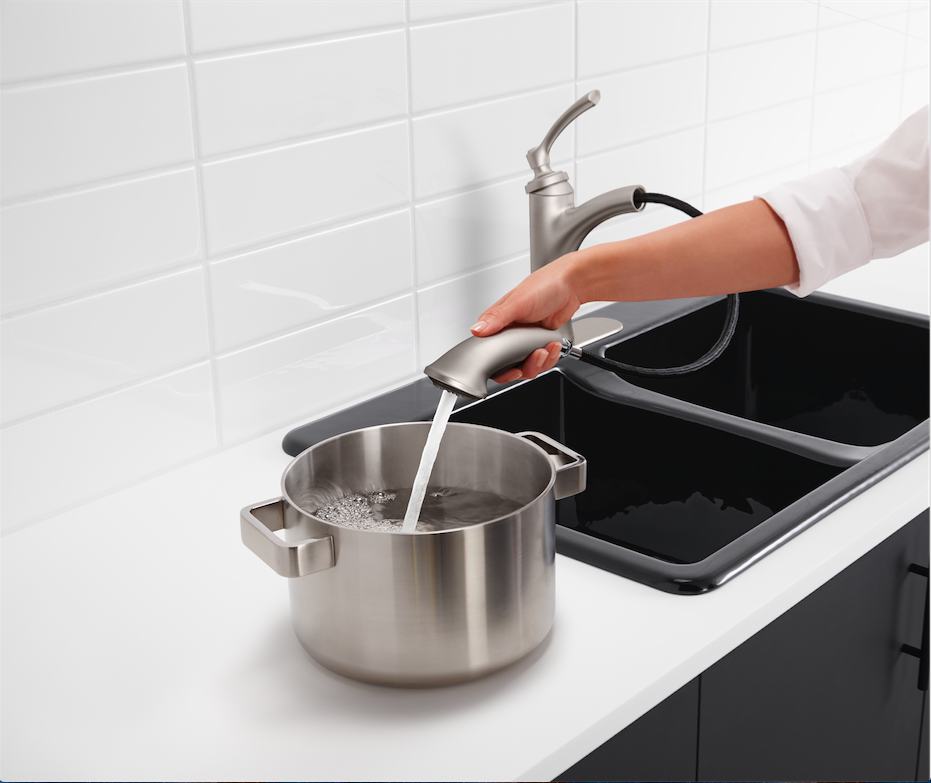 Kohler ceramic disk valves crush and remove line debris, and exceed industry longevity standards by over two times, ensuring durable performance for life
The Cardale Faucet and Elliston Faucet are both available at Lowes, so the DIYer in you can save even more money by picking them up yourself and installing them too:)
So you see friends, I'm sharing this information with you so when the perfect time arrives to pick your next faucet, you'll remember my 5 tips for picking the best kitchen faucet to help you choose the faucet that will keep you happy for as long as you own it.
Do you love your kitchen faucet, or are you like me with one that's just not the right fit?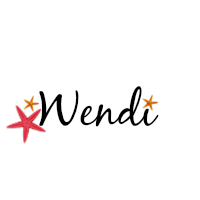 Love a good dose of DIY home decor, home improvement, the challenge of woodworking and creative ways to make your home look fabulous?
Me too!
I'd love to share mine with you. Click here to sign up for my post emails and I'll send a quick note when I have a new project to share.
Social media fan? Don't be shy say hello! I love when you guys do that! I'm interactive on Facebook and I share lots of other projects and, useful inspiration for the home and content I don't share anywhere else. Follow H2OBungalow on Facebook and Instagram!