I'm excited to be sharing my wood trimmed filing cabinet makeover today because it fixed a problem I think many of us face.
The practical vs pretty challenge.
I have a problem with being practical, especially when it's not pretty. Take filing cabinets, for example. I needed one. They are useful, but metal filing cabinets aren't necessarily pretty. The challenge I had was a stack of papers that continued to grow on my desk, and then they began multiplying 🙁
But …the cure wasn't pretty.
It was a filing cabinet.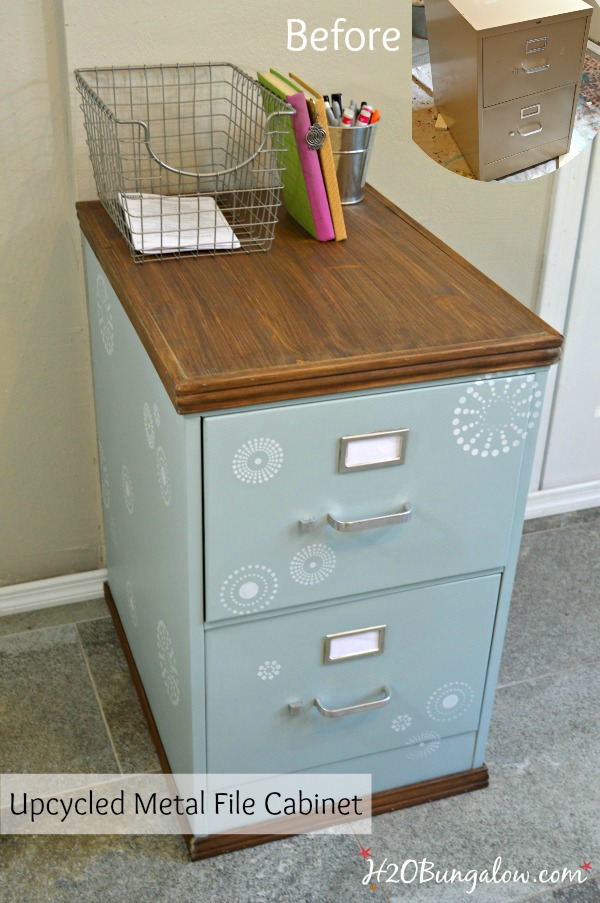 A few weeks ago I finished my filing cabinet makeover and I changed my mind. I found a great deal on beat up old metal filing cabinet at my favorite thrift store and hauled it home. I knew right away when I spotted it that it would be perfect for my idea.
Why have a plain file cabinet when a super-duper upcycled pretty filing cabinet with wood trim, colorful and stenciled is so much more fun?
DIY tutorial for filing cabinet makeover with wood trim
Start by clean any old dirt and grease off with TSP and dry. Tape off the hardware with painters tape and give it 2 coats of paint. I used DecoArt Chalky Finish in Vintage. It has good coverage and is durable.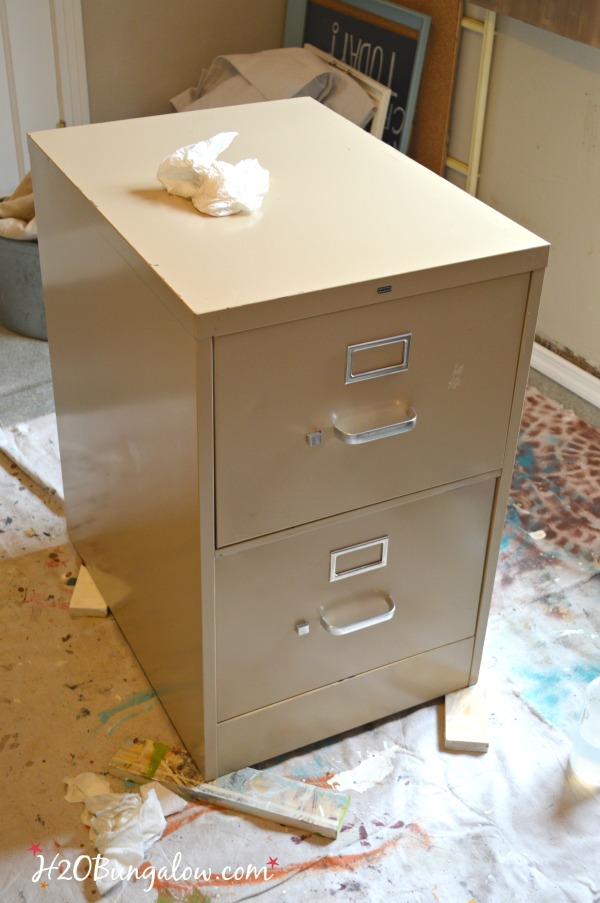 I love these little white stencil circles, it's a DecoArt border stencil. They were perfect for the filing cabinet makeover. See my tips for perfect stenciling in my Birdy Storage Cabinet Makeover project.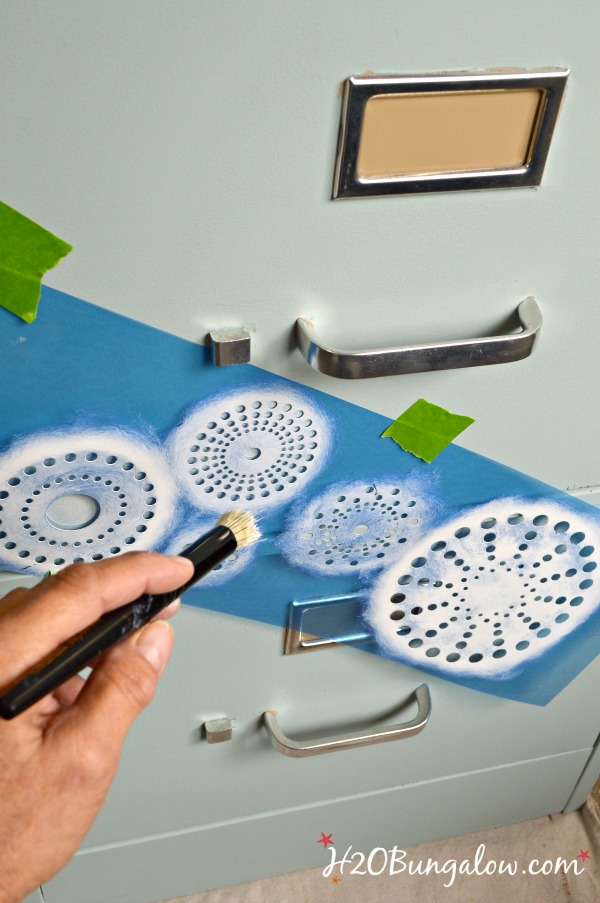 To make the wood top and base I cut the bottom and top boards to fit the length and width of the filing cabinet. Don't assume the filing cabinet is square, measure all the sides, the front and back width were slightly different on mine.
The trim I used was a 1 1/2″ trim with a flat back. I cut it at 45 degree angles. Sorry, I don't have a close-up picture of it, but it's easy to pick out, the back has no grooves unlike most of the trim that you'll find.
Stain the pieces first before attaching them to the filing cabinet.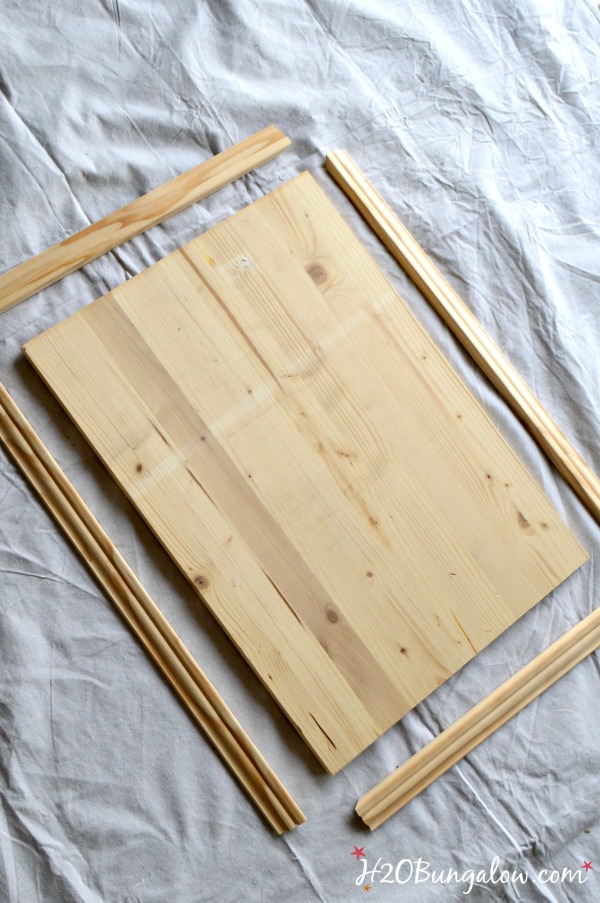 The base of the metal filing cabinet isn't solid across. To attach the wood base to the filing cabinet, I used 4 screws to hold the wood in place. It helped to drill pilot holes in both the metal and the wood first. I countersunk the holes in the wood so the screw heads would be recessed. last, I attached the trim with my Ryobi Airstrike Bradnailer.
Flip the upcycled metal filing cabinet project over.
To attach the wood top and trim, add some E6000 or liquid nails to the top of the metal filing cabinet and position the wood top. Next, using the nail gun, attach the trim to the board.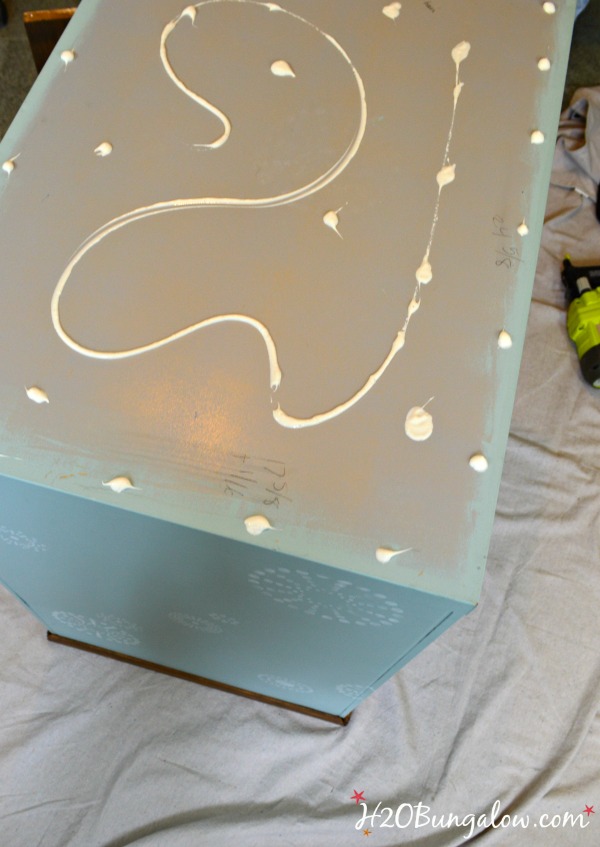 Fill in any gaps and the nail head divots with stainable wood filler and touch up with stain.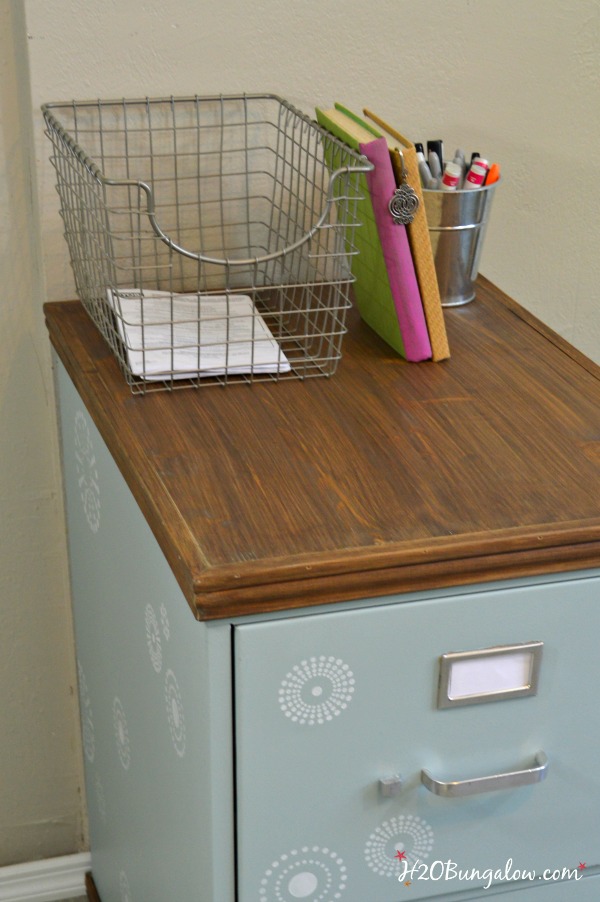 My upcycled metal filing cabinet and I are on good terms now.
Practical isn't so bad as long as it's pretty too;)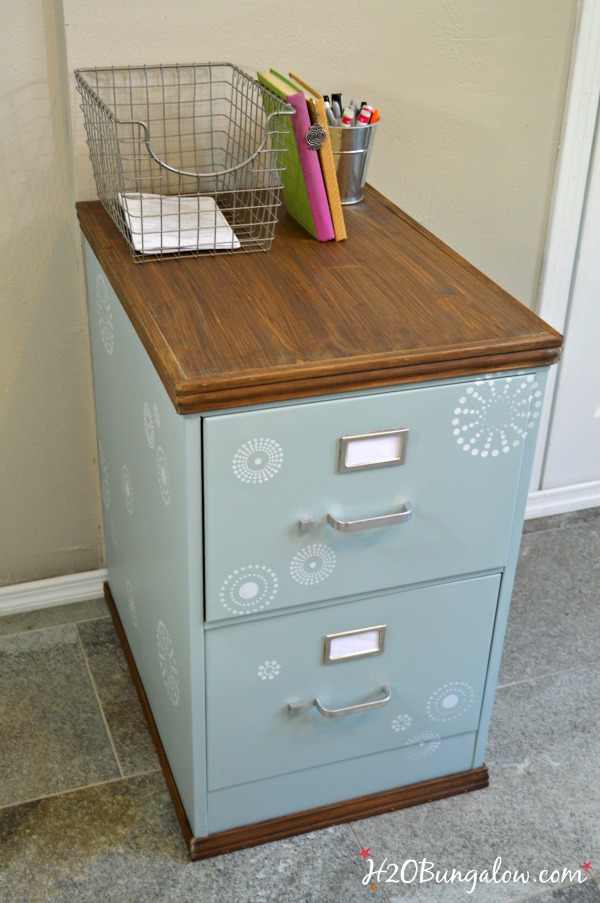 So maybe now I can keep my papers organized and my desk clear, what do you think?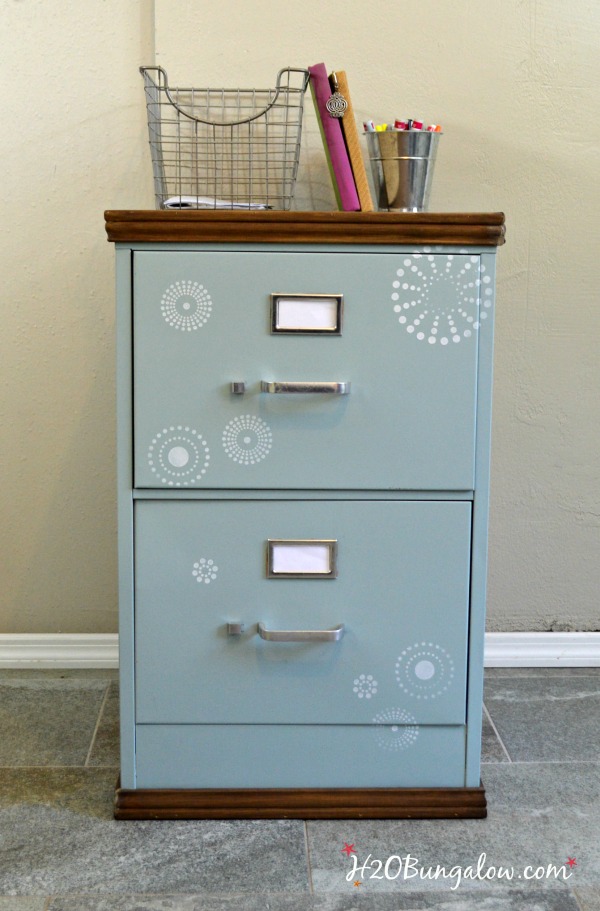 Do you need more organization? You may like some of my other popular organization posts.
5 Creative Ways To Deal With Sentimental Clutter
Organize A Small Kitchen and Get More Space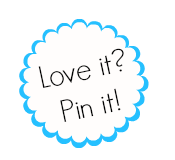 You'll find my project linked up to these fabulous parties!
Love a good dose of DIY home decor, home improvement, the challenge of woodworking and creative ways to make your home look fabulous?
Me too!
I'd love to share mine with you. Click here to sign up for my post emails and I'll send a quick note when I have a new project to share.
Social media fan? Don't be shy say hello! I love when you guys do that! I'm interactive on Facebook and I share lots of other projects and, useful inspiration for the home and content I don't share anywhere else. Follow H2OBungalow on Facebook and Instagram!
I use affiliate links in my posts. If you should make a purchase I will receive an itty bitty commission at no cost to you. Thank you in advance for supporting my blog and two fur-ball cats who believe they are privileged.