I think you'll love this DIY picture frame serving tray tutorial I'm about to share. Finding supplies won't be hard since there is never a shortage of frames and wall art in the thrift stores…ever!
While I was digging through the piles of frames to find the perfect one for my upcycled serving tray project, I had to remind myself that there's always something for everyone, and to think nice thoughts because someone loved those items at one time.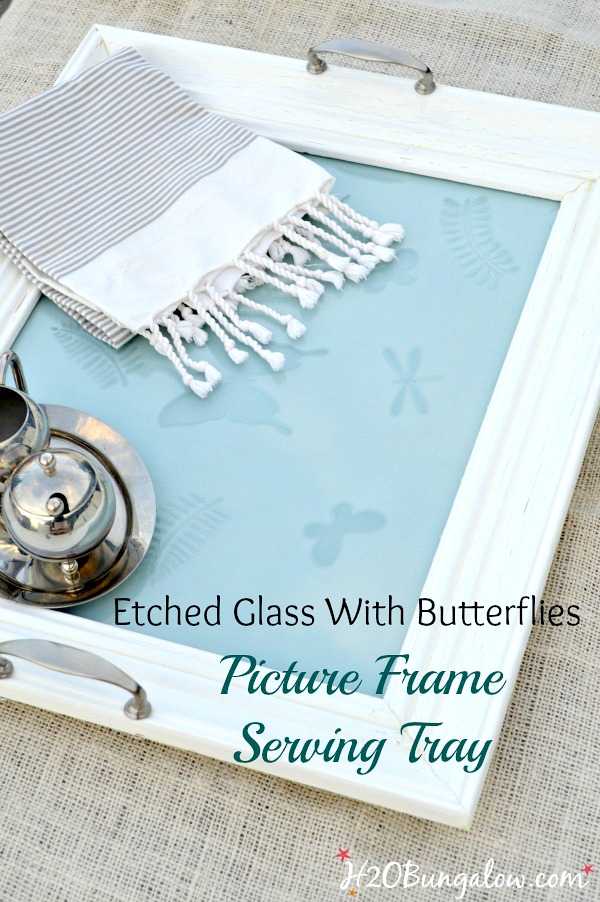 … and now I love the one I brought home too:)
How to upcycle a picture frame into a serving tray
Supplies you'll need to make a serving tray out of a picture frame.
wood picture frame with glass
glass etching creme I couldn't find the brand I used.
rubbing alcohol
1/4″ board cut to fit 1/2″ over the back of the frame opening
2 handles
DecoArt Chalky Finish Paint, in Everlasting and Vintage
needle nose pliers
Small wood screws
paper towels
painters tape
TSP (Trisodium Phosphate) powder to degloss and clean
Picture Frame Serving Tray Tutorial
Take the frame apart and put the glass and the other parts aside. Wipe the frame down with TSP to clean and degloss it.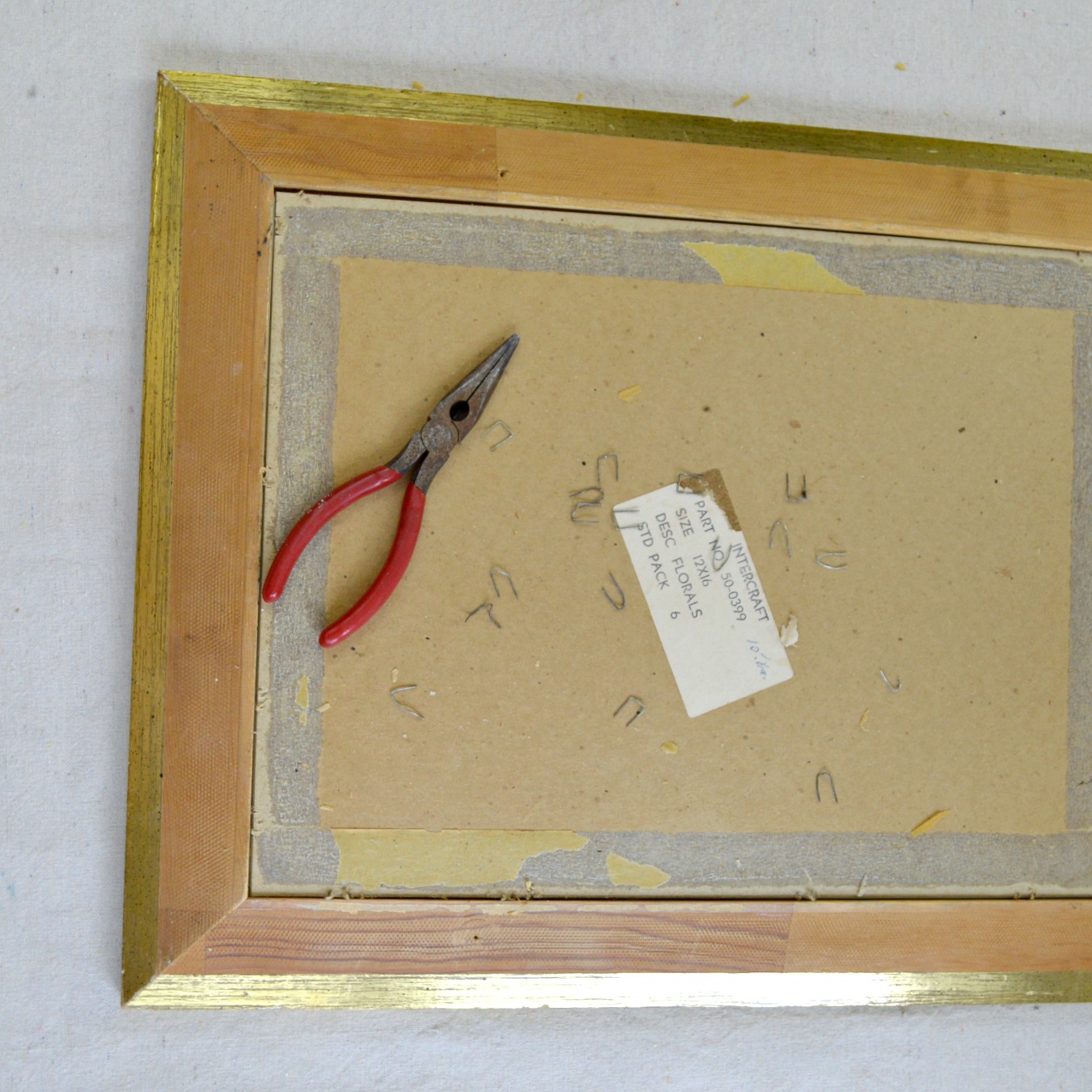 Paint the front and back of the wood frame and paint one side and the edges of the 1/4″ board. I used DecoArt Chalky Finish in Everlasting on this project for the frame.
Allow it to dry and follow up with a coat of the Ultra Matte varnish to seal and protect the paint. I love the Ultra Matte varnish for projects & use it on furniture too. It holds up extremely well on a high use items, like my desk top:)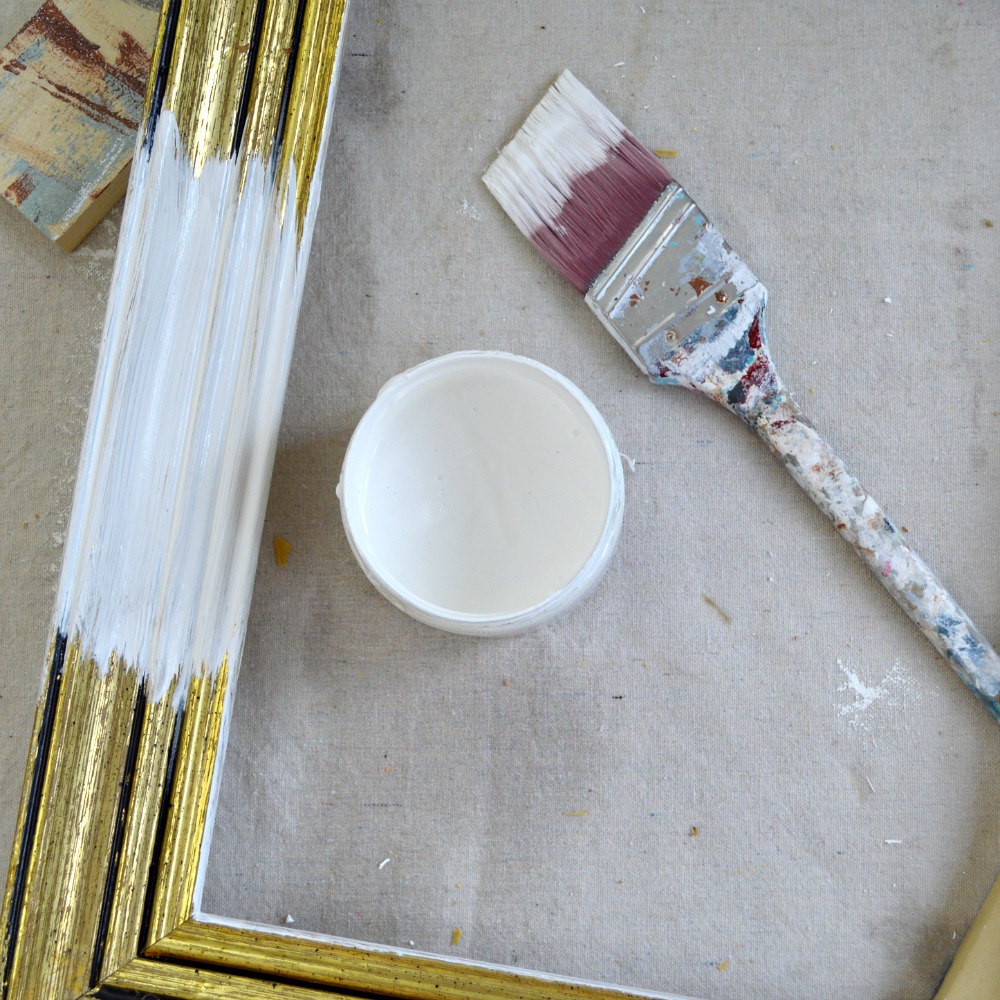 Prep the glass for the etching cream by cleaning it and then wiping it with alcohol. Place your adhesive stencils on the glass. If you want the glass on your picture frame serving tray to be smooth, the etched side will face down on your tray. That means you'll need to make you pattern backward if there is one.
Following the directions of the brand of stencil creme you are using, apply the stencil creme. I used DecoArt's stencil creme which I liked a lot, but couldn't find a link to share the product 🙁
Rinse the glass in cold water, peel off the stencil and also rinse it thoroughly.
I decided to paint the backing that goes under the glass. I just flipped over the paper and painted the back with Vintage Chalky Finish Paint.
Easy!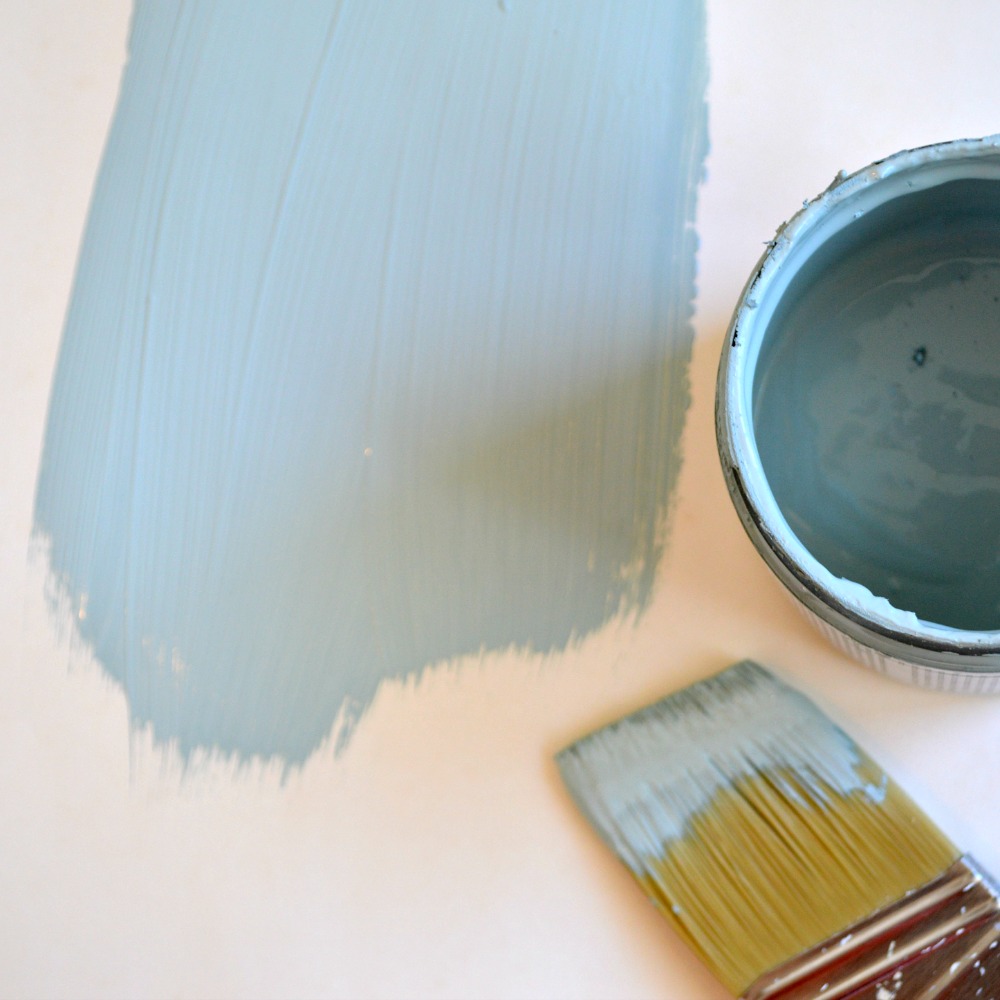 Next pre-drill where the handles will attach to the frame, just don't attach them yet:)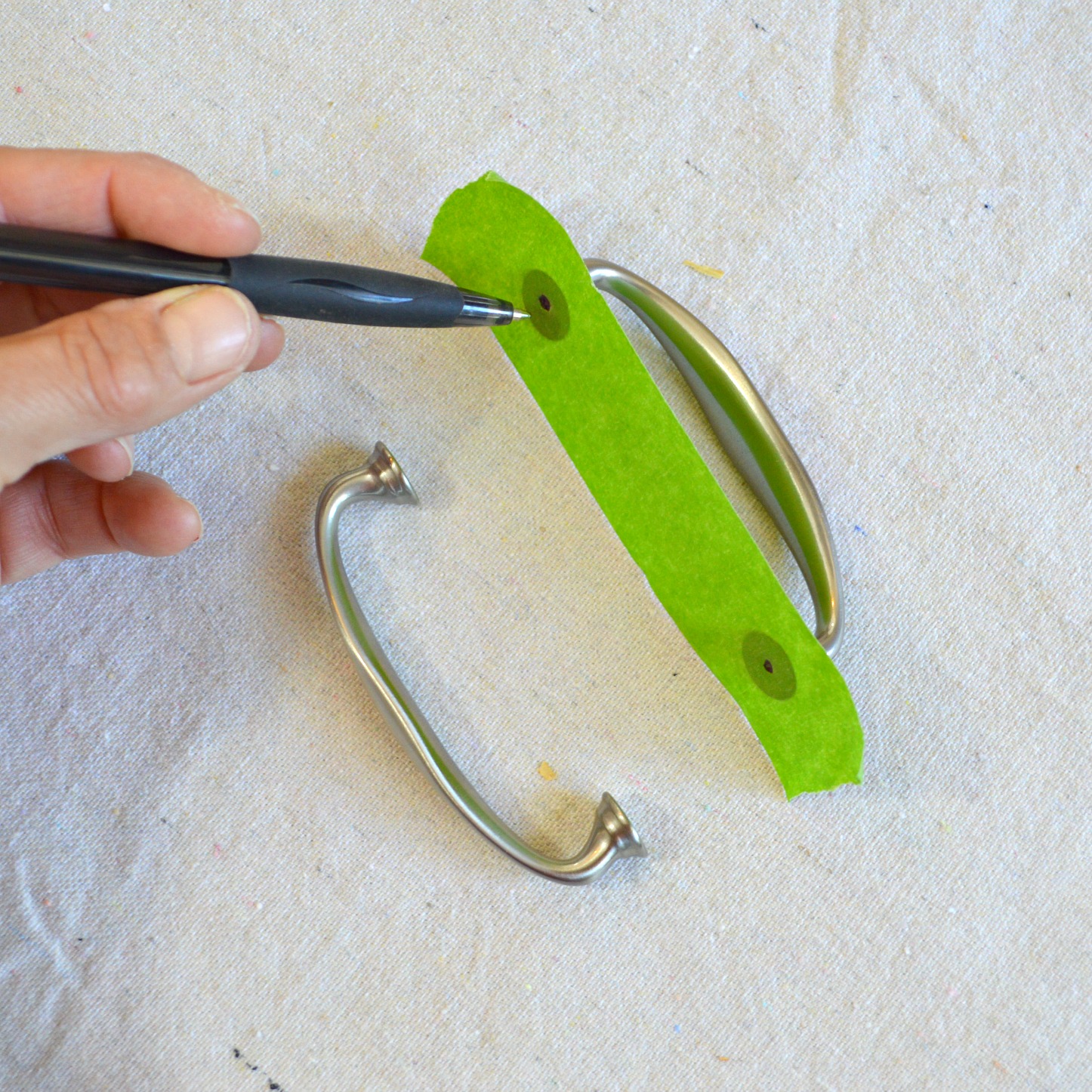 See how easy it is to get a perfect alignment of the handle holes? Nice trick isn't it?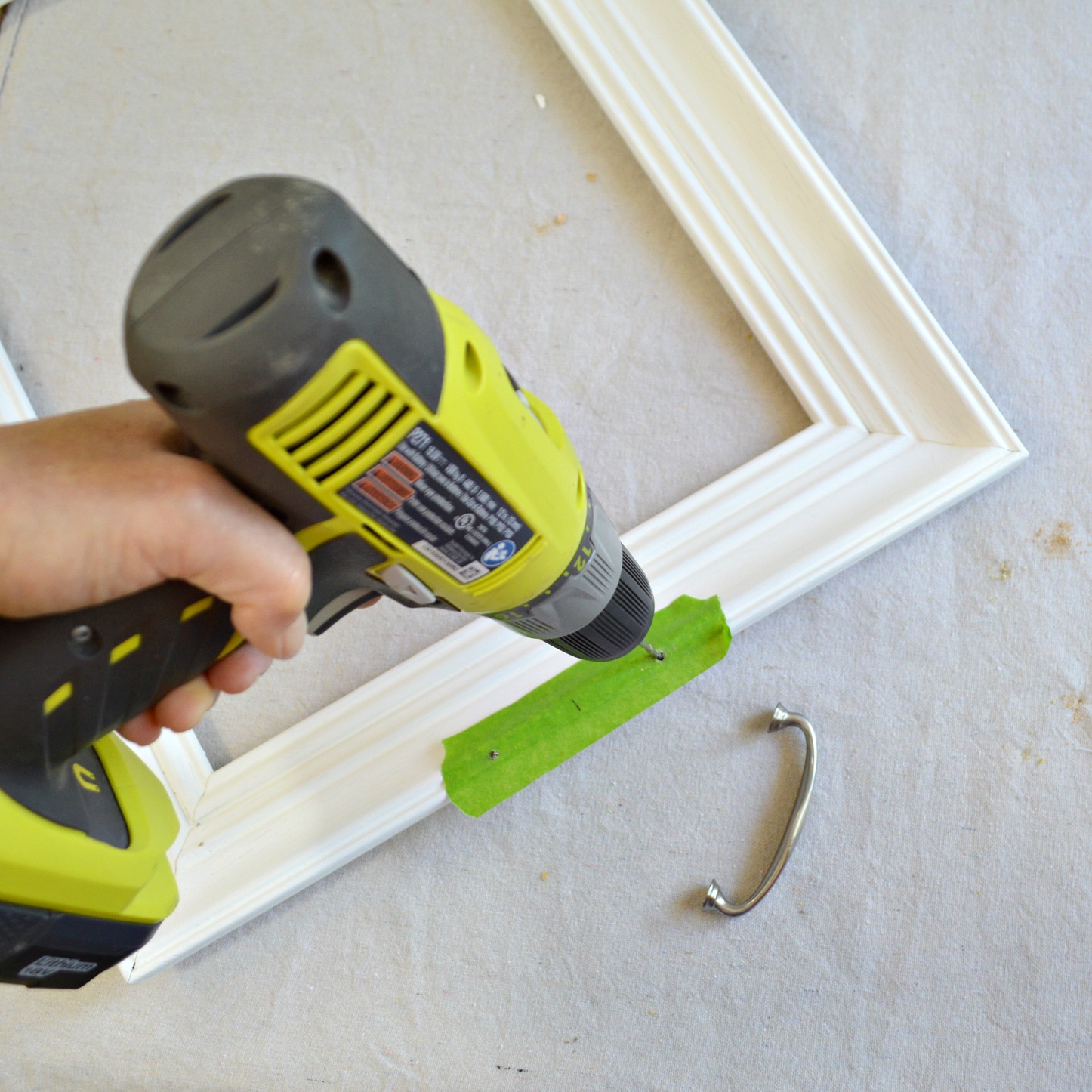 Next comes the mystery step since I completely forgot to take a photo of this step..so sorry!
Reassemble the glass with the etched side down, painted backing and some cardboard, or the original cardboard if needed to get a tight fit so the glass doesn't move in the frame.
Drill pilot holes in the four corners of the 1/4″ board that you cut earlier. Place the board over the back of the frame and carefully screw the board to the frame. I'll say this again…carefully!
Why?
Because this is the step where I broke my glass and had to remake a piece of glass and etch everything all over again! Ugh!!
Make sure the screws are not too close to the glass area and don't tighten the screws too much. I used self sticking felt pads over the screw heads so my tray wouldn't scratch anything.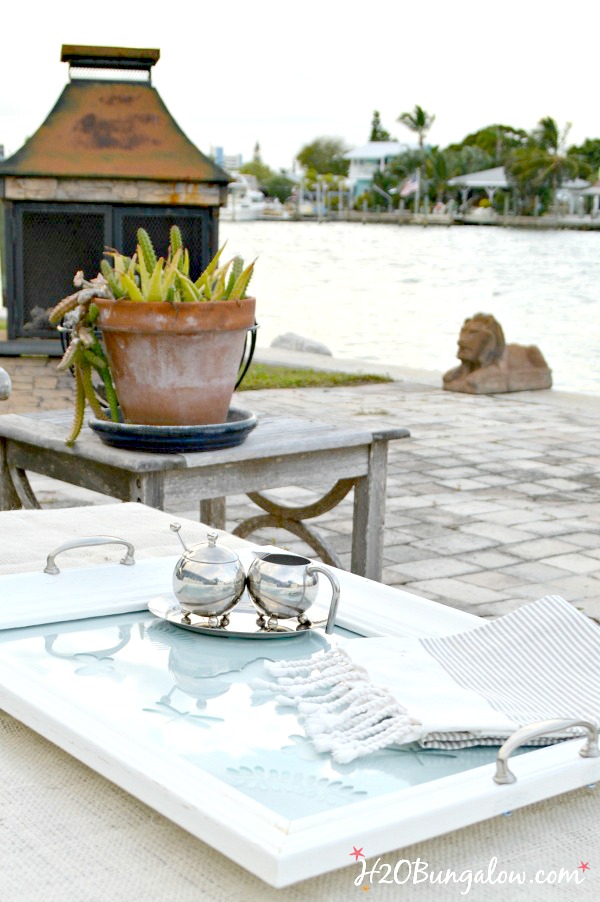 Last, attach the handles onto the tray.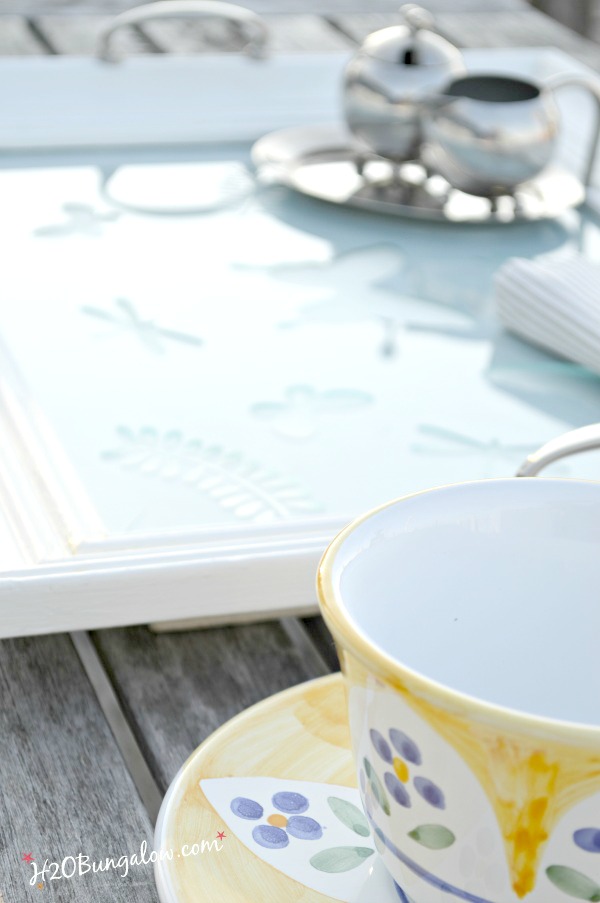 Enjoy!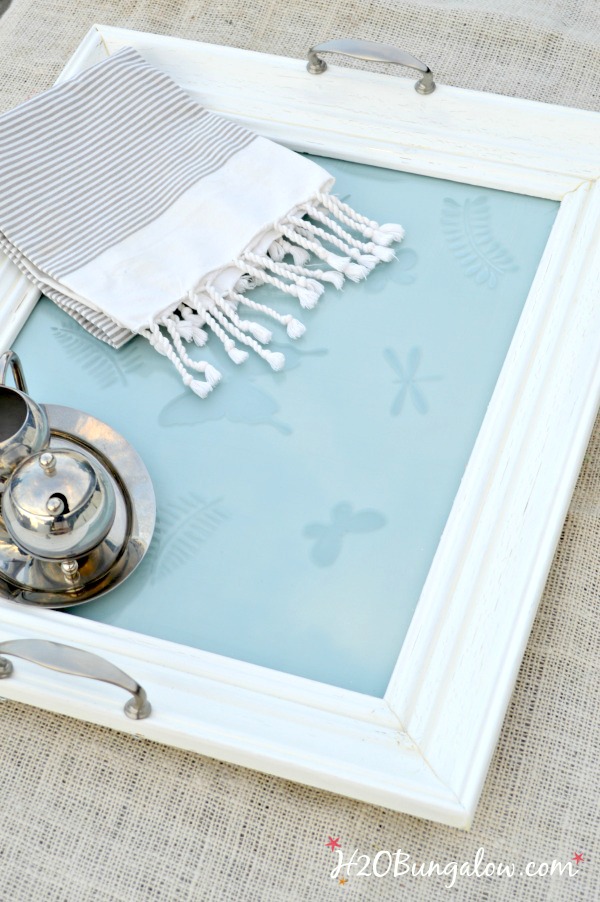 I'm ready for a quiet afternoon, sitting by the water with a good book and a nice hot cup of tea. Care to join me?
Has my picture frame serving tray tutorial inspired you to go find an ugly old frame and create something beautiful?
Want more fun projects? You may like My DIY Etched Glass Coffee Station Canisters. Or perhaps an upcycling project is your thing, see my DIY Twin Headboard Bench With Storage. If you love butterflies, see my butterfly wall organizer 🙂
You'll find this project linked up to these fabulous parties!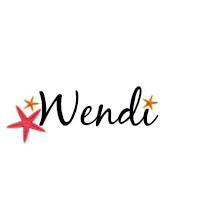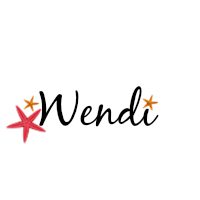 Love a good dose of DIY home decor, home improvement, the challenge of woodworking and creative ways to make your home look fabulous?
Me too!
I'd love to share mine with you. Click here to sign up for my post emails and I'll send a quick note when I have a new project to share.
Social media fan? Don't be shy say hello! I love when you guys do that! I'm interactive on Facebook and I share lots of other projects and, useful inspiration for the home and content I don't share anywhere else. Follow H2OBungalow on Facebook and Instagram!
I use affiliate links in my posts. If you should make a purchase I will receive an itty bitty commission at no cost to you. Thank you in advance for supporting my blog and two fur-ball cats who believe they are privileged.