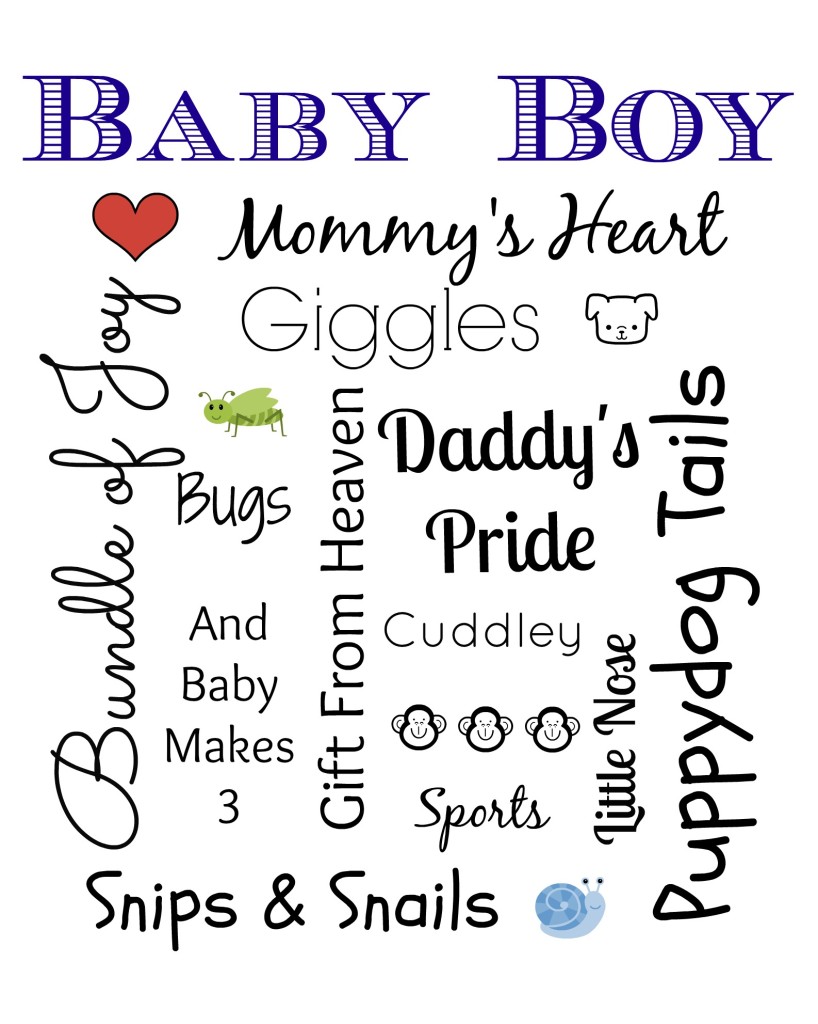 What on earth does baby boy subway art have to do with easy new mommy recipes? It's all part of a virtual baby shower for a good friend and fellow blogger Katie from Sew Woodsey and Katies Cucina! Yes, you read it right she authors two blogs.
Katies Cucina is an awesome cooking blog and Sew Woodsey is a creative DIY blog that Katie and her husband Jon work on together. And if that's not enough to keep them busy..they both have full-time jobs as well. They are due with their first child, a baby boy in just a few weeks. As a mother and grandmother, I've no doubt that this baby will give new meaning to the term "busy" for them both.
The blogging community has many wonderful people with kind hearts and lots of talent! A group of Katies friends..and she has many, got together and decided to throw Katie a virtual baby shower.
How does a virtual baby shower work? The bloggers all share something for the baby and Katie online, via our blogs and posts. Take my "gift" for example. I made this baby boy subway art. It's preformatted and can be downloaded, printed and framed. Feel free to share or download a copy of this for yourself. Just click on the thumbnail.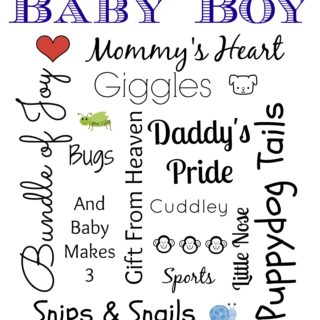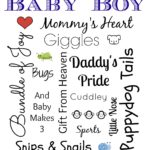 A few other DIY (Do It Yourself) gals jumped in too and they have creative crafts posted for Katie's virtual shower today as well.
The majority of this group are fabulous food bloggers. They each came up with a recipe for Katie to help her out and make things easy during the first few weeks of motherhood.
Each virtual blog gift is listed below along with a link to the blog where you can find the recipe or DIY baby themed craft.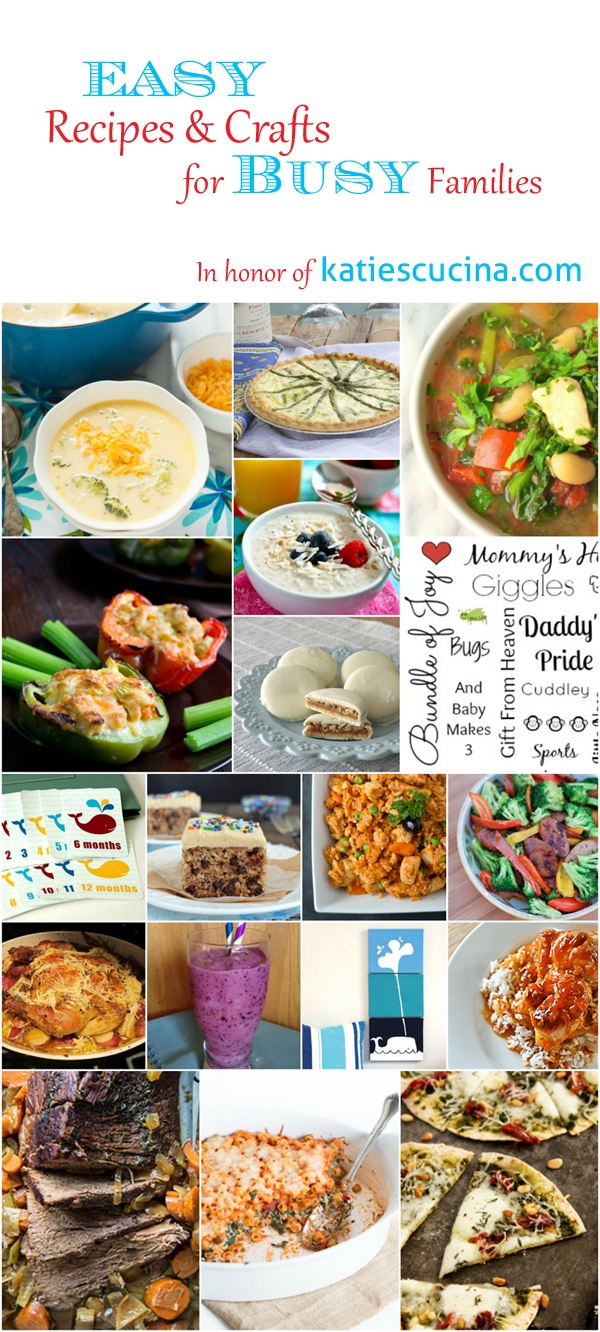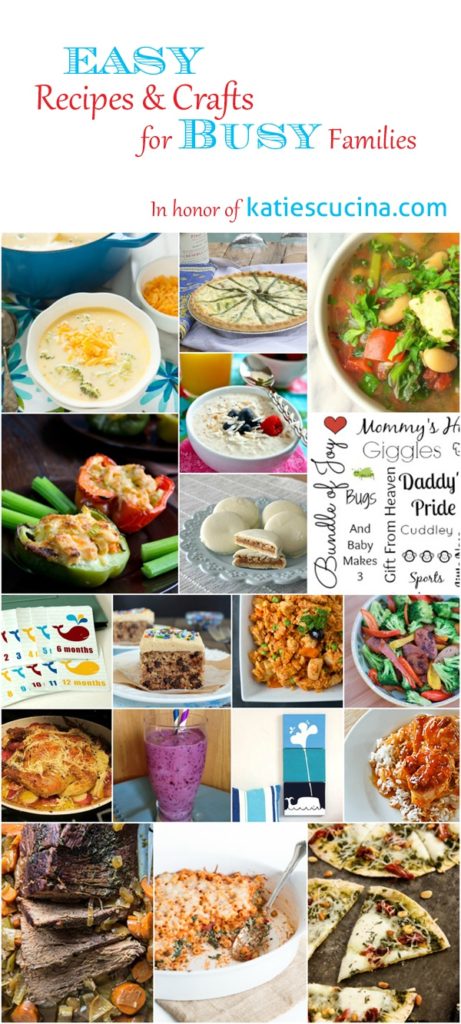 Easy Broccoli & Cheddar Soup from The Little Kitchen
Buffalo Chicken Stuffed Peppers from Cook the Story
Individual Tortilla Caprese Pizzas from a farmgirl's dabbles
Easy Cheesy Potato Corn Chowder from A Little Claireification
Slow Cooker Jambalaya from A Spicy Perspective
Italian Style Stir Fry from Aggie's Kitchen
Apricot Chicken from Bombshell Bling
Easy Baked Spaghetti from Chocolate & Carrots
Cuban Casserole with Whole Grain Mustard Butter Biscuits from Climbing Grier Mountain
Freezer-Friendly Quinoa Meatballs from Cooking with Books
Baby Boy Subway Art Printable from H2OBungalow
Peanut Butter Chocolate Chip Banana Cake from Inside BruCrew Life
Asparagus And Leek Quiche from Kokocooks
Roasted Lemon Parmesan Chicken with Red Potatoes from Life After Empty Nest
Yogurt Blueberry and Honey Smoothie from My Sweet Zepol
Pesto Parmesan Chicken Salad from Shaken Together
Printable Baby Whale Themed Cards and Project Life Mini Album from Simply Kelly Designs
Coconut Cookie Butter Sandwich Cookies from Simply Southern Baking
Slow Cooker Pot Roast with Garden Vegetables from Sweet Remedy
Easy Kofta Kebabs from Tasty Chomps
Crock Pot Fajitas with Chicken and Quinoa from The Dinner-Mom
Overnight Oatmeal from The Hungry Housewife
Honey-Dijon Chicken, Apple & Quinoa Wraps from The Kitchen Prep
Slow Cooker Italian Chicken Soup from The Lemon Bowl
Slow Cooker Pulled Pork Tacos from The Nifty Foodie
DIY Whale Art from While They Snooze
One Pot Mexican Chicken and Rice from Yellow Bliss Road
I'm planning on checking out these fabulous and crafts recipes myself. Which one are you visiting first?

Don't miss a single creative idea I share! Click here to get my posts sent to your mailbox or follow here on Bloglovin. Either way, keep in touch!
You may see me linked up to some fabulous link ups which you can see
here.