Today's bed spindle candle holders use the last bit of salvaged pieces from my $15 bargain. Have you ever looked at something and saw something else? I'm not talking about that big party night with too much to drink, I'm talking creatively. I found the best old headboard a while ago and have been making projects from it ever since. From the moment I spotted it, I knew there were projects just waiting to be created.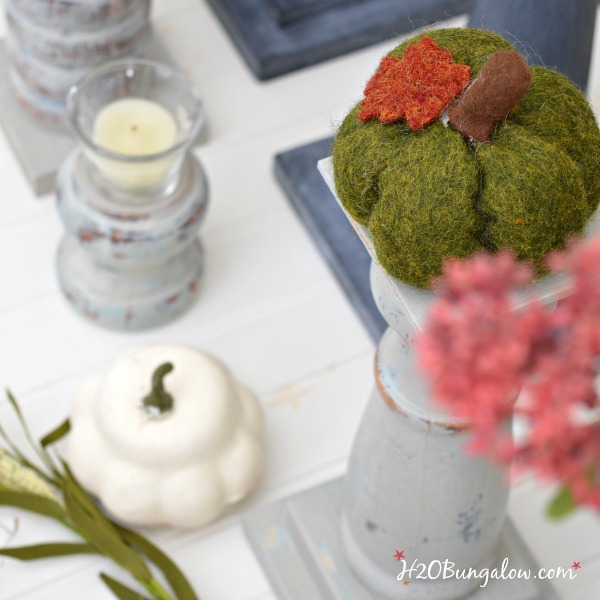 This month's Power Tool Challenge Team's theme is "Modify". Each month a group of creatives get together and share creative ways that we use our tools, many are simple and all are awesome.
You guys may remember last spring when I cut up this huge headboard and made my gorgeous DIY Bed Spindle Pedestal Bowls.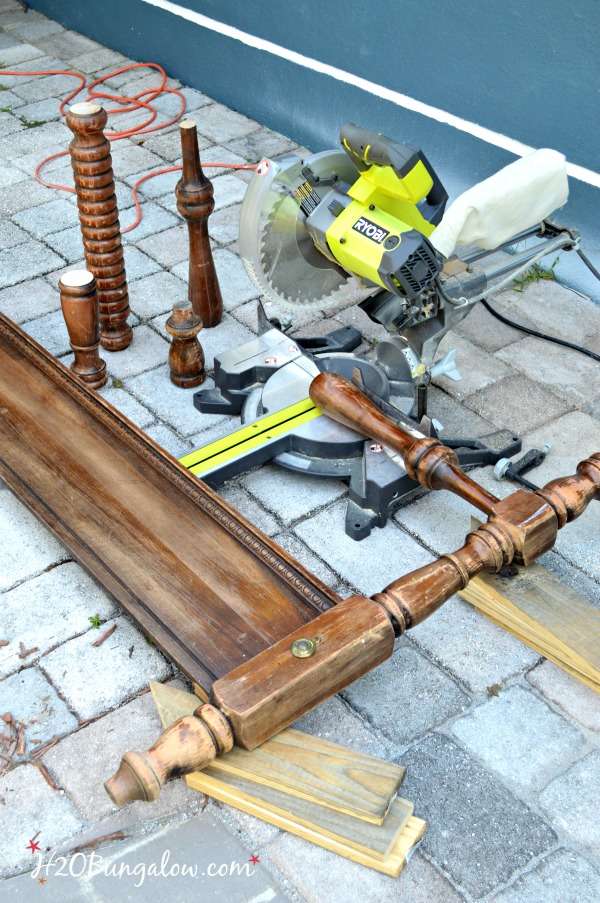 I couldn't let all those awesome bed spindles go to waste, right? Bed spindle candle holders are easy to make. Simply cut the spindles and sand any rough edges. I used scrap wood and cut several square bases to layer under my candle holders and pretty much whatever I could find for the tops. I used 1/4″ plywood I cut into squares, thin round wood craft circles, and I made two platforms from scraps for the tall candle holders for visual balance.
Assembling them was easy, I used my Ryobi Airstrike Nail Gun to connect the each layer. I started with the first base piece that connected with the bed spindle, connected that and then connected the next base piece to the first one and so on. Except for the narrow pieces on the tall pillar candle holders, glue alone would have held fine.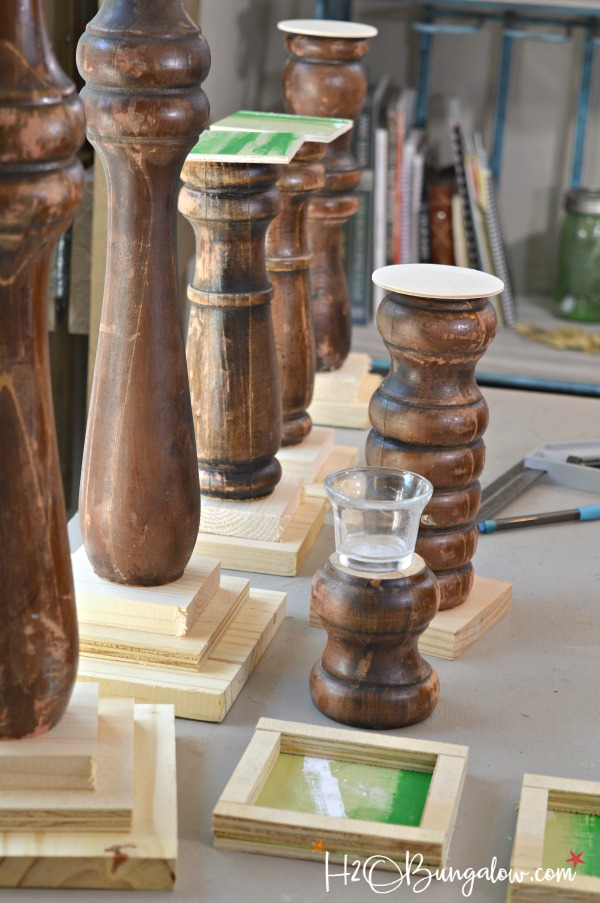 To make little platforms for the tall bed spindle candle holders just cut the pieces, glue them together and run a bead of caulk in the gaps. I always caulk because it makes a much nicer finish to paint. I caulked all the candlesticks where the bases were layered.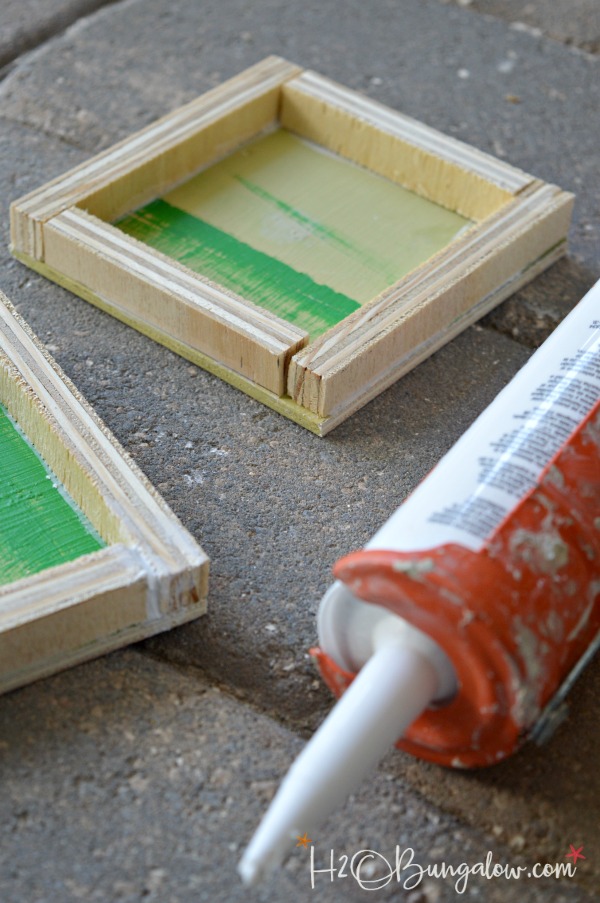 Once they were assembled, it was a creative free for all. I haven't had a paintbrush in my hands for too long, which was evident by the time I finished. I'd played with mixing waxes and layering paint colors and had way too much fun till way too late in the night:)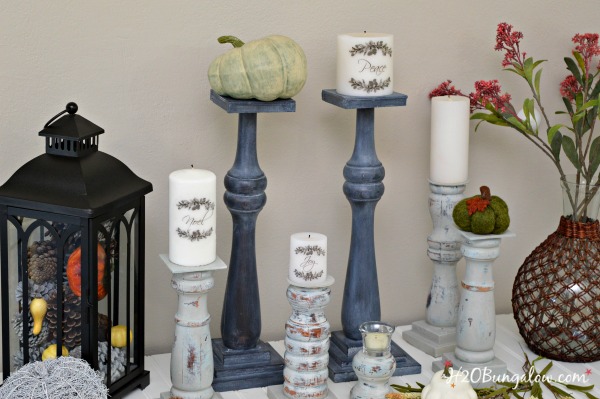 Aren't the tall black bed spindle candle holders gorgeous with that finish? Yes, at the last-minute I flipped the little platforms over so the flat surface was on top so they could hold larger candles… or pumpkins 🙂 They were painted with a black chalky finish paint and then waxed with a mixture of wax and white titanium pigment paint I mixed together. I want to try this on a piece of furniture!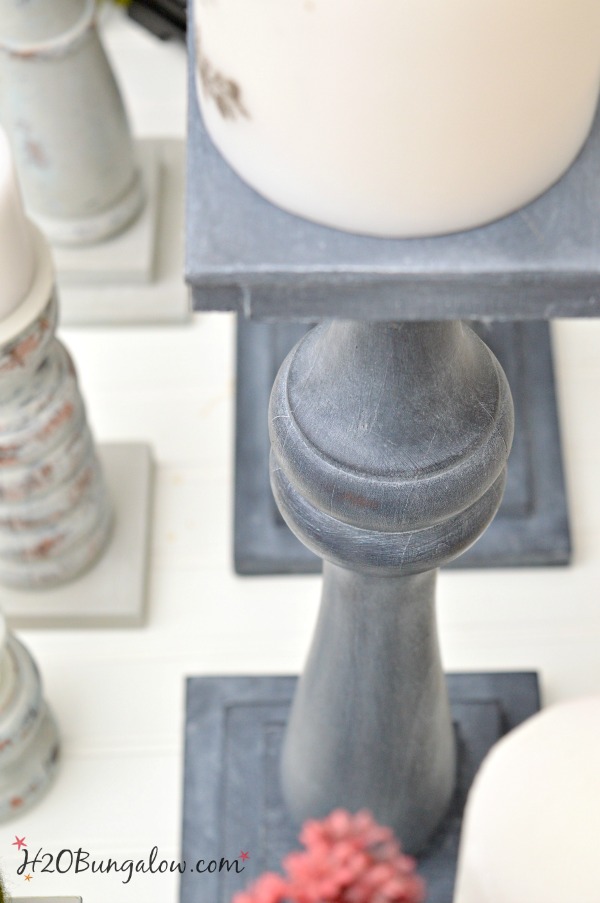 The different shapes and sizes add character to these simple DIY bed spindle candle holders. They look great as pedestals for other things too.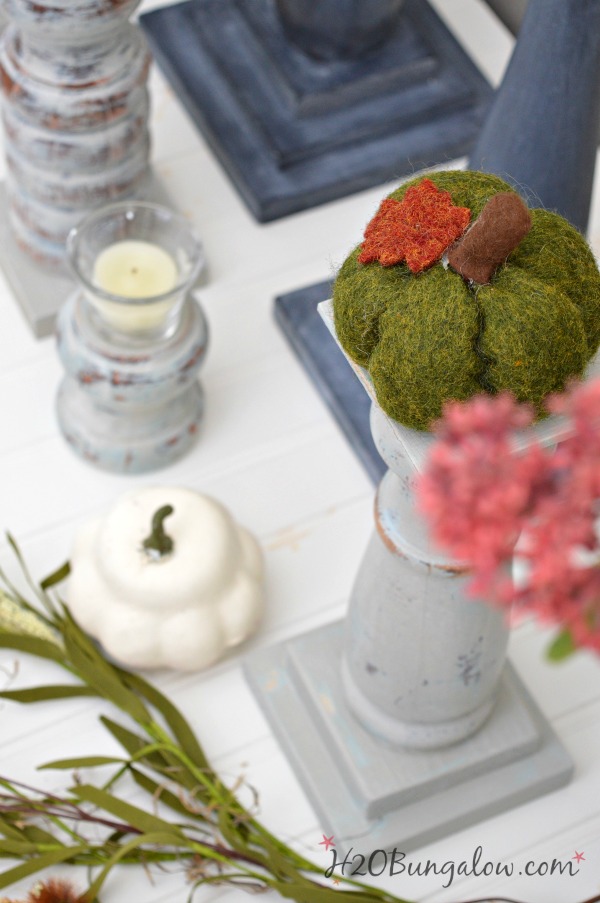 A beautiful pillar candle on top of a rustic vintage looking candle holder is a perfect pairing. Especially when it's a budget DIY candle. See how to Add An Image To A Candle , or add words to candles, it's a lot easier than you'd think!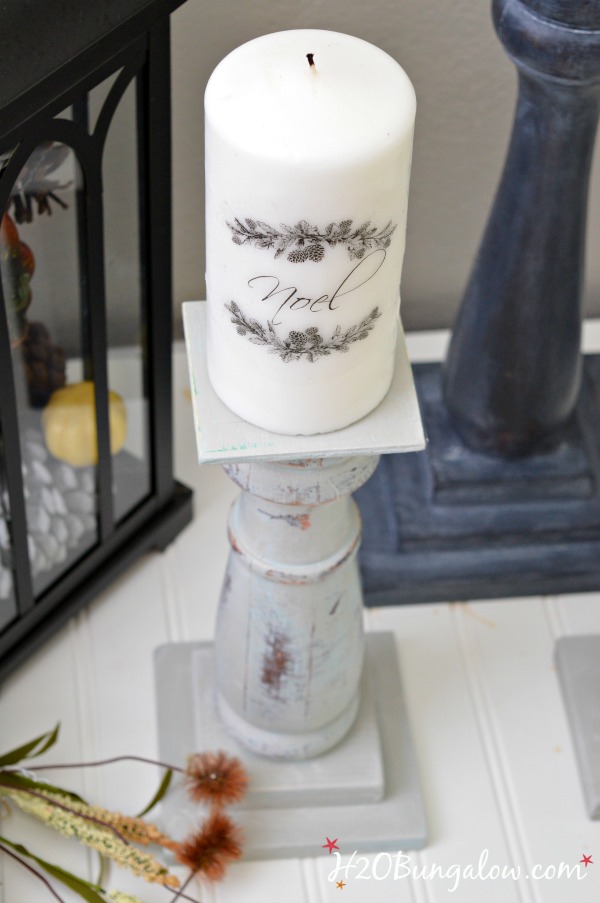 I'm still moving my assortment of bed spindle candle holders around the house and playing with fall vignettes. What I love is that they will look beautiful on a summer table or a rustic mantle any time of year.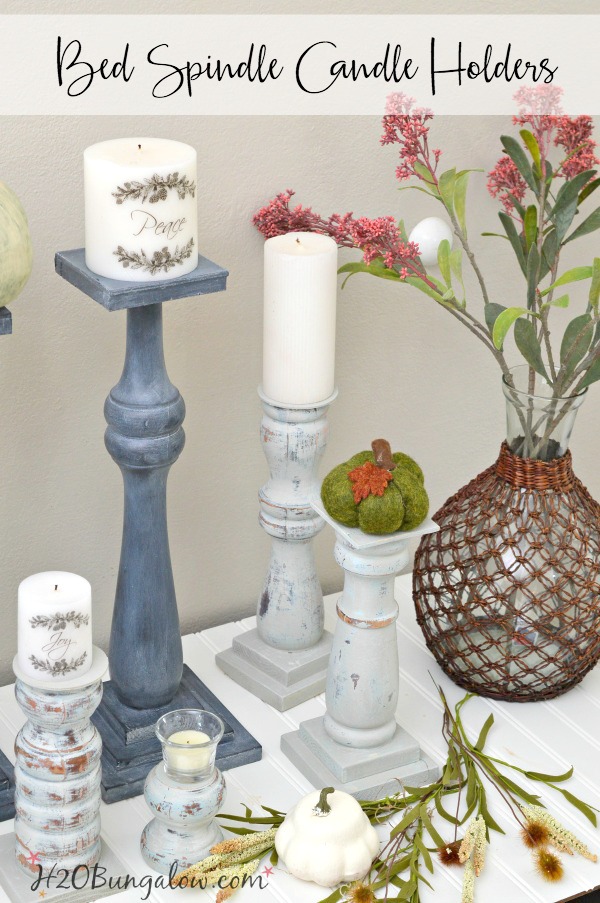 Which of my bed spindle candle holders are your favorite?
Love a good creative project? be sure to check out the rest of the team's projects below!
Modified Leaning Ladder Storage By Designed Decor
How To Resize A Wood Picture Frame By Her Tool Belt
Ikea Moppe Hack Apothecary Cabinet by Interior Frugalista
Portable Craft Table By Create and Babble
Grown Up Jewelry Box By Kim Six
Modified Dresser By My Repurposed Life
Bed Spindle Candle Holders By H2OBungalow
Ammunition Crate Table By Virginia Sweet Pea
Ikea Wardrobe Update By Domestically Speaking
How To Piece Scrap Wood Together by My Love To Create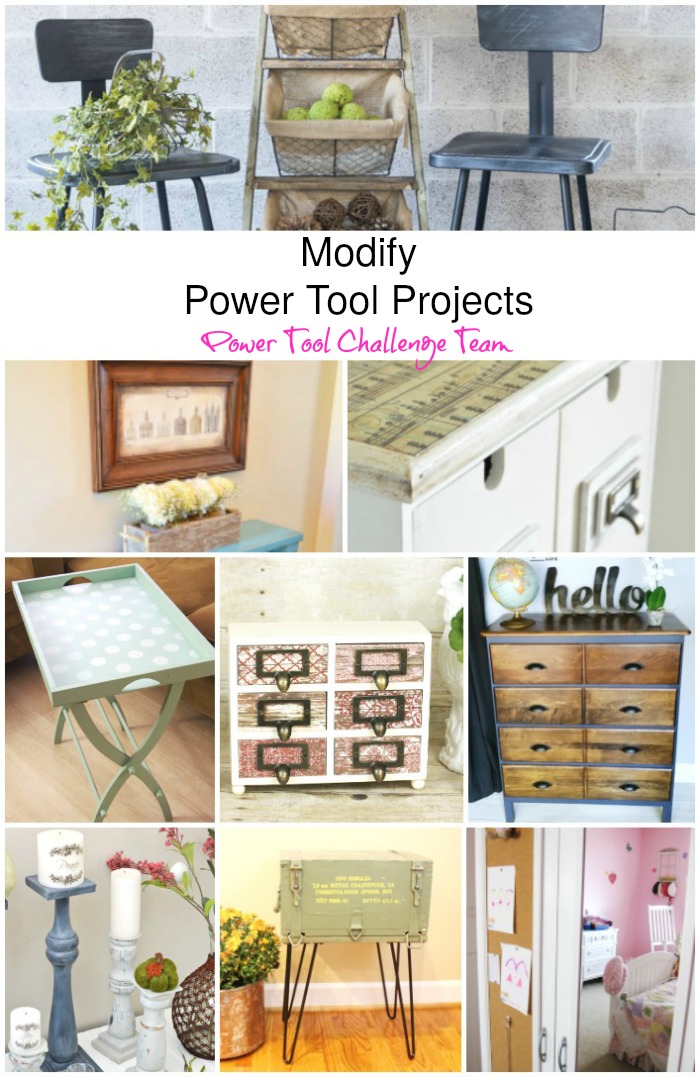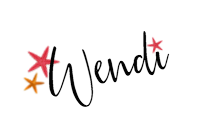 You'll find my project linked up to these fabulous parties!
Love a good dose of DIY home decor, home improvement, the challenge of woodworking and creative ways to make your home look fabulous?
Me too!
I'd love to share mine with you. Click here to sign up for my post emails and I'll send a quick note when I have a new project to share.
Disclosure: I may have been compensated, given product or tools that I used in this DIY post. All opinions that I share are always 100% my own. I use affiliate links in my posts. If you should make a purchase I will receive an itty bitty commission at no cost to you. Thank you in advance for supporting my blog and two fur-ball cats who believe they are privileged.