I've put together a fall DIY felted wool throw pillow tutorial for you guys today. The temps are not falling outside and it doesn't feel like fall by any stretch of the imagination down here in Fl. But it is fall, and I'm loving the rich complimentary colors of the felted wool I found. The colors alone are enough to get me in the fall spirit and they work beautifully in my living area.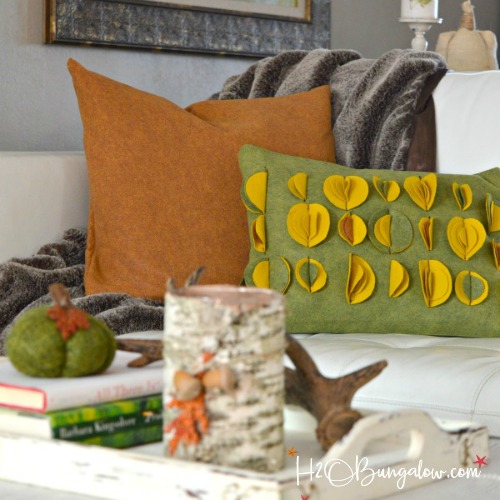 It was time to say good-bye to summer colors and hello fall with a pillow and sofa throw switch out. Last week I made my crazy soft DIY Faux Fur Sofa Throw to take place of the summer one. I wasn't sure what I'd do for pillows and was browsing my favorite local Home Goods for inspiration or a good deal. I found a few stunning felted wool pillows but they weren't in my colors so I had to pass on them 🙁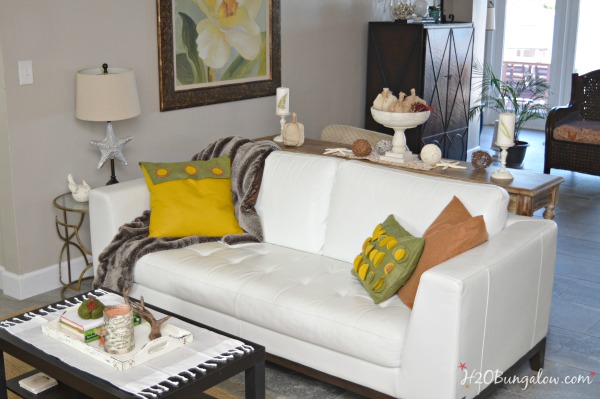 I usually reuse my pillow forms since we don't have much room to store seasonal decor so it wasn't all bad that I didn't bring them home. These fall felted wool throw pillows are this years fall/winter version of my annual DIY pillow covers They are just what I needed and the colors work perfectly with the large flower art piece I have on the wall.
Plus…I absolutely love the texture and rich feel of the wool felt for these DIY throw pillows!
How to make a DIY felted wool throw pillow
Supplies needed to make a felted wool throw pillow in two styles. I use affiliate links to help you find the products I used.
wool felt, use a wool or wool blend felted wool for a luxurious feel
thread
sewing machine
Step#1. Measure your pillows from side to side, my square pillows are 21″ x 21″.
Step # 2 Cut your fabric. See below pillow style guides for cutting and measuring instructions.
Envelope style throw pillow with overlapping back
Add a 1/2″ seam allowance on the two sides that will be sewn together and a 4″ overlap of where the fabric will overlap in the back. Don't let the picture below fool you, the fabric lays flat I just pulled it up to show how the pillow inserts in the back.

Envelope style throw pillow with overlapping flap in front
Allow for a 1/2″ seam allowance on the two sides that will be sewn together and a 9″ overlap of where the fabric will overlap in the front for 21″ pillow. I used a second color for the front flap.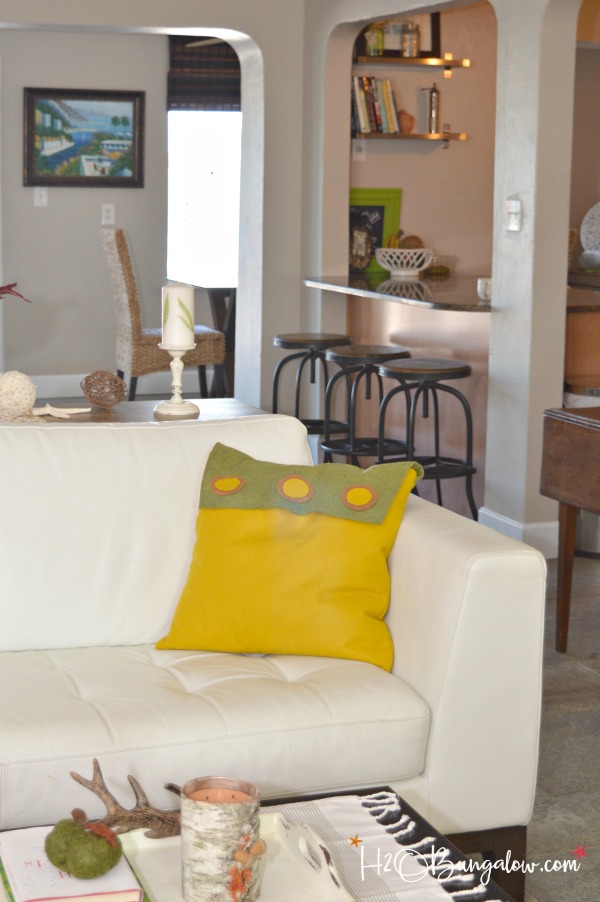 Step #3. Cut out and pin in position any embellishments that will be sewn on the front of the pillow.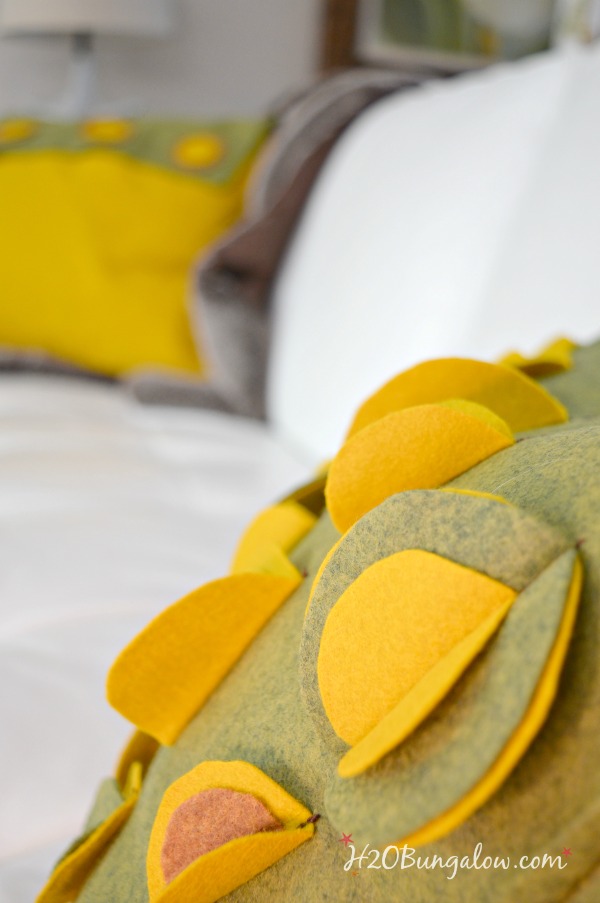 I used a cup and a few bottle caps to trace my circles. Using tailors chalk to mark where I was cutting made this easy and the chalk easily brushed off. Pre-ironing the circles in half helped to line them up neatly for pining. I simply sewed a line right down the middle of each set of circles.
I kept making circles until I was happy with how my pillow front looked. You'll see some are stacked two deep and some are three deep with different colors and circle sizes.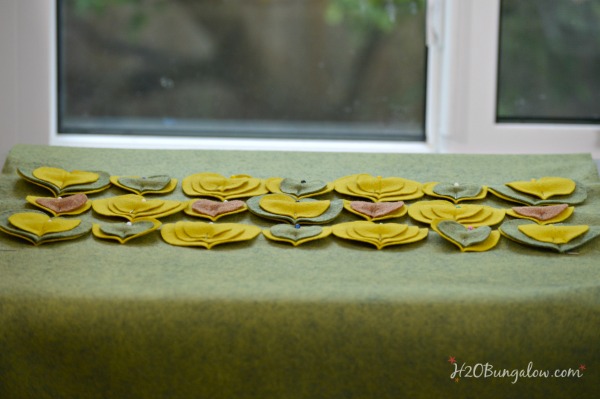 Step 4. Place the front side of the fabric together and sew the two sides. Since felt won't unravel, I didn't put seams at the edges of the back flaps.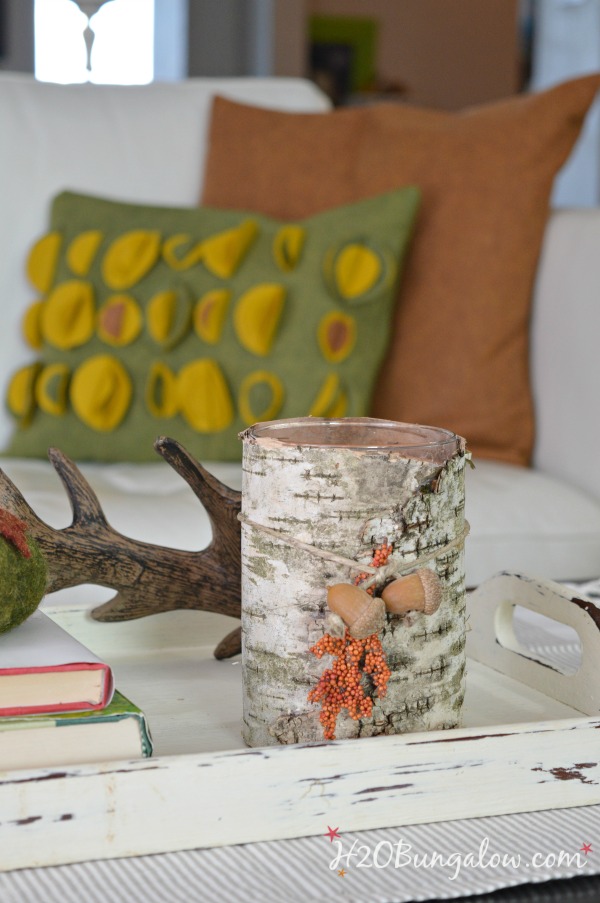 Step #5. Turn the felted wool pillow case right side out. If you used the envelope back style simply squish the feather pillow and gently insert it into the back flap. Arrange and fluff it inside.
If you're making the front flap felted throw pillow, add the front embellishments to the flap before inserting the pillow. I made the design up as I went along. I didn't want to see the sewing on this pillow front. I used fabric glue for the front circles, and ironed a seam along the edges of the front flap sides to create an envelope shape flap. I trimmed off the excess felt and added a line of fabric glue under the seam. Last, I used the lazy girls self stick velcro to keep the fold over flap in place 😉 I used three small pieces under the front flap to hold them down.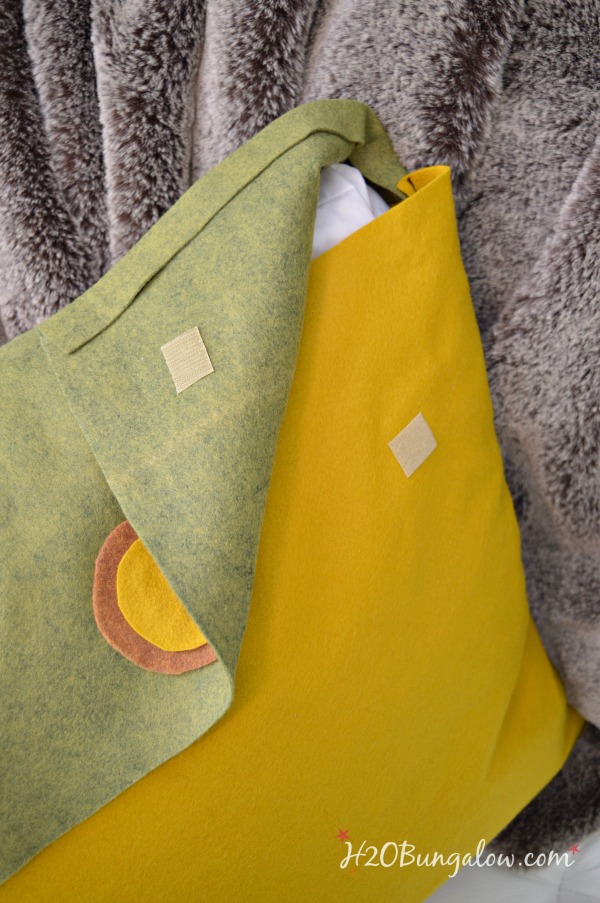 We might have a beach bungalow but it's looking a lot like fall in here now! They look great with my No Sew Burlap Pumpkins.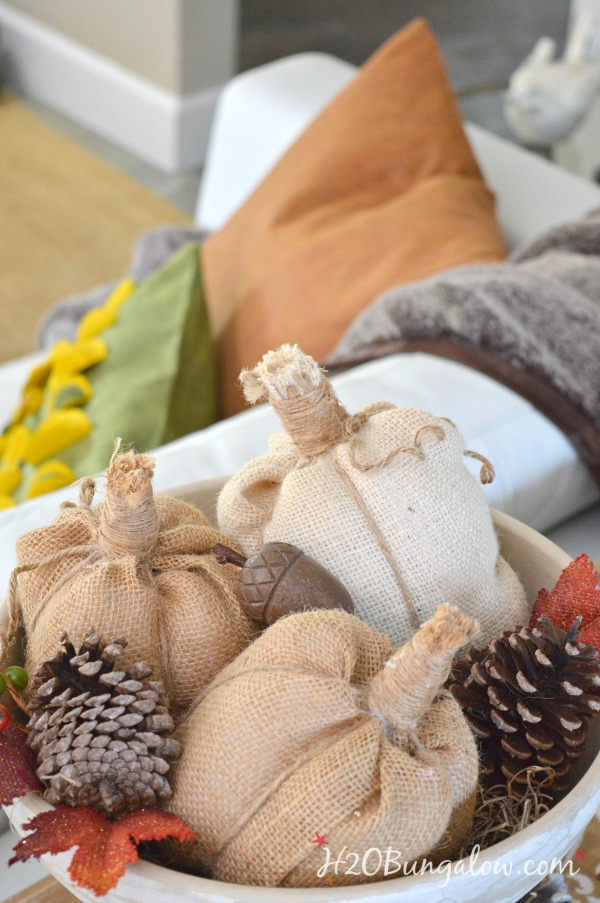 Even with the heat I'm enjoying fall now. I simply turned down the AC thermostat a few degrees and it's perfectly cool inside. I've cuddled up with my new faux fur sofa throw and ultra soft felted wool pillows and a good book in the evenings this week. What a perfect way to relax and let the busyness of the day melt away 🙂
Do you love felted wool in the fall and winter? What's your favorite thing to have in wool?
Oh yeah, If you love it, don't forget to pin it!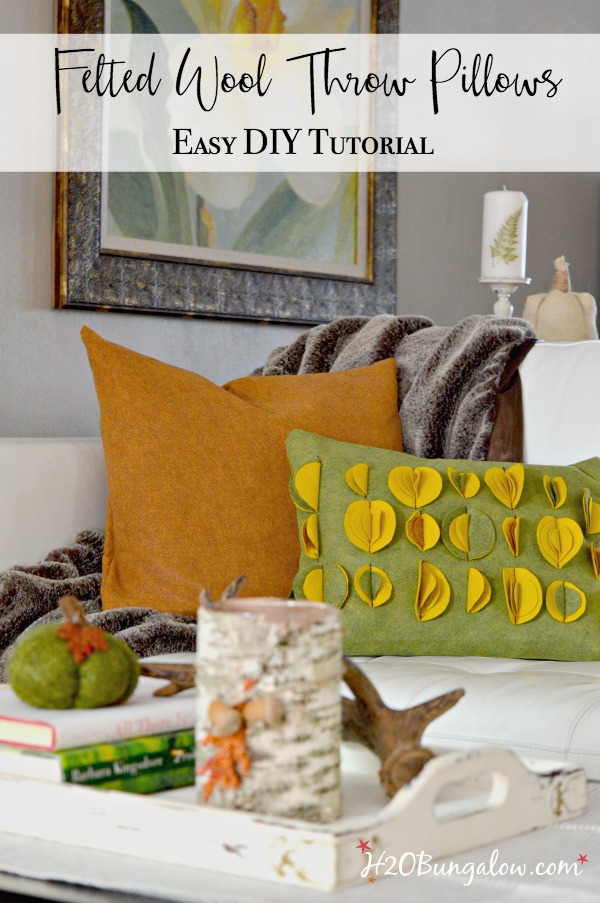 Need more fall decor? You may like my Birch Bark Candle Holder pictured above or my DIY Pedestal Bowl which is fabulous for all seasons.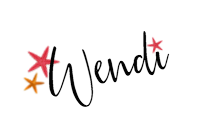 You'll find my project linked up to these fabulous parties!
Love a good dose of DIY home decor, home improvement, the challenge of woodworking and creative ways to make your home look fabulous?
Me too!
I'd love to share mine with you. Click here to sign up for my post emails and I'll send a quick note when I have a new project to share.