Today's project is a freestanding DIY hook and ring game tutorial. You may know the game as Bimini Ring Toss, Ring on a String or even the Tiki Ring Toss game. They are all one and the same. I'm going to show you how to make a hook and ring game for your own backyard. Be sure to read down to the bottom to find how to play and get my tips on a strategy to win.
Oh! You'll find several more fun outdoor games to make and play at the bottom of my post too.
Ring on a String game or the Hook and Ring game is a popular game in Florida. It's pretty easy to find one in beachside bars, casual restaurants and hang outs in beach communities from Pensacola to Key West. Even though I've seen them for sale, the DIY'er in me couldn't handle the idea of purchasing something I knew I could make.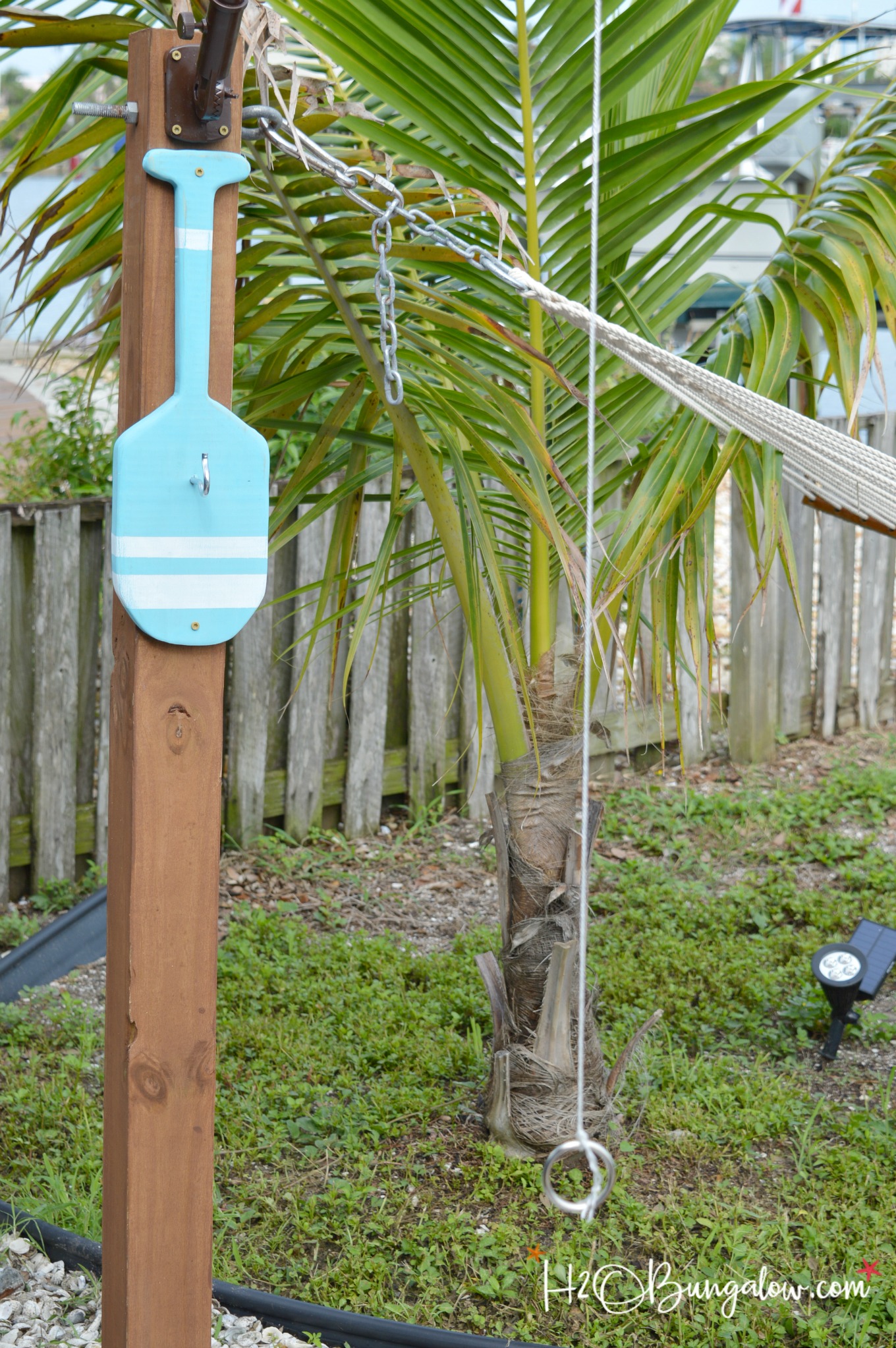 It's the Power Tool Challenge Team's theme day and this month our theme is Summer Fun. Showing you guys a hook and ring game tutorial and making one for myself in the meantime seemed like the perfect fit. Don't you think so?
*Warning* This game has been known to cause lots of laughter, bring out competitiveness in otherwise laid-back people and can be played in teams 😉 In other words it's a hoot to play and fun for all ages.
How to Make a DIY Hook and Ring Game Tutorial
Note: I use affiliate links to help you find the products I used. If you make a purchase I get a small commission at no cost to you. You can read my full disclosure policy here. The affiliate money I earn helps cover the overhead costs of H2OBungalow. Thank you for your support!
Supplies needed to make a DIY hook and ring game like mine .
Supplies needed to make the bracket with extending pole.
Tools needed
If DIYing doesn't sound like fun, you can always skip the DIY part and just buy a hook and ring toss game. I won't tell anyone 😉
Modify my hook and ring game tutorial to fit where you're putting it. I used a bracket with a pole to hang my string and ring because I didn't have a ceiling I could hang the ring from. If you have a porch or ceiling, just hang the ring directly from it four feet from the backboard and skip the bracket and pole. I do like that we can take ours down when needed, like when we get a torrential rain storm that brings 50 mph winds here on the coast though.
Step one: Make a back-board for the hook. Of course I personalized mine by making a boat paddle for the hook 🙂 If you want to make one like mine, draw a design and use graphite paper to trace the design outline. Get tips on how to use graphite paper in my how to easily transfer graphics post. A square piece of plain wood wood be fine as well.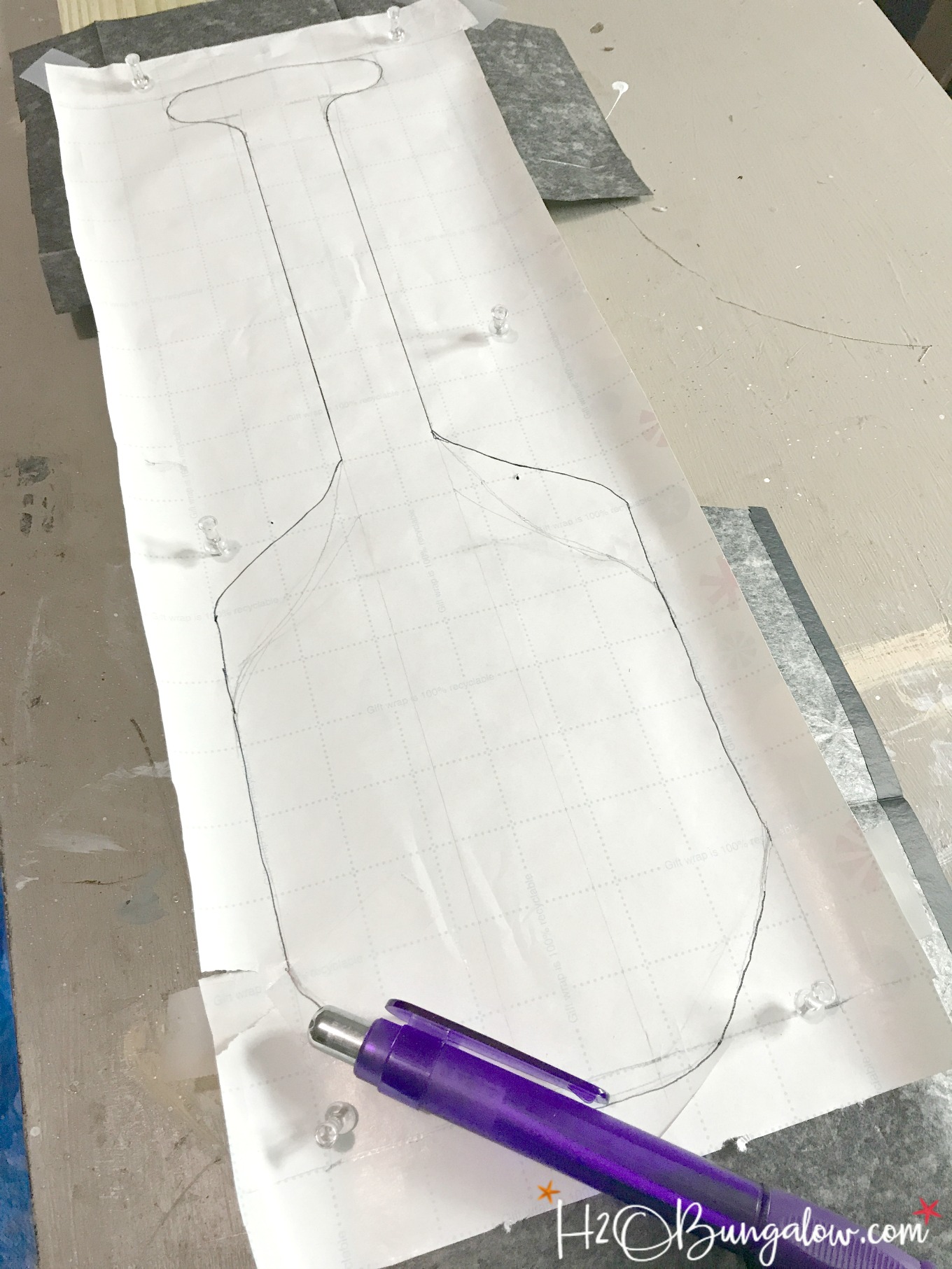 I used my scroll saw to cut out my boat paddle shape but a jigsaw would work fine too. I sanded the edges before painting.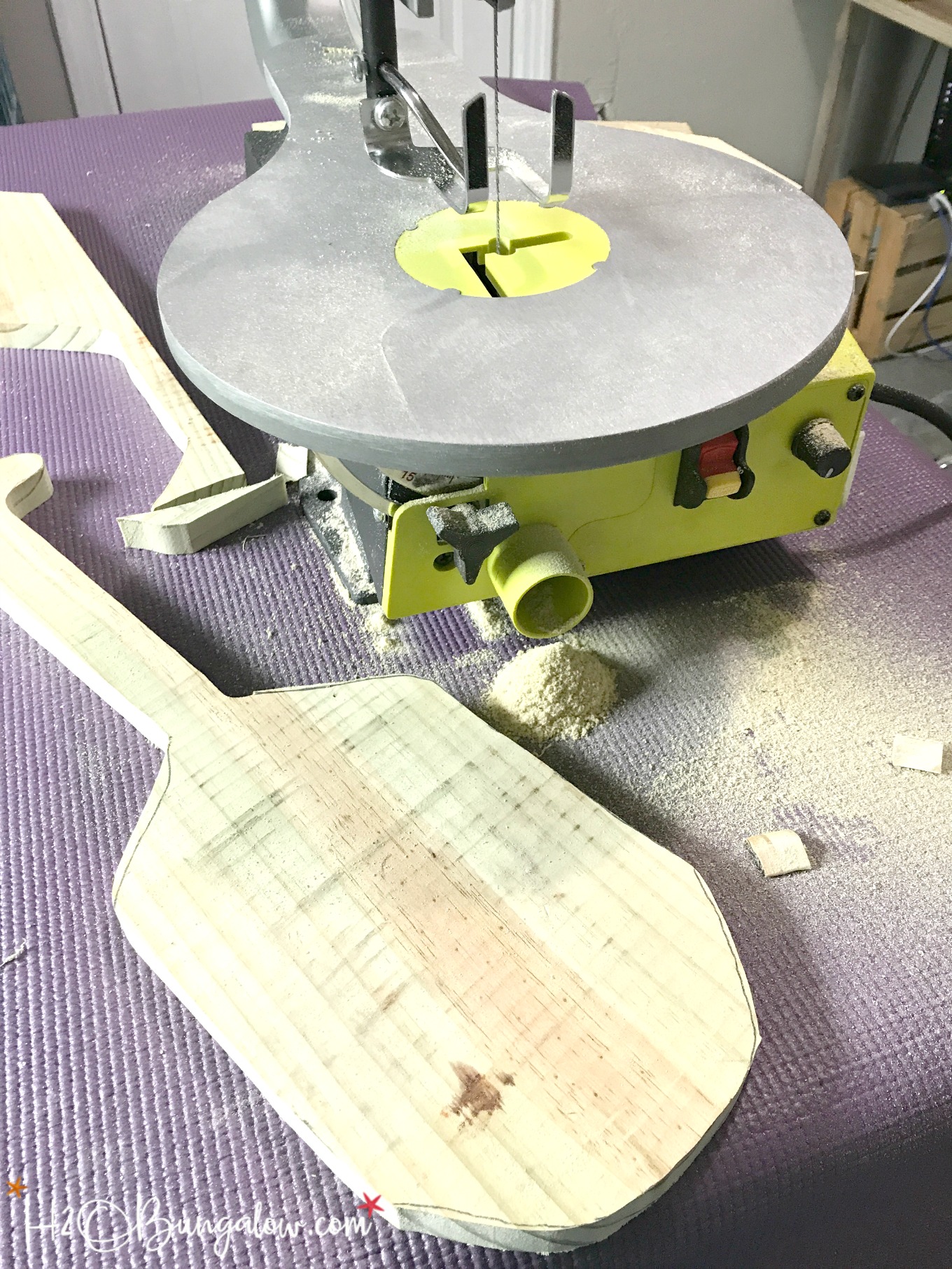 Step Two: Hang the ring from a ceiling or a pole with a bracket on a wall. If you're using a bracket, install the flag pole holder onto a wall or flat surface. Screw the small eye hook into one end of the pvc pipe, make a pilot hole first. Tie a long piece of nylon string onto the eye of the hook. Insert the painted four foot 3/4″ pvc into the bracket so the string hangs down.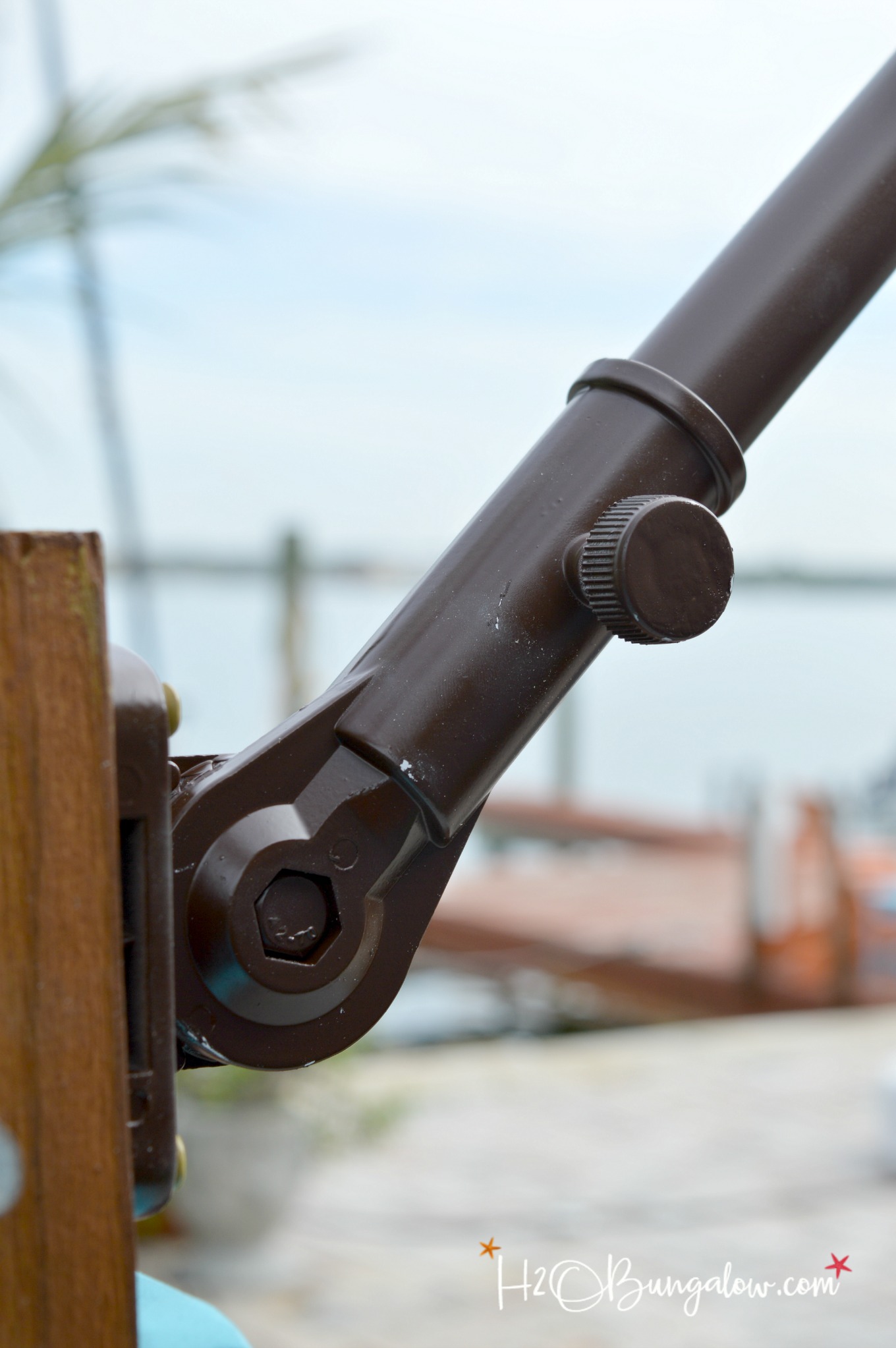 Step three: Attach the backboard to a flat surface so the hook is about three or four feet off of the ground. Drill a large pilot hole to help screw the hook into the back board without splitting the wood.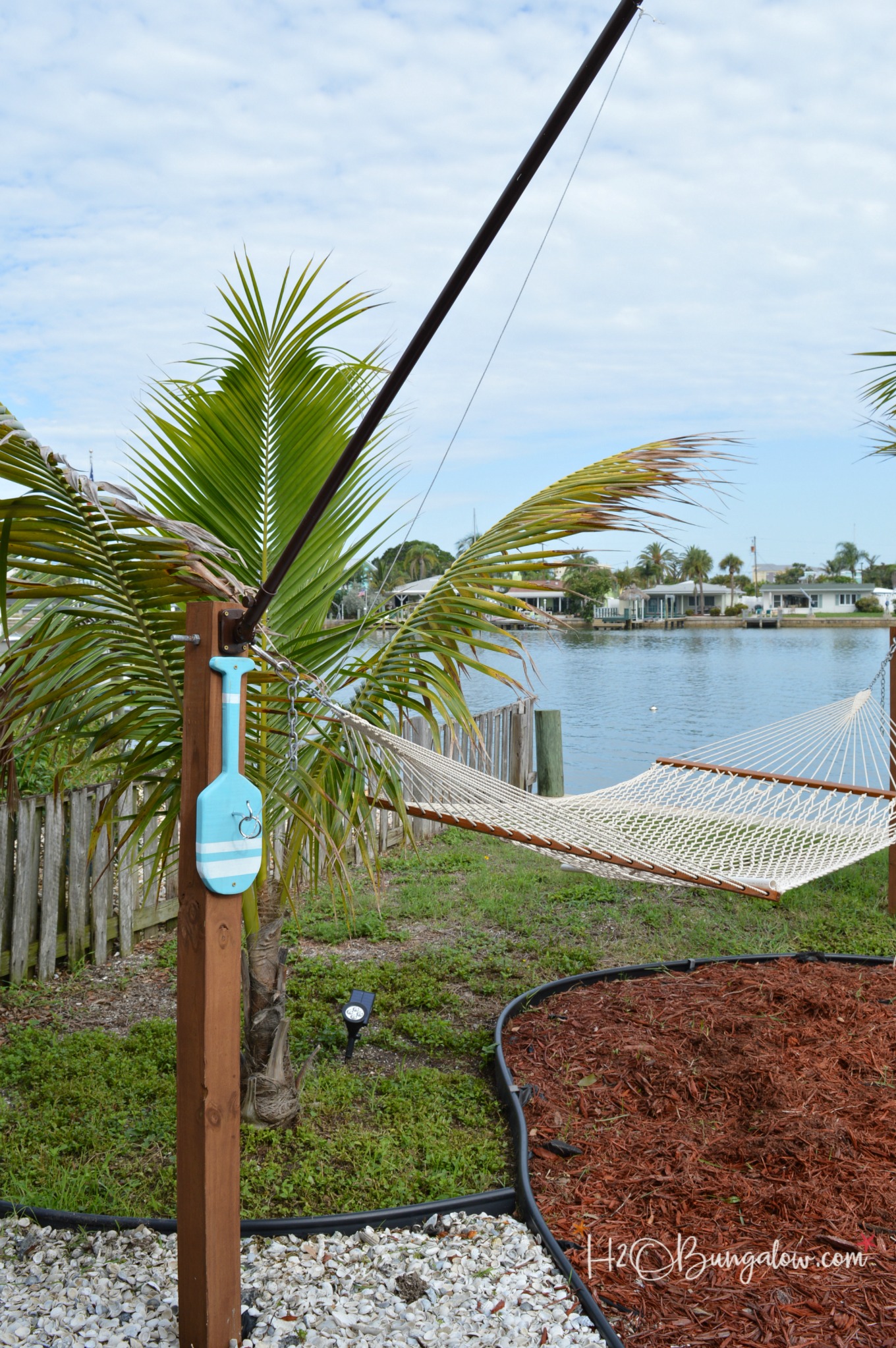 Step four: Attach the ring. Tie the ring onto the string, it should hang down about 4 feet from the backboard and hook. Adjust the length until the ring easily fits onto the hook. If when it swings it hits above or below the hook, it needs to be adjusted. I left a little extra string to adjust my knots later because the string seems to stretch a little. I'll melt the nylon edges and ends together when I'm sure no more adjustments need to be made.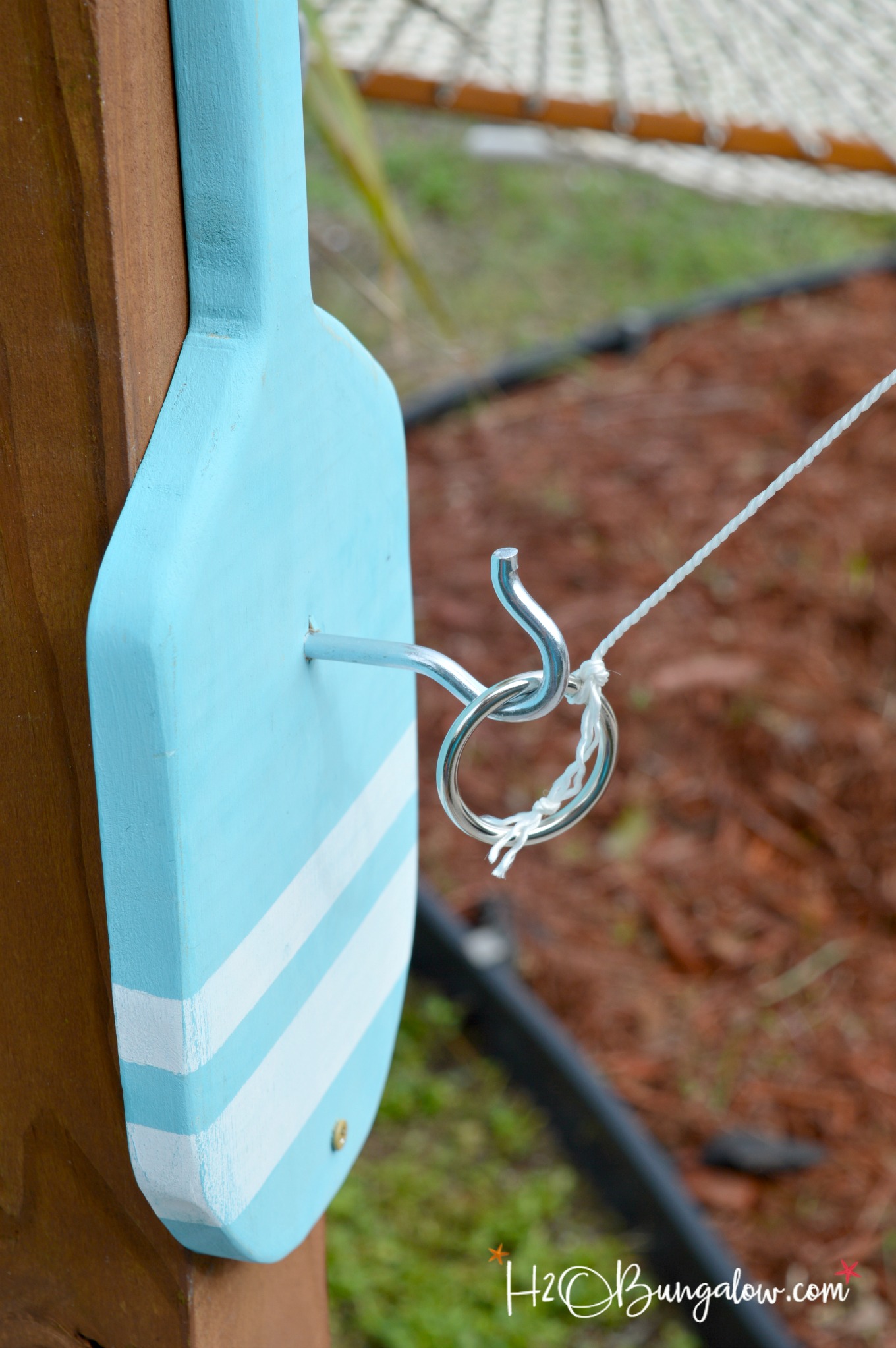 Step five: How to play the hook and ring game instructions and winning strategies.
The object of the game is to swing the ring on the string like a pendulum and have it catch on the hook. If the ring hits the backboard, you've swung too hard. The trick is getting the feel to swing the ring just enough to where it touches the hook. The second part of the strategy in winning the hook and ring toss game is you want the ring to swing out slightly from the side, towards the hook. That way it can catch the edge of the hook and slide onto it.
Ways to play the hook and ring toss game. Start with an agreed upon number of points to win the game. Play in teams or with two people. Counting points, either one point for a "ringer" or one point when the ring hits the hook and 5 points when the ring is hooked are two ways the point system can be used.
Pin my DIY Hook and Ring Game for later!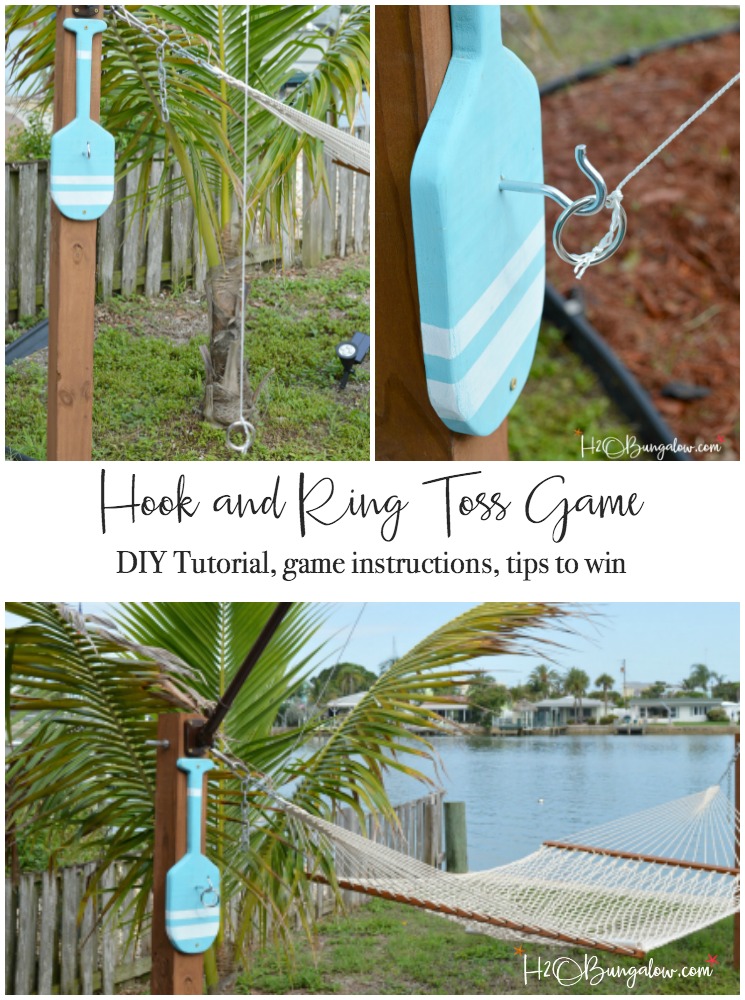 Silly as it sounds, I'm pretty excited about making my DIY Hook and Ring game. I plan on practicing this evening to get my ring swing and curve down-pat. My sisters are coming for a quick visit tomorrow and I'm sure we'll end up at the hook and ring toss game…especially after I've whipped up a few fresh mango margaritas!
I mentioned it was the Power Tool Challenge Team's monthly get together. Our theme this month is Summer Fun. Take a look below at what the other team members came up with. These gals are so talented I love seeing the creative projects each month!
My Repurposed Life Portable Folding DIY Pallet Bar
Create and Babble Limbo Game Station
My Love 2 Create Ring Toss Game
The Kim Six Fix Cornhole Game From Cabinet Doors
H2OBungalow DIY Hook and Ring Game Tutorial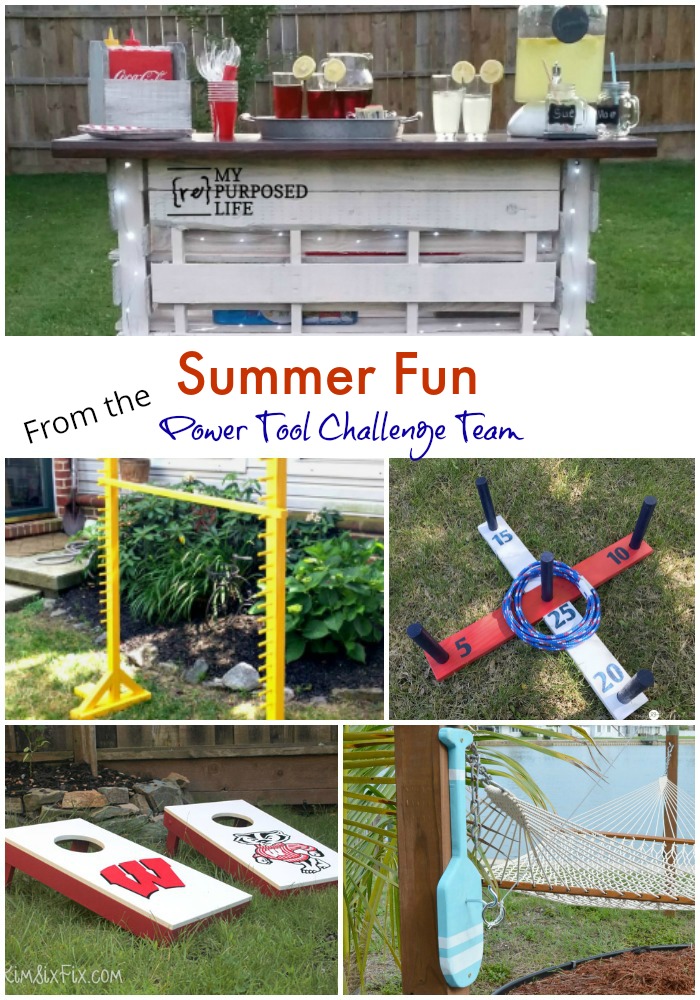 Do you have a favorite outdoor summer game you love to play? Share it below in the comment section!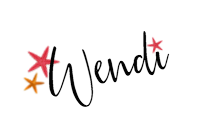 More outdoor projects from H2OBungalow you may enjoy
How to Make a Hammock Stand From Posts