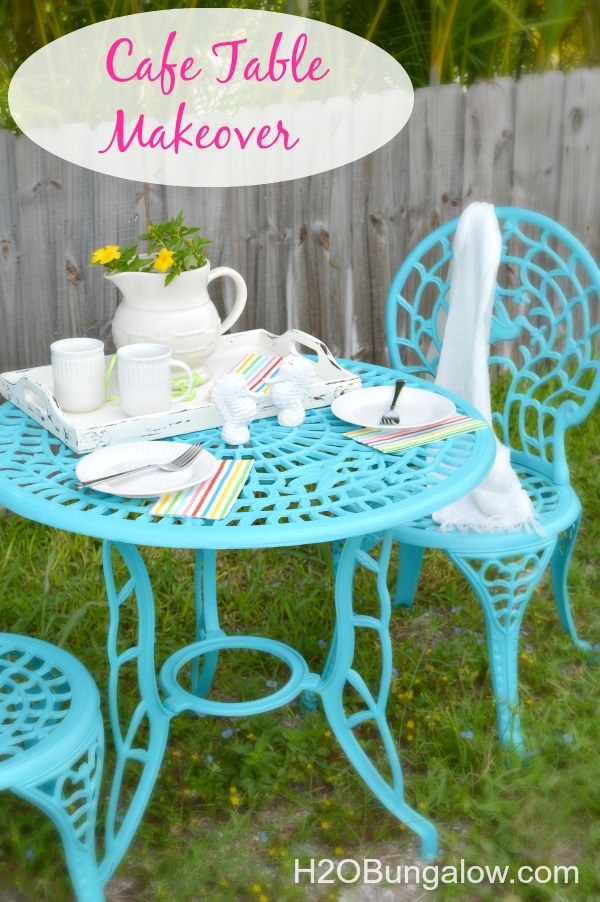 My cafe table makeover started like any other furniture makeover. Pick the paint color, grab the supplies and start prepping. Interestingly enough, the more I worked on it …the more this little cafe table set brought back memories.
I've had it for a few years. This little table set is a leftover from our PD (pre-downsizing) time. It's been moved from corner to corner in the yard over the last two years. It doesn't fit our FL style here and if you've seen my home tour or other furniture makeovers you'd agree.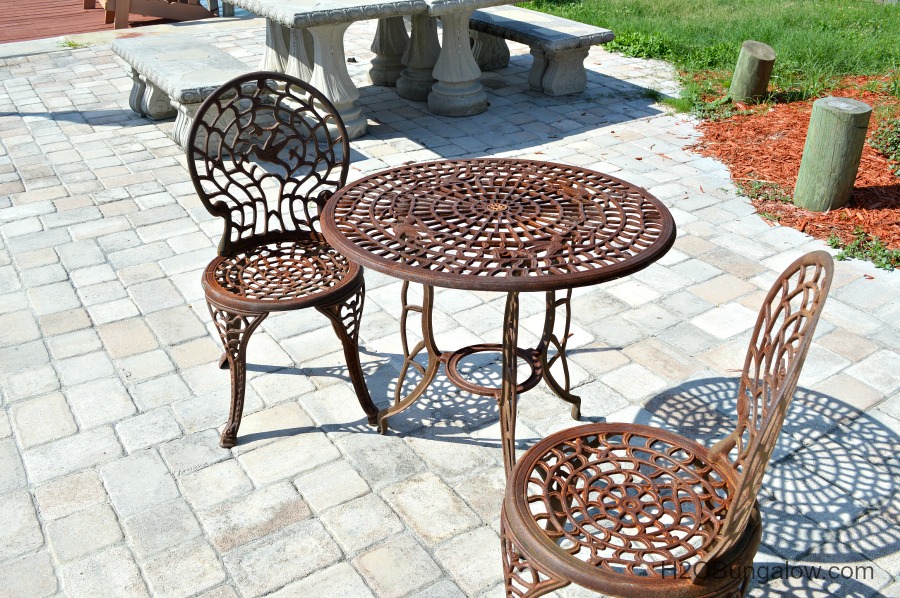 I simply got tired of moving it from corner to corner and figured it was about time I passed it along for someone else to love.
This iron cafe table makeover was simple. First, I used a wire brush and gave it a thorough scrubbing to get the rust off. Next, I gave everything two good coats of Rustoleum rust primer. I let it dry thoroughly in between coats. Especially in the summer heat.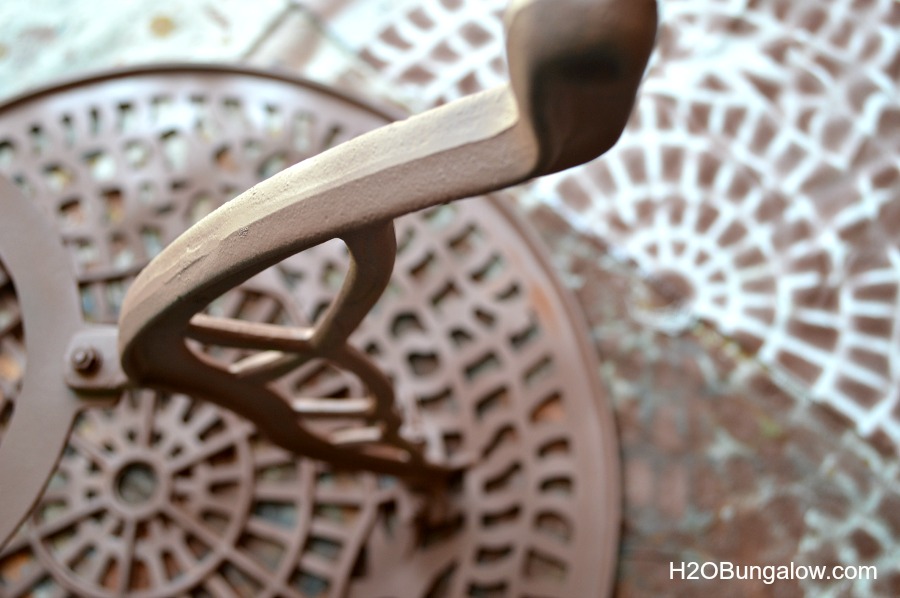 Over the next two days I gave the set several light coats of this exquisite blue color from Rustoleum. It's called "Sea Blue". You know I'd fall in love with a name like that! I used four cans. Do wear a face mask, and shoes…otherwise your nose hairs will be blue and your pedicure will go by the wayside 🙂 …Neither is a pretty sight:)
Once I'm in work mode, I kind of go on autopilot…I'm relaxed, I'm painting and my thoughts begin to wander. To me, it's my mental version of downtime.
My mind started wandering..and then I began thinking of picnics
..and picnic like memories
..and then picnics under the big tree back in Hopewell NJ when I was a kid. I remembered visiting my step mom's mother years ago. She had a really big pine tree in the backyard with a wooden picnic table underneath that was always cool in the shade.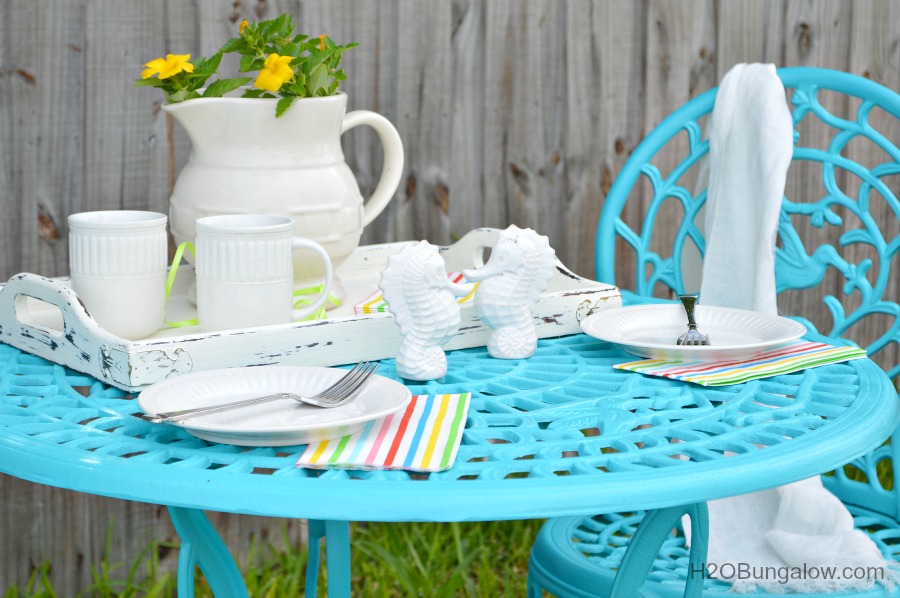 It wasn't polite to just stop by and run, you had to stay and visit. Which was OK.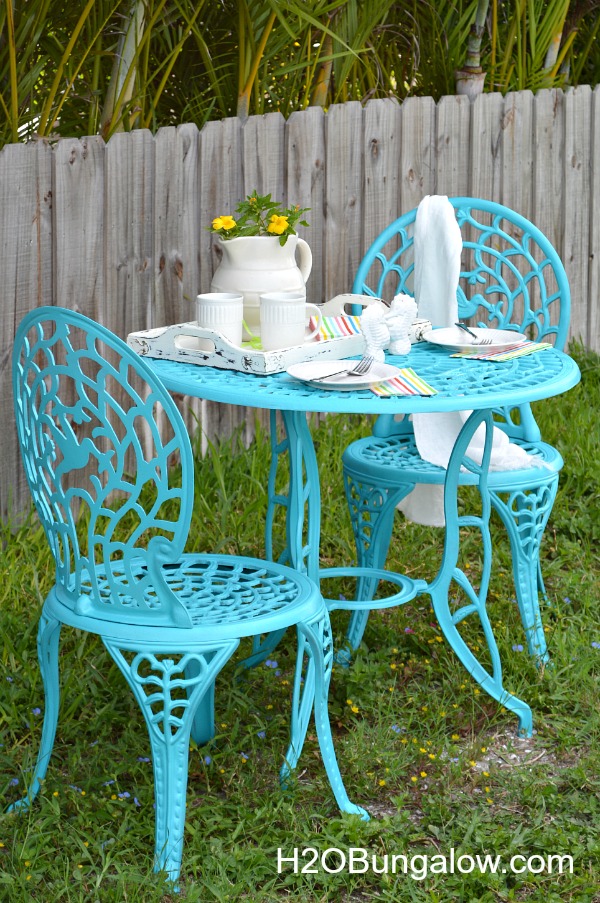 Because she'd have sandwiches cut in little triangles waiting on the tray to take out back to the shade tree. And a pitcher of sweet tea on ice. Maybe a small plate of homemade cookies fresh from the oven too.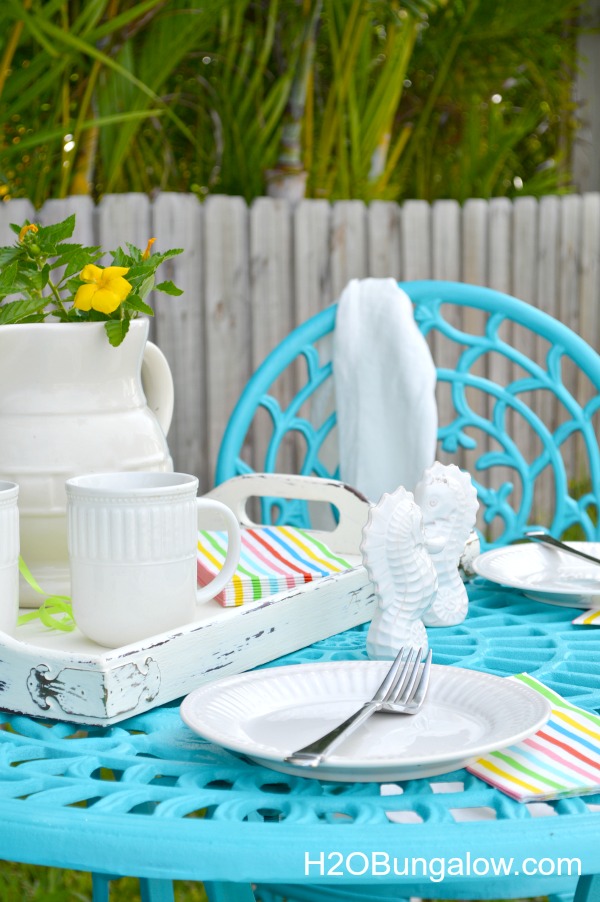 Her napkins were always neatly pressed and folded. The bread was soft and the drinks were cool. When lunch was over, we'd help carry the dishes back in to the kitchen.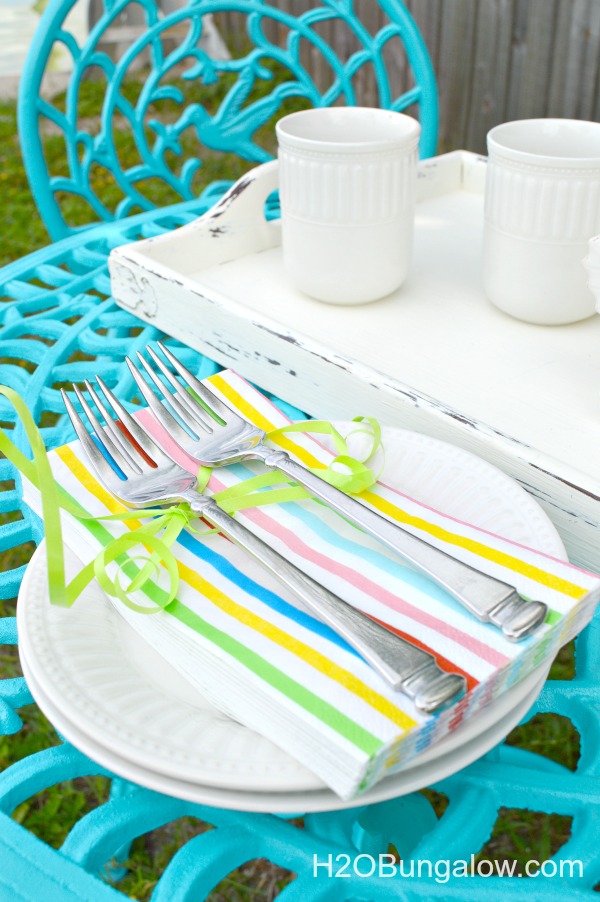 That was different time, but, not so long ago.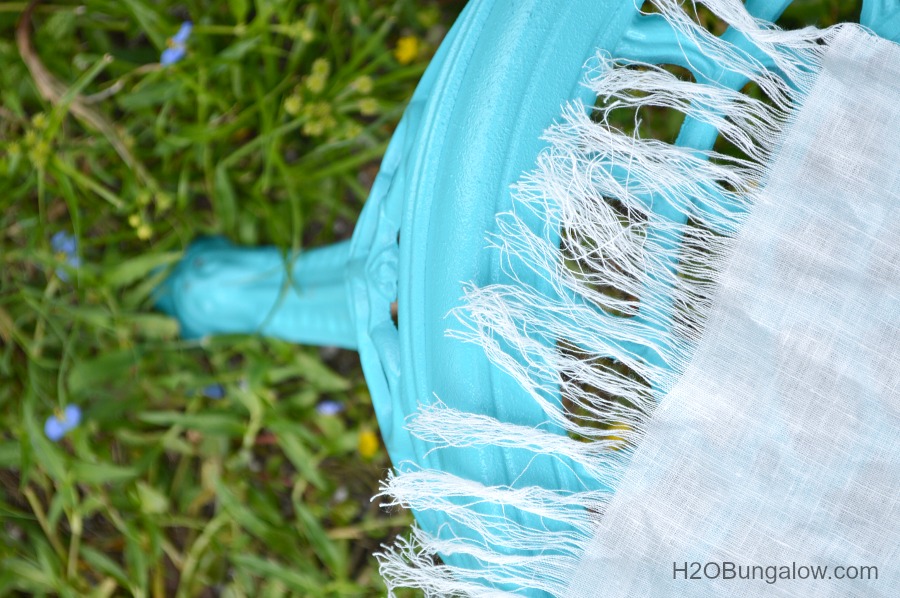 I'm now wishing I had a big shade tree in my back yard. I'd keep this little cafe set and invite my friends over. I'd make little sandwiches and serve tea from a big pitcher.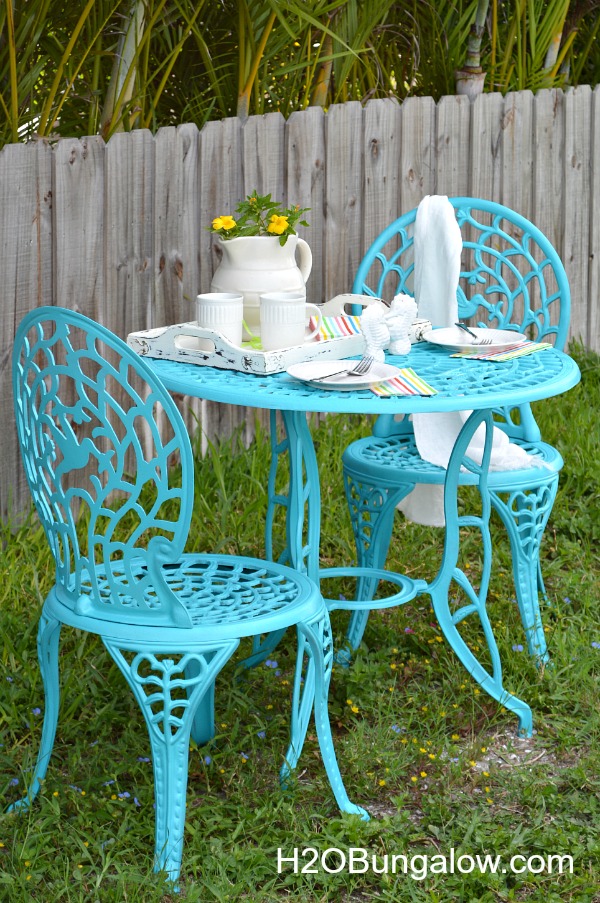 Ha!
Who am I fooling?
I'd probably use paper plates and napkins. I'm more likely to sit in the shade with good friends and a nice glass of wine in the evening and watch the boats go by with my flip-flops on.
That, my friends, is why this darling little iron cafe table makeover will find a new loving home down in Tampa in the H2OMarket.
Don't you love this vibrant blue on the vintage cafe set?

Are you following me? Like, you know…my blog? What? Not following me yet?
Sign up for my posts via email HERE or Bloglovin HERE. Both are free!