I'm sharing a few candle decorating ideas for Christmas that will add some wow factor to any holiday decor.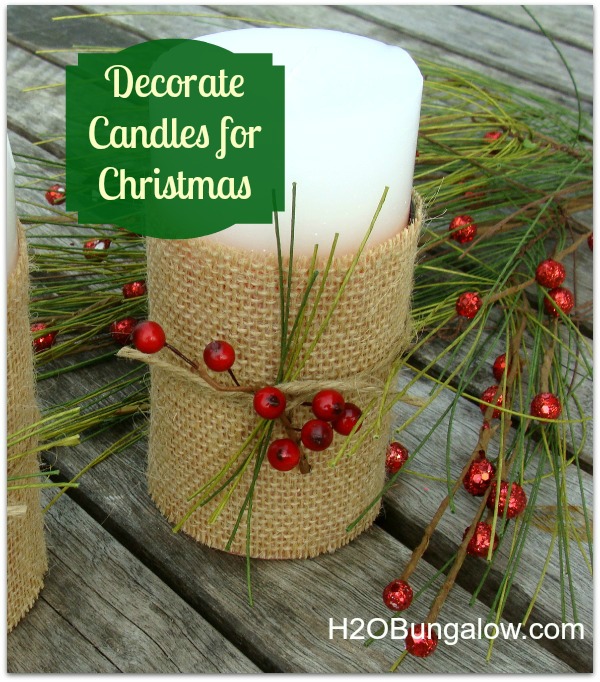 I've been talking about my plans to recycle and upcycle my holiday decorations in my last few posts. It's finally time to roll up sleeves and get busy!
Moving from a big ol traditional house to a beachy waterside bungalow meant lots of change. We have simplified and downsized everything. Our holiday decorations didn't get a hall pass from the weeding out either. Our house was built in the 50's, there is no attic, very few closets and a small garage. Simplifying to us also means not accumulating extra stuff. But I like pretty and I LOVE holiday decorating. My ongoing challenge is to find a way to have it all.. Bottom line, simplify without compromising…well anything. This project was a big score, I did just that!
I'm really happy that I found a way to use what I already had along with a few $1 candles from the Dollar Tree. That's it. Spent $2 on the entire project.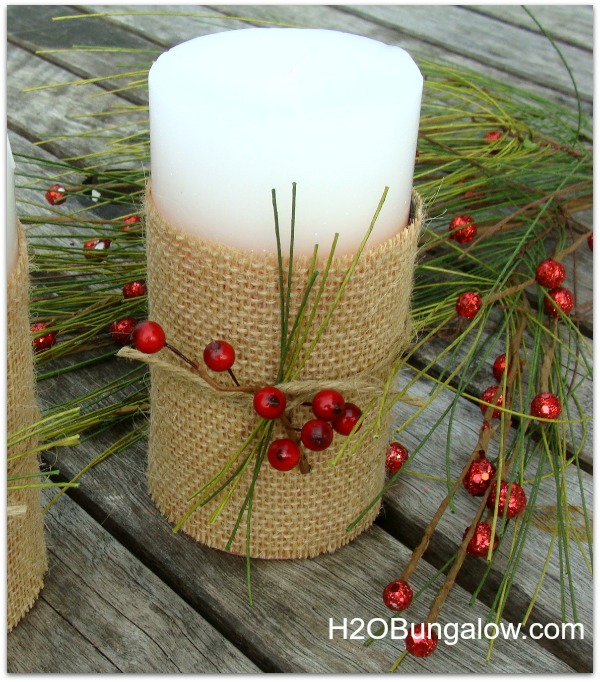 My everyday candles are fun. I love the melon color and the little metal embellishment. But they don't work for the Christmas holidays. I simply reworked the look and now they're filled with Yuletide cheer:)
To start, I gave them a quick rinse with hot water to rinse off any dust and wiped them down lightly with a paper towel. I didn't have a plan with my Candle decorating Ideas for Christmas project. I just started cutting burlap, snipping Christmas picks and digging in boxes for ribbon. I piled everything onto the counter and started. This project is super easy. I've added a few tips and pointers where I thought they'd help get the best looking results.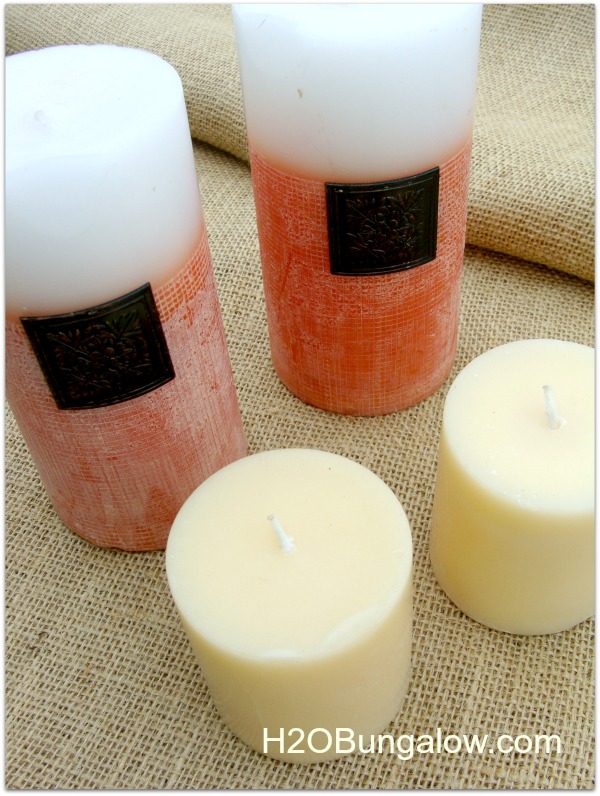 I used burlap to cover the candles. First, mark off how tall and how wide you need your burlap candle cover. To keep straight lines I pulled a thread and then trimmed where the thread was gone. I am not a pro when it comes to working with burlap, but I can tell you it makes a much neater presentation (and its easier to work with) when the threads line up to make an even rectangle.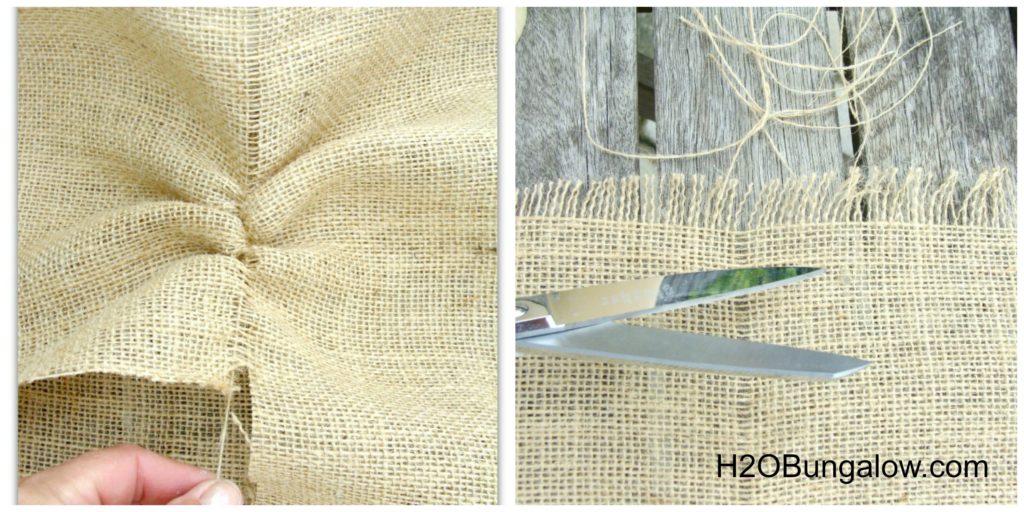 I simply wrapped each base. I used scotch tape to hold the burlap in place until I had the wrap completely done. That way I could adjust anything like tightness and how straight the burlap was. I only wanted to cover the melon color on these so I made the wrap shorter on this pair. Even though this is a DIY tutorial on Candle decorating ideas for Christmas, these covers can hide a scratched or damaged spot on a favorite candle year round too. We have cats.. ask me how many items get glued back together!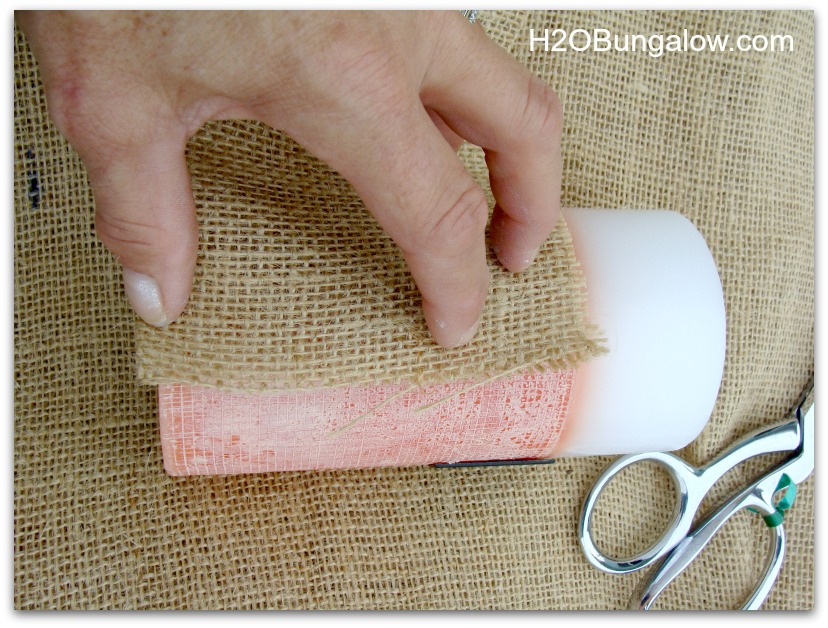 You can't mess this up. I was playing around with different candle decorating ideas for Christmas and tried several different embellishments. I used picks that were in my Christmas box and snipped small sections off with wire cutters. I liked the little gold beads with the crinkled ribbon. The gold wired edges were a nice contrast and blended well with the cream candles. I simply tucked the pick pieces under the ribbon before I fixed it in the back of the candle. I used a small pin to hold the ribbon in the back of the candle on these. They stay in place just fine.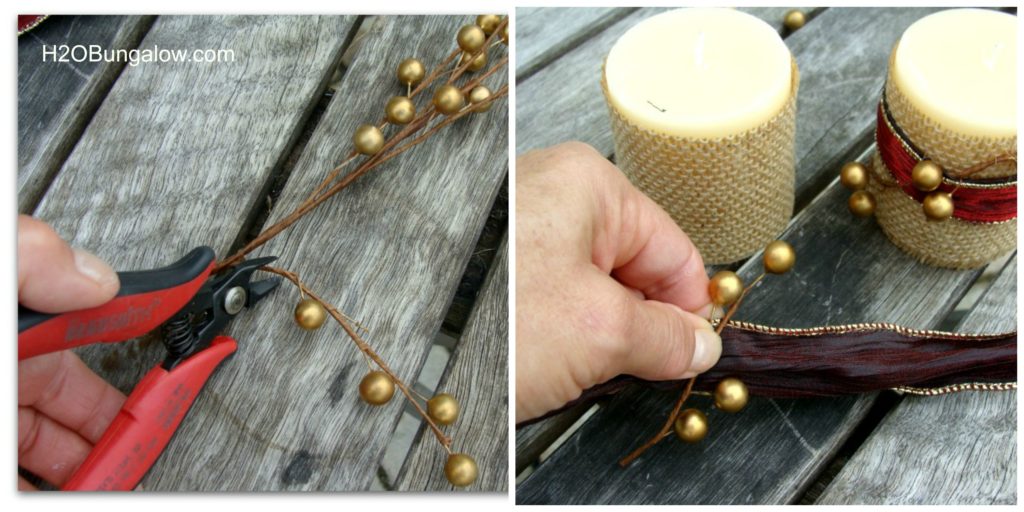 For a relaxed look, I tied the melon candle with a single jute string. The greenery was pine needles from a large faux pine branch I have. I just snipped them and then cut them in half. It's a nice contrast with the red and the burlap. I love the textures and natural look of this pair. It's my favorite of the two candle styles.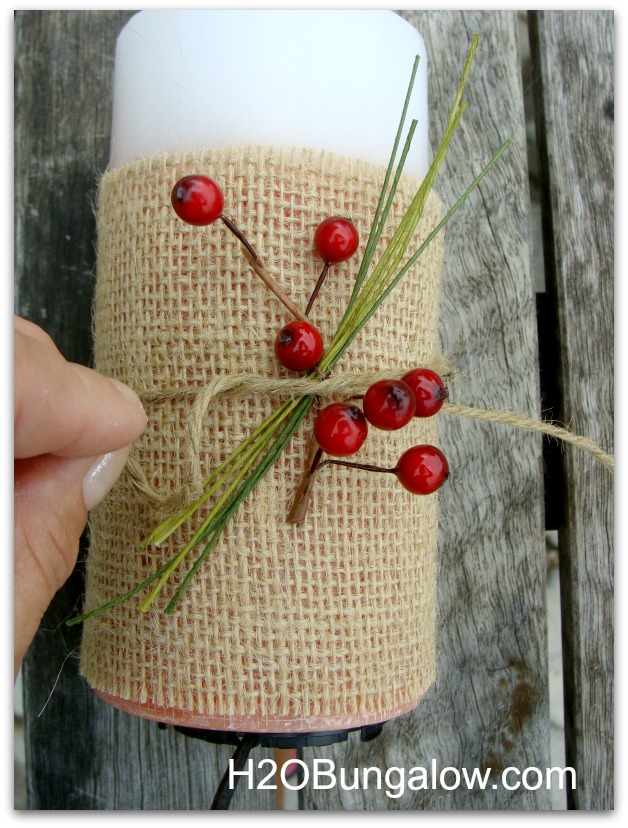 Here's how the mini pillars came out. A little bit of burlap, ribbon and a few beads completely changed them into a festive holiday decoration.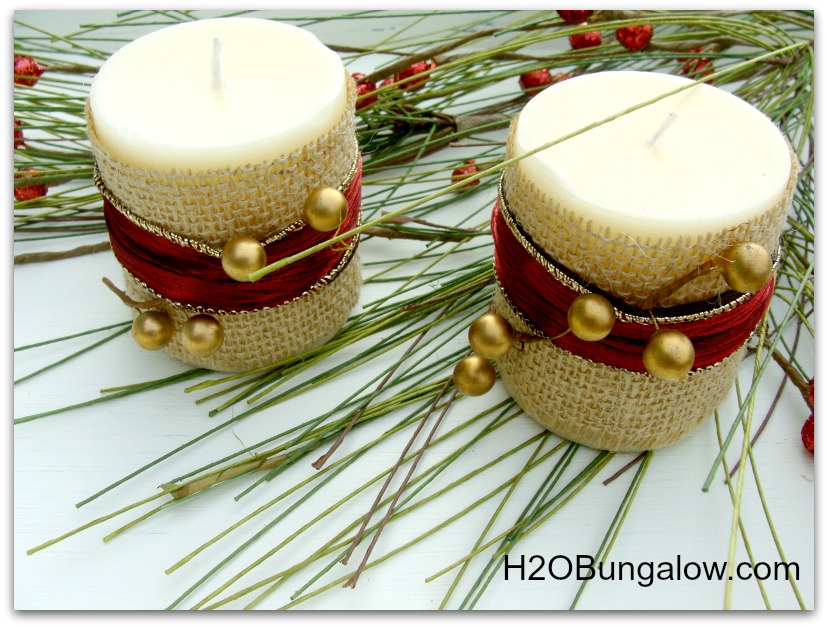 Here's my set of summer melon candles. No more summer here, it's Happy Holidays all the way!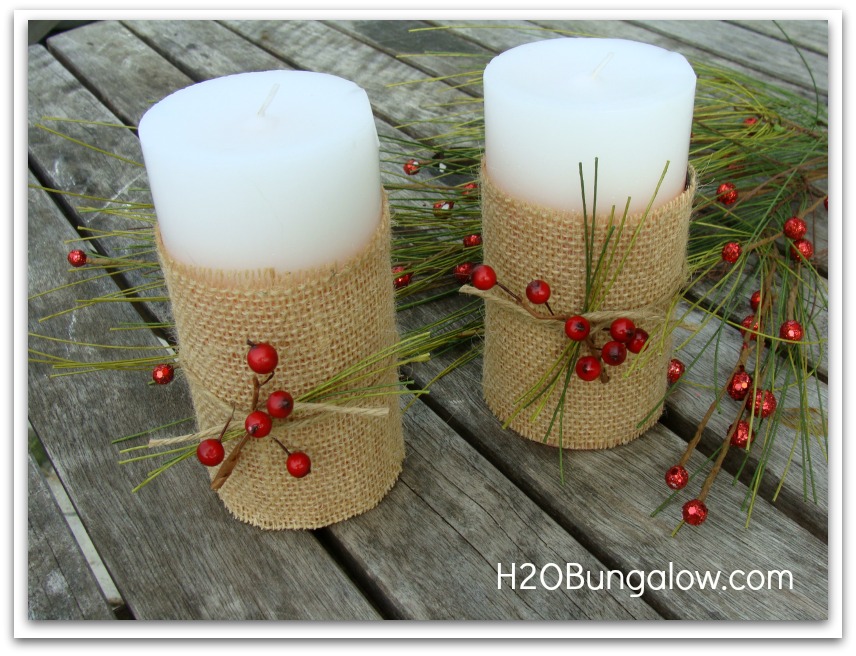 If you'd like to see another style of holiday candle decorating idea check out my Thanksgiving Subway Art post from earlier this week. You'll see it on the table next to my framed subway art.
This project was a fun success. I added a whole lot of holiday spirit with a little bit of burlap and a few Christmas picks. I didn't spend big bucks on new decorations and totally love the results!
Do you have any candles that could use a holiday makeover?

Don't miss a single creative idea I share! Click here to get my posts sent to your mailbox or follow here on Bloglovin. Either way, keep in touch!
You'll see me linking up here to some super link parties!