I am crazy for the mercury and vintage glass look this year. I will absolutely be using it this holiday season. It's everywhere in stores and catalogs. Today, I'm sharing how to make faux mercury glass with craft paint or Krylon Looking Glass spray paint. I'm dramatically changing our Christmas decorations in my big holiday makeover project. Recycling and upcycling requires some trial and error…hopfully more trial than error. I'm having a blast planning, pinning and testing ideas. This project was easy and fun.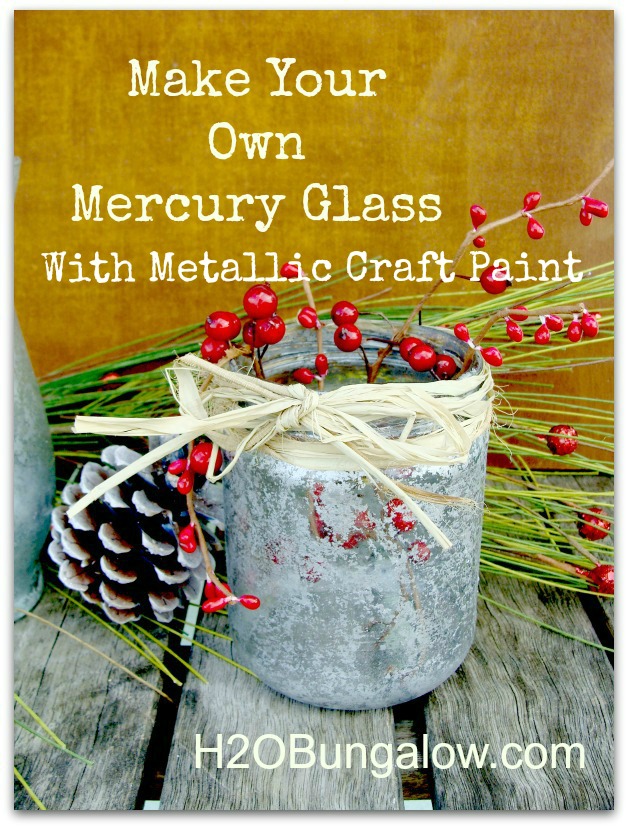 I'm not exactly sure where I'm using a vintage glass look, but have a few ideas brewing. I know I'll need several pieces of it. I can't justify buying it..besides making it is half the fun and admiring the finished look is the other half! 🙂 I used trial and error to find a way to make it with the supplies I had on hand.
I'm sharing two ways of how to make faux mercury glass. One with craft paint and another with Krylon Looking Glass paint. The Krylon Looking Glass method is the most common way to make faux mercury glass. Most DIYers are probably familiar with this method.
This whole project started because I was running low on my Looking Glass spray. I started tinkering around with my metallic paints to see if I could duplicate the spray product look with paint supplies I already at home. I scanned the internet and didn't see any other versions of DIY mercury glass, especially any using metallic craft paints. I was pretty sure I could replicate the look and played around with it until I had a decent version. I think this method worked well if I do say so myself!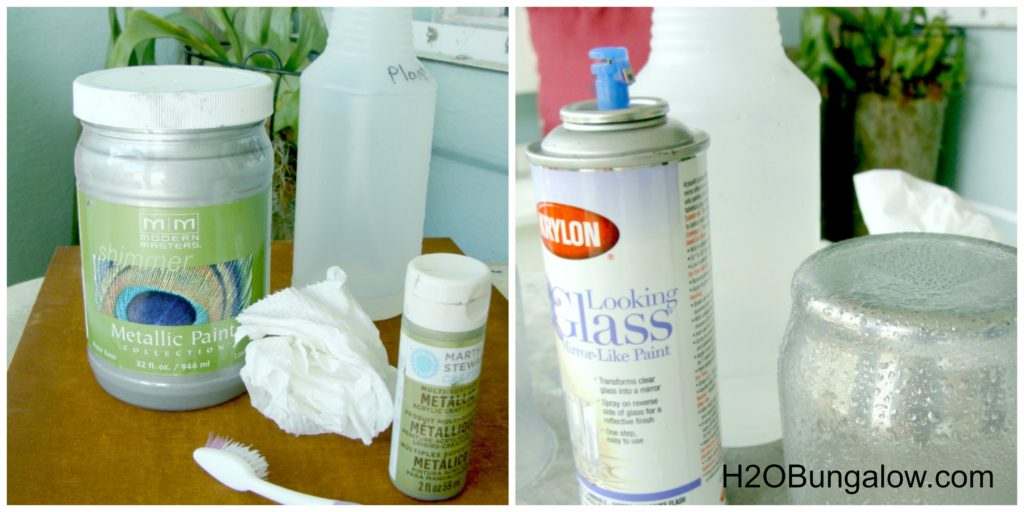 Applying the paint is different for each version, but the remaining steps are the same.
Here's how to make faux mercury glass with metallic paint
Metallic Craft Paint Faux Mercury Glass Supply List
Silver metallic paint
Muted gold paint – using a second color is optional
Water and vinegar (equal parts) in a misting bottle. Dollar Tree has great ones for $1.
Old toothbrush
Paper towels
I used what I had on hand which was Modern Masters Shimmer Metallic silver and a Martha Stewart gold paint for this version of faux mercury glass. Start by washing and drying your glass. I used a salsa jar from the recycle bin and a little vase that I had.
Have your vinegar mix ready in a spray bottle that mists evenly. Why the vinegar? I really don't know. It's a common ingredient in just about every Krylon Looking Glass method you read about. It's what I already had mixed up, so I used it. How's that for a very unscientific explanation 🙂
You'll begin with the silver paint and the toothbrush.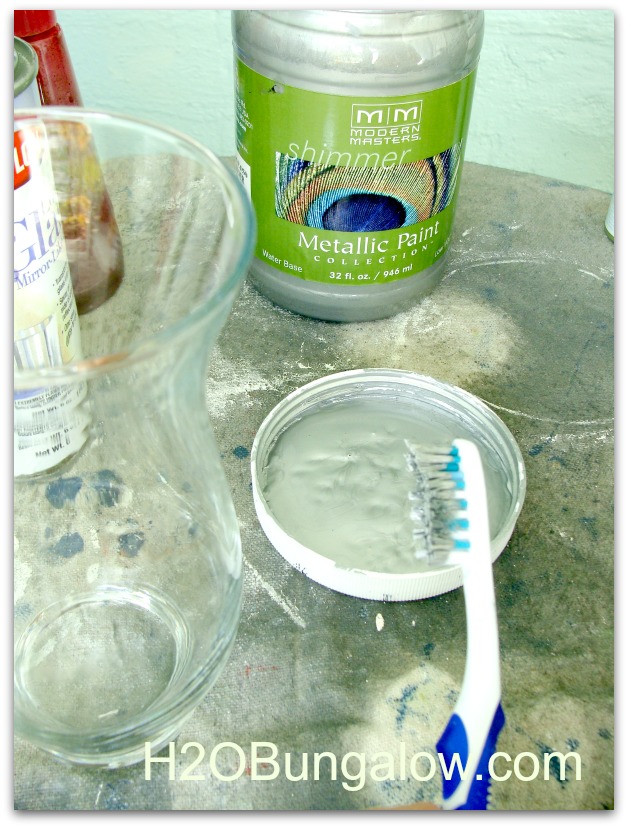 After trying a few application ideas, I found the toothbrush to work the best. Take an old toothbrush and dab it into the paint. I tapped it onto a paper towel to get the excess off. You don't want gobs of paint, just splotches applied randomly. Pounce the brush onto the glass in quick jabbing motions. It will look like this after you've coated it.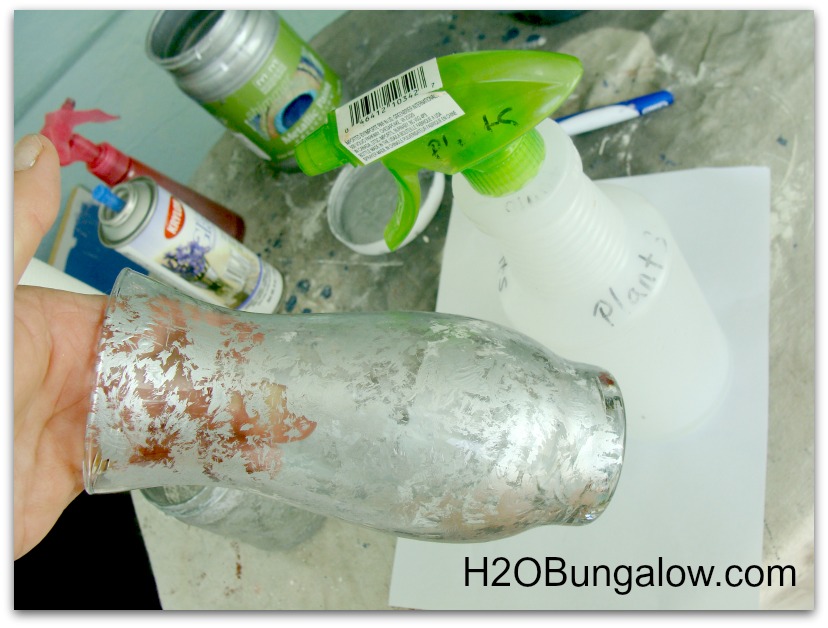 Once you've covered your glass with paint, immediately spray your glass with the water and vinegar mixture evenly all over. It's important with this method not to have drips of water running down your glass. You want the water to bead up on the glass.
As soon as you're finished spraying, take your wadded up paper towel and start dabbing the water off of your glass. Some of the paint will come off and that is OK. It's important to really work the paint and the dabbing with this method. If you take too much off, you can always apply more layers to get the effect you like. I personally liked the effect of several layers on the finished vase.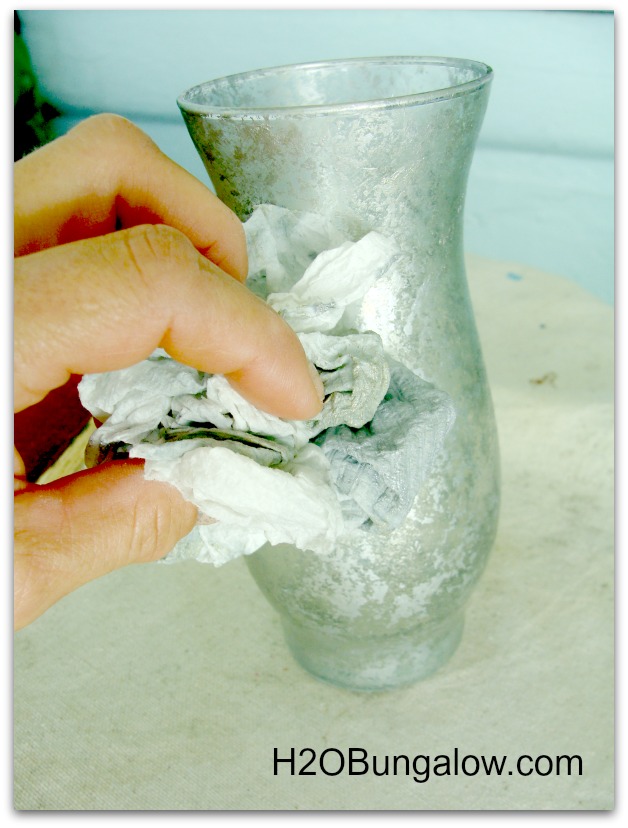 Here is a close up picture of what your glass will start looking like. Since I was trying different looks, I dabbed heavily on the below jar and left a lot of glass showing through. It looks like an old mirror that has lost the mercury backing which is exactly what I was trying to make!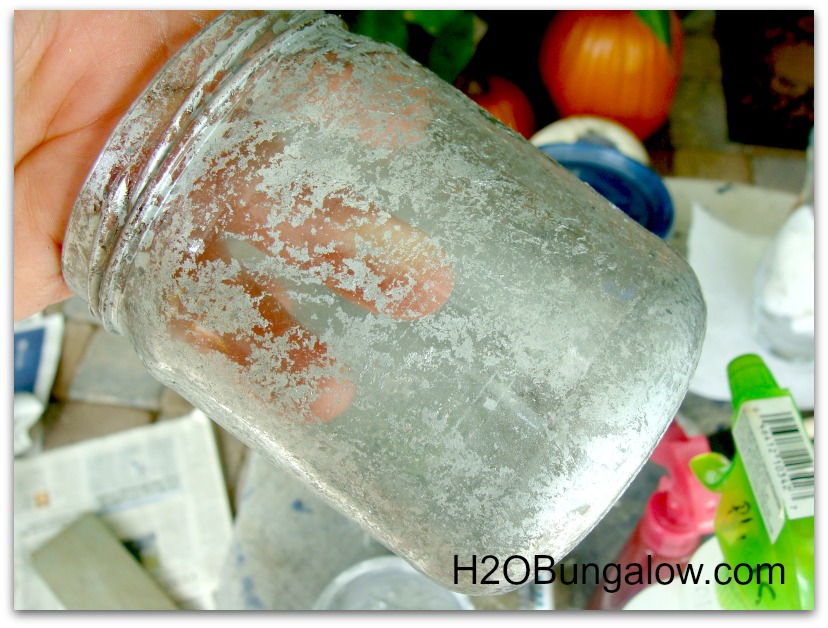 Here's where the second metallic color comes into play. Most mercury glass has a bit of color to it, like gold. I wanted to see if I could match that too. I used the gold metallic paint for my second layer of paint on my vase. It made a subtle difference and I think the vase had more depth to the finished piece.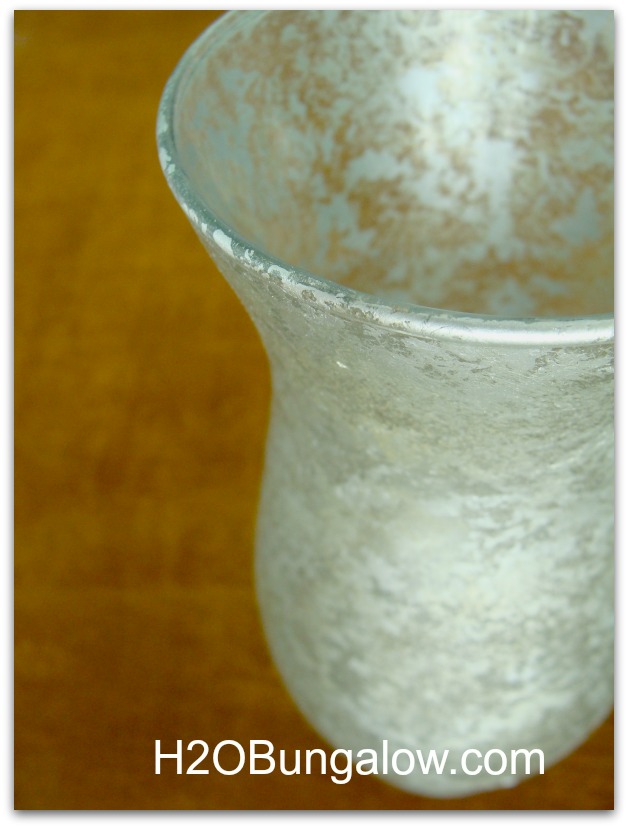 Here's a few pictures of my painted "mercury glass" versions. Silver is tricky to photograph some of the detail is lost in the pictures. The front jar is the one where I heavily dabbed and took off a lot of the paint. The vase is my two toned version with more layers of paint applied.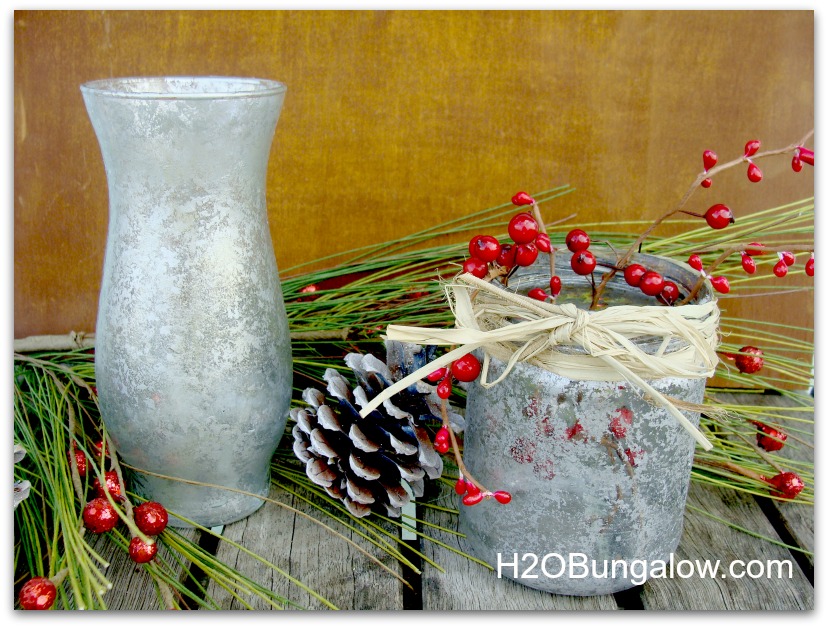 Another pic of a close up.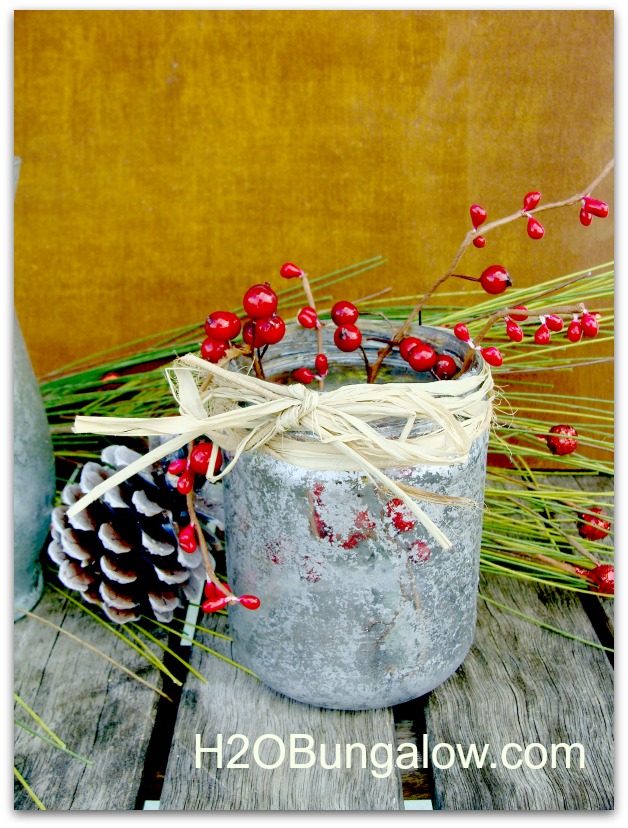 Since I started off talking about both methods, I felt I should include the Looking Glass spray paint version as well.
Here's how to make faux mercury glass with Krylon Looking Glass spray paint.
Krylon Looking Glass Faux Mercury Glass Supply List
Krylon Looking Glass spray paint
Water and vinegar mix in equal parts in a misting bottle. Dollar Tree has good misting bottles for $1.
P

aper towels
Wash and dry your glass. Spray a light coat of Krylon Looking Glass spray paint all over the outside of the glass. It's ok to be creative and spray the entire piece evenly, or spray heavily on the bottom and fade to the top of your glass.
Follow immediately with short bursts of forceful mists from your water bottle. You'll want the misting setting that will be able to gently push the paint on the glass. You'll coat the entire area evenly. You don't want to apply so much water that it drips! Next, crumble a paper towel and gently dab at the glass all over to absorb the water. Some of the paint will come off onto the towel, it's ok. let is sit a few minutes until it's dry to the touch before applying the next layer. I applied about 4 thin coats of paint.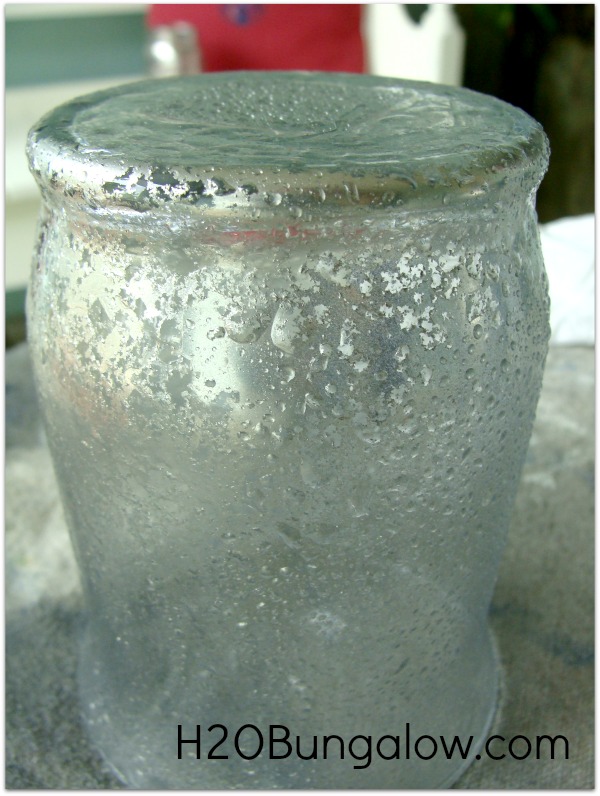 Here's a picture of a finished mason jar I used this method on.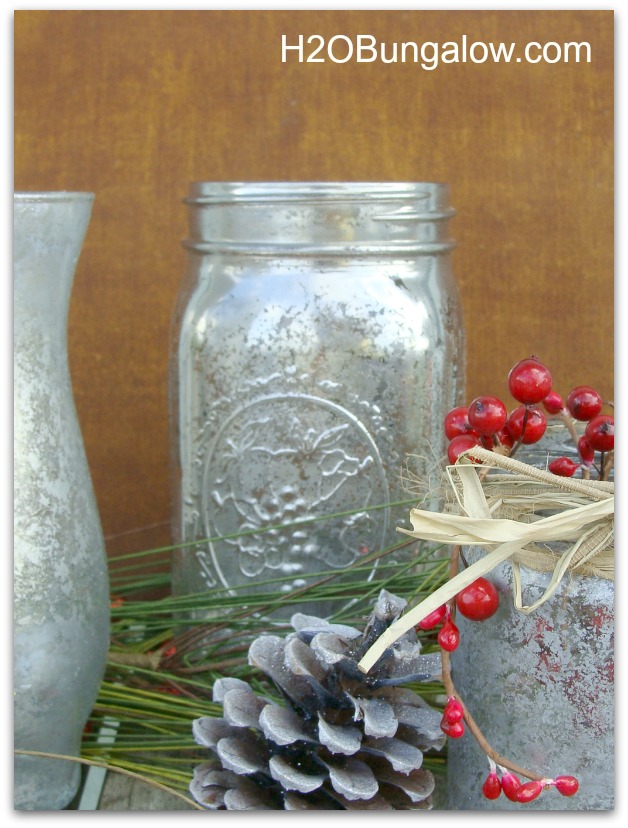 Here is a another angle. The mason jar in the back is the one finished with the Krylon Looking Glass. The front vase is the two toned metallic craft paint version.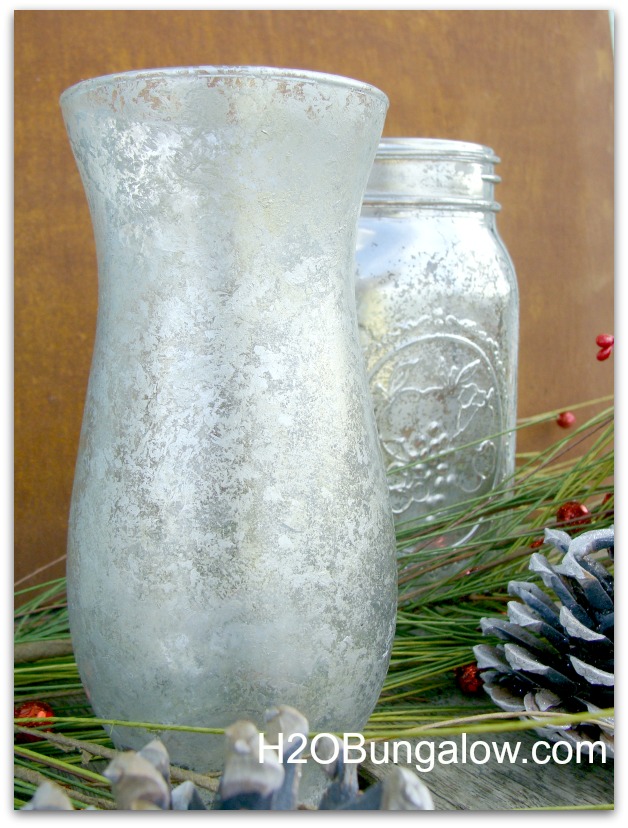 Here's another picture. I think the salsa jar version on the right is my favorite.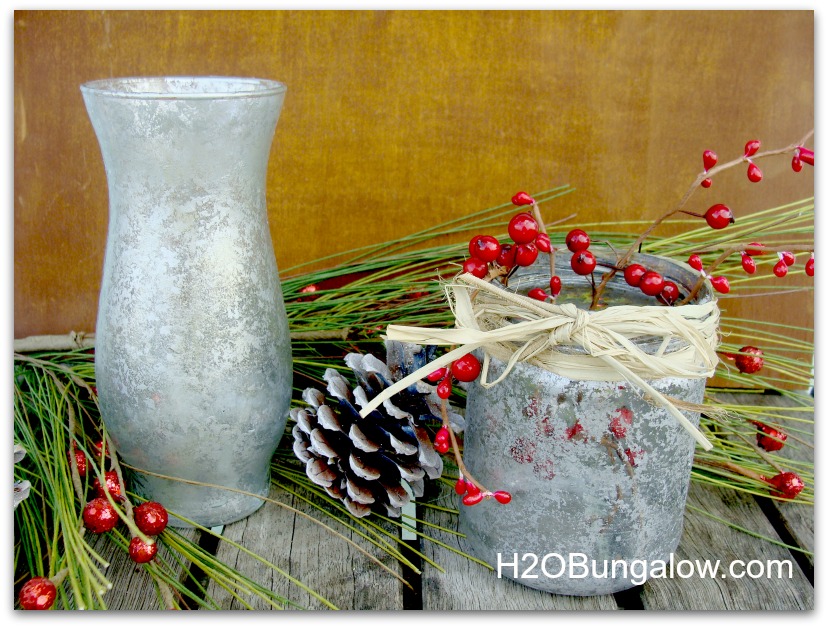 Up close you'll notice that the craft paint metallic mercury glass is not as shiny as the Krylon Looking Glass spray version. But, as I write this from my dining table (holiday guests in my office/guest room!), I'm looking at the glass on a table across the room and I can't see any difference. The pieces look fabulous! They still are shiny. For me, the craft paint version is a great option. You'll love it if you don't want to spend the money on the spray Krylon paint or can't easily find it in stores.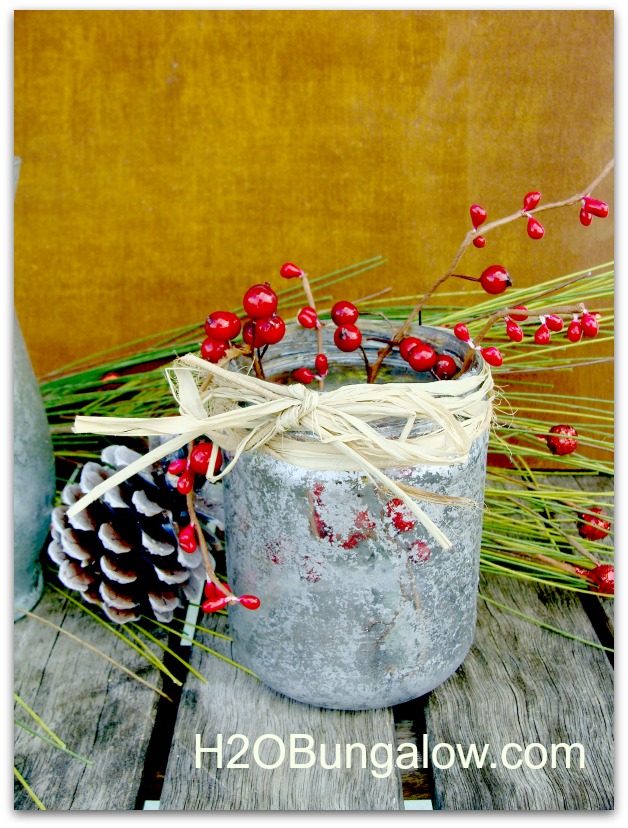 I'm so excited to get started on my holiday decorating this year.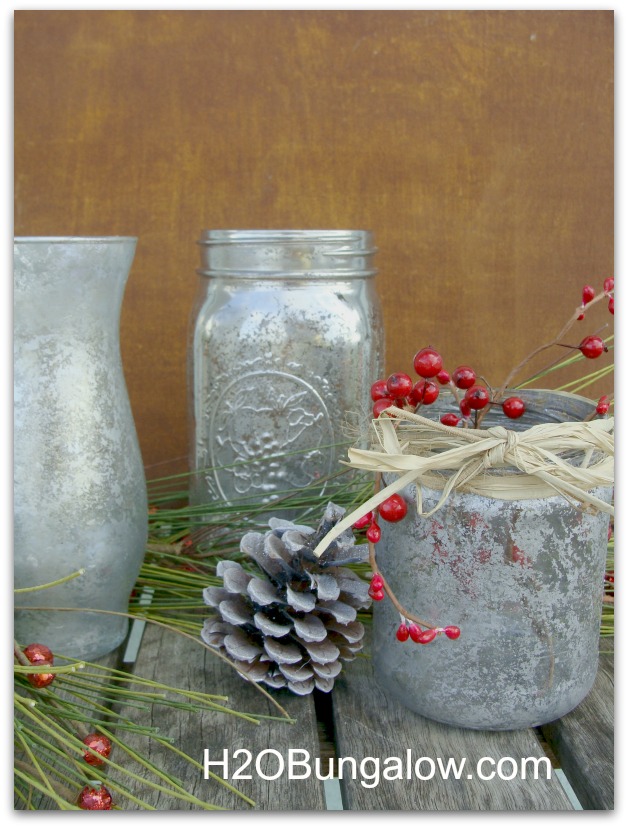 What would you use mercury glass for in your holiday decorations this year?

Don't miss a single creative idea I share! Click here to get my posts sent to your mailbox or follow here on Bloglovin. Either way, keep in touch!
You may see me linking up to these awesome link parties
And here: DIY Sunday Showcase