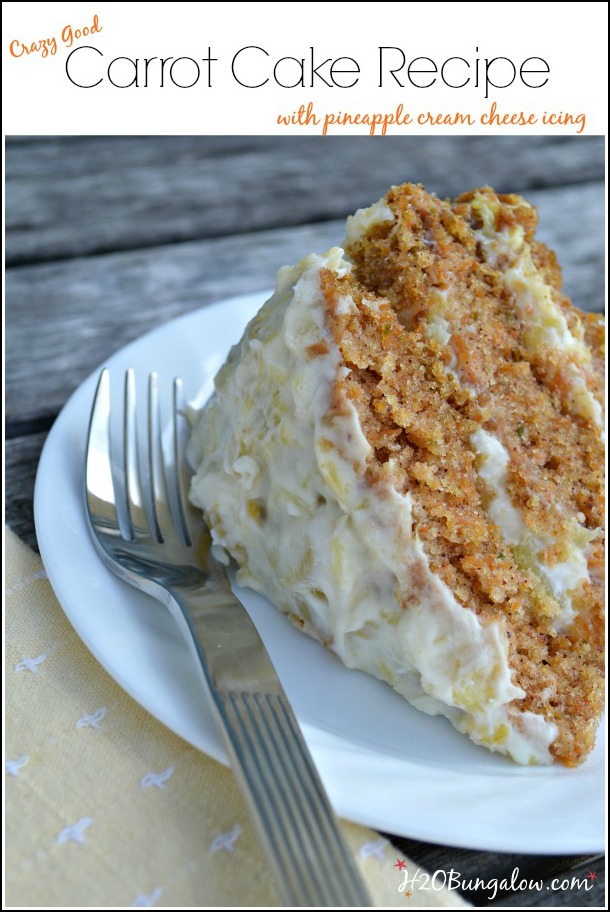 I'm taking a big turn left and sharing a different kind of project today. That's right, my husbands family carrot cake recipe with pineapple cream cheese icing. Boy-oh-boy is it gooood! Sometime during the last several years, I turned into the official holiday carrot cake maker of DH's family. Probably because everyone else has had their turn and I was next on the list:) I've picked up a trick or two from my mother in law that makes this yummy carrot cake a little easier to make.
Sailing update: DH and I are still out on the high seas… actually we're waiting on a part in a marina, but more on that below.
Carrot Cake with Pineapple Cream Cheese Icing
1 1/2 cup salad oil
2 cups finely grated carrots
2 cups flour
2 teaspoons baking soda
2 cups sugar
4 eggs
2 teaspoons cinnamon
1 teaspoon salt
Combine and mix the oil and sugar. Add the carrots and mix well. Add eggs one at a time.
In a separate bowl, combine the dry ingredients. Blend into the carrot mixture. Pour batter into 3 round buttered cake pans. Each layer will be thin. Bake at 350 degrees for 25-30 minutes. Let cool.
Pineapple Cream Cheese Icing
8 oz cream cheese softened
1 1-lb box of powdered sugar
1 can crushed pineapple
1 stick butter
1 teaspoon vanilla
Combine all ingredients except the pineapple. Drain the pineapple in a colander. It's important to get most of the juice out of the pineapple so your icing will not be too runny. I take paper towels and gently press them against the pineapple in my colander. When the pineapple looks pretty dry but still has a lot of juice left in the pulp, gently fold it into the icing. If you stir the pineapple too much, you'll release more juice from the pulp and the icing will get runny. I usually put my icing in the freezer or refrigerator for about 30 minutes to stiffen it up even more before putting the icing on the cake.
The next big secret to this fantastic mouth watering, moist carrot cake recipe with pineapple cream cheese icing is the flavor is always best the day after its baked. Cover and refrigerate overnight. Serve the next day.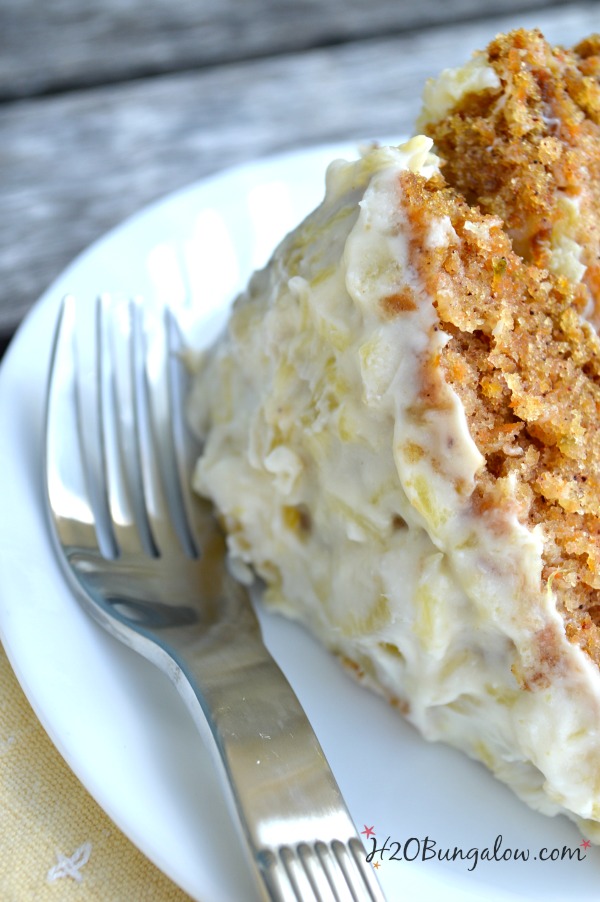 Our sailing update:
Our adventure of sailing down the west coast of Florida to Key West continue to be different each day. The words "we're hard aground" are not words a sailor wants to hear, especially when you're not on land 😉 Yup, after a long day of traveling, we came in after dark and there wasn't much room left to anchor. Think Easter weekend and spring break crowds. We were a wee bit too close to a shoal and drifted over it while the tide went out. Of course this was in the middle of the night and we were sleeping. It's kind of funny now, but at the time, it was pretty annoying. For about 6 hours, we layed there, in bed as our boat slowly went sideways..kind of like a fun house in an amusement park..but not so amusing. When it lists (leans over) the most, climbing over things and clinging on is the only way to move around the inside or your "laying in bed almost standing up. There's nothing you can do until the tide comes back in. In about 6 hours your boat uprights..and you sail away.
Yesterday, as luck would have it, our starter solenoid went out and we had to stay in a marina on Marco Island. It's all good, first because this is a premium destination spot with a top notch gorgeous marina and more importantly, this is the last place to have repairs done before we hit the Everglades and cross the ocean to the Keys.
Until next time…Fair winds my friends..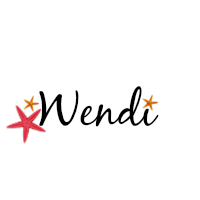 Don't miss a single creative idea I share!
Love my posts? Click here to get my posts sent to your mailbox or follow me here on Bloglovin.
Following H2OBungalow on Facebook? It's one of my favorite places and I share lots of extra projects, inspiration for the home and content I don't share anywhere else.
Love Instagram? Me Too! Follow H2OBungalow on Instagram and see my projects in process and lots more.