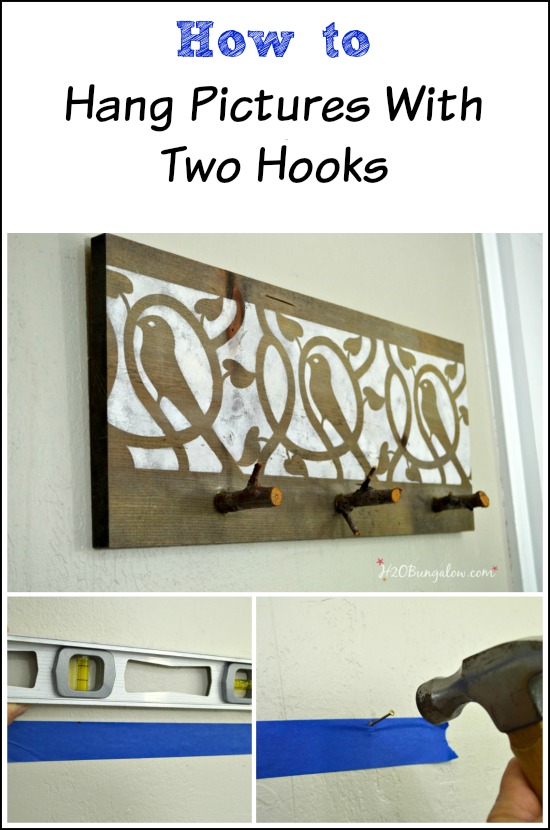 I'm sharing how to hang picture frames with two hooks today because I discovered the easiest method ever! Hanging a picture or frame of any sort with a double hook has always been just plain frustrating. I could get them hung, but they'd be crooked and or I'd have lots of holes under the picture from bad attempts. Not fun:( Not anymore. This method is so easy, you'll only need to see the pictures below to do it yourself. This tip will really come in handy when hanging larger pictures like this DIY large Modern Inspirational Wall Art.
Bye-bye crooked hung pictures!
Have these items ready to hang a double picture hook.
hammer
nails
painters tape
level
1. Place painters tape across and under the two picture hangers.
2. Mark the center of each picture hanger on the tape.
3. Place tape on the wall and use a level to adjust it.
4. Place nails on top of your marks and hammer in place.

Viola! A perfectly straight hung picture!
You now know how to hang picture frames with two hooks!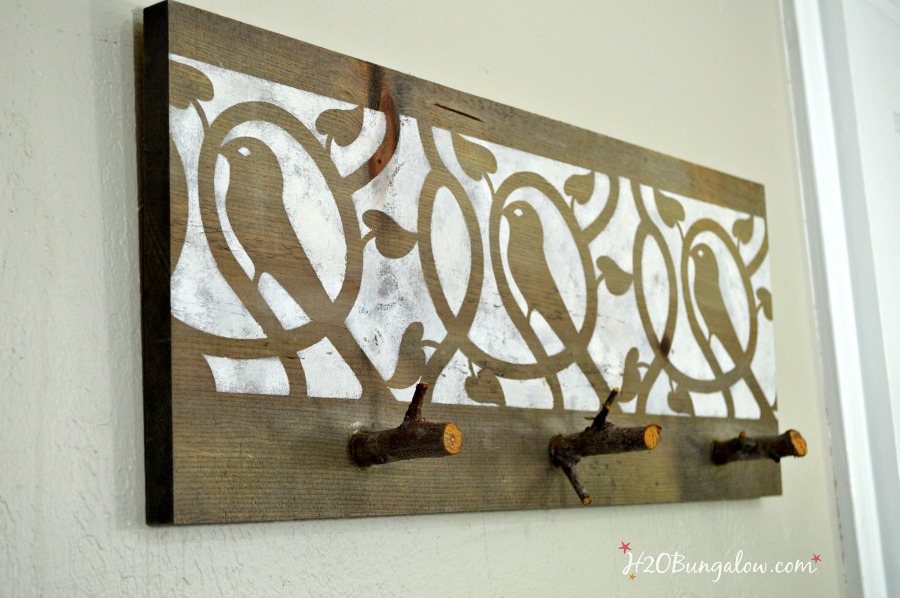 To see how I made this too cute tree branch apron holder click here. This project gave me the perfect opportunity to share how to hang picture frames with two hooks:)
Sailing update: We've trekked about 250 miles and pulled into Key West late last night after crossing the Gulf of Mexico from the Everglades. Both of us crazy tired after sailing about 15 hours over 70+ nautical miles. We did manage to chow on a Godiva Chocolate Easter bunny on the way 🙂
We'd sailed down to mile zero and around the tip of Key West in up to 20 knot winds beating us back, making headway was extremely slow. We broke through 4+ foot seas in the dark to our channel that lead us into our marina which was 2 miles long. Perfect navigation was the only option as there was only a 2 foot margin on each side of the channel (or you run aground). I handled a high beam flashlight, locating channel markers and DH was at the helm, navigating slowly.
We were greeted at the marina by the friendliest group of fellow boaters. They helped us tie up, extended a warm welcome and an invitation to "come on down to our boat" for a cold one when you get settled… which we gratefully did!
If your just joining in on our 500 mile sailing journey, start here, read this next, then this, and lastly this and you'll be caught up!