I thought you might enjoy some coastal fall decor ideas and inspiration today! Even if you don't live at the beach, you can incorporate these easy fall decor ideas in your home.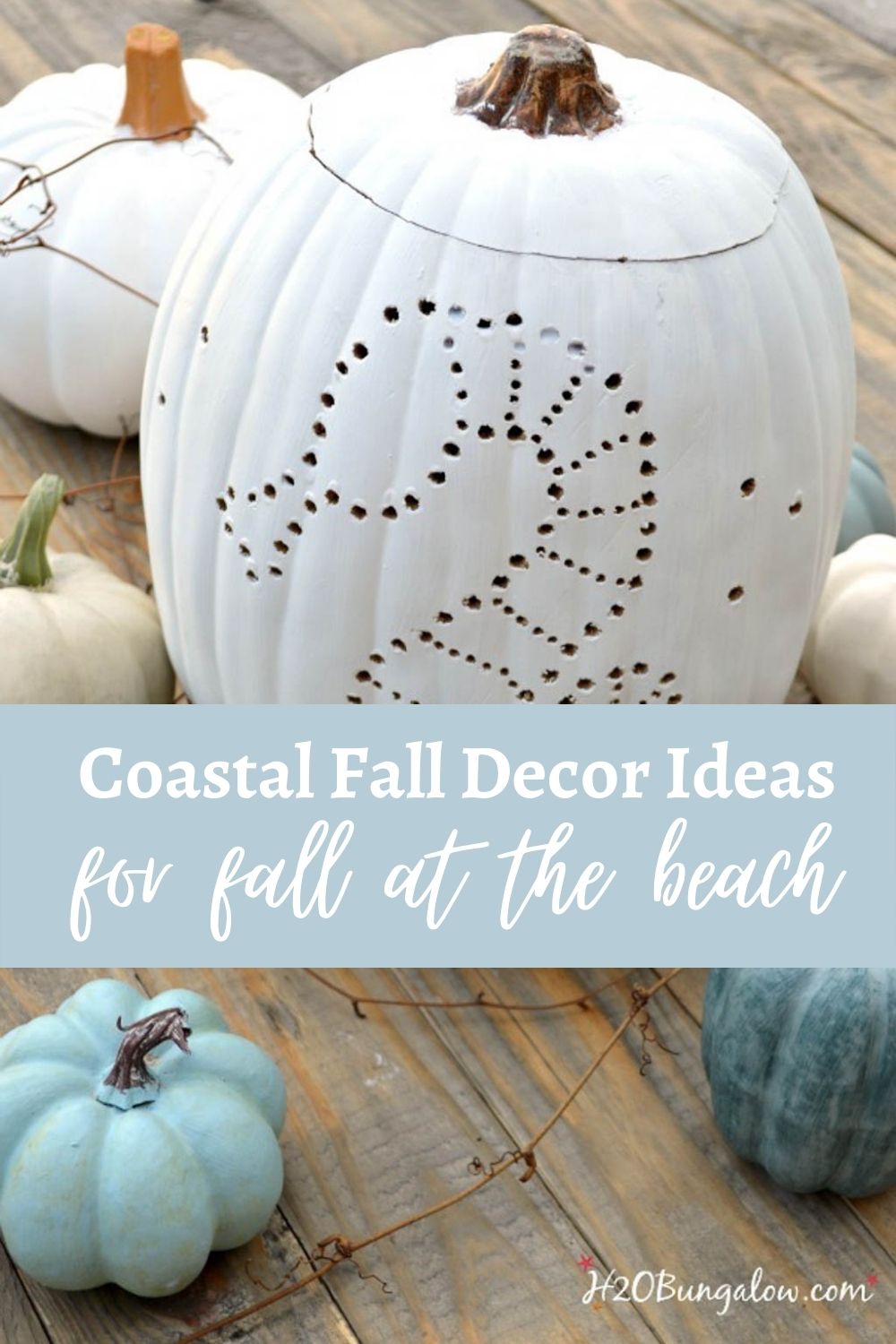 After getting everything ready up at the North House Lodge for our fall guests in Vermont, I have the seasonal decorating bug more than ever. I love fall and used to feel a bit cheated living in a place that almost always looked the same year round because I didn't think fall decor and warm temps at the beach went well together.
I was wrong!
I realized that the beach really does have it's own way of celebrating the change of seasons. It's just a little different. So, I thought I'd share a few favorite coastal fall decor ideas I fell in love with.
Coastal Fall Decor Ideas
It's easy to change the style of the DIY corn husk wreath by adding colored ribbon or something local to fit your own seasonal theme.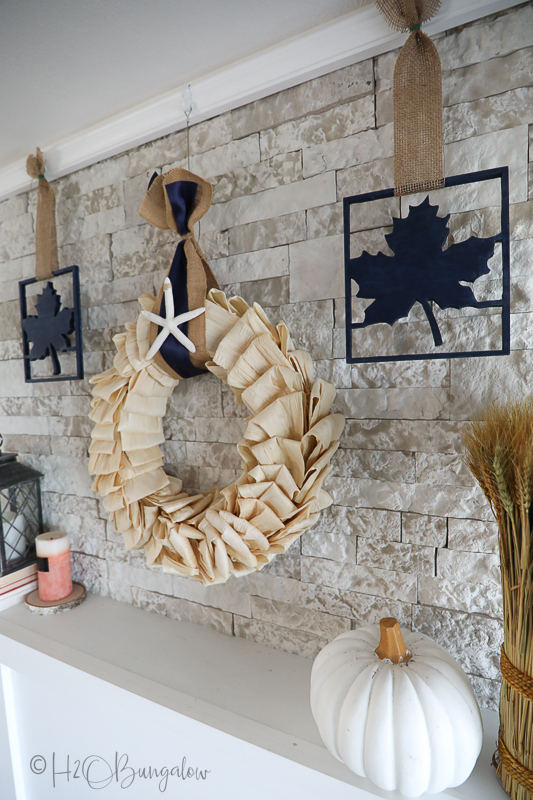 Fall at the beach is just a bit more subtle. Dying corn stalks is a thing around here to give them a cool beachy vibe.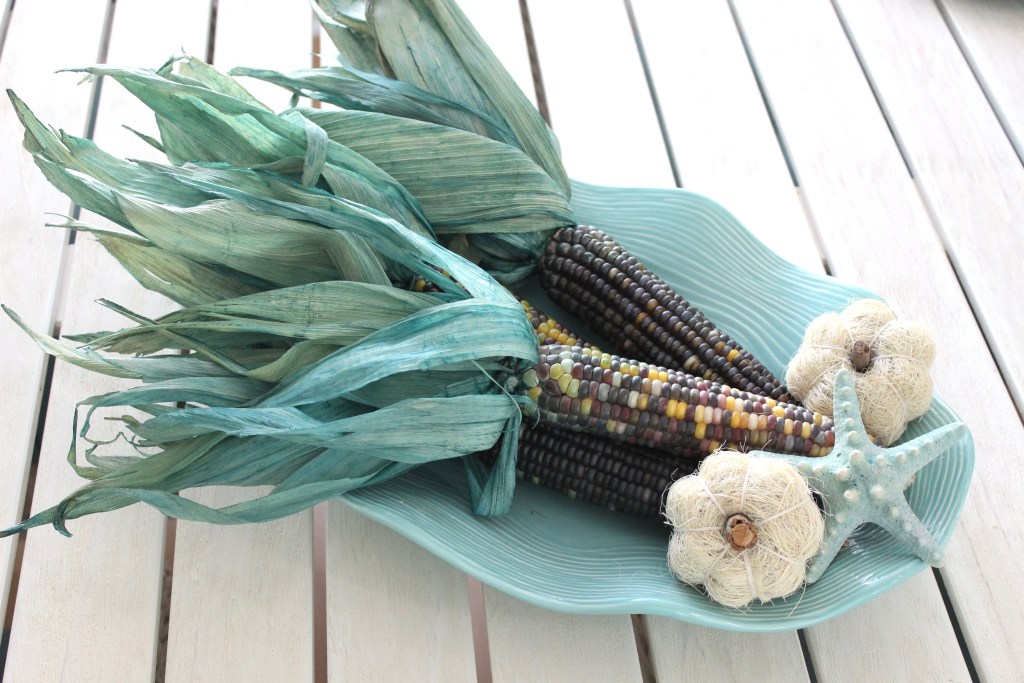 Carve your pumpkin with a drill and make this cute seahorse design. It's the perfect touch of coastal decor for fall.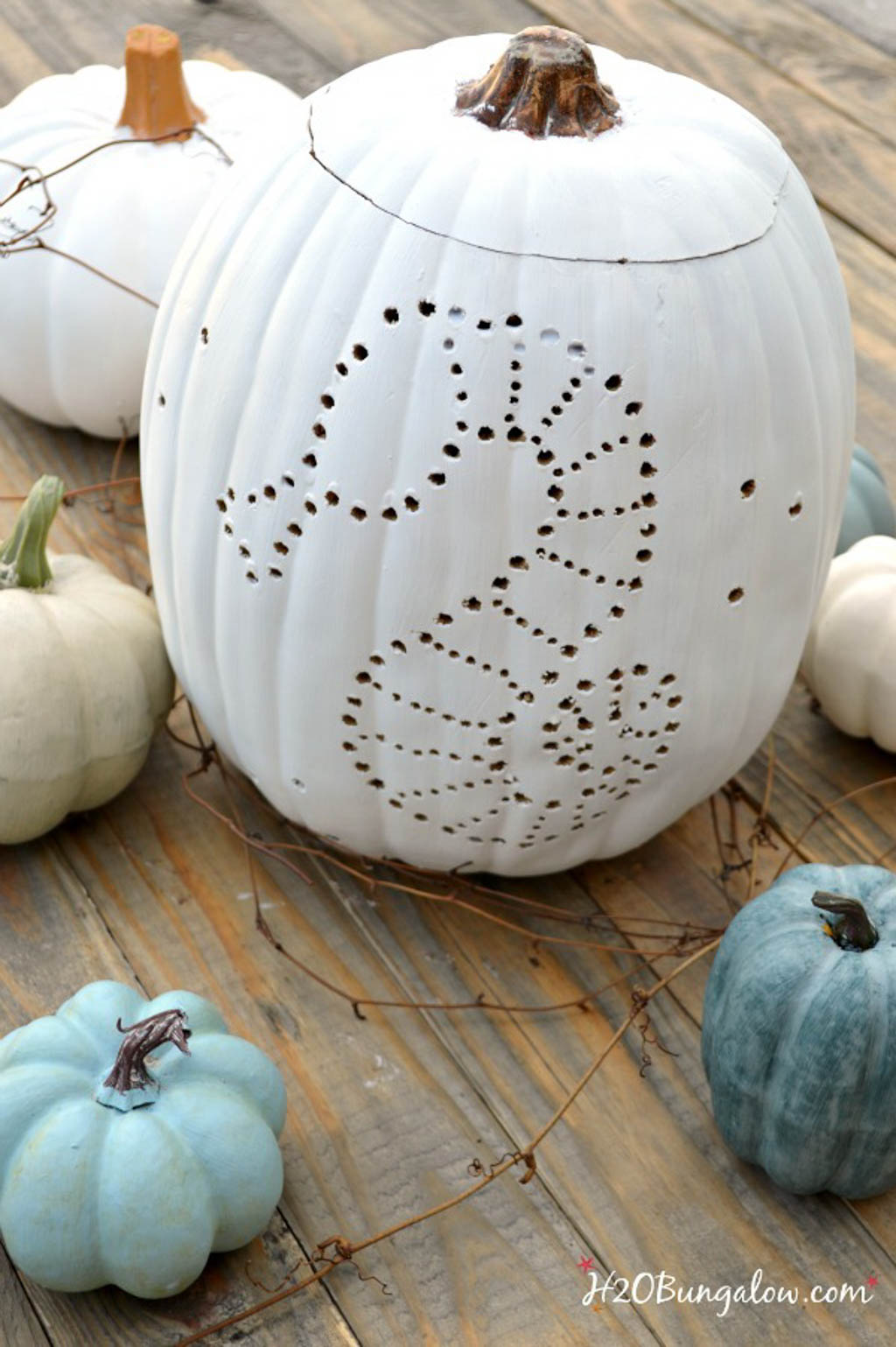 Sometimes the scent of autumn is enough. A simple vignette and pumpkin-scented candle set the mood for fall.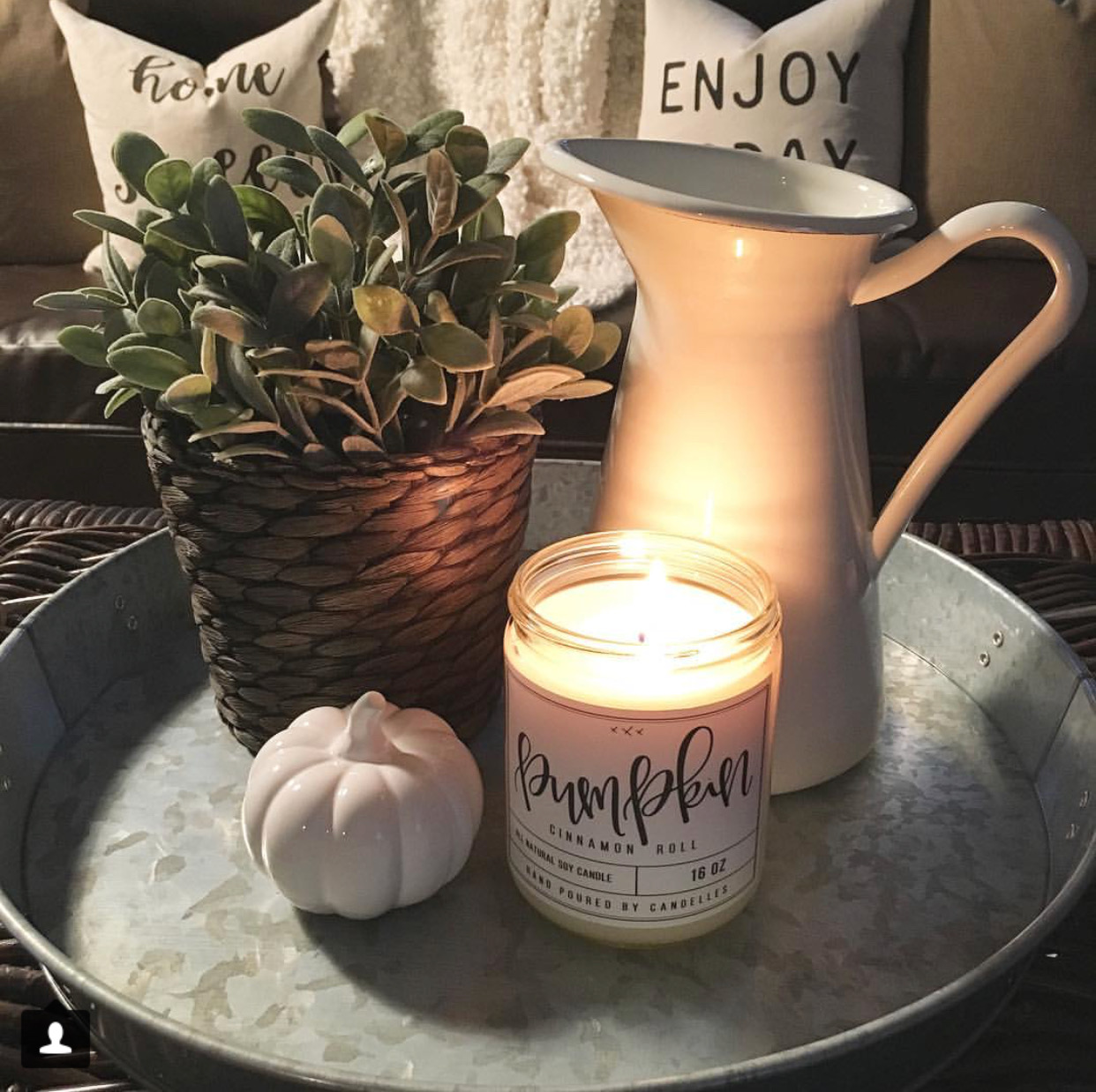 Or a pretty table set in muted colors sets the stage for anticipation of memorable time spent with family and friends. The pastel green and orange (can orange be pastel?) are light and breezy on this table.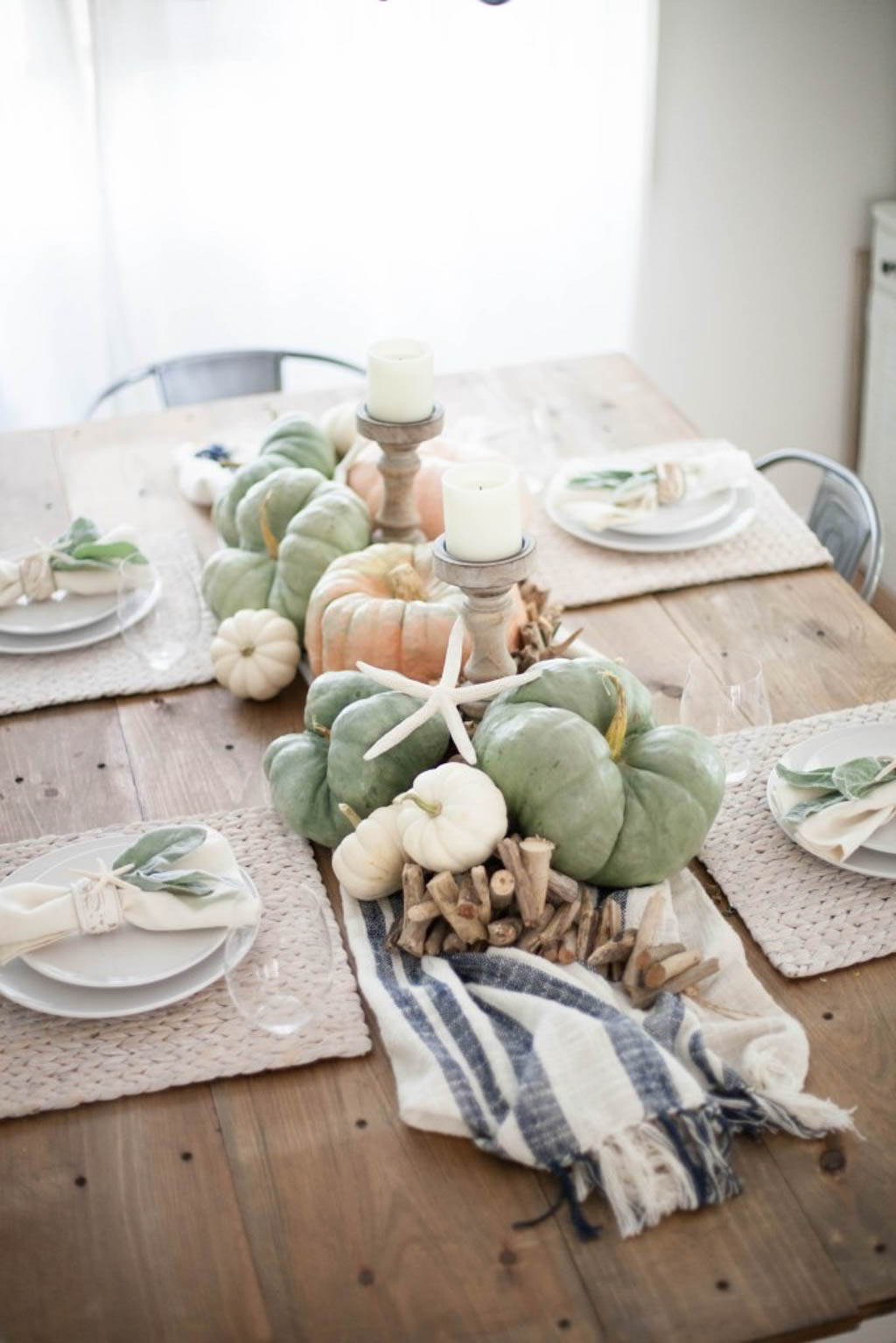 So, I suppose I do recognize that the beach has it's own way of celebrating shorter days and cooler temperatures. Even if they are just a tad cooler.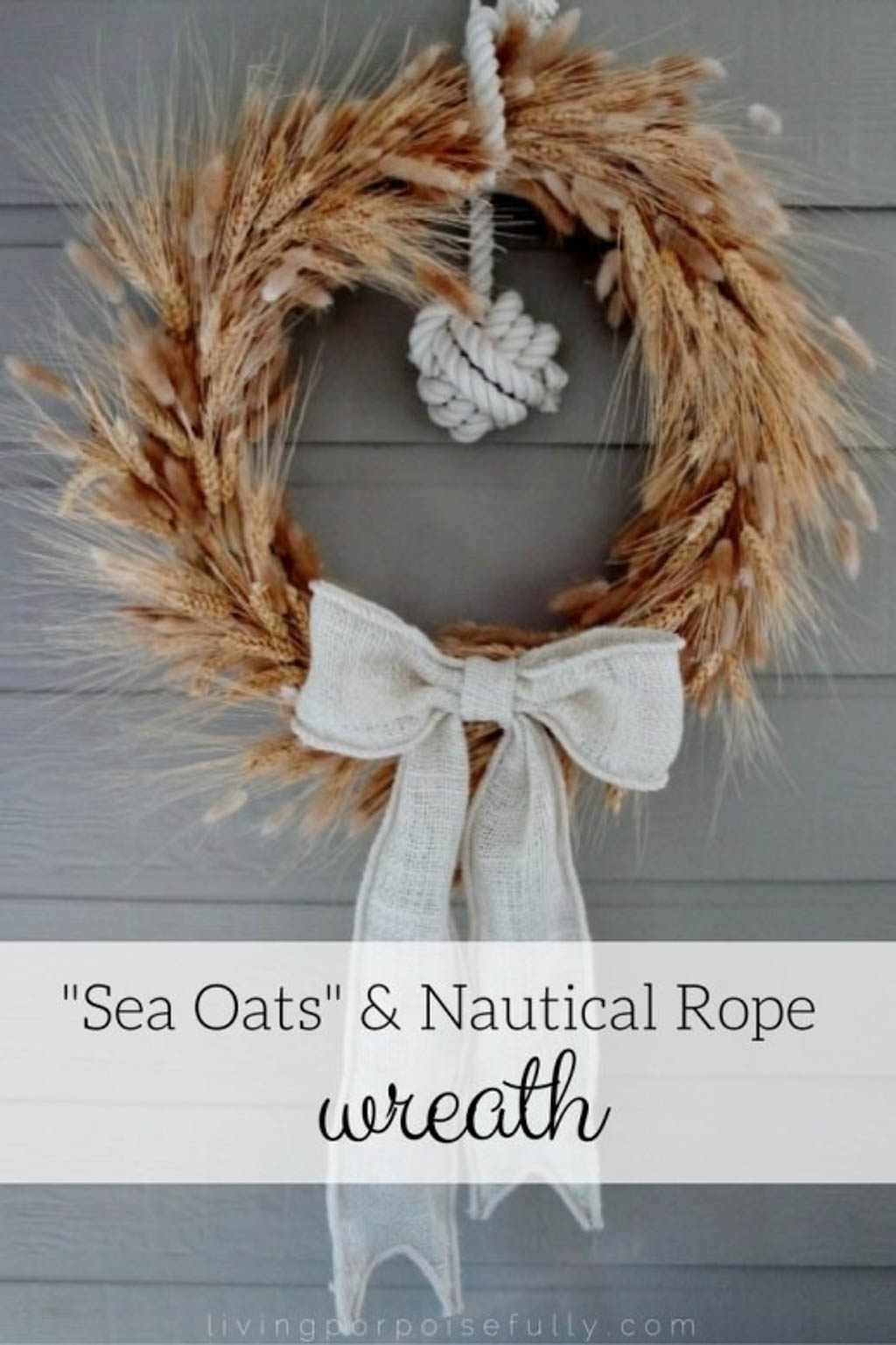 We just do it in our own way…
Nautical Pumpkin by Mod Podge Rocks & Crafts by Courtney
Cover a foam pumpkin with nautical fabric using mod podge. It's such an easy coastal fall decor idea.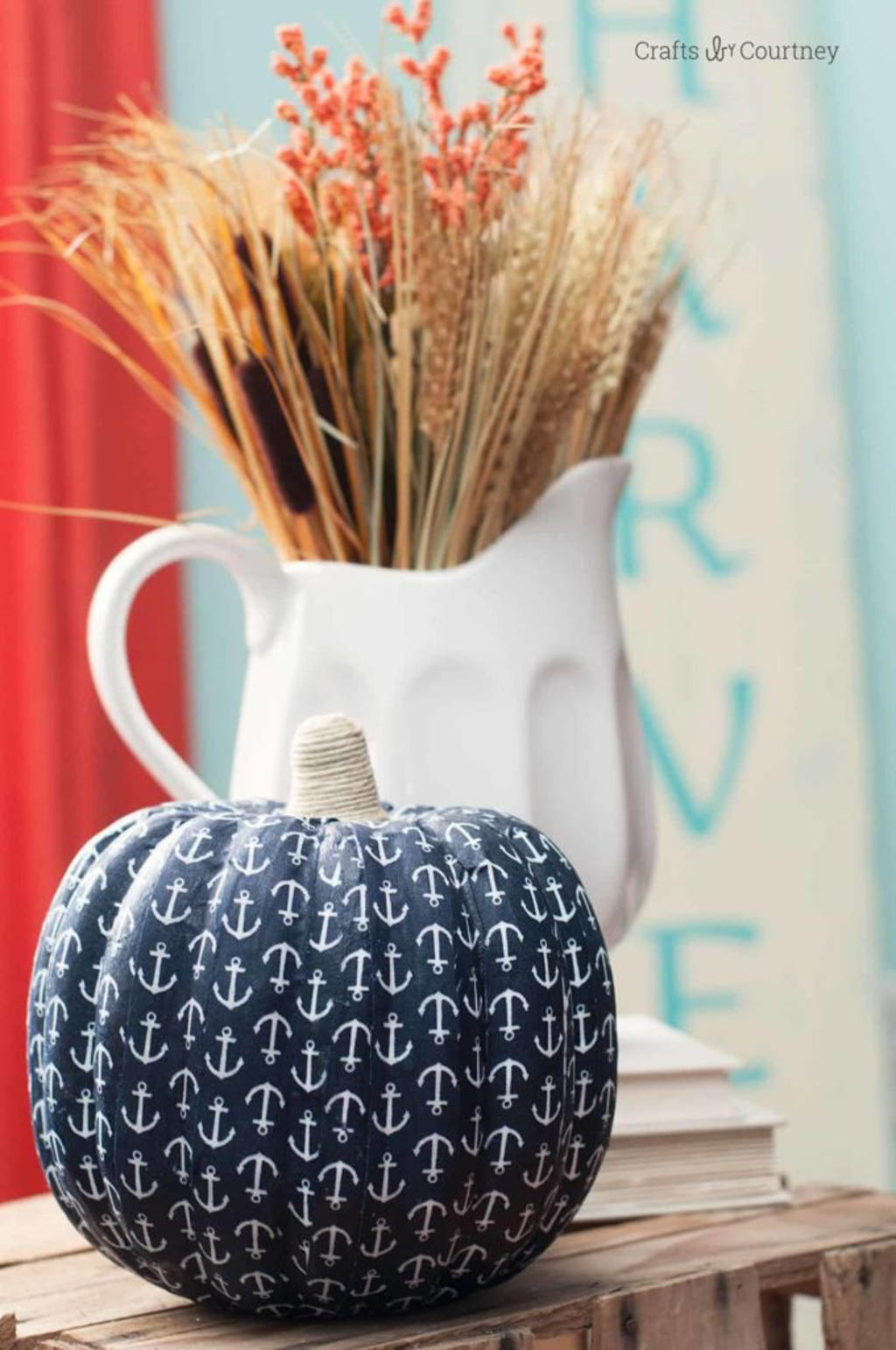 …and in our own style.
Sea glass and neutral creams and whites really give this bookcase decor the feeling of fall at the beach.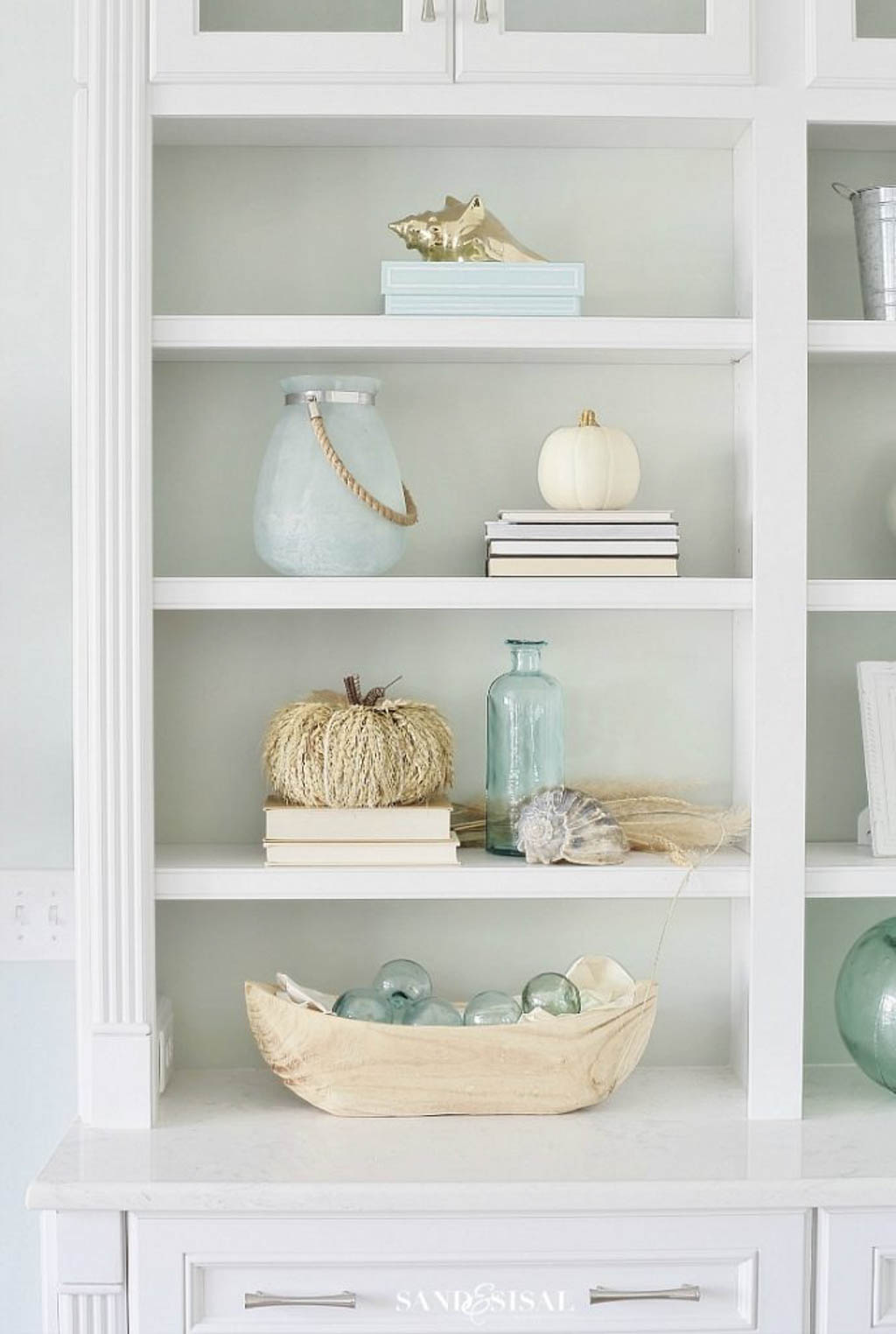 We use items that surround us naturally. We use colors of the sea, items washed ashore that are rich in texture and time worn.
This sweet fabric pumpkin with a driftwood stem and starfish tied to it with twine will have you heading straight to the fabric store so you can make your own for fall.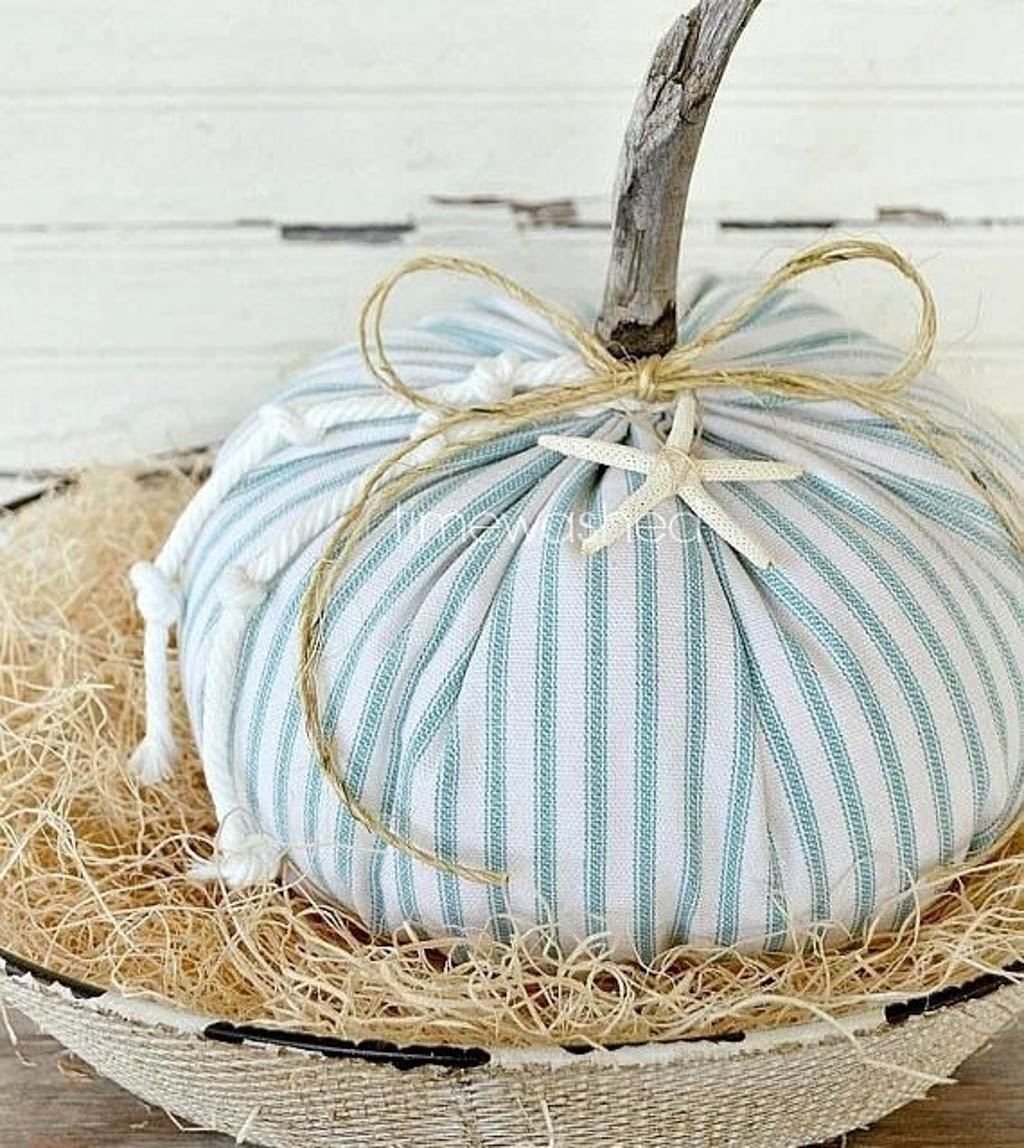 I'll be the first to admit that I was wrong. I'm still motivated to decorate now that fall is officially here. But I'll be embracing the spirit of autumn at the beach this year.
Do you love these ideas for fall decorating at the beach? I do!
Be sure to save these coastal fall decor ideas to Pinterest!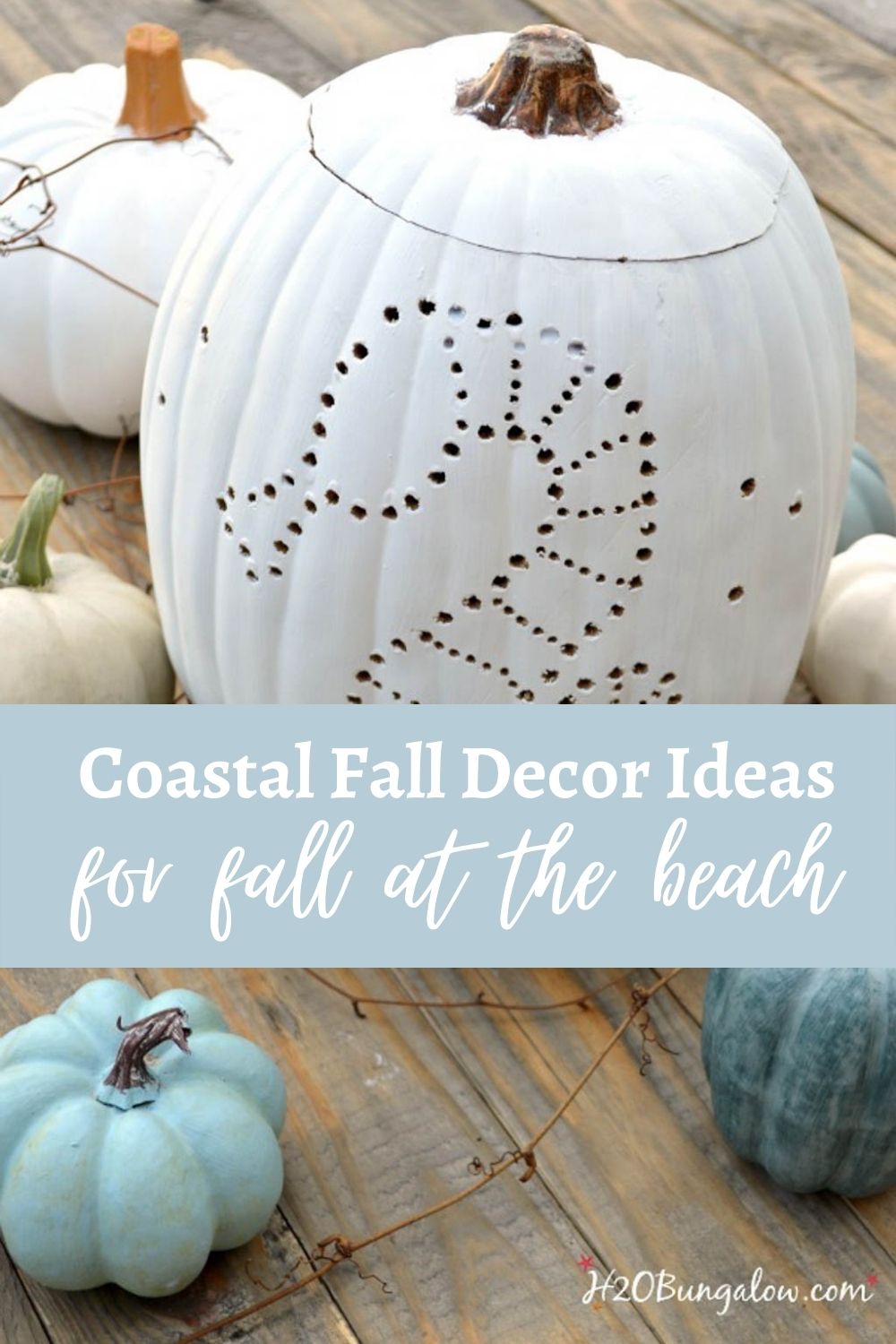 I'm looking forward to sharing my new a few fall updates and a new fall decor project next week! There may even bee a peek of the new dining room area I've been hard at work on for a while!
Do you love fall as much as I do?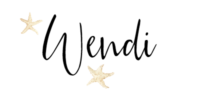 Other coastal fall decor ideas that would look fabulous in a fall vignette!