Today, I'm sharing how to make a corn husk wreath. It's a bonus that my corn husk wreath tutorial is easy, fast and cheap to make!
See my ideas below to make a corn husk wreath coastal, farmhouse or fall themed.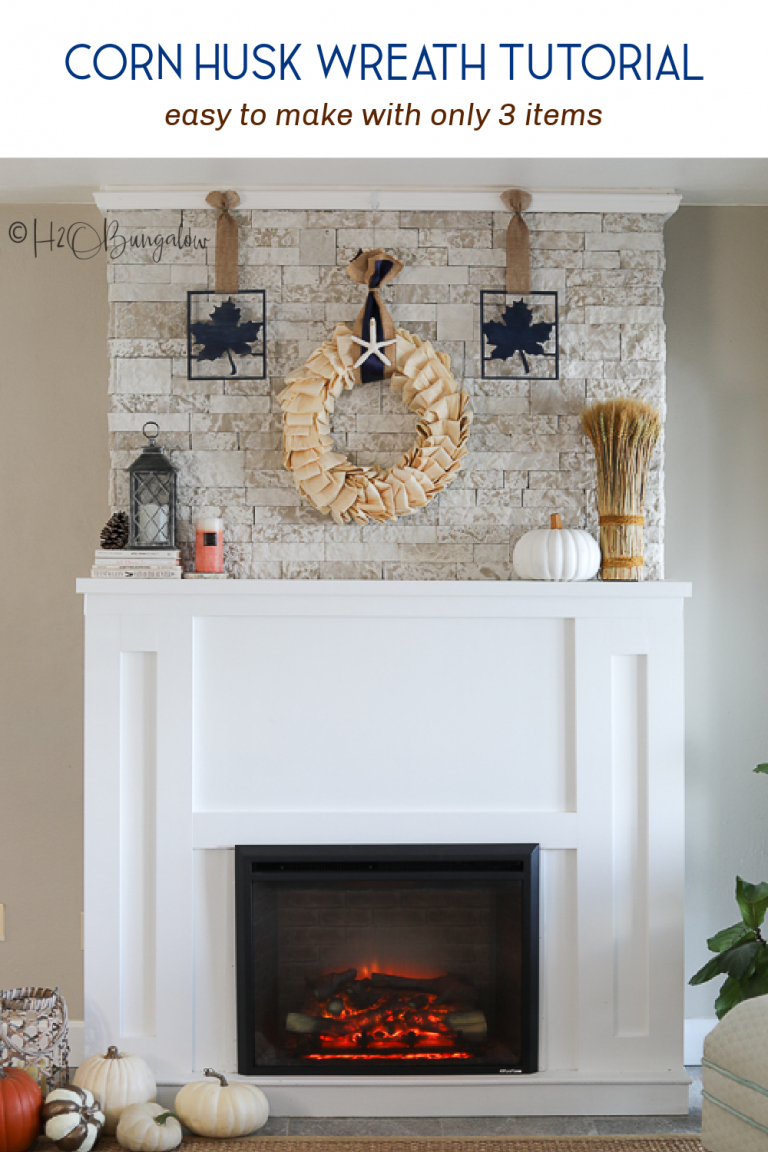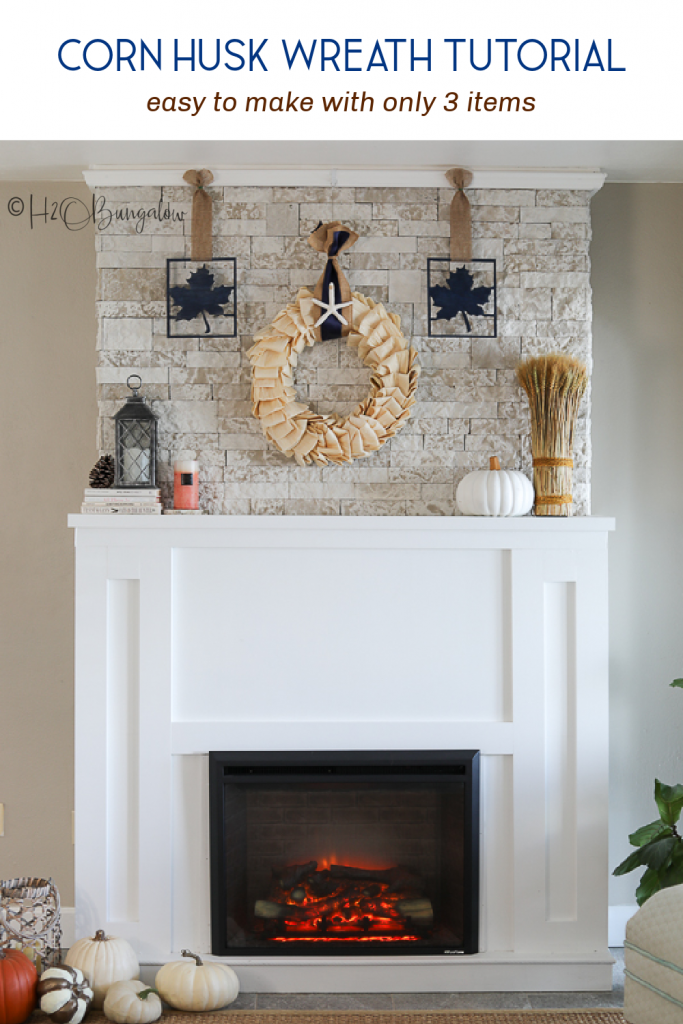 It's easy to change the style of the DIY corn husk wreath by adding colored ribbon or something local to fit your own seasonal theme.
Looking for more fall coastal decor ideas? Check out these Coastal Fall Decor Ideas and this easy Coastal Fall Wreath.
This post contains affiliate links, as an Amazon affiliate I earn a fee from qualifying purchases at no additional cost to you. Thank you for supporting H2OBungalow!
How To Make a Wreath Out Of Corn Husks
List of supplies you'll need to make a corn husk wreath:
Greening pins, 2 packs of these, or 100
Step 1.
Gather your supplies. I recommend leaving the clear plastic wrapper on the wreath, it's less messy and the greening pins will hold better.
The dried corn husks are inexpensive and you don't have to shuck corn to get them. That's a win in my book!
I used almost a full 1 lb bag of corn husks for this project. Yep, the same corn husks that tamales are made from. That's a win in my book! You could use a styrofoam wreath form for this also, but it wouldn't really have that fall feeling now would it?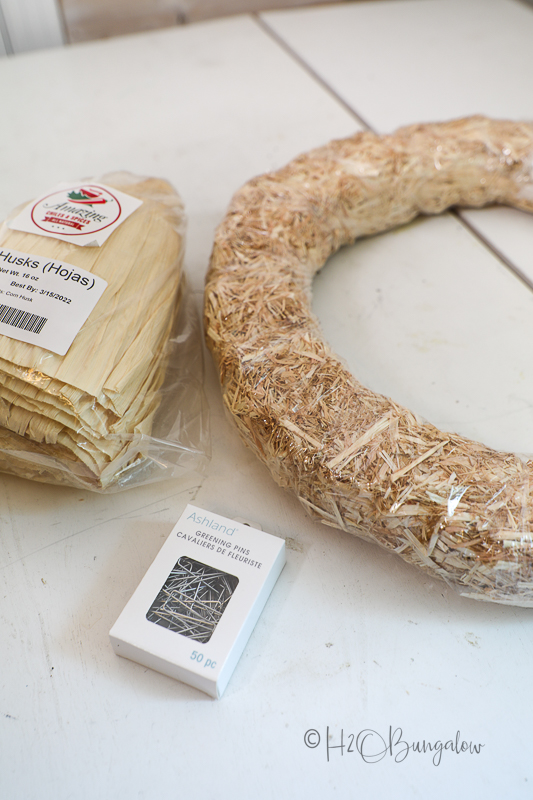 Step 2.
Tear wider corn husks down the center or trim off edges so they are uniform in size. You want them to be about 4″ wide at the widest part.
The really big ones can be ripped into two. Be sure to tear them slowly so you keep a straight edge. I didn't cut them down the center because I wanted to keep the texture the edge had when it was torn. Plus, it was a lot faster to tear the corn husks in two.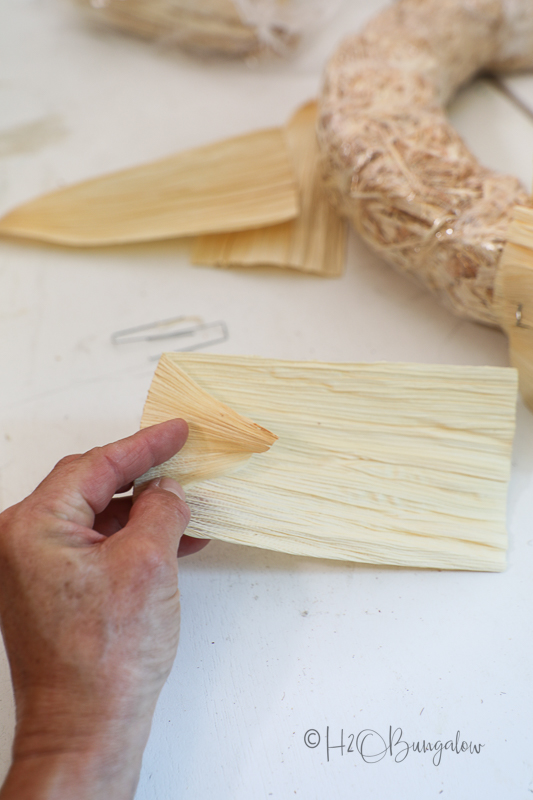 Step 3.
Fold the pointed end over and then the fold the entire corn husk in half.
I didn't want the tails hanging out because I wanted the corn husks to look like a folded ribbon when it was all finished.
Push a greening pin through the end.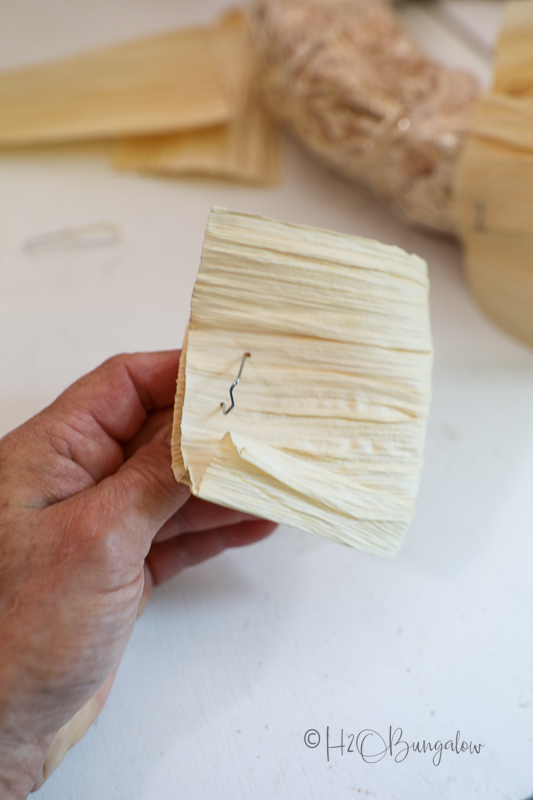 Step 4.
Push the greening pin into the wreath. Arrange the corn husks in 3 even rows on the wreath to cover it on three sides, inside center, front and the outside center.
Start on the inside center, then move to the front, and finish with the outside edge. The back will be empty. You want this so it lays flat against a wall.
Layer them to overlap about 1 – 1 1/2 inches over top of each other so the pins don't show.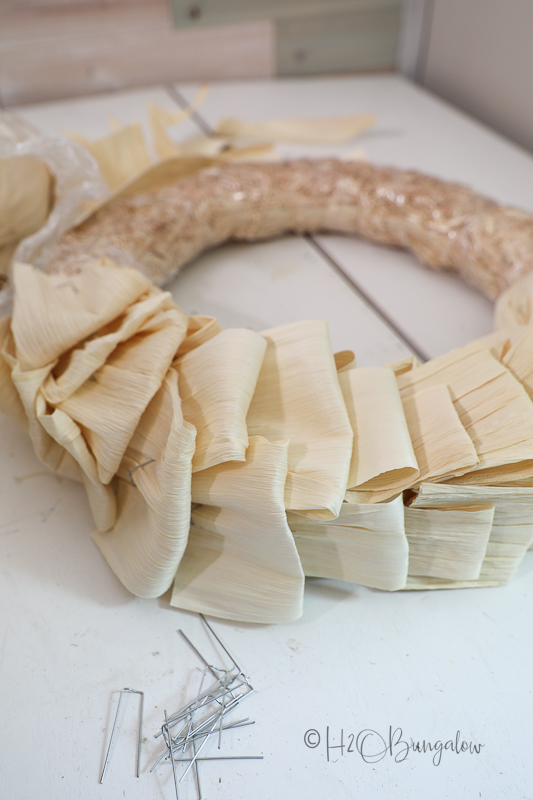 Step 5.
Work all the way around the straw wreath form to make it nice and full, lifting the husks above to pin the last husks in place.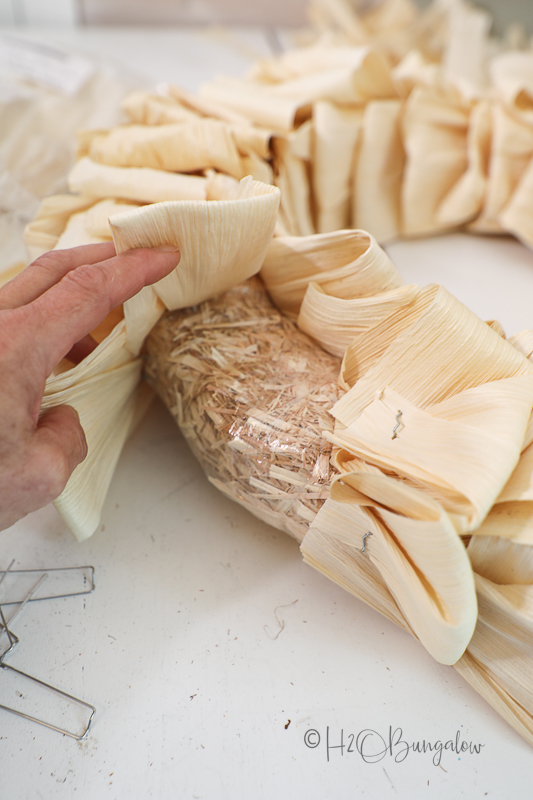 Step 6.
The final touch is a themed ribbon. We're using navy blue for this year's coastal fall decor theme. Any color or fall theme will work.
Layer some ribbon and burlap for a hanger. Tie them at the top with a bit of jute twine and make a loop in the back to hang the corn husk wreath.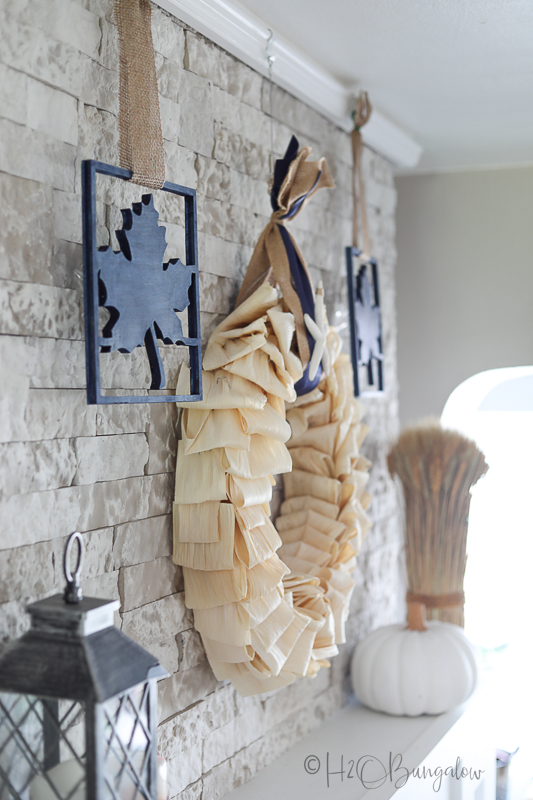 I also added a starfish with a little hot glue to finish off my coastal fall wreath and fireplace mantel. If I were making a few of these for the North House Lodge in Vermont, I'd probably hot glue small pine cones or acorns onto the plaid or traditional fall colored ribbon.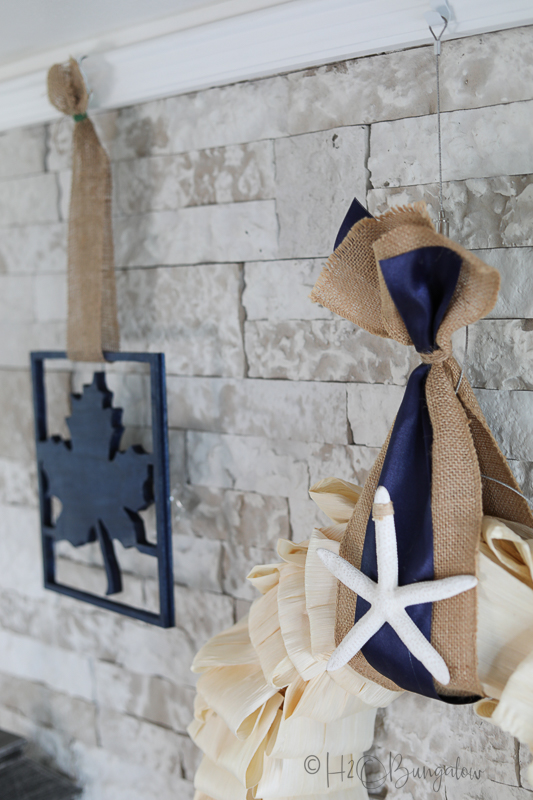 I whipped up these maple leaf cutouts at the last minute. I've shared a few quick videos on how on my H2OBungalow Instagram page this week. Follow me on Instagram if you're not already!
The maple leaf template I used was a coloring book page I downloaded.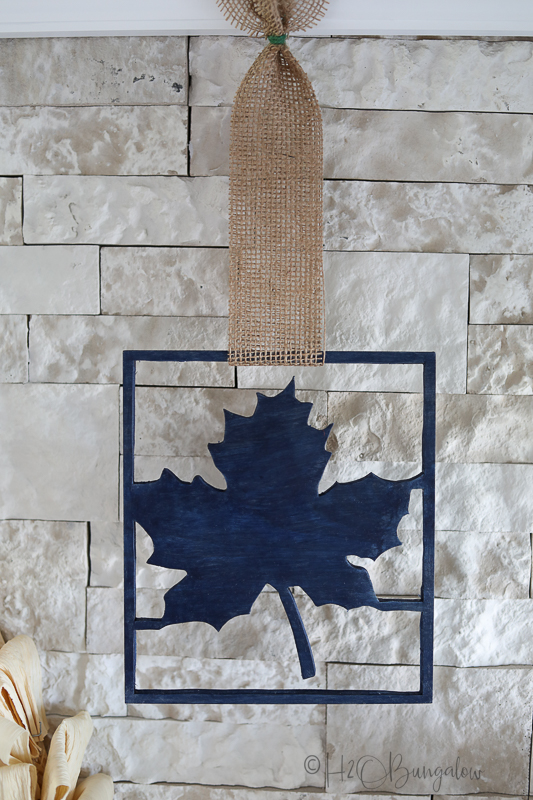 These were all hung on the DIY picture rail I put up over the fireplace mantle. I can hang anything I want without putting a nail in the stone chimney.
…and it's SO easy to hang any kind of decor.
Don't forget to pin my corn husk wreath tutorial and share it with your friends on facebook!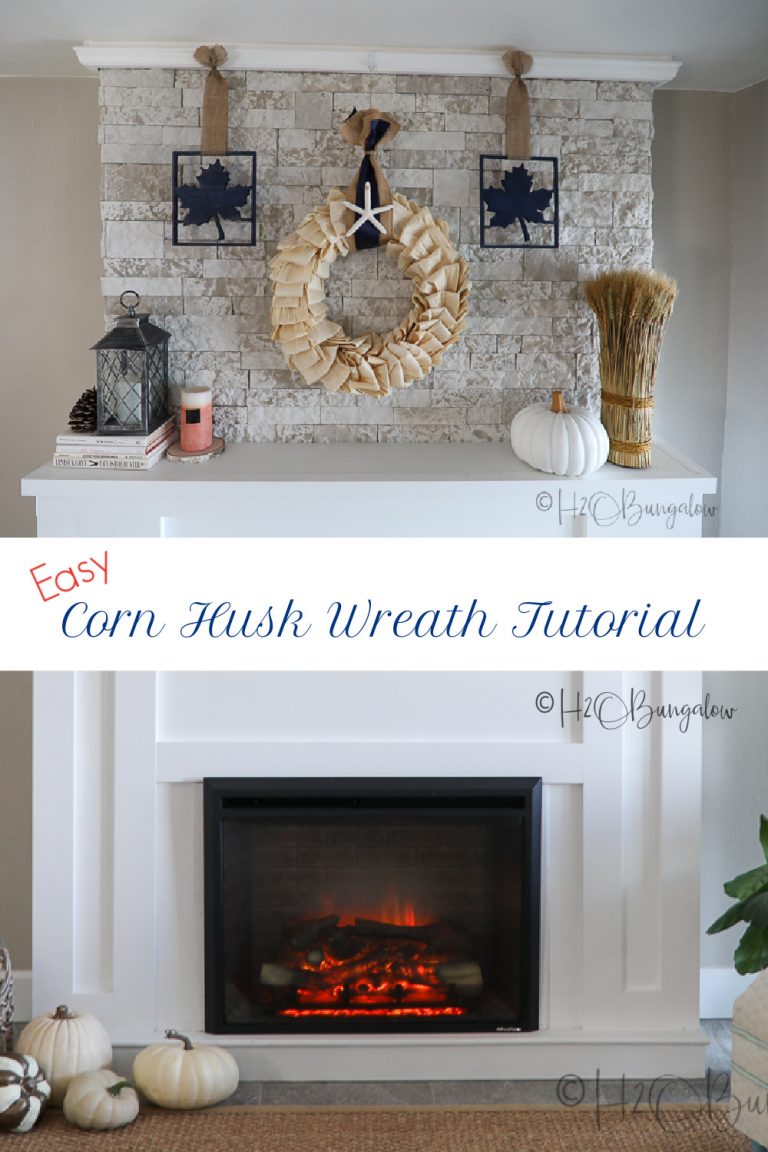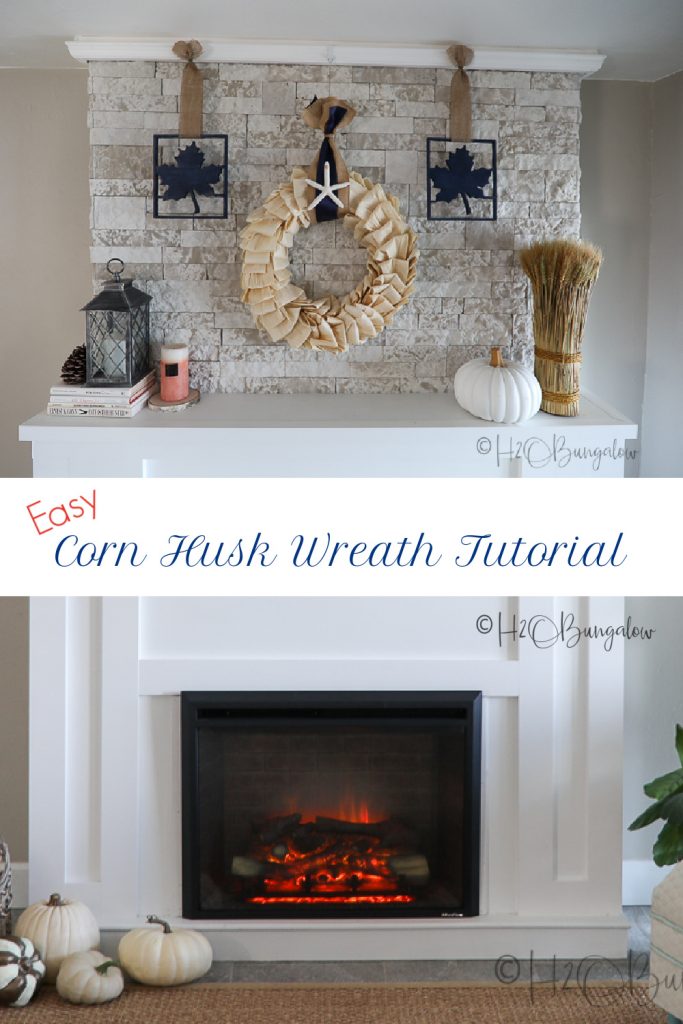 As you can tell I'm completely enjoying the DIY faux fireplace I built a few years ago! Even though we live in Florida I still had to have one!
I think my DIY corn husk wreath and maple leaf cut outs nailed the coastal fall vibe I'm feeling this year.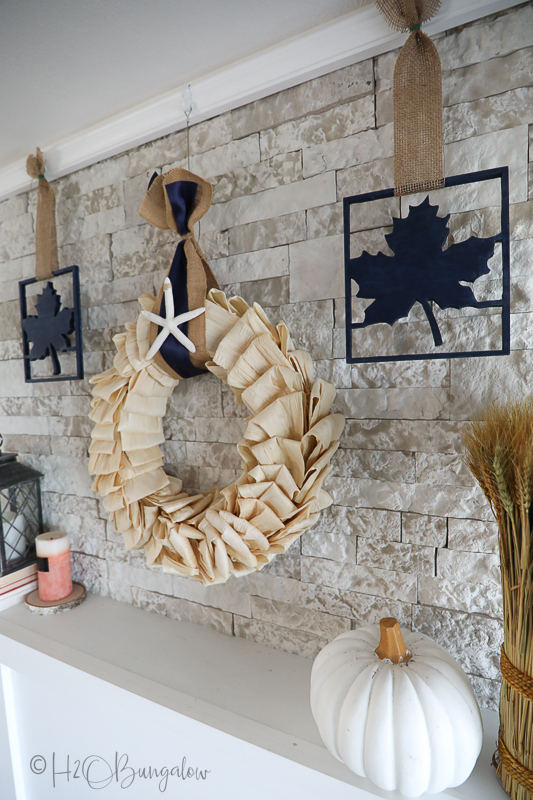 Oh! If you're wondering how to store a corn husk wreath, it's easy. I store all my wreaths in large plastic bags and hang them in the garage. Hanging the wreaths helps maintain their shape. The covering keeps them dust free until the next season when I'm ready to pull them out.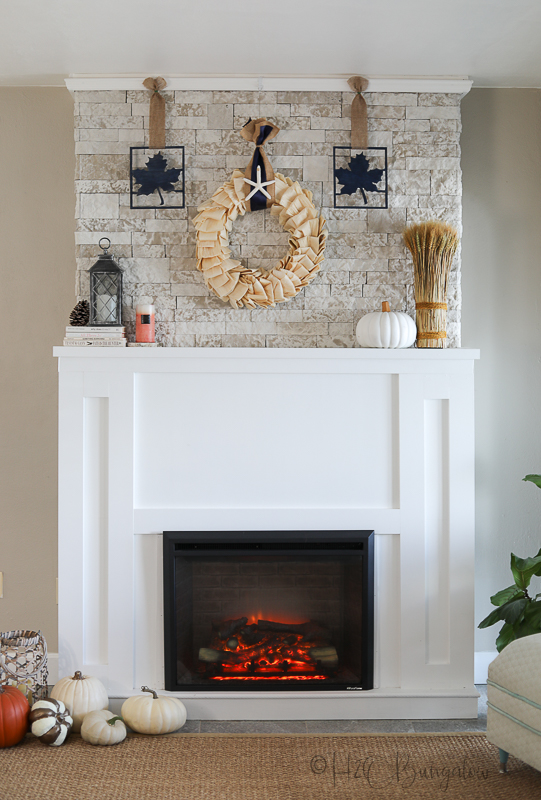 What colors themes would you use to make a corn husk wreath for fall?