This little contemporary stenciled dresser or night stand and I have a love – hate relationship. I do like it…and I'm happy with the way it turned out..mostly. It's just that it needed so much more TLC than I planned for. But, in the end it turned out beautifully and came with a big surprise.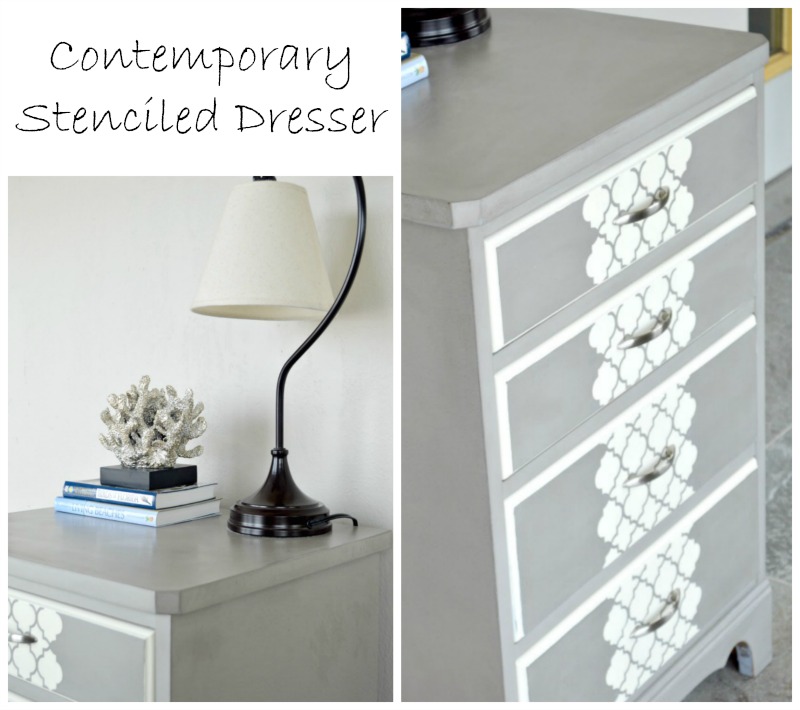 Should I backtrack a little and start from the beginning?
OK.
I picked up this little dresser at a local thrift store. The manager mentioned there were extra screws in one of the drawers as I was walking out with it.
I was sure I checked the drawers before buying it, I usually check out everything. Later, I realized one drawer would only open about an inch. There was something jammed inside. Wow, that's a lot of screws I was thinking as we turned it upside down and pushed the object away.
Look what fell out!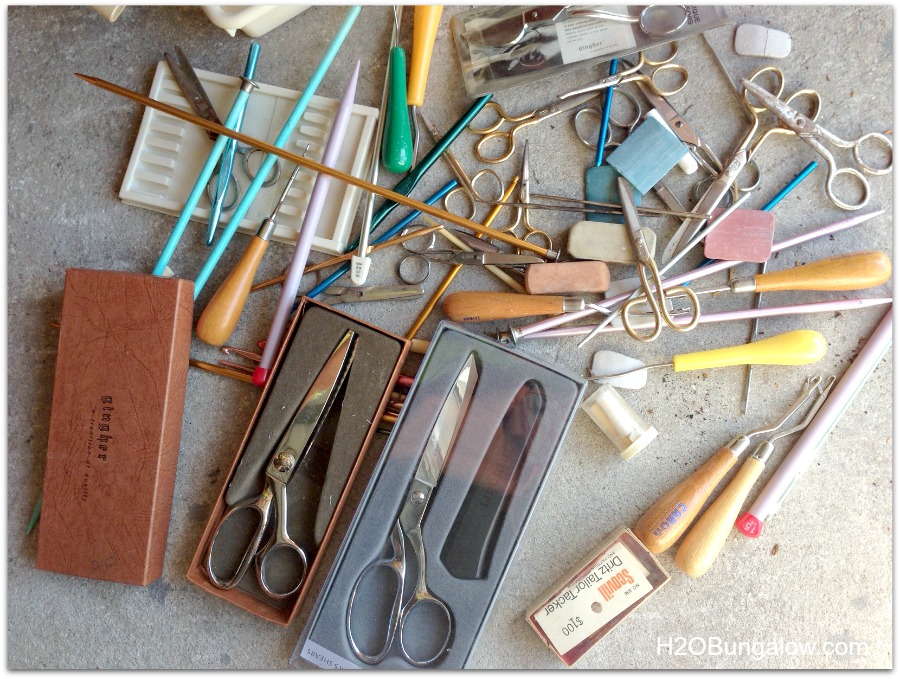 SURPRISE!!! 24 crochet hooks, 4 pairs of knitting needles, 8 rug hooks, 13 small trimming scissors, tailors chalk, 3 boxed Gingher dressmaker shears/scissors in pristine condition.
Crazy, Huh?
No, I didn't hear anything as I was carrying the dresser to my car. Later, as I was looking over it I saw a few things that needed minor repair.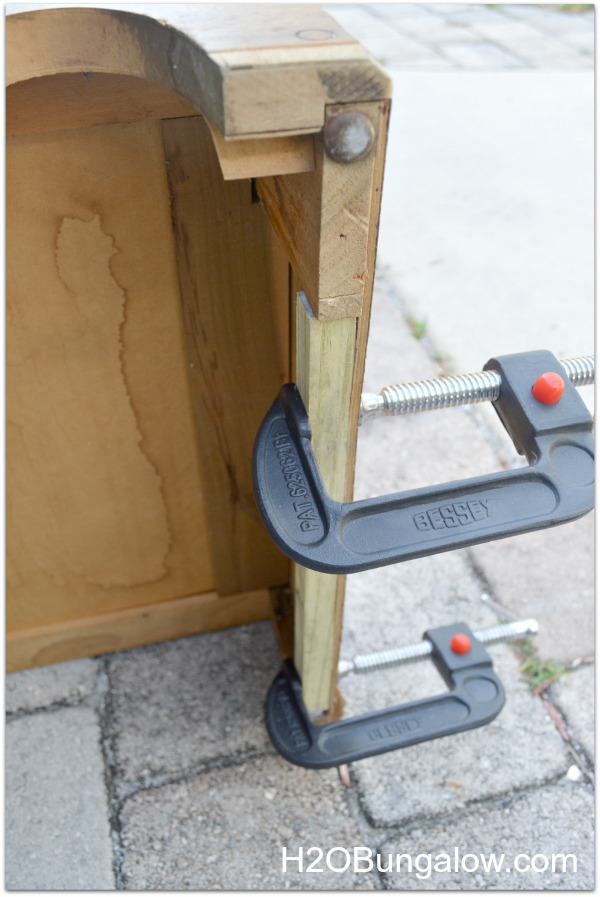 I finished washing, prepping and then painted it with Smokescreen by APC that's American Paint Company if you were curious. By then I'd discovered a few more little items I had to repair 🙁
Read How to Paint a Dresser in 7 Steps if you're new to furniture painting, it will be a big help if you're working on a project like this one.
I bordered the drawer edges with Homeplate, also an APC paint and pulled out my stencils to see how I could jazz this baby up a bit. I wanted to drastically update the style to make a contemporary stenciled dresser. After looking at it for a while, all through dinner and every time I walked by, I decided to only add the stencil pattern down the front of the drawers.
And I liked it. A lot:)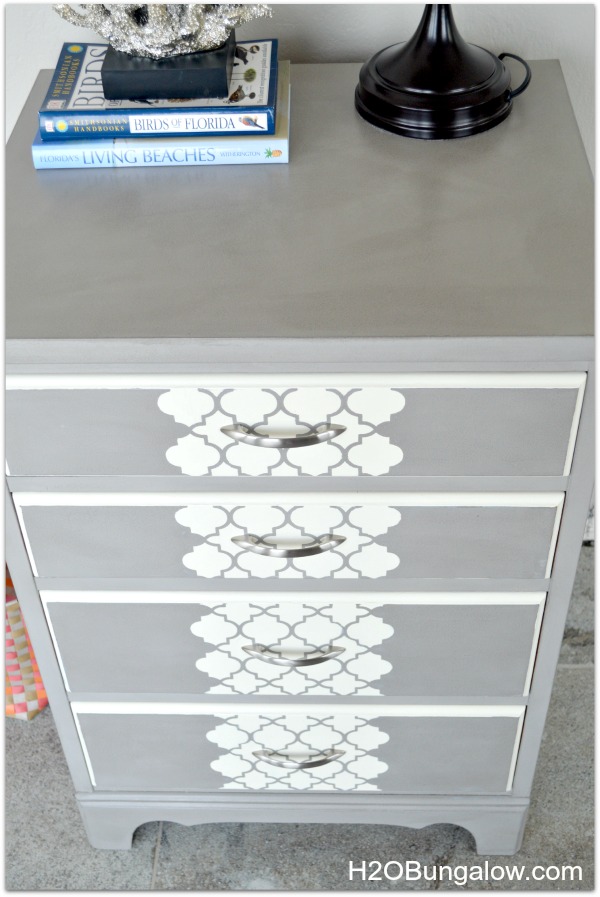 I gave it a few coats of APC clear wax. When I stood back I noticed the wax was blotchy..just some dark spots here and there. Grrr. Really? At this point I was kind of over the little dresser, cute stenciled front or not, big surprise and all. It had already taken up way more time than I planned on giving it! I thought just finish it and move on.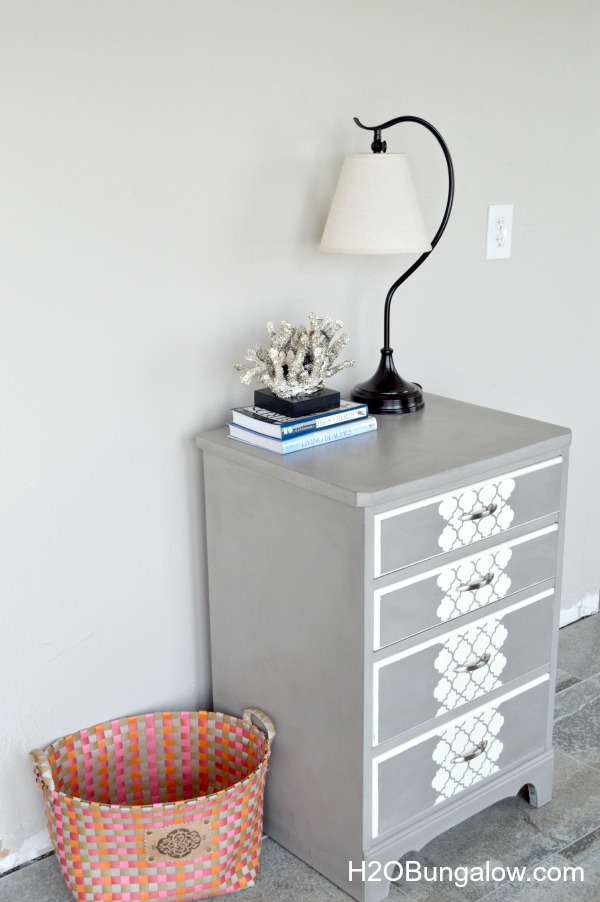 When it was time to put the handles back on..I'd lost one, or maybe it was never there? Uhmm, yeah. Wendi, you need to pay better attention I thought to myself not necessarily with those words.
Guess what? I liked the little dresser even more with the new handles . It's been a few days, the wax has mostly evened out. My little contemporary stenciled dresser and I are on much better terms.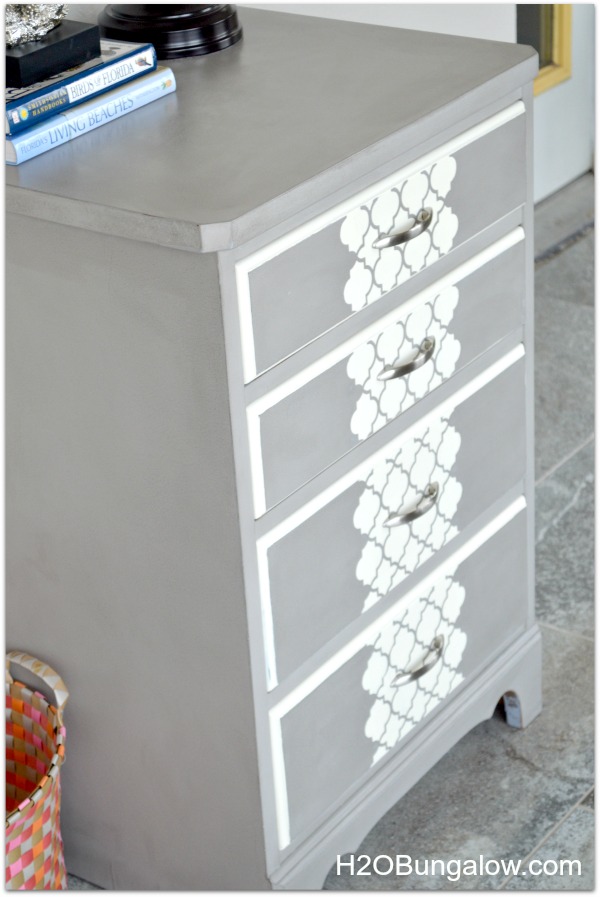 My mom used to say there was something in the air when crazy things happened. I'd like to agree, but this time I know it was all me. This week I was trying to get too many things done at once. Contrary to my own thinking, I guess I'm not nearly as "super" as superwoman 😉
I'm very happy with how my contemporary stenciled dresser turned out. I also learned a few things about being more careful when I'm looking at furniture to refinish! All the goodies I found? I'm not sure what I'm going to do with them. Any suggestions?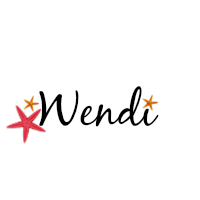 Love a good dose of DIY home decor, home improvement, the challenge of woodworking and creative ways to make your home look fabulous?
Me too!
I'd love to share mine with you. Click here to sign up for my post emails and I'll send a quick note when I have a new project to share.
Social media fan? Don't be shy say hello! I love when you guys do that! I'm interactive on Facebook and I share lots of other projects and, useful inspiration for the home and content I don't share anywhere else. Follow H2OBungalow on Facebook here
Oh heck, just follow me on all social medias. We'll have some fun…promise:) Follow H2OBungalow on Instagram , Follow H2OBungalow on Twitter , Follow H2OBungalow on Pinterest, I'm on Periscope! @H2OBungalow
I use affiliate links in my posts. If you should make a purchase I will receive an itty bitty commission at no cost to you. Thank you in advance for supporting my blog and two furball cats who believe they are privileged.