Make this cornstarch dough recipe for handmade Christmas ornaments. Remember using salt dough as a kid? Think of these cornstarch dough Christmas ornaments the grown up version of DIY home-made dough. I say grown up because it's more versatile.
I've included an easy to make cornstarch dough recipe to share with you below. Cornstarch dough doesn't stick to your fingers like salt dough does and it has a smoother finish You can even sand these handmade dough Christmas ornaments to soften the edges if needed. Looking for more ideas, check out the 102 Homemade Christmas Ornaments I collected from some of my favorite bloggers.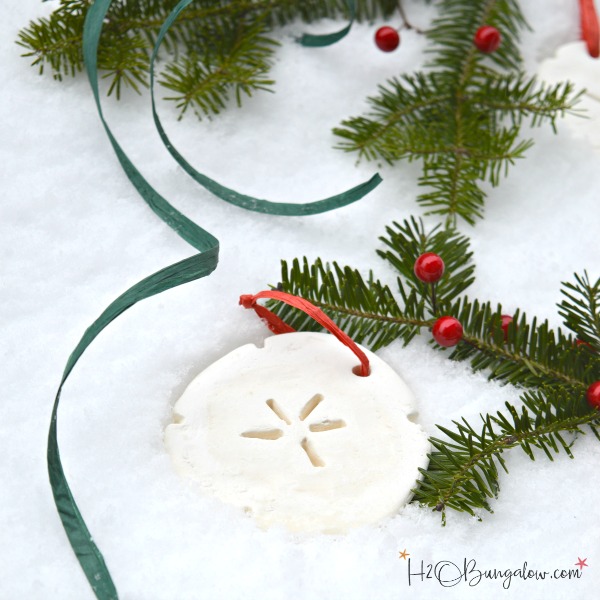 Geez, I can't believe Thanksgiving has come and gone already. I took some time off from the North House and went home for a wonderful week of family time. We had a few hours to spare when the kids were getting ready to go to the airport to go home. My solution to keep things fun until the end? A DIY project of course! We made cornstarch dough Christmas ornaments together. We also made a batch of salt dough for ornaments too. Basically because I wanted to see which was easier to work with.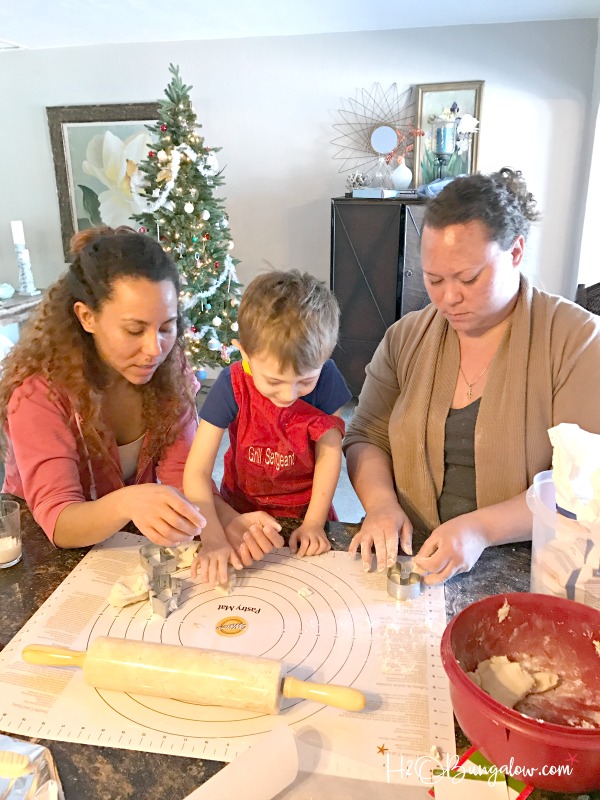 It was no contest. I liked the smoother consistency and the white color of the cornstarch dough a lot better. I also loved that it wasn't sticky at all which meant I didn't need to dust the pastry board with flour to keep it from sticking. Bottom line, it was a lot less messy which is good when there's little kids and grandkids in the creative mix 🙂
Recipe For Corn Starch Dough Christmas Ornaments
I use affiliate links so you can easily find the products I used.
1 cups corn starch
2 cup baking soda
1 1/4 cups water
Supplies needed
rolling pin
cookie cutters – these Christmas ones are great and come with a rolling pin!
skewer
Mix the ingredients in a saucepan over low heat and stir until dough forms. It will be the consistency of really thick icing and not sticky. Empty onto parchment paper knead a bit when cool enough to handle. It will be the consistency of Play Dough.
Let air dry or put in oven at 200 degrees for 4 – 6 hours. If drying the ornaments in the oven turn them over after a few hours. Depending on how thick they are they may be a little soft in the center. Let them finish air drying before painting them. You can also sand the ornaments to soften the edges.
Sand Dollar Cornstarch Dough Christmas Ornaments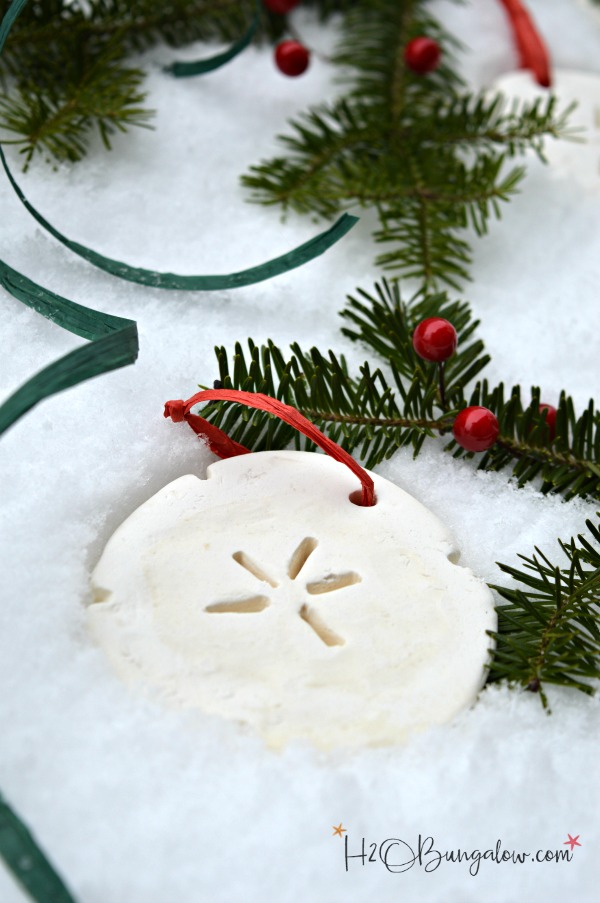 Sand dollar Christmas ornament are easy to make. Roll a ball about a 1″ to 1 1/2″ in your hands. Flatten the ball out on a pastry mat or parchment paper. Take a plastic knife or something similar and press 5 sections in the middle. Use the handle end of the knife to push in a few edges on the outside. Use a skewer or toothpick to poke a hole for hanging.
Cookie Cutter Cornstarch Dough Christmas Ornaments
Roll dough into a ball with your hands. Flatten it onto a pastry mat. Using a rolling pin, roll the dough about 1/4″ thick. Press cookie cutters into the dough. Carefully take the excess dough away. Use a spatula or thin piece of cardboard to lift the dough ornaments onto a baking sheet to air dry or bake. This dough is perfect for using cookie cutters, it doesn't stick and it's firm enough to hold it's shape. It's also easy to reuse the leftover dough around the cookie cutter without needing to re-flour a surface.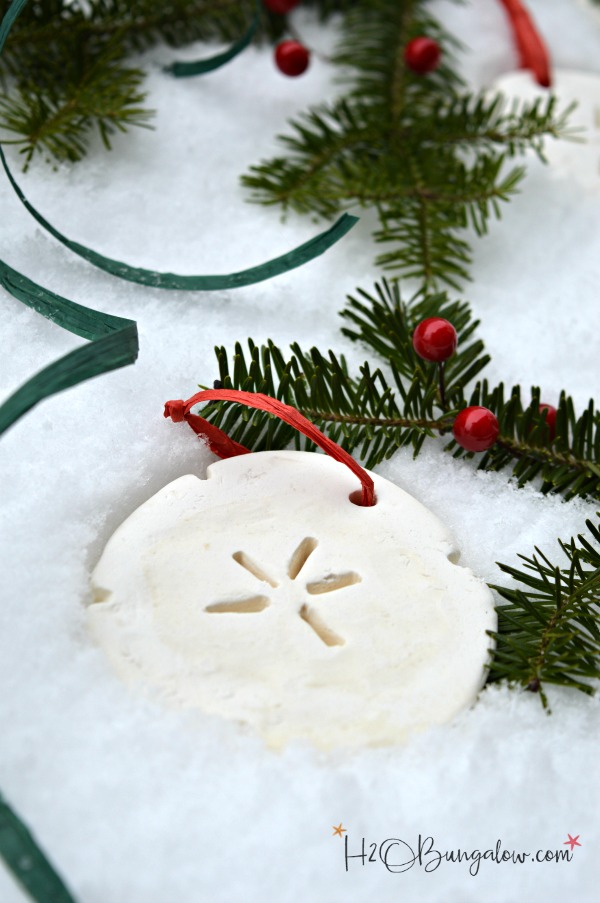 We made these in Florida and they traveled back to VT with me to finish this post. You know I couldn't resist photographing my cornstarch dough Christmas ornaments in real snow for you guys!
Share this on Facebook and Pin it for later!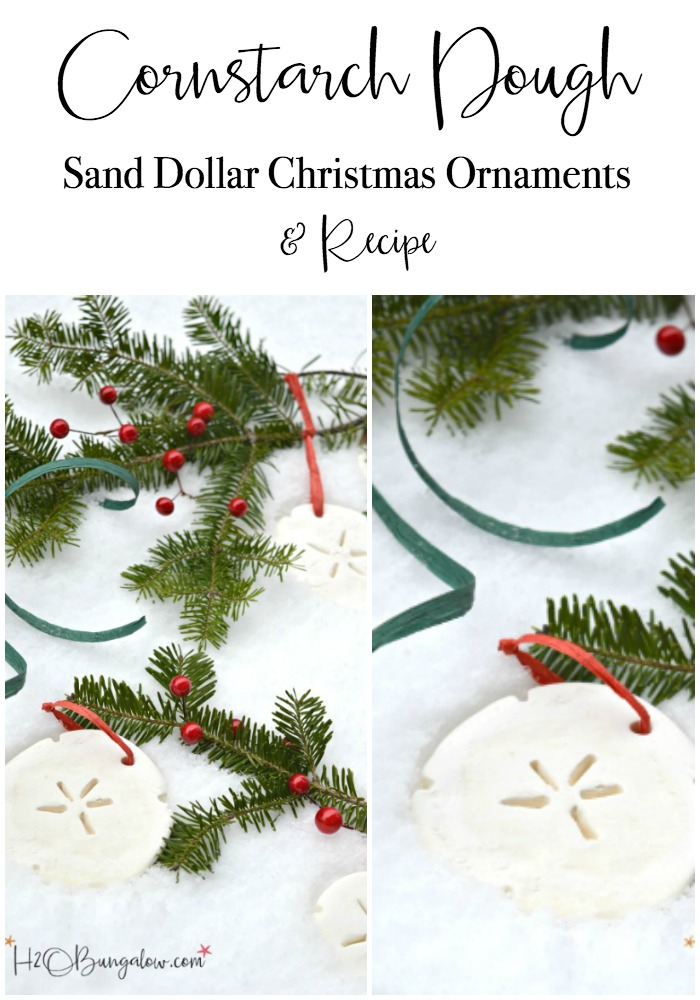 Do you remember making dough Christmas ornaments as a kid too? What were your favorite ones to make? Leave me a comment below!