Today I have something different to share. I spent some time thinking about which tools and products I recommend the most and put together a best DIY'ers gift guide for home decor and home improvement.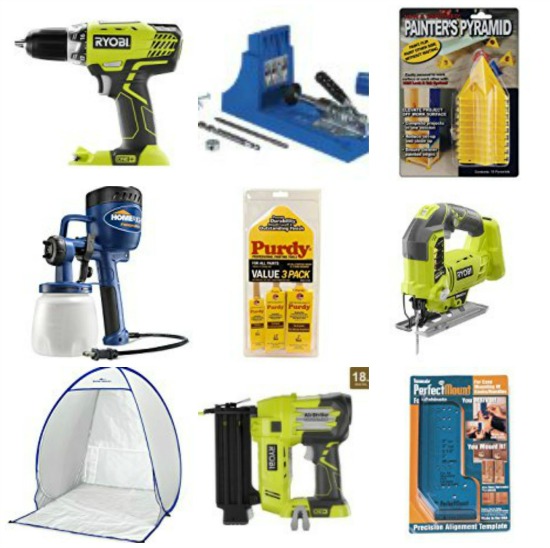 Now and then I get myself organized enough that all my holiday shopping is done before December rolls around. That's happened maybe twice 🙂 The more likely scenario is I'm stressing trying to find the perfect gift for each person and haven't a clue what to pick out. In our family it's not just gifts, there are stockings to fill as well. I think back on how many bottles of nail polish and toothbrushes my girls have received at Christmas and I kind of cringe. I'd rather get them something useful. Not that they wouldn't use a toothbrushes and nail polish but I'd rather give them a gift to make them more self sufficient or one that saves them time and money. Especially now that they are young adults themselves.
Best DIY'ers Gift Guide for Home Decor and Home Improvement
This is my DIY'ers gift guide with basic tool choices for the seasoned tool lover as well as the newbie building up their own DIY'ers stash. I've even included my favorite $10 and under DIY'ers gift choices which make great stocking stuffers. I use affiliate links to help you find the products I use.
Most practical tools for the DIYer
Yes, you guys know I'm a Ryobi Tool girl, and for good reason. I'm petite and the Ryobi line fits my size and hands well, isn't too heavy and doesn't fall short in performance on any of my DIY projects. This list is the backbone of my own tool arsenal, the items I can't live without.
A good drill is a staple of any toolbox. I can't add anything more to that 🙂
The first "cutting" tool I tried. It's a great confidence builder before moving on to bigger cutting machines like the compound miter saw or a table saw. You can do a lot with one of these and never move up to the bigger machines too. My favorite jigsaw project is the Cut-Out Names I made for my grandsons. This huge shark and little fish weren't so bad either 🙂
Ryobi 18 volt Random Orbital Sander

I wouldn't have been able to refinish and restore my outdoor teak furniture without one of these.
Ryobi 18 volt 18 Gauge Brad Nailer

I saved a bundle doing my own baseboards with my Airstrike Brad Nailer and share how in my DIY baseboard Tutorial. It's also a huge timesaver for quickly assembling small projects like my gorgeous DIY Bed Spindle Pedestal Bowl and my long tabletop Faux Pallet Wood Box.
Handy gadgets a DIY'er can't live without
This handy gadget literally opened up a whole new world for me when I started joining pieces of wood. It will change the way you think. No kidding! You've seen it in projects like my DIY Twin Headboard Bench Tutorial and my DIY Small Pet Bed with free plans project to name a few of my favorite.
A large assortment of Kreg Pocket-hole screws because you always need more than you initially plan for with projects 🙂

You'll see this clamp used on every project that has pocket-holes. It's what I use to clamp the Kreg K-4 Jig to the table to hold the jig in place while I drill the pocket-holes. It was a lifesaver on my DIY Open Shelf Vanity project.
This little tool saves me a ton of time when I have multiple areas to mark with the same measurement. I assembled my Industrial TV Stand with Wheels in about 15 minutes because I had this handy guide.
Best Gifts $10 and under
Hang & Level Picture Hanging Tool

I've used one for years. Hands down the best $10 ever spent for hanging perfect pictures and amazing gallery walls.
No Chemical Drain Cleaner & Hair Remover

Save hundreds on a plumber. I get rid of hair in our drains with this in a few minutes. If you have long hair in your home, I wouldn't be without one.
I use this little combo square more often then I can count. On big and small projects. Makes squaring edges to cut easy.
I've tried several brands and wouldn't use anything else. They perform the best and when cleaned will last forever! See my Best painting Tips to see how to easily clean old paint off brushes and more.
Drawer knob and door handle template


I can always spot a crooked handle or door installation. It drives me nuts. This is fabulous for furniture and more!
Best Time Saving DIY Tools
HomeRight Paint Shelter. The small size is just right for small paint job and can be used indoors as well.

Large Size for bigger projects is big enough to fit a full size sofa inside.

HomeRight Finish Max Fine Finish Paint Sprayer

An easy to use non-intimidating paint sprayer that's great for home projects and furniture painting. I have several of the HomeRight Paint Sprayers and have used them from everything from my small ZGallerie Inspired Tree Trunk Table to painting the exterior of my home.
If you're really on top of your holiday shopping you are either all done or close. If that's the case, I have organization envy 😉 But if you aren't done, this list should be helpful if you have a DIY'er in your life. I get asked questions all the time about which products I use, which are the best and these are the items I always mention. Save my best Diy'ers gift guide to your Pinterest Board for later when you need a gift idea, like a birthday or Mother's Day. Heck, forward this post to a friend or spouse and casually mention your favorite item on the list to help someone else who may be struggling with a gift idea for you!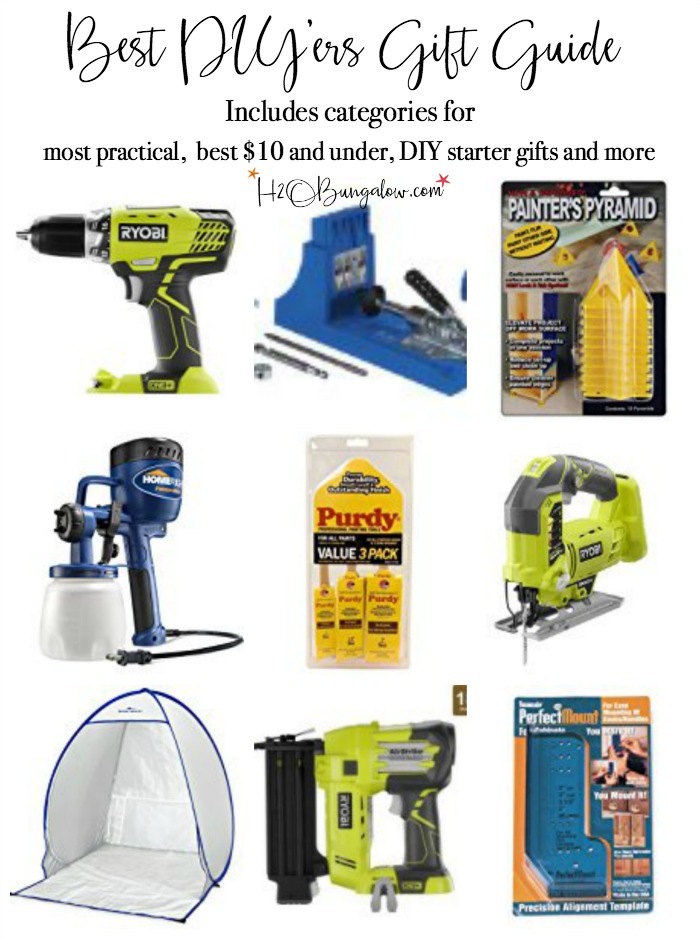 So which one sounds like you? Are you a fully done by Dec 1st kind of shopper or a Christmas Eve panicker because you're not even close to done…maybe somewhere in between? Leave me a note in the comment section below!