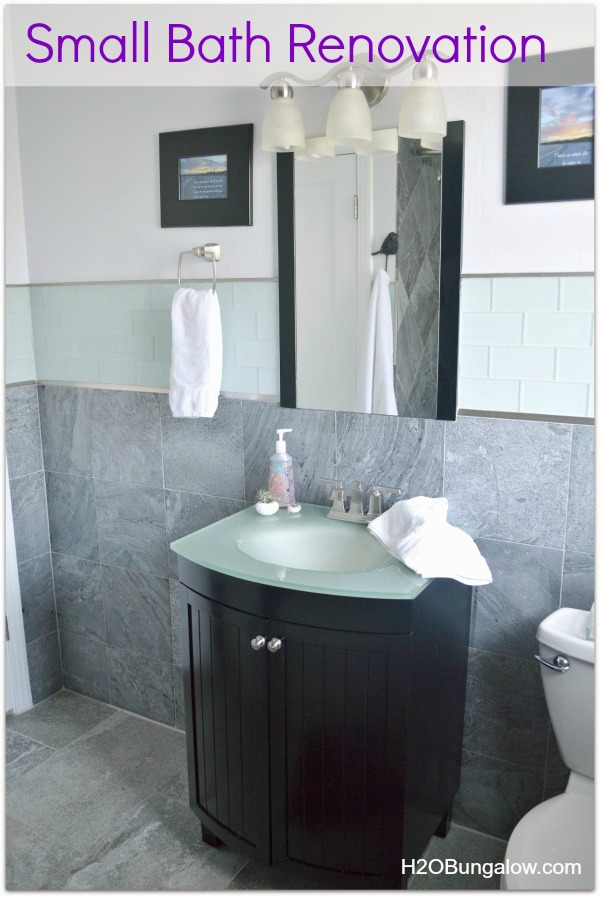 Our project house was a mess when we first moved in. An exciting mess. Exciting because there was only one way any update could turn out…better! My creative small bathroom remodel added a few family friendly features and a little more storage. My design kept my small space uncluttered and open and that gave it the look of a larger space.
This is what our main bath looked like the day we moved in. Need I say more.. Oh, and the prior owner called it updated. I think the pedestal sink he installed in the 80's was the "updated" part.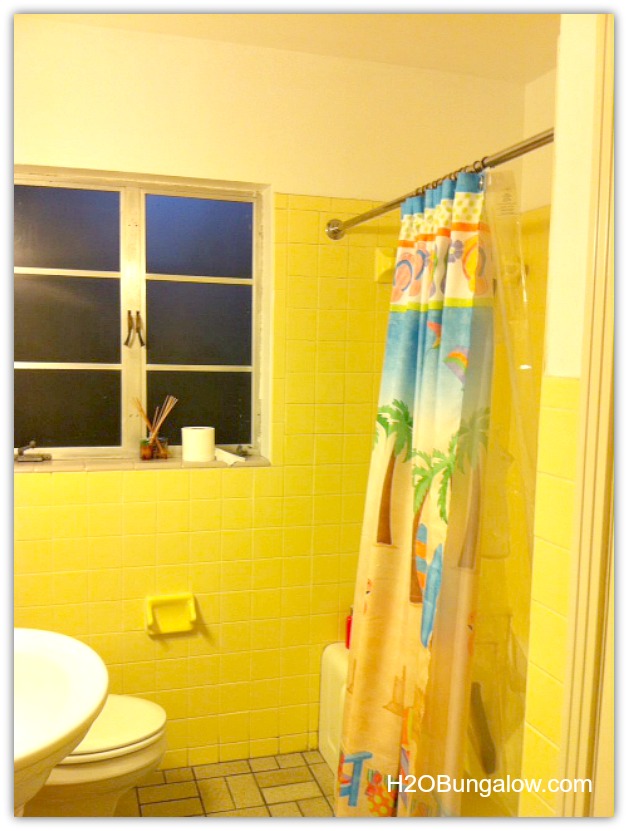 Within a few months I was ready to tackle this room with a budget friendly and creative small bathroom remodel. Actually, I was ready for it the day we moved in, but that wasn't realistic 🙂
Our walls are made of cement which I guess is how they made them in the 50's. It's not actually cement, but a cement like plaster board. If I want to hang a picture…I have to drill a hole. Crazy…I know. What that meant for our remodel is that I had to re-tile the walls to cover the damaged areas from taking off the original tile. The other options were so expensive I would have had to do the labor myself..umm no thank you.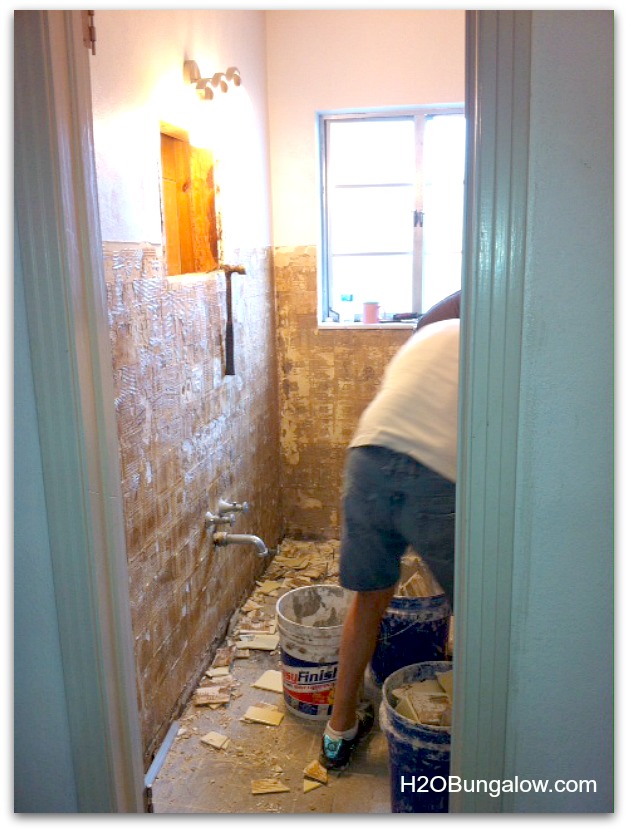 Choosing the wall tiles was fun and easy. I wanted a modern bath that still worked for our small house and it needed to be durable. I fell in love with a natural slate tile in a 12 x 12 size. LOVED the silver veining that naturally ran through the tiles. Then I found these fantastic frosted glass subway tiles. It was a perfect match for the modern natural look I was trying to achieve. I used schluters to edge the top and bottom of the glass. They come in all types of metal colors but the silver was an instant winner.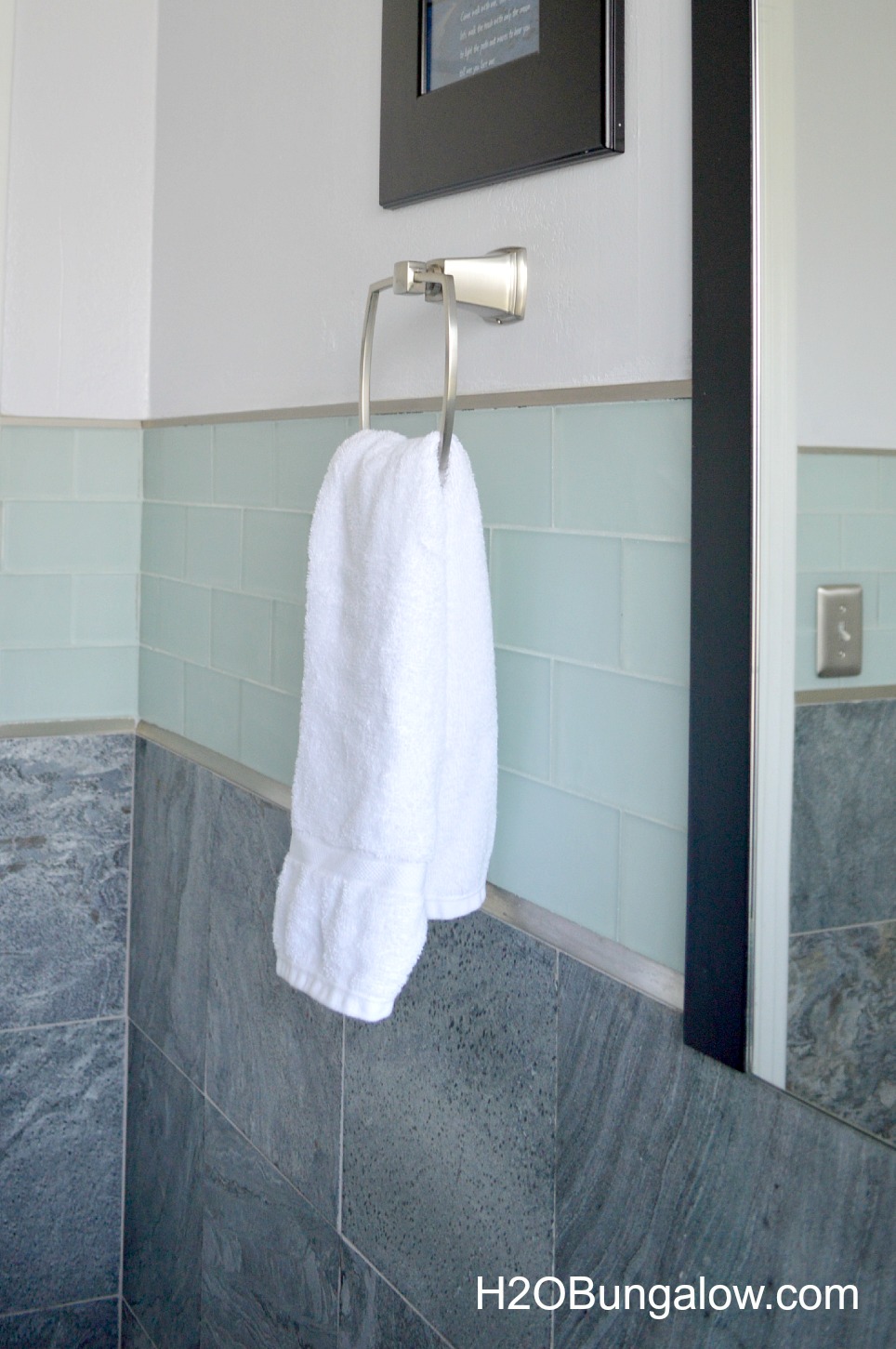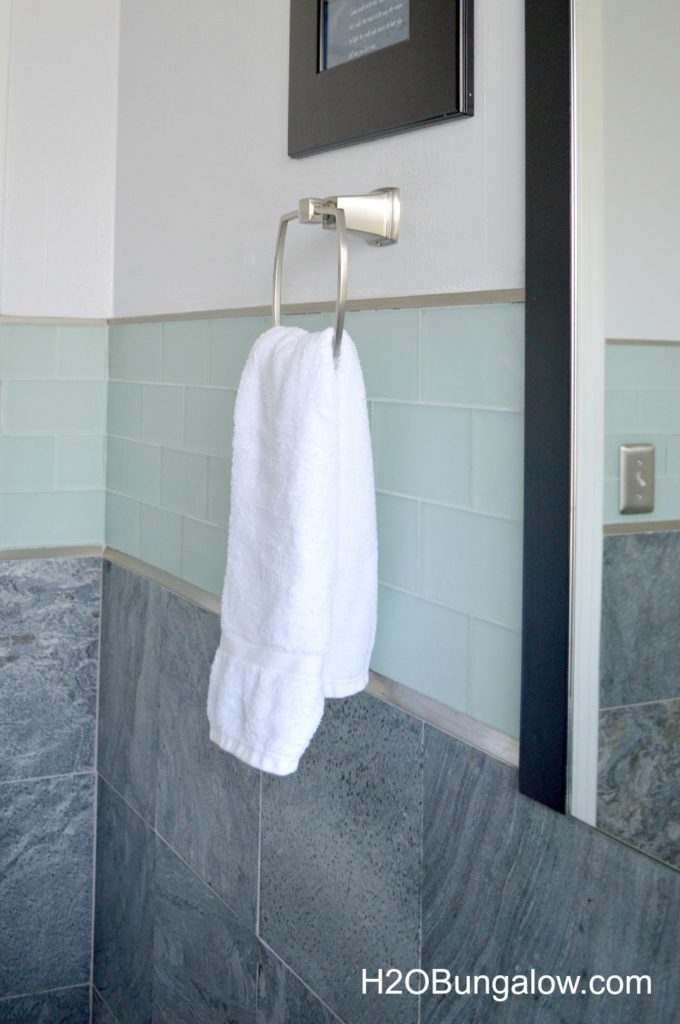 I was over the moon excited when I found this glass top vanity. It was perfect for our small space bathroom. The cabinet sits on raised legs and it's only 22′ deep and 24″ wide. It has a big impact without taking up much space. It's unique with one thick sheet of molded glass for the counter top and sink. The glass is a perfect complement to the glass subways tiles on the walls.
I couldn't believe my luck that it was on clearance at Home Depot…and then the sales rep marked it down some more! You should have seen me loading it into the back of my car, especially because I have small, like mini small..SUV.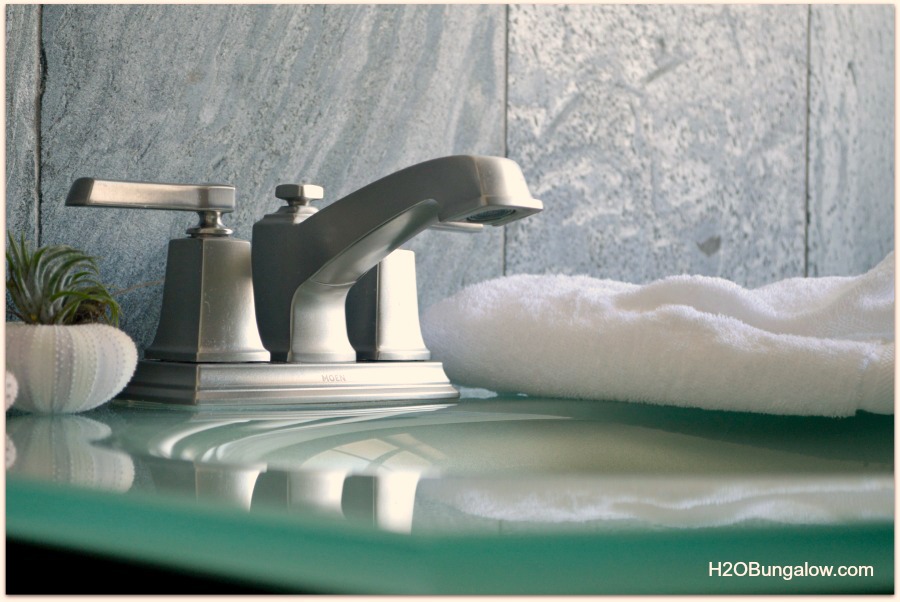 We couldn't have a new pretty bathroom without a nice area to soak and shower. I love how changing up the tile a little made a big impact.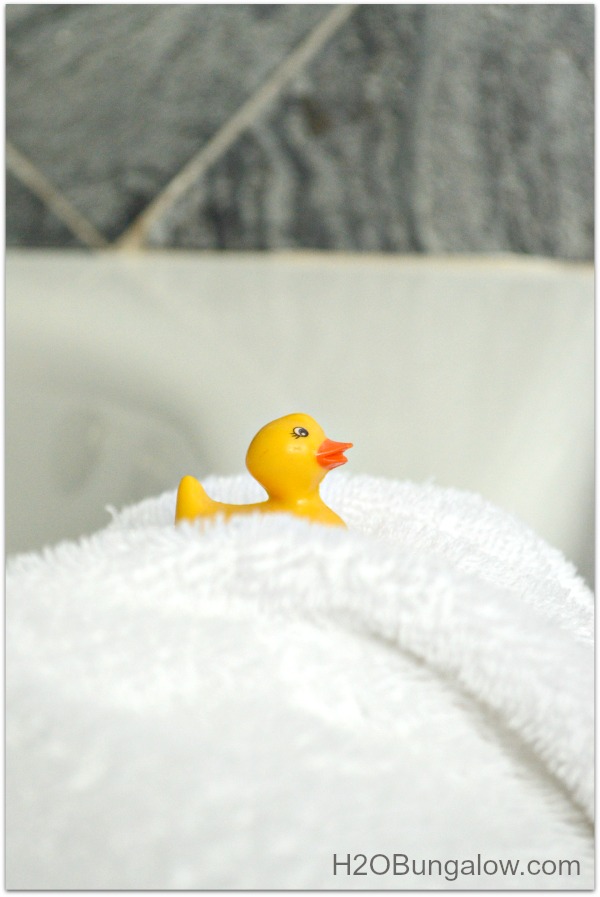 One of my favorite ways to get drama with tile is to change-up the pattern. It cost more to install tile diagonally. I made up for some of that by using larger tiles and making my own medallions from sheets of metal squares. My homemade medallions play off of the schluters beautifully. We installed them randomly in the tub area.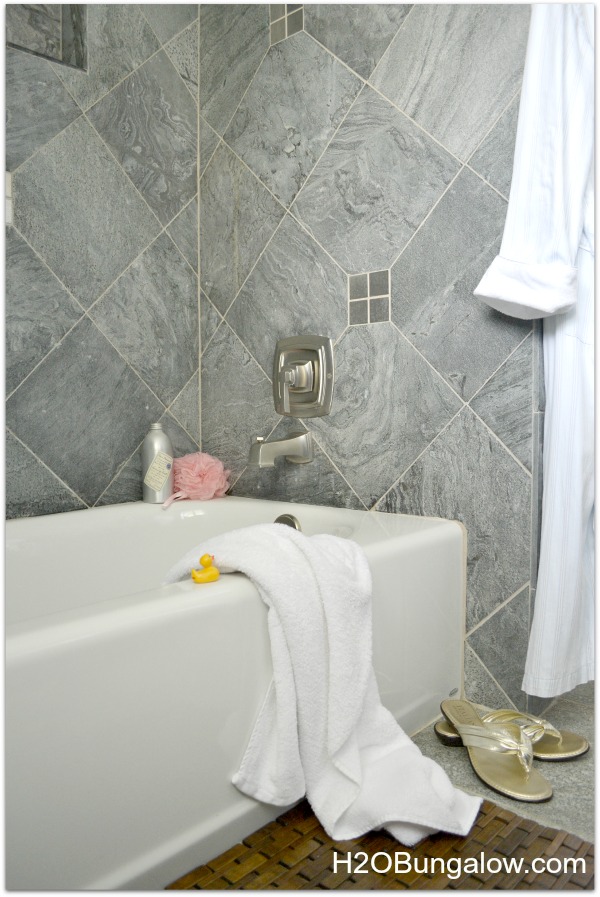 I added a two shelf niche to hold shower items at a convenient place in the tub surround. This wall niche was a lot less expensive that the pre-formed ones. I used a prefab/cut black marble doorway threshold for the shelf.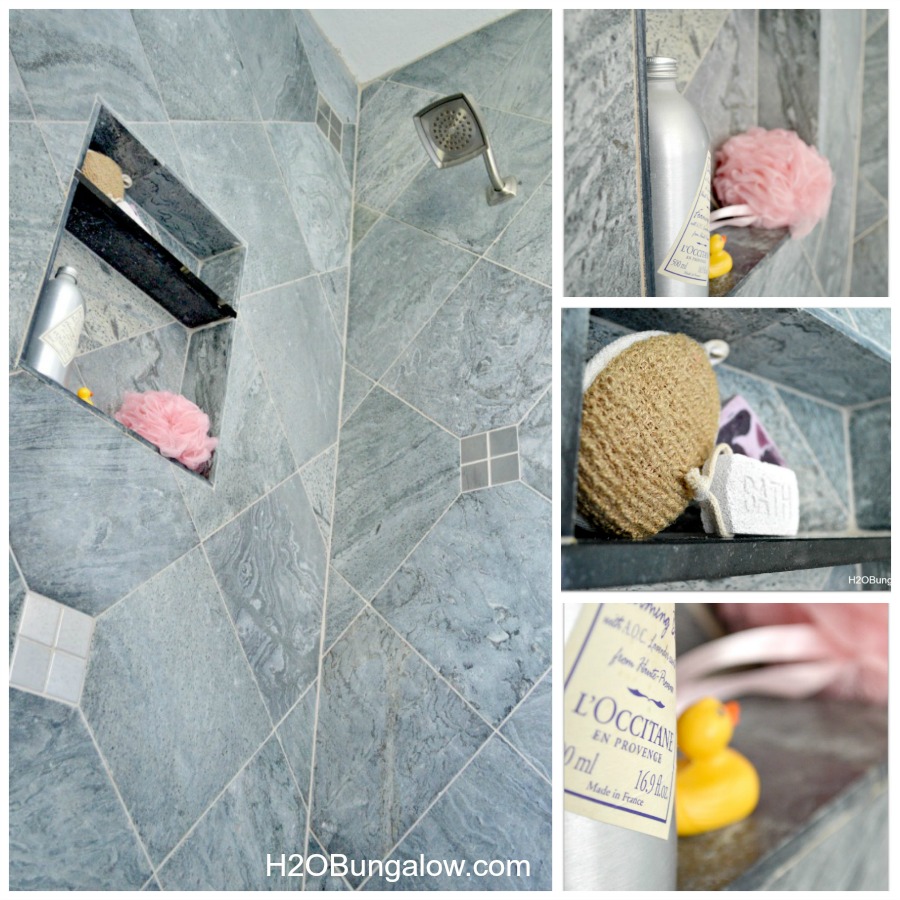 This has been our family's main bathroom for almost two years and it gets a lot of use. I added this great wooden bath mat. It holds up well with the constant use and doesn't get musty from the humidity of heavy use.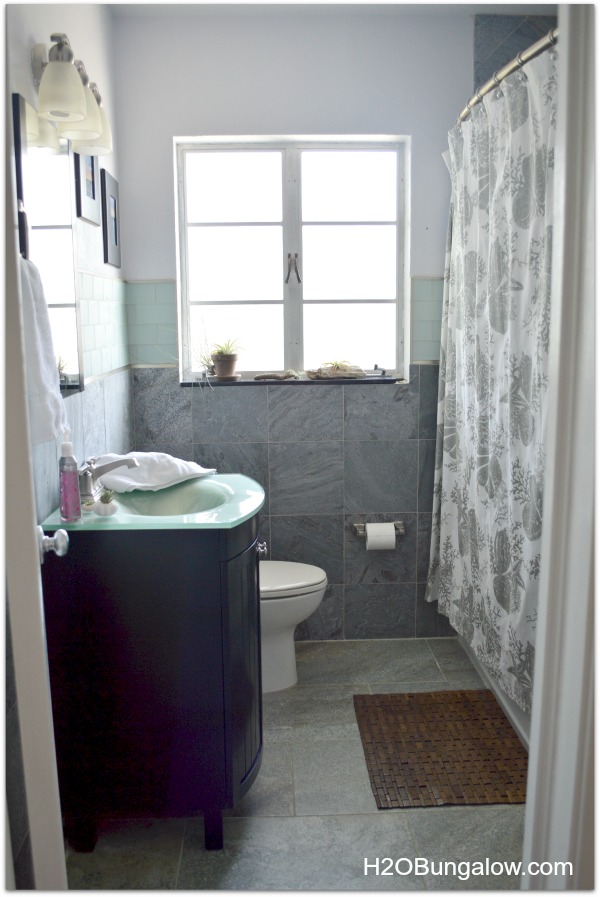 We still have work to do, the windows are original. That's a big project for later.
In the meantime I took the leftover black marble from the wall niche and used it for my window sill. Nope, I don't have a window sill in this room yet. You probably remember my fascination and growing collection of airplants. They help to distract attention from my faux window sill 🙂 …and they love the humidity in this room!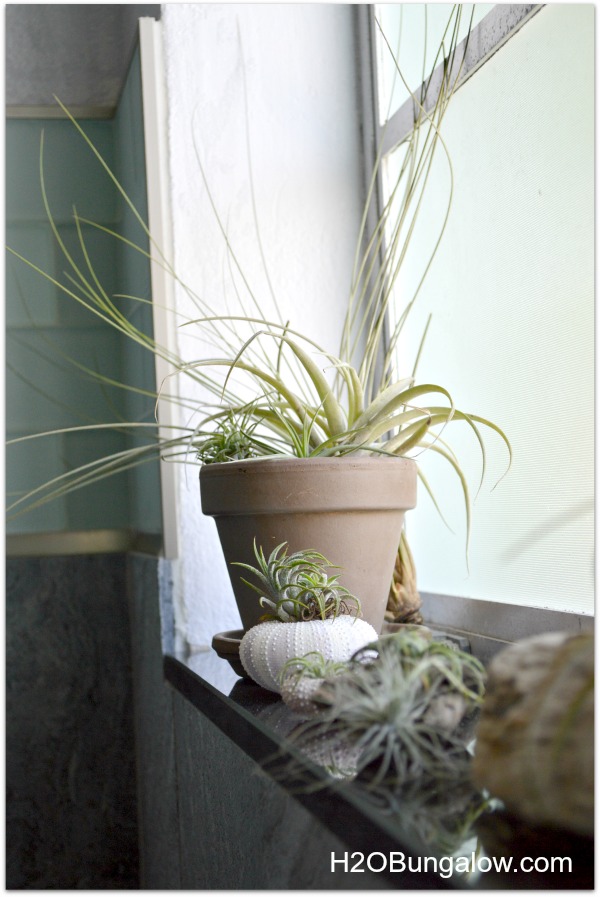 The only original item in the room I kept was the light fixture. It was already a modern shape and oddly enough a nice one in good condition.
I made the wall art with photos I took on our family trip last year to visit colleges with our son. I added beachy life thoughts and framed them. Every time I look at them I remember our special family trip.
The sunsets have beautiful shades of purples and our wall color matches it. It's a silvery, light purple almost white.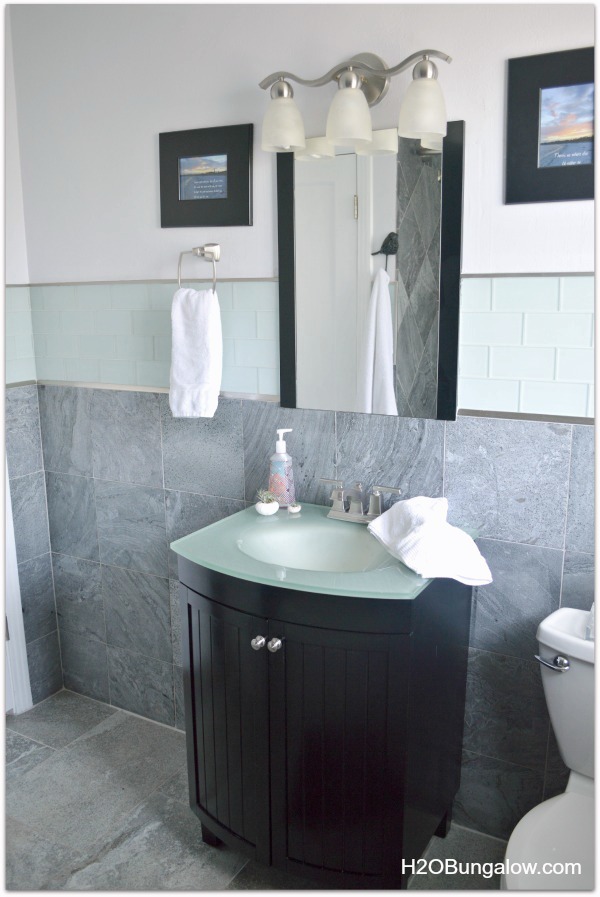 Our project house has been fun, sometimes tiring. I've enjoyed having a place to escape. Sometimes a hot bubble bath, with candles..and a little glass of wine is all I need to re-energize 🙂
This bath is very different from the beachy coastal style of my half bath makeover I shared several months ago. You can read about that fun project HERE.
I love the serene feel of my creative small bathroom remodel. To me, it's just the right amount of modern, natural and sophisticated. There were trade offs. Some items cost more and I had to spend less elsewhere, some ideas were totally scrapped as not affordable. Plus, the grey tones are a wonderful neutral that will work with lots of color combinations when I'm ready to change things up a bit.
If your thinking of doing a remodel on your small home bathroom I hope some of my ideas help to inspire you. Creativity goes a long way in a small space. Having a small bathroom doesn't mean it has to be a plain or boring small bathroom.
Do you have small bathroom you want to update?

Don't miss a single creative idea I share! Click here to get my posts sent to your mailbox or follow here on Bloglovin. Either way, keep in touch!