Today is Themed Furniture Day, one of my favorite days of the month! Our theme this month is Red, White and Blue, which is one of my favorite topics to be creative with. Growing up in the North, where old buildings and barns are everywhere, it's easy to understand my love for vintage red, white and blue and all things Americana. This little Americana Dresser makeover in red white and blue wasn't planned.
I just started painting and figured it would turn out the way it was meant to turn out.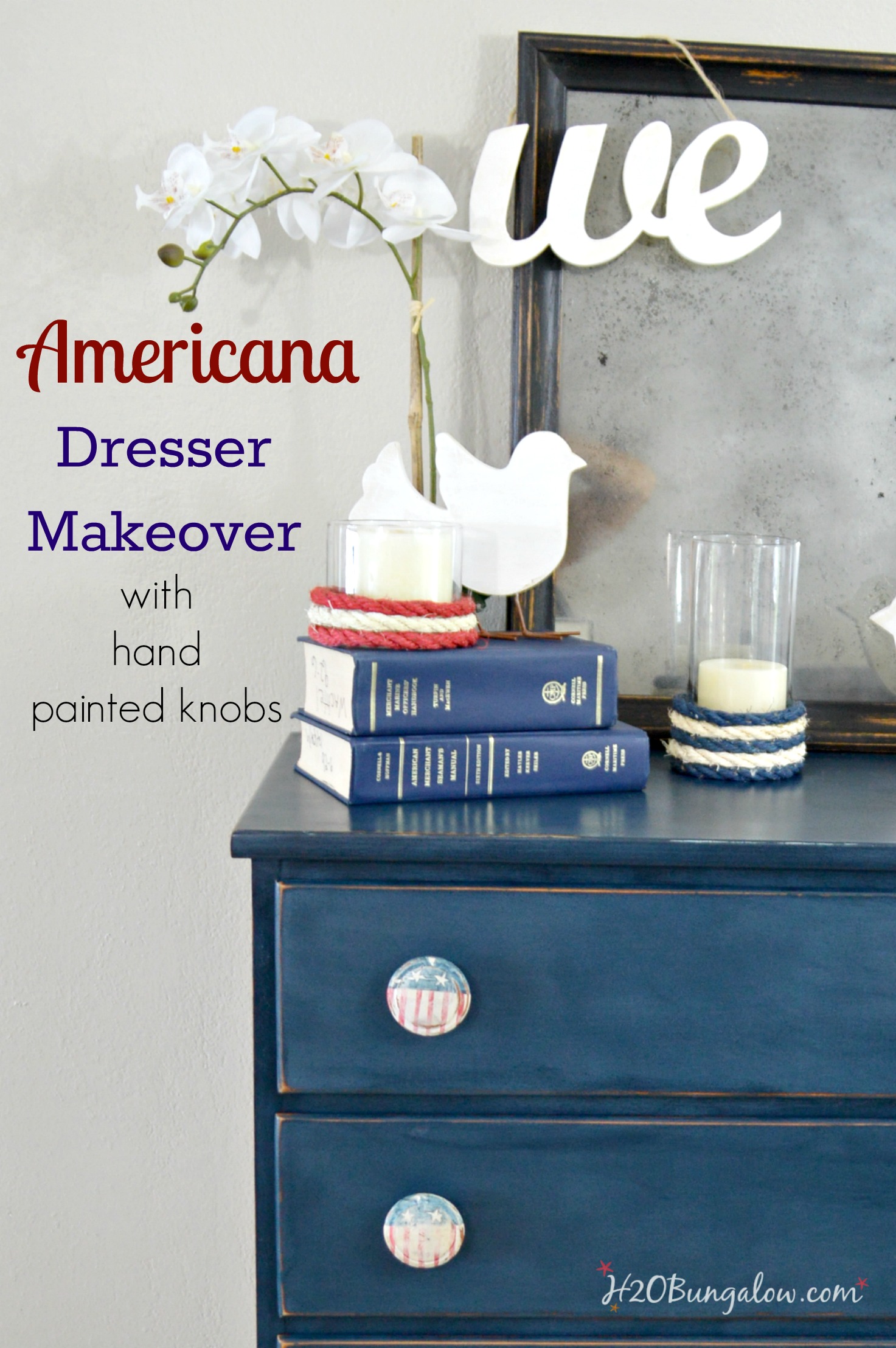 I love when I can let a project take its own form and just be whatever it wants to be when it's finished.
This petite Americana dresser makeover began like any other makeover, I was going to give it a quick once over with some TSP and a rag before painting. Until I started examining the veneer edges. Lots and lots of edges needed repair. About 2 days worth 🙁
My How to Paint a Dresser in 7 Steps post will really help you if you are tackling this type of project as a beginner.
Metal office clamps and liquid nails are awesome and inexpensive for this type of job.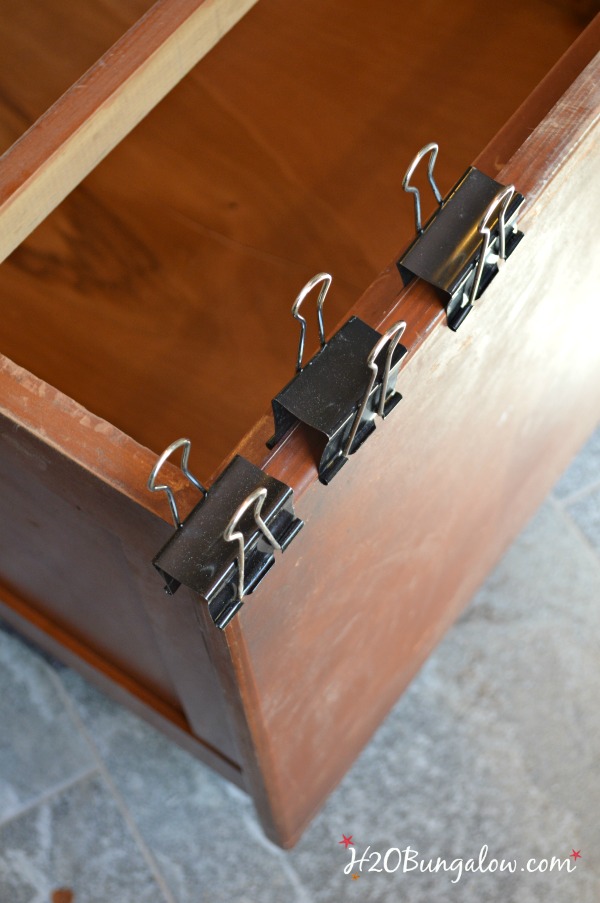 The dresser, or chest of drawers got two coats of Born On The Fourth Of July, by American Paint Company with a 4″ foam roller. Followed by a light sanding with 320 grit paper and then a good distressing on many of the edges with 220 grit. I have lots of Annie Sloan Clear Wax left over from other projects, so I gave it two coats of clear wax. I've been using this wax brush in my classes and it works great for the money.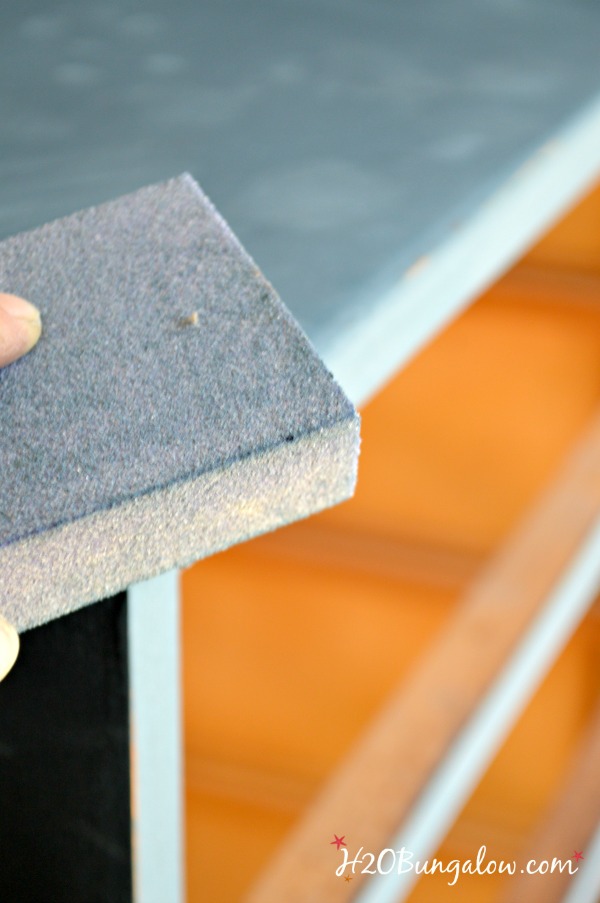 Wasn't sure where I'd work the red and white in with the blue. I had to since this was my themed entry, and Americana dresser makeovers are kind of supposed to have red white and blue in them, yes?
I thought of painting inside the drawers, or on the drawer edges. But since this little dresser is going in my husband's office/guest room, the Americana part had to be understated. Otherwise, I'm sure he would have said "thanks honey, you shouldn't have" and started on about not having extra room in the office.
Truth be told, I'm just trying to clear out the garage and the project pile. Anyone who needs a piece of furniture is fair game right now.
Family, friends…no one is exempt:)
The knobs were the perfect place of course! They started with a basecoat of Lamp White by Fushion Paints. This is a lovely aged grey-white color.
I counted 72 strips of Frog Tape that I'd cut. Yes, this part was a bit tedious. It wasn't so bad since it was getting late, I just poured myself a glass of wine and settled in for the long haul 🙂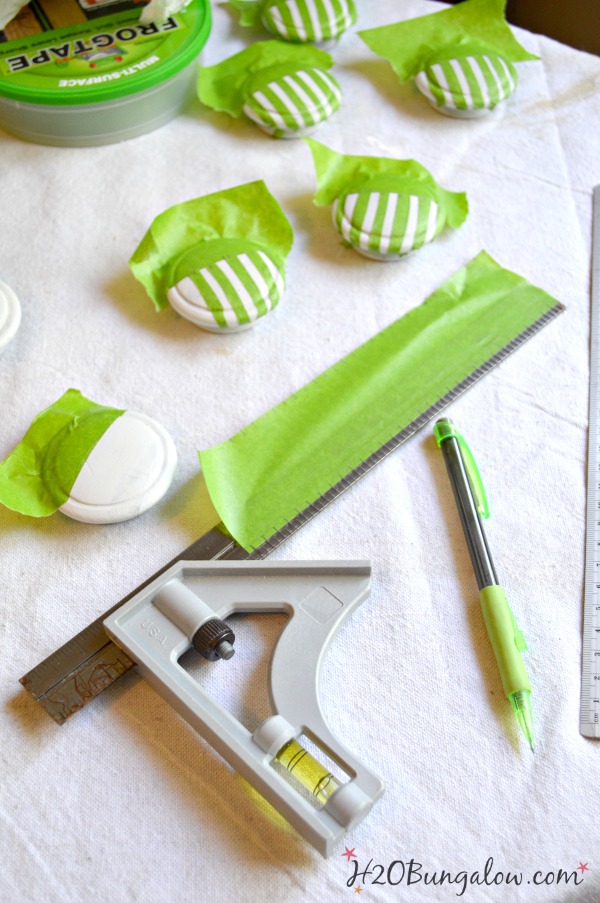 I used a stencil brush and dry brushed some Country Barn, also by American Paint Company onto the knobs first. The stars are hand drawn and uneven, which is how I wanted them. I painted the blue by watering down the Born On The Fourth Of July that I used on the dresser body. It went on like watercolor, a fine tip brush made it easy to paint around the stars and details.
A little distressing here and there, a coat of clear wax followed by some dark wax for character and the knobs turned out perfect!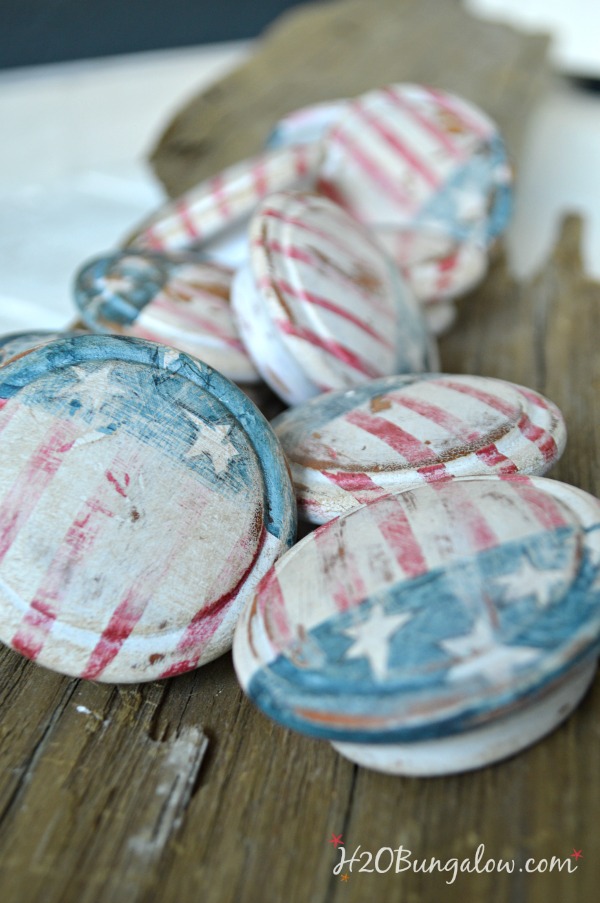 They were just enough of a wow on my Americana dresser makeover to make it stand out and not too much to be over the top.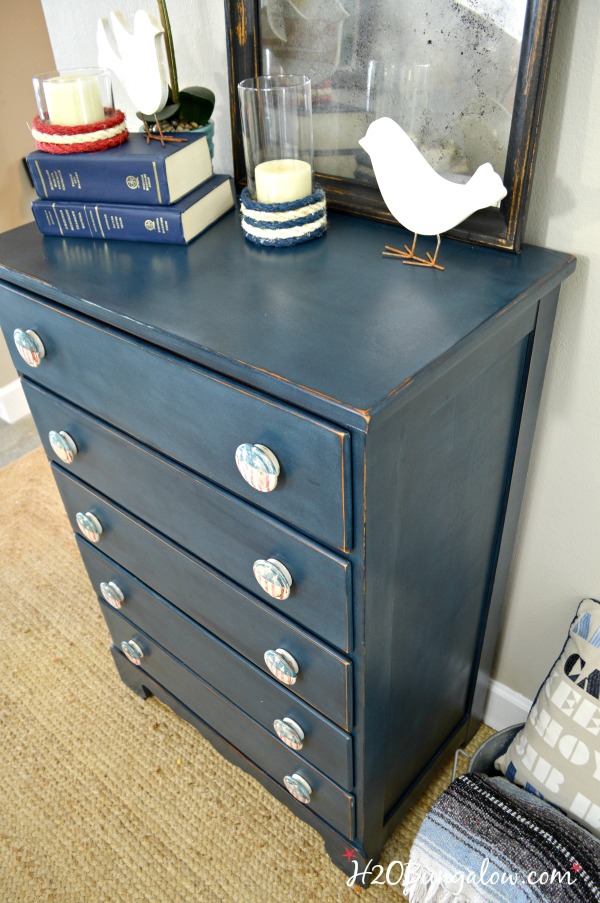 Some people might call this an Americana chest of drawers makeover. I guess it depends on which part of the country you are from:)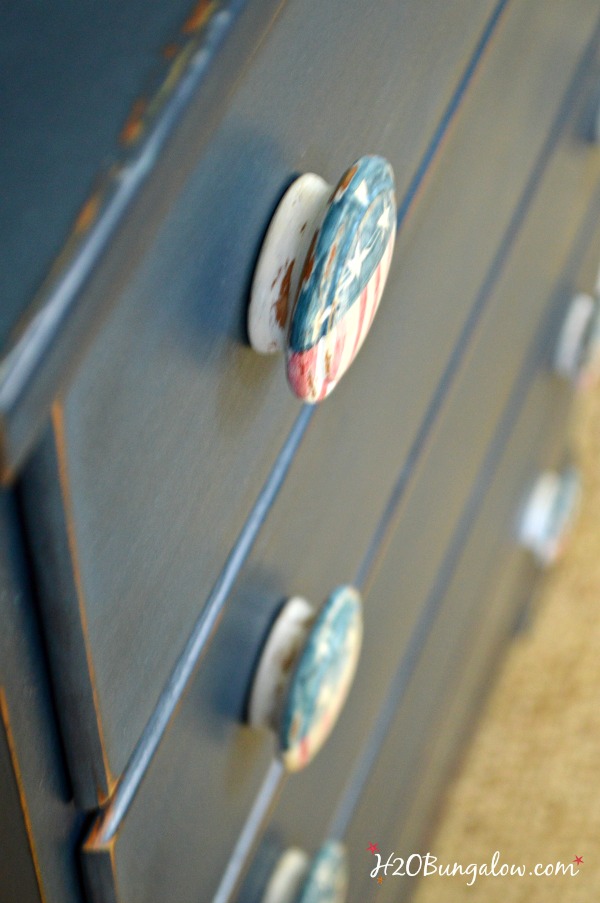 I staged it with a bunch of fun items I'd shopped my house for. Those red white and blue candle holders are an easy upcyle project. They fit just right.
This may be one of my favorite patriotic makeovers. It's hard to choose.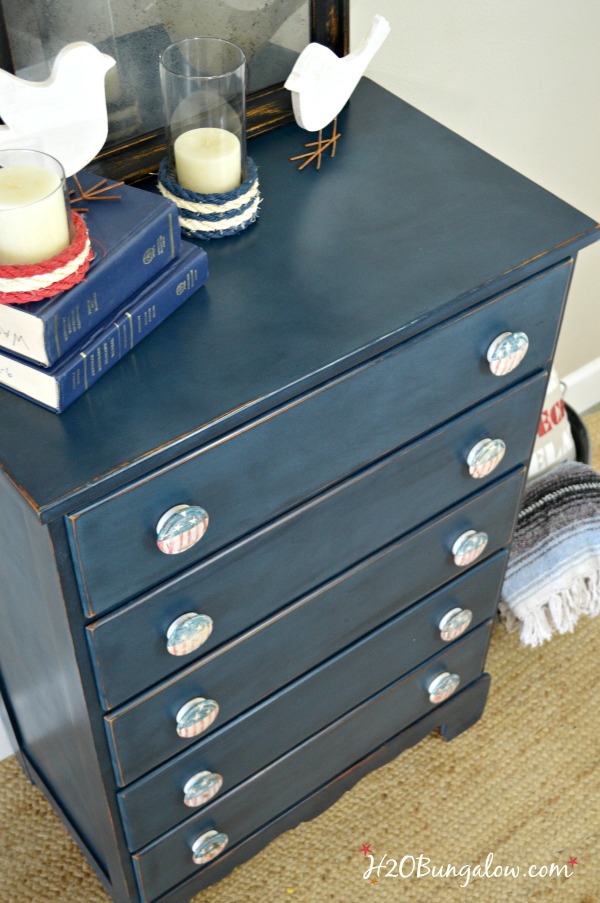 Here's another one of my all time favorite red ,white and blue furniture makeovers. We use these Americana Decoupage Chairs when friends come over and of course on holidays.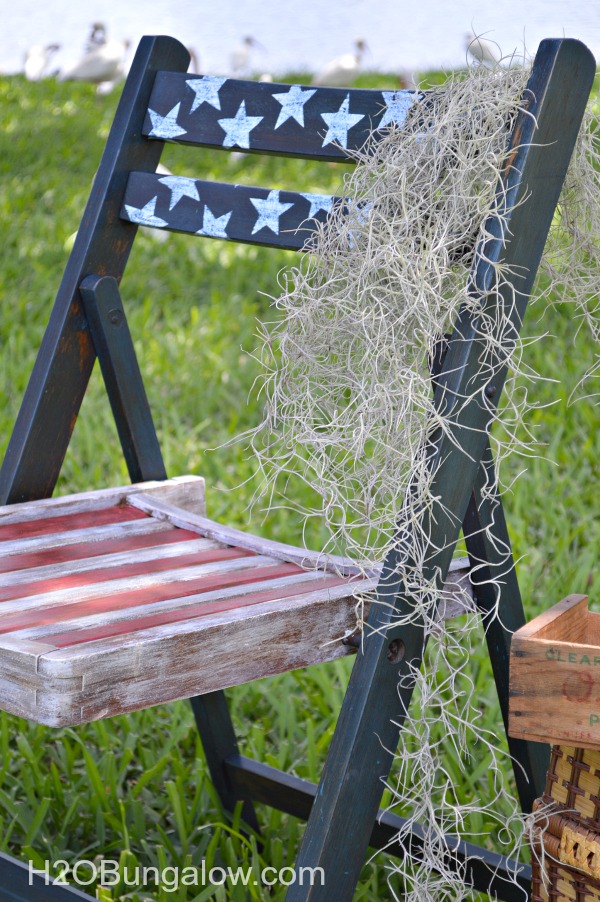 So…which one is your favorite?
The Americana dresser makeover with hand painted red, white and blue knobs or my patriotic chair makeover with those fabulous decoupaged stars?
If you love red white and blue as much as I do, you'll want to see what the rest of the DIY Furniture Girls came up with too. Click on any picture and you'll go right to that project!
You'll find my project linked up to these fabulous parties!
Love a good dose of DIY home decor, home improvement, the challenge of woodworking and creative ways to make your home look fabulous?
Me too!
I'd love to share mine with you. Click here to sign up for my post emails and I'll send a quick note when I have a new project to share.
Disclosure: I may have been compensated, given product or tools that I used in this DIY post. All opinions that I share are always 100% my own. I use affiliate links in my posts. If you should make a purchase I will receive an itty bitty commission at no cost to you. Thank you in advance for supporting my blog and two fur-ball cats who believe they are privileged.