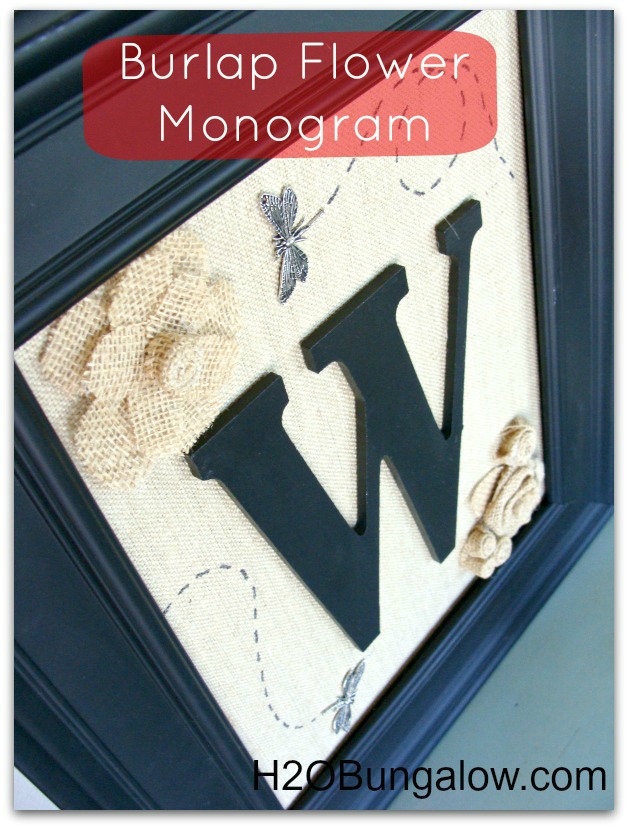 If you've followed my posts this past week, you've probably seen my mentions on Facebook, Instagram or Twitter about the Michaels & Hometalk Pinterest Event that is taking place this Sunday, Feb 16 all across the country.
If you didn't see my posts, let me share with you that I am so excited to be representing Hometalk and co-hosting this event at our local Michaels store on 66th St in St Pete! The event will run from 1pm-4pm and I'd love for you to join me there!
Don't live near St Pete, Fl? No worries, All Michaels Stores across the country are holding this event. Select stores will have Hometalk bloggers (like me!) to help craft and share their expertise and projects. Check here to see which stores will host bloggers!
Today, I'm sharing the first of two projects I've designed for this event. This DIY burlap flower monogram is easy to make in about 30 minutes and you don't need lots of crafty skills to make this 🙂
All of the supplies for this project were purchased at Michaels. If you haven't seen their new selection of burlap canvases, you're in for a treat. I made my DIY burlap flower monogram project with the 11 x 14 size. There are lots of sizes and variations available if you want something different.
Here's what you'll need to make my DIY burlap flower monogram wall art:
11 X 14 burlap wrapped canvas
Large 8″ wooden letter
Black wall frame (without glass)
Burlap ribbon or fabric
2 – Dragonflies
Black craft paint
Glue gun
Ruler
Black Sharpie
Scissors
String
Cardboard circle
Paint your letter and while it's drying begin making your burlap flowers. Start with the daisy which will go on the upper left hand side of the burlap canvas.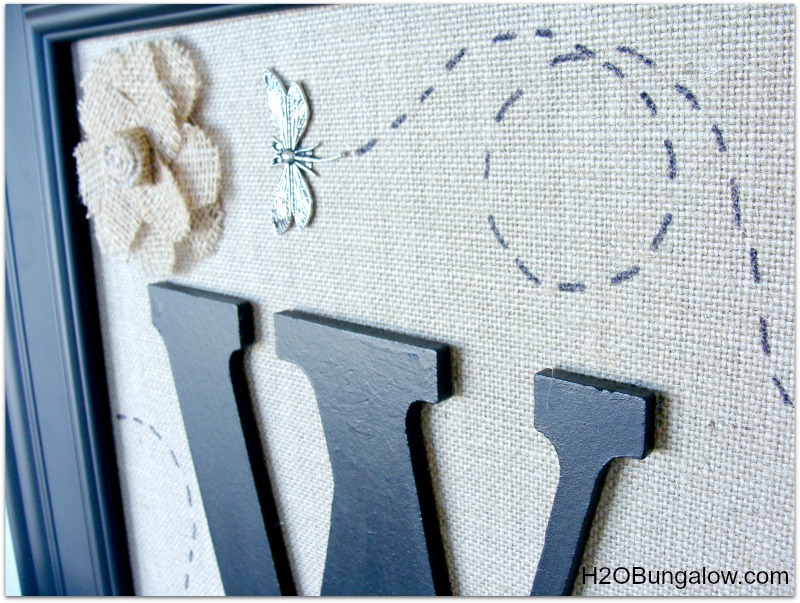 Make one daisy burlap flower by cutting 3 sets of 4 flower petals. The bottom petals will be the largest, the top will be the smallest. Cut a small circle as a base to hot glue the petals onto. You can finish the center with a circle cut out or add a rosebud center like mine.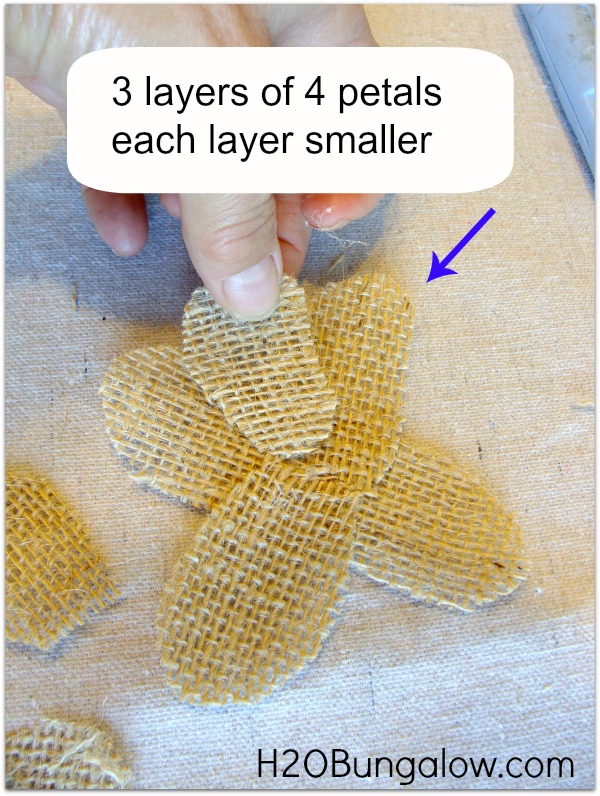 Make burlap rosebuds from a 1″ strip of burlap, folded over lengthwise and rolled up. I used a little bit of hot glue sparingly as I rolled mine to keep the buds tight. Make 3 for the bottom of the monogram and 1 for the daisy (if you're making it like my daisy). I varied the widths and sizes of my rosebuds which I think looks better.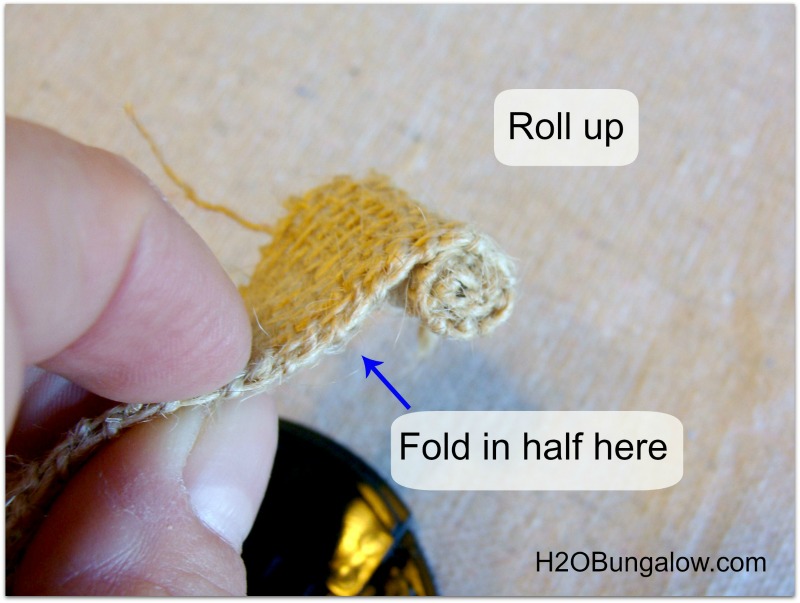 The burlap rose was a little more challenging since I've never made these before. After reading a bunch of Pinterest posts I found this terrific video from the Frugal Gardener. Her instructions were simple and the video was really helpful.
For the bottom right side of my DIY burlap flower monogram, I used 1 burlap rose and 3 rosebuds, I added 2 leaf-shaped pieces of burlap at the last minute and tucked them under the rose. I liked it better with the leaves added. Play around with what looks right for you. Try to stay away from matchy-matchy or an even number of flowers. You'll find your DIY burlap flower monogram looks much better with an odd number of flowers in this area.
After your flowers are ready and your painted letter is dry. It's time to put it all together! I found it helpful to place my burlap canvas in the frame to position everything. That way I didn't need to guess about how close to the edge any of my items would be. Once your happy, begin gluing the letter and flowers in place.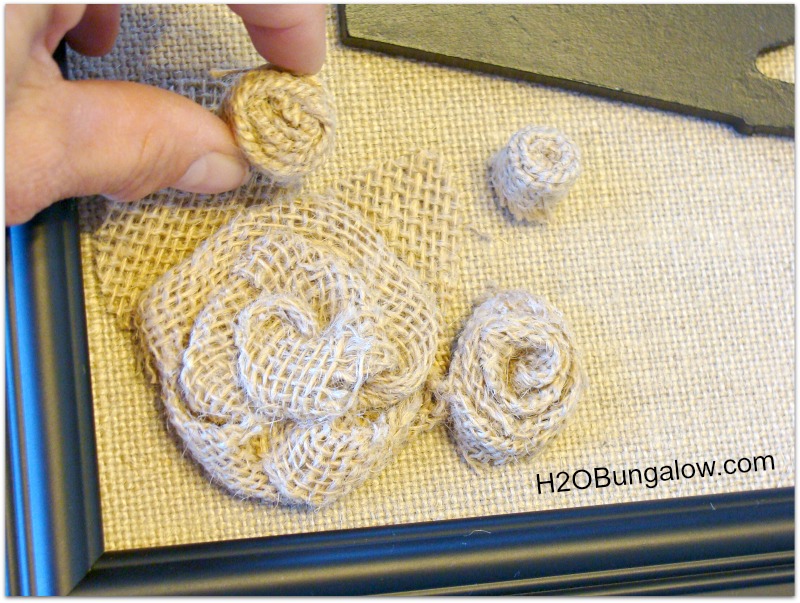 Before you glue your dragonflies, play around with the placement and some string. I used the string as a guide for the flight pattern. Once you're happy, go ahead and glue the dragonflies on to your burlap canvas. Next, take your sharpie and follow your string with little dashes. To make the loop I used a cut out circle as a form.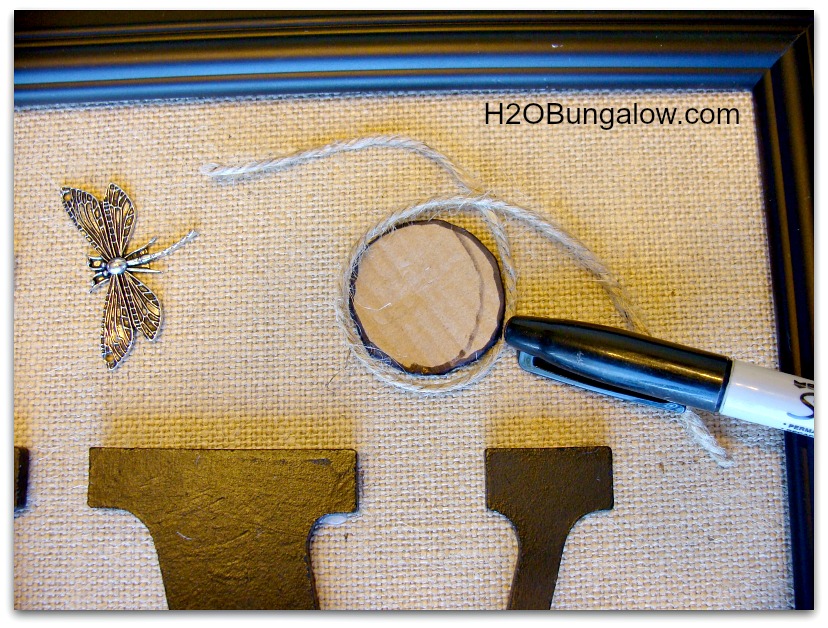 All you have left to do is stand back and admire your DIY burlap flower monogram. I'm in love with the textures and variations of the silver dragonflies, black letter and burlap flowers.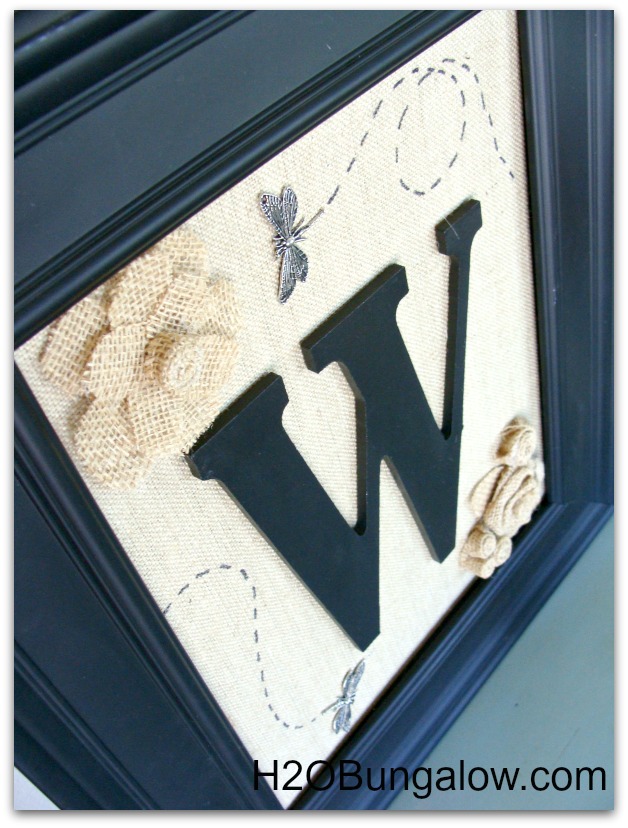 I'm planning on using it in our bedroom after the construction is complete. Until then I'll leave it on this chest. Of course, I'll have it with me this Sunday at the Michaels Store on 66th St in St Pete.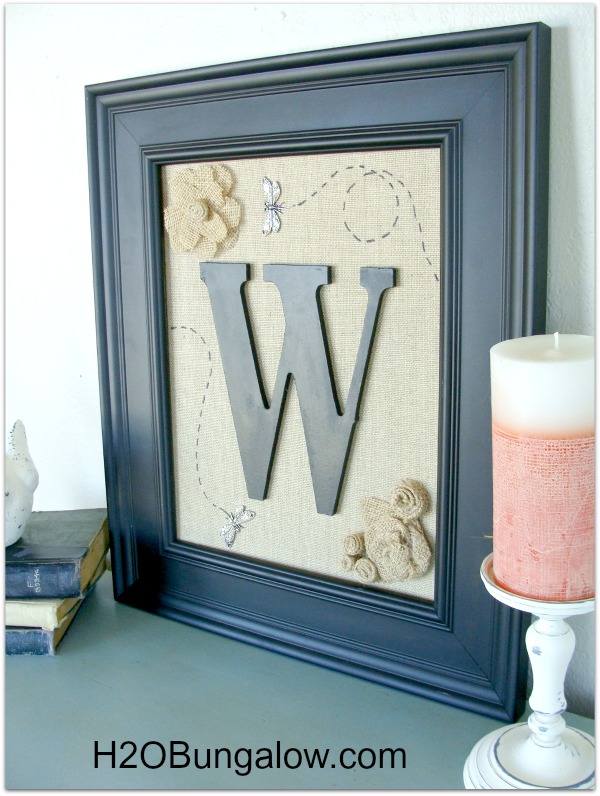 Don't you love it? My little DIY burlap flower monogram is now one of my all time favorite projects!
Don't forget to mark your calendars for this Sunday at your local Michaels Store. The Pinterest Party starts at 1pm….and to make it even MORE fun, Michaels is giving a special gift to the first 25 people who join in at each store! Yay!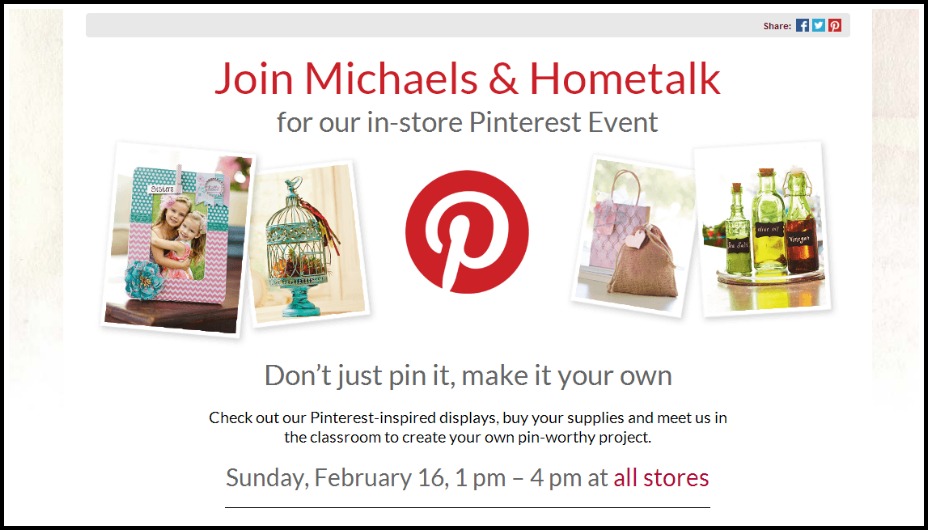 It's completely OK If you're not into making a monogram! There will be lots of other ideas with featured supplies in each store. Just look for the Pinterest endcaps at your local Michaels locations. You might want to go early to look around and choose your project and supplies.
Follow Michaels on Hometalk for a chance to win a $100 gift card!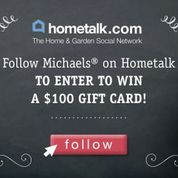 I'm sharing my other burlap Pinterest project this Wednesday! I'm not giving up any hints 🙂 But, I can tell you it's doesn't even closely resemble this one!

Don't miss a single creative idea I share! Click here to get my posts sent to your mailbox or follow here on Bloglovin. Either way, keep in touch!
You may see me linked up to some fabulous link ups which you can see
here.