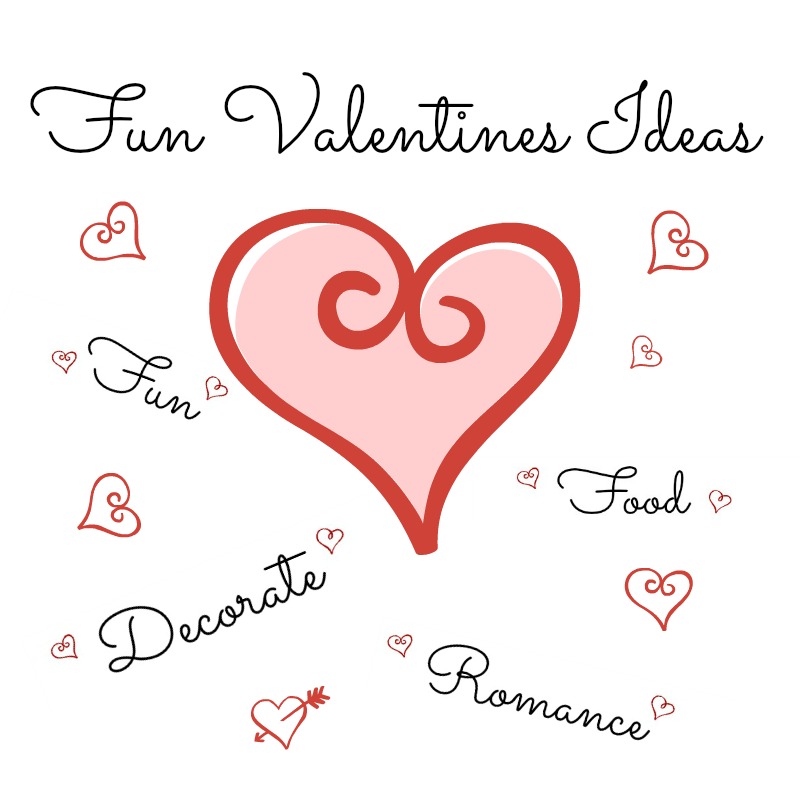 This past week has been all about love, simple sweet and fun Valentines Day ideas. I say do it all. Bring on the romance, go silly and the cheesier the better. As you might have guessed, I've had way too much fun hunting for ideas to share. Missed any of what I shared?
I know how busy life gets and if you happened to miss my medley of fun Valentines Day ideas here on the blog, or on Facebook, you're in luck. I've rounded them all up. Yep, I've gotcha covered from crafts to cookies…from simple fun home decorations to ideas to make the manliest man smile.
Let's get this round-up started with fun Valentines Day ideas for the home. Planning on spicing it up a little with some love-el-y themed decorations? Look no further. These hearts & love craft projects are easy on the budget and so doable!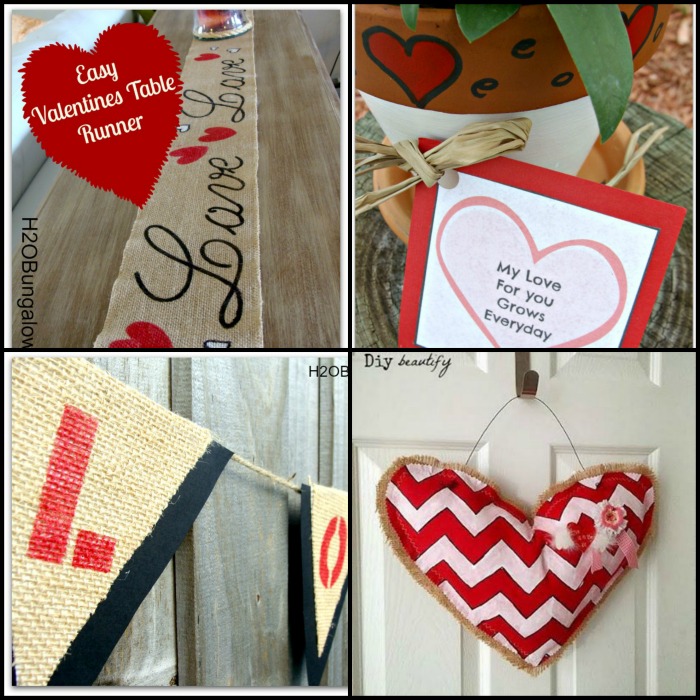 From top left to right Valentines Table Runner – H2OBungalow, Valentines Plant Gift – H2OBungalow, Love Banner – H2OBungalow, Red & White Chevron Pillow – DIY Beautify
Looking for a little romance this Valentines Day? How about 12 months of pre-planed dates? Do ya love little love notes on pretty paper? Check out these darling vintage cards. How about a game of hidden love notes with clues to find the next one. Hmmnn that could be fun 🙂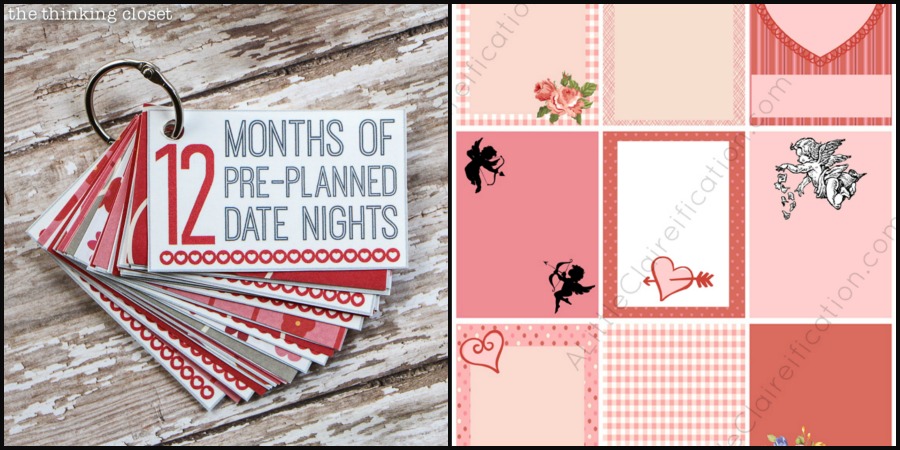 12 Months Of Pre-Planned Date Nights – The Thinking Closet, Valentines Note Paper – A Little Clairification
Is humor your thing on Valentines Day? Gotcha covered there too. What manly man can refuse a tackle box filled with sweets from his sweetie? Check out this mustache humor…funny!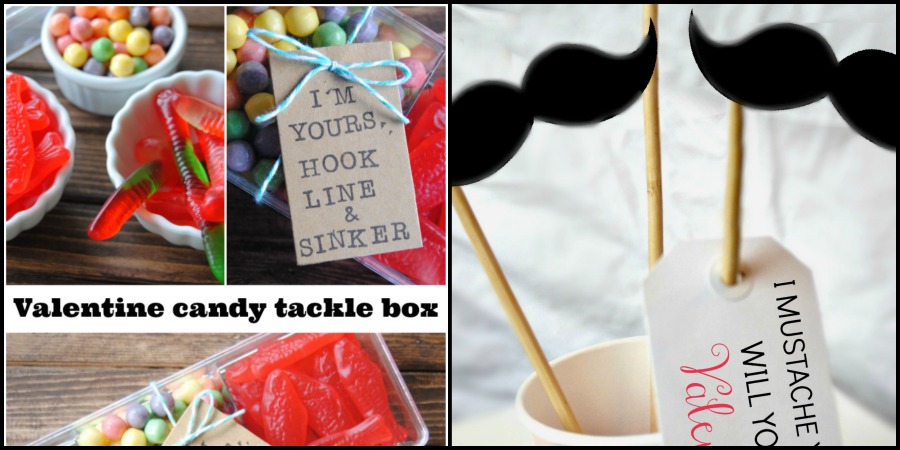 Valentine Candy Box – Shaken Together Life, Mustache You A Question – First Home Love Life
If the way to your man's heart is via his stomach then you'll have a direct route with these goodies. Diet restrictions are no problem with a medley of gluten free, sugar and dairy free recipes. Perhaps a fully loaded decadent cinnamon chocolate cookie is what he craves.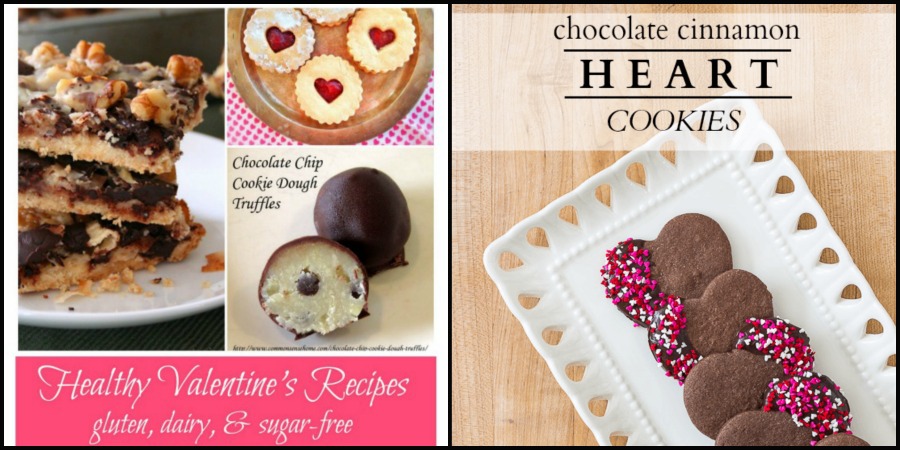 Healthy Valentines Recipes – Whole New Mom, Chocolate Cinnamon Heart Cookies – On Sutton Place
I love each and every item featured and thoroughly enjoyed reading the original posts. Many of you will want to pin and share, I hope you do! Please be sure to click the link for each project and pin from the original source on the author's blog 🙂
Now that we've traversed from hearts to romance, sweets to slightly corny, I hope you're as inspired and ready for Valentines Day as I am. Who said we have to be serious all the time? Cheesy and corny sentiments are not only for the kids! I plan on taking full advantage of every chance to enjoy, laugh and be a big cornball this Valentines Day. With that said, I'm still a romantic at heart… I'm looking forward to a simple romantic evening with the love of my life… my husband Rob.
What are your plans? Are you a romantic, or is the cornier the better your style?

Don't miss a single creative idea I share! Click here to get my posts sent to your mailbox or follow here on Bloglovin. Either way, keep in touch!
You may see me linked up to some fabulous link ups which you can see
here.