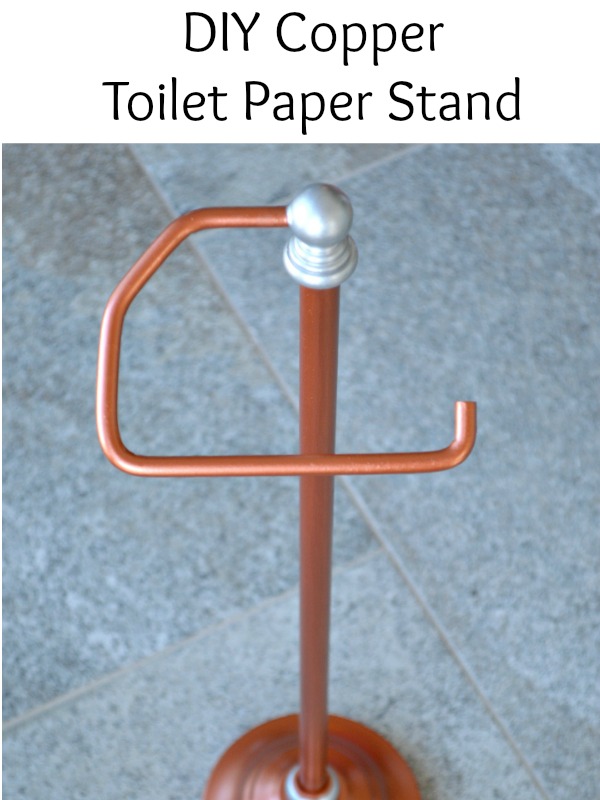 There really aren't other words for toilet paper holder. Le tissue holder, powder room paper, TP holder…I've spent the better part of a day trying to come up with the perfect title to this post. "Enough" I finally thought, let's get on with it. Today I'm talking about my DIY copper toilet paper holder.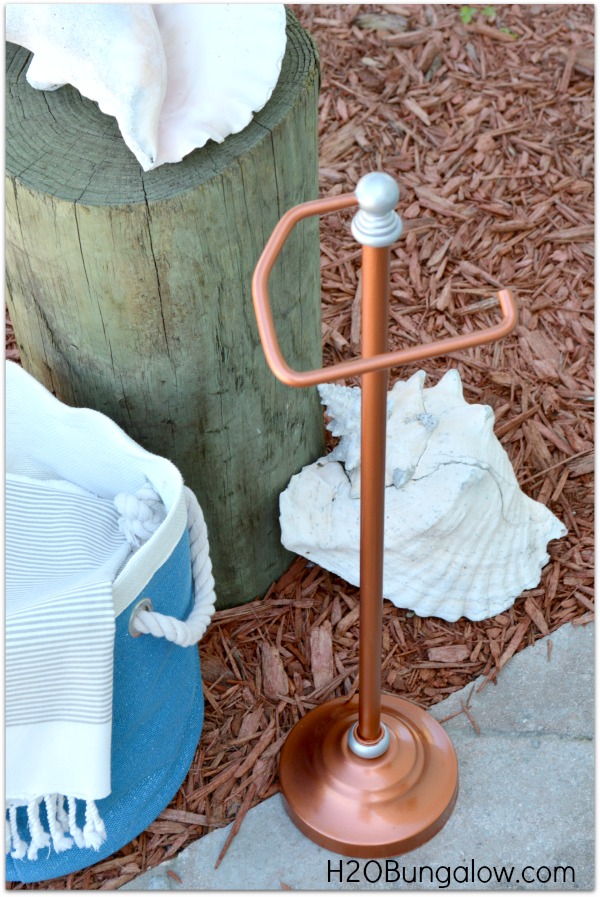 When we were redoing the tile in the house it was the whole house, both bathrooms, floors, kitchen… everything. It was complete chaos for almost 3 weeks. In the midst of it all I forgot to ask the tile guys to install my toilet paper holder in my little half bath. I'm a bit embarrassed to say it stayed like that for the last year and a half.
Lately, I've been trying to complete my list of unfinished projects and discovered that the stone we put on the walls is so thick that even with the best drill bits and most powerful drills a lot of effort resulted in only a dent in the stone. I needed 4 holes for the screws 🙁 Phooey..(not my exact word). On to plan 2.
I picked up a standing toilet paper holder at Home Goods, one of my favorite go to stores. Chrome was the only option they carried. So I bought it. One thing about DIYers, we're kind of cheap, simply because we think we can make anything and everything better than we can buy it. The only finish they carried was chrome and that was not the finish I had in the bath already. I'd already made the vanity lights copper and the sink was brushed nickel. No worries, I thought…the DIY copper toilet paper holder was already something I was putting together in my mind.
This is so easy. I pulled out my favorite metallic Modern Masters paints and got busy.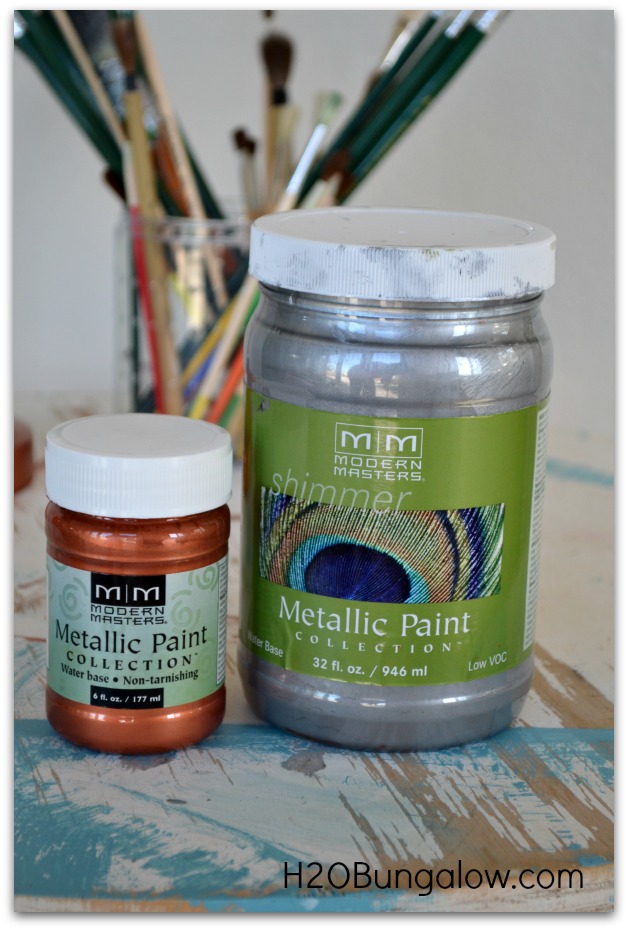 This is what it looked like when I brought it home. I gave it a light sanding to give the paint something to stick to and wiped it down with a deglosser before painting.
I gave it two coats of paint and let it dry overnight. The coastal air here will corrode and rust everything…even things that say they won't rust, I've discovered still rust 🙁 I sealed it with a good coat of Rustoleum Crystal Clear Enamel which really does stop rust and has worked amazingly well on my copper light fixtures.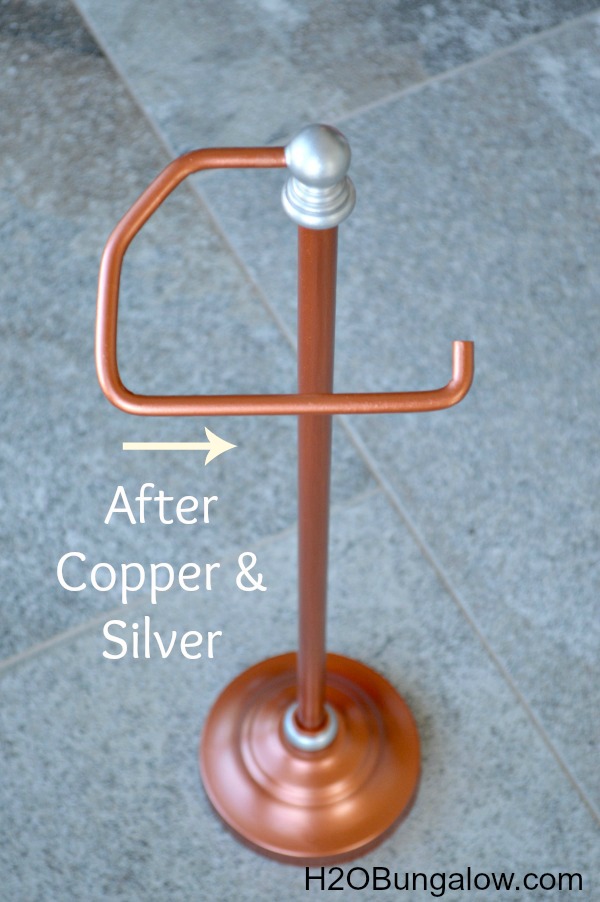 My DIY copper toilet paper holder project turned out pretty nice, didn't it?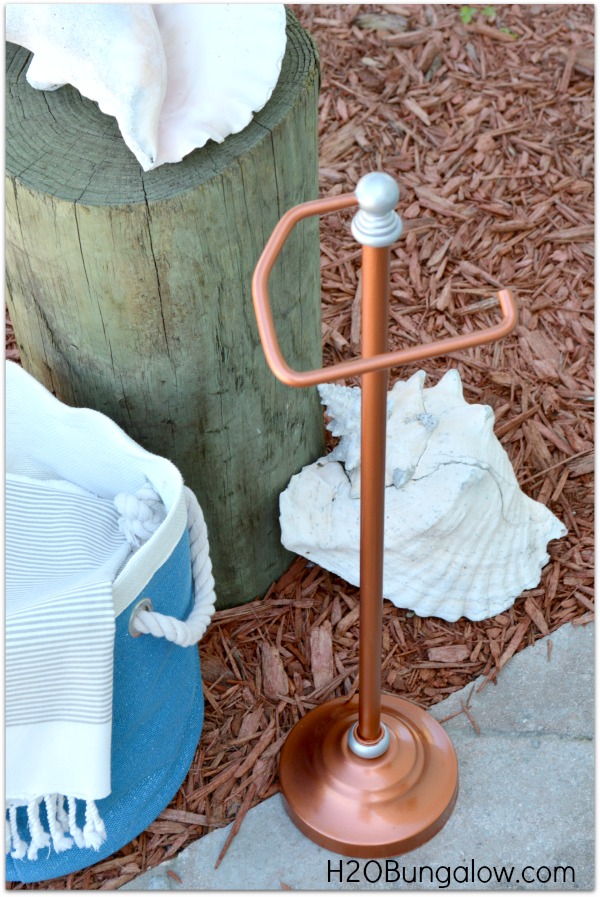 I'm finishing up a few more little items in my half bath and am looking forward to sharing the before and after pictures on Monday.
Do you see a DIY copper toilet paper holder or maybe even a copper light fixture in your future?

Don't miss a single creative idea I share! Click here to get my posts sent to your mailbox or follow here on Bloglovin. Either way, keep in touch!
You may see me linked up to some fabulous link ups which you can see
here.