When you have a limited amount of space you learn little secrets over time to conserve space and stay organized. One rule that has worked really well for me is not to have duplicates of anything. Along that same line of thought is to find as many items that can do more than one job as possible and pick one only. My DIY etched glass coffee station canisters do exactly that.
…and yes, we still use the old fashioned drip coffee pot:)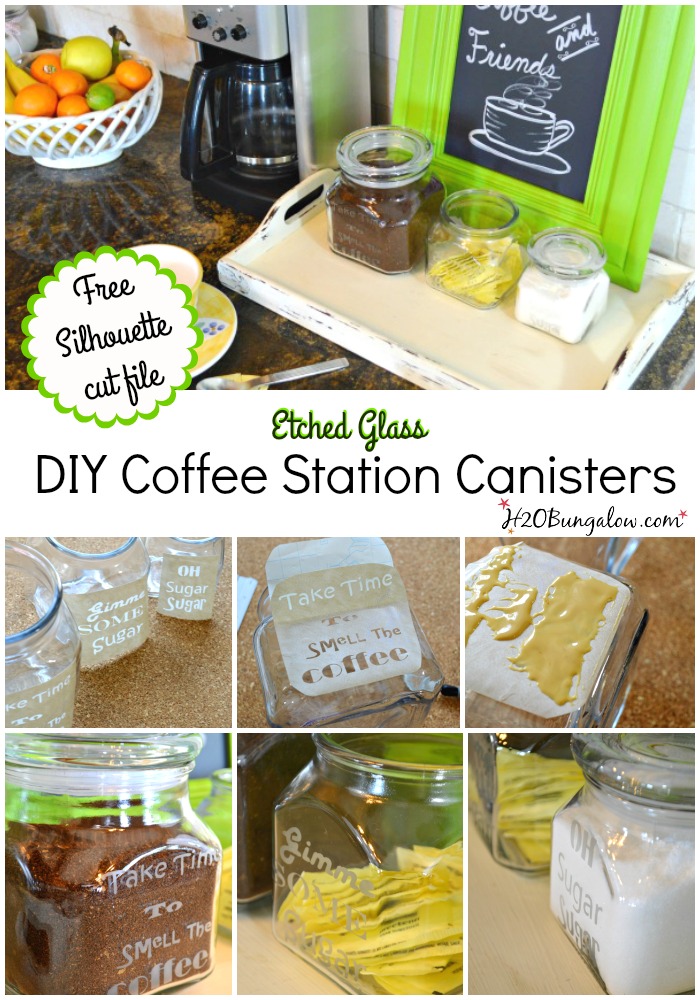 These etched glass coffee station canisters are store and serve which saves me valuable space. Pretty enough to pull out for company like the New Years Day brunch we hosted, and durable enough to pop right back onto the pantry shelf until we need them again.
Let me show you an easy way to etch glass and make your own set of coffee station canisters. I use affiliate links to help you find the products I used:)
Etched Glass Coffee Station Canisters
I found my glass canisters at Walmart in 3 sizes (these would also work well too) and made the word stencils using my Silhouette Cameo. This was the first time I tried using cheapo contact type paper from the dollar store for stencil material. It works great and I loved the price. The only downside was that it was so thin it was hard to weed the voided part of the stencils out.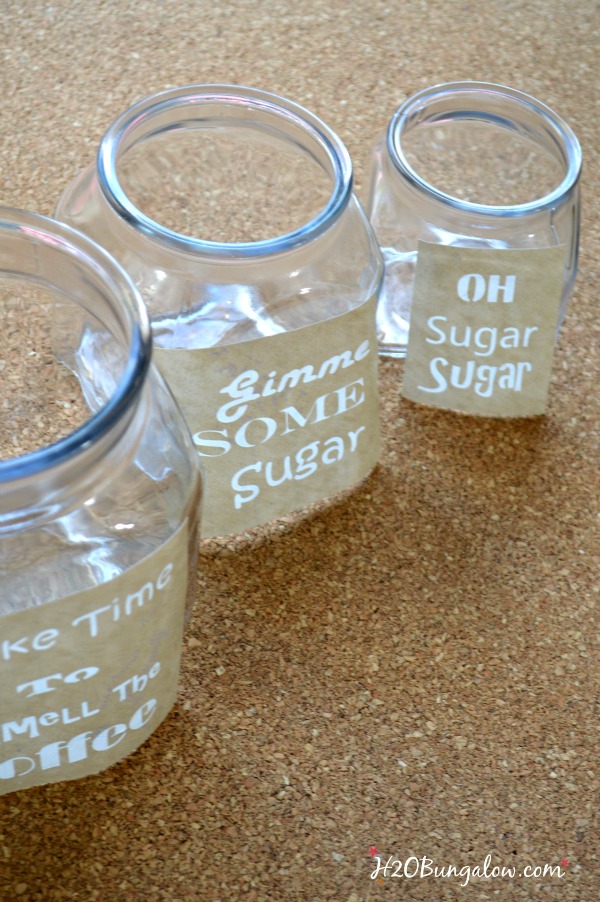 Wipe the surface with rubbing alcohol before attaching the adhesive stencil to clean and prep the surface for the etching creme. The stencil worked best when I bent just the bottom of the backing paper and started attaching the stencil at the bottom of the design.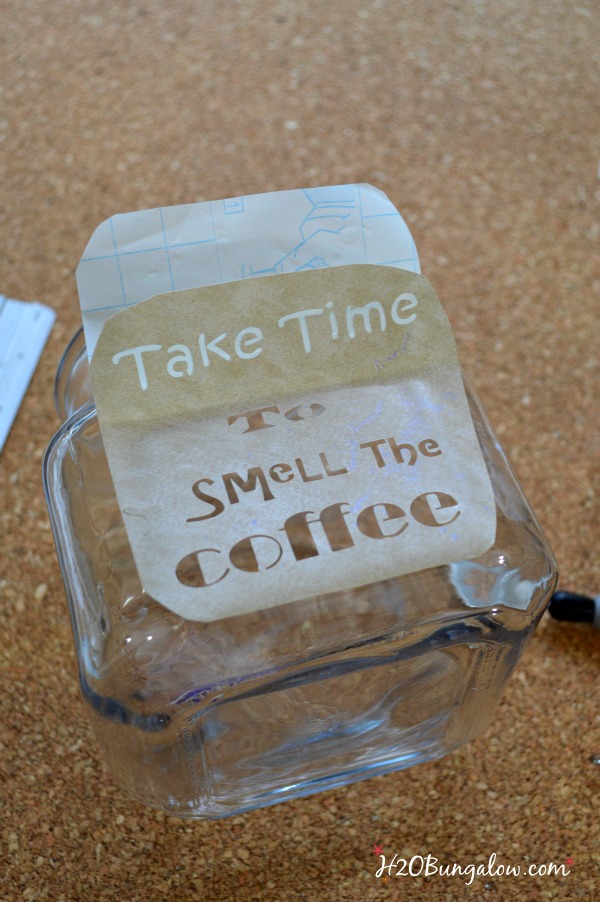 Delicate sections were easy to adjust with little scissors.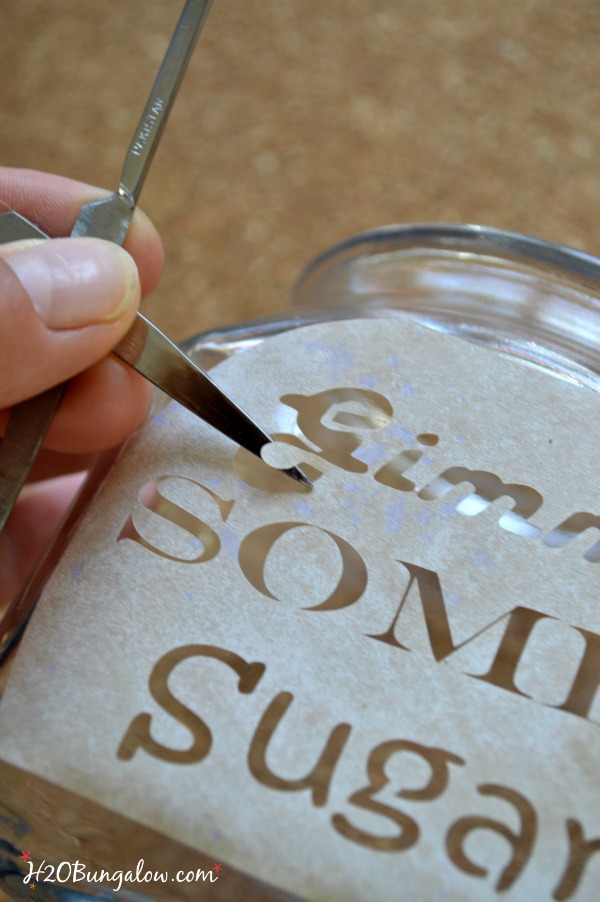 Follow the directions on the etching creme. It's easy! I couldn't find a link to the brand I used, so here are a few brands that are economical too.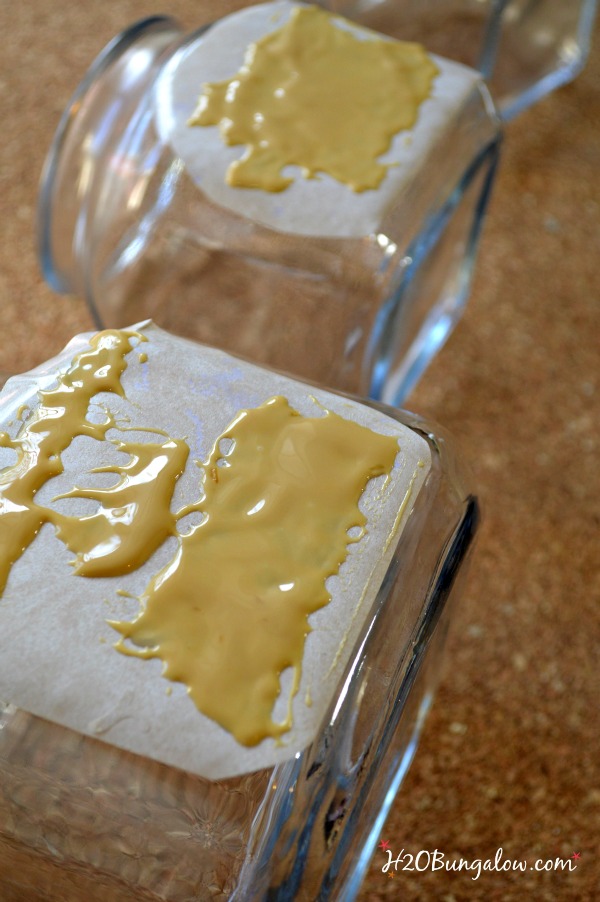 After 15 minutes, wash with soap and water and take off the stencil. That's it, you'll have a super cute set of etched glass coffee station canisters!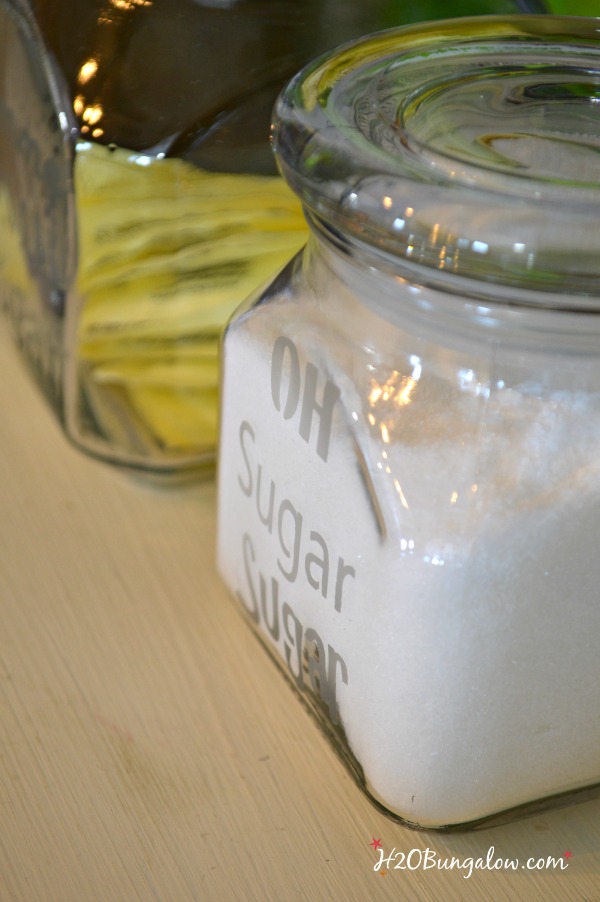 Our friends loved them.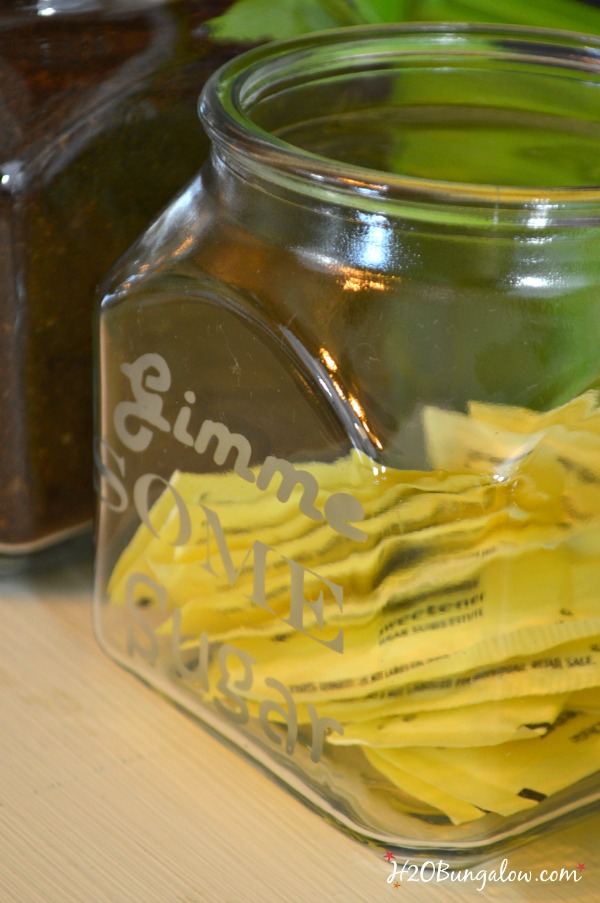 Of course I love the store and serve functionality of these etched glass coffee station canisters.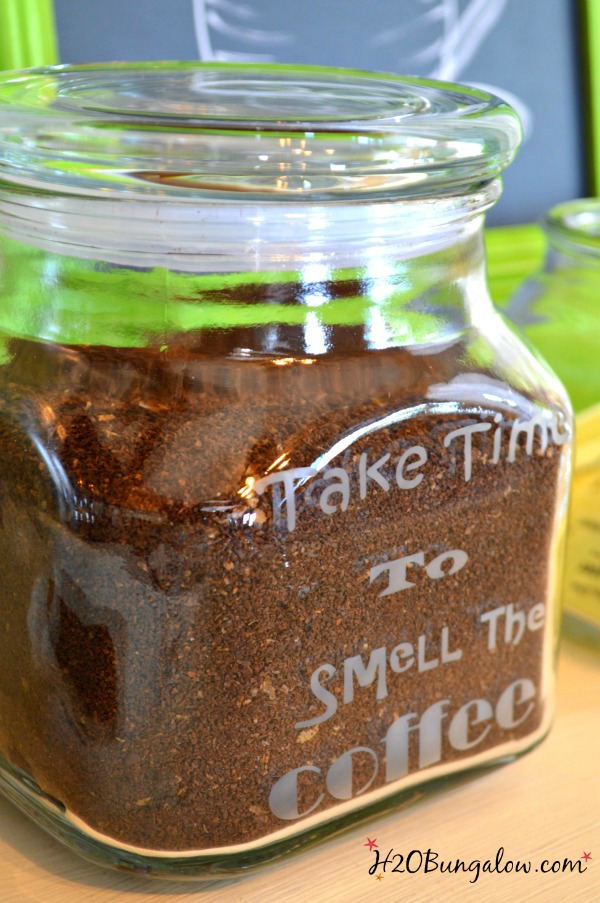 Heck, I love anything that looks cute that saves space and keeps my supplies organized!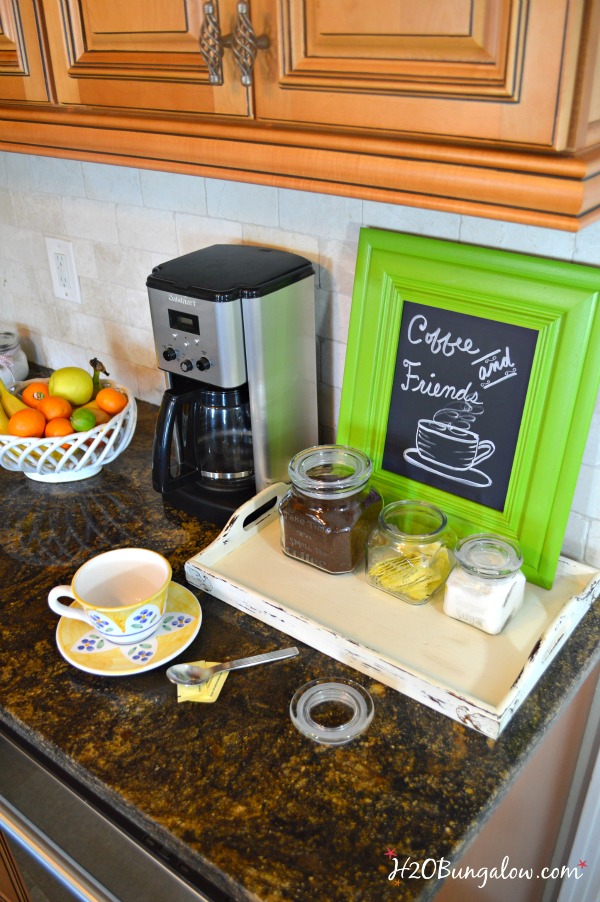 If you'd like a free copy of my silhouette cut file, leave me a comment in the comment section.
Of course this file is for personal use only.
If you like my project, I'd love for you to pin and share it!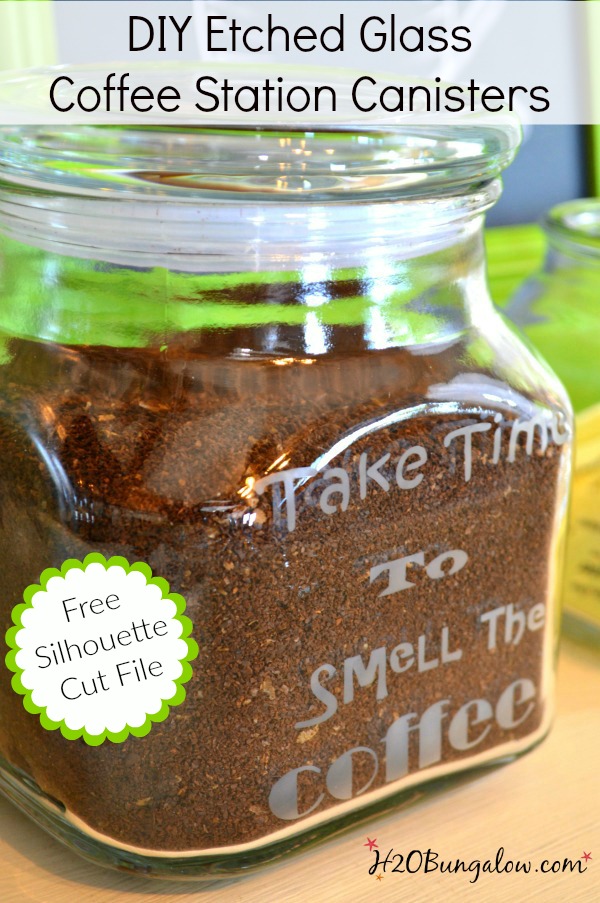 Now that I've shown you my little organization project, let's move on to the rest of the tour:)
I promised you the Ultimate Cleaning and Organizing Tour and boy-oh-boy, this one is it!

Check out these great cleaning and organizing ideas:
SUNDAY – CLEAN AND ORGANIZATION PRINTABLES
Domestically Speaking | Simply Designing | Hymns and Verses
Fresh Idea Studio | Decor Adventures
MONDAY – CLEANING TIPS & RECIPES
Refresh Restyle | Cupcakes and Crinoline | Stone Gable
What Meegan Makes | My Uncommon Slice of Suburbia
TUESDAY – KITCHEN ORGANIZATION AND DIY PROJECTS
Postcards from the Ridge | H2O Bungalow
Yesterday on Tuesday | Inspiration for Moms
WEDNESDAY – BATHROOM ORGANIZATION AND DIY PROJECTS
Petticoat Junktion | Redhead Can Decorate
The Silly Pearl | Cleverly Inspired
THURSDAY – LAUNDRY ROOM ORGANIZATION AND DIY PROJECTS
The Interior Frugalista | Setting for Four
FRIDAY – PANTRY & LINEN CLOSET ORGANIZATION AND DIY PROJECTS
Duke and Duchesses | Organized Island
Occasionally Craft | Organize and Decorate Everything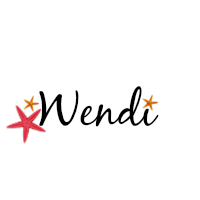 Love a good dose of DIY home decor, home improvement, the challenge of woodworking and creative ways to make your home look fabulous?
Me too!
I'd love to share mine with you. Click here to sign up for my post emails and I'll send a quick note when I have a new project to share.
Social media fan? Don't be shy say hello! I love when you guys do that! I'm interactive on Facebook and I share lots of other projects and, useful inspiration for the home and content I don't share anywhere else. Follow H2OBungalow on Facebook here
Oh heck, just follow me on all social medias. We'll have some fun…promise:) Follow H2OBungalow on Instagram , Follow H2OBungalow on Twitter , Follow H2OBungalow on Pinterest, I'm on Periscope! @H2OBungalow
I use affiliate links in my posts. If you should make a purchase I will receive an itty bitty commission at no cost to you. Thank you in advance for supporting my blog and two fur-ball cats who believe they are privileged.