You know that feeling when your heart is set on something, so much so, that you can just about see it and feel it? In your mind you're certain it's the finishing touch, the grand finale, the one thing that completes the picture in your head. You just know when you run into the store it's gong to be there, waiting for you, right? Imagine my frustration when I couldn't find my finishing touch for this DIY frosted glass project I promised you guys last week.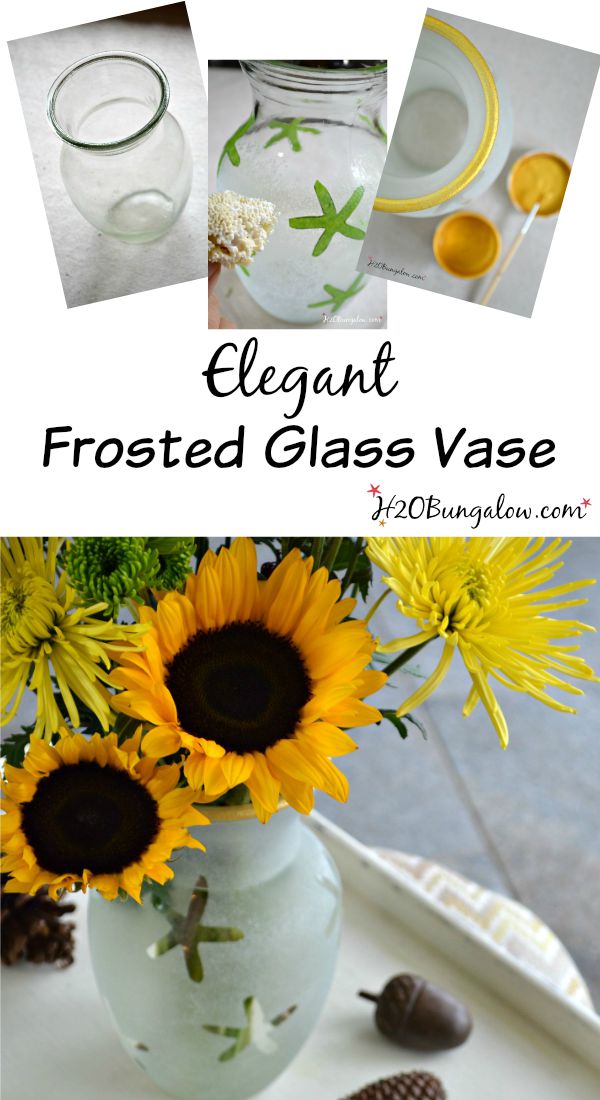 It had to be sunflowers. This just wasn't a daisy kind of project to me, not carnations or even roses.
I should call this project my DIY frosted glass sunflower vase project
…since I spent more time looking for the flowers than I did creating this DIY frosted glass vase project. Truthfully, this vase is so pretty that any color or style of flowers would look fantastic in it. I was just being stubborn.
I love when a project turns out so awesome that I'd buy it in a heartbeat if I saw it in a store.
Here's what you'll need to make a DIY frosted glass starfish vase like mine and rest assured that it will be gorgeous with any kind of flowers:)
plain vase
2″ painters tape
sea sponge or other small pore sponge
Shape to trace, I cut out a starfish on my Silhouette Cameo
scissors
pen
straight pin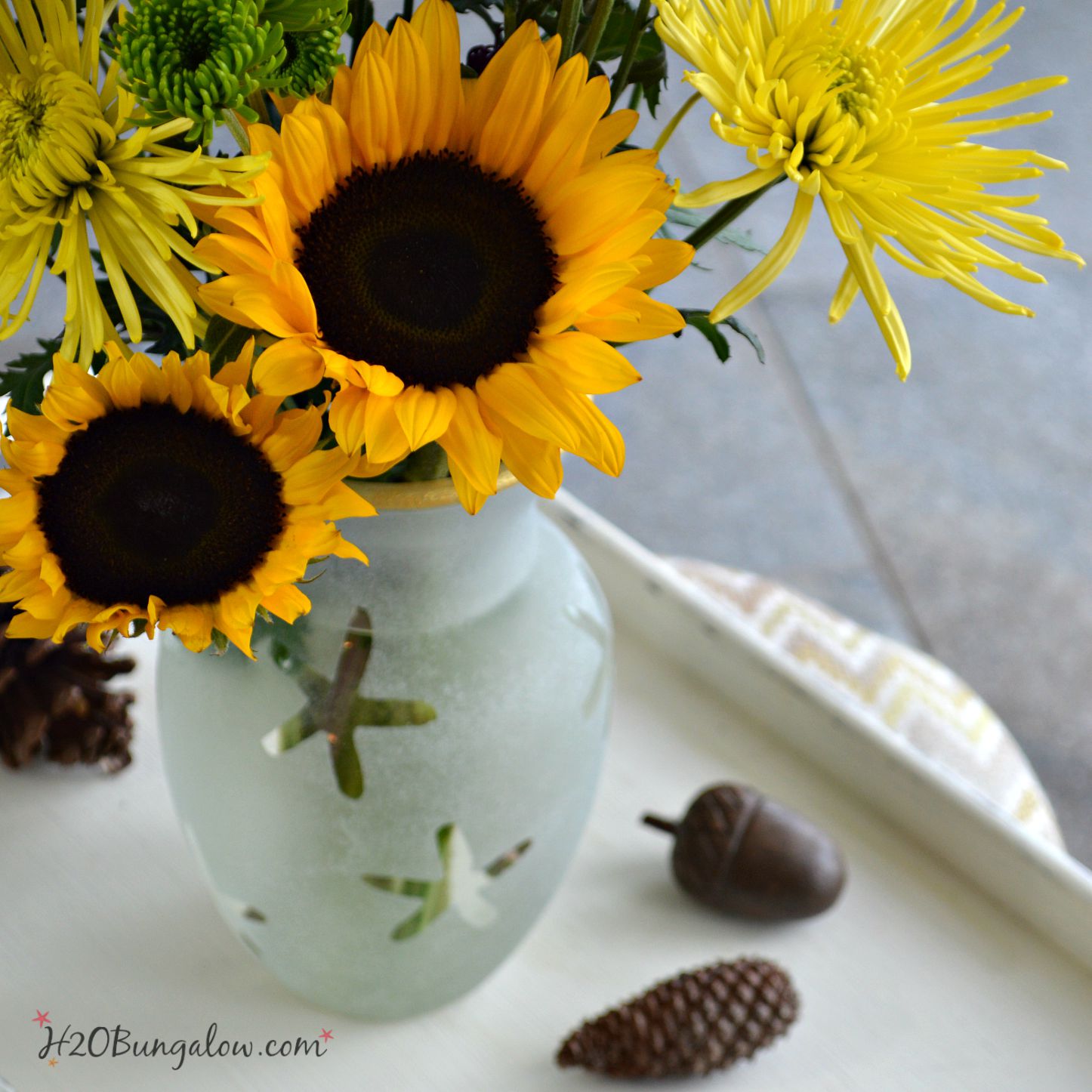 After trying a few ways to draw and cut painters tape into shapes, I finally realized the easiest way is the most obvious. Trace or draw your shape directly on the tape while it's on the roll, or unroll it flat on a surface. Cut the shapes out with scissors. carefully stick just the edge onto something like a table edge nearby. Like you would with clear tape when wrapping a present:) I made this far too complicated by trying to put it on freezer paper. If you're using your Silhouette Cameo, cut the shapes out of vinyl or contact paper from the Dollar Store.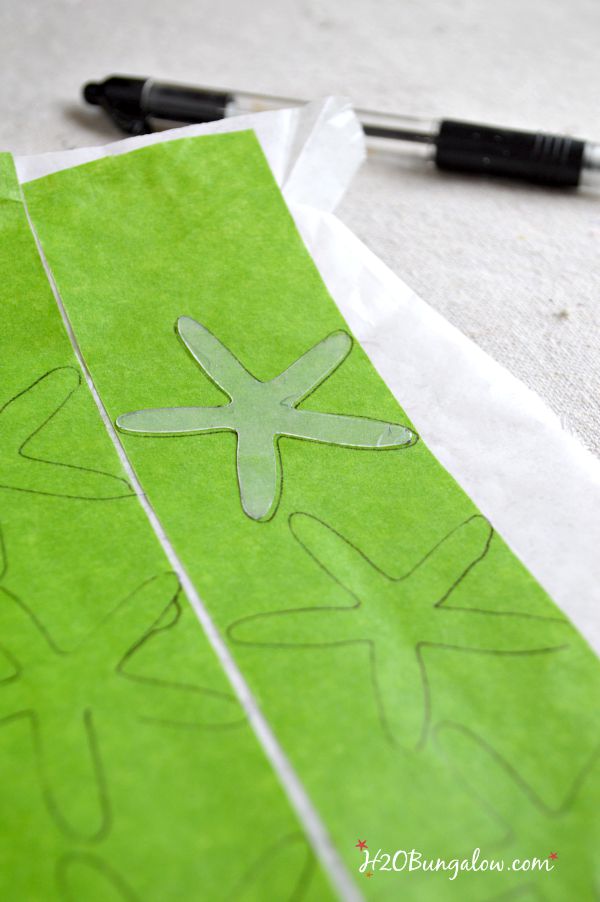 Start with a clean vase. I gave mine a little soap and water wash off, followed with a squirt of window cleaner to make sure no residue of any kind was left on the glass. Place the painters tape starfish stickers randomly on the vase. Gently rub your fingers over the edges to be sure there is a good seal.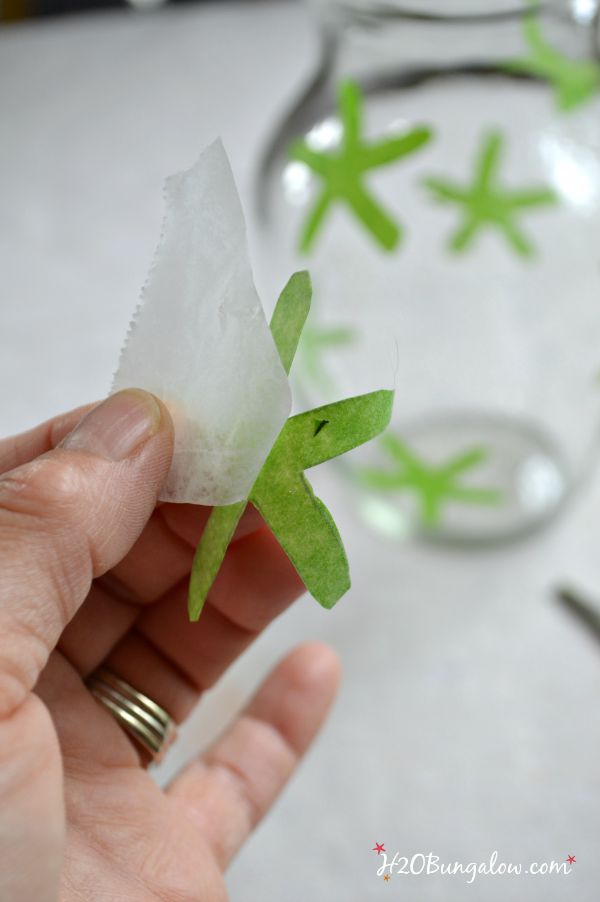 Pour the frosted glass paint onto a paper plate or other flat container and dab the sea sponge into the paint. Use a short and gentle dabbing motion to cover one area art a time. Keep the edges wet and blend each new area as you move along the vase. Applying two thin coats works best. I gave my DIY frosted vase about 15 minutes to dry in between coats.
If you're working on a flat surface like my frosted glass bath cabinet project I shared last week, use a 4″ foam roller to roll on the frosted glass paint. Roll it on evenly with a very light touch.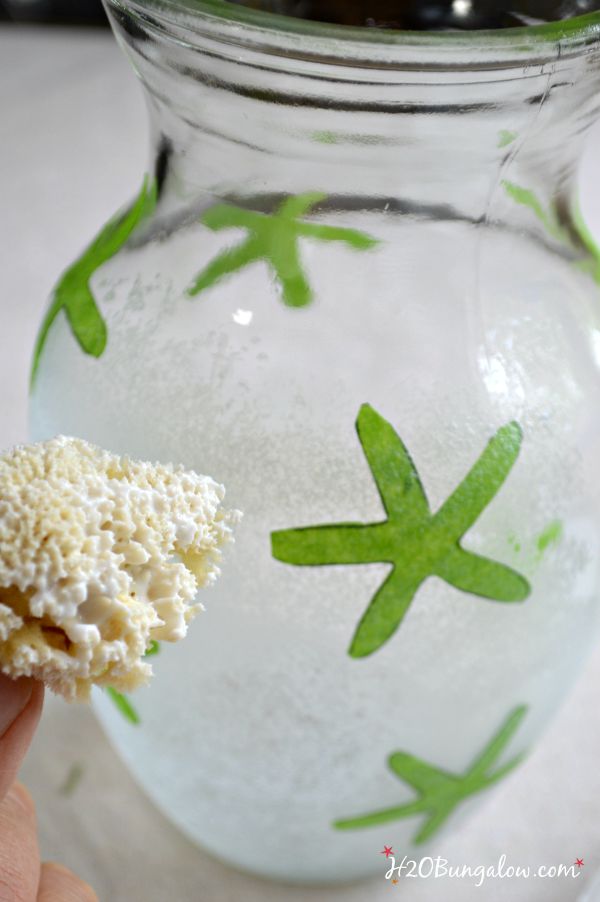 When the vase is just dry to the touch, about 10-15 minutes, use the straight pin to pull up the edges of the starfish shaped tape and gently pull them off your DIY frosted glass vase. Allow to dry thoroughly.
I added a little gold to the top rim for an elegant finishing touch.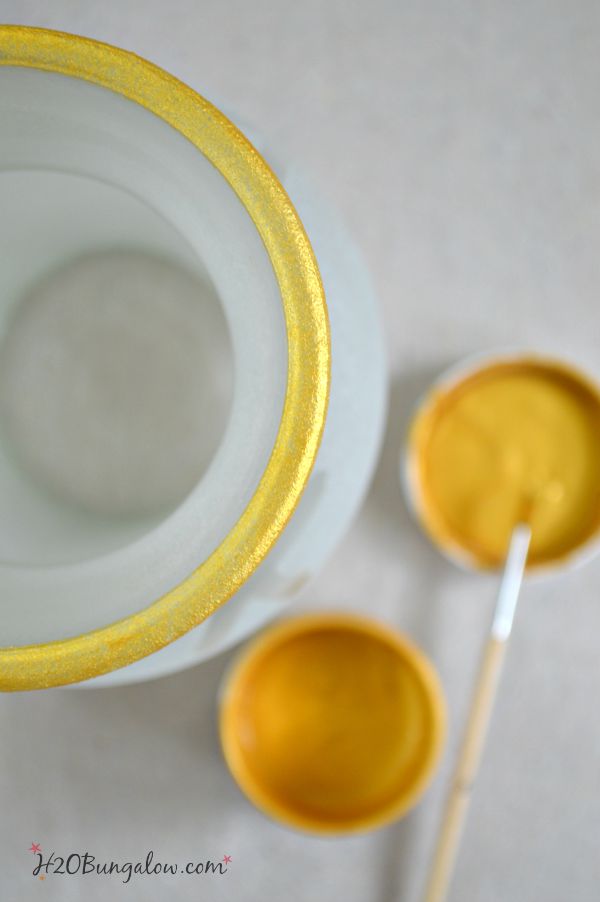 It's beautiful.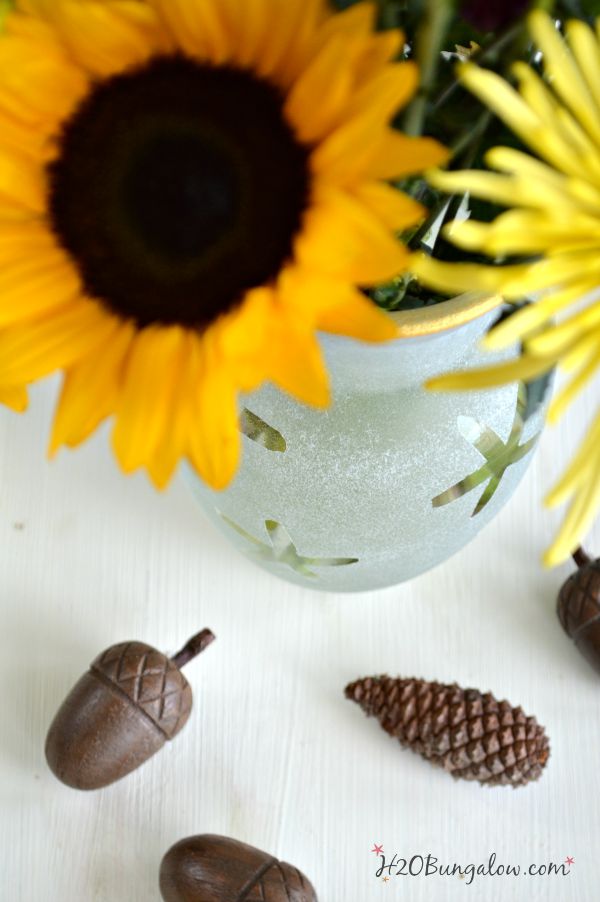 This DIY project is a keeper.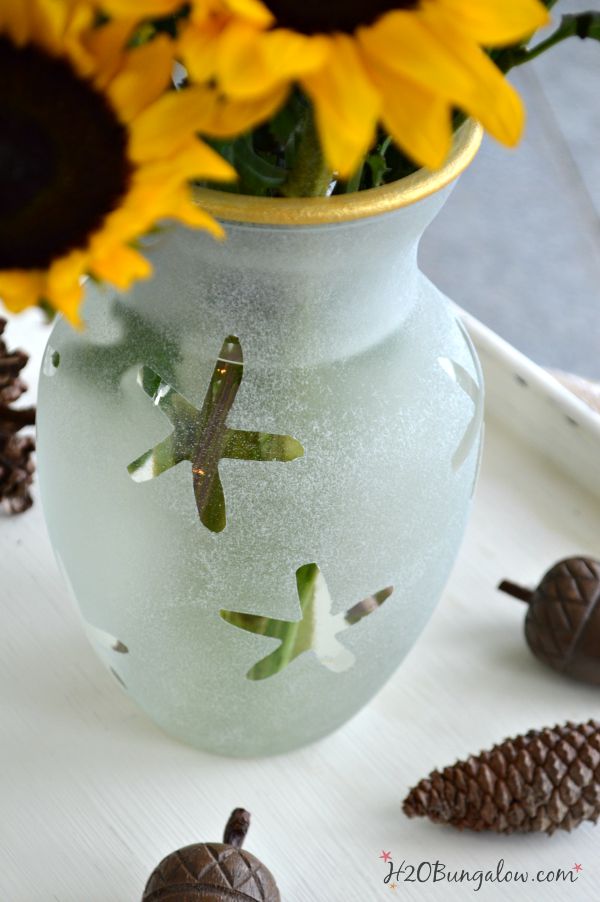 Living in a small house, we don't have room for a lot of extra stuff or clutter. I only have room for one vase. It's time to weed out the cabinets.
Again.
Why did I keep this plain vase to begin with?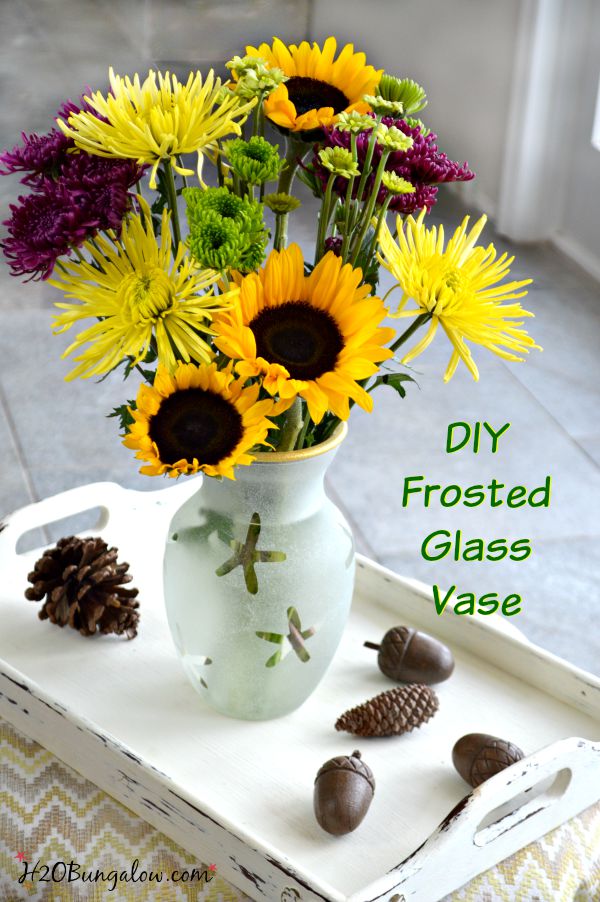 My daughters sent me flowers in it. You all know I struggle with sentimental clutter. But…I remade it just like I talk about in my 5 Creative Ways To Deal with Sentimental Clutter, so now it's my "favorite go to" vase and I can donate the other two I have.
I know you're thinking to yourself was driving across town twice to find the perfect sunflowers I had my heart set on worth it?
Of course it was!
What would you make with a DIY frosted glass project?